Lost Valley Trail: Incredible Hike to Cob Cave and a Waterfall
Posted on: February 9, 2022
|
|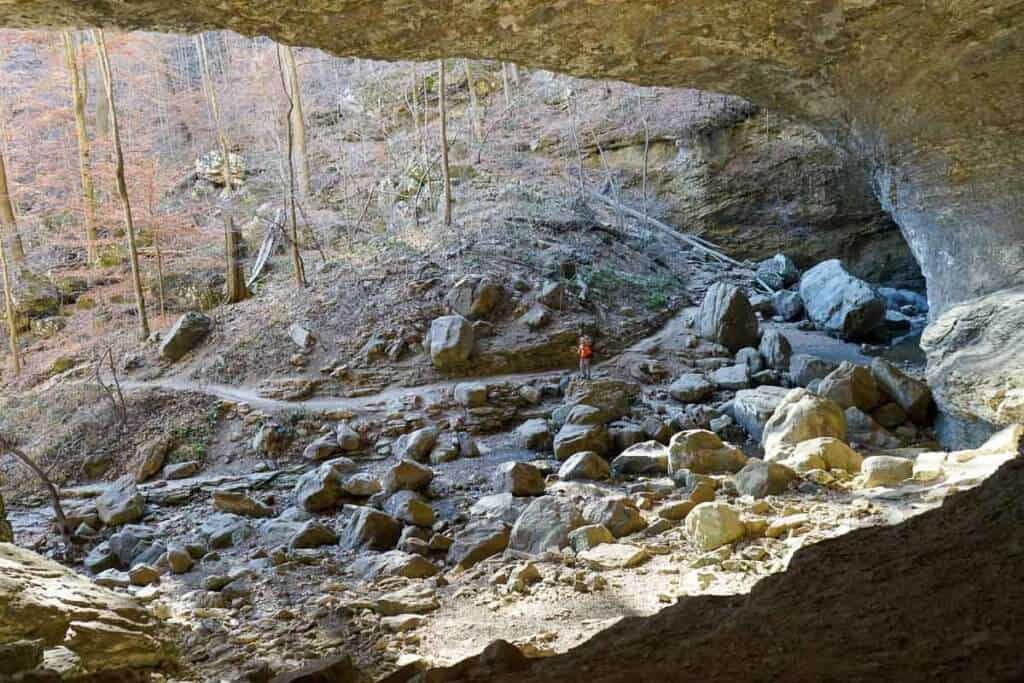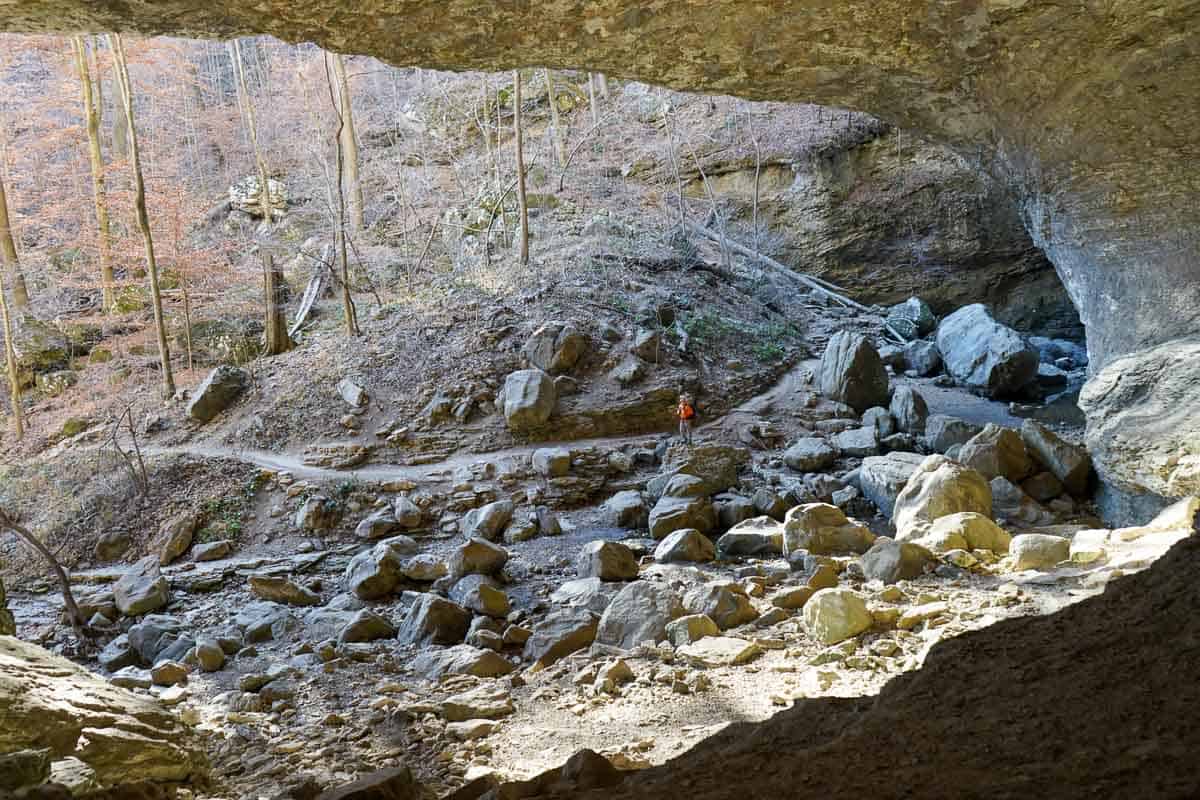 If your idea of a great hiking trail is easy, with lots of good scenery, rocks, and some cool stuff to explore at the end, then check out the Lost Valley Trail in Buffalo National River. The first mile of the trail follows an easy path into a box canyon leading hikers to explore two waterfalls and an enormous bluff shelter. Further up the trail, the hike becomes more steep, leading adventure seekers to a cave featuring a 25-foot waterfall inside. The Lost Valley Trail is one of the most popular hikes in Buffalo National River. Continue reading to add it to your bucket list!
This post contains affiliate links, which means we'll receive a commission if you purchase through our links at no extra cost to you. This allows us to continue publishing free travel and gear guides. Please read our full disclosure for more information. Thanks for your support!
Hiking the Lost Valley Trail in Arkansas
The hike is more than just a leisurely walk through the forest. It includes intersecting trails that take you on an adventure of discovery to some beautiful places with scenic overlooks, and it ends with an incredible 200-foot bluff shelter called Cob Cave and Eden Falls.
The impressive rock formations, bluffs, caves, and waterfalls are the best parts of hiking in Lost Valley. Eden Falls is a 53-foot waterfall that is a sight to see in the spring after the snow melts and there is spring rain.
And, if you're up for an off-the-beaten-path adventure, there is another cave, Eden Falls Cave, further along the trail accessed along the steep stairs passed Eden Falls. The trail ends at the cave's opening, but there is a 25-foot waterfall inside. You definitely want headlamps and caving knowledge to enter this part of the trail.
It takes about two hours to hike leisurely and explore the rocks and waterfalls along the main Lost Valley Trail. The majority of the trail follows Clark Creek.
Lost Valley is a fun trail to hike!
If you plan on exploring and hiking in the Upper Buffalo River Area, you might also enjoy these epic hiking trails!

Centerpoint to Big Bluff (Goat Trail)

Whitaker Point Trail to Hawksbill Crag
Where is the Lost Valley Trail?
The trail is located in the Boxley Valley Historic District of Buffalo National River off Hwy 43 near Ponca, Arkansas.
There is a National Park Service sign next to the highway, which is easy to see.
Lost Valley Trail Map
The trailhead is located south of Ponca, AR.
Hiking Lost Valley – Trail Details
The first part of the trail is handicap accessible, and there are a few benches to sit on along the way.
The trail is well-marked.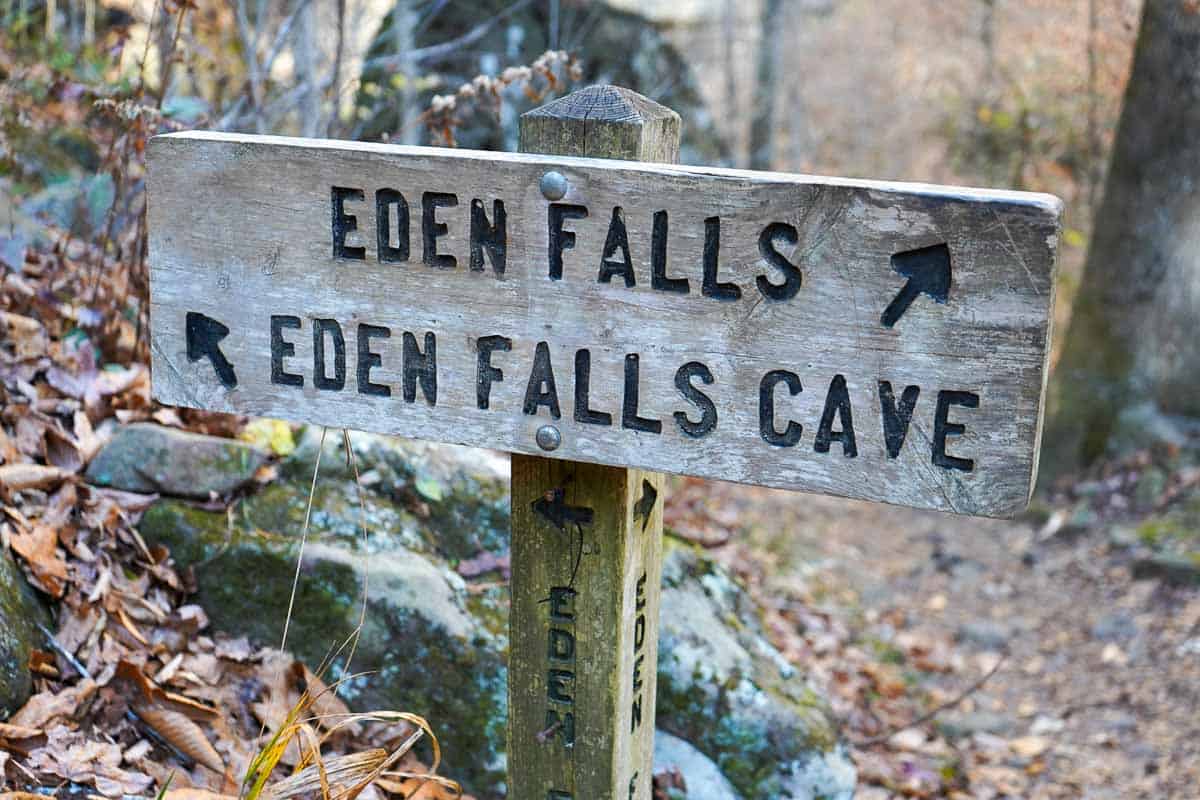 Other Things to Consider While Hiking Lost Valley Trail
This is one of the most popular hikes in Buffalo National River!
To help you plan your hiking adventure, there are some other details we wanted to share with you.
Best Time of Year to Hike Lost Valley Trail
Hiking the Lost Valley Trail can be done year-round. However, spring is the best time to see Eden Falls and the Natural Bridge flowing more water.
Hiking in the Ozarks during the fall, late fall, and early winter is always a treat. After Thanksgiving, there are fewer crowds. Weekends are busy since this is such a popular family trail.
Lost Valley Trail Arkansas Camping
There is excellent camping in the Buffalo National River Upper District.
Steel Creek Campground – Steel Creek Campground is another great option close by for tent camping within Buffalo National River. There are flush toilets and running water seasonally from mid-March through mid-November. Campers can make reservations ahead of time on recreation.gov.
We have camped at Steel Creek a few times and love the easy access to trails!
Buffalo Outdoor Center – this is where we stay with our Aliner camper because the Buffalo Outdoor Center Campground is RV, trailer, and camper-friendly. They also have great restrooms, hot water, wifi, and full hookups. The staff is super friendly too!
What are you cooking at camp? Do you need some meal inspiration? We're sharing our 15 favorite easy camp meals and they are gluten-free!
What We Wear Hiking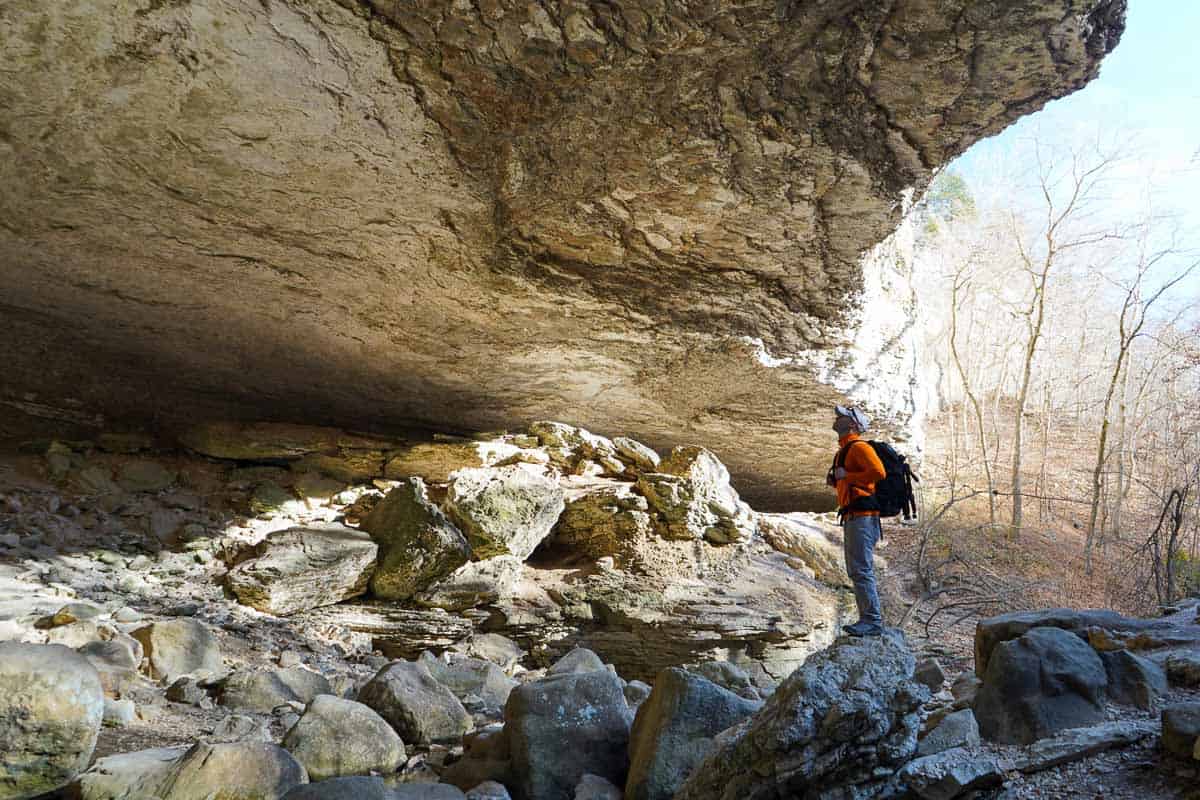 Since we hiked during December, we wore layers to accompany the temperature swings, which were around 30 degrees Fahrenheit in the morning and 65 degrees in the afternoon.
Pablo wore his go-to Patagonia R1 fleece layer, Kuhl hiking pants, and Oboz hiking boots.
I wore my go-to Oboz hiking boots and used my favorite Kavu day-pack!
Watch on YouTube: Hiking the Lost Valley Trail
Final Thoughts on the Lost Valley Trail Loop
We hiked the Lost Valley Trail in early December and were in awe of the Cob Cave bluff shelter! It was huge, and there was room to explore.
The Natural Bridge and Eden Falls waterfalls were just a trickle during early December, but we saw the beautiful emerald pool at the base of the falls.
We hiked during mid-week, and there were no crowds.
We also saw one bull elk in the fields along Highway 43 (so cool).
If you are exploring and hiking in the Upper Buffalo near Ponca, you might enjoy these hiking trails:
Check back soon to read new articles on camping and hiking in northwest Arkansas, the Ozarks, and the Buffalo River. We are based in northeast Oklahoma and love getting out into the Ozarks as often as we can!
Happy Hiking,
Ashlee + Pablo
---
You might also like…
Arkansas has some incredible state parks and hiking trails!
Check out these other articles:
Save this article on Pinterest!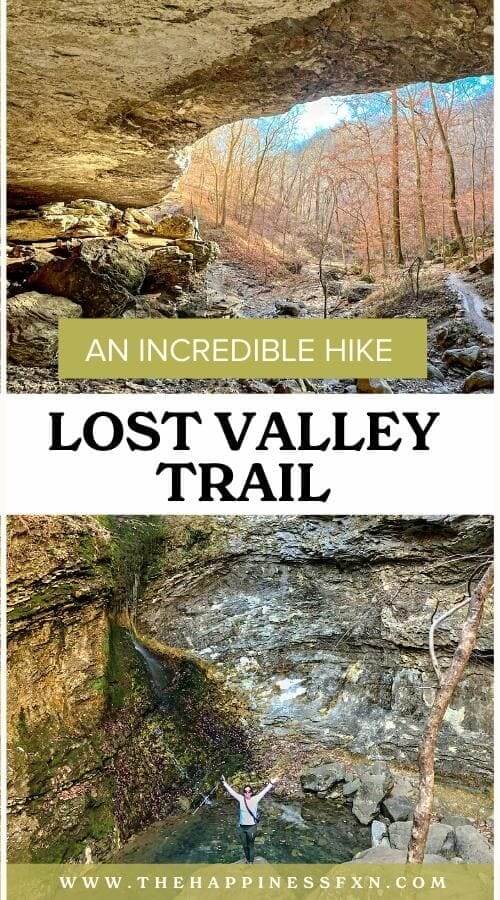 We want to hear from you!
Are you planning on hiking in Buffalo National River? Let us know if you have any questions about hiking the Lost Valley Trail. We'd love to help.