Hideout Hollow Trail: Easy Hike in the Upper Section of Buffalo National River
Last Updated: Jul 6, 2023
|
|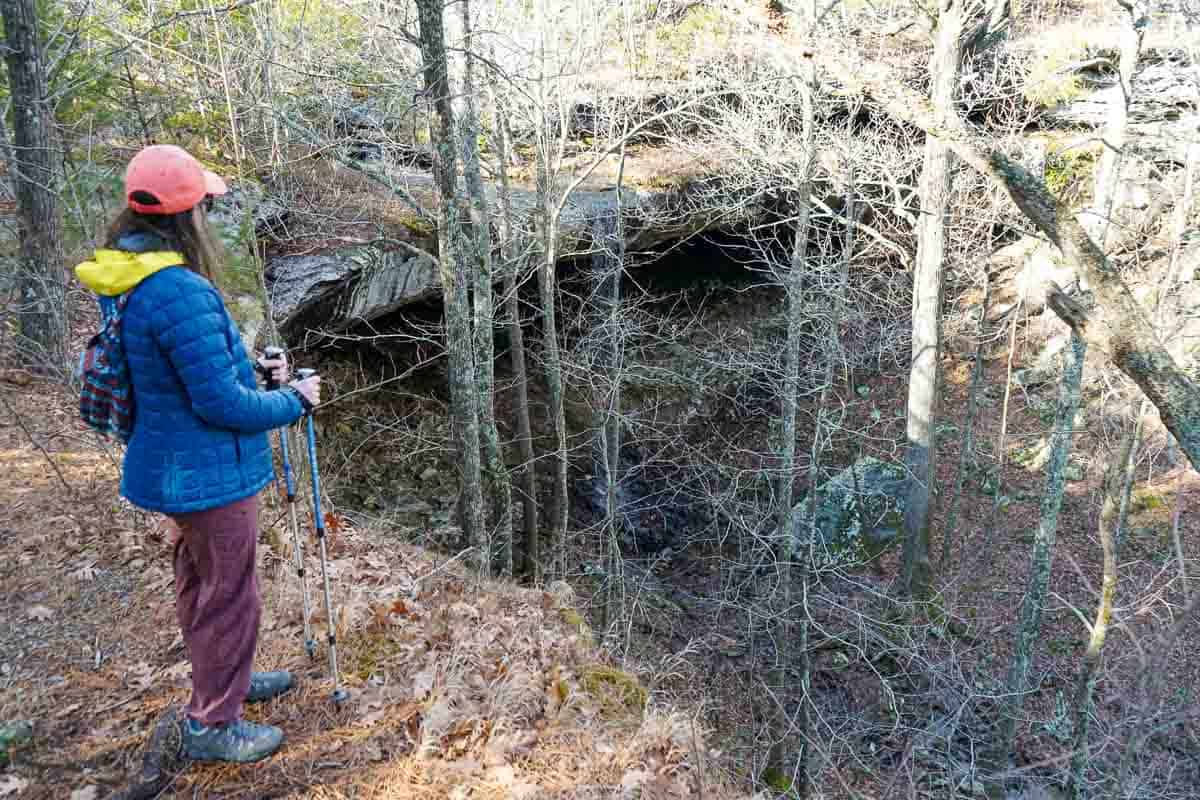 The Hideout Hollow Trail in Arkansas features a beautiful waterfall that cascades over a steep bluff in the woods. The trail is easy to hike up to the main waterfall and is a nice trek for anyone exploring the Buffalo National River area. Since it is a short and easy hike, it pairs well with other short-day hikes in the area.
Keep reading to get all the details on how to hike Hideout Hollow in Arkansas, along with where to camp and other trails you might enjoy exploring in the area.
This post contains affiliate links, which means we'll receive a commission if you purchase through our links at no extra cost to you. This allows us to continue publishing free travel and gear guides. Please read our full disclosure for more information. Thanks for your support!
How to Hike Hideout Hollow in Arkansas
This 2.0-mile out and back trek within the Buffalo National River National Park boundaries is guaranteed to be a fun experience.
The Hideout Hollow Trail takes hikers through the woods to a steep bluff ledge with a waterfall.
Once hikers get to the main bluff waterfall, they can hike a little further upstream to see another small waterfall. Or, you can cross the stream upstream of the bluff waterfall and make your way down into the hollow to see the waterfall and bluff edge up close.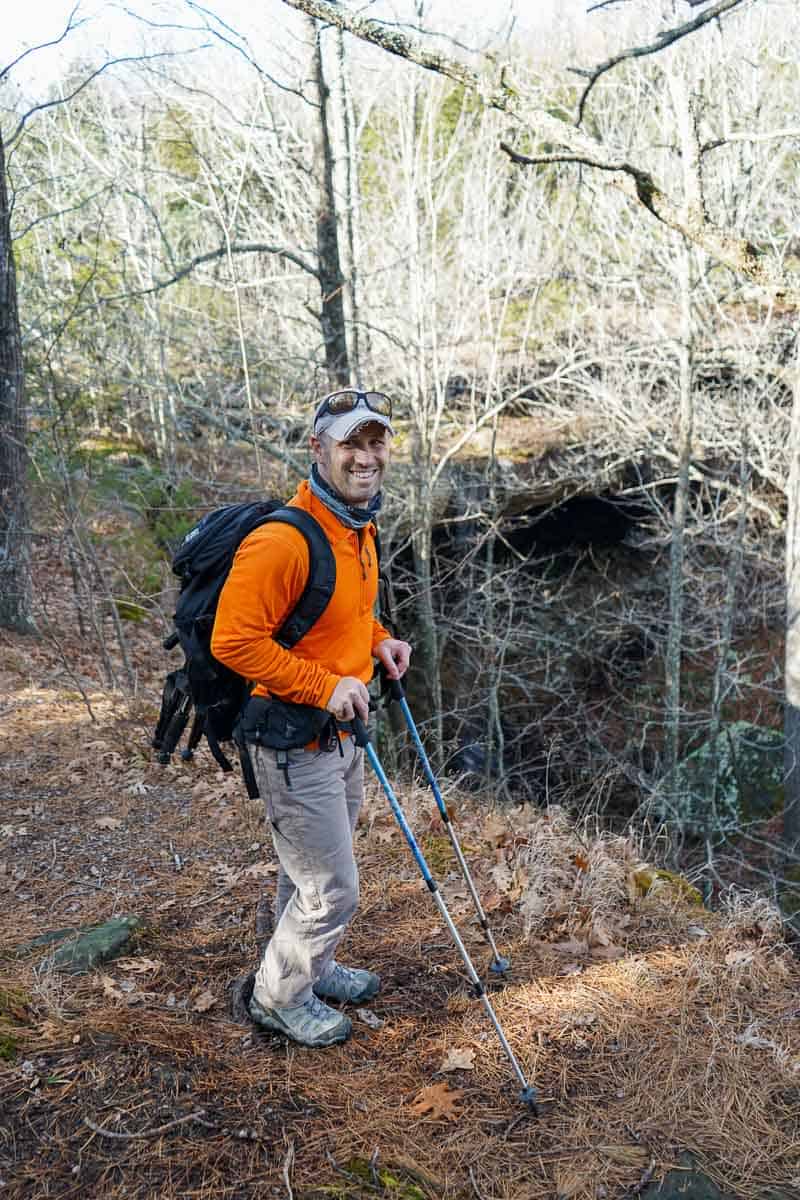 Getting down into the hollow is tricky, and if deciding to get up close to the waterfall, know that it is slippery and a more challenging hike. Also, there is not a trail down into the hollow to see the waterfall up close.
So, you can kind of choose your own adventure here – keep it easy or get down into the hollow.
Cell phone reception is hit and miss in the area, so be careful going off-trail.
Shop Hiking Layers:
Where is the Hideout Hollow Trail?
The Hideout Hollow Trail is located near Compton, AR.
Hideout Hollow Trail Details
The trail begins at the Hideout Hollow parking area.
The small parking area is not that well marked and is mostly a small pull-off from the gravel road. A small trail sign says, "Hideout Hollow," nailed to a tree.
This sign is facing the dirt road and may not be noticeable.
Distance: 2.0 miles
Elevation Gain: 311 feet
Route Type: Out and back (O&B)
Difficulty: Easy
Are dogs allowed? No
Is there a fee to hike? No
Are there restrooms available? No
The nice thing about this hike is that it's an easy jaunt along a few rolling hills. It's very flat until you approach the bluff. Once you get to the canyon, rocks become more prevalent, and there are some scenic views.
If you want to get into the hollow and see the waterfall and bluff shelter up close, you'll have to cross the creek upstream at the top of the falls. This is where things get a little steep and can be slippery. You'll have to kind of climb down to get to the base of the waterfall, and there isn't a clear path to follow. You will probably want to go down into the hollow to get the best photos.
If you don't want to go into the hollow, then just stay on the same side of the creek and continue following it upstream to the other small falls (pictured above).
How Long is the Hideout Hollow Trail?
The trail is two miles and takes about an hour to hike.
Shop Hiking Boots (We Love):
Things To Consider While Hiking
This wilderness area, in general, is pretty remote, and cell phone reception is hit and miss in the area.
We did have enough cell phone reception to use our AllTrails app while hiking this trail (which is rare for the area).
In general, the Ponca and Upper Buffalo area has some great trails to explore.
You might also enjoy hiking:
Balanced Rock Falls
Eye of the Needle
Check out these 10 FREE Apps we use to plan epic hiking trails and places to camp in the USA!
Best Time of Year to Hike Hideout Hollow Falls
Spring and fall are excellent times to hike in the Buffalo River area.
The weather temperatures are pleasant during the spring, the foliage is greening up, and the waterfalls run a larger volume of water.
Hikers can enjoy cooler temperatures, no bugs, and the leaves changing colors during the fall. However, the waterfalls might not be as grand if the area hasn't received much water. After Thanksgiving in November, the crowds tend to die down in the area.
We hiked during late December, we were the only ones on the trail, and the water was running enough to see the falls and hear them. We really enjoyed the small waterfall upstream.
Pssst… We wrote a gear review on our favorite hiking pants! If you're looking for new hiking pants, you'll love this article!
Hideout Hollow Camping Nearby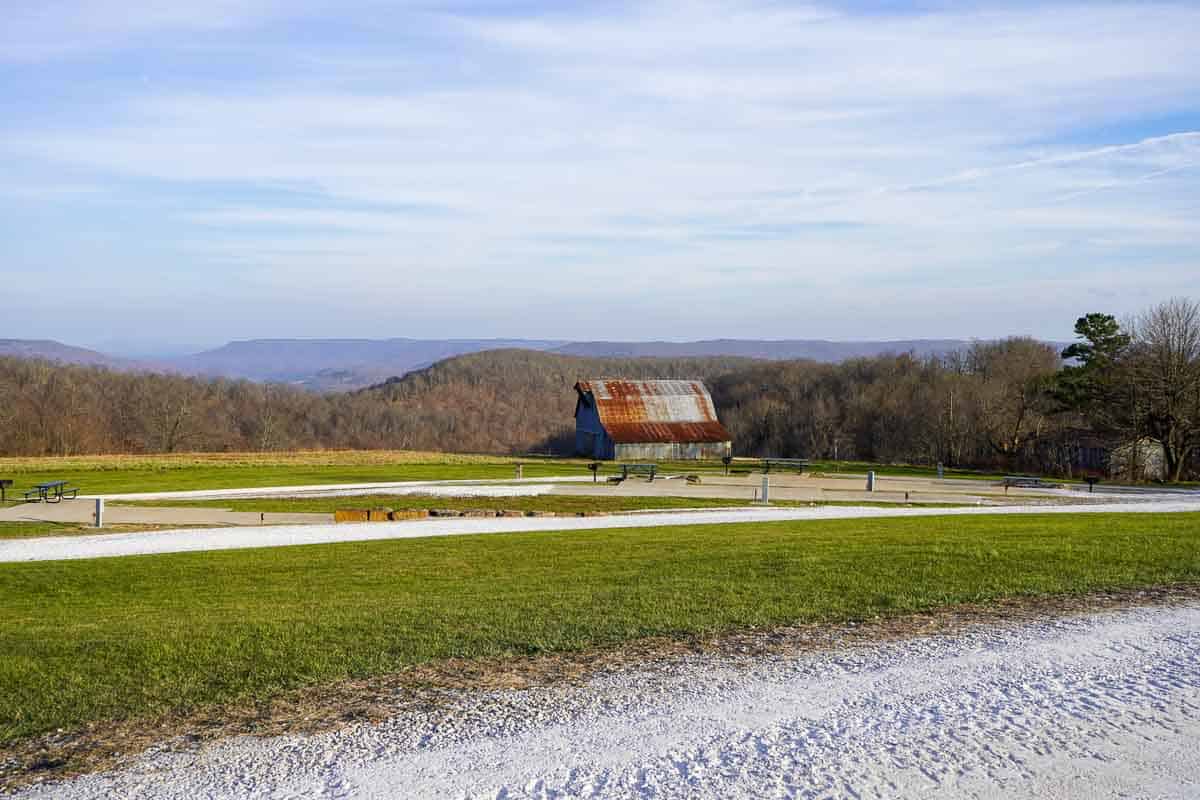 There are some great places to camp in Buffalo National River. Close by, there is:
Buffalo Outdoor Center RV Park – The RV Park is about 20 minutes from the Compton Trailhead, making it a nice place to camp and explore all the hikes in Ponca. This is your place if you have an RV, camp trailer, van, or motorhome. They have hot water, great bathrooms, and full hookups. We love camping here in our Aliner.
Tents aren't allowed at the Buffalo Outdoor Center RV Park, so if you are tent camping, you'll enjoy these campgrounds or Steel Creek below.
Steel Creek Campground – Steel Creek is part of the National Park Service. It is tent camping only and located about 30 minutes from the Hideout Hollow Trailhead. The campground is open year-round; however, running water and flushing toilets are seasonal. If camping outside of the season, there is a vault toilet. Make reservations ahead of time at recreation.gov.
Hiking Hideout Hollow on YouTube!
Want to see more hiking details? Check out the video to see the trail conditions and hear the waterfalls!
Final Thoughts on Hiking Hideout Hollow in Arkansas
We hiked Hideout Hollow in late December; no other people were in the area or on the trail. So, we elected not to go down into the hollow, and instead, we drove to the Erbie Campground (YouTube video). We had so much fun driving the backroads of Buffalo National River! There was even a low-water river crossing.
We camped at the Buffalo Outdoor Center RV Park and loved every minute. Those folks are so nice.
Whenever we are exploring the Buffalo National River, we always take a topo map (this one here) since cell phone reception is hit and miss.
We hope you have a great trip hiking this trail.
Thanks for reading.
Ashlee & Pablo
---
Read More Arkansas Adventures
Check out these other posts on camping and hiking in Arkansas:
We Would Love To Hear From You
Are you planning on hiking this trail or exploring more of the Buffalo National River? Tell us about it!
Please practice Leave No Trace while exploring the outdoors.