20 Adventurous Outdoor Things to See in Utah
Posted on: December 30, 2022
|
|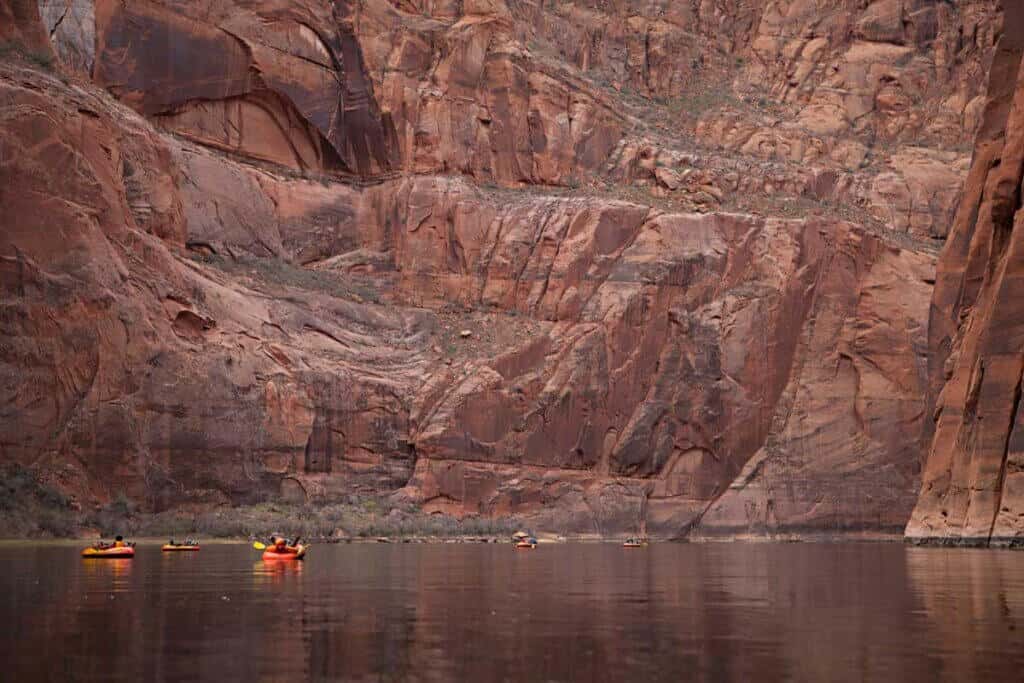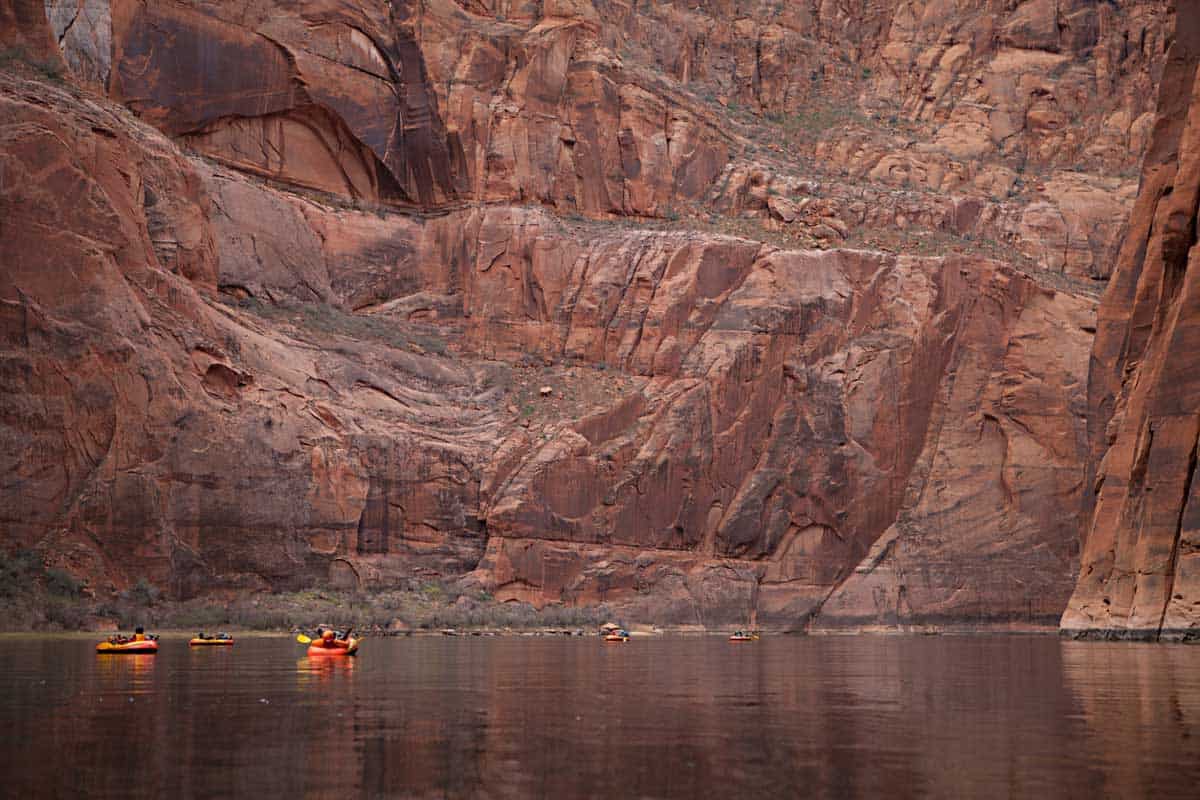 Discover top outdoor recommendations for the best things to see in Utah, including touring national parks, exploring national forests, hiking, stand-up paddle boarding, mountaineering, camping, rafting, and skiing! Utah's spectacular geology paired with an abundance of public land is sure to spark your outdoor wanderlust of epic proportions.
This post may contain affiliate links, which means we'll receive a commission if you purchase through our links, at no extra cost to you. Please read full disclosure for more information.
Why Utah is an Outdoor Recreation Mecca
Utah is one of the most beautiful places in the U.S., with much of the state being part of the Intermountain Colorado Plateau or national forests. The high desert ecosystem and geology forming incredible sandstone canyon and mountain topography coupled with over 35 million acres of federally managed public land make for extraordinary outdoor recreation opportunities. Roughly 70% of Utah is public land owned by the Federal government divided between multiple agencies.
So, what do these numbers mean for exploring Utah, and why do we care?
The abundance of public lands creates opportunities for adventurous outdoor recreation because there are so many unique areas, trails, and backcountry to explore!
While exploring Utah, visitors can sightsee and discover:
5 National Parks,
8 million acres of U.S. Forest Service Land, and
Over 22 million acres of BLM Land.
Holy cow – it sounds wild, freeing, and fun! Are you ready to plan epic outdoor trips in Utah? Let's go!
Best Things to See in Utah: The National Parks
To help you plan a trip you won't forget, we have rounded up some of the best things to see in Utah from other travel writer experts! Keep reading for recommendations to plan your most memorable trip to Utah.
1. Road Trip Utah's "Mighty Five" National Parks
Contribution by Ashlee Fechino of The Happiness Function
Have you heard of the "Mighty Five?" It is a popular term among the travel writer community.
So, what is the Mighty Five?…
The Mighty Five refers to taking a road trip to see Utah's five national parks, including:
Take a week or so off to road trip across Utah.
Explore some of the most incredible national parks in the U.S., and top Utah tourist attractions.
First, let's begin with the Moab area, one of the coolest towns in Utah.
2. Hiking in Arches National Park
Guest contribution by Nikki of She Saves She Travels
One of the best outdoor things to do in Utah is definitely hiking in Arches National Park. Located in the southeast part of the state near Moab, Arches is truly a geologic wonder. It's an incredible place like no other, and it simply begs to be explored.
The most well-known arch in the world is Delicate Arch, and it's the star of the park. It's not an easy hike, although most can accomplish it with enough time. Peeking over the summit and getting the first view of Delicate Arch is simply breathtaking! Make sure to get to the park early during peak travel times as parking spaces are limited.
There are plenty more Arches National Park hikes, including hikes for all skill levels and abilities. The windows section of the park includes several arches, so if visitors only have one day to spend in the area, this is a perfect spot.
Perhaps one of the most visually stunning spots in Arches National Park is Park Avenue Trail. There are no sizeable arches to see; however, the rock 'fins' are lined up all along the canyon. These rock fins are arches in the making, as fins are an early part of the arch creation process.
So, while there are lots of outdoor activities in Utah, Arches National Park should be on any adventure lover's bucket list!
3. Backpacking the Needles in Canyonlands National Park
Guest contribution by Michelle of The Wandering Queen
Canyonlands National Park is located in eastern Utah near the city of Moab. The national park consists of four districts: The Needles District, Island in the Sky District, The Maze District, and The Rivers District.
The most popular area is Island in the Sky, but the most unique and adventurous district is the Needles District. Since this is part of the national park system, there is a $30 entrance fee.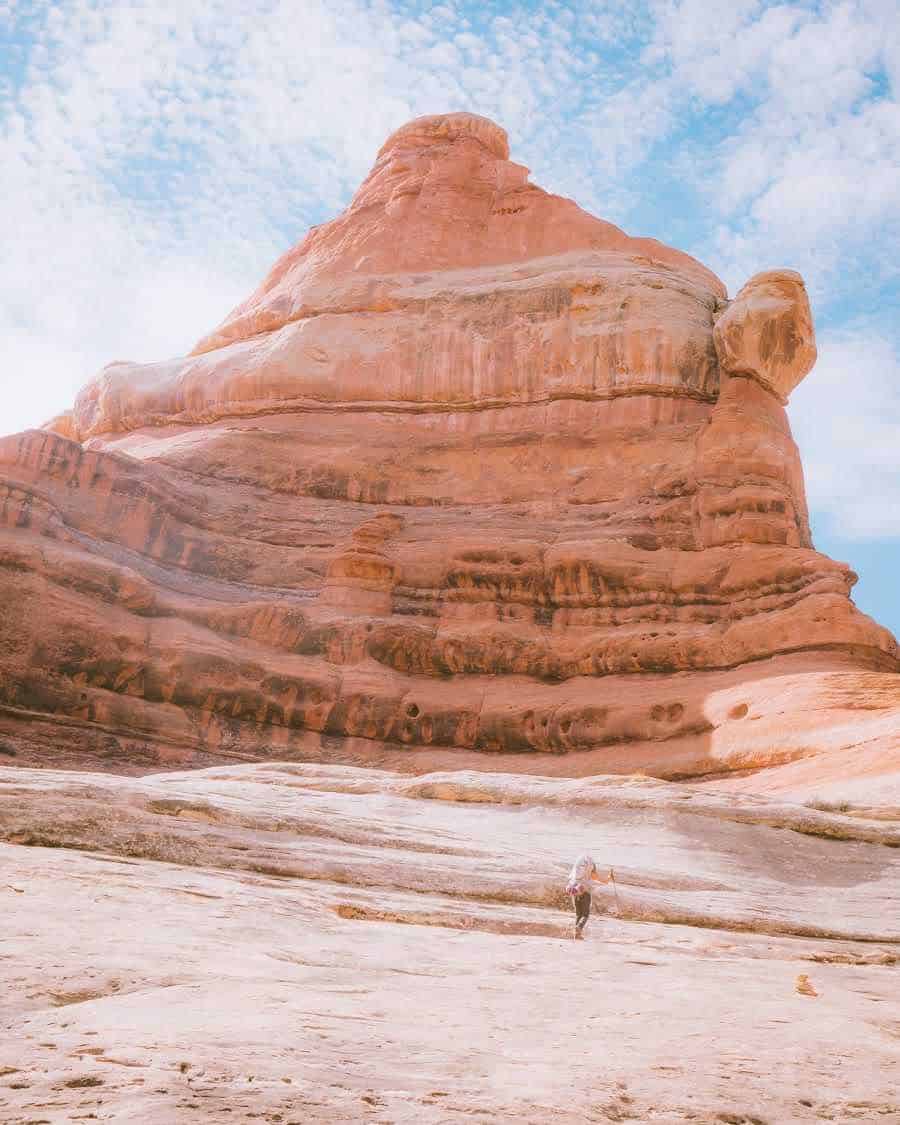 The Needles District is a backcountry area with unique landscapes filled with spires and its infamous needles. The harsh desert climate is full of orange-brown spears jetting out of the ground. The district is remote, and the land provides virtually no water sources. The area's non-hospitable climate can make it a tough excursion; however, it has views unlike anywhere else in the world.
Obtain a backcountry permit to camp a couple of nights in the district. This way, visitors can experience the needles to the fullest. If you want to hike to see the best views, trek the Chesler Park Trail. It will be an 11-mile hike round trip.
Since the climate is harsh in the summer, we recommend visiting in the spring, fall, or winter. As mentioned previously, there is no water in the park, so make sure to bring plenty of water with you. Dehydration and running out of water is a common issue, so plan accordingly and bring extra fluids.
Backpacking through The Needles is one of the best southwest experiences in the USA. The Needles is an extraordinary landscape filled with caves, spires, slot canyons, and so much more. If Moab is a destination, Canyonlands National Park, especially the Needles District, is a must-see.
4. Hiking to Druid Arch in Canyonlands
Contribution by Ashlee Fechino of The Happiness Function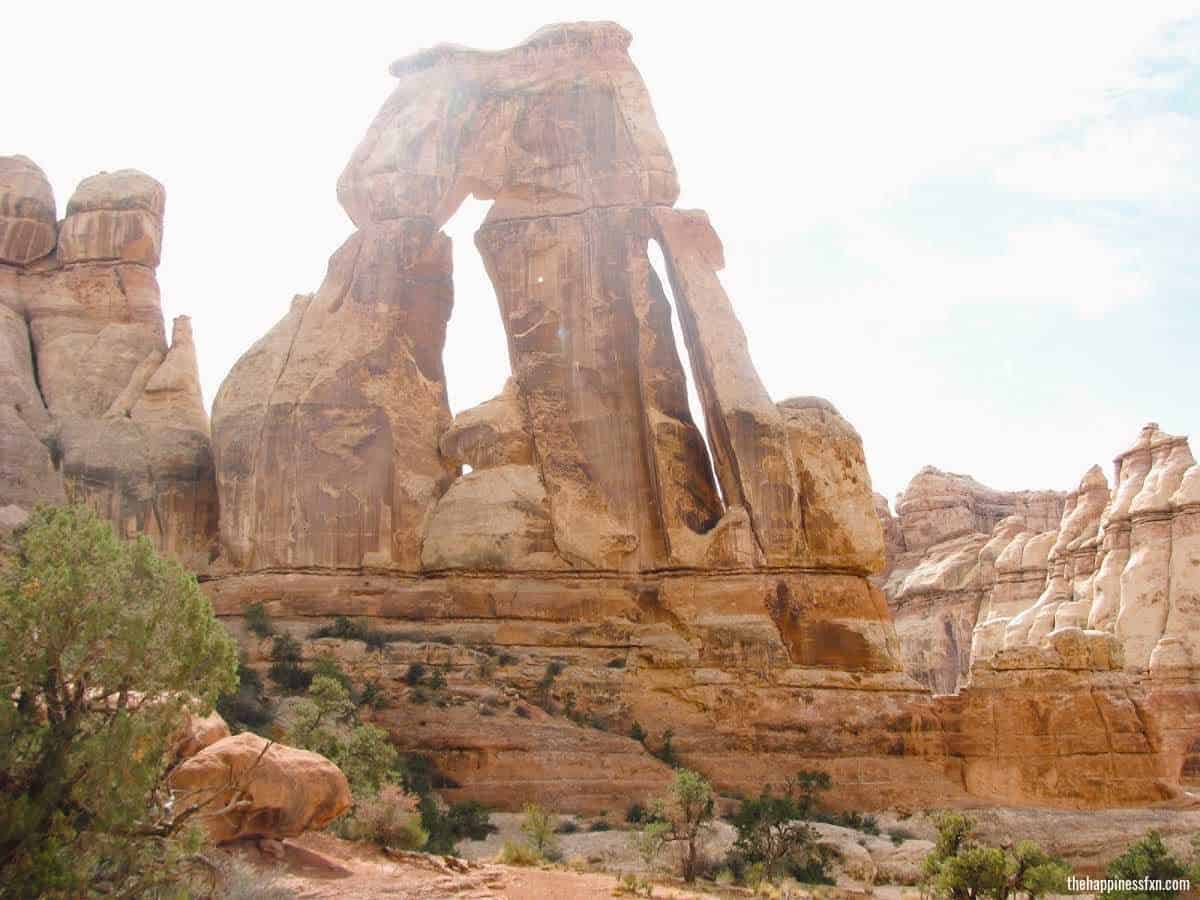 To complement backpacking in the Needles District, hikers can plan a trek to Druid Arch. You can take your time backpacking to the famous arch or plan an all-day 11-mile there and back trip.
The trailhead to hike to Druid Arch is located near Monticello, Utah, in Chesler Park. Chesler Park is about two and a half hours south of Moab to a separate Canyonlands National Park entrance.
The route will take you through sandy washes, incredible views of the iconic Needles; there will be some rock scrambling, as well as a ladder climb.
The trail to Druid Arch is moderately difficult because of the relatively long distance for a day trip, some rock scrambling, and the ladder climb to reach the sandstone arch.
Hiking to Druid Arch in Canyonlands is truly a hidden gem in the magnificent and primitive Utah backcountry.
5. Mountain Biking the White Rim Canyonlands
Contribution by Ashlee Fechino of The Happiness Function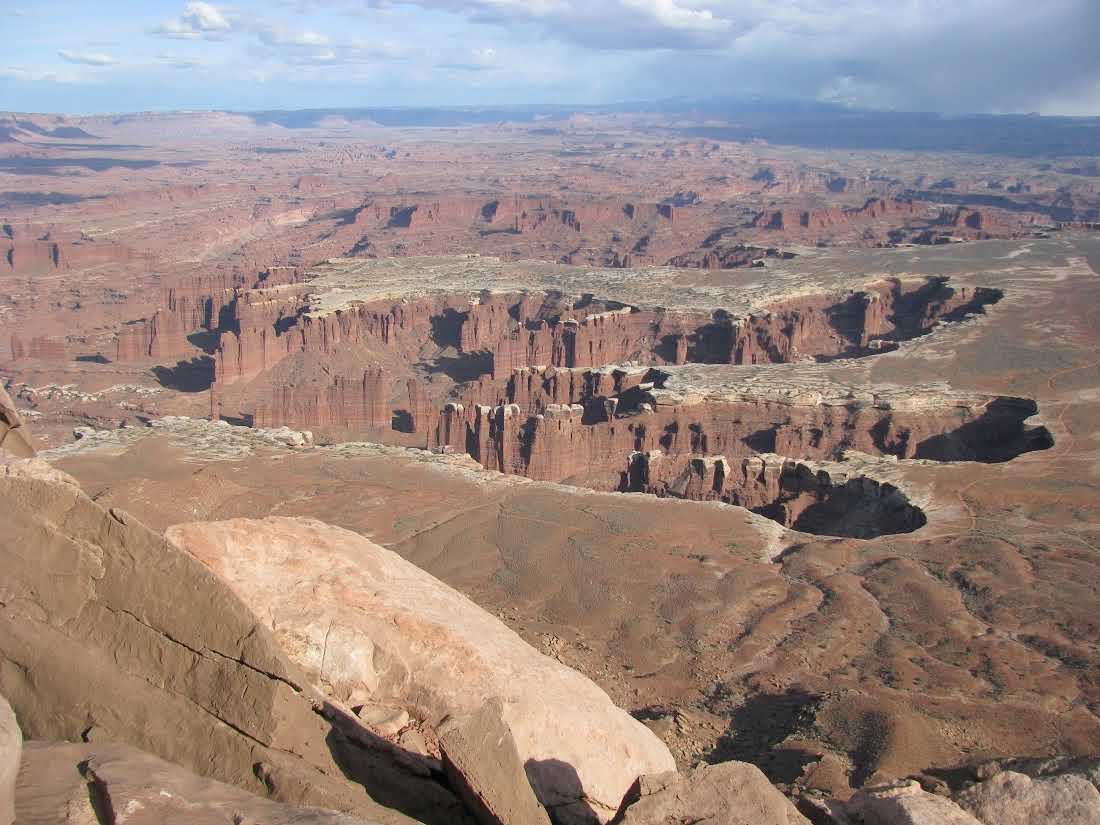 If you're into mountain biking, be sure to add biking the White Rim in Canyonlands National Park to your life bucket list!
The White Rim is a 100-mile jeep trail that wanders through the Canyonlands Island in the Sky District.
It will take 2-4 days to complete. Bikers need to pack in all of their food, water, and camping equipment.
Permits are required for this epic backcountry adventure. The White Rim is an incredible thing to see in Utah!
6. Visiting Dead Horse Point State Park
Contribution by Ashlee Fechino of The Happiness Function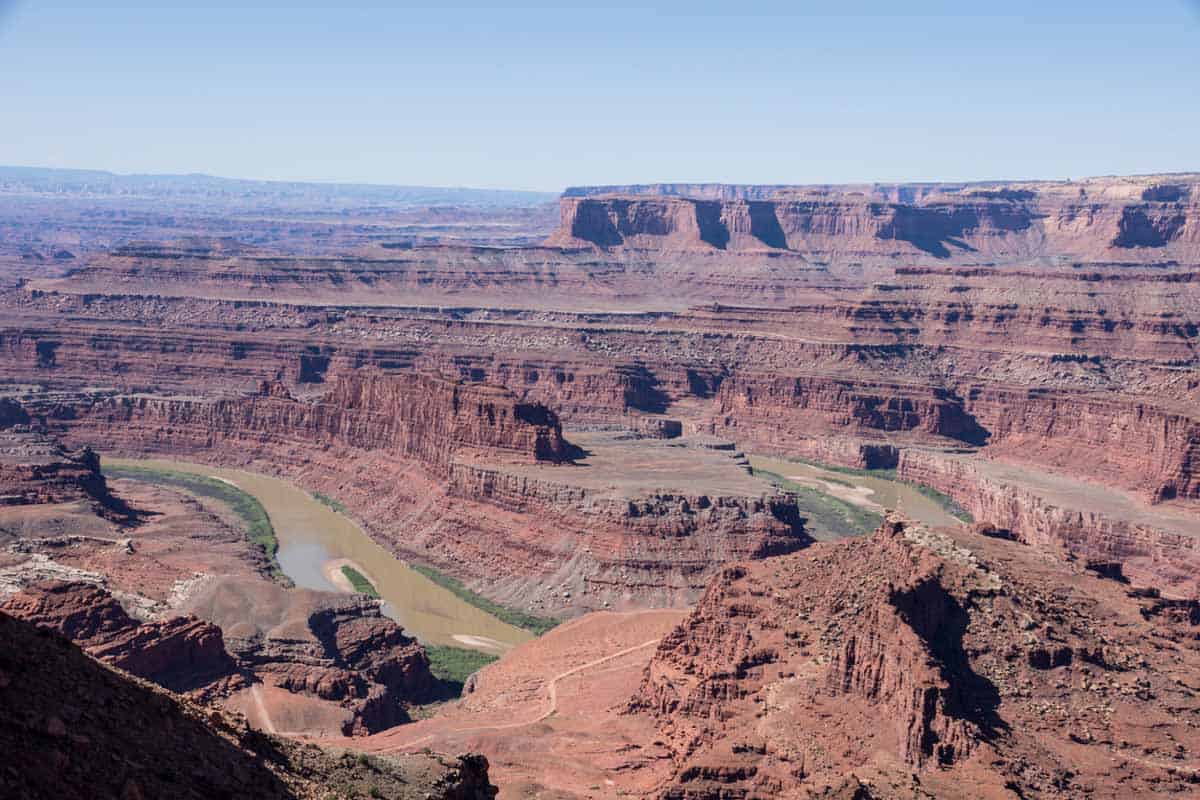 Though not a national park, add visiting Dead Horse Point State Park to your Mighty Five road trip. The park is on the way to the Canyonlands Island in the Sky entrance off of UT-313.
Dead Horse Point State Park has camping, hiking, mountain biking, and stargazing. It is also famous for the river bend overlook!
Don't miss this stop with incredible views of Utah's canyon country and the Colorado River.
7. Exploring Capitol Reef National Park
Guest contribution by Ale of Sea Salt & Fog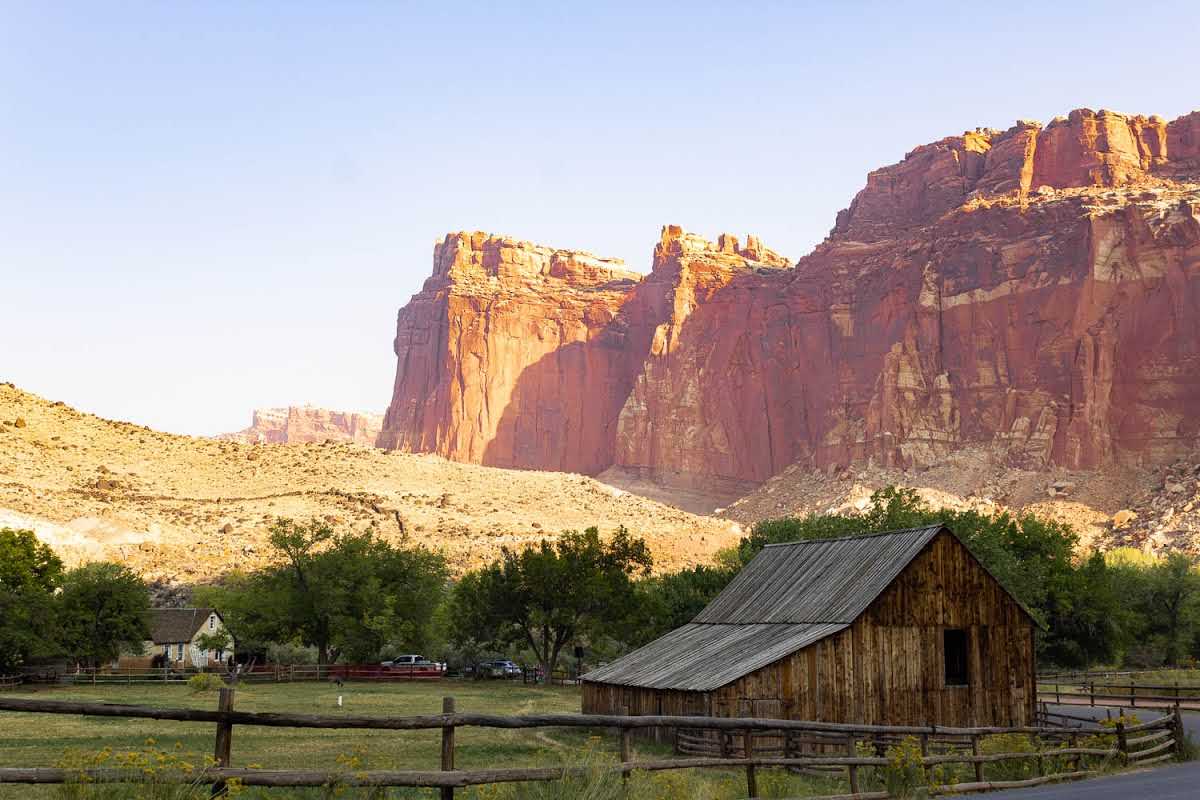 Capitol Reef National Park is the hidden gem of Utah's parks. Home to red rock canyons, lush fruit orchards, and amazing hiking, this park is a must-visit. 
Located in south-central Utah, Capitol Reef is about a 3.5-hour drive from Salt Lake City. Unlike the other more famous parks, Capitol Reef doesn't attract many crowds. In fact, it's fairly common to find near-empty hiking trails.
The park is broken up into three districts: Fruita, the Waterpocket Fold, and Cathedral Valley. The Fruita area of the park is the most easily accessed. Here, you'll find fruit orchards and local, homemade fruit pies. Worthwhile hikes include the 2-mile-long Capitol Gorge trail, which will take you past petroglyphs and the Pioneer Register. You'll find rock inscriptions of early pioneers – a cool historical spot.
The Grand Wash trail is another great hike. It's 4.4 miles long but is relatively flat and has you walking through a deep red rock canyon. Right off this trail, you'll also find the Cassidy Arch – a large rock formation that was rumored to be the hiding spot of outlaw Butch Cassidy. Follow a one-day Capitol Reef itinerary to ensure you don't miss anything!
Entrance to Capitol Reef is free unless you'd like to do the scenic drive or access certain hiking trails. In those instances, a $20 per vehicle fee applies.
8. Exploring Bryce Canyon National Park
Guest contribution by Sarah of Roadmaps & Restaurants
Bryce Canyon National Park is one of Utah's Mighty 5 and a must-visit when exploring Utah. Located in southern Utah, Bryce Canyon National Park is known for all of the hoodoos. Hoodoos are column-like rock formations, and they can be found through the canyon.
The cost to enter Bryce Canyon National Park is $35 for one car with up to 15 passengers.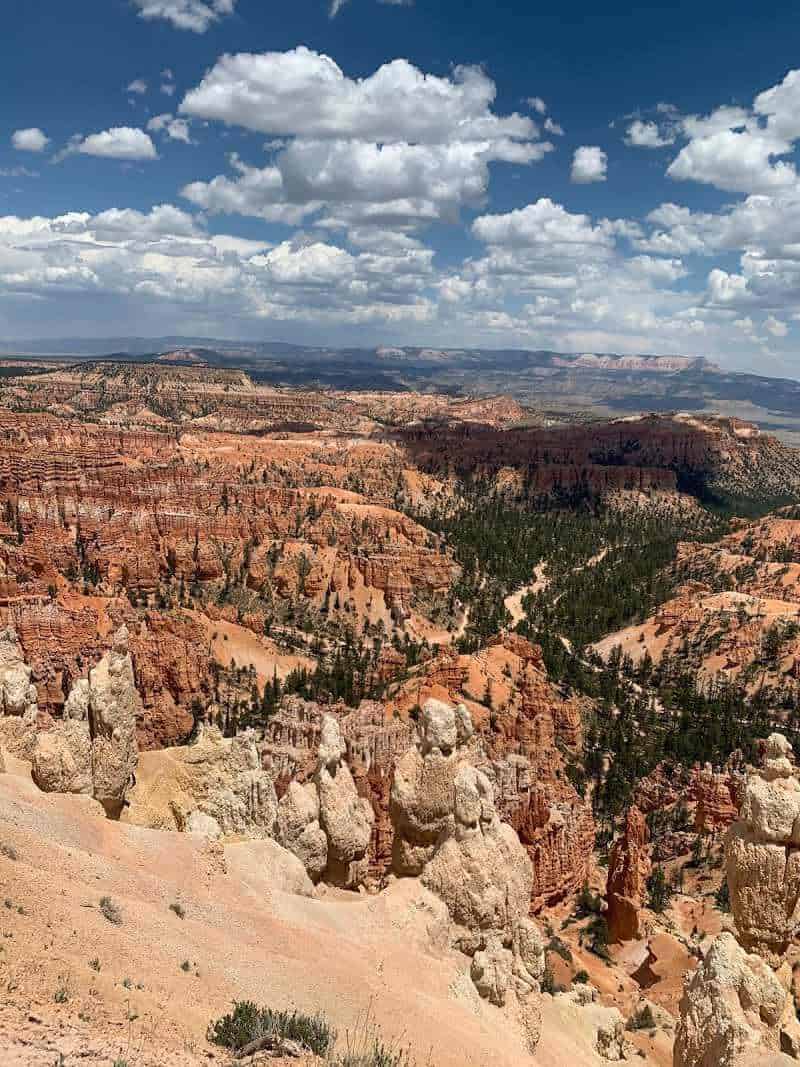 There are a variety of hiking trails throughout the park that weave through the hoodoos. The 1.4 mile Navajo Loop trail is one of the most popular hikes in the park. It begins at Sunset Point and takes you down into the canyon past multiple famous hoodoo formations, including Thor's Hammer. The hike also includes the infamous Wall Street, which is a series of switchbacks that lead to a narrow slot canyon. The Navajo Loop is often combined with the Queen's Garden hike for a 3-mile trek that shows the best of Bryce Canyon.

Not interested in hiking? Highway 63 provides access to many scenic overlooks if you'd rather observe the magical hoodoos from above.
Bryce Canyon is a certified dark sky park, so the stargazing is out of this world! On a dark night, you will be able to see the Milky Way and thousands of stars. The park also offers a variety of astronomy programs and Astronomy Ranger talks that are definitely worth a listen!
9. Hiking in Zion National Park
Guest contribution by Olivia of Girl with Blue Sails
Zion National Park is an experience you cannot miss when visiting Utah. One of the most popular national parks in the United States, Zion welcomes visitors all year round. The main road through Zion winds through the canyon with red and orange mountains towering above.
The most popular hike in the park is The Narrows, a 16 mile stretch of river that runs through a gorge surrounded by canyon walls a thousand feet high. When hiking the trail through The Narrows, guests need walking sticks and sturdy shoes as most of the trail is through the river itself. Whether hiking part of the trail or the whole stretch, The Narrows is an otherworldly experience.
Another must-see in Zion is a hike to the emerald pools. Spanning 3 miles long and offering three different paths at various difficulty levels, this hike offers impressive views of the surrounding cliffs and mountains on the way to the emerald pools. Visitors can expect to see waterfalls streaming down, creating pools of beautiful emerald water.
Zion National Park gives visitors a taste of the beauty of Utah's red rock desert and forests. As with any desert climate, visitors can expect extreme weather, sometimes varying greatly from day to night. Whether visiting for just a day or a week-long stay, Zion offers its guests an experience of a lifetime.
Off-the-Beaten Path Things to See in Utah
Besides all of these things to do in Utah's national parks, we have included other outdoor activities you don't want to miss, including exploring slot canyons, stand-up paddle boarding, rafting, camping, mountaineering, and skiing!
10. Canyoneering Orderville Canyon Slot Canyon
Contribution by Ashlee Fechino of The Happiness Function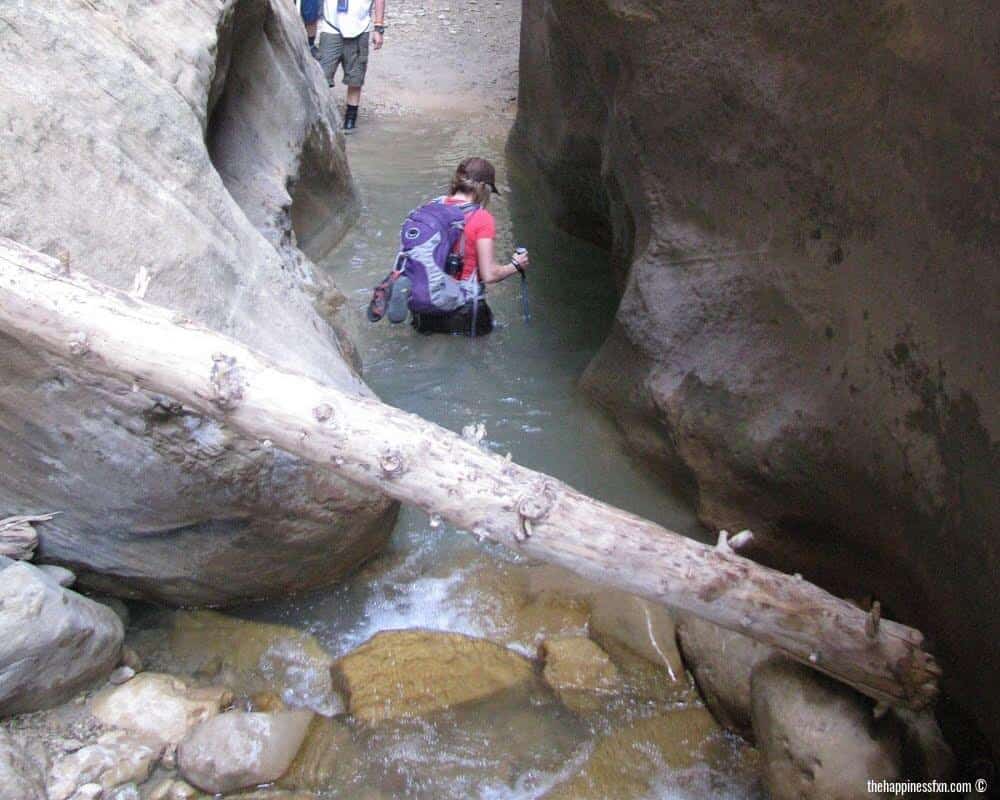 If you are curious about exploring the backcountry in Zion National Park off the beaten path and obtaining backcountry permits to The Narrows or The Subway are difficult, Orderville Canyon is an excellent canyoneering day trip option.
This hike is suitable for experienced hikers and beginner canyoneering. The trail is rated as difficult and strenuous due to its 11-mile route; two short rappels (rappel gear required), a couple of small swims, rock scrambling, and wading through water.
Orderville Canyon is an excellent day trip adventure in the Zion backcountry! It is truly a hidden gem of Zion National Park. The route starts off in an open area at a higher elevation. As you wander down Orderville Canyon, the walls begin to narrow, get steeper, and a stream emerges, which is tributary to the Virgin River, eventually leading to the Narrows. It's the perfect canyoneering trip on a hot summer day in the desert.
Be sure to get a backcountry wilderness permit ahead of time before your trip. For more information, check out this article with everything you need to know about Hiking Orderville Canyon.
11. Canyoneering Wire Pass Slot Canyon
Guest contribution by Megan of Red Around the World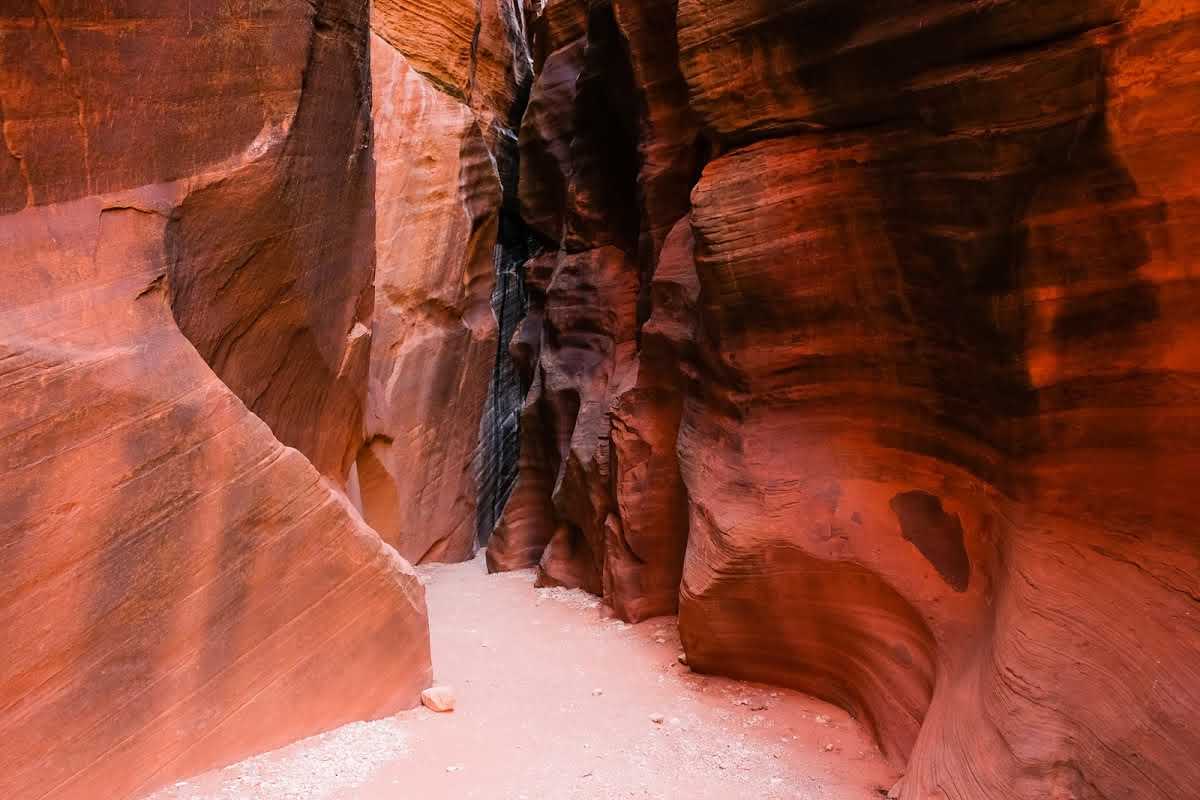 The Wire Pass slot canyon hike in Utah is one of the best ways to get to Buckskin Gulch, the longest and deepest slot canyon in the world. While Buckskin Gulch may be the main draw of the area, Wire Pass is still incredible.
The hike is officially 3.7 miles, but we recommend hiking into Buckskin Gulch a bit to see that, too. Five miles is a reasonable distance to plan for the whole thing. It's mostly an easy hike, but there is one 8-10 foot drop with a boulder scramble. Sometimes there is a ladder or logs set up to help you get down, but if you're not comfortable doing that, don't try it (Search and Rescue (SAR) is called here a lot because of this drop). Go up and around, then back in to see what you went around.
This is such an amazing hike and makes for a great day trip from Page or Kanab. It's also a great alternative if you aren't one of the lucky ones to score a permit for The Wave.
Most of the trail is just following a wash which isn't the most exciting, but once you get to the slot section, it will all be worth it.
There isn't really a bad time to do this hike, but it could be snowy in the winter, and it will be extremely hot in the summer, especially on the hike in and out through the wash. The slot canyon will be a little cooler; make sure to bring plenty of water.
There is a $6 fee per person that can be paid at the trailhead with your phone.
12. Backpacking Coyote Gulch Escalante National Monument
Contribution by Ashlee Fechino of The Happiness Function
Another backcountry Utah treasure is backpacking in Coyote Gulch. Coyote Gulch is a bucket list destination due to its tucked-away arches, and the only access is by foot.
Access to Coyote Gulch is located off Hole-in-the-Rock-Road in Escalante National Monument.
Begin the backpacking adventure from the Red Well Trailhead. A 28-mile route (there and back) will take you through alcoves, arches, a natural bridge, canyons, and epic sandstone geology. Coyote Gulch leads to the Escalante River; as you wander down the canyon, the water begins as a trickle, which leads to a more significant stream.
There are a few ways to enter Coyote Gulch, so do some research ahead of time.
Permits are required for overnight stays. Plan a minimum of 2-4 days to trek this epic route.
Add backpacking through Coyote Gulch to your Utah adventure bucket list!
13. Sightsee Escalante National Monument Scenic Byway 12
Contribution by Ashlee Fechino of The Happiness Function
The Grand Staircase-Escalante National Monument is home to incredible backcountry canyoneering and hiking.
Some of our favorite routes are to backpack into the Grand Gulch and Coyote Gulch. But, if you're not up for quite that big of an adventure, driving the scenic route will provide incredible views along with photography opportunities.
Scenic Byway 12 also connects Capitol Reef National Park and Bryce Canyon National Park. Take your time, stop along the lookouts, and enjoy this rural and remote canyon country.
14. Whitewater Rafting Cataract Canyon in Canyonlands
Contribution by Ashlee Fechino of The Happiness Function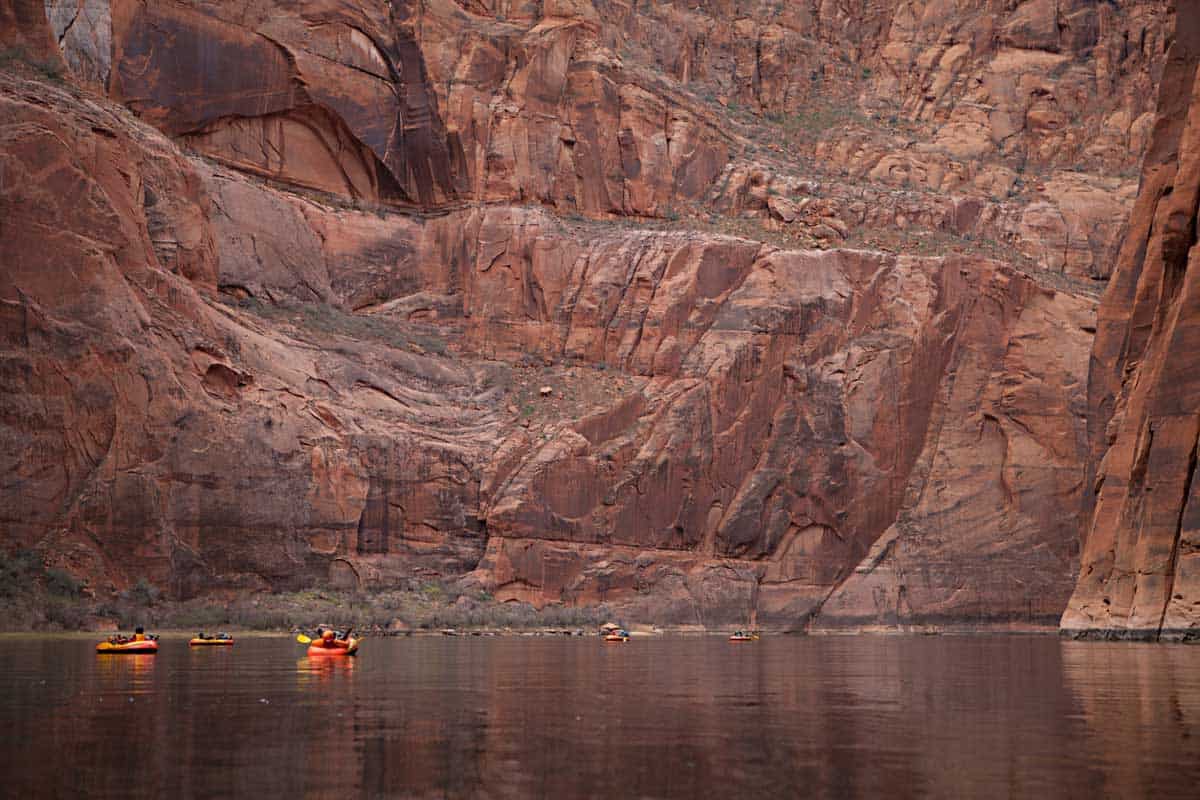 Moab, Utah, is a hub for whitewater rafting and rafting is a popular attraction! Visitors are drifted down the Colorado or Green Rivers beneath towering canyon country. It is one of the most memorable experiences you could have in the desert!
Moab has a few rafting companies to choose from. Plan a whitewater rafting trip through Cataract Canyon! Cataract Canyon carves through Canyonlands National Park.
A whitewater rafting trip in Utah will truly be a memorable life experience. Rafting trip options include single or multiple days. We recommend a multi-day adventure to have the best rafting experience!
15. Stand-up Paddle Boarding the Colorado River
Contribution by Ashlee Fechino of The Happiness Function
Stand-up paddleboarding (SUP) has become an incredibly trendy adventure sport activity. It is really fun!
There are a few places to rent stand-up paddleboards near Moab where visitors can SUP the Colorado River. Do a simple Google search to find a company that suits your expectations if you need to rent gear. Or bring your own SUP gear!
16. Camping & Stand-up Paddle Boarding Lake Powell
Contribution by Ashlee Fechino of The Happiness Function
Lake Powell, also known as Glen Canyon National Recreation Area, has over 2,000 miles of shoreline. The Glen Canyon Dam created Lake Powell in 1966, so it is surprising young (and these days, surprising low from drought).
To visit Lake Powell in Utah, head down towards the Bullfrog Marina. You can bring your boat, rent houseboats, camp, swim, and stand-up paddleboard!
One of our favorite areas to camp along Lake Powell is in the Stanton Creek campground area. Here you can find primitive camping right next to the shore.
Pitch your tent on the beach, bring your own everything (camping gear, water, food) because there is no electricity and only portable vault toilets. Launch your watercraft of choice (kayak, stand-up paddleboard, boat) right from your campsite!
If you aren't going to camp close to the portable bathrooms, be sure to bring your own bathroom kit. It is required to pack out human waste and trash while recreating at Lake Powell.
If you have the Annual National Parks Pass, the pass covers entry into Glen Canyon National Recreation Area. The annual pass does not cover camping fees.
Shop the Annual National Parks Pass at REI!
17. Camping in the San Rafael Swell
Contribution by Ashlee Fechino of The Happiness Function
The San Rafael Swell is an incredible geologic upheaval in Utah. You can't miss its notable rocky presence from I-70 near Green River, Utah. The San Rafael Swell is one of the fastest-growing places to visit in Utah! This is because the area is comprised of wide-open spaces and is public land managed by the BLM.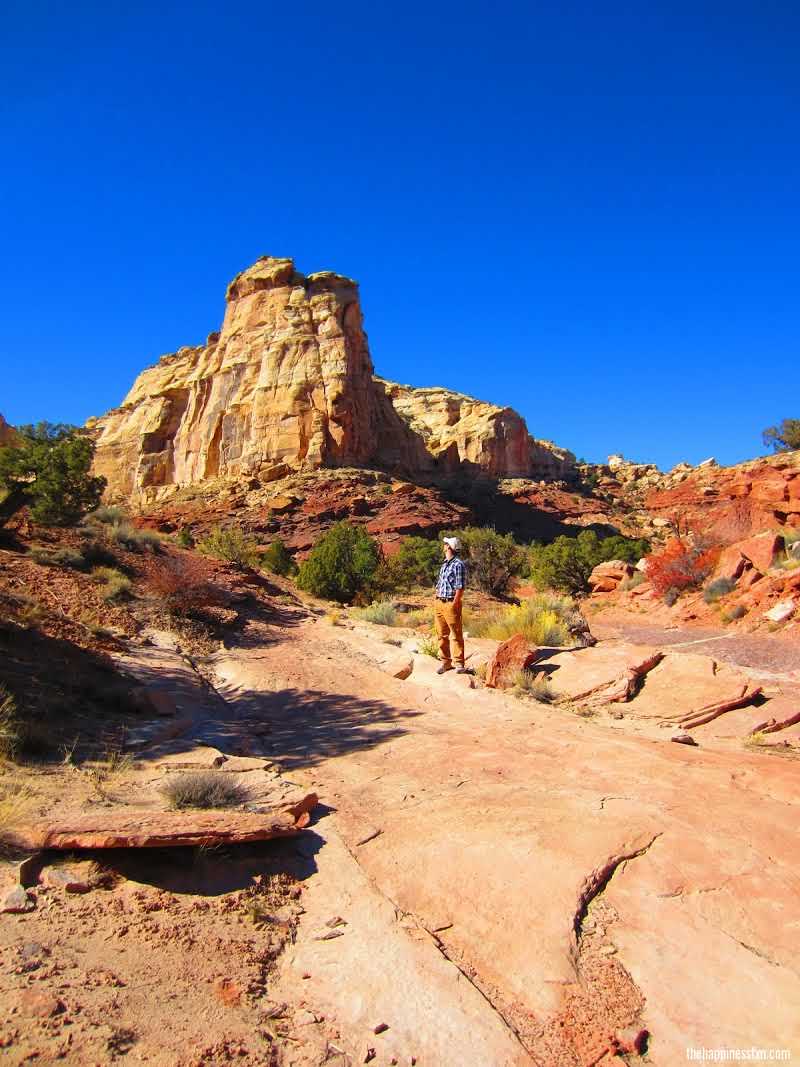 Visitors can find dispersed camping, hiking, canyoneering, mountain biking, and off-roading.
The San Rafael Swell is super rural. Cell phone reception is hit and miss.
Be sure to practice Leave No Trace and be mindful not to bust the biological soil crust while exploring Utah's backcountry.
18. Exploring Utah's National Forests and Mountains
Contribution by Ashlee Fechino of The Happiness Function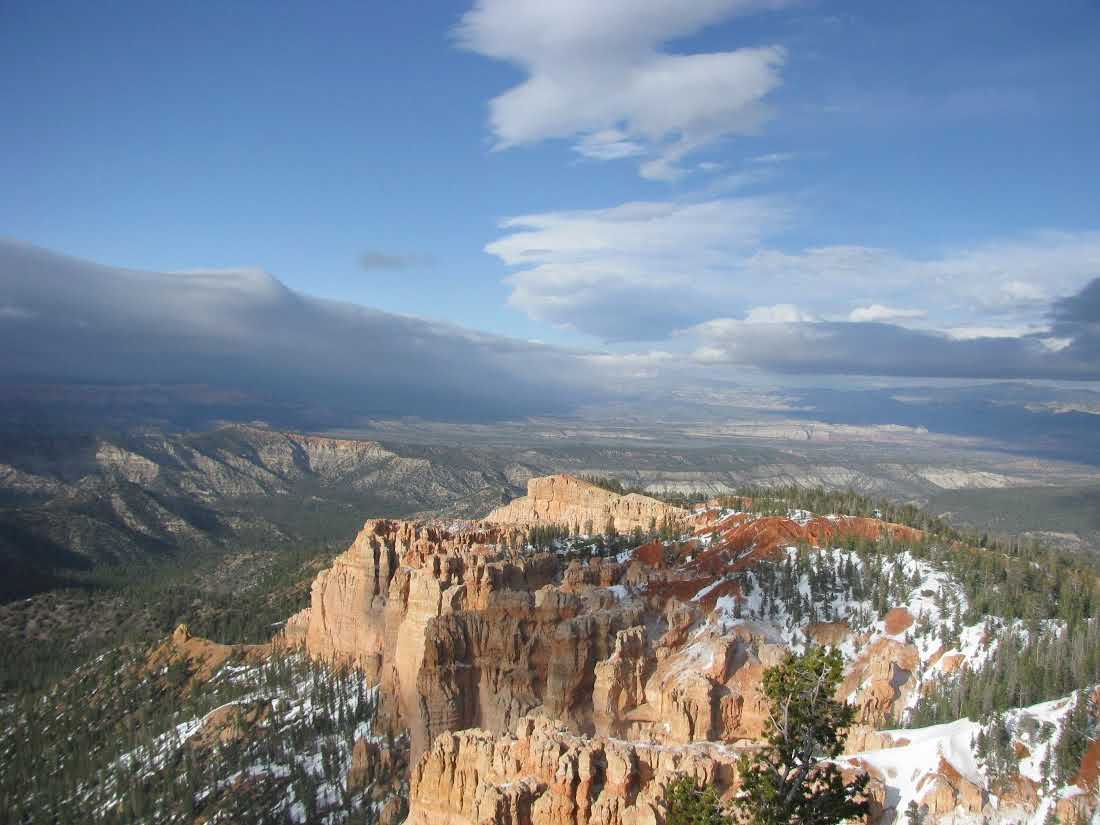 Utah is not just all high deserts. With over eight million acres of public land managed by the U.S. Forest Service in Utah, outdoor recreation enthusiasts can find camping, mountaineering, hiking, skiing, and snowboarding galore.
One of the best-kept secrets about exploring forest service land and the national forests are the opportunities for dispersed camping. You can camp for free in some places! There is a 14-day stay limit.
Check out the U.S. Forest Service in Utah to find more information regarding campsites, hiking, and other outdoor adventures.
19. Mountaineering Utah's 8 Prominence Peaks
Contribution by Ashlee Fechino of The Happiness Function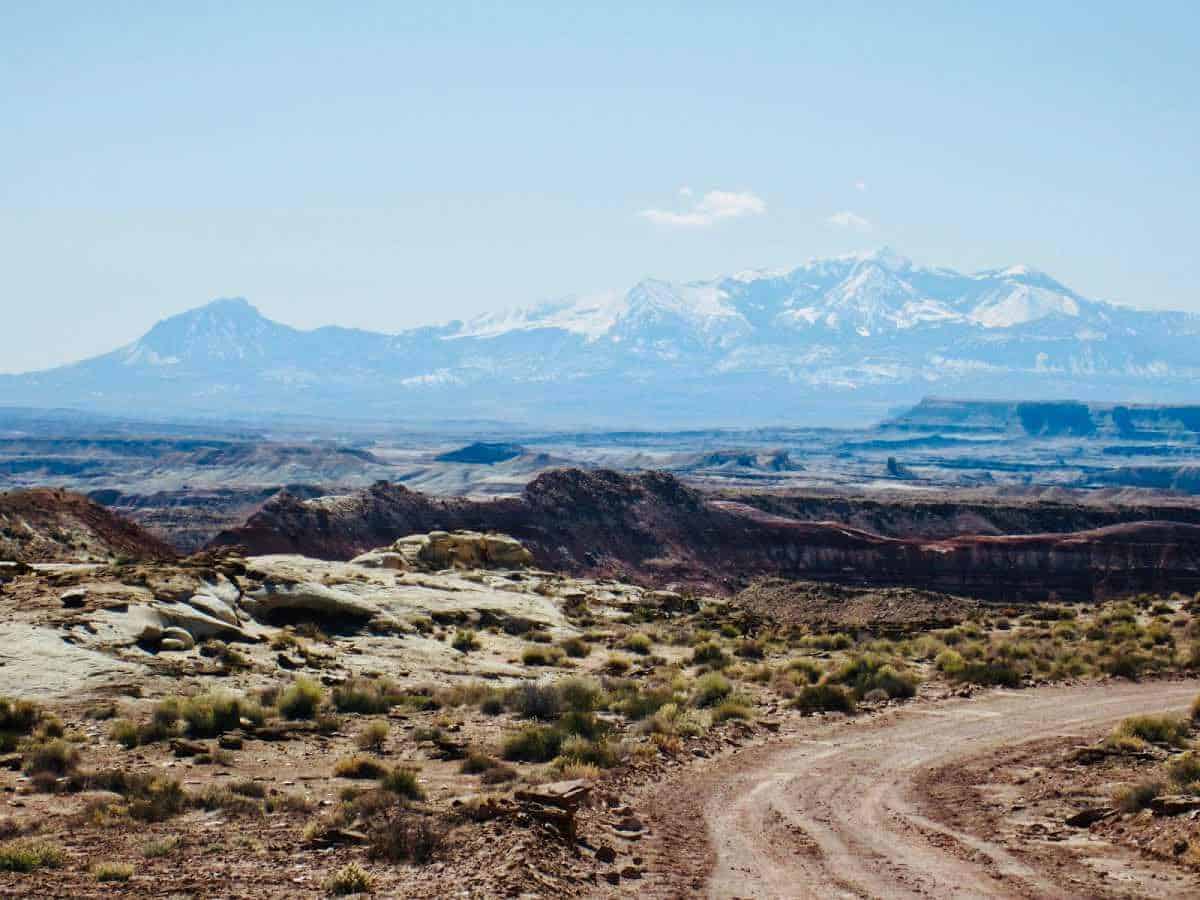 When most people think of Utah, they think of the high desert scenery, red rock sandstone canyon country, and valleys. But did you know there are 80 mountain peaks in Utah? Yes, you read that correctly, 80! These mountains make for adventurous outdoor recreation opportunities, including hiking, mountaineering, skiing, and snowboarding.
Add mountaineering to your outdoor list of things to do in Utah! Colorado isn't the only state in the lower 48 with epic mountain peaks along with a cult following striving to reach each summit. Utah has its own world-class mountaineering. There are eight famous mountains to trek and summit in Utah, though, not for the average hiker!
Utah's 8 Ultra-Prominence Peaks Include:
Kings Peak in the Eastern Uinta Mountains – elevation 13,534′
Mount Peale in the La Sal Mountains – elevation 12,726′
Mount Ellen in the Henry Mountains – elevation 11,522′
Deseret Peak in the Stansbury Mountains – elevation 11,531′
Mt. Nebo in the Wasatch Mountains – elevation 11,928′
Flat Top Mountain in the Oquirrh Mountains – elevation 10,620′
Mt. Timpanogos in the Wasatch Front – elevation 11,750′
Ibapah Peak in the Deep Creek Mountains – elevation 12,087′
20. Skiing and Snowboarding
Contribution by Ashlee Fechino of The Happiness Function
Utah has some of the best ski towns in the U.S. and is home to 15 ski-resorts making for wonderful winter vacations. Many of the resorts are less than an hour from Salt Lake City. Known for crazy snowfall, powder days, terrain parks, and accessible backcountry, here is a list of Utah's ski resorts by area.
So, when are you planning your next ski trip!?
Salt Lake City Area Ski Resorts
Alta Ski Area
Brighton Ski Resort
Snowbird
Solitude Mountain Resort
Park City Area Resorts
Deer Valley Resort
Park City Mountain
Woodward Park City
Ogden Resorts
Nordic Valley Resort
Powder Mountain
Snowbasin
Provo Area
Hiking Gear Recommendations
We have rounded up some of our top gear recommendations for your epic Utah trip!
Final Thoughts
There are many fantastic outdoor recreation opportunities and things to see in Utah. Whether you are visiting for a weekend, passing through on a road trip, or planning your next winter ski trip, there is so much to do, from whitewater rafting to hiking and enjoying some of the most incredible national parks in the country. Utah is one of those states you can visit any time of year and find fun things to do. We hope this list of some of the best things to see in Utah inspires you.
Ashlee & Pablo
---
You might also enjoy…
Are you planning a trip to explore Utah and the Southwest?
You might enjoy our other articles with things to see in Utah.
Save on Pinterest for later!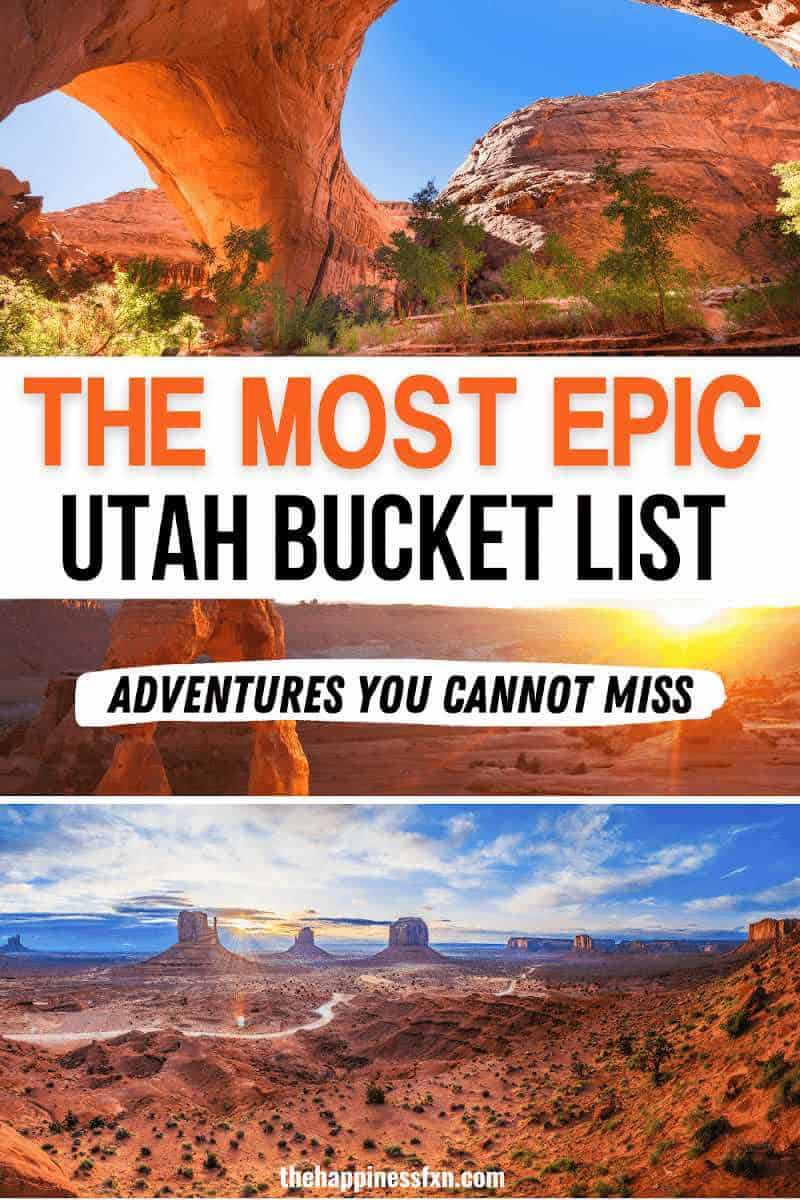 We would love to hear from you!
Have you done anything on the list of top things to see in Utah?
Or what activities are you planning to do?
Leave a comment if you have questions about exploring Utah! We'd love to help you.