Stanton Creek Campground: Best Camping on the Shores of Lake Powell
Posted on: March 29, 2022
|
|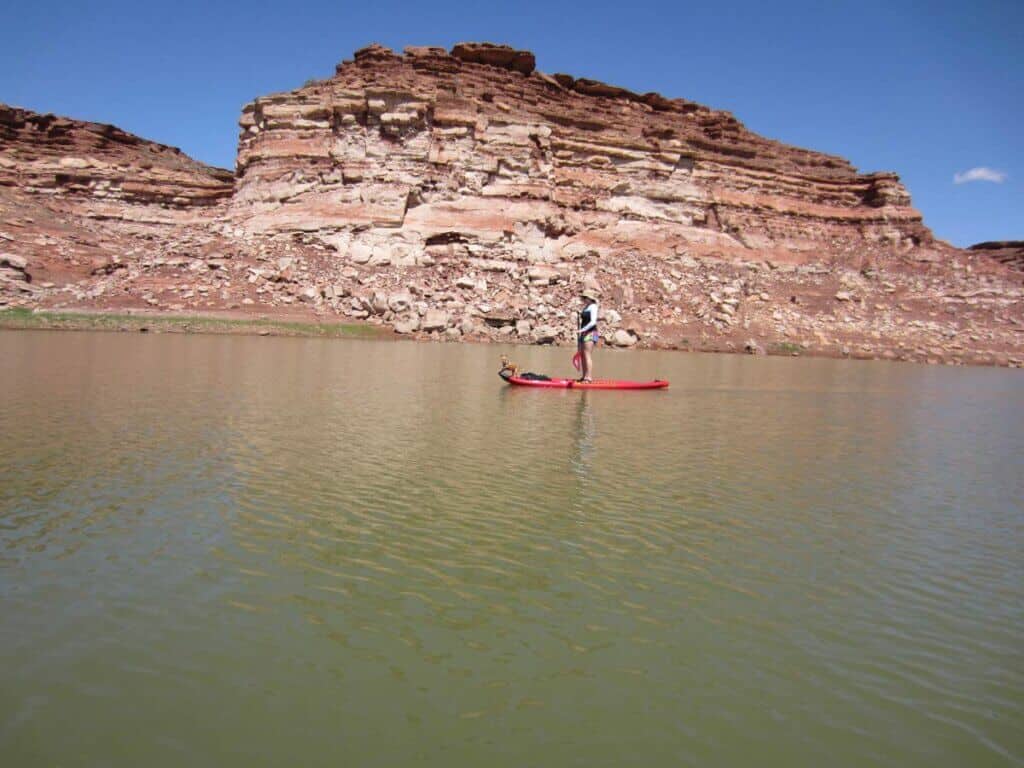 Imagine waking up to the sun rising over the red rocks of Lake Powell and taking a few steps from your campsite to jump into the cool water. At Stanton Creek campground, this is your reality! This campground is in one of Utah's most beautiful areas and offers plenty of activities for outdoor enthusiasts. Whether you're interested in hiking, fishing, boating, water sports activities, or just taking in the scenery, Stanton Creek is sure to please. So, pack your camping gear and get ready for some unforgettable memories. Stanton Creek is one of the best places for camping on the shore of Lake Powell!
This post contains affiliate links, which means we'll receive a commission if you purchase through our links at no extra cost to you. This allows us to continue publishing free travel and gear guides. Please read our full disclosure for more information. Thanks for your support!
About Glen Canyon NRA (Lake Powell)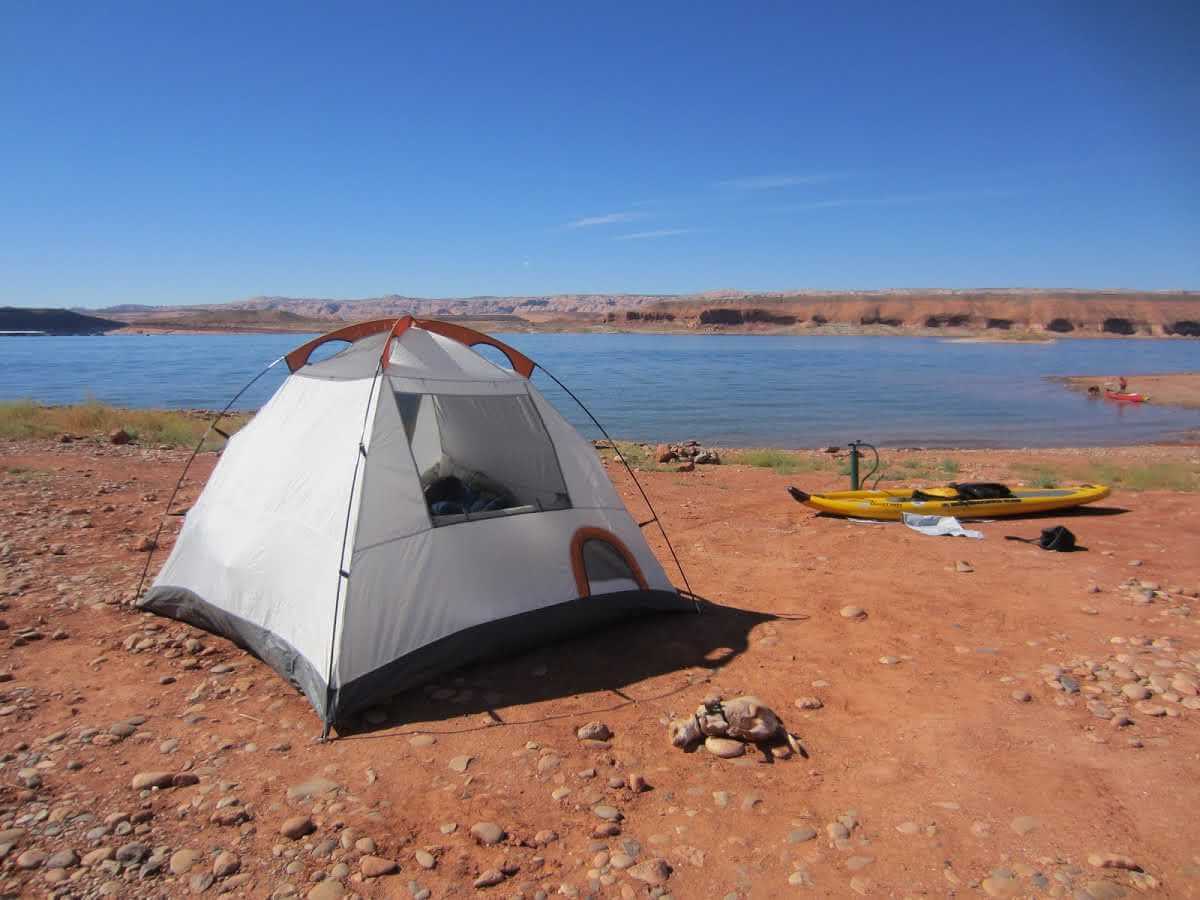 Stanton Creek is located within Glen Canyon National Recreation Area (NRA) in Utah. The National Park Service manages this area.
Lake Powell is a stunning location for outdoor enthusiasts who love to kayak, paddleboard, swim, and boat. There are so many things to do at this amazing spot in the desert southwest that you'll be hard-pressed to fit them all into one trip! So, whether you're looking for a leisurely day on the water or an adrenaline-pumping adventure, Lake Powell has something for everyone to enjoy.
Entrance Fee
If you have the Annual National Park Pass ($80/year), the pass covers the entrance fee.
Without the annual pass, it costs $30 for vehicles to enter for 7 days.
Camping on the Shores of Lake Powell
There is a lot of opportunity for primitive camping on the shore of Lake Powell because this man-made reservoir has almost 2,000 miles of shoreline.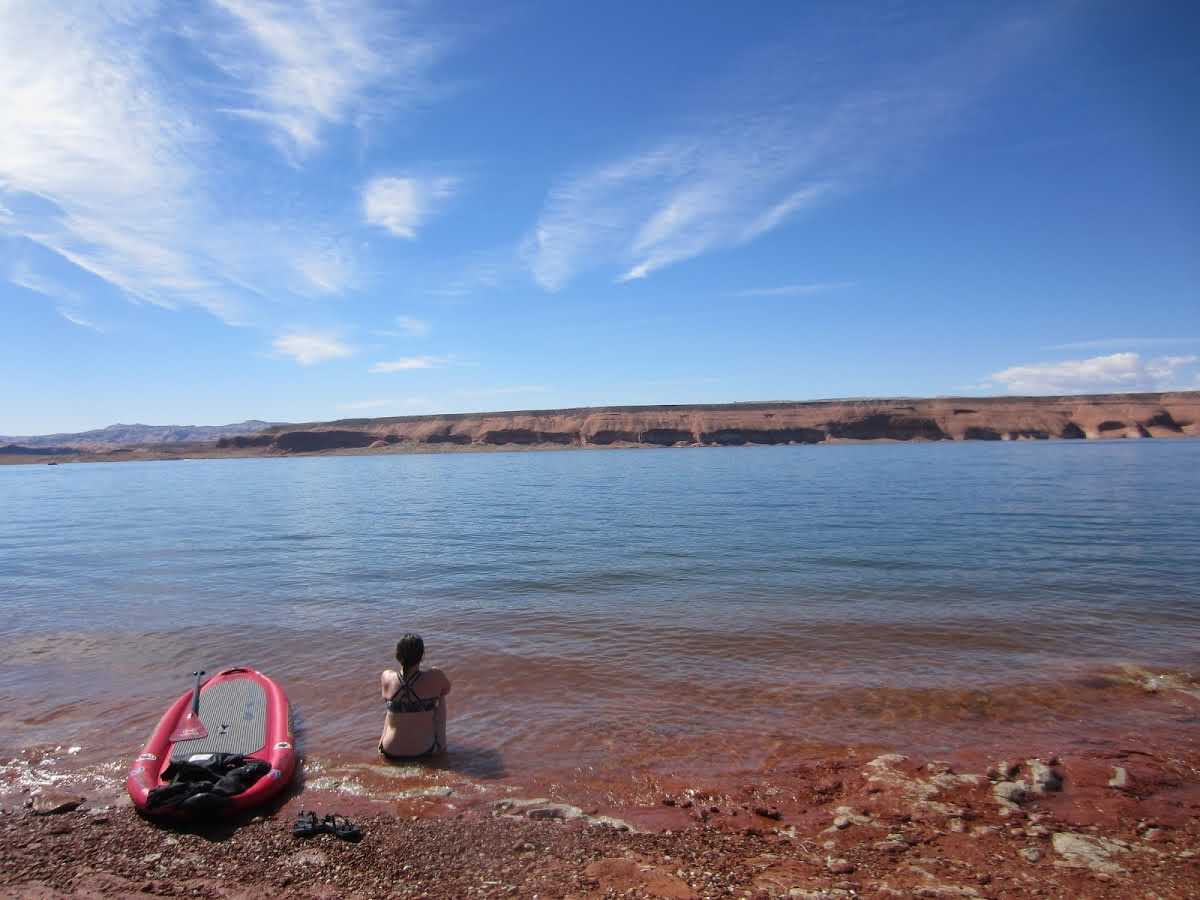 Stanton Creek Primitive Campground
One of our favorite places to camp at Lake Powell is at Stanton Creek. It is a dispersed camping area near the Bullfrog Marina in Utah.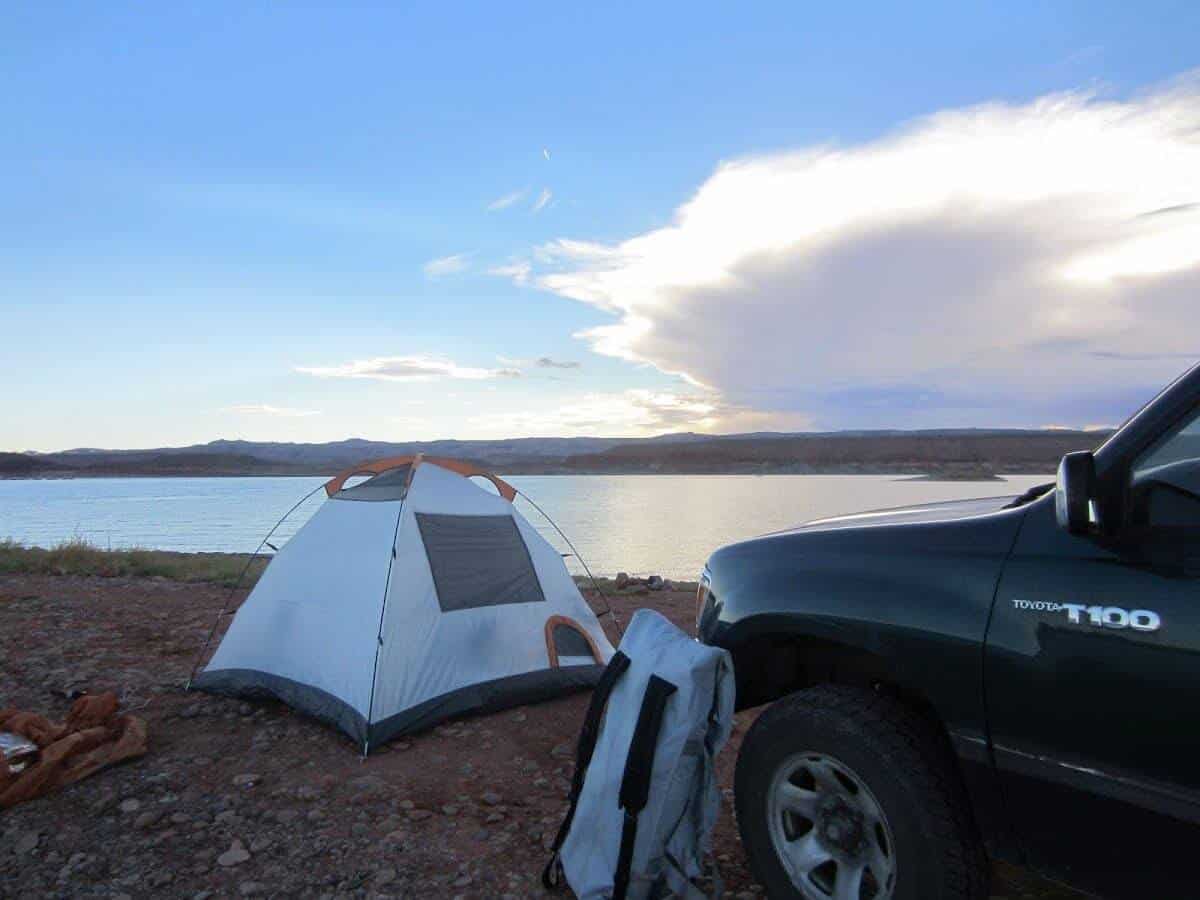 How Much Does It Cost to Camp at Stanton Creek?
It costs $12 per day to camp at Stanton Creek per car.
Bring cash or a check to pay. Since it is a primitive campground, you have to fill out the envelopes provided at the self-serve stations.
Stanton Creek Primitive Beach Camping Details
Stanton Creek campground is great for tents, motorhomes, vans, and RVs.
There are some places where you will want to be sure you have 4WD to camp and boondock. But, there is a decent gravel road that winds through the camping area where you can select camping spots that suit your needs.
Reservations: No camping reservations available, first-come-first-serve
Campsites: No designated campsites, open space dispersed camping
Water: None available
Electricity: No hookup
Bathrooms: No showers, no flushing toilets. Vault restrooms are available seasonally. Bring your own toilet paper!
Toilets: If vault toilets are not in operation, visitors must bring their own toilet system. If not in an RV, we recommend bringing wag bags. A toilet is required to be within 200 yards of your campsite.
Dogs Allowed: Yes
Wood for campfires available: None, bring firewood
Time restrictions for stay: Yes, no more than 14 consecutive days allowed
Not shaded
Open year-round
At Stanton Creek campground, you can literally camp on the shore of Lake Powell. It is simply the best!
Stanton Creek Campground Map
How to Get to Stanton Creek Campground
Going towards the Bullfrog Marina in Utah, once you pass the entrance fee station, follow the road towards the lake. There will be a left-hand turn at the top of the hill (by the dumpsters). Turn left and follow this dirt road. It will take you to the shores of Lake Powell.
If you see the paved left-hand turn by the school, you have gone too far! Turn around; the turn is the left onto the gravel road at the top of the hill.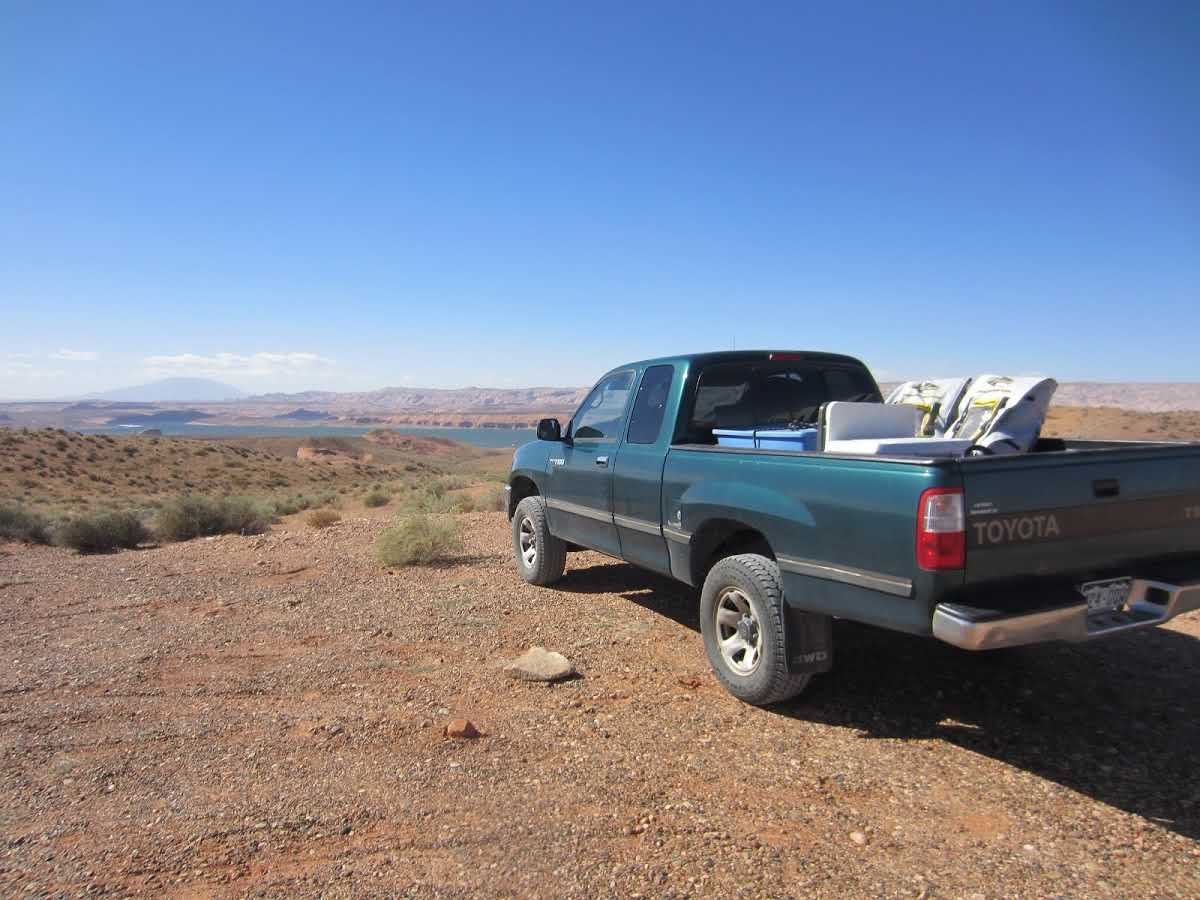 Grab a self-serve fee station payment while you're on your way into the dispersed camping area. There is a fee station along the gravel road.
Are Campfires Allowed?
Yes, campfires are allowed at Lake Powell. Be sure to bring local firewood as there is none to collect in the area.
Is There Cell Phone Reception at Lake Powell?
Cell phone reception is hit and miss near Stanton Creek. Plan to unplug while you're camping. There is cell phone reception near Bullfrog Marina.
Stand-up Paddle Boarding at Lake Powell
One of the best parts about camping at Stanton Creek is the fact that you can camp close to the water! You can quickly launch your watercraft of choice.
We love to stand-up paddleboard here! We like to paddle in the morning before the afternoon winds pick up. Lake Powell is one of the best places to stand-up paddleboard in Utah.
What is the Best Time of Year to Camp at Stanton Creek?
Since this area is in the arid West, late spring through early summer and then the fall are the best times to camp. The summers can get triple-digit hot, but you might enjoy camping here in the summer if that doesn't bother you.
Be mindful of the wind and weather while out on the water too. Sometimes, Lake Powell gets crazy windstorms!
What Should You Bring?
Plan to pack and bring all your camping essentials.
Since there are no facilities, you'll want to bring all of your food, water, firewood, fire starter (it would totally suck to be in the middle of nowhere without a lighter), and gear.
Get our FREE camping and hiking packing list!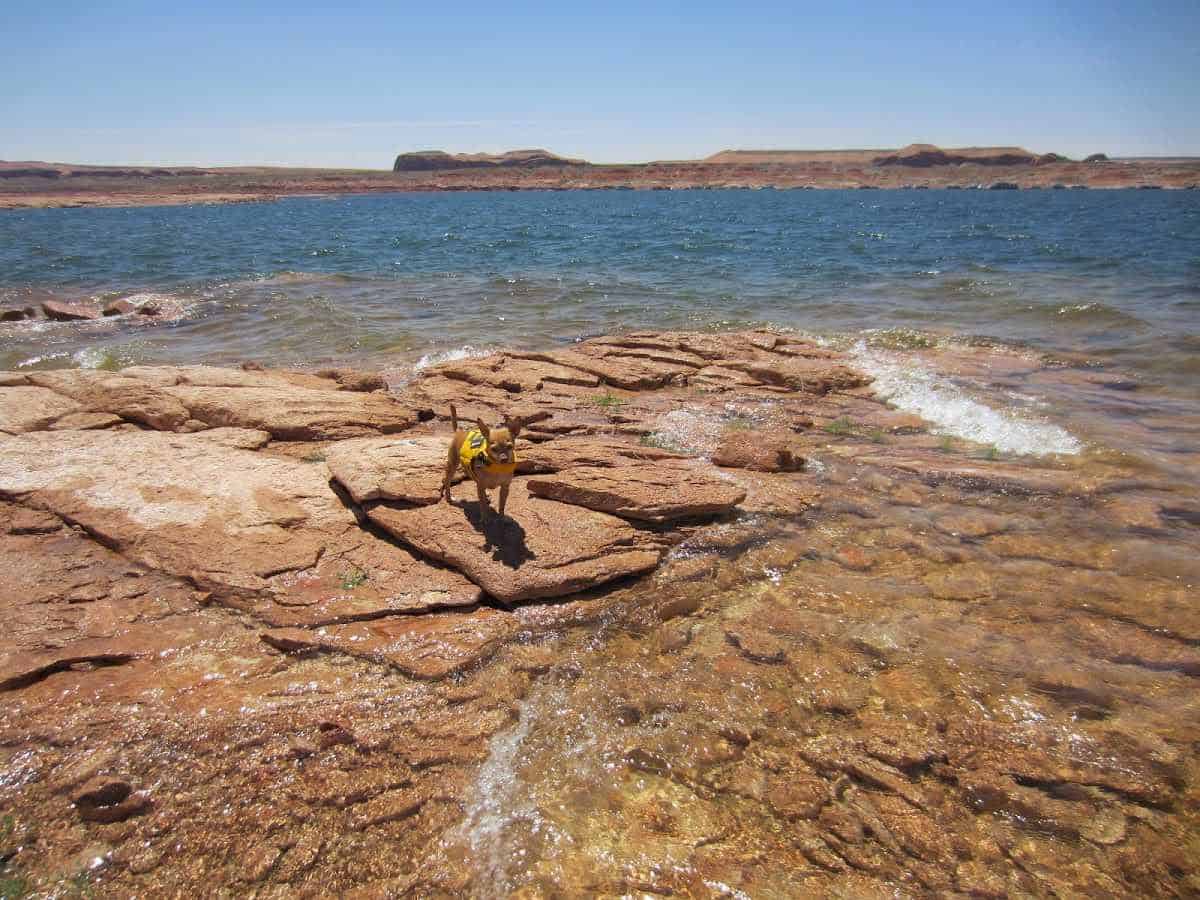 Items to Pack
Below are a few of our favorite items to pack for a Lake Powell camping adventure.
Hanging Around the Campfire
Stand-up Paddleboarding Gear
Personal Hygiene
Other Camping Supplies
You might also be interested in more of our camping articles to help you plan in detail what to take car camping at Stanton Creek:
Final Thoughts on Camping at Stanton Creek
Stanton Creek campground sits on the shores of Lake Powell, just minutes from some of the most stunning scenery, and sandstone geology, in the Southwest. This is definitely a campground worth checking out if you're into the great outdoors. The camping area is spacious, and there's plenty to do in the surrounding area. You can also hike, bike, or run along all the dirt roads in the area when you are not on the water.
Whether you're looking for a quiet spot to relax and take in the beauty of nature or want to explore all that Lake Powell has to offer, Stanton Creek campground is an excellent choice for your next Utah camping vacation.
We hope you have an excellent trip. This is one of our favorite camping locations at Lake Powell.
Thanks for reading.
Ashlee & Pablo
---
Get More Lake Powell Information
Are you planning a camping trip in Utah? You might also enjoy our other articles on recreating at Lake Powell.
Save this article on Pinterest!
We'd love to hear from you!
We have camped at Stanton Creek many times – do you have any questions?
Have you been camping here? What time of year did you go? What did you think?