How to Visit Rainbow Bridge National Monument at Lake Powell
Last Updated: Dec 8, 2022
|
|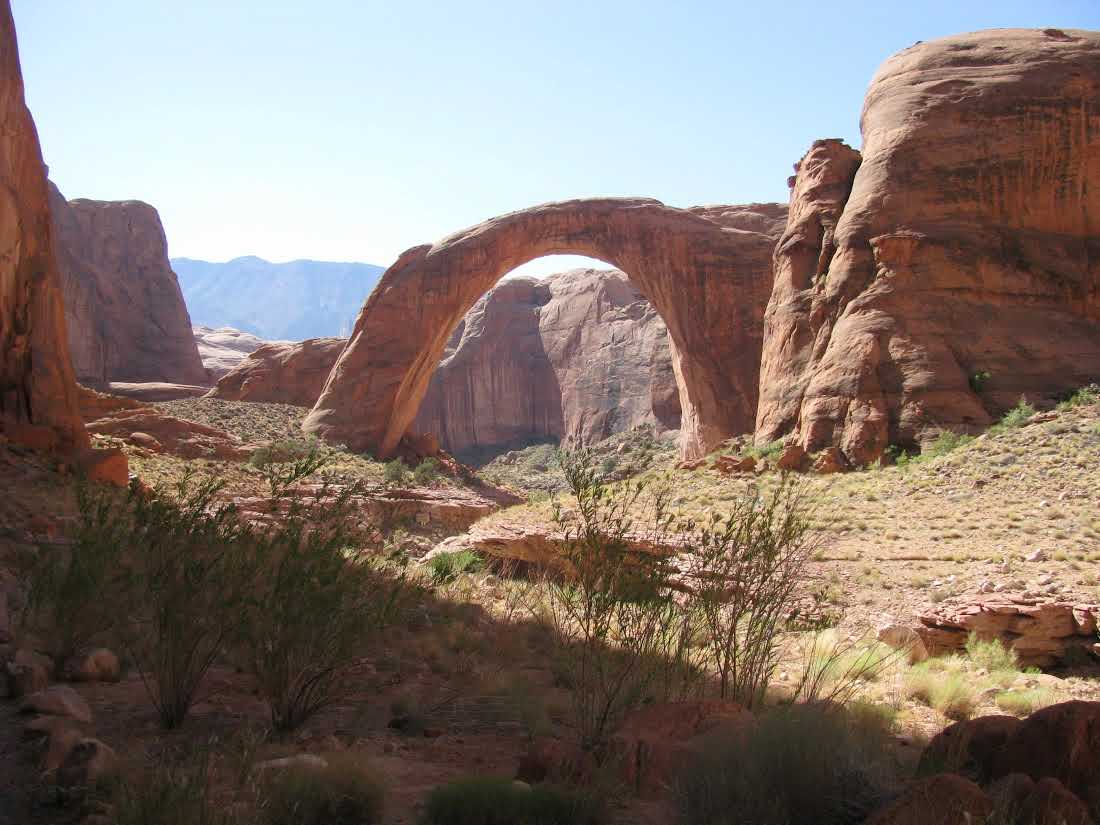 Rainbow Bridge National Monument is a tucked-away sandstone bridge in the Utah desert. It is known for being one of the largest natural bridges in the world, with dimensions reaching 290 feet tall and 270 feet across. There are no roads to access Rainbow Bridge. Those wishing to capture a glimpse of this hidden gem must either visit by boat or a 32-mile round trip backpacking excursion through remote desert land that requires permission from the Navajo Nation. If visiting is on your bucket list, you're in the right place! We're sharing everything you need to know to see Rainbow Bridge National Monument at Lake Powell.
This post contains affiliate links, which means we'll receive a commission if you purchase through our links at no extra cost to you. This allows us to continue publishing free travel and gear guides. Please read our full disclosure for more information. Thanks for your support!
How to See the Rainbow Bridge in Utah
We visited years ago during the summer on a private boat. It was an incredible experience and worth the trip! What makes visiting Rainbow Bridge so special is that it is complicated to access without a boat or long hike. But we're sharing all the details, so you know how to get there.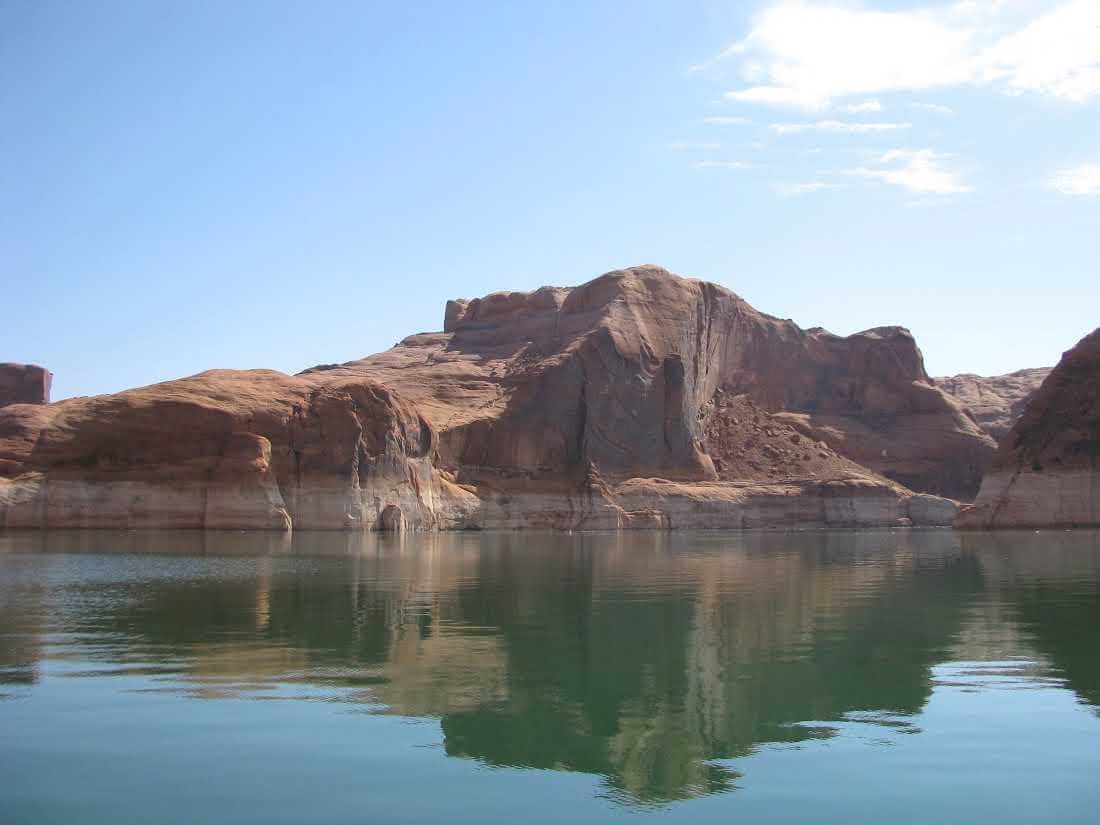 Rainbow Bridge is a Sacred Place
Rainbow Bridge is sacred to five Native American Nations in the Southwest – the Navajo, Hopi, San Juan Southern Paiute, Kaibab Paiute, and White Mesa Ute.
When visiting, it is important to acknowledge and be respectful of the cultural significance Rainbow Bridge has on tribes of the Southwest.
In 1910, Rainbow Bridge became a National Monument. According to the National Park Service, the monument receives around 85,000 visitors a year. Before Glen Canyon National Recreation Area (Lake Powell) was artificially created, Rainbow Bridge was only accessible via foot traffic.
Exactly How to Visit
If there are no roads, how do you get to Rainbow Bridge National Monument? It is a remote spot at Lake Powell and can only be accessed via a 50-mile boat ride or a 32-mile round-trip hike.
Boating to Rainbow Bridge Lake Powell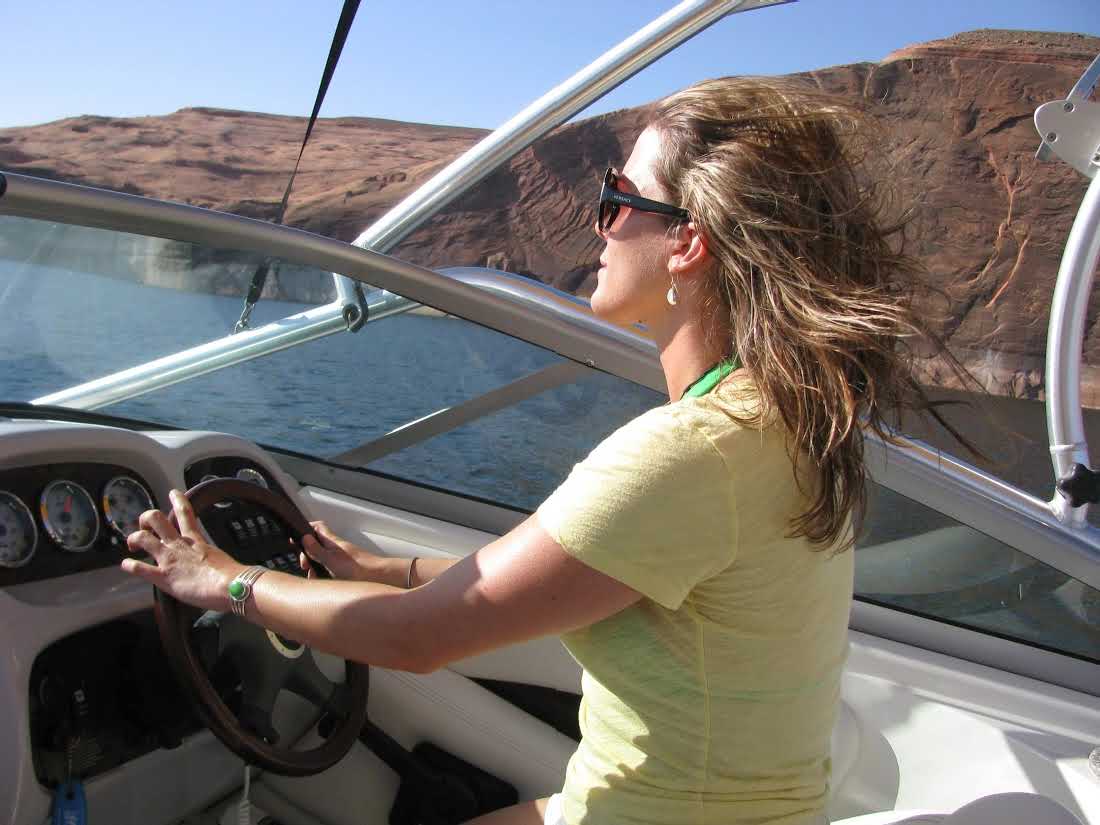 When on the water at Lake Powell, the entrance to the Monument is at buoy 49, the mouth of Forbidding Canyon. You can get there with your own boat, rent a boat, or take a Lake Powell boat tour to Rainbow Bridge (link to Lake Powell boat tours).
Wahweap Marina to Rainbow Bridge is 50 miles.
Bullfrog Marina to Rainbow Bridge is also 50 miles.
From both of these marinas, it will take about 3 to 4 hours with your own boat.
If taking a boat tour, depending on the nature of the tour, it could take anywhere from 4 hours to all day.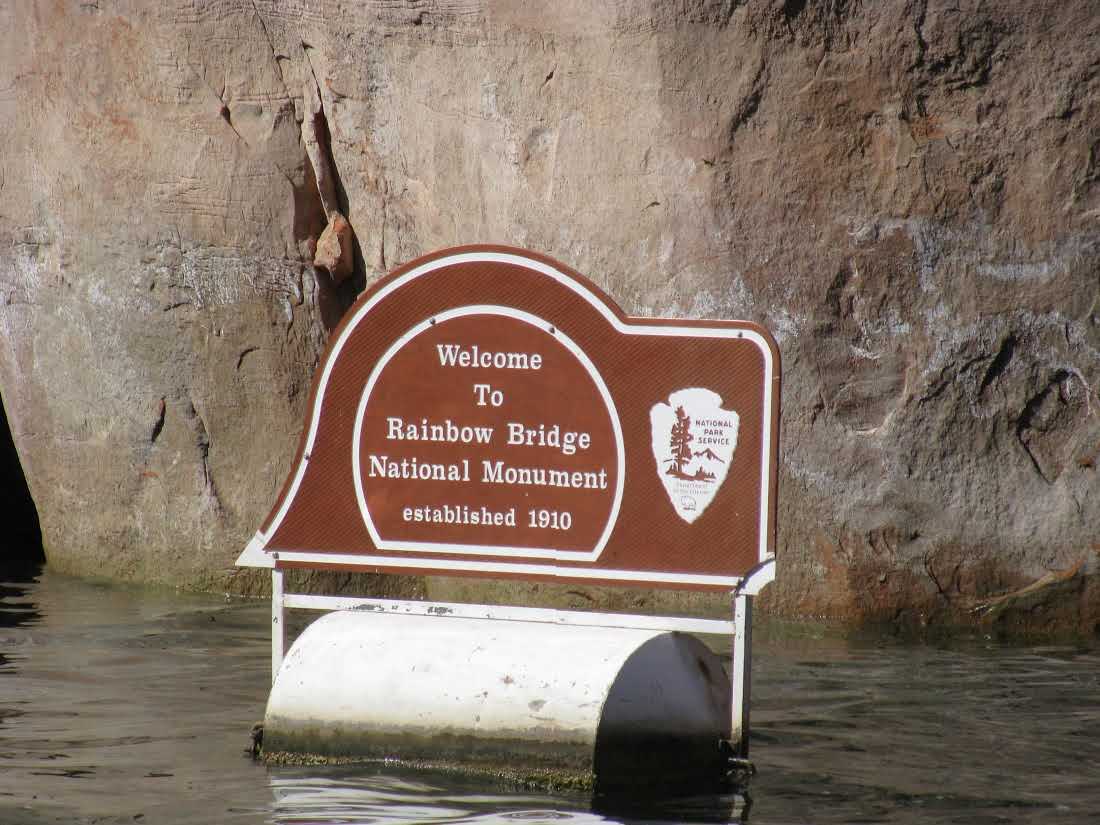 Backcountry Hiking to Rainbow Bridge
If you don't want to boat in, you can hike in.
There are two trails to hike in from – the Rainbow Bridge North Trail and Rainbow Bridge South Trail.
Backpacking in these parts of Utah are some of the most remote and least accessible places left in the U.S. To hike in, you'll want to make sure you are well prepared for the desert backcountry. Hiking to Rainbow Bridge from the backcountry is only recommended for experienced hikers and backpackers.
There are no services, including cell phone reception.
The hike is 32 miles (round trip) along a rugged and not well-maintained trail. The trail is mainly marked with cairns. The National Park Service recommends bringing a map not to get lost.
The best times of year to hike are during the spring and fall when temperatures are milder.
Do not attempt to hike during the summer months.
Always practice Leave No Trace and respect sacred tribal land.
How to Get Hiking Permits to Rainbow Bridge
Backcountry permits issued by the Navajo Nation are required to do this hike. Permits can be obtained from the Navajo Nation Parks and Recreation Department located in Window Rock, Arizona.
Things to Do at Rainbow Bridge National Monument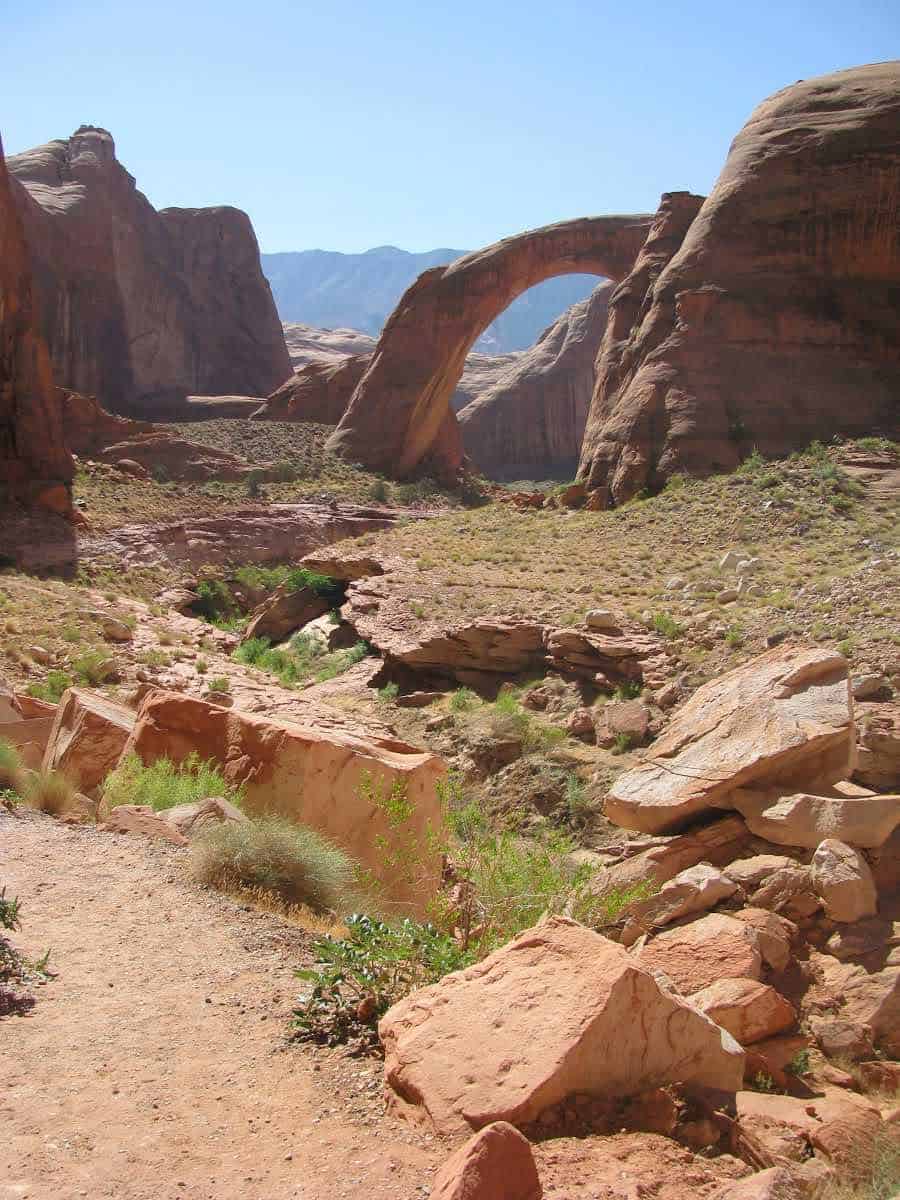 Once you get to Rainbow Bridge from Lake Powell, there is a courtesy boat dock. Walk around the area and enjoy the views. It is called a courtesy boat dock because it is not managed or manned by anyone.
Take lots of photos. Admire the magnificence of this sacred and natural wonder.
How Long is the Hike to Rainbow Bridge from the Boat Dock?
There is a 1-mile trail (depending on water levels) to get to the base of Rainbow Bridge.
Best Time of Year to Visit Rainbow Bridge
The best times of the year to visit Rainbow Bridge are March through November.
If you are boating there, it will pair well with lake activities during warmer months. Daily temperatures during the summer are easily 100 degrees Fahrenheit.
If you are hiking in from the North or South backcountry trails, it is recommended to hike during the spring (April-early Jun) and fall (September-October) only. The summers are scorching hot in Utah.
Are There Services at Rainbow Bridge Lake Powell?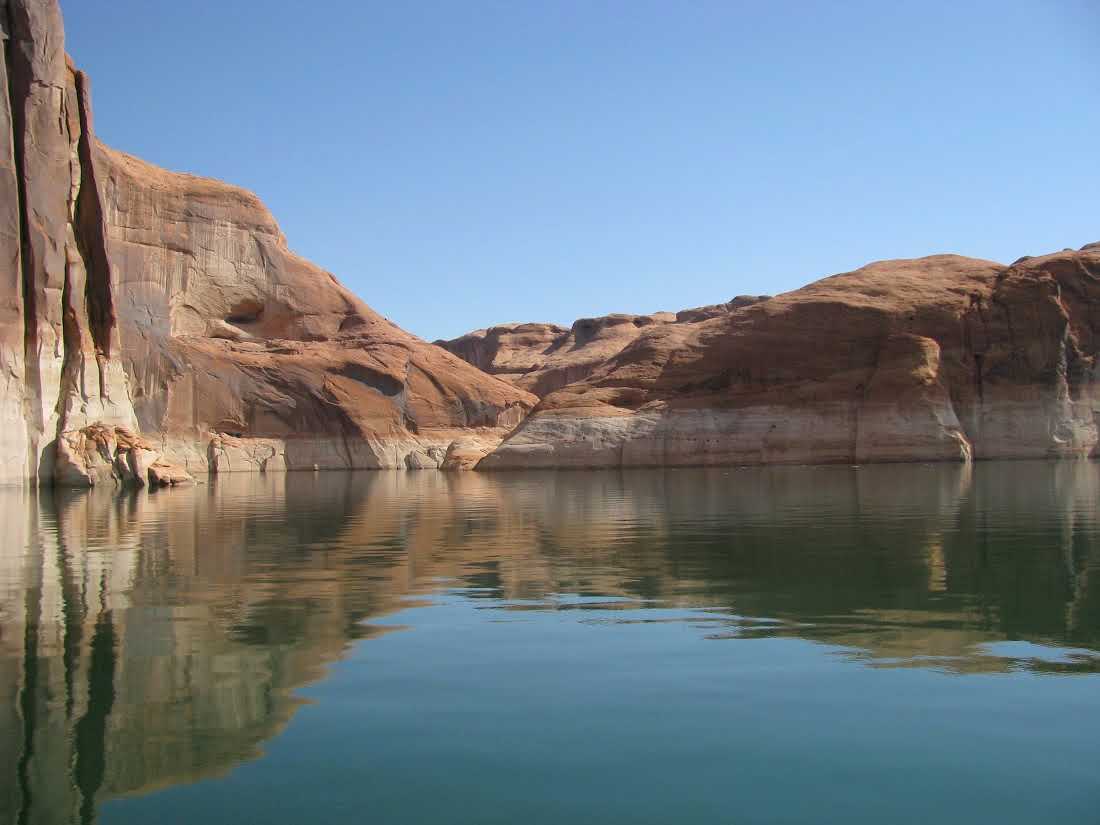 Be sure to plan. There are no services at Rainbow Bridge National Monument, and there is no visitor center. Toilets are available near the boating dock.
Where are the Nearest Services to Rainbow Bridge National Monument?
The nearest services are located at Dangling Rope Marina. Dangling Rope is located 10 miles from the monument via boat. Dangling Rope has gasoline, some supplies, and emergency services.
What Should You Bring?
Boating to this area of Lake Powell is highly remote, and there is practically no cell phone reception. Be sure you practice boating safety.
You'll also want to bring sunscreen, shade, sun-protective clothing, shoes you can walk to the bridge in, and all of your food and water.
Closing Thoughts on Visiting
If you are an outdoor lover and have not had the chance to visit Rainbow Bridge National Monument, I highly recommend adding this to your trip to Utah. It is a breathtaking sight that will leave you in awe. The best way to see it is by boat. Be sure to check site conditions and water levels before your visit. The water levels have been really low, and conditions change.
Boating through the canyons of Lake Powell is such a memorable experience. In some places, the water is crystal clear and so blue you'll think you're in the Caribbean!
Lake Powell is one of our favorite places to camp and stand-up paddle board in the Southwest.
We hope this guide on visiting Rainbow Bridge National Monument helps you plan a memorable trip. It truly is one of the best places to visit.
Thanks for reading.
Ashlee & Pablo
---
Shop Lake Gear
To help you plan an epic lake trip, we are sharing gear we love and use!
---
Get More Lake Powell Information
Are you visiting the Glen Canyon National Recreation Area (Lake Powell) this summer?
Don't miss these popular articles:
Where Are You Headed Next?
You might also enjoy our other outdoor adventure articles:
Save this article on Pinterest for later!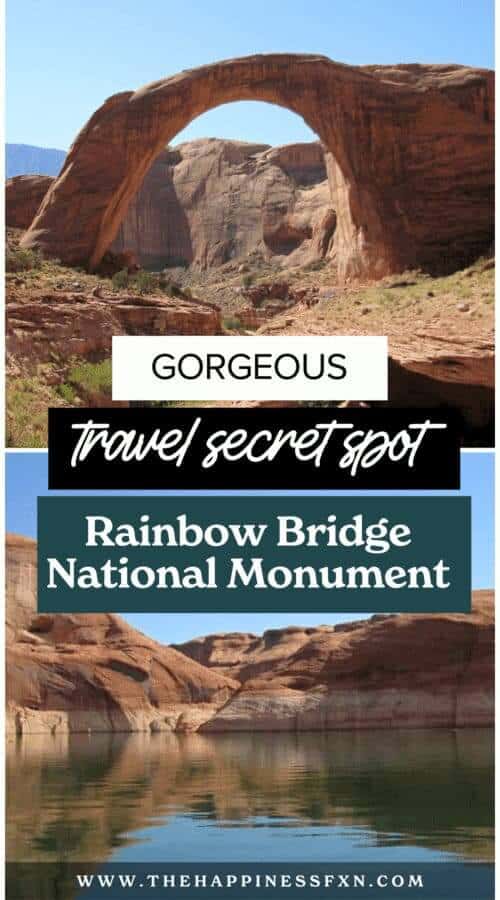 We'd love to hear from you!
When are you planning on visiting Rainbow Bridge National Monument? We'd love to hear from you!