Best Lake Powell Camping on the Beach
Posted on: April 3, 2021
|
|
Discover all of the best Lake Powell camping areas to camp right on the beach! With almost 2,000 miles of shoreline, Lake Powell makes for breathtaking waterfront camping. Discover some of the best camping in Utah and Arizona located in the Glen Canyon National Recreation Area (NRA).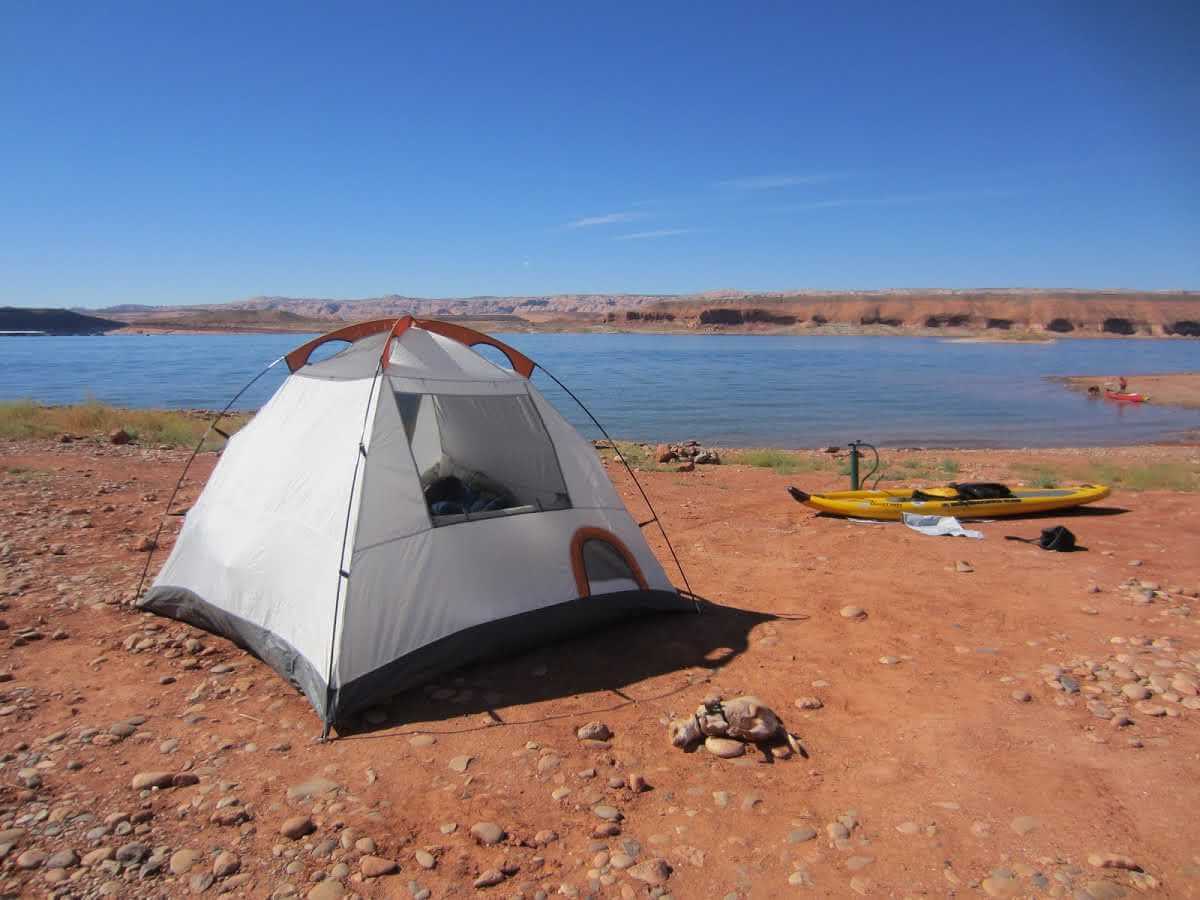 This post may contain affiliate links, which means we'll receive a commission if you purchase through our links, at no extra cost to you. Please read full disclosure for more information.
Lake Powell Camping
Camping at Lake Powell is a fun desert escape! The entire area has incredible desert views full of red rock, sandstone, and blue skies. You can count on sunny days and drier weather in the arid West.
We'll talk about all the best Lake Powell camping spots, including beach camping, primitive camping, how much it costs, and much more. Continue reading for details!
How Much Does It Cost to Enter Glen Canyon National Recreation Area?
As of 2021, it costs:
For more information on fees, visit the National Park Service.
Where to Beach Camp at Lake Powell
Beach camping at Lake Powell is one of the best things about recreating at Glen Canyon NRA. The five (5) campgrounds and camping areas below offer shoreline camping.
Stanton Creek Campground Details
Lone Rock Beach Campground Details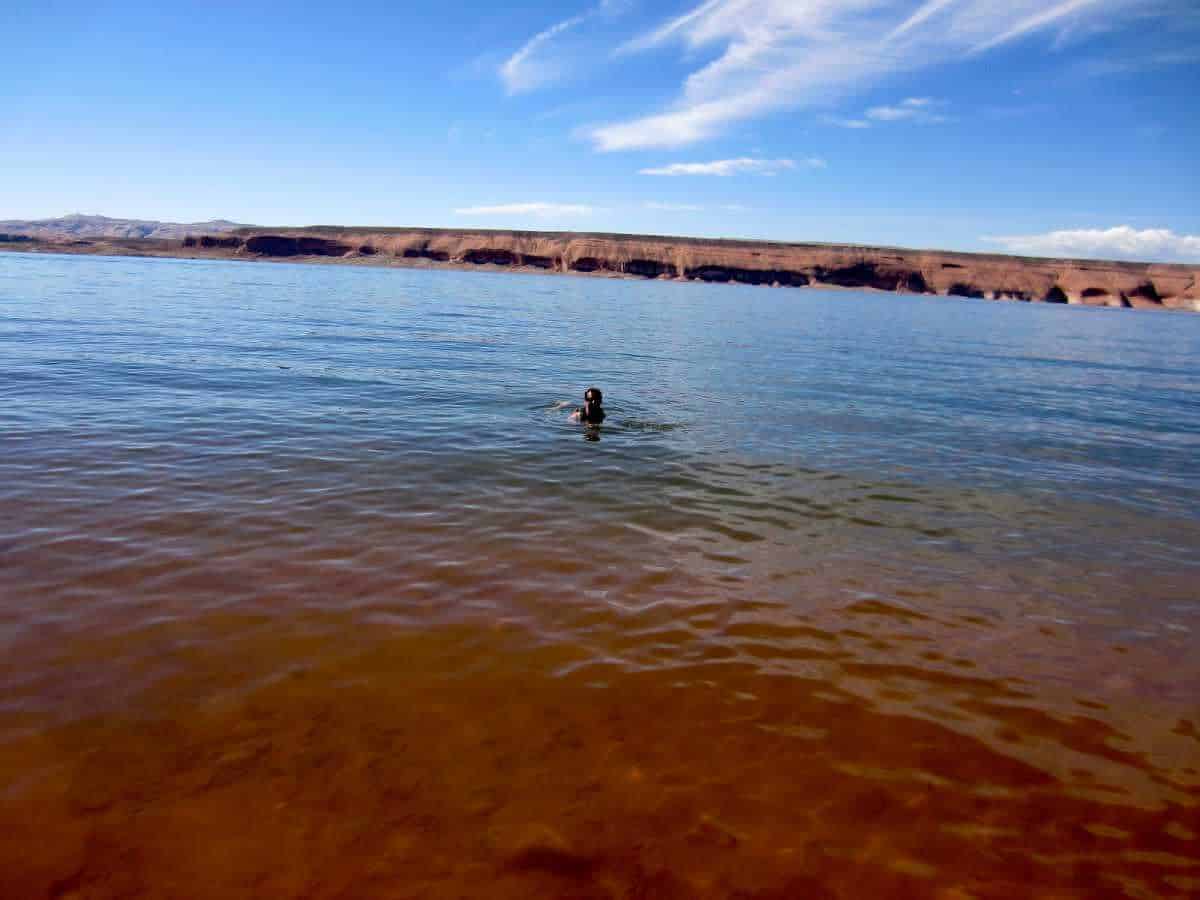 Wahweap Campground and RV Park Details
Bullfrog Campground Details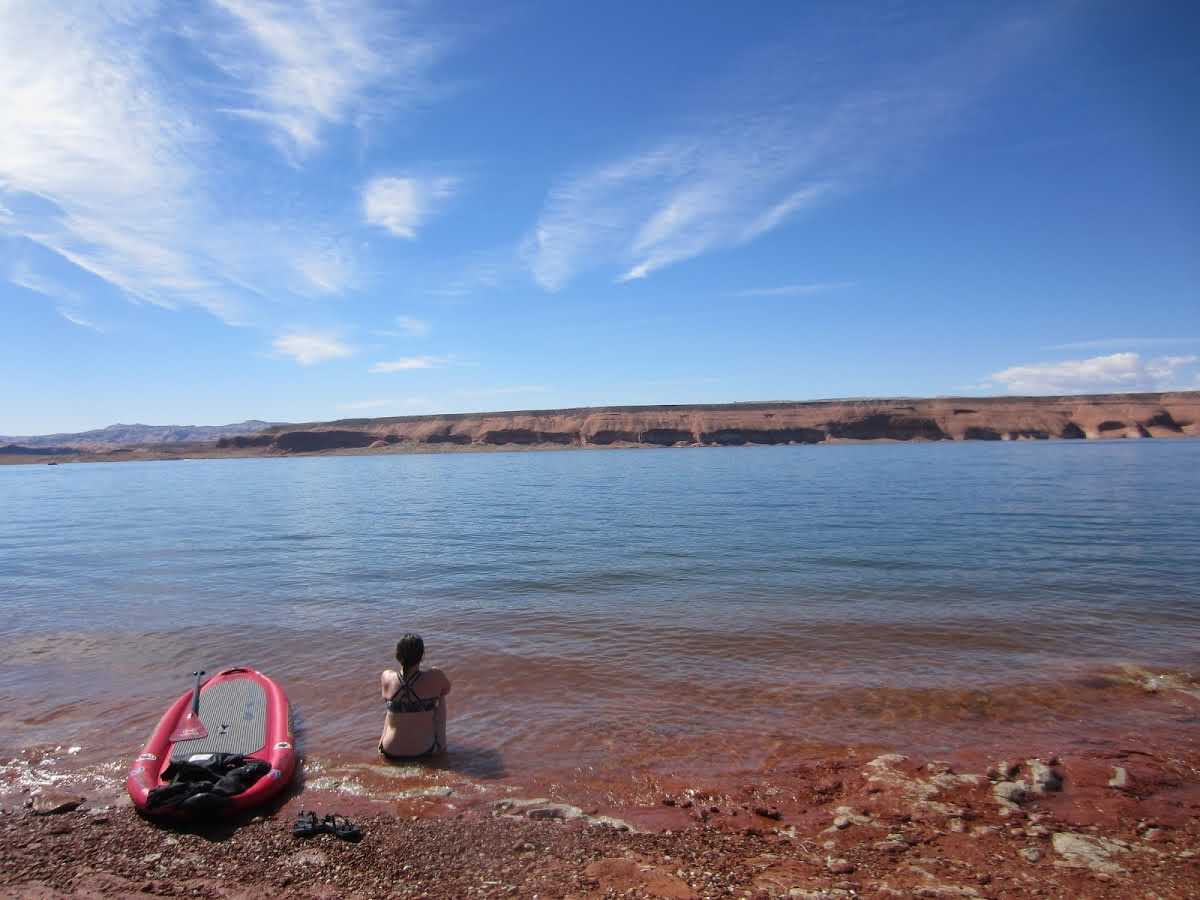 Halls Crossing Campground and RV Park Details
You have to ride the ferry from Bullfrog Marina to get to the Halls Crossing Campground area! Contact the Bullfrog Marina ahead of time to arrange travel to Halls Crossing.
Best Primitive Beach Camping at Lake Powell
The two (2) absolute best places for primitive camping on the beach of Lake Powell are:
Lake Powell Shoreline Camping
With almost 2,000 miles of shoreline, visitors can camp along the shores almost anywhere at Lake Powell (except Rainbow Bridge).
The National Park Service does allow camping in undeveloped areas along the shore.
Visitors just have to be able to access undeveloped locations via boat, watercraft, or by hiking in, if not an already designated campground or primitive camping area.
Best Lake Powell Camping on the Beach Map
When is the Best Time of Year to Camp at Lake Powell?
The best time of year to camp at Lake Powell is definitely during the spring and fall. If you are dry camping without any facilities, the summer temperatures can be scorching in the triple digits (100 degrees Fahrenheit or more), so it can be uncomfortable if you aren't in the water all day.
If you are staying at one of the campgrounds with an RV and electricity, summer camping is more comfortable if you can get a break from the heat or enjoy water activities most of the day!
Late spring, summer, and early fall are excellent times of the year for being in the water.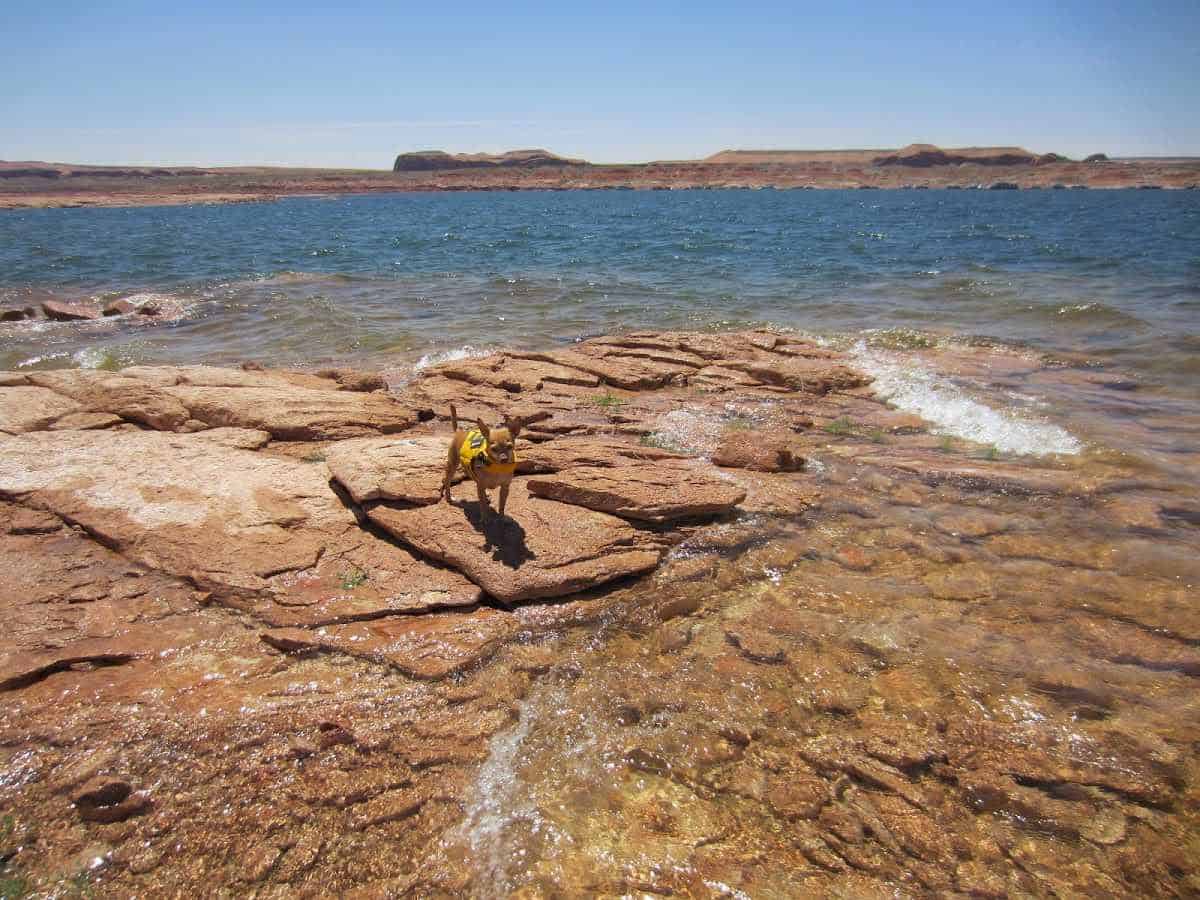 Is There Cell Phone Reception at Lake Powell?
Most of the primitive camping areas do not have cell phone reception. From our experience, unless you are close to one of the marinas, cell phone reception is hit and miss.
For all of you digital nomads, the Wahweap and Bullfrog campgrounds have cell phone reception.
What Should I Pack to go Camping at Lake Powell?
To camp at Lake Powell, you'll want to be sure to bring all the basics:
Enjoy Lake Powell Camping
We hope you have an excellent trip camping at Lake Powell!
In case you decided to skip through the details, below are the five (5) best places to camp on the beach at Lake Powell:
Thanks for reading.
Ashlee & Pablo
---
You might also enjoy…
Are you planning on exploring Utah and the Lake Powell area? You might also enjoy our other articles:
Save this article on Pinterest for later!
We would love to hear from you!
When are you going camping at Lake Powell?
If you have been, where was your favorite area?