Dam Site Lake Park Campground: Perfect Beaver Lake Island Retreat
Last Updated: Dec 8, 2022
|
|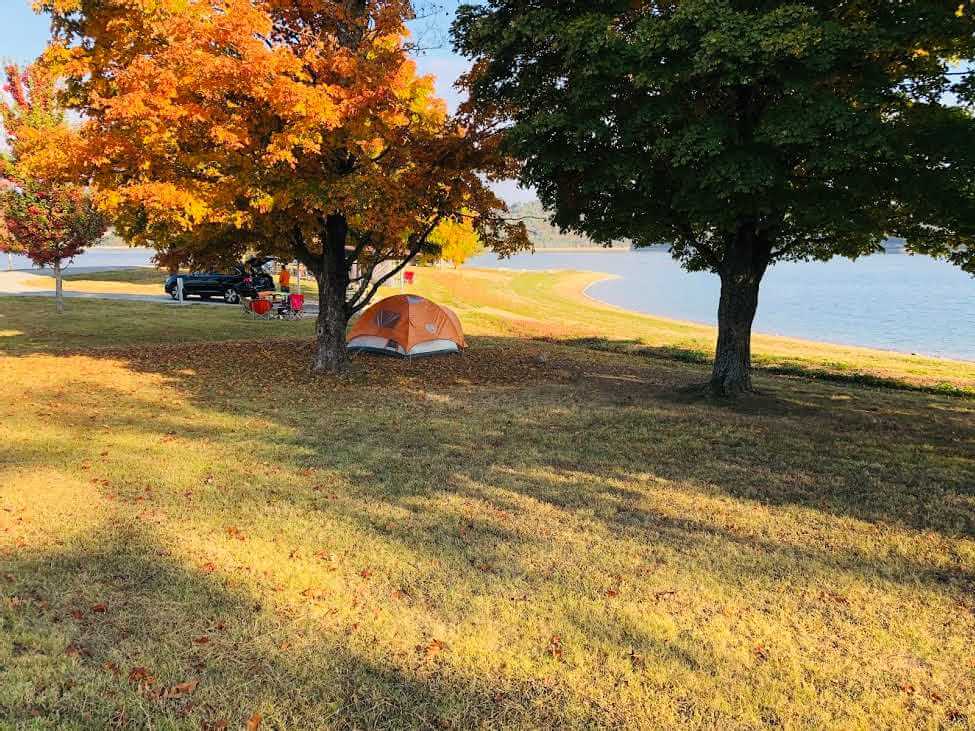 Dam Site Lake Park Campground is one of the best places to camp on the shores of Beaver Lake in Arkansas. Camping here is Ozark camping at its finest! No exaggeration; Beaver Lake has beautiful crystal-clear water. Discover everything you need to know to camp at Dam Site Lake Campground, located right on the shores of Beaver Lake, one of Arkansas's best lake recreation destinations.
This post may contain affiliate links, which means we'll receive a commission if you purchase through our links, at no extra cost to you. Please read full disclosure for more information.
Dam Site Lake Park Campground Review
The U.S. Army Corps of Engineers manages the Dam Site Lake Park Campground. It is located on an island (or peninsula) surrounded by Beaver Lake in the Ozark Mountains. Along with camping, Beaver Lake is a great place for water sports activities, including swimming, fishing, boating, kayaking, and stand-up paddleboarding.
You can also check out the Beaver Dam overlook. If you'd like to get in some hiking, by the Beaver Dam overlook, there is a trail to hike up the mountain for views of Beaver Lake and the Ozark Mountains. The trail is located near the Beaver Dam overlook restrooms – you'll see wooden stairs going up the hill.
We are sharing all the details with you for some of the best camping at Beaver Lake, Arkansas – continue reading!
How Much Does It Cost to Camp at Dam Site Lake Park?
Costs per night are:
$22 Standard Electric 30 Amp (same for tent sites)
$24 Standard Electric 50 Amp
Be sure to review costs while booking on recreation.gov. Depending on the campsite you select, fees are between $22-29.
You can make reservations ahead of time at recreation.gov, which we highly recommend. This campground books up fast, especially in the summertime months.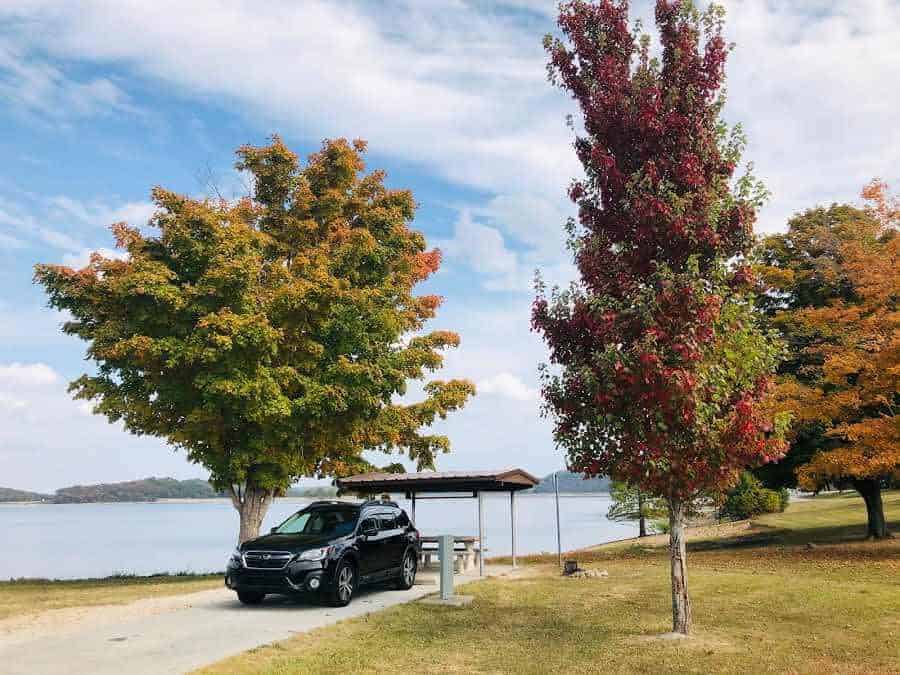 Dam Site Lake Park Camping Details
Dam Site Lake Park is tent and RV-friendly. It is an immaculate campground with beautiful spots to camp on the shore of Beaver Lake.
Reservations: there are a couple of first-come, first-serve campsites, but you'll want to make reservations on recreation.gov to be sure to get a spot.
Campsites: Yes, designated campsites
Water: Yes, available
Electricity: Yes
Restrooms: Yes, the bathrooms on the peninsula are well-kept, and the showers have hot water.
Toilets: Yes, flushing toilets and toilet paper are provided.
Dogs Allowed: Yes
Wood for campfires available: None. Bring firewood.
Time restrictions for stay: Yes, no more than 14 consecutive days are allowed.
Some campsites have covers over the picnic tables, and some do not. Every campsite has a fire ring and picnic table.
Dam Site Lake Campground Map
How to Get to Dam Site Lake Campground
From Eureka Springs, Arkansas, Dam Site Lake Park Campground is about 30 minutes west via US-62 and AR-187.
There is reasonably decent cell phone reception in the area, and you should be able to map your directions with Google maps from wherever you are coming from. Be sure to go to Dam Site Lake Park Campground.
If you are coming from the Tulsa, Oklahoma, area, you might enjoy our 2-Day Road Trip Guide from Tulsa to Northwest Arkansas.
Are Campfires Allowed?
Yes, campfires are allowed at the campground. Be sure to bring firewood as there is none to collect in the area.
Is There Cell Phone Reception at Dam Site Lake Park?
Yes, there is good cell phone reception at the campground. This is great for digital nomads.
Paddling at Beaver Lake
One of the best parts about camping at Dam Site Lake Park is shoreline camping and being so close to the water! While camping on the shore of Beaver Lake, you can quickly launch your watercraft of choice right from your campsite.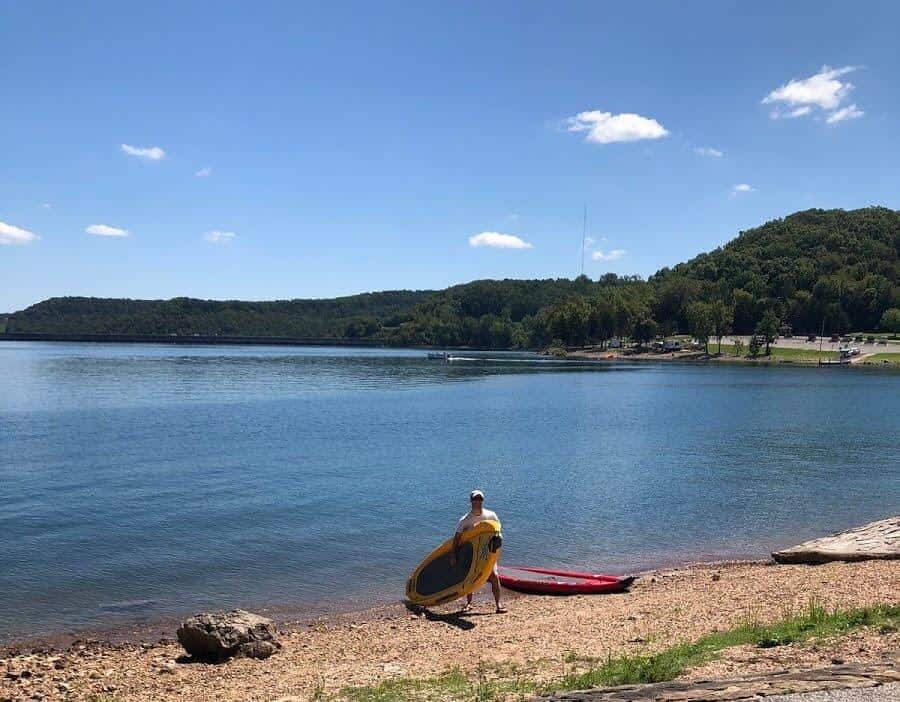 This is one of the reasons we love camping here so much!
We love to stand-up paddleboard and kayak, especially in the morning before the afternoon winds pick up. The water is crystal clear and gorgeous.
What is the Best Time of Year to Camp at Dam Site Lake Park?
The best time of year to camp here is April through the end of October. We love camping in the fall. It is not too hot, and you get to enjoy the incredible fall foliage. Summers are hot and humid, but the water offers a cool reprieve.
What to Pack
You will want to pack all of your creature comforts. There are no stores here. Eureka Springs is roughly 30 minutes away. Below are a few of our favorite items to pack for a lake camping trip.
Get Camping Gear
Gear for hanging out around the campfire
More Car Camping Articles
Final Thoughts
Camping at Beaver Lake is amazing. The crystal clear water is so fun to swim in and paddle. The campground is clean, and the proximity to the water makes it the perfect weekend getaway to recharge and reinvigorate yourself in nature. We hope you have a wonderful trip to one of the best lake camping spots in Arkansas!
Thanks for reading.
Ashlee & Pablo
---
More Arkansas Adventures
Save this article on Pinterest!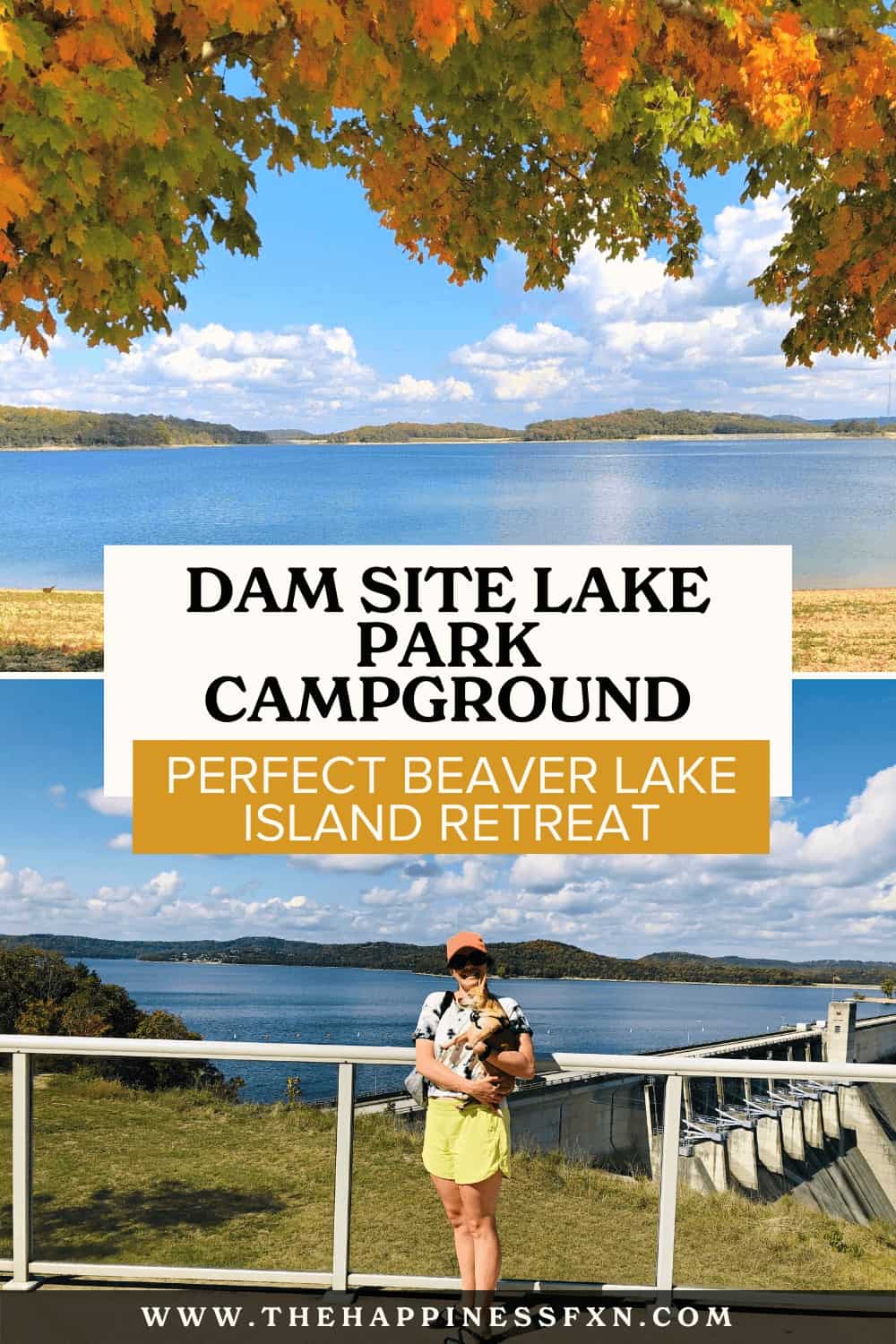 We'd love to hear from you!
We have camped at Dam Site Lake Park Campground many times!
Have you been camping here?