Fall Road Trip Idea: Tulsa to Northwest Arkansas
Last Updated: Oct 9, 2023
|
|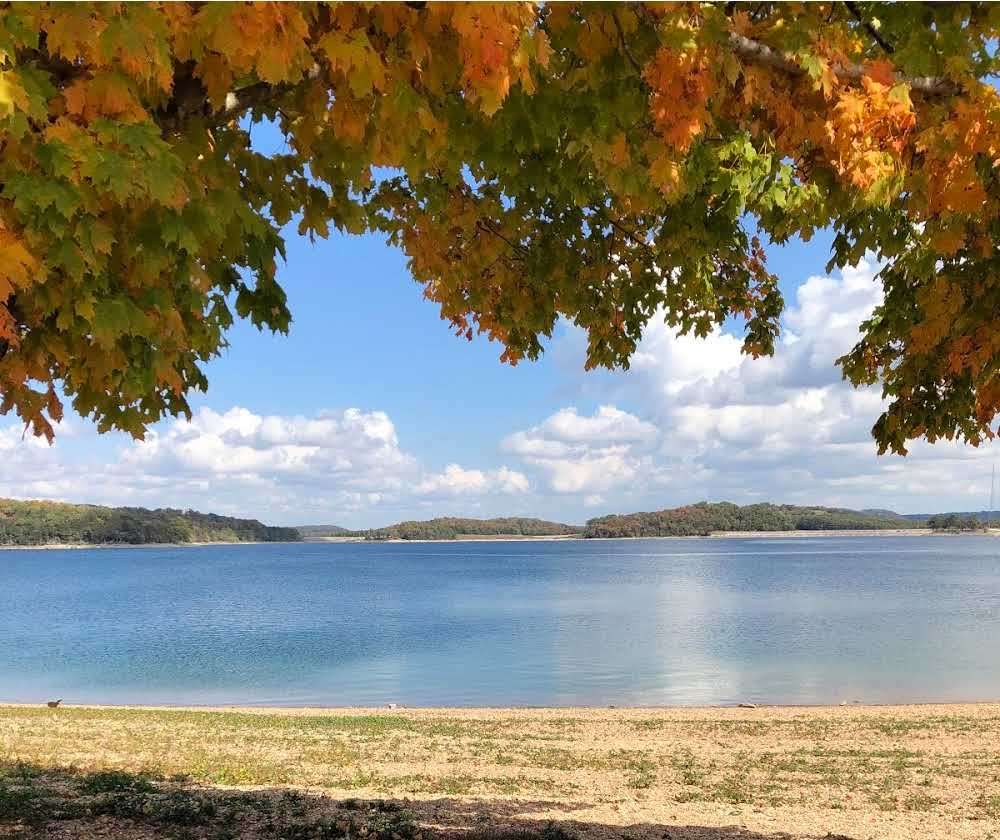 Fall is one of the most beautiful times of the year in the South. Even better, fall camping in the Ozarks is one of the best parts about living in the South. This articles talks about visiting Natural Falls State Park, hiking to Dripping Springs Falls, camping at Beaver Lake, and exploring the quaint mountain town of Eureka Springs in Northwest Arkansas. Keep reading to plan a 2-day fall camping road trip from Tulsa, Oklahoma to the Ozarks.
Fall Camping in the Ozarks
Fall is the best time of year to explore the Ozarks because there are little to no bugs, no ticks, no chiggers, you can see through the brush better, and it is not humid.
Not to make summer sound doom and gloom, but the fall is the best time of year to explore this part of the country.
In case this post finds you during the summer or spring – these seasons are also an excellent times for a road trip to the Ozarks, but our favorite is the fall because of the foliage!
🍂 Related Fall Adventures:
2-Day Road Trip Guide: Tulsa to Northwest Arkansas
This post is structured as a 2-day road trip guide to help you plan an epic weekend exploring the Ozarks in Oklahoma and Arkansas. If you are coming from Tulsa or the surrounding area, this is perfect for you!
4 Stops to Make:
Natural Falls State Park
Dam Site Lake Campground
Beaver Lake Dam
Eureka Springs
Google from your exact location for precise details to plan your road trip route.
Road Trip Itinerary
Road Trip Day One:
Drive to Natural Falls State Park in Oklahoma and hike to Dripping Springs Falls
Drive to the Beaver Lake Dam Site Lake Campground in Arkansas and set up camp
Road Trip Day Two:
Enjoy Beaver Lake and the campground
Check out the hydro Beaver Dam
Explore Eureka Springs and then head home
Day 1
Explore Natural Falls State Park
Many of you have probably heard of the Ozarks, even if you didn't grow up in Oklahoma. This is most likely because you read Where the Red Fern Grows by Wilson Rawls in middle school or high school.
In fact, as I am writing this post reflecting on my childhood, this autobiographical fiction was one of my favorite books. It is about the tale of a young boy's mountain adventures with his beloved hound dogs. The cherished novel was turned into a movie. Did you know parts of the movie were filmed in the Ozarks of eastern Oklahoma? Dripping Springs Falls in Natural Falls State Park is where parts of Where the Red Fern Grows was filmed.
Dripping Springs Falls is a short hike from the parking lot. Stop and spend a few hours at Natural Falls State Park. Natural Falls State Park is located in the Oklahoma Ozarks near Siloam Springs, Arkansas. Siloam Springs is on the border of Oklahoma and Arkansas.
Since we live in Tulsa, Natural Falls State Park is on the way to one of our favorite campgrounds in Arkansas. So, adding this stop makes for a great weekend camping excursion.
After a short hike, continue the road trip and head to Beaver Lake. It is one of the best lakes for fall camping!
Camp at Beaver Lake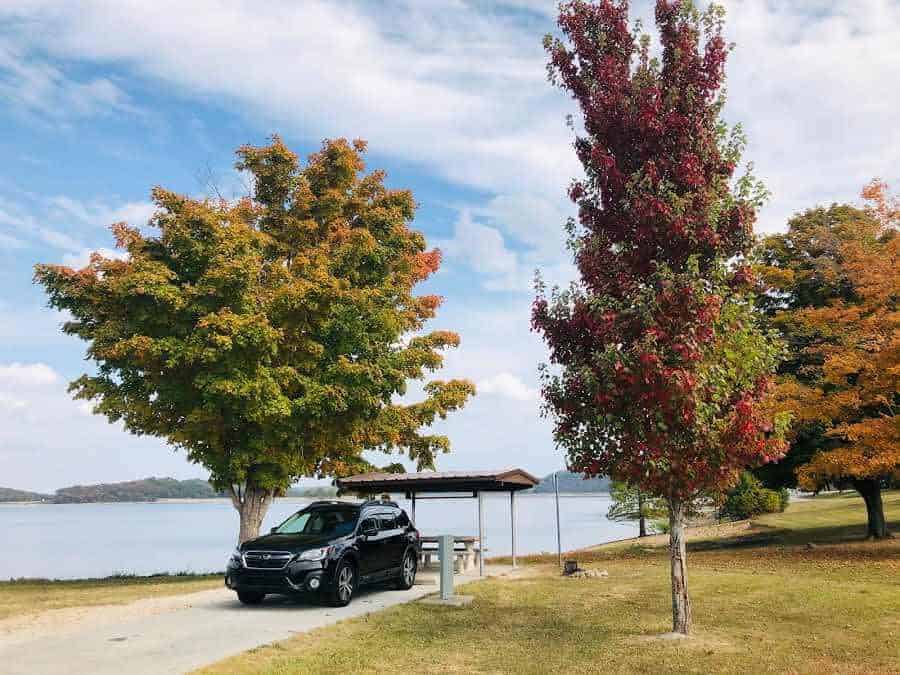 Beaver Lake is located in Arkansas. Its reputation for being a crystal-clear mountain lake holds true. The mountain lake is surrounded by mountainy-hills, dense brush, and hardwoods. The ecosystem makes for spectacular floral displays during the fall, with all the leaves changing.
Before we forget, do you have all your camp kitchen essentials? Double-check and read everything to pack for the ultimate simple camp kitchen.
Related Camping Guides:
Beaver Lake Dam Site Lake Campground Details
Dam Site Lake Campground is located on a little peninsula. Almost all of the campsites are waterfront. The campground is sunny and well maintained. We absolutely love it.
You can fish right from the shores, stand up paddle board, kayak, and swim.
Be sure to make reservations ahead of time through recreation.gov.
We don't recommend just showing up. There may not be an open spot!
Additionally, Dam Site Lake Campground has hot water showers, running water, flushing toilets, and electric hook up for those of you in RVs. It's kind of nice to have a place to shower after playing in the water all day! We tent camped here many times before purchasing our Aliner.
It costs about $20/night to camp.
The campsites are well maintained. All have fire pits, and some sites even have little shelters over the picnic table.
Pick any spot along the shores for a waterfront retreat. You won't be disappointed.
Day 2
Spend time enjoying the water at Beaver Lake. Bring stand-up paddle boards, kayaks, and fishing equipment. You can launch your gear right from the campsites.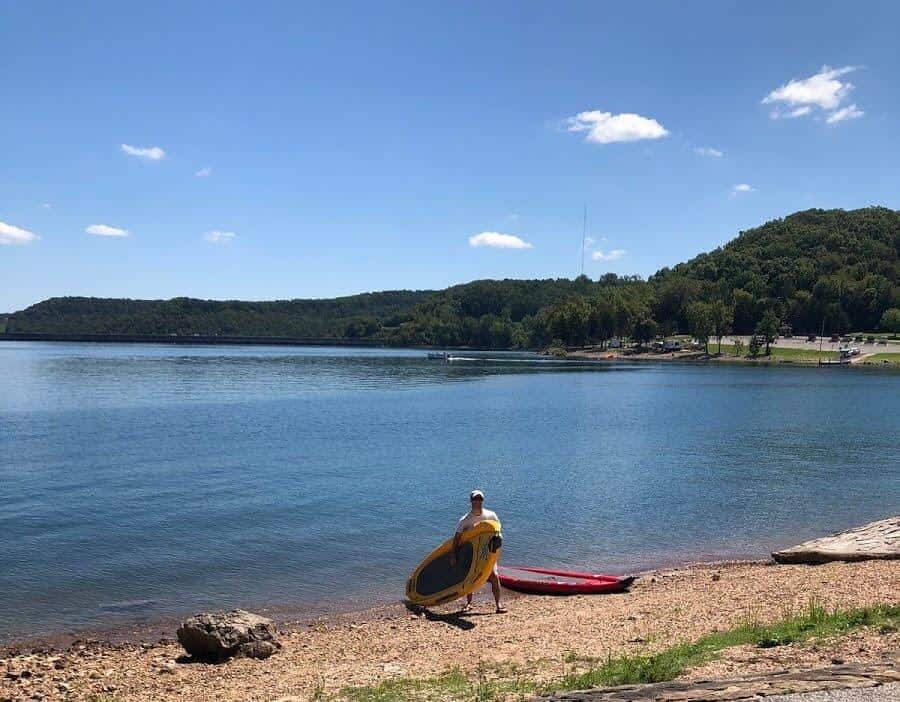 Visit the Dam
You can visit the dam lookout near the Dam Site Lake Campground if you are interested in seeing Beaver Dam.
Beaver Lake is a reservoir managed by the U.S. Army Corps of Engineers. Arkansas generates power from Beaver Dam located near Rogers, Arkansas, on an as-needed basis supplying local power to the surrounding area.
Explore Eureka Springs
Next, visit Eureka Springs. This town is a gateway to outdoor recreation in the Ozarks since it is close to Beaver Lake, Buffalo National River, the White River, and Table Rock Lake. There are plentiful options for hiking, camping, mountain biking, and river and lake recreation galore.
If you don't have a lot of time to spend in Eureka Springs, stop by to grab a coffee at a local coffee shop or walk the main strip to see art, boutique shops and indulge in local restaurants. We love how all the houses are painted fun bright colors on the main strip.
There are a few little hikes through the oak brush in town you can do as well. We started our tour from the famed Crescent Hotel and Spa. We stopped and walked the Harmon Park Loop Trail.
For more information on trails near Eureka Springs, you can go to their website. It is a darling little mountain town.
Final Thoughts
We hope this post helps you find a new place for a road trip adventure.
Pablo and I absolutely love Dam Site Lake Campground at Beaver Lake. We always have fun stopping in Eureka Springs. It's fun to spend a weekend hiking, camping, being at the lake, then stopping for hot coffee.
Thanks for reading.
Ashlee & Pablo
---
You might also enjoy…
Where are you headed next in Arkansas?
Save on Pinterest for later!
We would love to hear from you!
If you have other places, you love to camp in the Ozarks, chime in and comment below.