Jackson Riviera Kayak Review: Specs, Features, and Why We Love Ours
Posted on: November 21, 2022
|
|
If you're in the market for a new sit-on-top kayak perfect for small lakes and slow rivers, the Jackson Riviera kayak is an excellent boat. This article breaks down the specs, features, and why we love our boats. We also share more about the paddles we use and how we transport the kayaks on weekend road trips.
This post contains affiliate links, which means we'll receive a commission if you purchase through our links at no extra cost to you. Please read full disclosure for more information.
Intro to the Jackson Riviera Kayak
The Jackson Riviera kayak is an excellent boat for people that want to get out on the water over the weekends without having to buy much gear or spend tons of money on a boat and additional equipment. The Riviera was designed to keep paddling simple, easy, and fun! This is an excellent boat for beginners or intermediate boaters who enjoy paddling small lakes and slow rivers. Paddlers can even take this boat down class I and class II whitewater – it is a popular kayak for river guiding outfitters on slower rivers.
Jackson Riviera Specs
Below are the specs and features of the Jackson Riviera.
Size: 11'4"
Width: 29"
Weight: 58 lbs
Capacity: 300 lbs
Colors: Colors vary by year made.
Sit-on-Top: The Riviera is a sit-on-top kayak meaning boaters sit on top instead of inside the boat. This feature is excellent for beginners and people not paddling technical water. Getting into the water and on your boat is easy.
Materials: The Jackson Riviera is made from High-Density Polyethylene that is rotomolded. The rotomolded tech makes the boat durable requiring little maintenance. There is also a skid plate on the bottom of the hull to protect the boat if you need to drag it.
Jackson Riviera Features
Designed for being a minimalistic kayak, there are handles in the front and back of the boat. These handles are great for moving the boat with two people – one person in the front and one in the back. There are also two handles on the side of the boat near the seat. There is an open back platform behind the seat where you can strap a small dry gear bag or cooler. There are hooks for bungees on the platform. There is also a small area towards the front of the boat, where you could stow a small dry bag with food and water. The seat is molded with a high back. The high back makes touring comfortable. We love being able to lean back! Three different molded footrest areas give paddlers options to position the feet.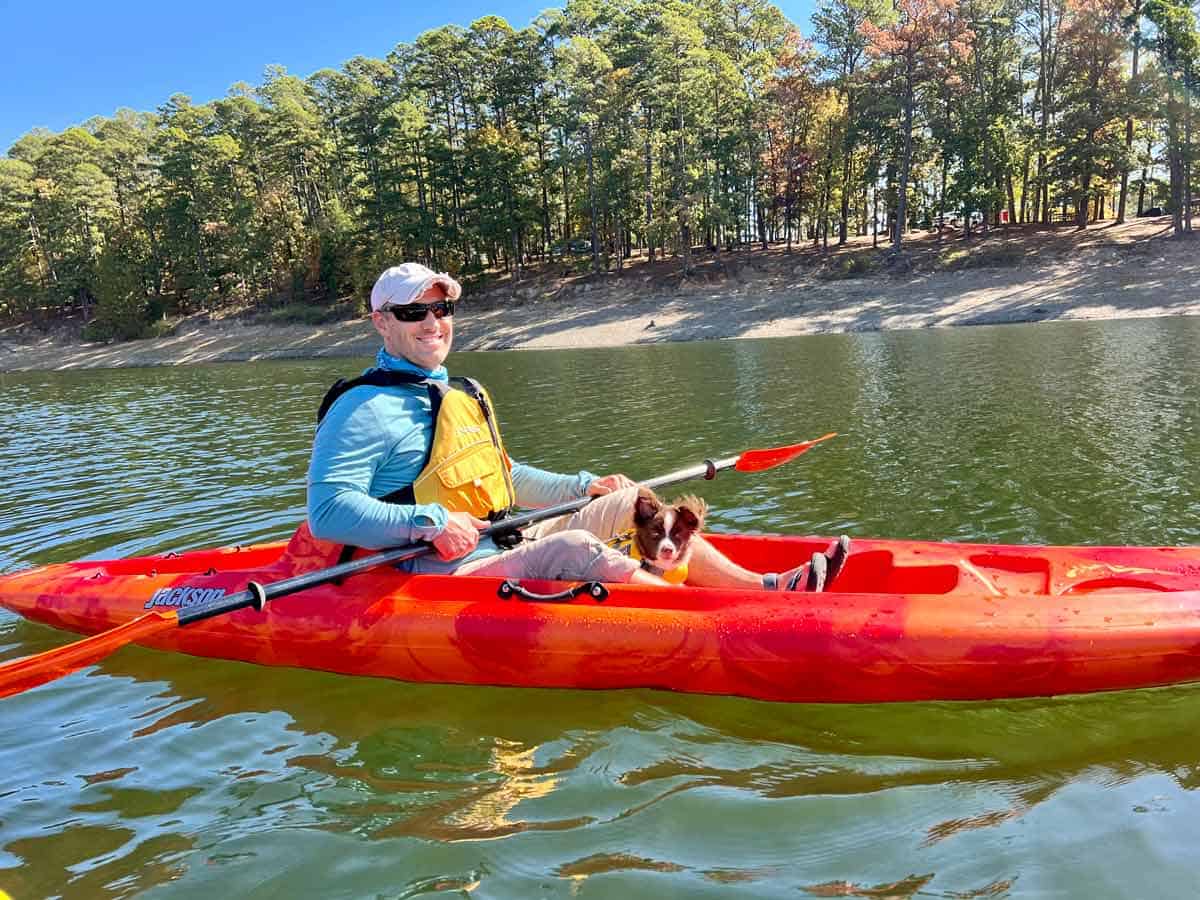 Performance
The Jackson Riviera is excellent for slow rivers, class I and II rapids, and small lakes.
If kayaking class I or class II rapids, there are no scupper holes, so you will have to either bring a bilge pump or find the shore and flip the boat over to get the water out. You might also get water inside the boat if kayaking on windy days at the lake. We sit on towels and don't notice much water. But we only kayak in fair weather conditions!
The Riviera is stable and has reasonable tracking for its intended design and use. We wouldn't recommend taking the Riviera on large water or ocean kayaking far off the coast.
We typically kayak smaller lakes early in the morning to beat the afternoon wind. In our experience, it becomes a little more challenging to paddle with stronger wind and waves, though the boat is stable. On windy lake days, it is just harder to paddle.
Watch our Jackson Riviera Kayak review on YouTube! We show how the kayak performs on the water, how to carry it, and how to transport it. We also show the paddles we are using.
Is Jackson a Good Kayak Brand?
Jackson is a leading brand when it comes to kayaks. We have used their boats for a long time, and they always perform well.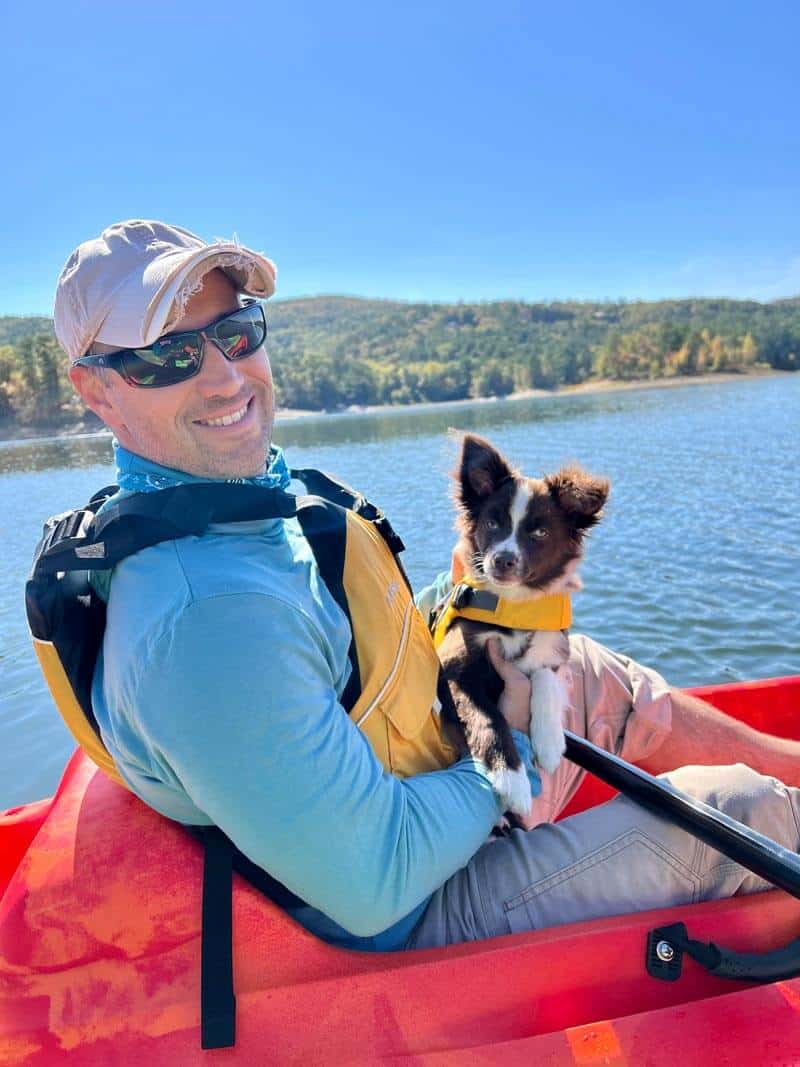 Our Experience
In the summer of 2022, we purchased two Jackson Riviera kayaks after renting them floating on the Mountain Fork River in southeast Oklahoma. We thought the boats performed so well on the float trip that we decided to get some for our weekend road trips once we got home. In the past, I had used sea kayaks and whitewater kayaks from Jackson, but never a sit-on-top model. Both my husband and I like our sit-on-top boats. We appreciate how easy they are to use. All we need is our boats, paddles, and life jackets, and we are on the water!
We typically kayak smaller lakes in Oklahoma and the South or slower rivers with class I and (rarely) class II whitewater. The Riviera is perfect for these types of adventures.
A typical float trip for us lasts one to four hours, and the Riviera offers plenty of space for this type of paddle.
Weighing 58 pounds, the boat is hard for me to carry. I need my husband's help. But he has no problem moving the boats alone or getting them on top of the truck rack. We always kayak together for safety reasons, so it's not a problem that I can't lift the boat by myself.
Paddles We Use
For paddles, I use a Werner Camano Straight 2-Piece Paddle, and Pablo uses the Bending Branches Slice.
Both are easy to transport on road trips because the shaft comes apart in the middle. Both models also have adjustable feather angles and are excellent for recreational kayaking.
How We Transport Kayaks
To transport the kayaks, they fit in the back of most truck beds strapped down.
We also have a utility/kayak rack for the truck that allows us to take our kayaks and pull our Aliner Camper. With the utility rack, you still need to strap down the boats. This is the utility rack we purchased on Amazon.
Watch the Video
Check out our Jackson Riviera gear review on YouTube. The video shows how the boats perform on a small lake. We also show the paddles we are using. Come and see how we carry the kayaks and transport them on the truck.
Final Thoughts
If you're looking for a simple, easy, fun, and cost-effective kayak, the Jackson Riviera might be perfect for you! Before purchasing a boat, head into your local kayak shop to talk to a pro to discuss your needs. You can also sit in the boats in person before purchasing them. That is what we did! For the best prices, watch your local kayaking gear shop for holiday and end-of-season sales to get the best price on a boat. We ended up getting an incredible deal on both boats this way.
Thanks for reading, and have fun paddling!
Ashlee & Pablo
---
Get More Paddling Adventures
Save on Pinterest for later!