12 Reasons To Visit Robbers Cave State Park in Oklahoma
Last Updated: Oct 9, 2023
|
|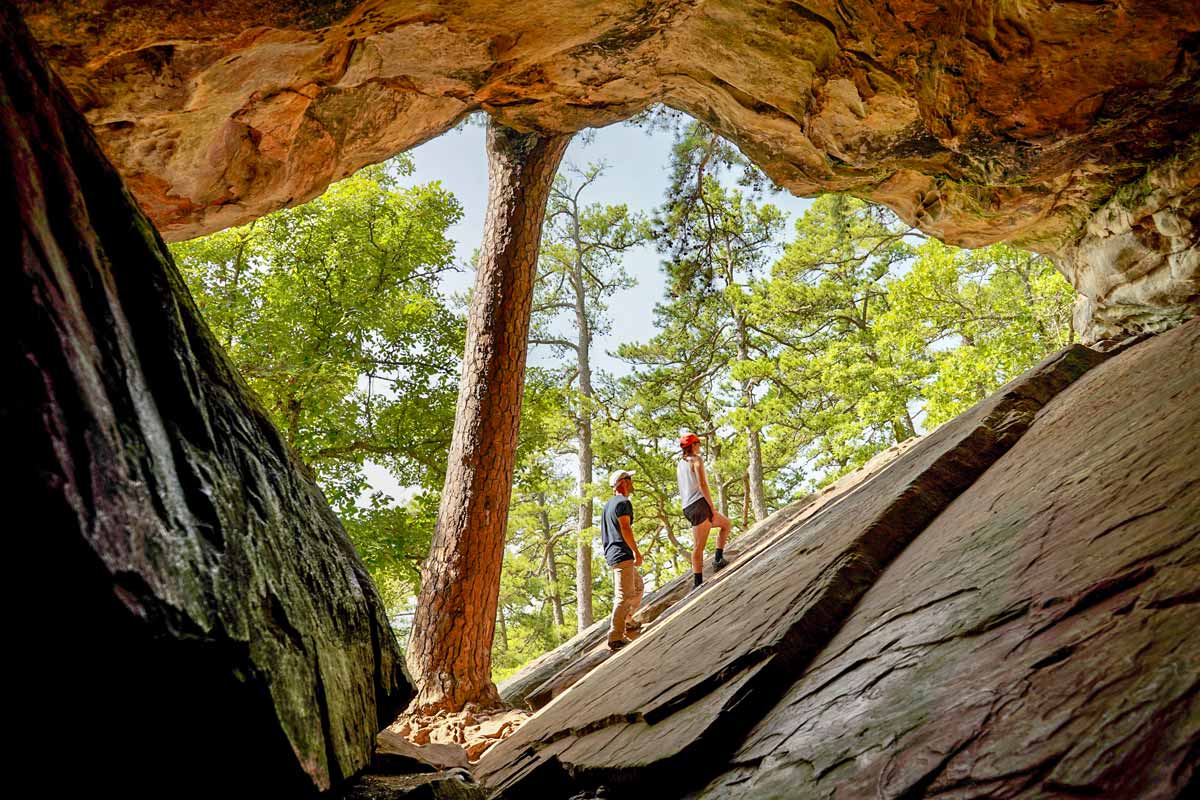 Robbers Cave State Park is a stunning example of the untouched wilderness that exists in the Sooner State. This park offers everything from hiking and camping to fishing and swimming, making it the perfect destination for an outdoor adventure. Whether you're looking for a relaxing weekend getaway or an exciting summer road trip, Robbers Cave State Park is definitely worth adding to your travel list.
Things To Do at Robbers Cave State Park
There are so many wonderful outdoor things to do here. Take your pick of hiking, camping, riding ATVs, horseback riding, and so much more.
Robbers Cave is a great place to get outside and enjoy the incredibly beautiful Sans Bois Mountains, a smaller range of the Ouachita Mountains in eastern Oklahoma.
1. Hiking
There are miles of trails at Robbers Cave State Park.
The most popular trail is hiking to Robbers Cave, which was a hideout for wildwest outlaws Jesse James and Belle Starr. It is worth visiting the park to see the cave and the rock formations along the trail.
Below are the most popular trails to hike.
Robbers Cave Trail Details
Distance: 0.6-mile loop
Elevation Gain: 144'
Difficulty: Moderate
Time to Hike: 30 minutes to 1 hour
Highlights: Robbers cave, the rock formations, views of the Sans Bois Mountains
Belle Starr Loop Trail Details
Distance: 2.0-mile loop
Elevation Gain: 288'
Difficulty: Moderate
Time to Hike: 1 hour to an hour and a half
Highlights: Trail through the forest, views of the creek, look for the old pump house and wildlife
Coon Creek Ridge Trail Details
Distance: 2.0-mile loop
Elevation Gain: 193'
Difficulty: Easy
Time to Hike: 45 minutes to one hour
Highlights: Views of Coon Creek Valley and the beautiful pines and hardwood forest
Rough Canyon Trail Details
Distance: 2.7-mile loop
Elevation Gain: 321'
Difficulty: Moderate
Time to Hike: 1 hour to 2 hours, depending on how long you want to stay at the cave area
Highlights: There are many rocky areas and lake views from the top of Buzzards Roost; the trail passes Robbers Cave and a few ponds.
2. Biking
Bring your own bike and bike around the paved roads and some of the trails.
3. Rappelling and Rock Climbing
If you are into rappelling or rock climbing, you can bring your gear to climb the rock faces here. The rocks are pretty impressive!
4. Swimming
There is a pool here.
5. Fishing
Visit the Oklahoma Wildlife Department to purchase a fishing license and see area-specific fishing regulations for the lakes nearby: Lake Carlton, Coon Creek Lake, and Lake Wayne Wallace.
6. Canoeing, Kayaking, or Paddle Boating at the Lake
Visitors can float and paddle the lake. Canoe, kayak, or paddle boat gear can be rented from the park seasonally.
7. Disc Golf
There is a disc golf area next to the lake.
8. Off-Roading
The park is known for its ATV area. It features a 250-acre ATV area. Bring your own rig and enjoy riding from 8 a.m. until sunset.
9. Horseback Riding
If you'd like to go horseback riding, visit the Robbers Cave Stables to plan an equestrian adventure.
10. Camping
There are multiple areas to camp at the park, and many campsites have shade. There are camping options with full hookups.
You can make a reservation online before your stay.
If you're pulling a camper, RV, or have a motorhome, it is recommended that you go directly to your campsite so you don't have trouble navigating some of the roads.
11. Glamping
If you'd like to level up from tent camping and try a fun glamping experience, there are a few yurts to rent, or you can stay in a covered wagon.
Make reservations online to stay in a yurt.
12. Lodging
If camping or glamping isn't your thing, don't worry. The park just opened up a fabulous new lodge! Make reservations for the lodge online.
You can also rent rustic park cabins for your weekend getaway.
Where Is Robbers Cave?
The park is located 5 miles north of Wilburton, Oklahoma, off of State Highway 2.
It is located in a rural area. Cell phone reception is limited.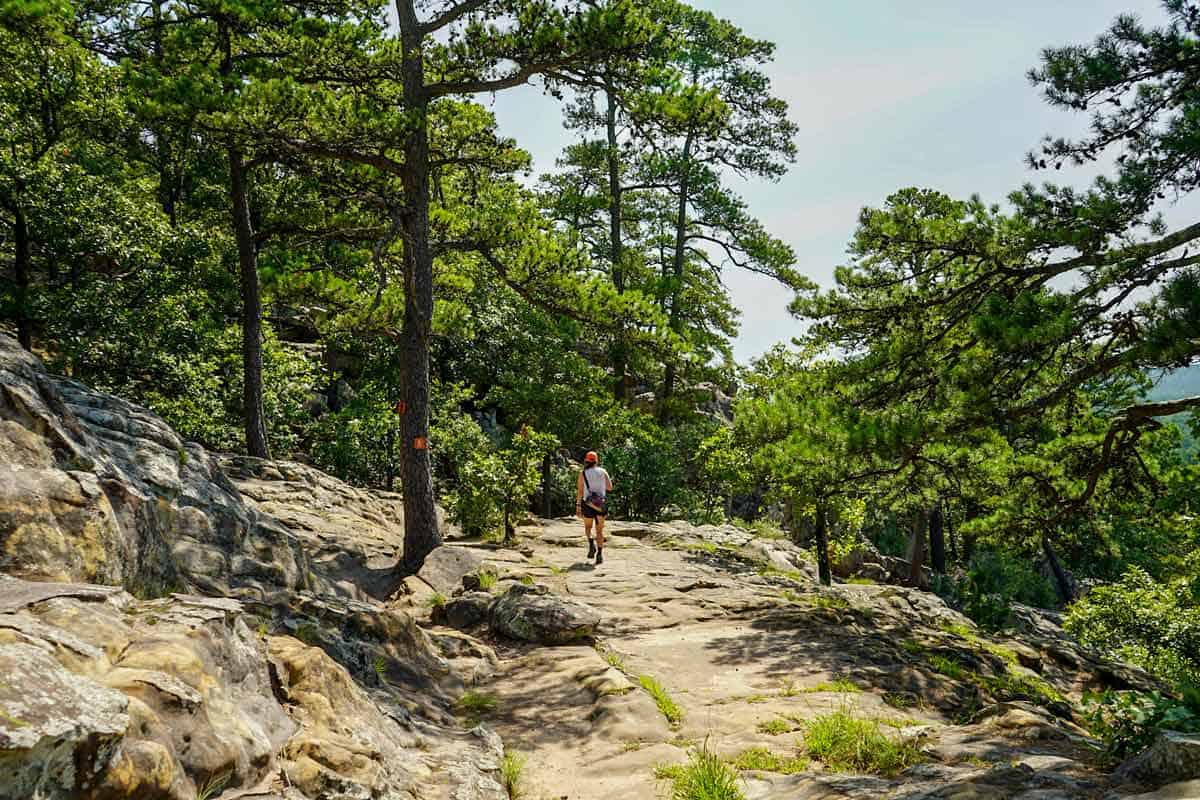 Other Information
Fees
Costs with Oklahoma license plates: $8
Prices with non-Oklahoma license plates: $10
If camping, the parking fee is included in the camping reservation.
Pets
Dogs are allowed on the trails and in the campground. They are required to be on a leash.
Pets are also allowed in certain cabins.
Best Time To Visit
The park is open year-round to visit. Spring is an excellent time to enjoy hiking and camping while the forest begins to green up after the winter.
Summers can be hot in Oklahoma, but you can find quite a bit of shade at the park, so it's still worth visiting if you don't mind the heat.
Fall is one of the best times to enjoy the Ouachita Mountains and see the fall foliage.
Winters are mild and an excellent time to hike. But the foliage won't be as vibrant.
Final Thoughts
Robbers Cave State Park is one of Oklahoma's most beautiful state parks. Along with its unique history, the park makes for a fun adventure. It is an excellent place for friends, families with kids, and couples looking to get out and about in nature on the weekend. So, plan a scenic road trip to Robbers Cave. Have fun!
---
Find More Oklahoma Outdoor Adventures:
Save On Pinterest For Later
We Want To Hear From You
Follow @thehappinessfxn on Instagram!