Best Things to Do at Sequoyah State Park
Last Updated: Oct 9, 2023
|
|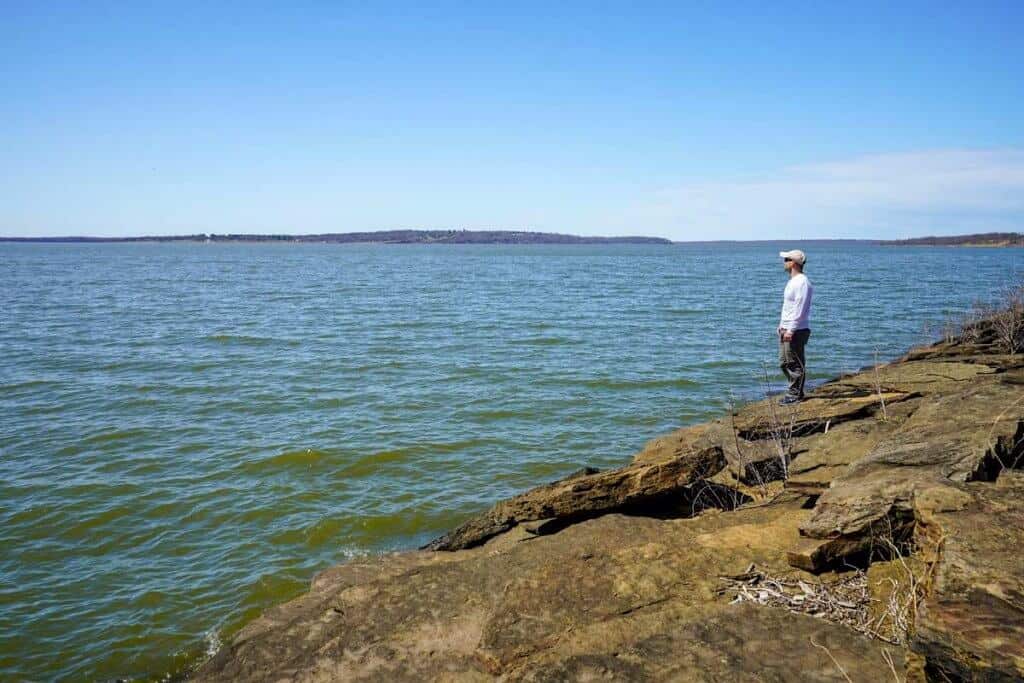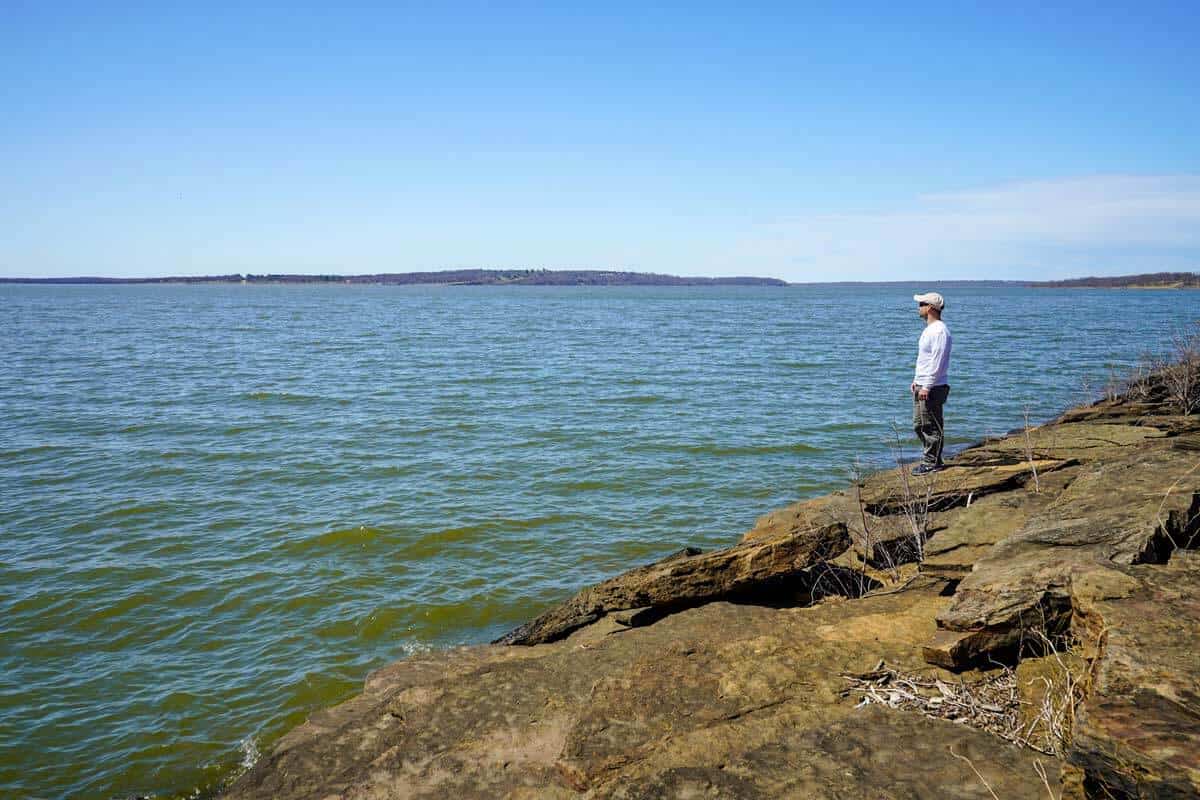 Sequoyah State Park is located on the shores of Fort Gibson Lake in Oklahoma and has over 225 miles of shoreline! The park offers a wide variety of outdoor recreation activities for visitors, including kayaking, camping, fishing, hiking, biking, golfing, and horseback riding, along with a nature center that is free to the public.
The scenery of the lake, flora, and fauna is stunning, and the wildlife is abundant. So, if you're looking for a place to get outdoors to enjoy nature close to Tulsa, Sequoyah State Park is the perfect spot!
This post contains affiliate links, which means we'll receive a commission if you purchase through our links at no extra cost to you. Please read full disclosure for more information. Thanks for your support!
How to Get to Sequoyah State Park
The park is about 45-minutes from Tulsa and 2 hours 20 minutes from Oklahoma City, making it a fun weekend adventure close to home!
There are two areas to explore:
Sequoyah Bay State Park Bay near Wagoner
Sequoyah State Park in Hulbert
Things to Do
Sequoyah State Park Three Forks Nature Center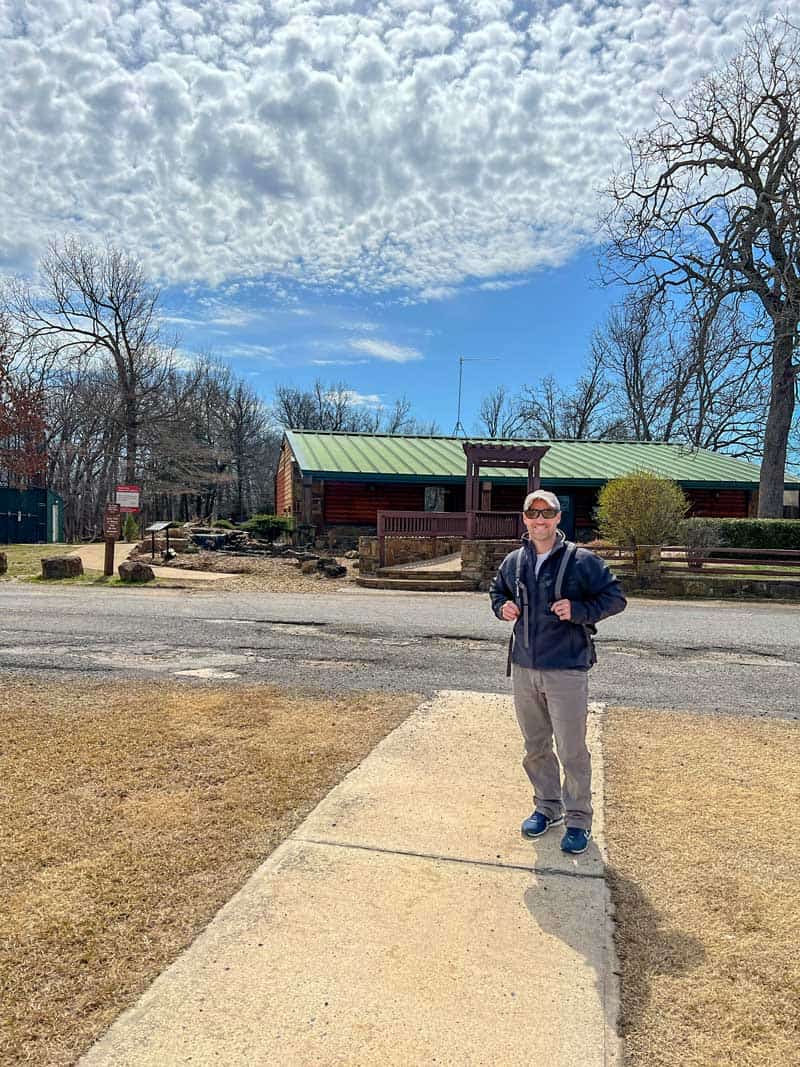 The Sequoyah State Park Nature Center is a neat place to learn about the local plants and animals. The nature center is free to the public and open year-round. It is located in the Sequoyah Bay area near Wagoner.
The nature center has interactive exhibits along with rescued animals. The staff is friendly and knowledgeable, and they offer a variety of programs throughout the year.
When we visited, we saw an owl, fox, coyote, otter, and beaver! In addition, we had the chance to watch the staff feed Harry P., the resident otter! The otter is so stinking cute!
Hiking Trails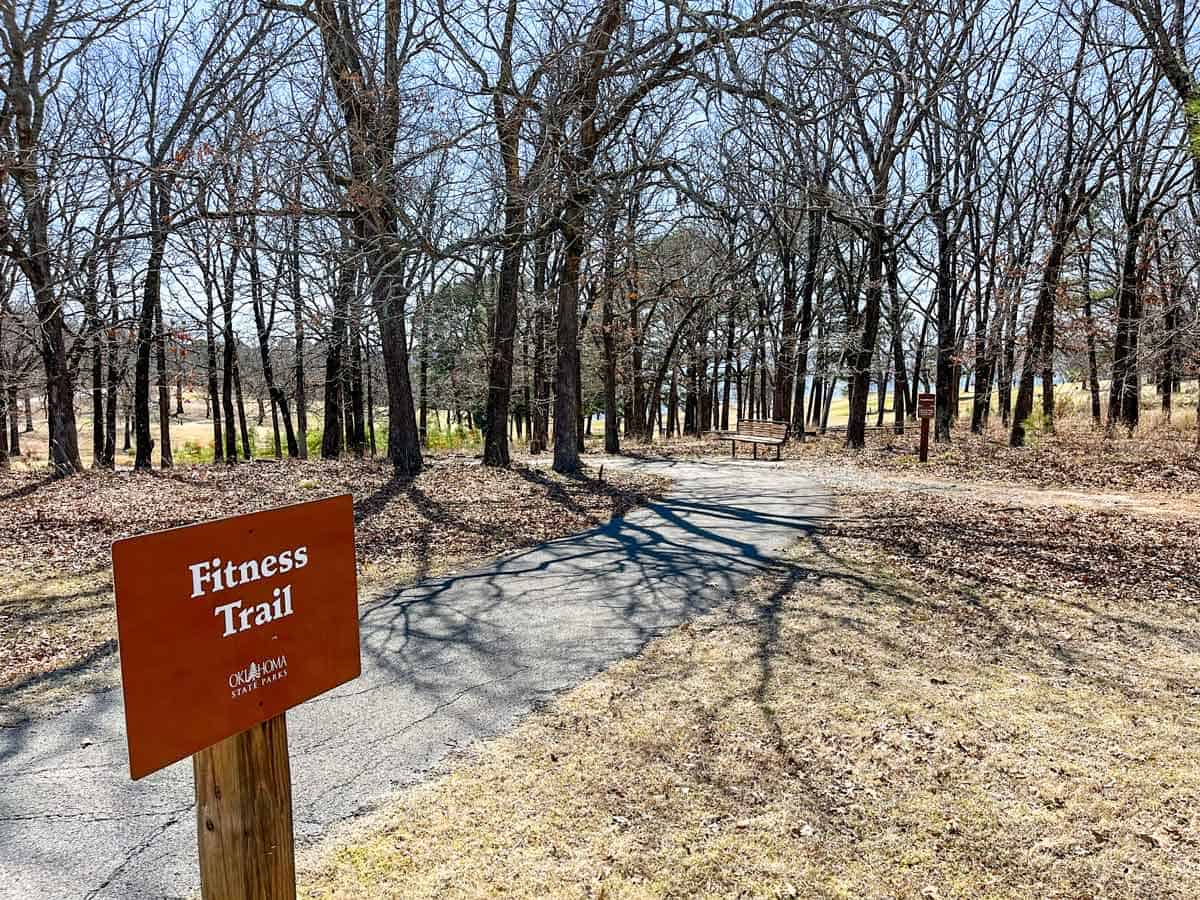 There are many trails in the area; many are interconnected and border the lake or wander through the surrounding forest.
Biking is allowed on most of the trails, so be sure to bring your mountain bike if you'd like to explore the park with your bike.
Dogs are also allowed on the trails but must be on a leash.
Below is a sneak peak at some of the trails you'll find here. We like to use the AllTrails app to plan our hikes!
Deer Run Trail
Distance: 2.4 miles (both ways)
The Deer Run Trail is an easy and enjoyable hike with views through the pine trees. Keep your eyes peeled for the local deer while you're out exploring.
Three Forks Trail + Fitness Trail
Distance: 2.9 miles loop
The Three Forks Trail is an easy trail to wander along. It goes in front of the lodge and takes visitors to Inspiration Point. This trail is located in the Sequoyah Bay State Park area.
This trail has gorgeous views of Fort Gibson. We biked along the trail and loved it.
Nature Center to Inspiration Point Trail
Distance: 1.7 miles (both ways)
You'll enjoy this trail if you're looking for another easy path to stroll with views of the lake, lodge, and some of the park's more scenic areas. The route takes you to the iconic tree at the tip of the peninsula – Inspiration Point!
Visitors can also bike the trail.
Sequoyah State Park Paved Trail
Distance: 3.4 miles (both ways)
The trail starts at the nature center and goes through the pine forest. It takes about 1 hour and 15 minutes to walk.
We actually biked the paved trail and had a blast!
The Eagles Roost Interpretive Trail
Distance: 1.25 mile loop
The Eagles Roost takes hikers through a wooded area and along the Fort Gibson Lake floodplains. This area is a popular place for bald eagles during the winter months. It is considered an easy trail.
The Fossil Trail
Distance: 1/2 mile loop
This short trail displays fossils from 280 million to 345 million years ago. These fossils include crinoid stems from marine animals and shark teeth (source). The Fossil Trail is a great place to learn about prehistoric life in Oklahoma and see fossils up close! It is located within the Hulbert area of the park.
Three Forks Nature Center Northwest Loop
Distance: 5.2 miles loop
The Three Forks Nature Center Northwest loop takes about 2 hours to complete. The trail doesn't get a lot of foot traffic but it is peaceful. It is good for hiking or trail running.
Sequoyah State Park Red Section
Distance: 8.6 miles loop
The Red Section takes about 3 hours to complete. Some of the trail is through the woods and can be a little overgrown while other sections are along an old road. If you're looking for some solitude, this is the trail to hike.
Biking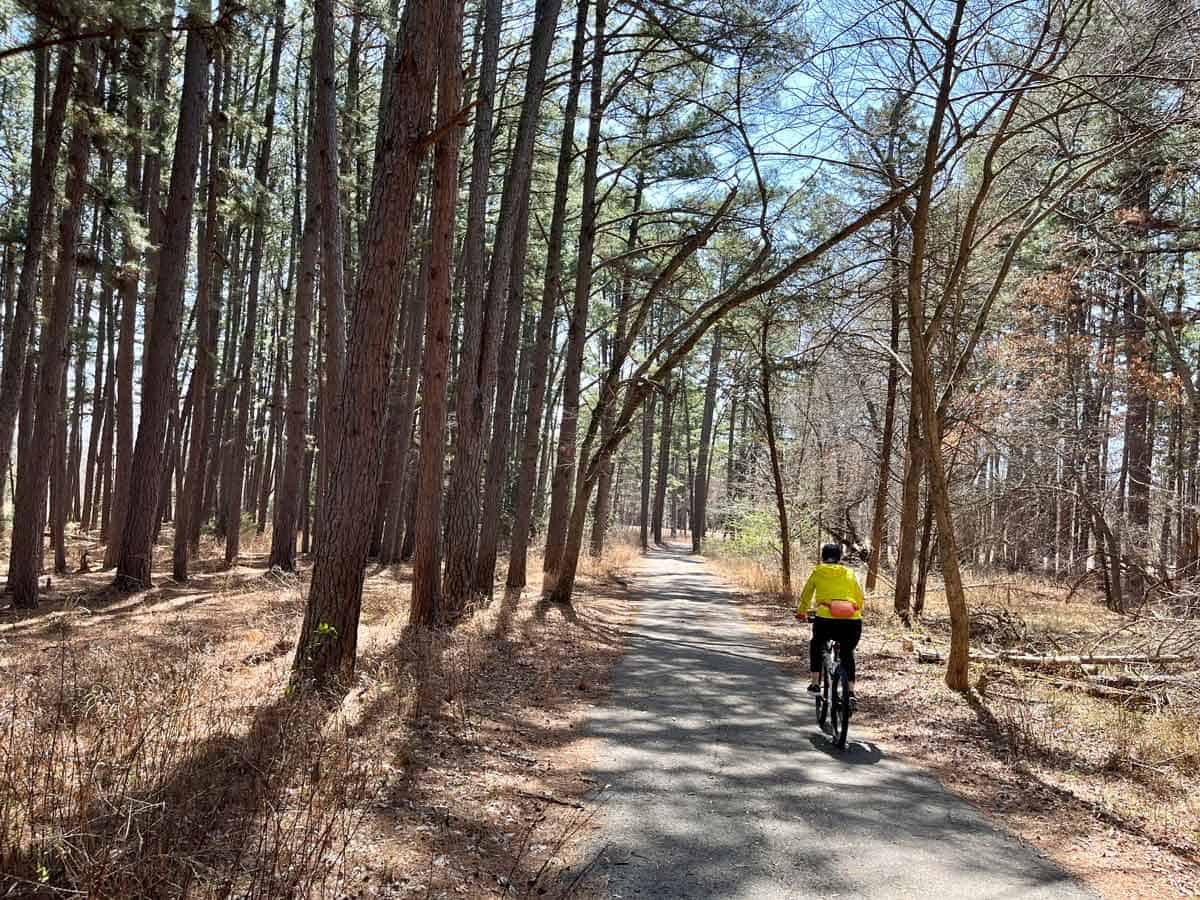 Along with being able to bike most of the hiking trails, there is also a dedicated mountain bike trail. The Whispering Pines Mountain Bike Trail is over 14 miles long and is the longest trail in the park.
Whispering Pines is a good ride for beginner to intermediate-level mountain bikers. About three-quarters of the trail is off-road, while the rest is on the pavement. There are several entry points for those wanting to explore.
Water Activities at Sequoyah State Park
There are plenty of water activities to choose from in the area, such as boating or water-skiing! Bring your boat, kayak, canoe, or paddle boards if you have them! There are also places to rent boats on Fort Gibson Lake (more on that below).
Paradise Cove Marina
Paradise Cove Marina offers a boat launch, boat rentals, boat sales, slip rental, paddle boats, personal watercraft storage, a loading, gas dock, and bait and tackle supplies.
Visitors can book a pontoon from Paradise Cove Marina or rent a kayak at one of the self-service stations. Check out Paradise Cove Marina in Hulbert to make a reservation.
Fishing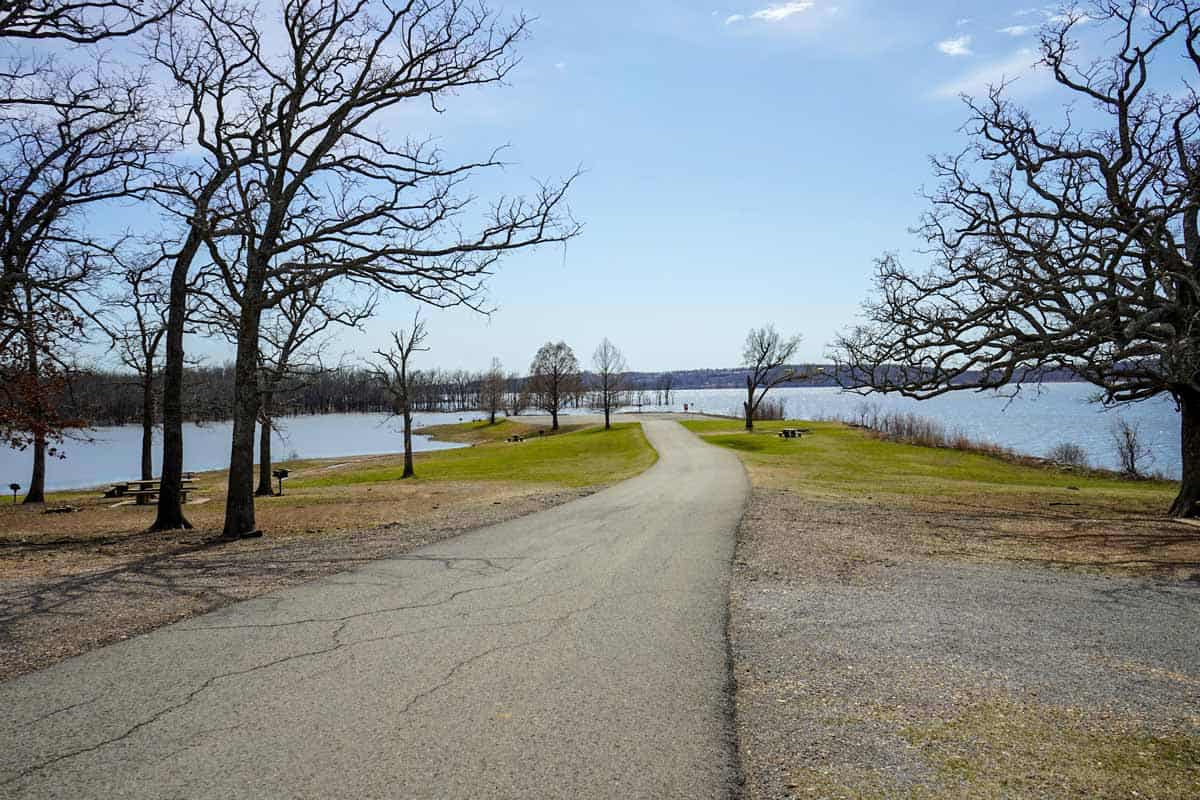 Fishing is a popular activity at Sequoyah State Park. An Oklahoma fishing license is necessary for persons over the age of 16.
Check out the Oklahoma Department of Wildlife Conservation for information on purchasing a fishing license.
Horse Back Riding, Hay Riding, and More
The park has stables and offers horseback riding, hayrides on a tractor, and cookouts for equestrian lovers – so much fun!
Visitors can book a one-hour guided trail ride. Reservations are required.
If you'd like to plan this outdoor adventure, check out the Sequoyah Riding Stables for reservations and more information.
Where to Stay
Camping
Bring your RV, camper, motorhome, van, or tent, and camp next to the lake!
The park has multiple camping areas in both the Sequoyah Bay area near Wagoner and Sequoyah in Hulbert.
The camping areas are pet-friendly.
You'll want to make a reservation online to book a campsite. Explore each camping area with the online reservation tool to select the site that best fits your needs.
Sequoyah State Park Lodge and Cottages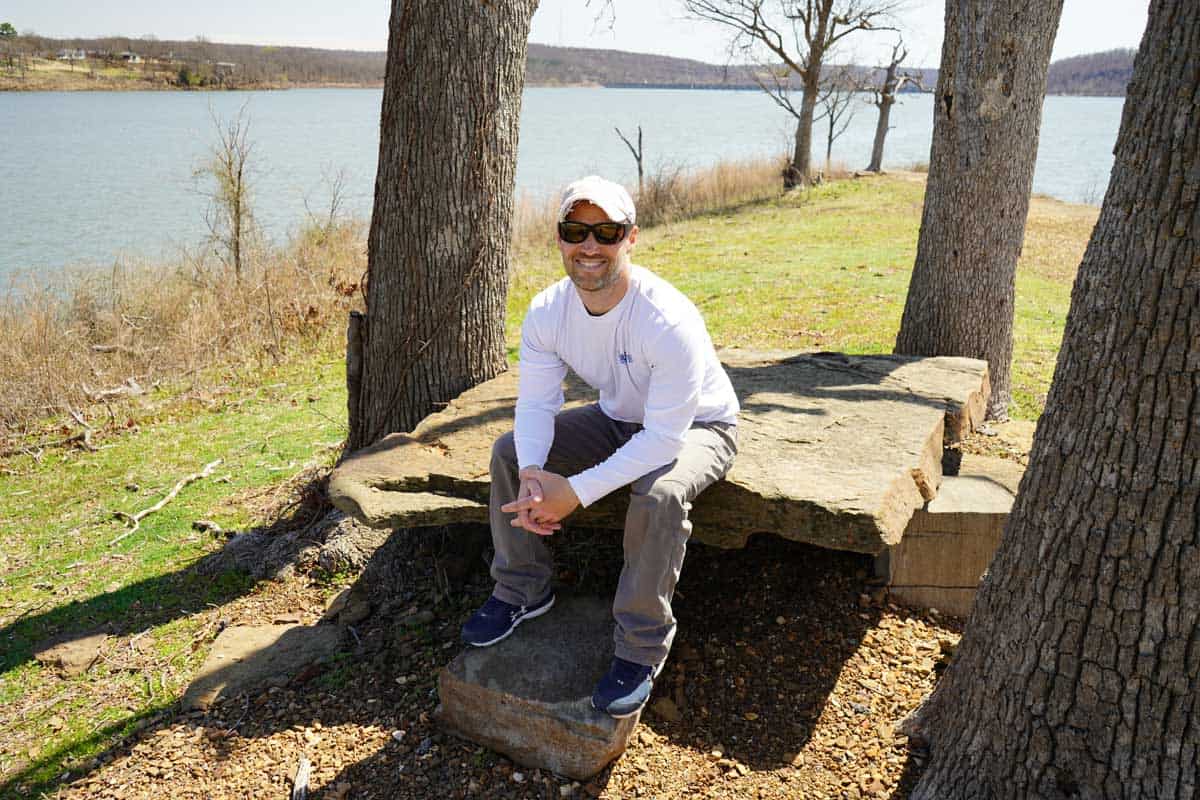 The Lodge at Sequoyah State Park is the most extensive state park lodge in Oklahoma, consisting of 104 rooms and 45 cottages.
The Lodge offers a variety of amenities, including dining, a fitness center, a business center, a swimming pool, and meeting rooms.
The rooms are spacious and well-appointed, with views of the lake or the hills.
There are also cottages tucked along the hillside that offer more privacy with views of the lake. Visit the reservation system here to book your stay.
Best Time to Visit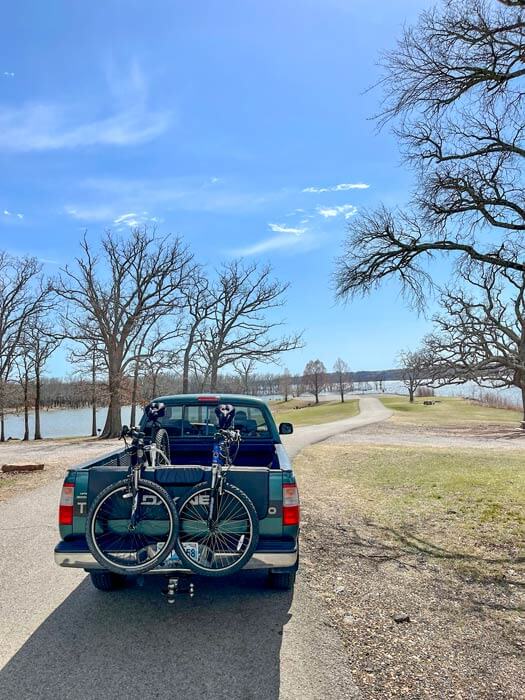 The best time to visit Sequoyah State Park is during spring or fall. The weather is mild, and there are fewer crowds. Summer is also a great time to visit, especially if you like being on the water. Winter offers a quieter feel.
We enjoy camping in colder conditions when we can sit by the fire at night. We also appreciate hiking and biking during the spring, fall, and winter in Oklahoma.
The park offers plenty of activities for all four seasons, so you can visit year-round.
The photographs in this article were taken in March.
What to Bring
When visiting Sequoyah State Park, be sure to bring comfortable shoes (we both like these), sunscreen, water, and a camera (this is what we have) to capture the beautiful scenery and animals at the nature center.
Read more on what to wear hiking, here!
The park is in a rural spot, so if you are camping, you'll want to bring all your groceries and gear. There are restaurants in Hulburt and Wagoner nearby if you want to drive from camp.
Need more help on what to pack for your hiking and camping trip? Get our handy gear guide!
Final Thoughts
Whether you're looking for outdoor activities, a romantic getaway, or a family vacation, Sequoyah State Park has something for everyone, from swimming, fishing, and hiking to a fun nature center and lakeside campgrounds. The park is clean and quiet. The best part is that it's close to home if you live in Tulsa or OKC, so you don't have to burn up vacation time to recharge and get away with your family or friends!
Be sure to visit the critters at the nature center. They are so fun to see!
Thanks for reading.
Ashlee & Pablo
---
Discover More Oklahoma Adventures
Where are you headed next?
You might enjoy these articles:
Save on Pinterest for later!
We want to hear from you!
Have you been to Sequoyah State Park?
What other state parks in Oklahoma have you explored? Check out more of our favorite parks in Oklahoma, here!