8 Romantic Getaways in Arkansas That Will Sweep You off Your Feet
Posted on: March 19, 2023
|
|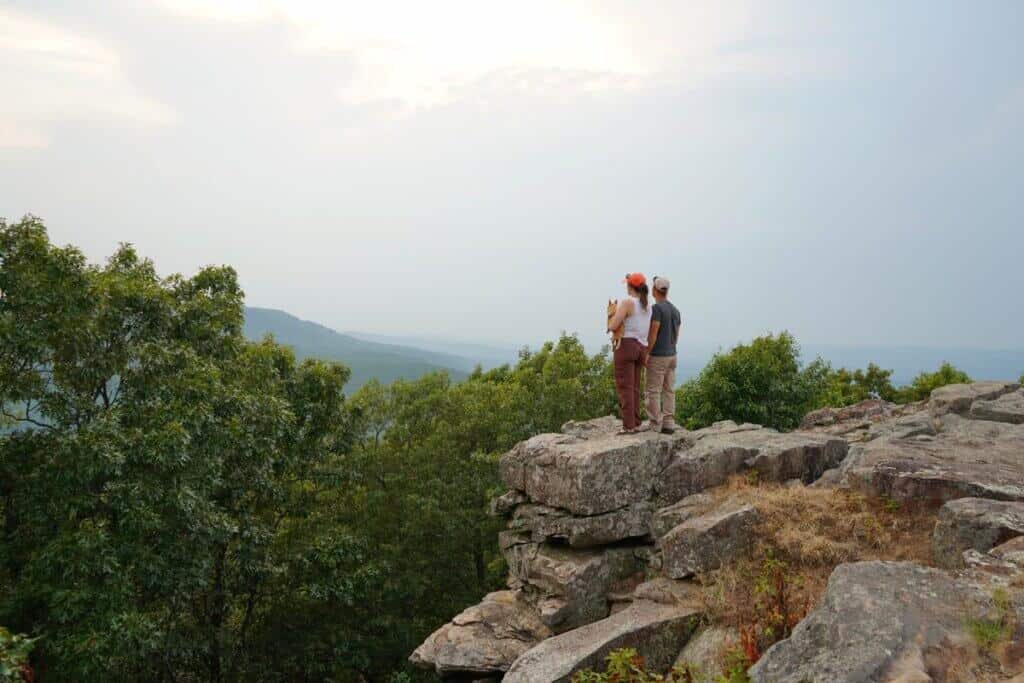 Are you looking for a romantic getaway and some uninterrupted time away from the hustle and bustle of life with your significant other? Whether you already live in the beautiful state of Arkansas or are traveling to "The Natural State" from out of town, you will not be disappointed in the various things to do and see. From its historic towns, relaxing spas, and incredible mountainous adventures, here's a list of the most romantic getaways in Arkansas.
8 Best Romantic Getaways in Arkansas for an Unforgettable Escape
We absolutely love Arkansas and are sharing some of the best places to head for fun and romantic weekend getaways!
1. Soak in a Historic Bathhouse at Hot Springs National Park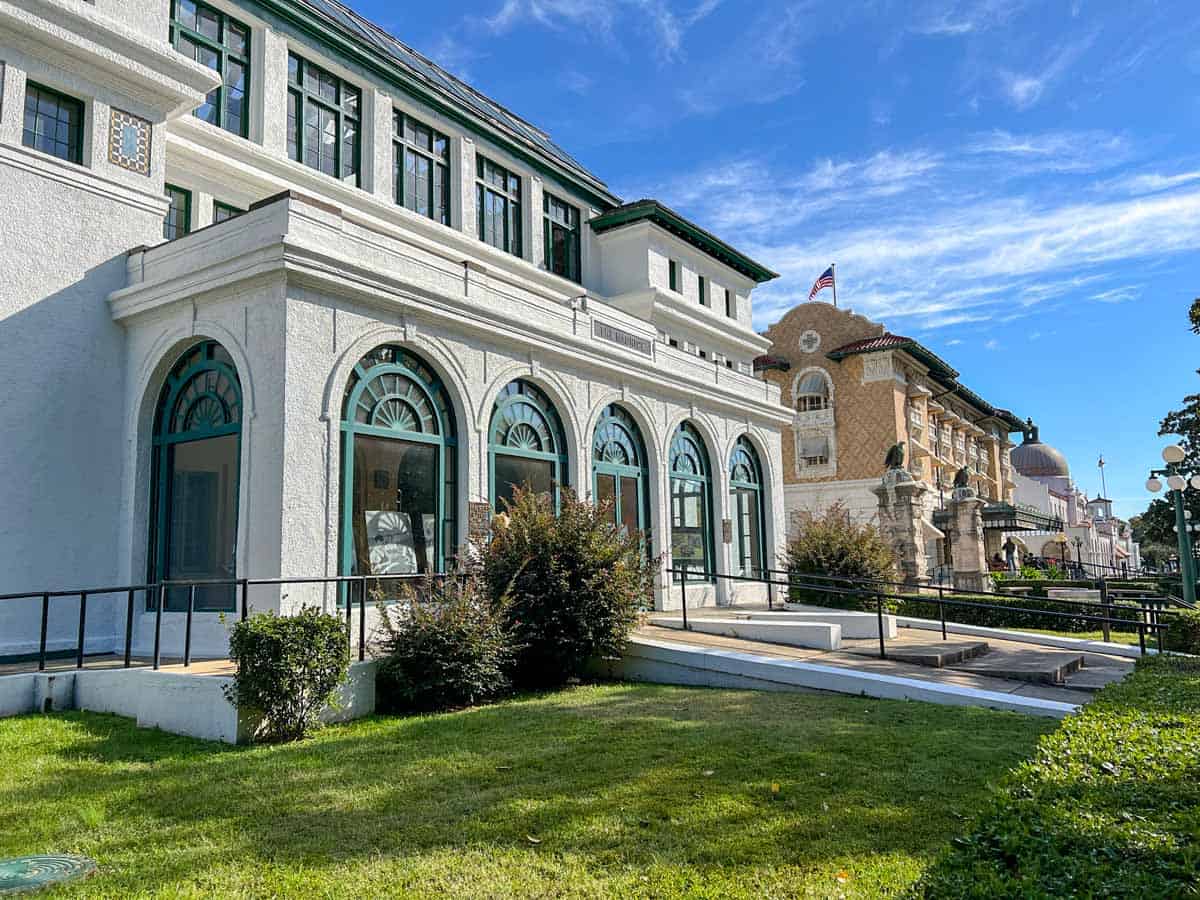 Hot Springs National Park is one of the most unique national parks in the U.S. It is an urban park located right in the middle of town. It features 47 thermal springs and 26+ miles of hiking trails.
It's the oldest national park in the nation, which means it has beautiful architecture and historical landmarks.
During your romantic weekend in Hot Springs, you and your partner can stroll along Bathhouse Row to admire each of the eight unique bathhouses. You can even soak and unwind at two luxurious historical gems: the Buckstaff Bathhouse and Quapaw Bathhouse.
After a relaxing soak, check out one of the hiking trails or get a birds-eye view of town from the Hot Springs Mountain Tower. Then be sure to treat your date to dinner and a drink at the famous Superior Bathhouse Brewery. Superior is the only brewery in any of the national parks – they brew beers and root beer from the spring water. It's delicious!
If you have additional time and want to explore more of the city, be sure to check out Garvan Woodland Gardens or, for the kids-at-heart, Magic Springs Water and Theme Park. For a luxurious escape, pamper yourself at Oaklawn Racing Casino Resort. Check out the racing calendar if you enjoy thoroughbred horse races.
There are so many fun things to do in Hot Springs! It's the perfect anniversary getaway for couples year-round.
Hot Springs National Park Travel Details: 
Closest Major Airport: LIT, Little Rock
Highlights: Bathhouse Row, soak in the Buckstaff Bathhouse or Quapaw Bathhouse, have dinner and drinks at Superior Bathhouse Brewery, visit Garvan Woodland Gardens, and Oaklawn.
Physical Address: 305 Gulpha Gorge Road, Hot Springs, AR 71901
2. Rent a Cabin, Camp, and Go Swimming at Lake Ouachita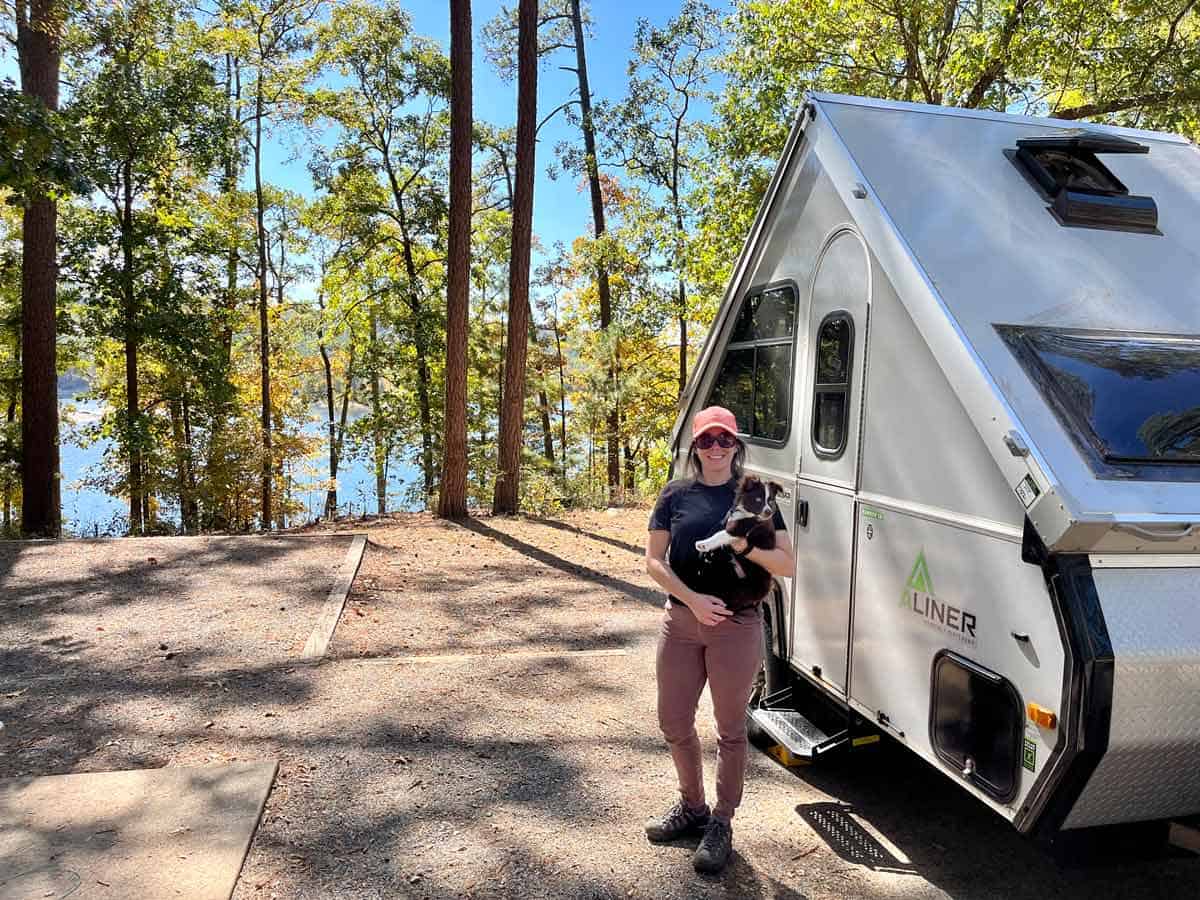 What's better than a dreamy lakeside getaway? Lake Ouachita State Park offers 40,000 acres of crystal-clear water to explore. It's the largest and one of the cleanest lakes in all of Arkansas and is surrounded by the beautiful Ouachita National Forest.
Lake Ouachita State Park is the perfect starting point for exploring central Arkansas's natural beauty.
The park has 93 campsites and eight cozy cabins (fully equipped) if you're hoping to spend the night on an outdoor adventure.
During your getaway weekend, hike the four-mile Caddo Bend Trail for the best views of the lake. Then spend the rest of your time picnicking, grilling, kayaking, swimming, or simply hanging out at your campsite by the water. The park is also only 30 minutes from the town of Hot Springs if you want to hit the spas!
Lake Ouachita State Park Travel Details: 
Closest Major Airport: LIT, Little Rock
Highlights: Cabins, camping, hiking, swimming, camping, kayaking, close to the town of Hot Springs.
Physical Address: 5451 Mountain Pine Road Mountain Pine, AR 71956
3. Rent a Glamping Tent Mena, Arkansas
The quaint town of Mena is nestled in the heart of the Ouachitas, which leads to ample adventures and beautiful scenery. Renting a cozy glamping tent surrounded by the tranquil beauty of the Ouachitas may just be the epitome of romance.
Ouachita Wilde offers beautifully furnished bell tents set on 27 acres of pure peacefulness. Each tent has a comfy bed, heater, A/C, and table. It is even stocked with games.
You can add an outdoor movie theater setup to put the cherry on top! Ouachita Wilde is pet-friendly, so you don't have to leave your furry best friend at home. Reconnect with your special someone on this romantic trip.
Glamping in Mena Travel Details: 
Closest Major Airport: In the middle of both major airports
Nightly fee: Starts at $125
Physical Address: Mena, AR (exact address provided after booking)
4. Chase Waterfalls at Lake Catherine State
Lake Catherine State Park is home to hikes, lakeside campsites, horseback riding, and a beautiful cascading waterfall.
Start your vacation getaway at the park with a guided horseback ride through the Ouachita Mountains, then spend the rest of the day hanging out along the 1.7-mile Fall Branch Trail. The park's iconic waterfall is located at the end of the trail and is an excellent place for a picnic.
If you have more energy after hiking, explore the Dam Mountain Trail for amazing views of the lake and sunset.
If you are hoping to spend the night in the park, there are 70 campsites and 20 fully equipped cabins.
Note: Lake Catherine State Park is temporarily closed for repairs through March 18, 2023—double check before making plans.
Lake Catherine Travel Details: 
Closest Major Airport: LIT, Little Rock
Highlights: Fall Branch Trail, guided horseback riding tours, swimming, camping, and sunset hikes.
Physical Address: 1200 Catherine Park Rd, Hot Springs, AR 71913
 5. Stroll the Historic District of Eureka Springs
Are you a history buff who loves traveling? Known for its charming streets, Victorian buildings, and natural springs, Eureka Springs will surely impress that special someone. It's a great place to visit year-round.
The town is nestled in the northwest corner of the state and is surrounded by the Ozark Mountains. It is one of the most unique spots to visit in Arkansas.
While visiting, admire the beautiful architecture of the Thorncrown Chapel, go wine tasting at the local wineries, and explore the beauty underneath the city in the Onyx Cave. There are also many nearby hikes and museums to check out.
If wanting to impress your date, be sure to make a dinner reservation for two at Grotto Wood Fire Grill and Wine Cave. It is a one-of-a-kind underground dining experience and makes for a unique and romantic dinner idea.
Or, get ready to cuddle by taking a ghost tour at the Crescent Hotel and Spa – said to be one of the most haunted hotels in America.
Eureka Springs is also known for being centered around healing springs. Plan a couples massage and get pampered at one of the local spas, such as the New Moon Day Spa & Salon, Palace Bath House Spa, Spa 1905, and Eureka Massage Center.
Book a stay at a local Bed & Breakfast, cottage, or historic hotel.
And if you're up for an outdoor adventure, go kayaking or stand-up paddleboarding at Beaver Lake.
Eureka Springs Travel Details: 
Closest Airport: XNA, Northwest Arkansas
Highlights: Victorian buildings, Ozark Mountains, local wineries, Thorncrown Capel, Onyx Cave, whimsical dining, ghost tours, and paddling at Beaver Lake.
6. Tour the State Capitol in Little Rock
Little Rock is the perfect romantic getaway for those who want to take a date to the city. Start your trip by taking a tour of the picturesque State Capitol building. It's free to tour and takes between 30 minutes to one hour. The guided tours depart Monday through Friday from 9 am – 3 pm on the hour (except for noon).
The fun doesn't end after the tour. Little Rock is home to many historical museums, including the Historic Arkansas Museum, Old State House Museum, and Museum of Discovery.
If you and your date want to get outside, rent a bike and head across the longest pedestrian bridge, Big Dam Bridge, or check out 88 miles along the Arkansas River Trail System.
Little Rock Travel Details: 
Closest Airport: LIT, Little Rock
Highlights: State Capitol tour, museums, bike riding across Big Dam Bridge and the Arkansas River Trail System
7. Search for Diamonds at Crater of Diamonds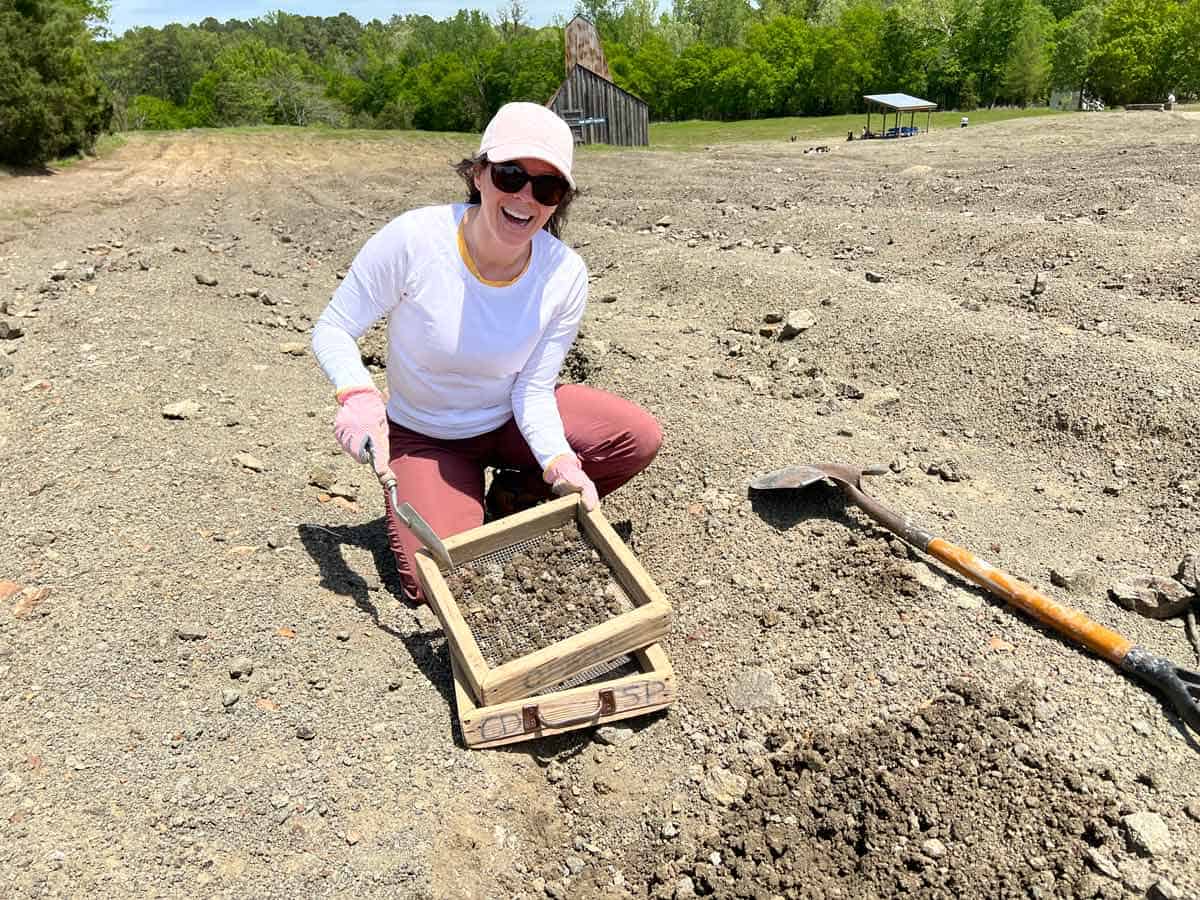 How cool would a date diamond hunting be? Well, you can impress your significant other at Crater of Diamonds State Park because it's one of the only sites in the world where you can search for diamonds in their original source.
Although you do not need any special diamond hunting tools (some diamonds can be found on top of the soil), renting equipment from the Diamond Discovery Center can be helpful. You can also bring your own screen and shovel from home if you want to save a bit of money.
There is a $13 (per person) admission fee to dig, but once you are in, you can search all day. Be sure to bring a lot of water, sunscreen, and a hat, as there is limited shade.
There are 52 campsites available to say at with two bathhouses. The park also has a seasonal pool and waterpark (just in case you're bringing the kids).
If you believe you have hit the jackpot and found a diamond, the park rangers will identify your find free of charge inside the Discovery Center.
Crater of Diamonds State Park Travel Details:
Closest Major Airport: LIT, Little Rock
Highlights: Diamond mining
Admission Fee: $13 per adult (+ tool rental)
Physical Address: 209 State Park Rd, Murfreesboro, AR 71958
8. Float the Buffalo National River
Grab your sweetheart, pack a picnic, and head to the Buffalo National River for a float down one of the last undammed rivers in the U.S. Protected by the National Park Service, this area is rugged and wild.
Although you can bring your kayak or canoe, several local outfitters provide rentals and guided float trips.
Two of the highly rated companies, Buffalo River Float Service and Buffalo Outdoor Center, offer canoe rentals, guided fishing, scenic river trips, and multi-day adventures.
For a list of all approved guiding services, visit the National Park Service Website.
After a float down the river, fish, hike, or spend the rest of the day relaxing outside. There are many backcountry campsites, campgrounds, and places to rent cabins that will allow you to fall asleep and wake up with epic views of the Ozarks. If you and your partner love outdoor adventures, there are fantastic things to do in Buffalo National River.
Major Airports in Arkansas
If you are traveling from out of state, Arkansas has two major airports, depending on your getaway destination.
The airports are:
LIT- Bill and Hillary Clinton National Airport (Sometimes known as Adams Field)- Little Rock, AR
XNA- Northwest Arkansas National Airport- Bentonville, AR
If you're unable to find any flights that work (or are within your budget), a few of the destinations are within driving distance of the Dallas-Fort Worth, Tulsa, or Oklahoma City airports.
When Is the Best Time to Plan a Romantic Getaway in Arkansas?
Arkansas is classified as having a humid subtropical climate which means you should expect some sort of precipitation each month. The winters are cool, and the summers are hot and humid.
As long as you are prepared, there's no bad time to visit.
Summers are great for swimming, while the other seasons are perfect for hiking and exploring.
If you're hoping to take your romantic getaway during peak fall foliage, try to plan an adventure in October.
Start Planning a Romantic Arkansas Getaway
Whether you hope to relax in hot springs, tour historical landmarks, dig for diamonds, or sleep under the stars, Arkansas has you covered. There are so many incredible things to do while visiting. No matter your destination, you will surely have the best trip!
This article was produced and syndicated by The Happiness Function.
Where indicated, images courtesy of Depositphotos.com.
More Articles from The Happiness Function