11 Great Things to Do at Lake Ouachita State Park and Where to Stay
Posted on: February 5, 2023
|
|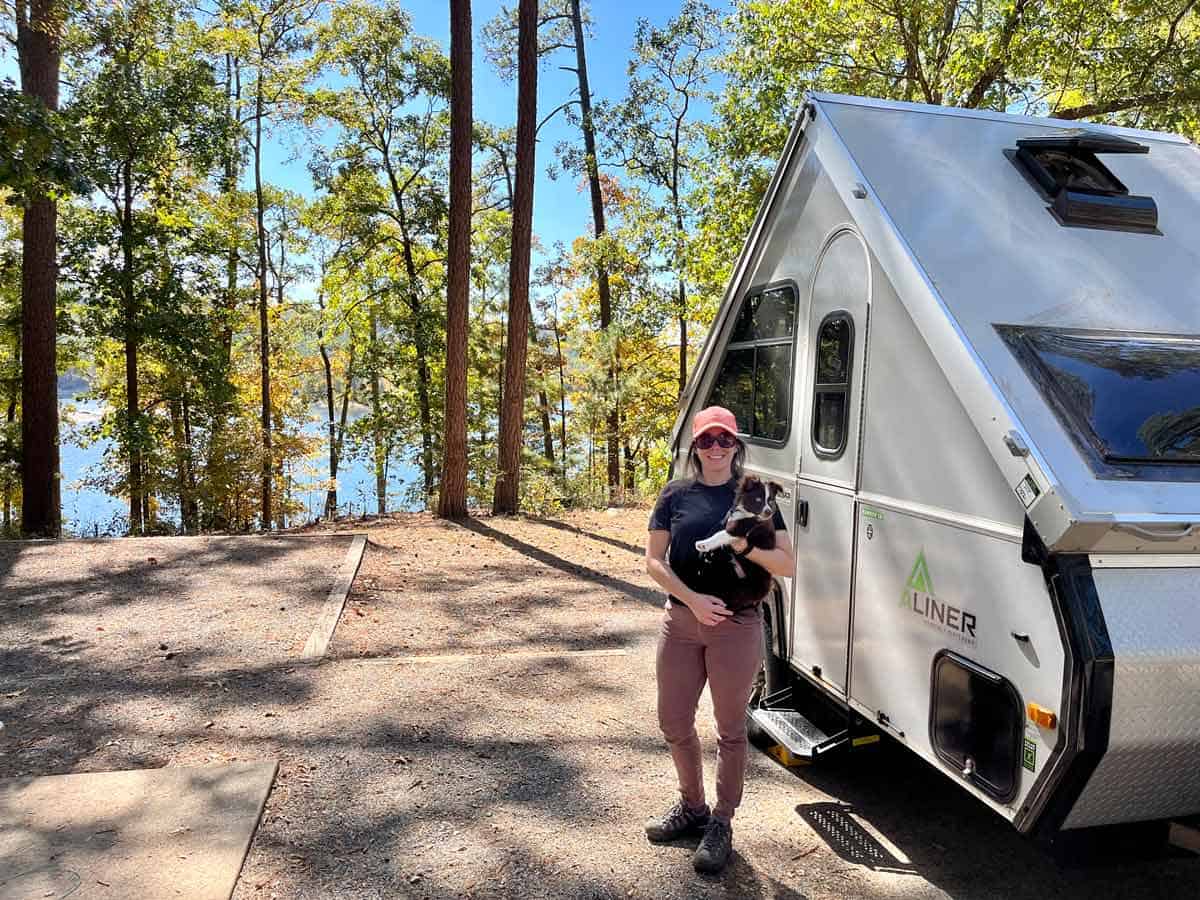 If you enjoy visiting the state parks in Arkansas, you'll love exploring Lake Ouachita State Park. Recognized for its crystal-clear lake and proximity to Hot Springs National Park, this place in central Arkansas should be on your weekend adventure list.
We're sharing all the best things to do to help you plan a fun vacation, weekend getaway, or road trip stop!
Things to Do at Lake Ouachita State Park
Lake Ouachita is the largest lake in Arkansas, and the Ouachita Mountains surround it. The picturesque setting is the perfect place to breathe the fresh mountain air and enjoy an outdoor adventure. The park is open year-round, but some of the best times to visit are from May through early November. Visitors can plan a day-use outing or stay overnight at the campground or cabins. Discover more of what to do while visiting to zest up your itinerary!
1. Go Kayaking and Touring Around the Lake
One of the most popular things to do at Lake Ouachita is kayaking. Guests can bring their kayaks, book a tour, or rent gear from the marina.
We brought our own kayaks and enjoyed early morning paddles on the lake. The views were spectacular!
2. Enjoy Boating and Water Sports Activities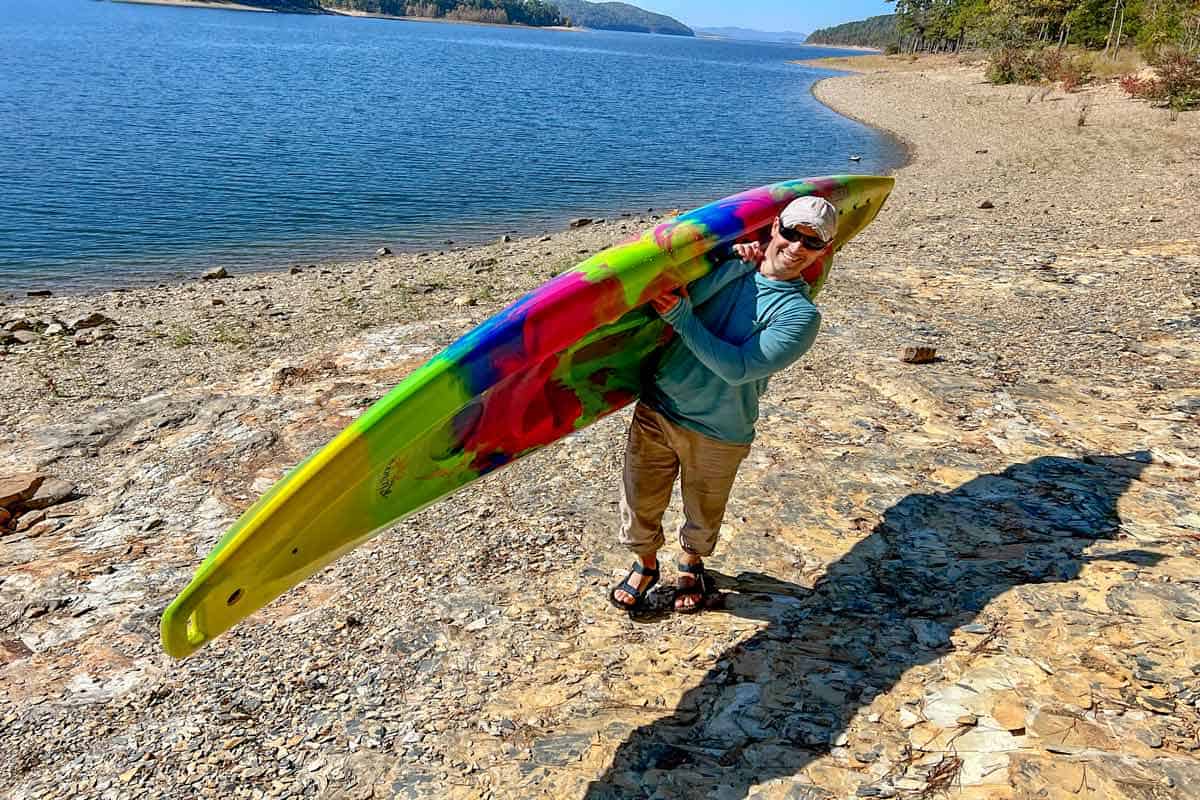 With over 40,000 acres of lake, there is plenty of space to boat and have fun on the water. So, bring your tubes and water skis to plan the day soaking up the sun and water skiing!
3. Go Swimming
Lake Ouachita is a great place to swim. There is a designated swim beach; however, there are multiple places where folks can dip in the water. We stayed in Camp Area A and could walk to the shoreline and access the water from our campsite. It was wonderful.
This was our puppy's first camping and lake trip!
4. Try Your Luck Fishing
Fish from the shorelines or your boat. Be sure to have a fishing license. The lake is full of bass, crappie, bream, and catfish. Enjoy fishing on the open water or in one of many coves.
5. Visit the Three Sisters' Springs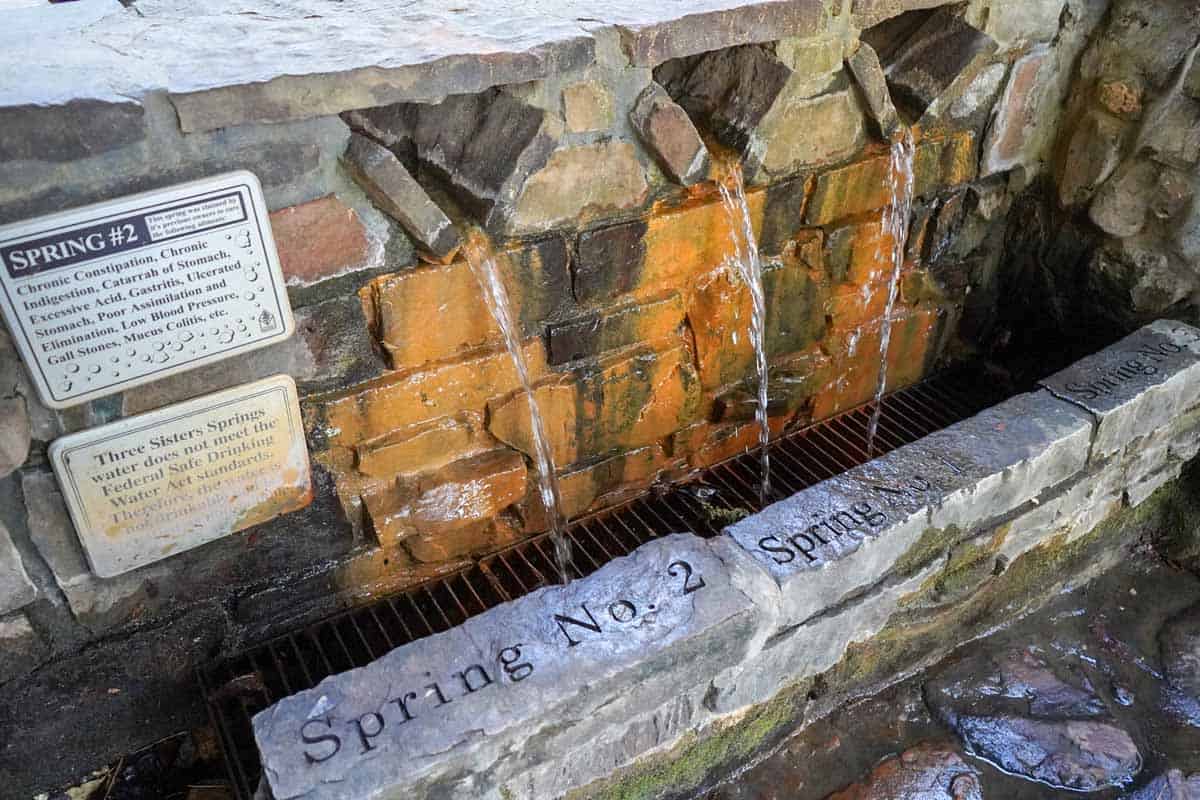 Check out the historic Three Sisters' Springs. This unique site shares what previous owners and visitors to the area claimed the healing waters could do. Each spring is said to cure specific diseases and illnesses.
It is not recommended to drink according to park signs. But if it was back in time, would you drink the water hoping to cure an ailment?
6. Check out the Hiking Trails
There are two trails to hike inside the park: the Caddo Bend Trail and Dogwood Trail. There are interpretive signs along the short half-mile Dogwood Trail, and it's a great hike to learn more about the local wildlife.
For people looking for a longer trek, the four-mile Caddo Bend Trail wanders through the forest with epic lake views. Both trails are dog friendly.
7. Plan a Camping Trip Under the Stars
The park has beautiful campground facilities with fantastic views of the lake. There are a few areas to camp within the park and some shaded camping spots overlooking the water.
The bathhouses have flushing toilets, hand dryers, and showers with hot water. They are also heated if you visit during the fall (like we did).
In addition, there are walk-in tent sites and camping spots with full hookups for RVs, motorhomes, and campers. You can make camping reservations online with Lake Ouachita State Park.
We camped in Camp Area A and could walk down to the water with our kayaks. It was fantastic!
8. Stay in the Lake Cabins
If camping isn't the kind of outdoor getaway you're looking for, the state park has multiple cabins to stay in. Enjoy full-service cabins with more luxurious amenities like satellite and air conditioning, or rent camper cabins that have a more rustic vibe. Make reservations to rent the cabins online with Arkansas State Parks.
9. Wander Around the Visitor Center
Check-in at the visitor center if you're camping or staying in the cabins. There are exhibits inside and a gift shop to browse.
10. Visit Hot Springs, Arkansas
One of the best things about visiting Lake Ouachita State Park is its proximity to Hot Springs, Arkansas. The vibrant historic town is 30 minutes from the park, and there are so many fun things to do in Hot Springs that it's worth visiting.
The first time we visited, we were blown away by how busy and beautiful Central Avenue was! There is so much to see and do in the area! We can't wait to go back and soak.
11. Explore Hot Springs National Park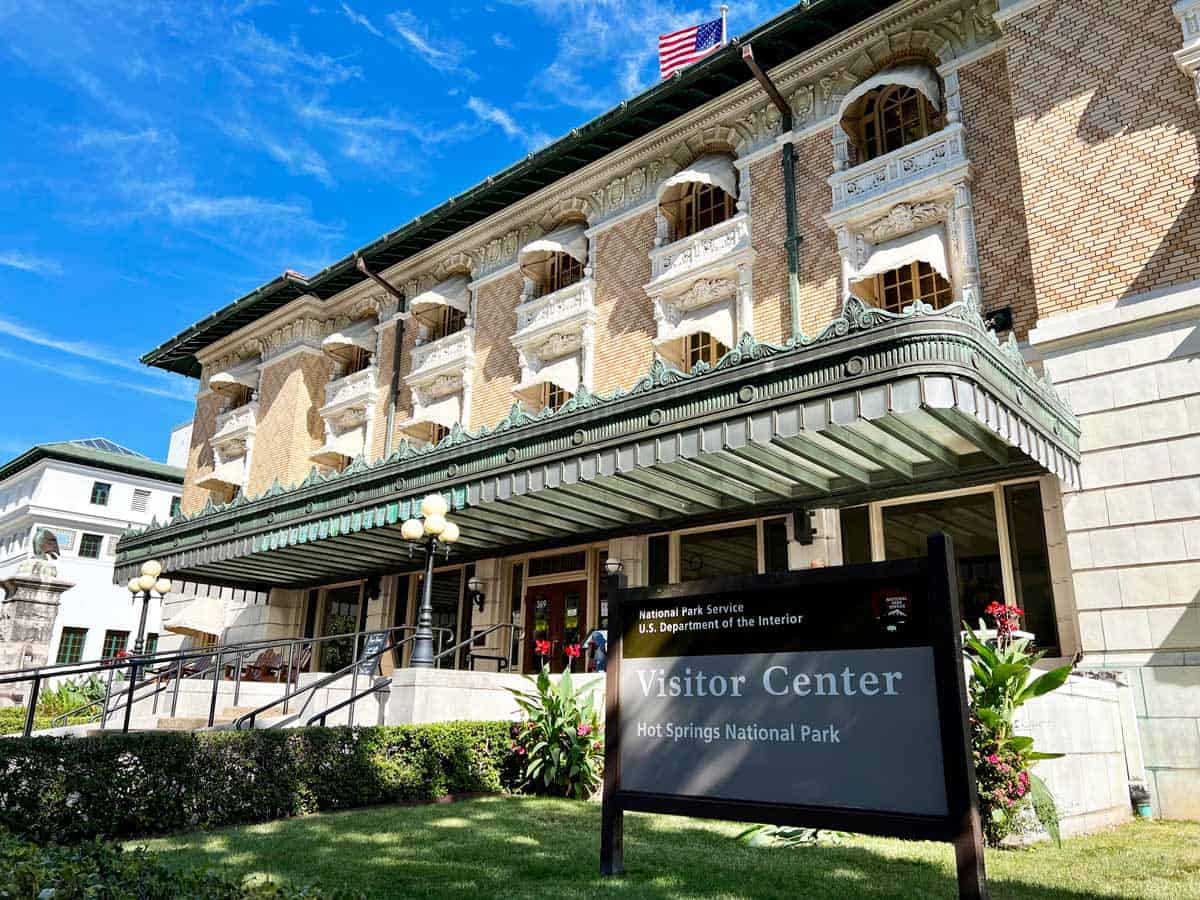 The oldest national park in the U.S. is in Hot Springs, Arkansas. Hot Springs National Park is an urban park full of history, hiking, healing, and relaxing thermal waters.
Check out Bathhouse Row to tour renovated bathhouses, make reservations to soak in the thermal waters, walk along the Grand Promenade, and "quaff the elixir," meaning drink the thermal springs water. There are multiple spots around town to fill up a water bottle.
Hot Springs National Park is fantastic and is the perfect addition to an afternoon exploring this part of Arkansas and the Ouachita Mountains.
Where to Stay
Along with camping or staying at the cabins inside of Lake Ouachita State Park, with the town of Hot Springs being 30 minutes away, there are many unique and beautiful hotels to stay at, such as the Fox Pass Cabins, The Arlington Resort Hotel and Spa, The Waters Hot Springs, Hotel Hale, or Oaklawn Racing Casino Resort.
At Oaklawn, you can enjoy an adrenaline-filled day of thoroughbred horseracing and gambling. Oaklawn hosts the annual Arkansas Derby every spring. It is a big deal!
Final Thoughts on Visiting Lake Ouachita State Park
With 52 state parks to explore in Arkansas, Lake Ouachita is one of the best! With its excellent campground facilities, trails, water sports activities, and proximity to America's oldest national park and the town of Hot Springs, there is so much to see and do.
So whether you plan on staying at Lake Ouachita during a week-long vacation, stopping by on a road trip, or using it as a base camp to enjoy the surrounding area, we're sure you'll have a blast soaking up this part of the Ouachita Mountains.
Thanks for reading.
This article was produced by The Happiness Function.
---
More Articles from The Happiness Function