Why Quartz Mountain State Park Is One of Our Favorite State Parks in Oklahoma
Last Updated: Oct 9, 2023
|
|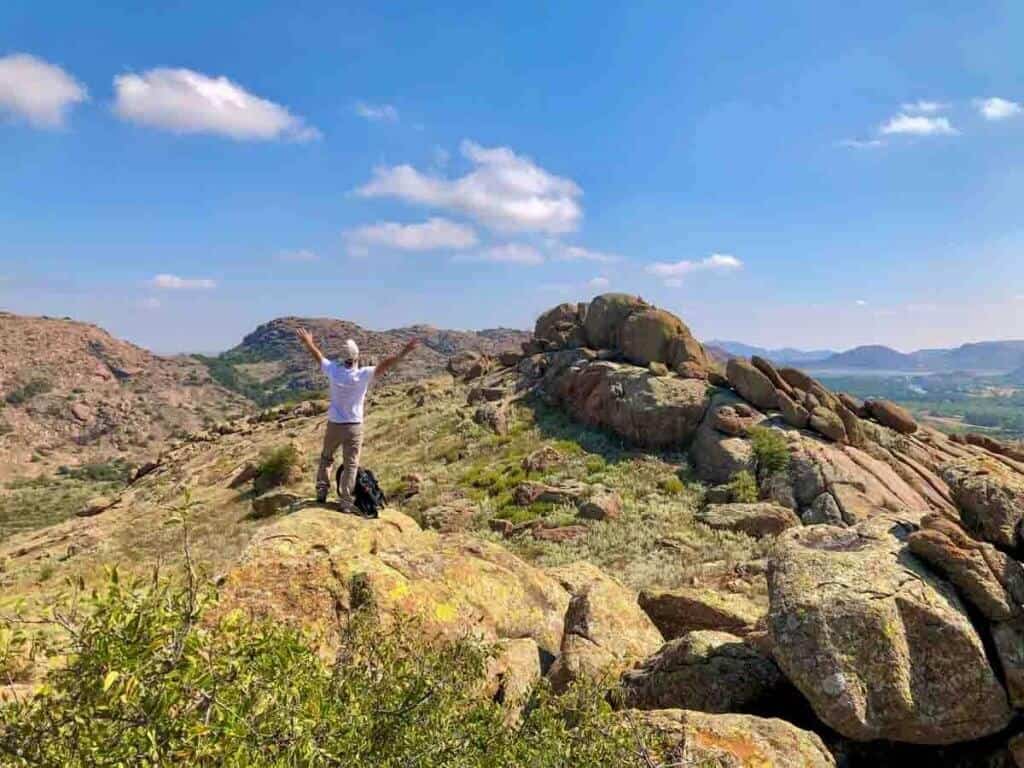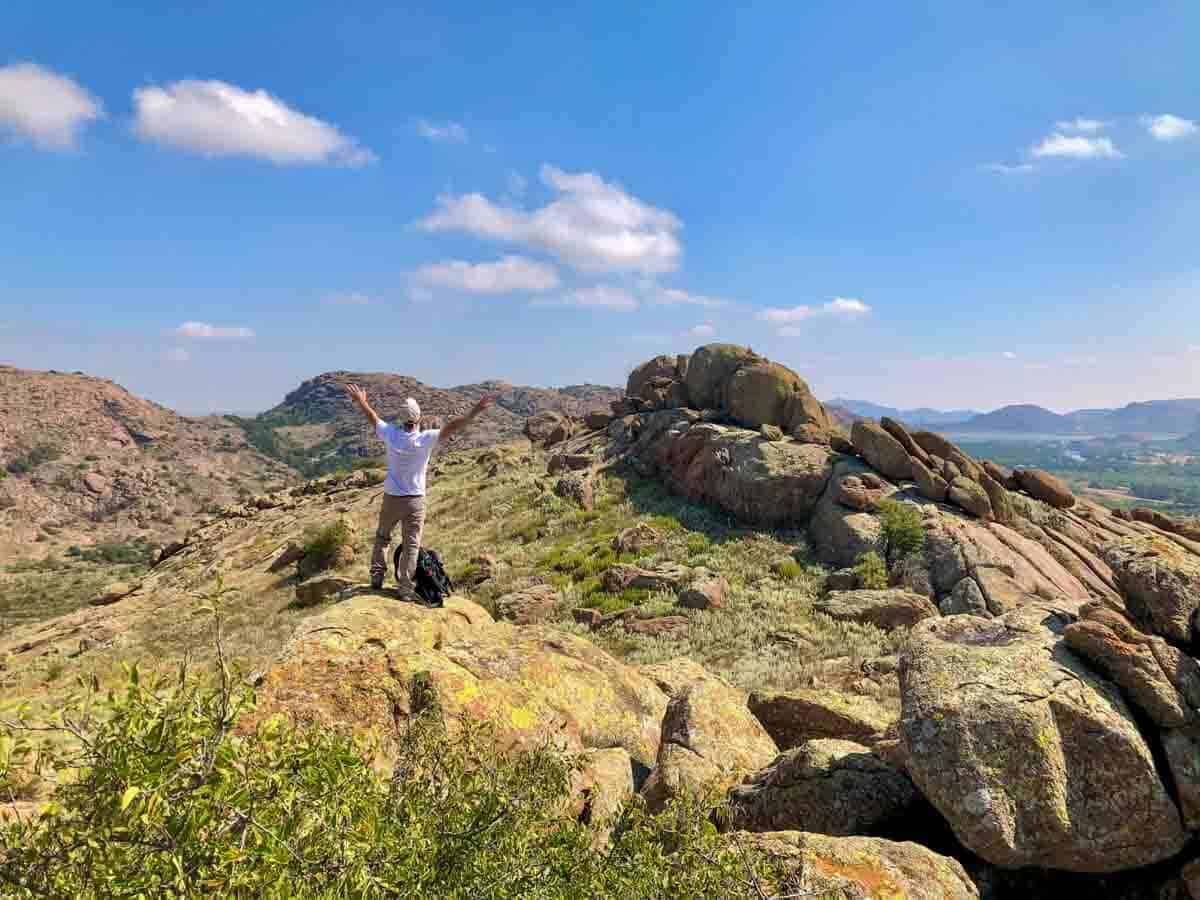 Quartz Mountain State Park is a wonderful destination for people looking to get away into Oklahoma's beautiful and remote Wichita Mountains. Whether you're looking to do some hiking, biking, rock climbing, bouldering, or camping while catching epic sunsets and sunrises, Quartz Mountain State Park has something that will interest any outdoor lover. It is one of the most scenic places in Oklahoma.
We're sharing how to have a wonderful trip exploring this beautiful and remote state park in Oklahoma.
Quartz Mountain State Park Oklahoma Travel Guide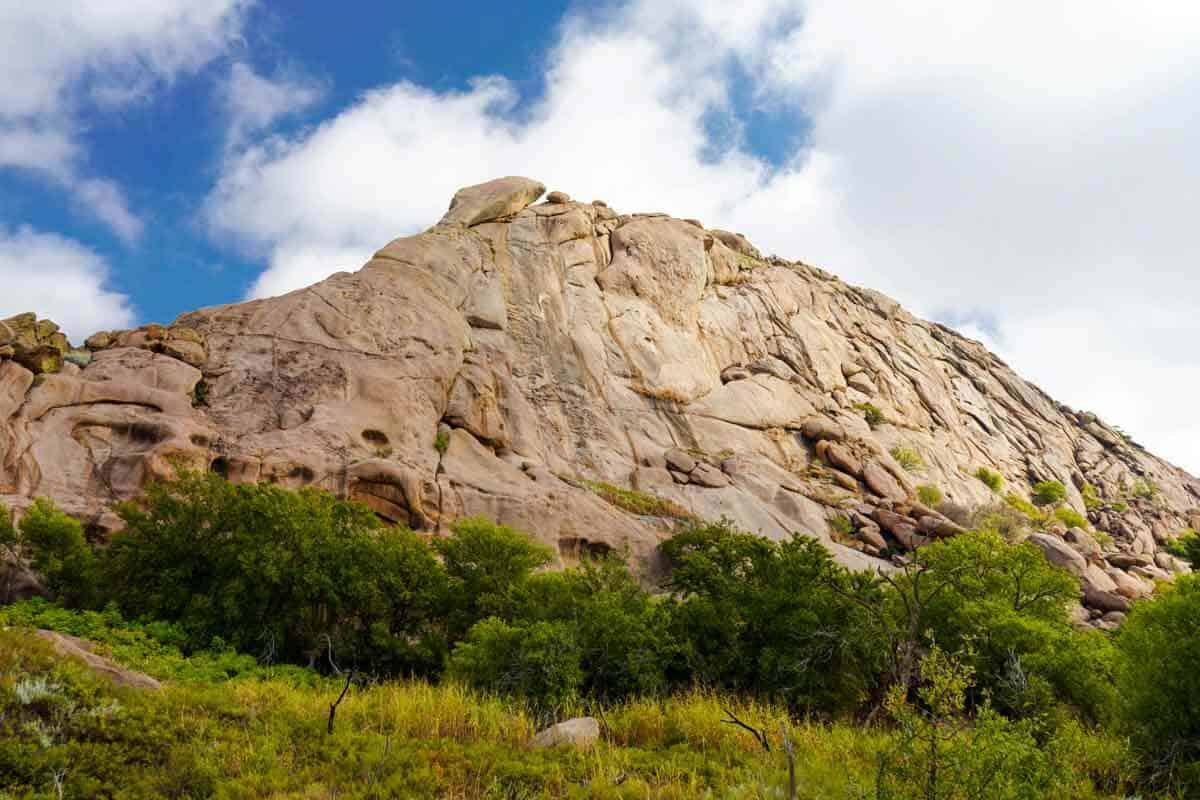 Tucked within the Wichita Mountains of Southwest Oklahoma and Lake Altus-Lugert, Quartz Mountain State Park is the perfect remote outdoor getaway. The park is roughly nine miles from the quaint community of Lone Wolf.
Consisting of over 4,000 acres of land, Quartz Mountain was one of Oklahoma's original seven state parks established in 1937.
The area has so much jaw-dropping natural beauty. While driving to the park through the plains, visitors begin to see the Wichita Mountains come into view, making it one of Oklahoma's most unique state parks.
Quartz Mountain Oklahoma Itinerary
Day 1:
Check into the campsite – reserve online with Oklahoma State Parks App.
Set up camp
Scenic drive – get acquainted with the park and where facilities are before dark.
Enjoy camp dinner
Catch the sunset – there are pull-offs along the road to catch the sunset driving toward the lodge.
Day 2:
Catch the sunrise over Lake Altus-Lugert
Make camp breakfast
Morning hike – Check out Baldy Point and Cedar Valley.
Back to camp to refill your water and have lunch
Afternoon hike – check out a few short hikes near the campgrounds, such as New Horizon Trail or Cave Trail by the lodge
Have dinner
Catch the sunset
Day 3:
Sleep in, enjoy camp, and have breakfast
Morning Bike Ride – Cruise the Heart Healthy Trail
Tear down camp and rig down to head home!
Best Things To Do at Quartz Mountain State Park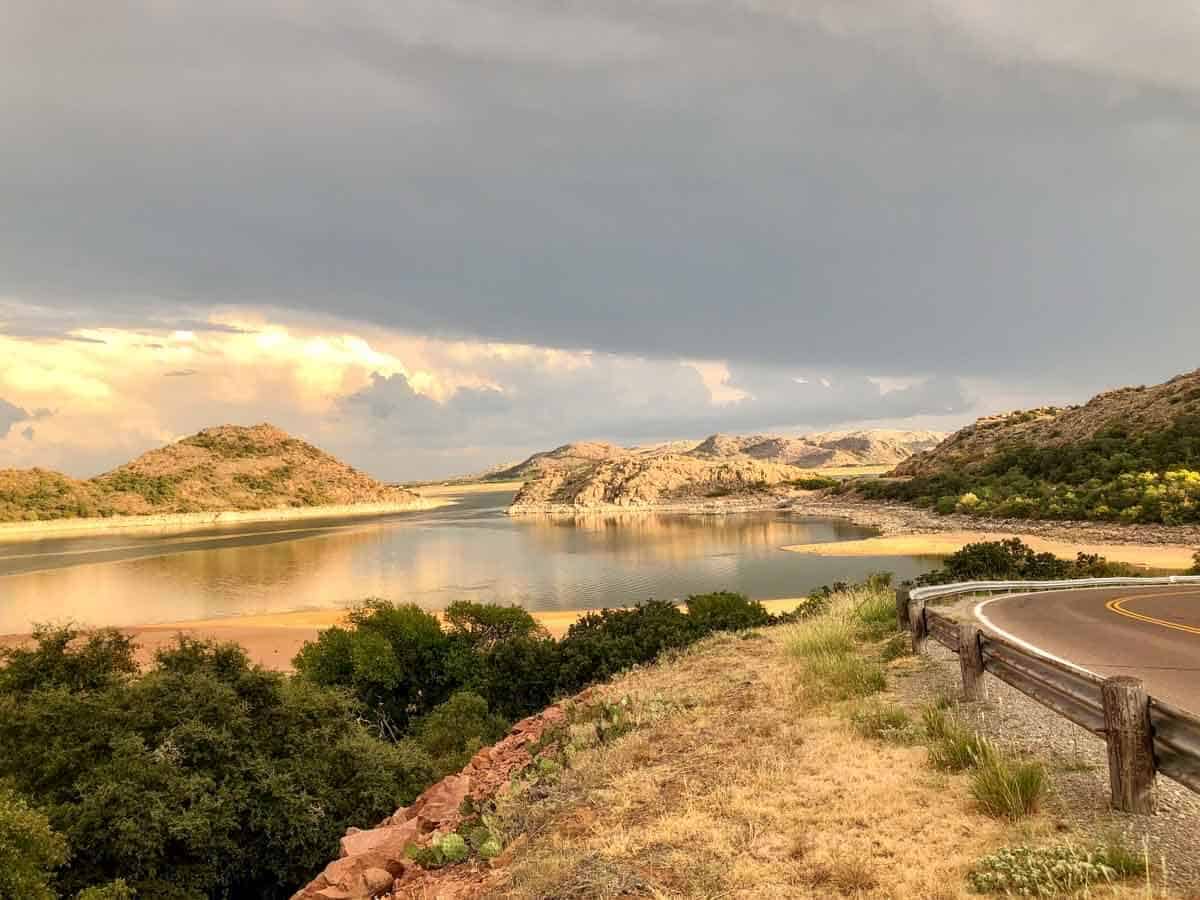 Activities are endless! Visitors can enjoy hiking, biking, camping, rock climbing, bouldering, canoeing, kayaking, fishing, swimming, and more.
It is one of the most beautiful places for a landscape photography hobbyist too.
Quartz Mountain Oklahoma Hiking Trails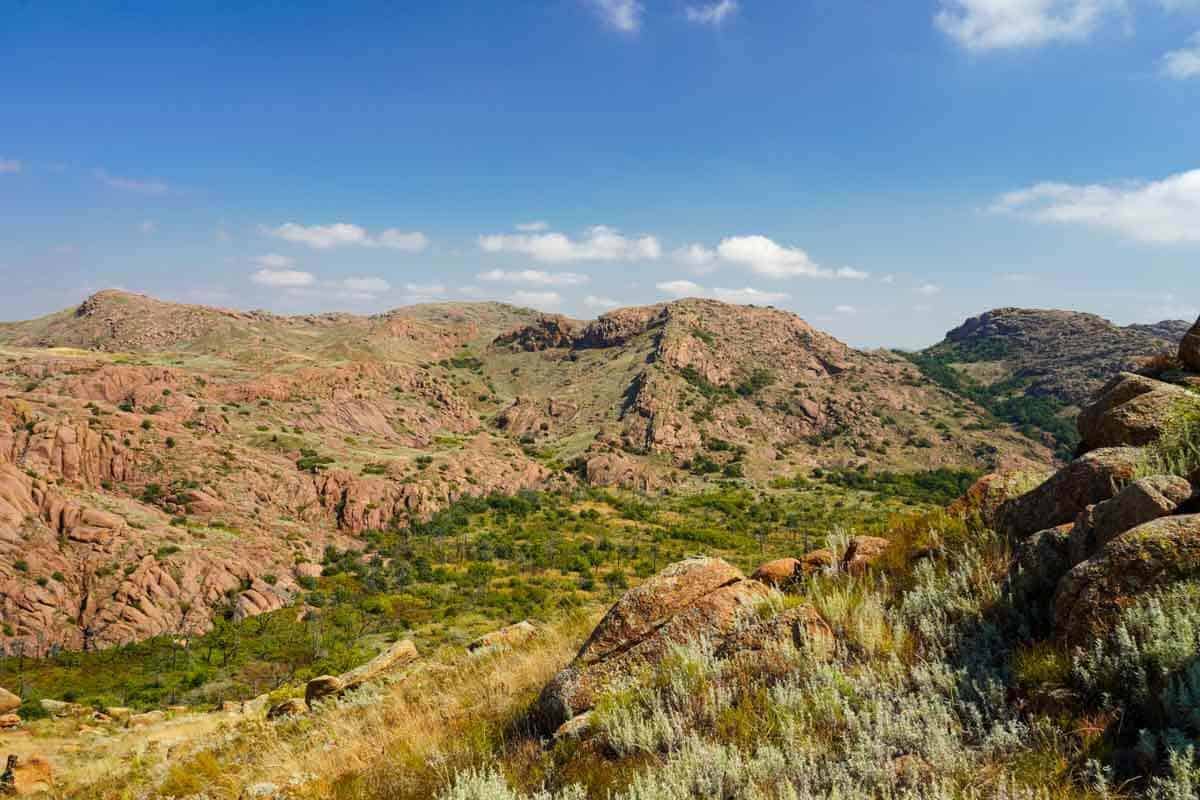 When you visit any state park in Oklahoma, we highly recommend bringing a map of the trails with you. This is useful regardless of if you're hiking or biking.
Oklahoma's beautiful landscape can be hard to navigate at times, and there tends to be a lack of cell phone reception; having a map that includes the trail will come in handy when you're out exploring.
If you need an awesome Oklahoma Trails Map App, we use AllTrails. You can download the app on your phone and even download maps for offline use.
Multiple hiking trails meander throughout the park, each one offering a unique look into Oklahoma's beauty. Every trail has its own unique length and difficulty level.
Here Are Our Favorite Hiking Trails
Baldy Point Through Cedar Valley
New Horizon Trail
Cave Trail
Twin Peaks Trail
Quartz Mountain State Park Biking Trails
There is one designated biking trail here, the Heart Healthy Trail.
The Heart Healthy Trail is a 1.8-mile paved trail from the campground area to the park's entrance on state highway OK-44.
Whenever we go on a camping trip, we always take our mountain bikes. It is nice to have bikes to commute around the park.
Quartz Mountain State Park Camping
When camping here, there are plenty of campsites available for you to choose from. There are five campground areas.
In addition, there are primitive sites for tent camping, Class B sites for smaller RVs and pop-up trailers, and full hook ups for larger RVs with concrete pads.
We camped with our Aliner at Live Oak Campground North, with class B hookups (water/electric). The site was graveled and shaded in the trees next to the swim beach and boat launch. It was also within walking distance of the New Horizon Trail and biking distance to the Heart Healthy Trail.
Make Quartz Mountain State Park camping reservations online through the Oklahoma State Parks App. Visitors don't have a formal check-in if making reservations online through the app.
Rock Climbing & Bouldering at Quartz Mountain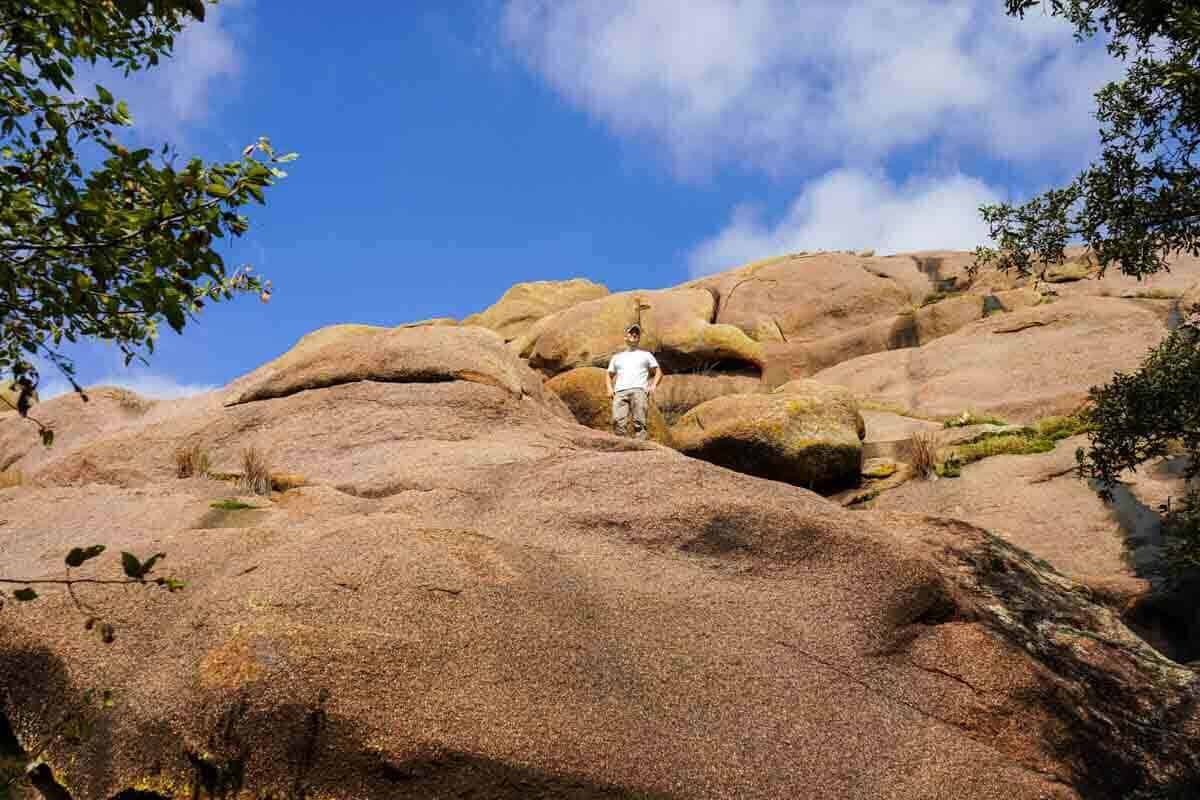 Quartz Mountain is a famous rock-climbing destination in Oklahoma. There are plenty of spots available for you to try your hand at scaling these incredible rocks when it comes to rock climbing.
There are also lots of opportunities for bouldering near Baldy Point and along the New Horizon Trail.
Water Activities in Quartz Mountain State Park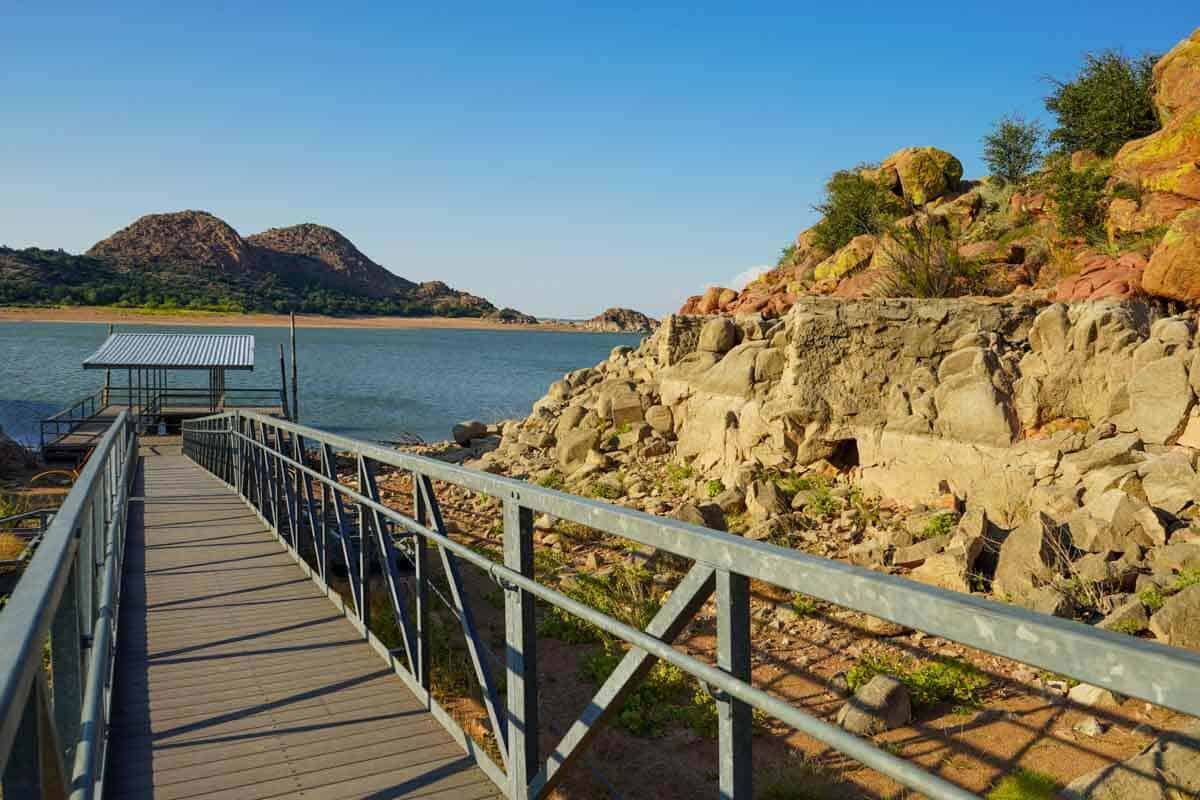 Bring your boats, kayaks, canoes, or paddleboards to enjoy Lake Altus-Lugert.
There are a few fishing platforms for fishing along the lake. Folks were also fishing from the shoreline. The main boat launch is located near Live Oak Campground North.
Best Time of Year to Visit Quartz Mountain State Park
Suppose you're looking to take advantage of early morning hikes so you can experience some beautiful landscape photography without having tons of people around. In that case, we recommend going between late October and mid-April before it gets too hot.
During the fall, you'll be able to see some amazing fall colors that are only heightened by the crisp morning chill. The temps will be perfect for hiking since it won't be too hot or too cold during this time of year!
Quartz Mountain State Park is open year-round to camp and explore.
Other Questions You May Have Before Visiting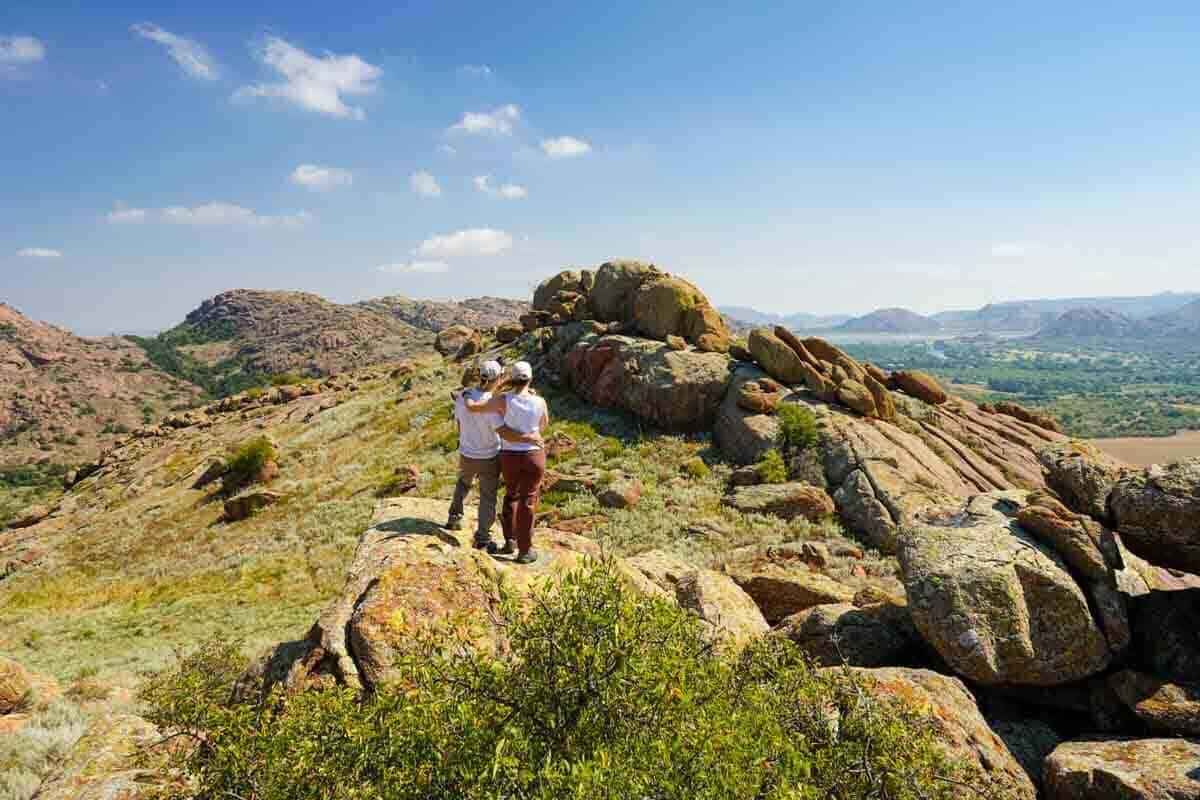 How High is Baldy Point?
Baldy Point, also known as Quartz Mountain, is 2,040 feet in elevation.
Does the campground have showers?
Yes, the campgrounds have showers, flushing toilets, and hot water.
How much does it cost to enter Quartz Mountain State Park?
It is free to enter; however, parking a vehicle during the day requires a parking pass. If camping or staying at the lodge or cabins, the parking fee is included in your reservation cost.
Does Quartz Mountain have cabins?
Yes, cabins are available.
Does Quartz Mountain State Park have a lodge?
Yes, there is a beautiful lodge at Quartz Mountain State Park. The renovated lodge is currently open.
Is there a grocery store?
The nearest place to get groceries or toiletries is at the Walmart in Hobart, 20 minutes away. Be sure to bring all your camping food, drinks, and snacks with you!
Does Quartz Mountain State Park have a restaurant?
Call Quartz Mountain State Park ahead of time for inquiries about the Lookout Kitchen.
Is there cell phone reception?
Cell phone reception is hit-and-miss. There is some reception near the Live Oak Campground and some throughout the park. We could send texts from Live Oak Campground North.
Are dogs allowed?
Yes, dogs are allowed at Quartz Mountain State Park. Be rattlesnake aware while hiking with your fur baby! We did see a rattlesnake on the Baldy Point Trail near the summit in October.
Can you swim at Quartz Mountain State Park?
Yes, there is a swimming beach near the Live Oak Campgrounds to swim in Lake Altus-Lugert.
Is there a pool?
Yes, there is an indoor pool for folks enjoying the lodge and cabins.
Is the park crowded?
We visited in October during the middle of the week, and the place was not crowded. We passed a couple of hikers on the trails, but that is it. The campgrounds had visitors, but there were no crowds.
What is the North Shore Area?
There is a campground and ATV area called the Eagle's Roost in the North Shore Area.
We drove around the North Shore Area in October, and it was pretty sleepy – a few folks in their RVs.
For hiking, boating, and exploring more of the park on foot, we recommend the side of the lake with the lodge.
Can you have campfires at Quartz Mountain State Park?
Yes, campfires are allowed within the fire ring as long as there is not a fire ban.
Leave No Trace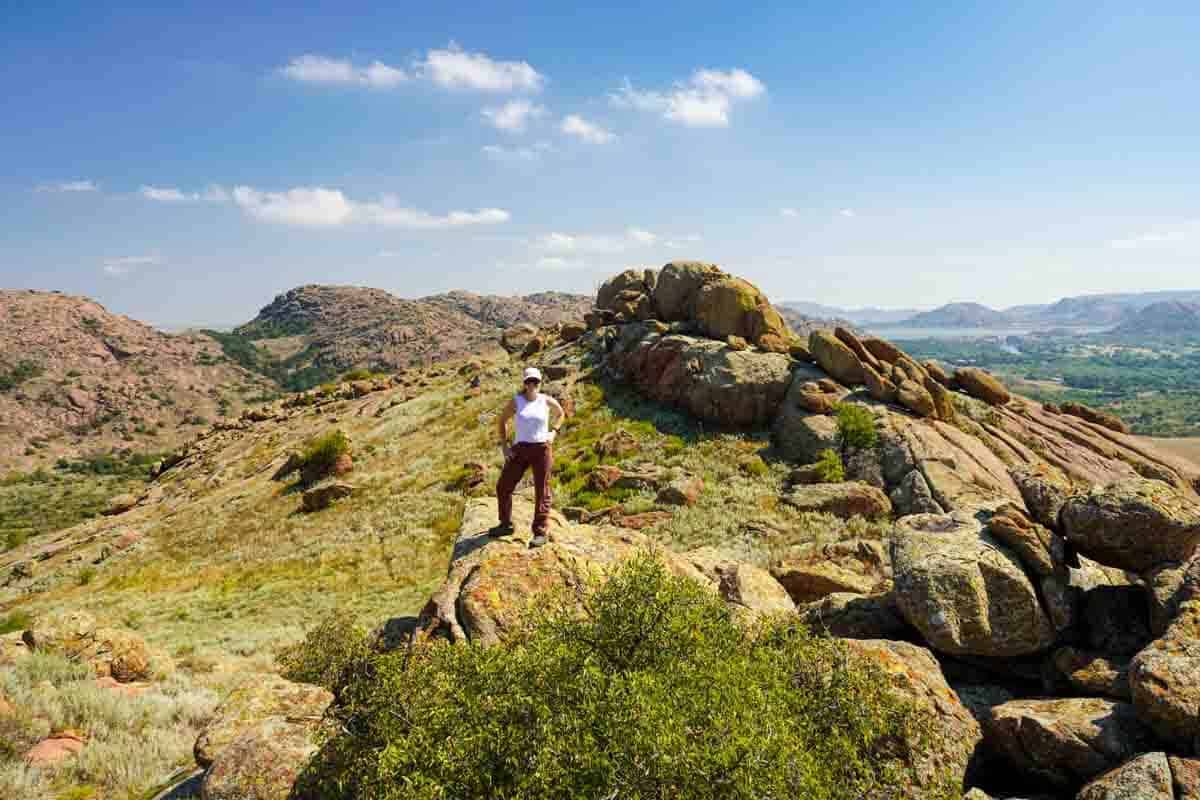 Please get familiar with Leave No Trace principles while exploring the outdoors to protect the environment.
Fantastic Outdoor Getaway From Tulsa or OKC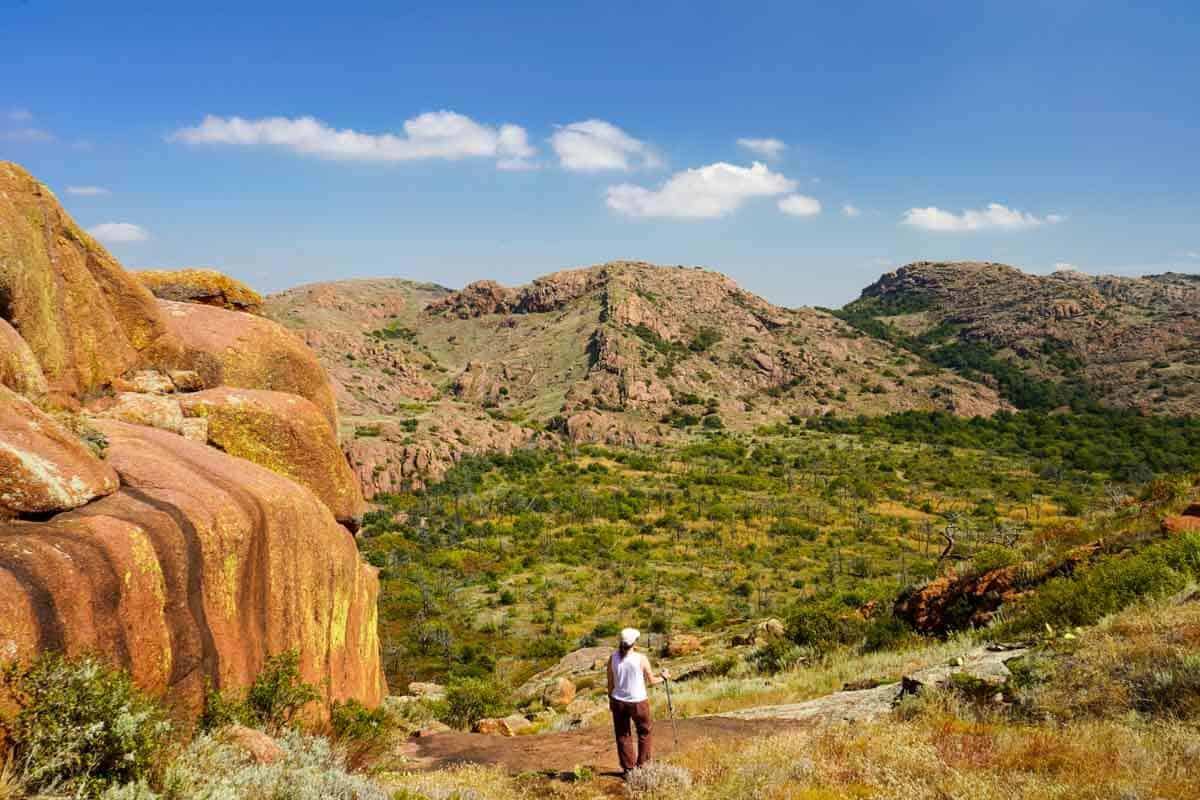 What makes this such a fantastic getaway spot is that it isn't too far away from major cities such as Tulsa and Oklahoma City, and very few people know about just how incredible Quartz Mountain State Park is!
On a clear day, you can see the Wichita Mountains far off in the distance.
You probably won't have any trouble getting a campsite outside of peak season!
If you're feeling adventurous, there are beautiful hikes that will offer some more secluded areas with stunning photo opportunities, such as the Baldy Point Summit.
We hope you have an amazing time exploring everything that this state park offers because it truly is an outdoor gem located right here in Oklahoma.
Thanks for reading.
Ashlee & Pablo
Read More From The Happiness Function:
Are you adventuring in Oklahoma? Following us Instagram and X (Twitter)!