12 Best Places to Kayak in Oklahoma (By Locals)
Last Updated: Sep 28, 2023
|
|
Oklahoma may not be the first place that comes to mind when you think of great places to kayak, but believe it or not, the Sooner State has some amazing paddling destinations. Whether you're looking for lazy rivers, exciting whitewater rapids, or peaceful lakes, Oklahoma has something for everyone. Here are some of the best places to kayak in Oklahoma (written by locals).
This post contains affiliate links, which means we'll receive a commission if you purchase through our links at no extra cost to you. Please read full disclosure for more information. Thanks for your support!
Best Places To Paddle in Oklahoma
1. The Illinois River
Location: Tahlequah, OK, in Cherokee County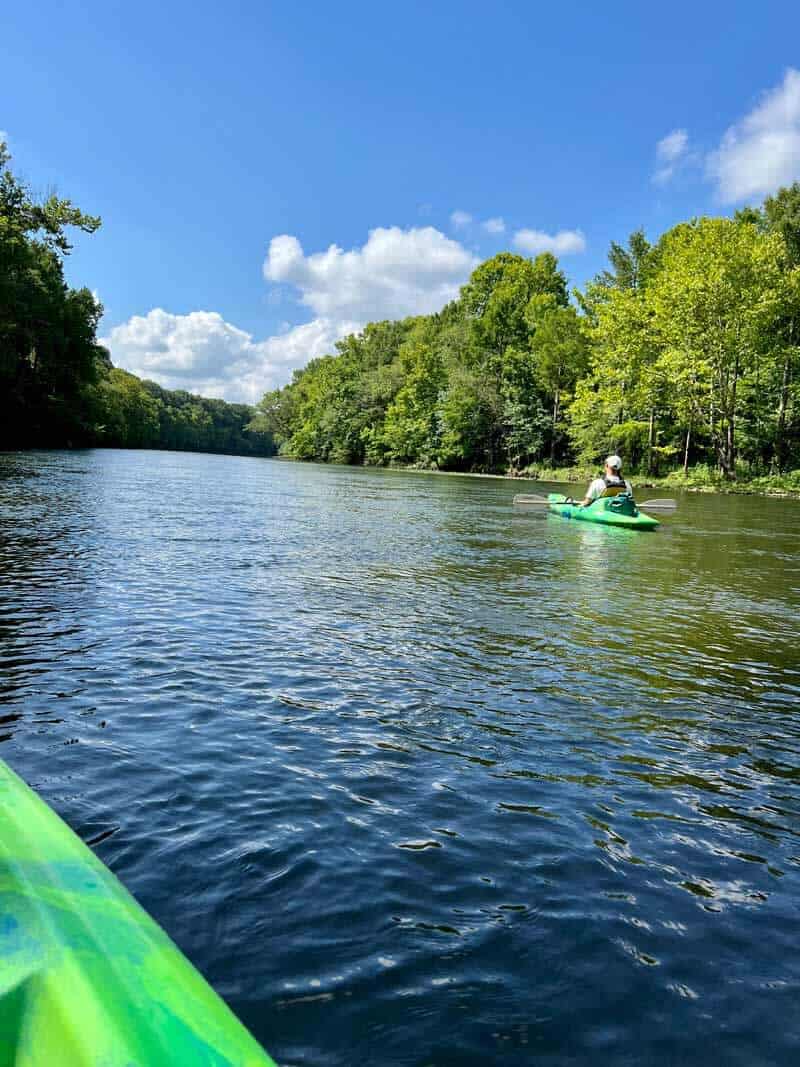 Paddling the Illinois River near Tahlequah is a fun adventure! The river has various interesting features that make for an enjoyable float trip. From the rocky bluffs of the Cookson Hills to the long stretches of calm water, there is something for everyone on this 60-mile-plus scenic river.
Make sure to bring your waterproof camera, because you will want to capture all the beauty this river offers. You'll also want a dry bag to keep your valuables dry. There are rapids on certain sections.
Where to launch: There are a few sections to float. The main areas to launch from are off State Highway 10 northeast of Tahlequah.
If you have your own gear, you can call the outfitters for recommendations and tips on the best sections to float for the time of year you are planning to visit.
2. The Mountain Fork River
Location: Broken Bow, OK, in McCurtain County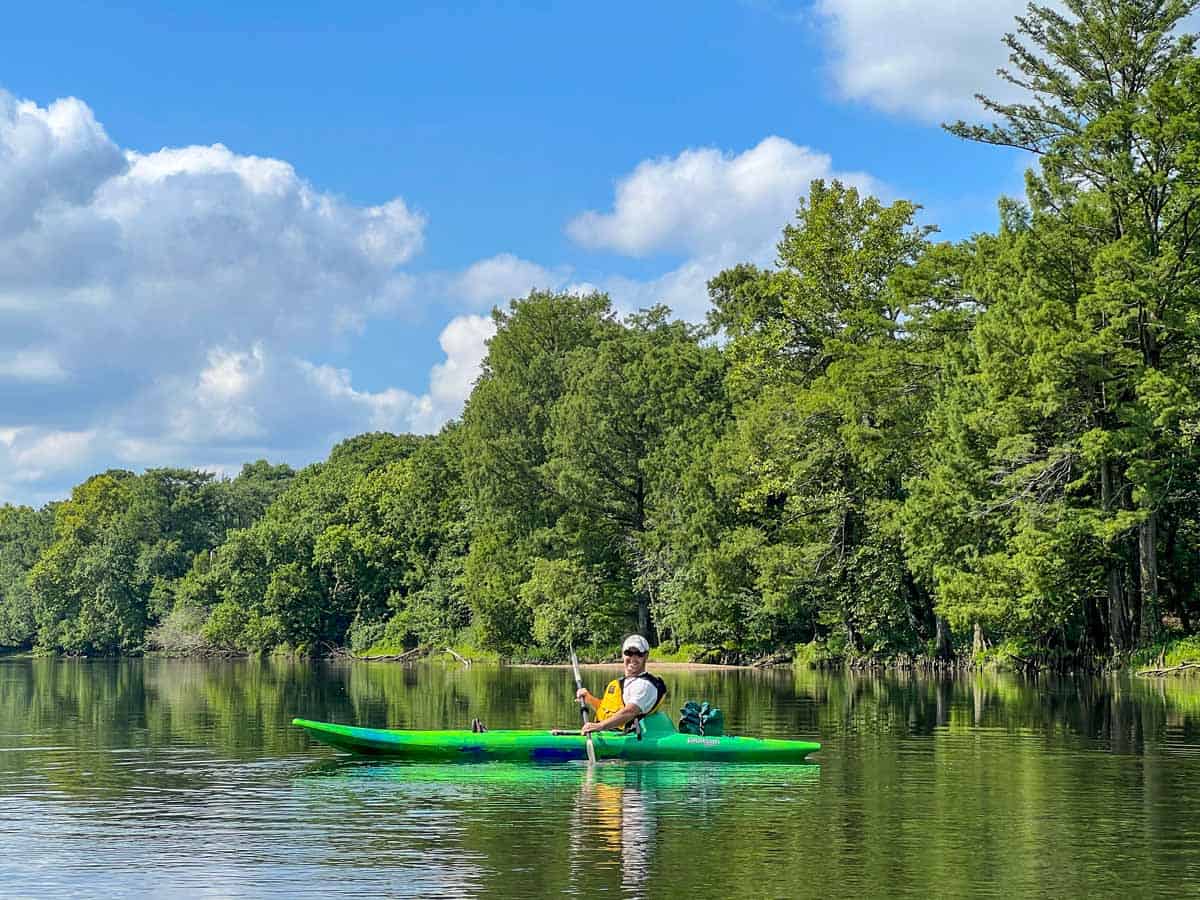 Kayaking the lower section of the Mountain Fork River is an exciting river adventure in southeast Oklahoma. Depending on the time of year visiting and the water levels being released from Broken Bow Lake, the section of river below the dam has Class I and II rapids. The float trip is terrific since the river runs through the Ouachita Mountains.
Be sure to 'say cheese' when you go over the class II rapids! A professional photographer from Broken Bow Adventure Photos takes photos of everyone hoping to catch fun river carnage!
Where to launch: Launch from the Mountain Fork Park outside of Broken Bow.
Get more details on how to float the Mountain Fork! You can easily rent a sit-on-top kayak for this paddling adventure.
Don't forget to bring your dry bag!
3. Boathouse District in OKC
Location: Oklahoma City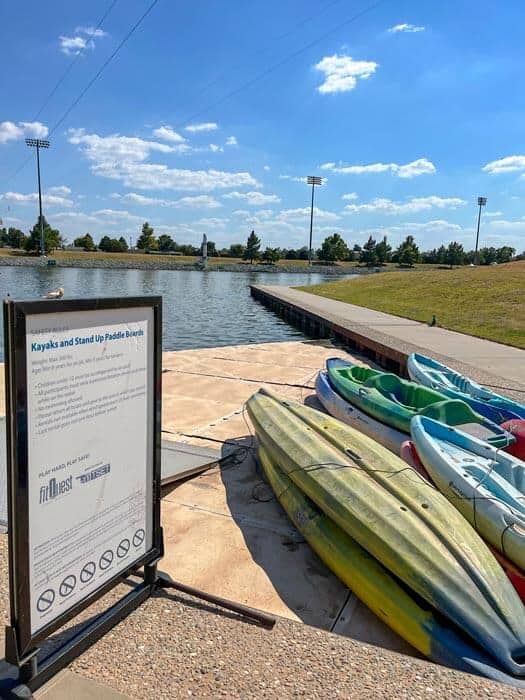 Did you know the U.S. Olympic & Paralympic Training Site for paddling is in Oklahoma City? And guess what? You can enjoy the whitewater rafting and whitewater kayaking facility too!
Visit Riversports OKC to plan your next trip and make reservations!
4. Lake Skiatook
Location: Skiatook, OK, in Osage County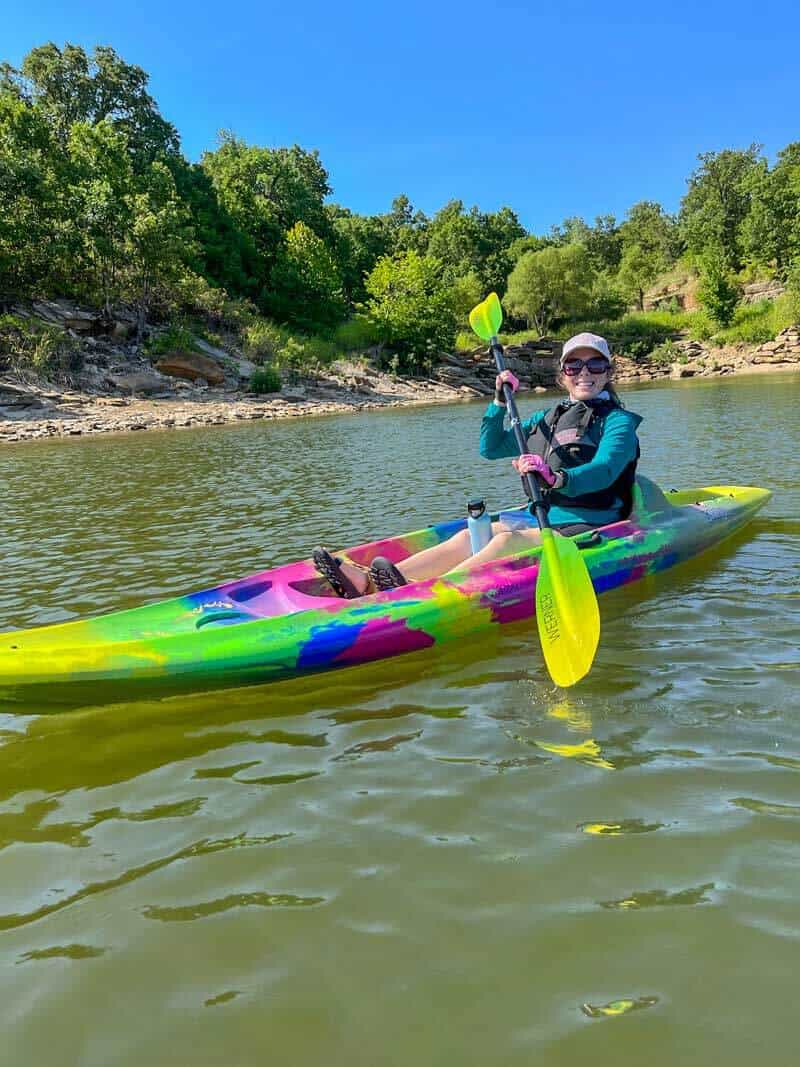 Located less than a half hour from downtown Tulsa, Lake Skiatook is a fantastic place to paddle on the weekends or after work. The lake is excellent for touring. It does get windy, so try to paddle earlier in the day.
Where to launch: Tall Chief Cove is the best place to launch. This is where the bluffs are. There is also a campground and lovely swim beach to enjoy at Tall Chief Cove. There is a small fee to park.
5. Lake Tenkiller
Location: Cherokee and Sequoyah Counties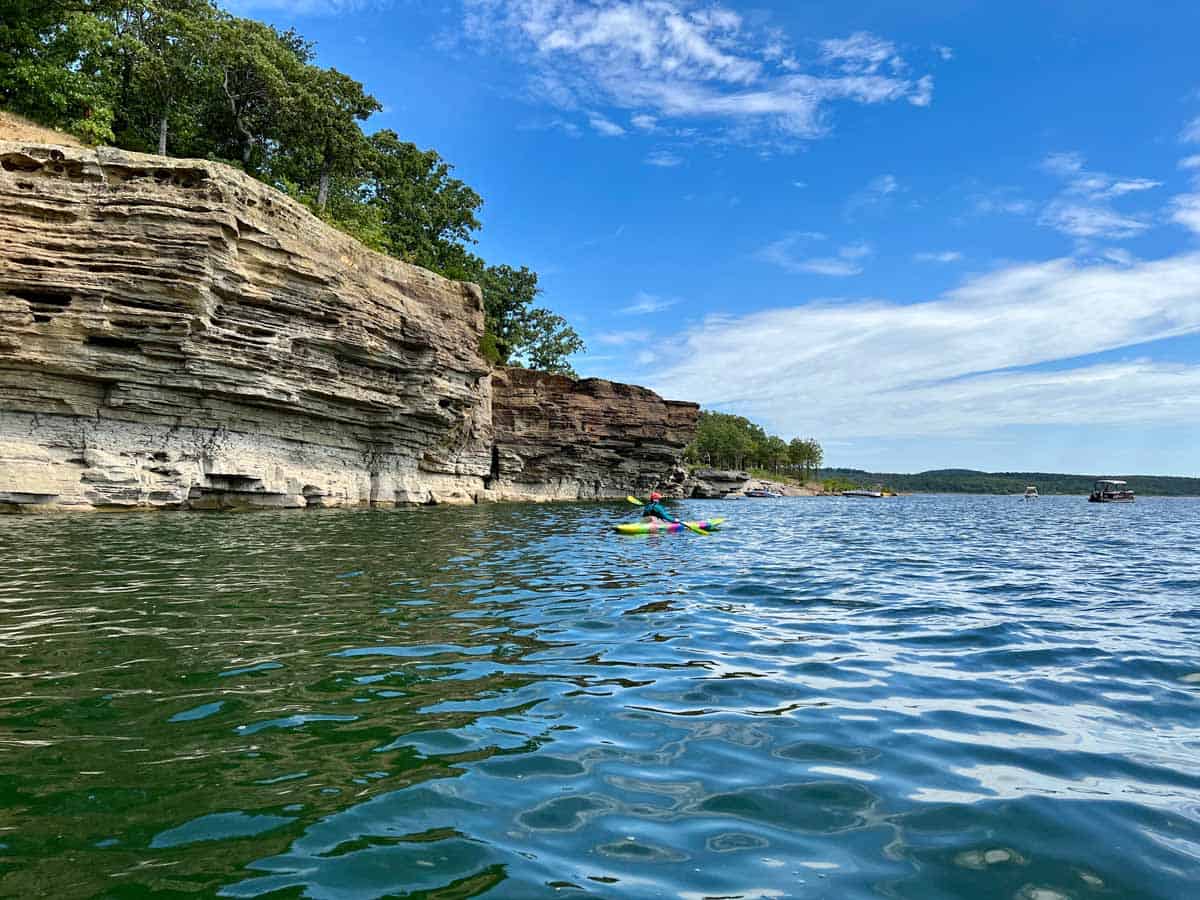 Lake Tenkiller is nestled in the foothills of the Ozark Mountains, making it an excellent and scenic place to kayak. Kayakers can tour around the lake to bluffs and cliffs that jet out over the water. The best place to see dramatic cliffs is by paddling from the Burnt Cabin Marina and around the peninsula. The cliff area here makes for a great swimming hole!
Where to launch: Launch from the Burnt Cabin Marina in Park Hill, OK. After paddling, hike to the cliffs or have a nice lunch at the marina.
6. Grand Lake o' the Cherokee
Location: northeast Oklahoma in Delaware, Ottawa, Homes, and Craig County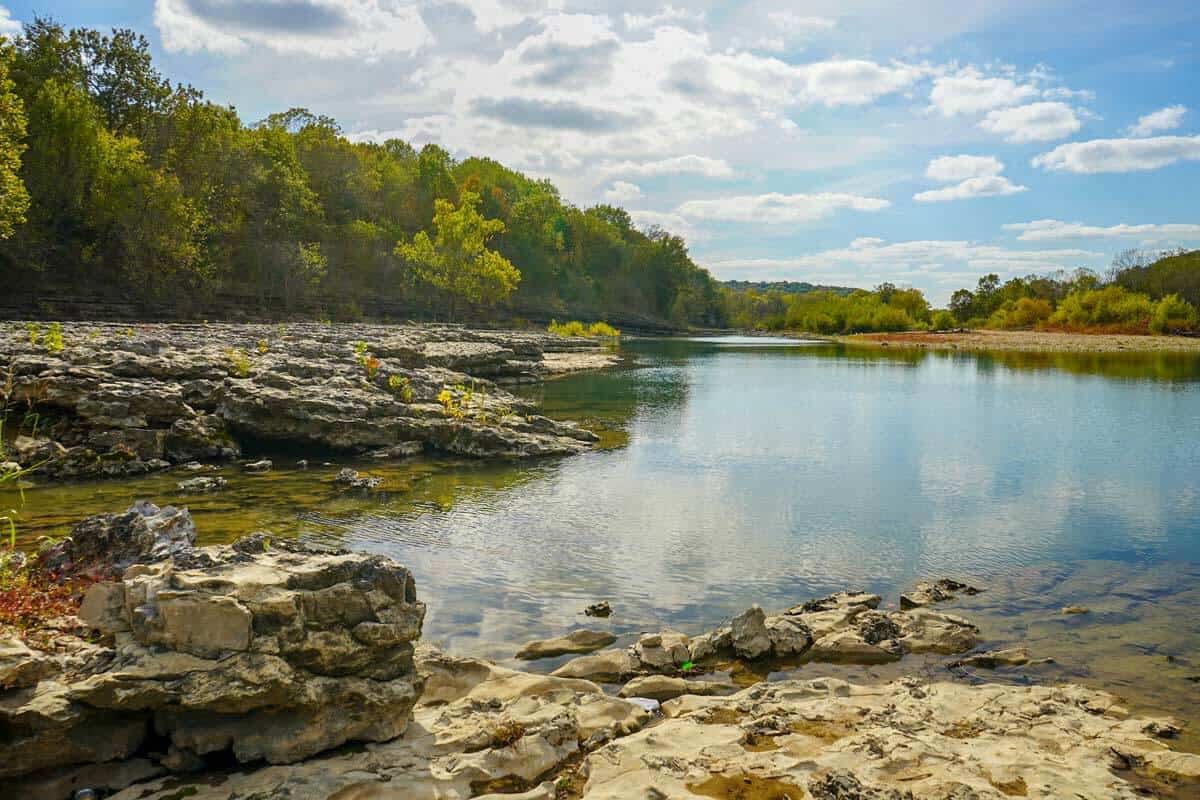 Also nested in the foothills of the Ozark Plateau in northeast Oklahoma, Grand Lake is a popular lake to escape the summer heat and get out on the water. Encompassing over 46,500 acres, there are many coves and places to find solitude kayaking, canoeing, or stand-up paddle boarding.
There are lots of motorboats on this lake, so it is better to paddle earlier in the morning or later in the afternoon.
Where to launch: There are boat ramps and marinas all around the lake near the towns of Grove, Disney, Afton, Vinita, Eucha, and Bernice.
7. Lake Murray
Location: Ardmore, OK, in Love and Carter County
Whether you're a beginner just starting out or an experienced kayaker, Lake Murray is the perfect spot to paddle around and have some fun. The lake is large and offers plenty of room for kayakers to explore, and there are plenty of places to find good fishing spots.
Where to launch: There are a few boat ramps around the lake; however, plan a weekend at Lake Murray State Park, and you can launch near where you're camping. Lake Murray State Park is the largest state park in Oklahoma! It is fun to kayak around Tucker Tower, which is close to the Lake Murray Marina and Buzzard Roost Campground.
8. Lake Hefner
Location: northwest of downtown Oklahoma City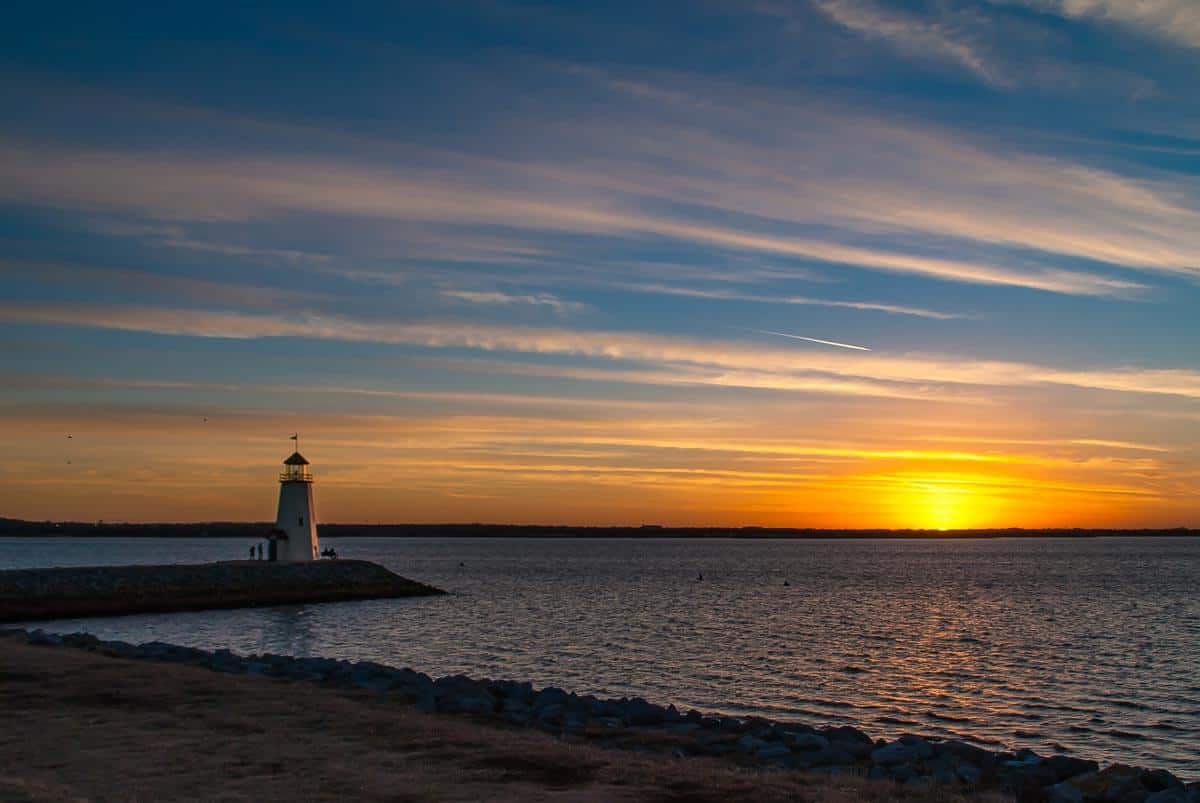 Lake Hefner is another excellent place to kayak on weekends or after work if you live near Oklahoma City. Bring your own paddling gear or rent stand-up paddleboards or kayaks from Riversport OKC. You can also learn to sail here!
Where to launch: There is a boat launch on the south side of the lake and the east side of the lake near the Oklahoma City Boat Club.
9. Lake Bixhoma
Location: Jenks, OK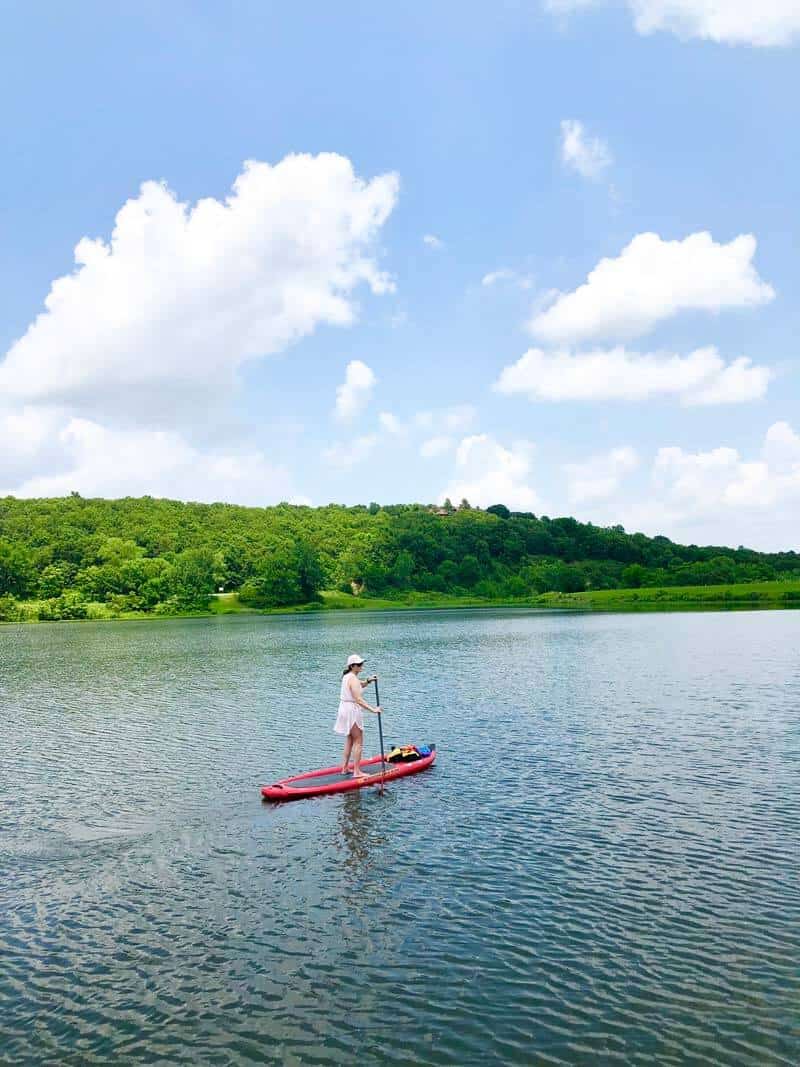 Lake Bixhoma is a small lake south of Tulsa, Oklahoma. The lake is a tucked-away gem perfect for kayaking, stand-up paddleboarding, and canoeing. It is free to paddle here, and due to its size, there typically isn't much traffic in the area. It's the perfect size lake to paddle on the weekends or after work.
Where to launch: You can launch your boat from a few places along the lake. It's so small. There is only one access road to Lake Bixhoma, so you can't miss seeing areas to launch your vessel.
10. Lake of the Arbuckles
Location: Sulfur, OK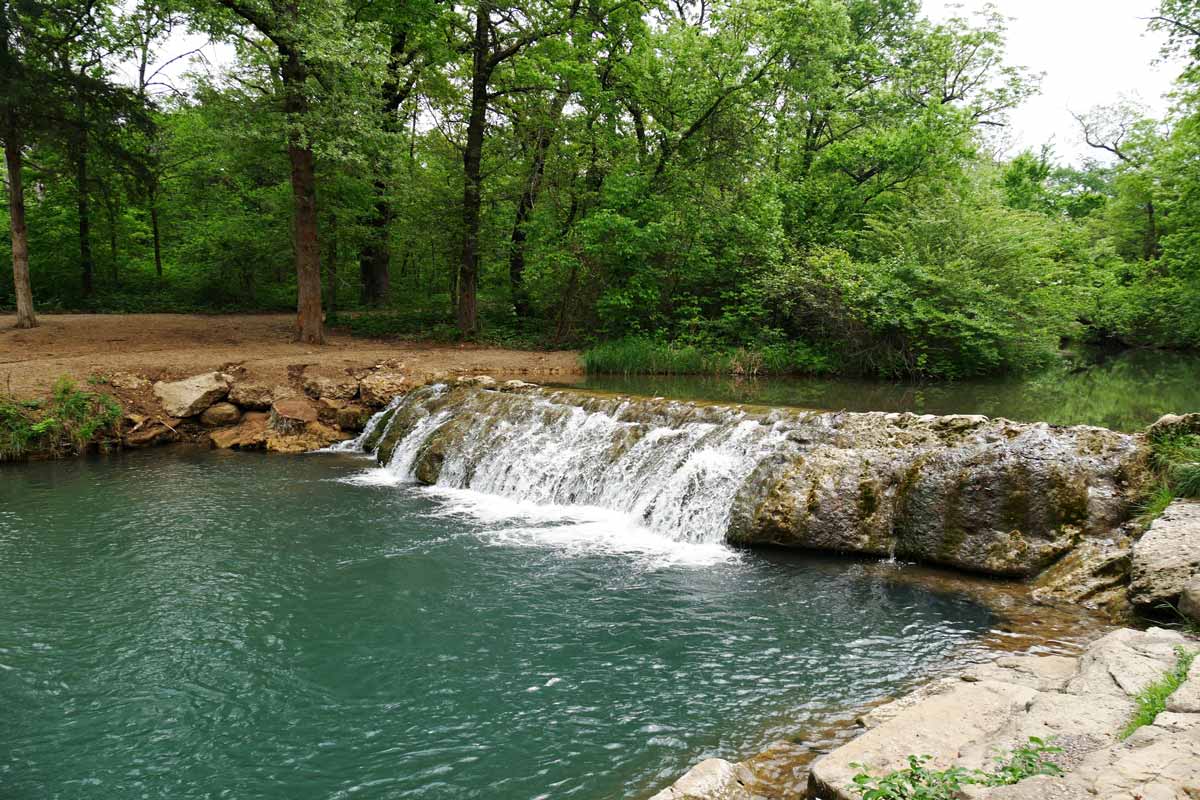 Paddling on Lake of the Arbuckles is a relaxing adventure. The serene surroundings and abundance of wildlife make it the perfect place to explore nature. Whether you're a beginner or an experienced paddler, there's plenty to see and do near the beautiful lake.
Where to launch: Launch your boat from The Point, Buckhorn, and Guy Sandy boat ramps within the Chickasaw National Recreation Area.
11. Greenleaf State Park
Location: Braggs, OK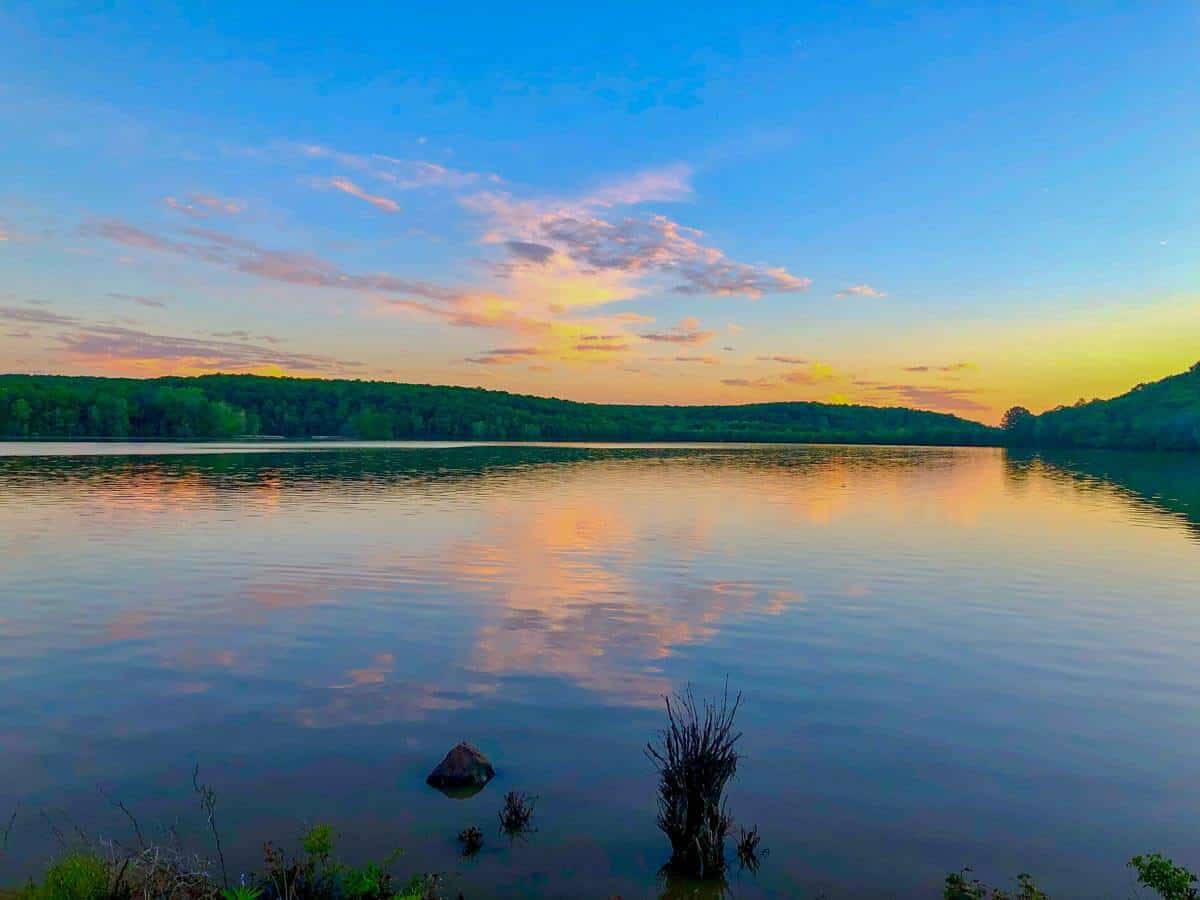 Greenleaf State Park is located roughly an hour from Tulsa, making it a great place to kayak for a weekend getaway. The lake is surrounded by the Boston Mountains, which tends to keep the waters calm, which is why we love kayaking here! There are also great places to camp if you want to make a weekend out of kayaking, hiking, and fishing.
Where to launch: Launch your kayak at the state park boat ramp. Kayaking gear is available to rent if you don't have your own.
12. Robbers Cave State Park
Location: Wilburton, OK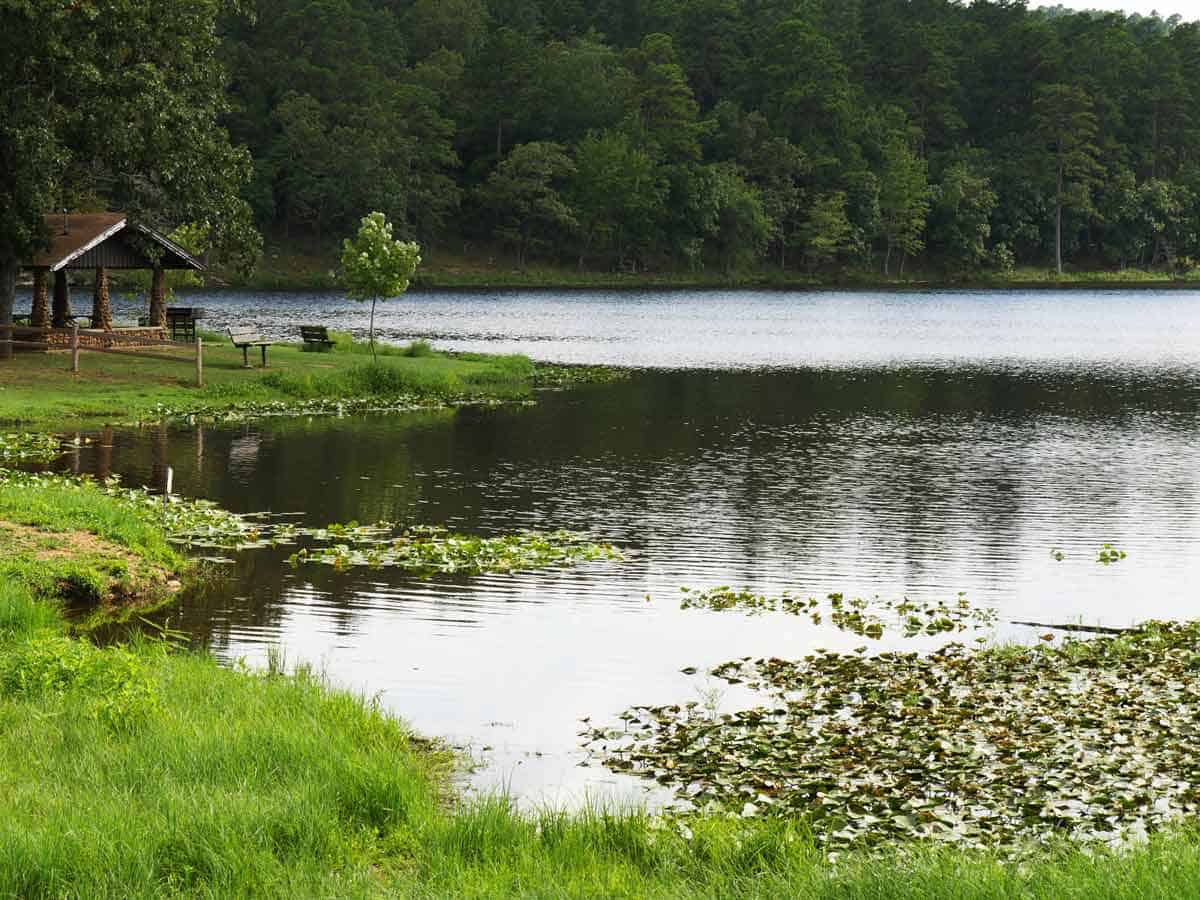 Nestled in the Sans Bois Mountains of the Ouachitas, at Robbers Cave State Park, you can rent kayaks or paddleboats to complement your outdoor adventure. Surrounded by gorgeous mountain views, float serenely along as you cool off or relax after exploring all the Robbers Cave State Park has to offer.
Where to launch: Kayak gear rental area at Robbers Cave State Park. Gear rentals are seasonal.
Final Thoughts
Oklahoma is a beautiful state with plenty of places to kayak, SUP, and canoe. Whether you're looking for gentle, slow-moving waters or something more adventurous, there's something for everyone.
If you're in the market for your next kayak, check out our Jackson Riviera kayak review! It is one of the most popular boats on the market.
We hope you find inspiration for the best places to paddle in Oklahoma to plan your next adventure outside.
---
Get More Oklahoma Adventures:
Save On Pinterest For Later!