Hike Burnt Cabin Cliff Trail at Lake Tenkiller Oklahoma to the Cliffs
Posted on: November 4, 2021
|
|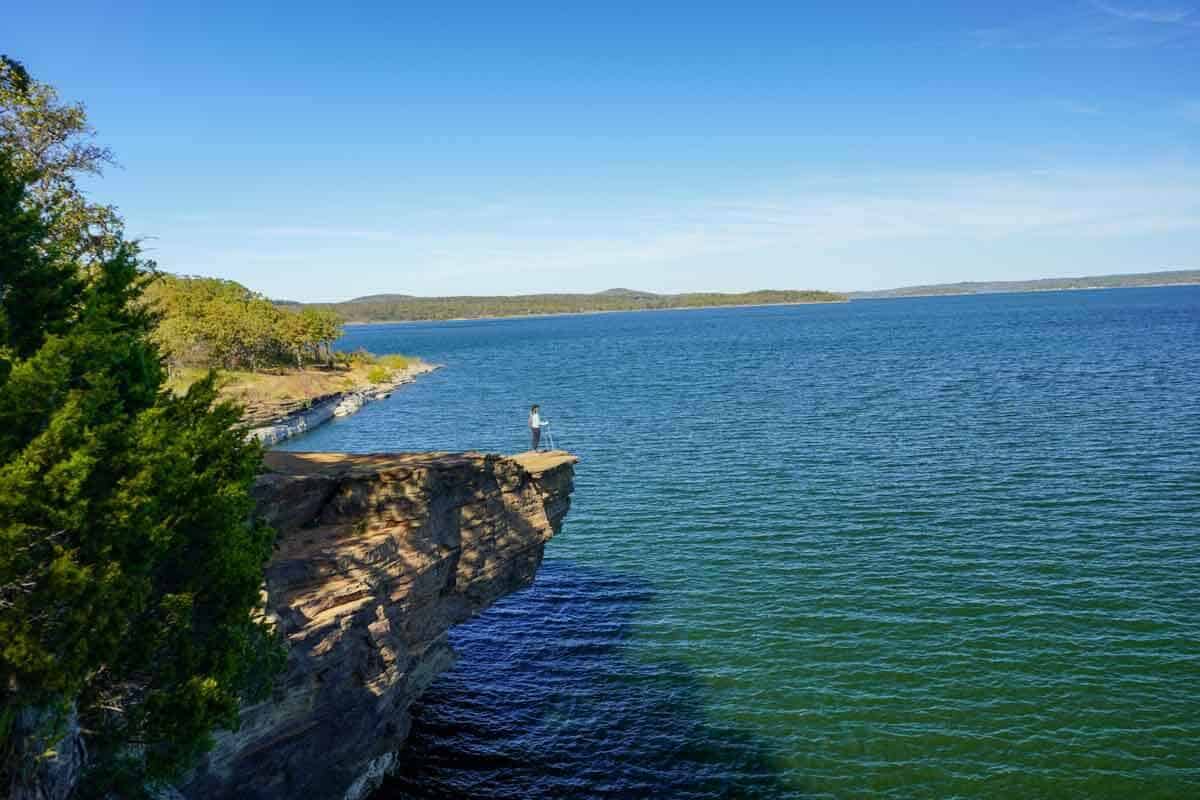 We're sharing all the details, so you know what to expect hiking the Burnt Cabin Cliff trail at Lake Tenkiller!
We live to find spectacular day-hikes close to home in northeast Oklahoma. We especially enjoy finding trails close to the water and tucked away in rocks. That is precisely what we found while hiking the Burnt Cabin Cliff trail at Lake Tenkiller!
The emerald, blue water against dramatic cliffs is quite the surprise and makes for the perfect morning or afternoon hike. If you're looking for a fantastic day hike with remarkable rocks and a lake as the backdrop, then this is your trail.
This post contains affiliate links, which means we'll receive a commission if you purchase through our links at no extra cost to you. This allows us to continue publishing free travel guides. Please read our full disclosure for more information. Thanks for your support!
Hiking Burnt Cabin Cliff Trail at Lake Tenkiller Oklahoma
Located near Burnt Cabin Marina, the Burnt Cabin Cliff trail wanders through the oak trees along an old dirt road that jets out onto a peninsula next to Lake Tenkiller. Towards the end of the peninsula is where the beautiful rocky cliffs begin.
You can also kayak to this point if you don't want to hike!
The trailhead is not marked. The trailhead is located across from Burnt Cabin Marina along the east side of the boat launch. There is a little scrapyard area – head past the scrapyard, and the trail begins – follow the dirt road.
This is an easy trail to hike. There are no big hills to climb, and the trail is around 2.2 miles round trip.
Lake Tenkiller is a beautiful emerald-green color, which makes for awesome photos with the cliffs. There are plenty of rocks to sit on and enjoy the view.
Trip tip: There was some trash along the trail; bring a bag to pick up a little trash if you feel inclined. Always practice Leave No Trace.
Leave No Trace Tips While Hiking
Dispose of human waste and trash property
Leave natural things found alone
Respect wildlife and watch wildlife from a safe distance
Be considerate of other people recreating in the area
Pack out all trash and waste
Be quiet and enjoy nature
Be respectful of the land
Acknowledge Native American territories and tribal lands
Best Time to Visit Burnt Cabin Cliff Trail
Since Oklahoma has mild winters, visitors can hike this trail year-round.
The best time to hike is in the spring (April) through late fall (October) to see all the foliage. Fall is particularly a nice time to hike and take photos in Oklahoma.
Depending on the time of year hiking the trail, hikers may encounter mud – there was a little mud when we hiked in October.
What to Bring Hiking Burnt Cabin Cliff Trail
Since it is a short hike, we recommend bringing the basics: good hiking shoes, a camera, water, snacks, a day pack, and comfortable hiking clothes.
Hiking Shoes. We have both been loving Oboz this summer. Pablo was gifted a pair of Oboz Sawtooth II low-top hiking shoes that he has barely taken off. And I have been wearing the Oboz Mid-Leather for fall hikes. We can both attest to the instant comfort of the Oboz brand. They are breathable and waterproof. Both are great street to trail shoes and worth the investment. Did I mention they were ridiculously comfortable?
Reliable Camera. If you don't have a cell phone with a good camera, we highly recommend investing in a reliable camera. We started our blog in 2020 with some of our older equipment and can honestly attest to how big of a difference having quality camera equipment is when shooting memories. We are currently using the Sony a7iii with a 28-70 mm lens. It is worth every penny.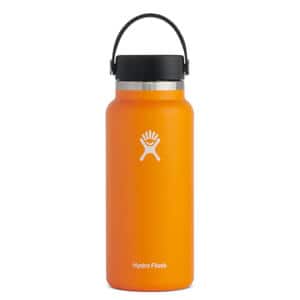 Water Bottles. We prefer insulated water bottles. We like Hydro Flask because they aren't as heavy as some of the other brands. And orange is my favorite color, so I'm showing you my favorite water bottle – aaaand if you live in Oklahoma, you more than likely love orange or crimson red! I didn't go to school in Oklahoma, but I love every excuse I can find when it comes to orange gear.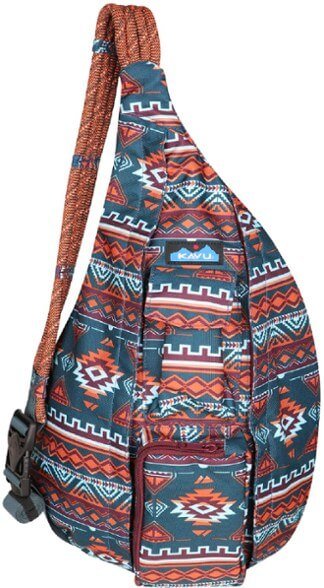 Day Pack. A small day pack will do the trick to hold all your camera equipment, snacks, and water. Pablo and I divide and conquer the load. I typically hike with a hip pack or my favorite Kavu rope sling bag, and Pablo carries the camera equipment in a separate backpack.
Burnt Cabin Cliff Trail Details
Trail Distance: 2.2 miles
Elevation Gain: 144.4 feet
Difficulty: Easy
Is there a bathroom close by the trail? Yes, at Burnt Cabin Marina.
Is the trail on the AllTrails App? Yes, download the Burnt Cabin Cliff hike.
Is there cell phone reception? Cell phone reception is hit-and-miss driving to the area, but there is some reception.
Epic Viewpoints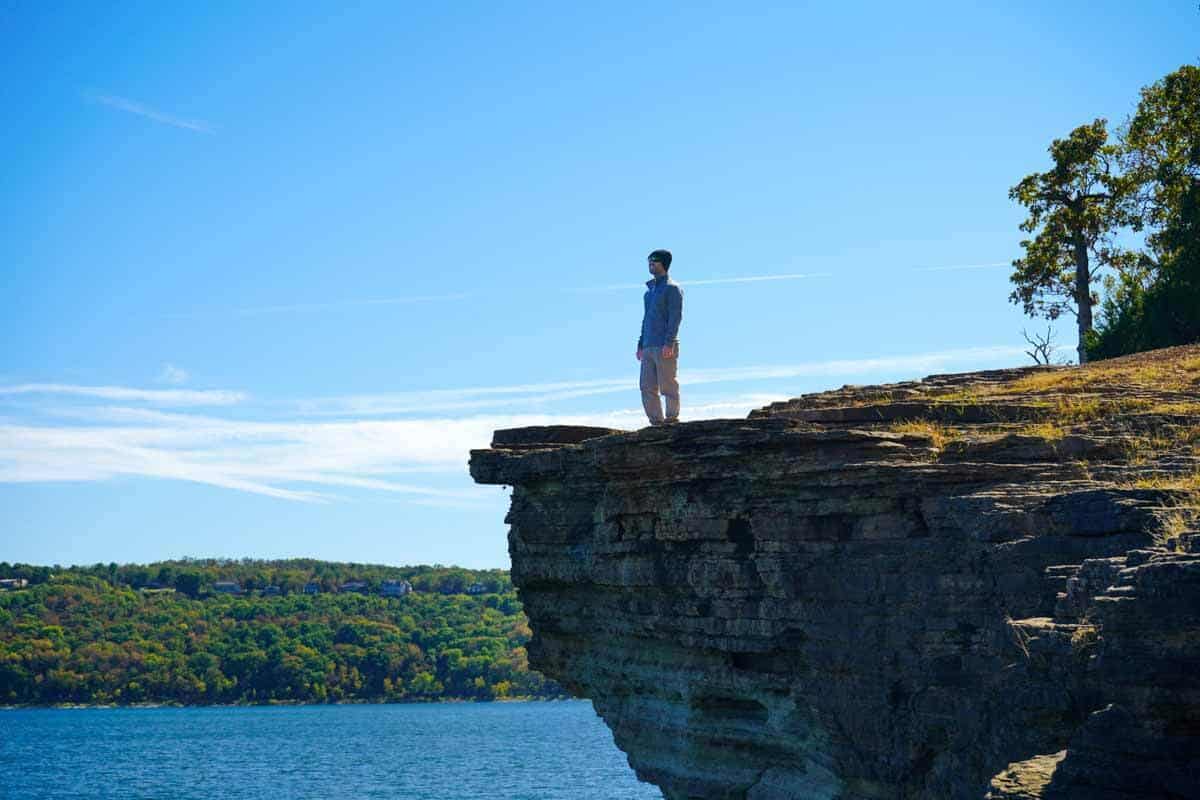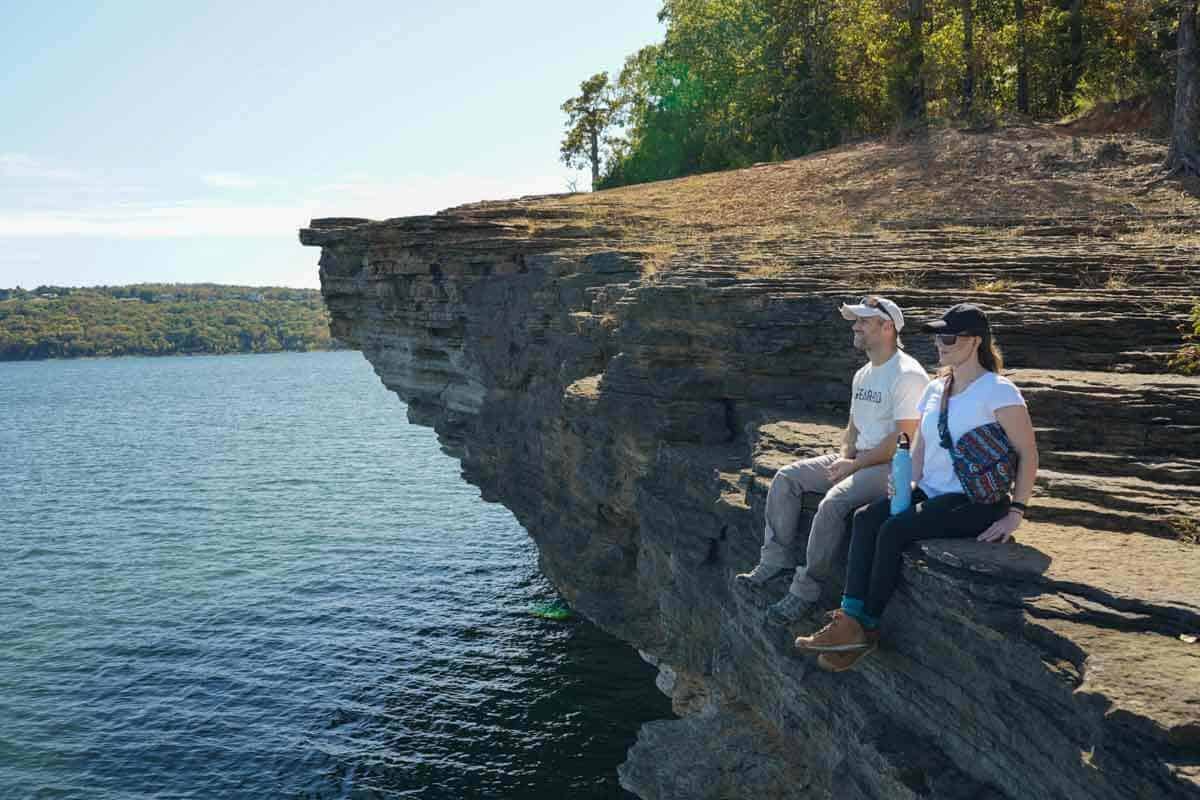 How to Kayak to the Cliffs if You Don't Want to Hike
It is easy to kayak or boat to the cliffs at Lake Tenkiller if you don't want to hike here.
Launch your vessel from the Burnt Cabin Marina, and head to the left when you're facing the lake. Paddle or boat around the peninsula, and you'll get to the rocks.
It took us about 2 hours to paddle from the Burnt Cabin Marina to the cliffs and back. We swam near the rocks for a little before heading back.
Lake Tenkiller is a great place to paddle in Oklahoma when the weather is warm!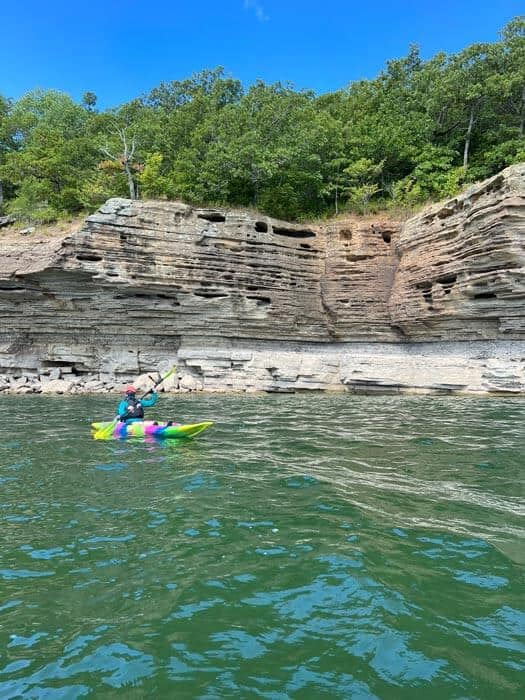 Conclusion
We hope you enjoy this awesome day-hike to the cliffs at Lake Tenkiller or kayaking adventure!
It's a great place to explore the outdoors in Oklahoma. It makes for the perfect day trip to get away from the city and reinvigorate yourself in nature.
Thanks for reading.
Ashlee & Pablo
Have you hiked the Burnt Cabin Cliff Trail? What was your experience? Tell us all about it in the comments below.
---
More Oklahoma Adventures
You might enjoy our other articles about Oklahoma:
Save this article on Pinterest!
Not doing the hike now? Save this article on Pinterest and come back to it later.