Exactly How to Stand-Up Paddle Board to the Mokes in Oahu
Last Updated: Dec 8, 2022
|
|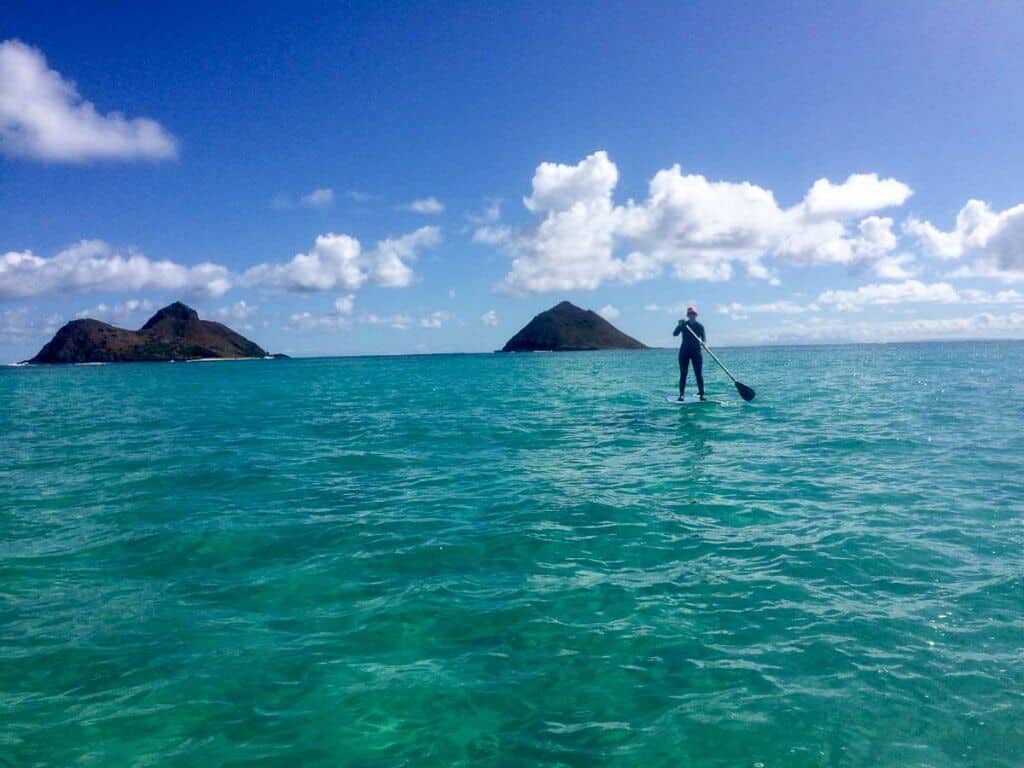 We are sharing exactly how to stand-up paddle board to the Mokes, which are the two islands off the windward coast of Oahu. If a stand-up paddle board (SUP) trip to Oahu's famous Na Mokulua islands is on your Oahu bucket list, you're in the right place!
Stand-up paddle boarding on the ocean is a whole new way to experience Oahu's beautiful clear waters. Find out how you can try it for yourself by reading this article!
This post contains affiliate links, which means we'll receive a commission if you purchase through our links at no extra cost to you. This allows us to continue publishing free travel and gear guides. Please read our full disclosure for more information.
Where are the Na Mokulua Islands?
Oahu's beautiful Na Mokulua Islands are a paddling paradise. We found out about this island getaway through dear friends in Oahu. Let us help you plan an unforgettable time in one of the most scenic locations on earth. Literally, Lanikai's windward coast has impressive views and pristine waters that are breathtaking.
The Na Mokulua Islands are located roughly three-quarters of a mile from Lanikai's world-famous beaches. The area is a photographers' paradise and one of the most photographed places in the world.
On this side of Hawaii, the beaches stretch for miles. The ocean is the most beautiful blue you could ever see on a calm day. Beachgoers swim, sunbathe, walk the beaches, kayak, surf, and SUP on the windward side of Oahu. There are even opportunities for snorkeling when there is calm water.
Planning a trip to Hawaii? We never take big trips without travelers insurance. Whenever we book trips in advance, we always purchase traveler insurance. With Travel Insurance Master, you can select the exact coverage you need.
How to Stand-up Paddle Board to the Mokes
Are you ready to plan your paddle trip to the twin islands? We have insider tips to share with you!
Where to Rent SUP Gear & Get an Offshore Island Landing Permit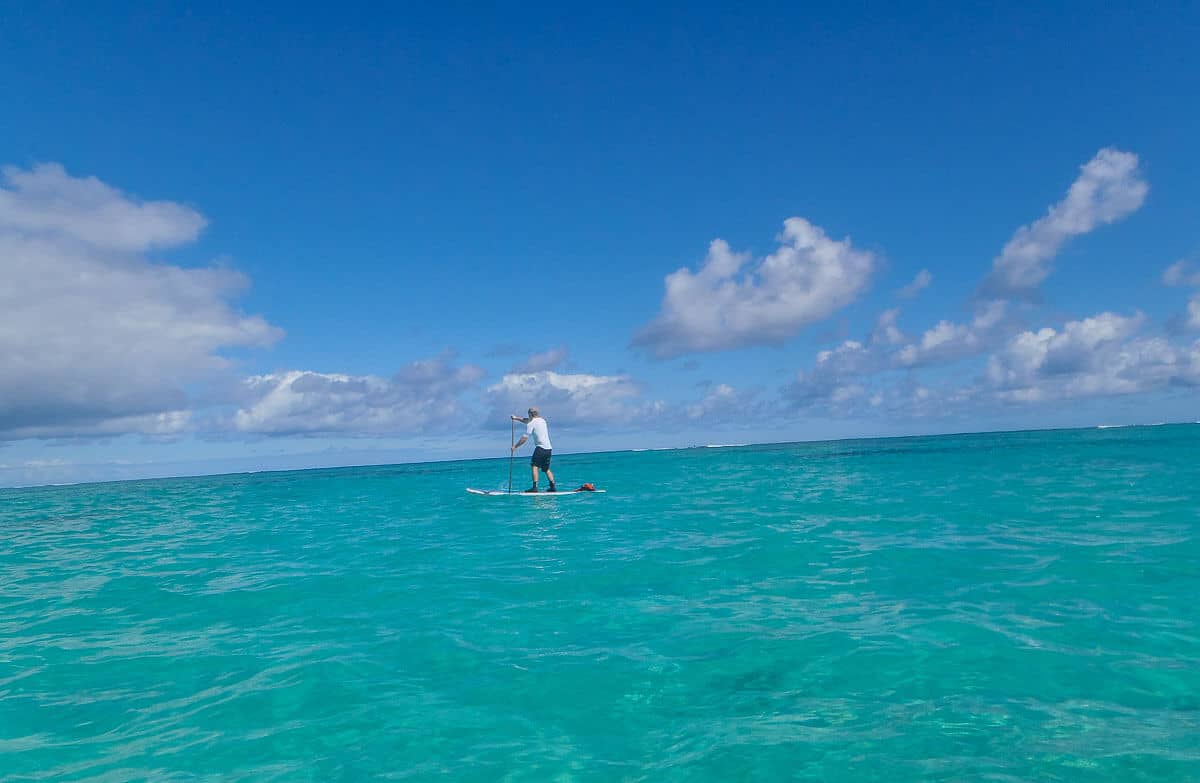 Kailua Beach Adventures is one of the best places to rent paddle boards near Lanikai Beach and Kailua Beach Park. They provide the SUPs and other gear you may need for a paddling adventure.
Other companies outfit in the area, but Kailua Beach Adventures is who we rented our gear from (this article is not sponsored).
Do a Self-Guided Tour
You can pay for a self-guided tour if comfortable or are experienced paddle boarding on the ocean. This includes a safety video, things to consider while paddling on the sea, and the route recommended for paddling.
The self-guided package also consists of an offshore island landing permit. The offshore island landing permit is required if you plan on stepping foot on the island to the left (or north), called Moku Nui.
What is the Offshore Island Landing Permit for?
Paddlers must obtain an offshore island landing permit to land on the larger island, Moku Nui, during a paddling adventure.
The Mokulua Islands, and Mokulua Islets Seabird Sanctuary, are considered protected bird sanctuaries. The island landing permit allows paddlers to visit Moku Nui and walk on the shore.
The smaller island, Moku Iki, is off-limits for people to visit.
Keep your eyes peeled for sea turtles, protected birds, and monk seals while you paddle. Hawaiian Monk Seals are critically endangered animals. The sanctuary is a great place to see a monk seal if you are lucky!
Planning tip: Island landing permits are not issued on Sundays.
What if I've Never SUP'd Before?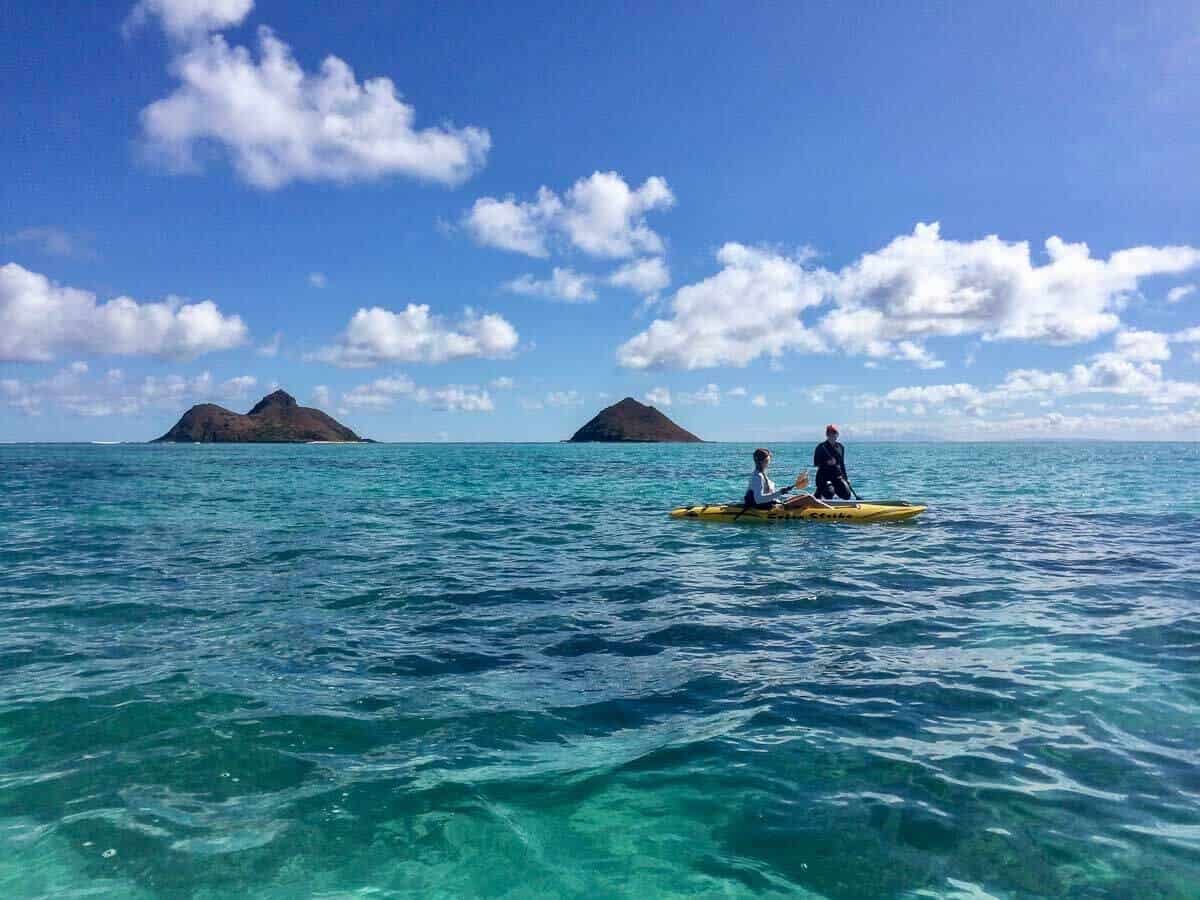 Suppose you are not that comfortable paddle boarding on the ocean without a guide. No worries! Kailua Beach Adventures also offers guided tours. They even have kayak tours in case you're not feeling like stand-up paddle boarding.
And they offer stand-up paddle board lessons so you can get your bearings.
Be sure to check out their website ahead of time to book online and plan.
How to Get Your SUP to the Ocean
From Kailua Beach Adventures, you can walk with your SUP to the beach and launch in Kailua Bay. The gear shop provides a cart, and you can walk with your gear a short 10 minutes to the beach.
If you have a rental car, you can strap your SUP to the top of your vehicle, if it has racks, and try to find a place to park in the neighborhoods along the coast. There is no formal beach parking lot if you want to launch your paddle boards from Lanikai Beach. Once you find a parking spot, just walk to the shore along a beach access trail and launch your SUP.
Safety Considerations
There are no lifeguards on the beaches of Lanikai, so be careful. We definitely recommend paddling during calm waters.
We would not recommend this trip for children or anyone unfamiliar with the ocean environment.
Kailua Beach Adventures offers guided stand-up paddle boarding and kayak tours if you're more comfortable experiencing the Mokuluas with a local guide. It is such a fun outdoor adventure!
Other Things to Know When Planning
There are no showers or public restrooms on Lanikai Beach.
Paddling to Moku Nui is a popular spot, so you'll want to make reservations ahead of time to do this water sport activity during your visit to Oahu.
Be sure to check Hawaii tourism travel restrictions and recommendations before traveling to Hawaii or planning a trip.
Protect your Hawaii trip with traveler insurance! Whenever we book trips in advance, we always purchase traveler insurance. With Travel Insurance Master, you can select the exact coverage you need.
What Should You Pack to SUP to Moku Nui
For a paddle trip to Moku Nui, we recommend bringing:
Bathing suit + sun shirt
Flip flops
Snacks + water
Waterproof camera
Wetsuit – if you get cold easily like me
Paddling booties – so you don't cut your feet on coral
Hat
Small dry bag to stow snacks and gear
Final Thoughts
Once you reach the Mokes, don't just paddle around in circles. Instead, use your SUP to do some surfing if you're comfortable! Be careful on the east side of the Mokes; it is windier.
Kailua and the Lanikai beaches are some of the most beautiful places in the world. Combining the beaches with picturesque views of the Mokulua Islands makes it truly a special place to see in Hawaii and have fun outdoor adventures. We hope you have an epic adventure stand-up paddle boarding to the Mokes. It truly was one of our favorite activities to do when we visited Oahu.
We hope you have a great trip.
Thanks for reading
Ashlee + Pablo
---
More Articles on the Hawaiian Islands
Save on Pinterest!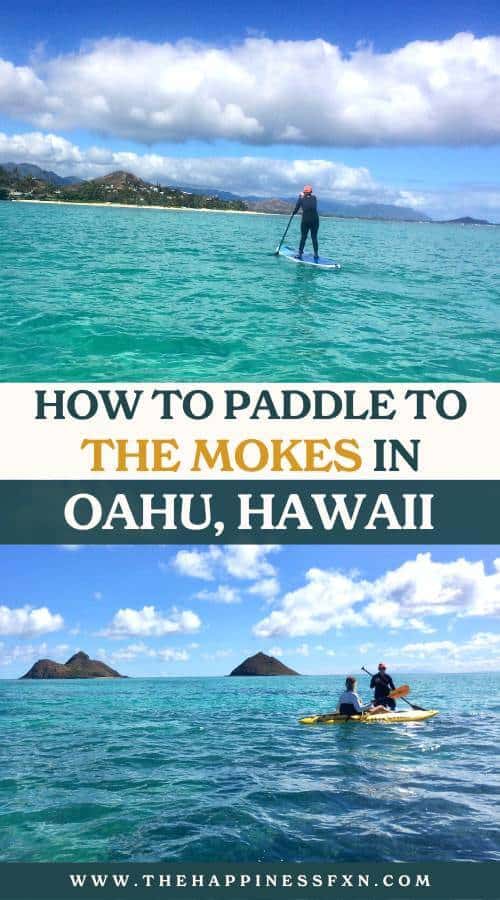 We'd Love to Hear From You!
Do you have any questions for us about how to stand-up paddle board to the Mokes?
We'd love to help you!