11 Best Hikes in Oahu with Incredible Views
Posted on: June 30, 2023
|
|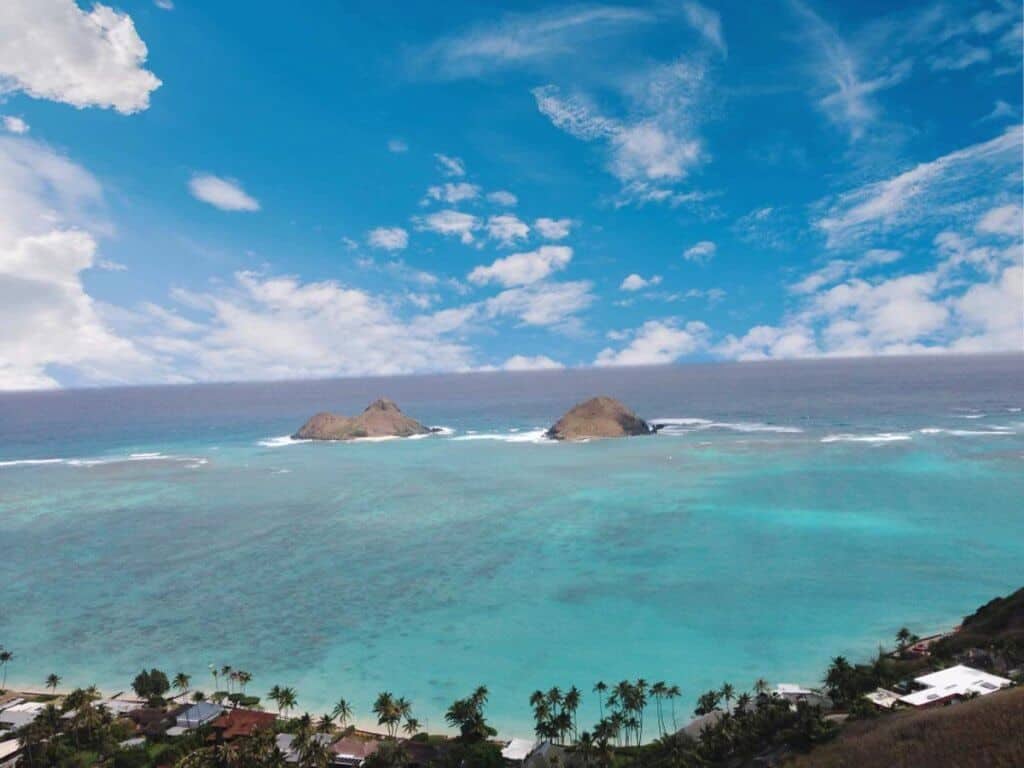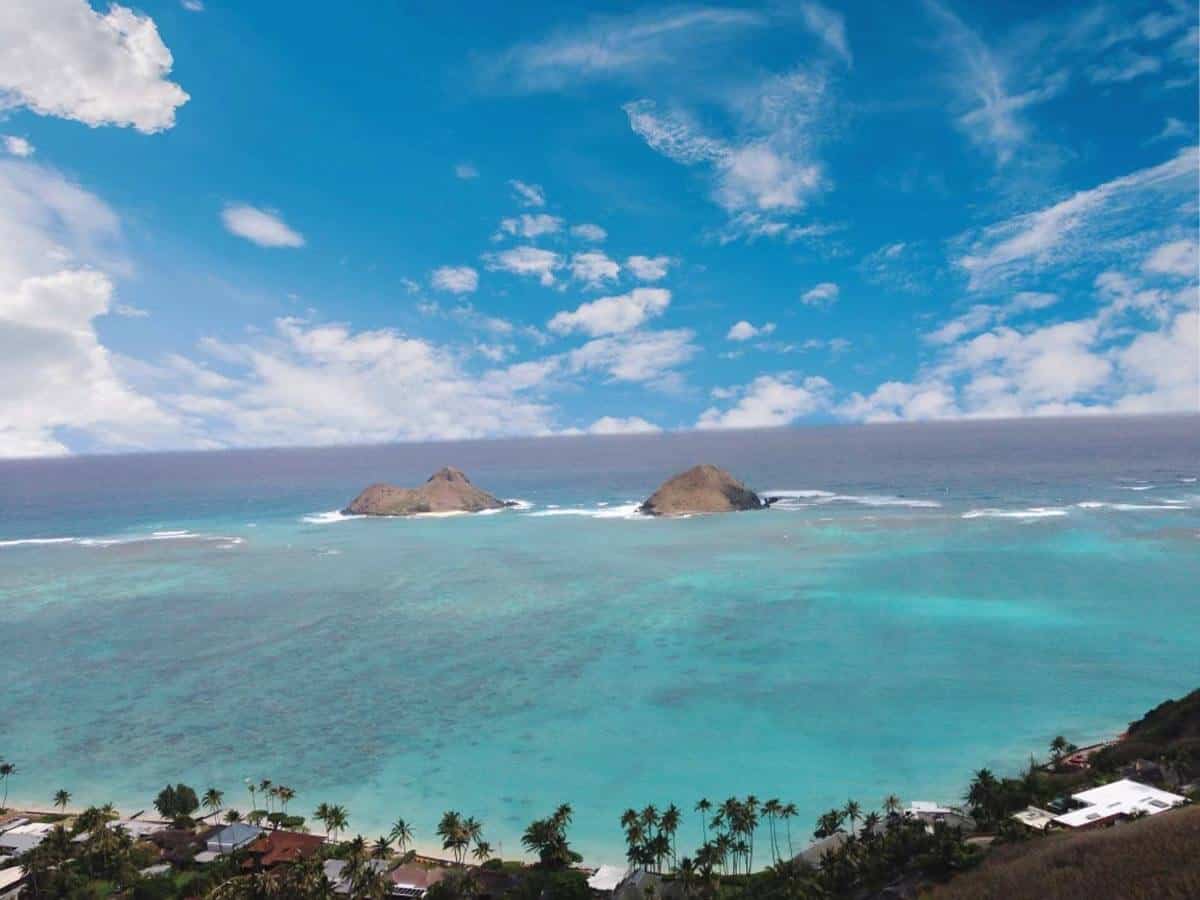 Oahu is known for its incredible views, and there is no better way to enjoy them than on a hike. Whether you're a beginner or an experienced hiker, there's an exciting trail waiting for you to discover. Here are some of the best hikes in Oahu with stunning views from locals and travel experts! So, strap on your hiking shoes and get ready to explore the magic of Oahu off the beaten path!
This post contains affiliate links, which means we'll receive a commission if you purchase through our links at no extra cost to you. Please read our full disclosure for more information.
Best Hikes in Oahu
1. Ka'iwa Ridge (Lanikai Pillbox) Trail
Recommended by Ashlee Fechino of The Happiness Function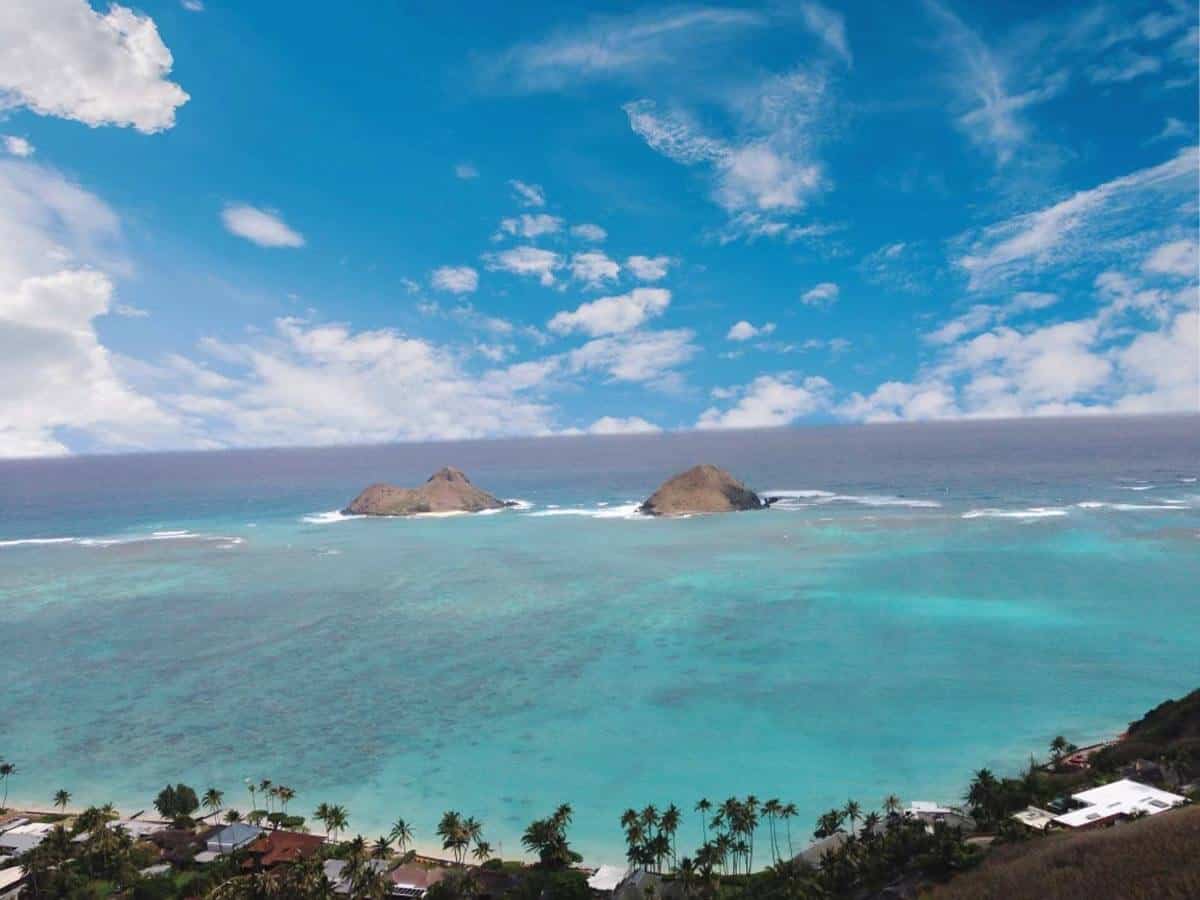 Location: Kailua Beach Park
Distance: 1.7 miles out and back
Known for its world-famous beaches, this side of Oahu will take your breath away. Hiking the Ka'iwa Ridge Trail, also known as the Lanikai Pillbox Trail, is a fun outdoor adventure where hikers get to see magical views of Oahu at a higher elevation. The pillbox is a top hiking destination in Oahu!
The hike is all uphill one way and downhill on the way back. Some sections are steep. You can stop and see the old military bunkers (pillboxes) along the way. The best part is the panoramic views of Kailua and Lanikai Beach!
Where to Park: Find parking along the street in the neighborhoods near the trailhead. The trailhead is located on Kaelepulu and is opposite of the Country Club.
Best Time to Visit: The trail can be accessed year-round. Hike earlier to find a parking spot and beat the heat, or hike later in the afternoon to catch golden hour.
Things to Do Nearby: This hike is next to world-famous Lanikai Beach and Kailua Beach State Park. After trekking, hit the beaches! If you're staying in the area, plan to rent kayaks or stand-up paddleboards to paddle the Mokes.
Shop the Best Hiking Shoes!
2. Wiliwilinui Ridge Trail
Recommended by Jessica Schmit of Uprooted Traveler
Distance: 4.7 miles out and back
The Wiliwilinui Ridge Trail is arguably one of the most beautiful hikes in Oahu, taking visitors up the spine of the dramatic Koʻolau Mountains. The trail is moderately difficult, climbing 1,617 feet over 2.3 miles (one-way), mostly along a series of muddy steps carved into the side of a mountain. But your hard work is worth it once you reach the top! You can see layers of green mountains unfurling below your feet.
Where to Park: It's free to hike on the trail but to get to the trailhead, you'll need to enter the glitzy Waialae Iki 5 community, which overlooks Honolulu. Only a certain number of parking passes are handed out daily by the community's security guard to park at the trailhead. Otherwise, find street parking in the residential area outside of Waialae Iki 5, which will add at least an additional 1.8 miles to the route.
Time to Hike: The hike takes about two and a half hours if you hike continuously. Be sure to build in extra time for all the photos you'll be taking! While you must be off the trail by the time the sun goes down, try to time your hike with the afternoon golden hour. The Koʻolau Mountains look gorgeous, bathed in spectacular golden light.
Things to Do Nearby: If you're staying in Honolulu, try to include Wiliwilinui Ridge Trail on a day when you're exploring the southeastern side of the island, like the Makapu'u Point Lookout or Hanauma Bay.
3. Makapu'u Tide Pools and Lighthouse Hike
Recommended by Francesca of Homeroom Travel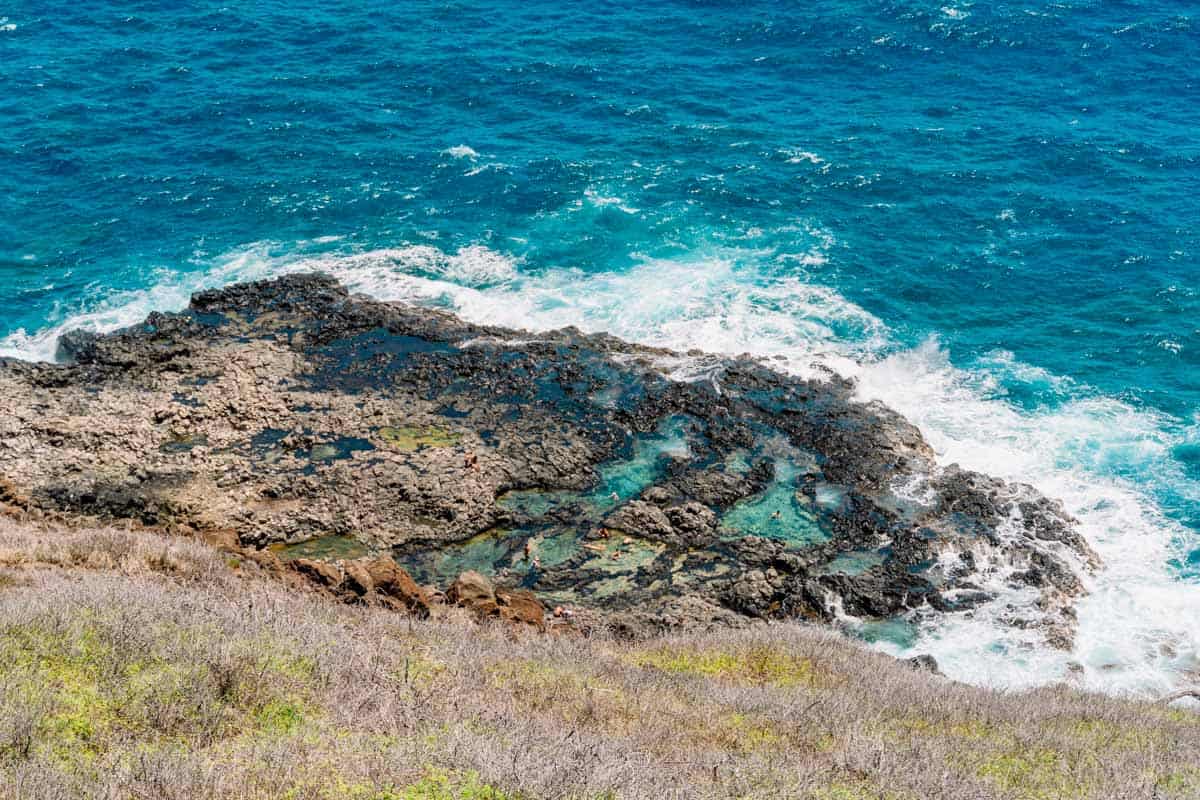 Distance: 2.5 miles out and back to the Lighthouse + add 2 miles if going to the Tide Pools
Difficulty: Easy (to the Lighthouse) to Moderate (to the Tide Pools)
The Makapu'u Tide Pools and Lighthouse Trail is one of the best hikes in Oahu! This hike is free and one of the most popular. Plan to get there early to hike this trail to beat the crowds and the heat.
The Makapu'u Lighthouse Trail is about 2-miles long and is considered a moderate hike. The trail is paved and only has an incline of about 500 feet. This is the option for those who want an easy hike. Plan to spend a max of two hours hiking.
Where to Park: There is parking at the trailhead to the Makapu'u Lighthouse Trail. If that fills up, park down the road. The area has a chill vibe, and people even park on the side of the road if the lot fills up.
Don't Miss: For those looking for more of an adventure, you can add on and see the Makapu'u Tide Pools! For this part, hike about one mile until you get to the third lookout. From here, look to the left, and you'll see a small rocky path down the cliffside. Check current wave conditions before heading to the tide pools. If you choose to explore this part, it is not always open. Also, use caution as the waves can get large at the tide pools.
4. Moanalua Trail (The Legal Way to Stairway to Heaven)
Recommended by Andrea of BeaUTAHful World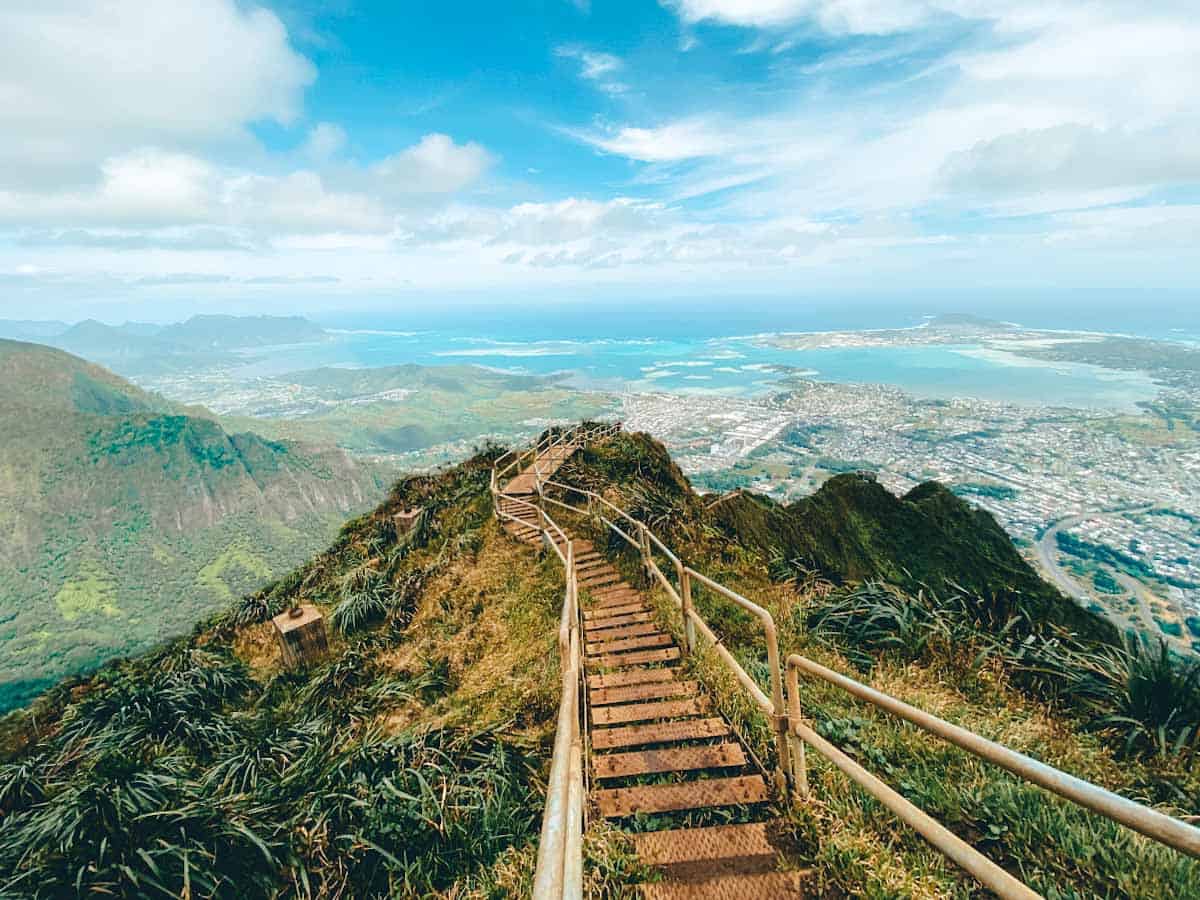 Location: Honolulu Forest Reserve
Distance: 10 miles round trip
The Stairway to Heaven, also known as the Haiku Stairs, is one of the most well-known hikes on Oahu. Unfortunately, the hike has been closed for a while due to safety and privacy concerns. In addition, for those caught exploring, there are significant fines ($1,000). However, a back way to access the Stairway to Heaven in Hawaii allows hikers to access the Haiku Stairs legally without worrying about a fine.
The Haiku Stairs can be legally accessed via the Moanalua Trail, which is just under 10 miles round trip. This hike has 2,998 ft of elevation gain and has some near vertical, rope, and muddy sections.
Avoid Fines: You will not see the Haiku Stairs until the end of the trail. Remember that being on the stairs in any capacity could warrant a fine, so it's best to admire them from afar.
Where to Park: There is limited parking at the base and since the hike can take almost 6 hours, consider starting early. As you will find when hiking in Oahu in general, caution is required as this is a steep and sometimes muddy hike that has had injuries and fatalities.
Insider Tip: Shoes with good traction are encouraged when doing this hike – consider packing microspikes and trekking poles.
5. Diamond Head (Le'ahi) Summit Trail
Recommended by Sydney of A World in Reach
Distance: 1.8 miles out and back
Oahu's Diamond Head Trail is one of the most popular hiking trails on the island and is a must for your Oahu bucket list.
The trail climbs about 560 feet and is one of the easier trails on Oahu. Most hikers complete the route in about an hour.
At the top are panoramic views of Waikiki Beach, Honolulu, and the Pacific Ocean. You might even see humpback whales if you're visiting during the winter!
Make Reservations: Diamond Head is open daily from 6 AM to 4 PM, and reservations are required for tourists who are not Hawaii residents. Reservations can be made up to 30 days before your visit. When making your reservation, you can choose to purchase an entry ticket only or an entry ticket with parking. Diamond Head entry fees are $5 per person, and parking is $10 per car.
Trip Tips: Make your reservation for an early morning hour to beat the heat (and the crowds). When finished with the hike, treat yourself to a Dole Whip at the truck set up near the parking lot!
6. Koko Crater Tramway Trail
Recommended by Tori of Tori Pines Travels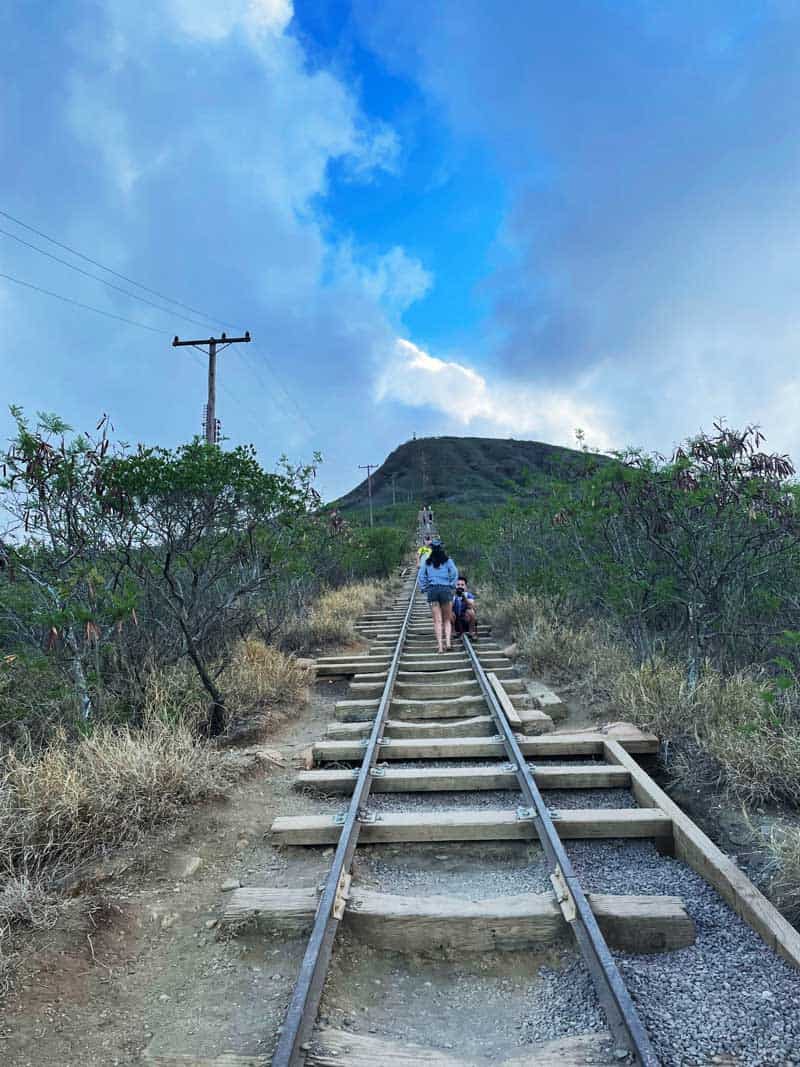 Distance: 1.6 miles out and back
The Koko Crater Tramway trail is a unique hike on Oahu. It takes about an hour and a half to two hours to hike.
The trail runs up the side of a crater (what used to be a volcano). You'll be hiking along the old tramway track that used to carry military supplies to the base that sat on top many years ago.
The way you climb the railway ties makes it feel like climbing a massive staircase which is why this trail is affectionately called 'Nature's Stairmaster.' It's a challenging hike but short and completely doable for any athletic person.
Where to Park: Park in the small parking lot or the free street parking in the neighborhood steps away. Be quiet and considerate of the people who live there.
Best Time to Hike: Consider doing this hike for sunrise, as the top offers gorgeous 360-degree views of the island and the water. It's one of the best sunrise hikes on Oahu.
Bring a headlamp, hiking shoes, and lots of water.
Things to Do Nearby: Once you've completed the hike, spend time at Hanauma Bay or China Walls nearby. The Koko Marina Center is also just minutes away, with some shopping and restaurants. But if you decide to hike at sunrise, as mentioned above, visit Koko Head Cafe afterward for breakfast. It's the best breakfast on the island!
7. Olomana Trail – "Three Peaks"
Recommended by Deb of Introvert with Itchy Feet
Distance: 4.4 miles out and back
Oahu is full of amazing hikes, and Olomana is one of the best!
This hike is a challenging one but worth the effort. Parts of the climb are over smooth rock surfaces, giving flashbacks to scrambling over the huge boulders of my favorite Mwanza hike in Tanzania! But – along Olomana, there are rope assists, and the views are even more spectacular!
Hiking to the first peak and back is about 3 miles and will take around 3 hours. Hiking to the other peaks is more difficult.
Where to Park: Unfortunately, there is no parking at the trailhead. Find a spot on Auloa Road – watch the signs. Or find parking along the dirt shoulder of Loop Road. It's an easy walk from there.
Best Time to Hike: This hike is excellent any time of year but watch the weather. Much of the climb is over smooth rock, and rain makes them slippery and dangerous.
Things to Do Nearby: Olomana is just outside the town of Kailua. Once you've done the hike, check out two world-class beaches, the unique little shops, and the fantastic selection of restaurants. After grabbing a bite, rent a kayak and paddle out from world-famous Kailua Beach or to the Mokes!
Shop Awesome Hiking Bags!
8. Ka'ena Point Trail
Recommended by David & Intan of The World Travel Guy
Nearest Area: Waianae or the North Shore
Distance: About 5.5 miles out and back
The Ka'ena Point Trail is an excellent hike for sunset or wildlife sightings. This one is part of a wildlife sanctuary, and you can do the trail from Waianae or the North Shore (it has two different starting locations).
The Ka'ena Point trail takes you along the northwestern coastal tip of Oahu. It takes 2 or 3 hours total to hike.
Even though it's part of a state park, the hike is free to do, and visitors do not need reservations.
Where to Park: Both trailheads have plenty of parking, but if you go from the southwest trailhead (Waianae), be careful not to get locked in since the gates close at 7:00 PM.
Best Time to Hike: Sunset is a great time to go. Daytime is also nice but bring a hat and sunscreen because it can be very hot and there's no shade.
Things to Do Nearby: Check out some beaches and surfing on the North Shore of Oahu! The North Shore is one of the island's most laidback areas.
9. Manoa Falls
Recommended by Noel Morata of This Hawaii Life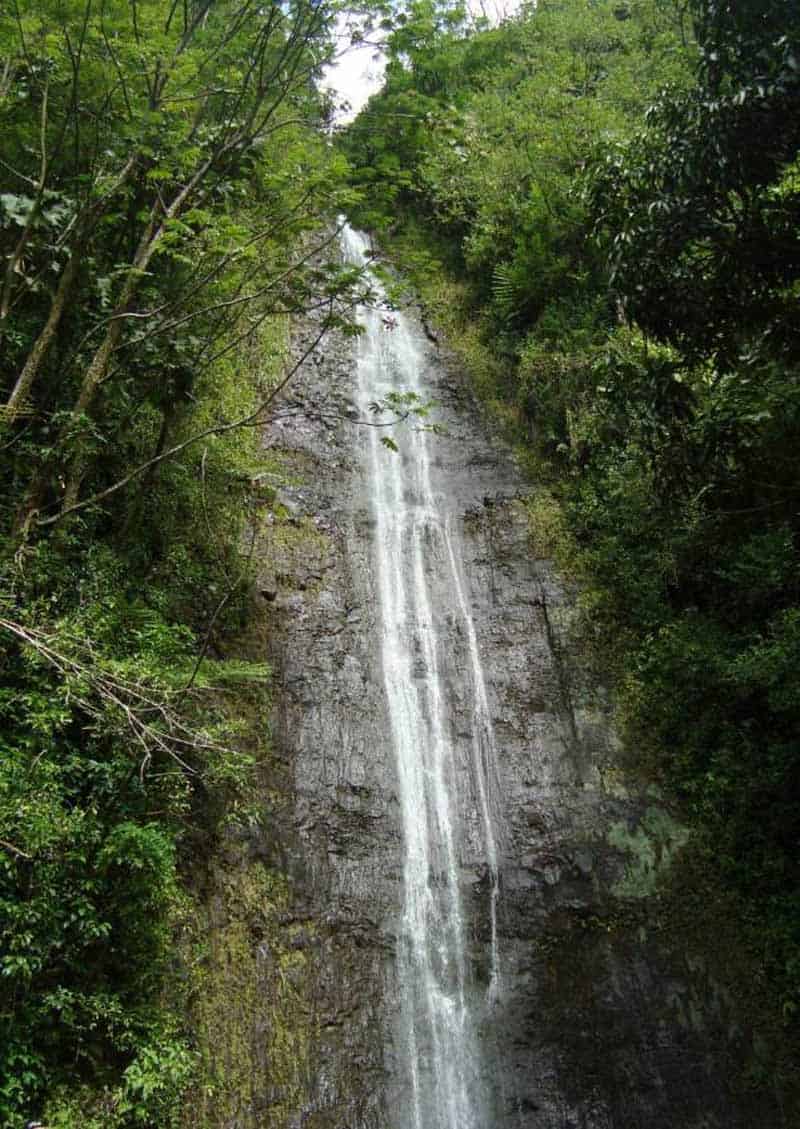 Distance: 1.7 miles out and back
One of the easiest hikes to get to, along with being one of the most popular, is the hike to Manoa Falls. It is one of the most scenic waterfalls of Oahu!
The trail is relatively easy and peaceful, considering it is only a 20-minute drive from downtown Honolulu.
The 150' falls are a spectacular site, as is the trek through forested areas. The route consists of gravel and soil and sometimes has muddy terrain, so be prepared for mud and slippery areas. Also, you might want to bring bug spray because there are mosquitos.
When you get to the site, enjoy the beautiful falls and surroundings but don't try to get into the shallow pool area with slippery rocks – it is not allowed.
Where to Park: There is a parking area and a small fee (which is good for security reasons).
Things to Do Nearby: Manoa Falls is a short drive from downtown Waikiki.
10. Hawaii Loa Ridge Trail
Recommended by Trijit Mallick of Dog Travel Buff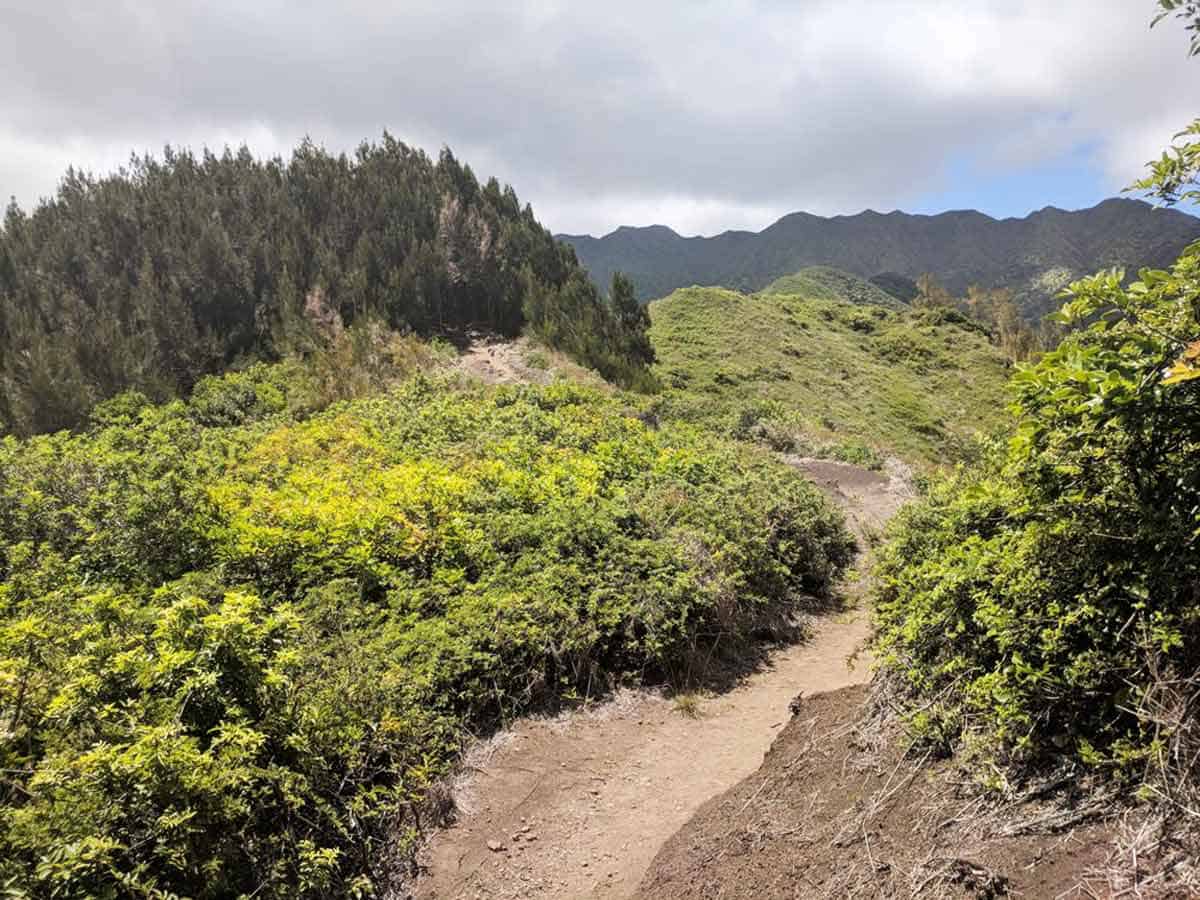 Distance: 4.5 miles out and back
The Hawaii Loa Ridge Trail is a favorite among the many dog-friendly hikes in Oahu. The serene atmosphere and magnificent views of nature will make you fall in love with this trail.
If you're a daily tracker, this adventure trail will create a fantastic experience for you and your dog since dogs are allowed!
A Hawaii State ID is needed to hike this trail.
Best Time to Visit: You can visit this trail throughout the year. But the best time is during the dry season. So, try to avoid rainy days.
Stay on the Trail: While hiking, do not step onto any road that is not indicated on the trail map or doesn't have a sign. It is advised to adhere to the guideline to respect private property.
11. Ho'omaluhia Botanical Garden Trail
Recommended by Sierra Schmidt of Island + Alpine
Location: Ho'omaluhia Park
Distance: 2.0 miles out and back
Ho'omaluhia Botanical Garden is located on the windward side of Oahu and offers easy hiking trails with stunning views of the Ko'olau Mountains. The 1-mile road winding through the gardens is paved, allowing visitors to walk the entire path or drive their car a portion of the way and then park and walk shorter distances. It takes about an hour to hike the entire path out and back.
Stop by the Visitor's Center upon arriving for a map of the various hiking trails. Climbing to the Kilonani Mauka Overlook is highly recommended. The view of the mountains is the best in the park and worth the extra effort!
Camping is also allowed on weekends with reservations which would be the best way to enjoy the hike in perfect tranquility.
Ho'omaluhia Botanical Garden is free to visit, and no reservations are required.
Where to Park: Plenty of parking is available along the route, but spots can fill up throughout the day.
Best Time to Visit: Any time of day is lovely for hiking in the gardens, but mornings are preferred for a more peaceful and non-crowded hike. Also, it can be very hot later in the day so bringing water is necessary.
Things to Do Nearby: On the windward side of Oahu, visitors may also want to visit the nearby Kualoa Ranch. This gorgeous property is where Jurassic Park was filmed, and the ranch offers many exciting movie tours, zip lining, ATV, and horseback riding activities.
Final Thoughts
With such a wide variety of hikes on the island of Oahu, it can be tough to decide which ones are best to do. However, these hikes should be at the top of your list if you're looking for breathtaking views and an incredible experience while visiting.
We hope you have fun exploring these amazing trails on this beautiful Hawaiian Island!
---
Get More Oahu Travel Inspiration
We Want To Hear From You
Which of these hiking trails in Oahu have you done or are you going to try?
Please practice Leave No Trace while exploring.
What is Kapu? Kapu is an ancient Hawaiian code of conduct that governs all aspects of life. The word Kapu means "forbidden" or "off-limits." When hiking and exploring in Hawaii, please respect Hawaiian culture and signs that say Kapu.