The Ultimate Hawaii Bucket List: 14 Epic Things to Do in Hawaii From a Local
Posted on: April 23, 2023
|
|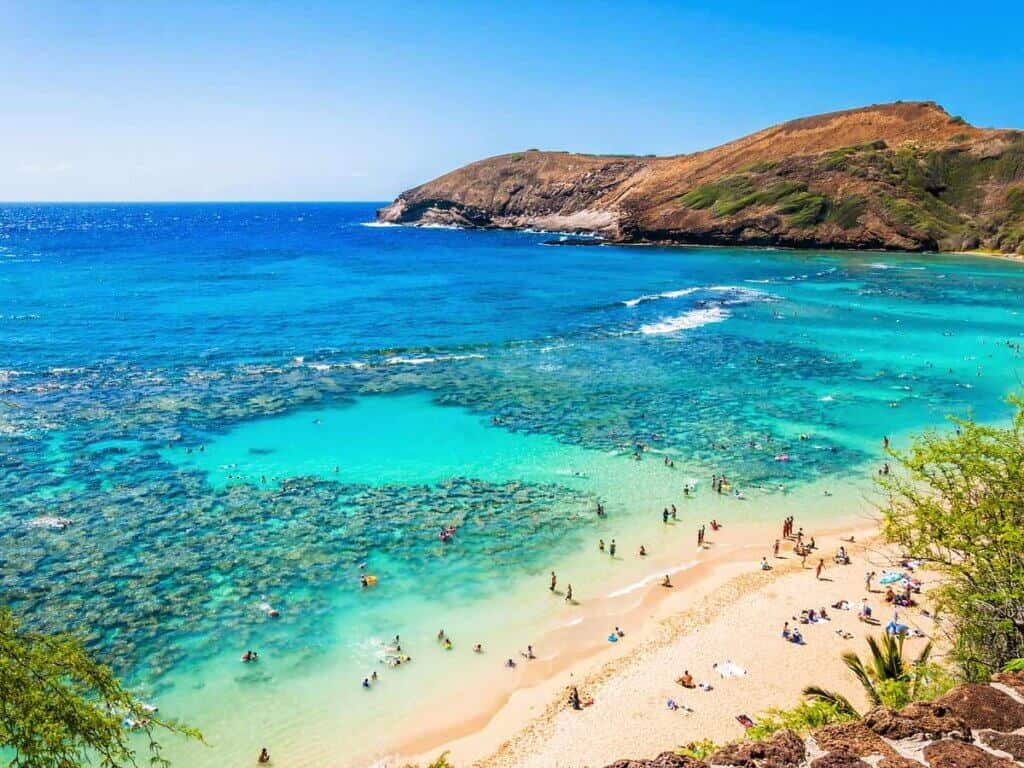 Beaches, hikes, and waterfalls are just the start of the epic things to do in Hawaii. This island paradise welcomes millions of visitors every single year. While some travelers want to soak up the sun on the beach, others plan for adventures through Hawaii's most treacherous mountains.
There are so many incredible spots in Hawaii that it can be hard to narrow things down to the best of the best. But luckily for you, as a Hawaii local, I've weeded out the tourist traps and highlighted the gems. So, without further ado, here are 14 epic things to do in Hawaii.
1. Drive the Road to Hana
The Road to Hana is the perfect example of "it's about the journey, not the destination." While the sleepy town of Hana is adorable in its own way, it's the waterfalls, hikes, black sand beaches, and banana bread stands along the way that makes the Road to Hana one of the most incredible drives in the world.
There are too many noteworthy Road to Hana stops to mention here, but there are a few must-sees that we simply have to share. Pop by Waikamoi Falls, grab a snack from Aunty Sandy's Banana Bread on Kaenae Peninsula, lounge on the black sand beach at Waianapanapa State Park, and hike the Pipiwai Trail through the famous Oheo Gulch.
One last note before you head out on the drive of a lifetime: read up on the worst mistakes to make on the Road to Hana! That way, you can avoid them and have a smooth journey.
2. Explore Waimea Canyon
Head to the island of Kauai and explore Waimea Canyon – also known as the "Grand Canyon of the Pacific."
There are a few different ways to explore this picturesque canyon. You can simply drive up to the scenic viewpoints if you want to keep things nice and easy. If you want to challenge yourself, you can tackle one of the spectacular hikes – I recommend the Waipoo Falls Trail for a fun waterfall surprise! Or you can take to the skies with an epic Waimea Canyon helicopter tour.
3. Pop by the Na Pali Coast
Speaking of jaw-dropping views on Kauai, you won't want to miss out on the Na Pali Coast. Over thousands of years, the rain has carved into this mountain range, creating deep grooves in these bright green cliffs – perfect for rainy day waterfalls, might I add.
That said, the Na Pali Coast isn't the easiest chunk of land to explore. It's inaccessible by car, so you'll have three options: on foot, by sea, or by air. Take your pick!
If you choose to explore the Na Pali Coast on foot, be warned: it's not an easy journey, but it's an amazing one. Officially known as the Kalalau Trail, this 22-mile out-and-back path is filled with beautiful viewpoints, hidden waterfalls, and secluded beaches. It is your own little slice of paradise – if you can handle the trek.
But hiking for multiple days isn't for everyone. If that's the case, take to the seas instead with a Na Pali Coast boat tour. You'll be able to enjoy the rugged mountain range from the water while also swimming beside some of Hawaii's colorful sea creatures.
And last but certainly not least, you can get a bird's eye view of the Na Pali Coast with a helicopter tour! You will get a unique perspective on this natural landmark and see other sights along the way, like Waimea Canyon, Manawaiopuna Falls, and Hanalei Bay.
4. Watch the Surfers at Pipeline
If there's one outdoor activity that Hawaii is known for, it's surfing. There are loads of beaches across the islands where you can surf some fantastic swells, but the most famous is Pipeline.
Located on the North Shore of Oahu, this famed surfing beach is for professionals only. During the winter, waves often reach over 30 feet high! These massive waves make Pipeline the ideal place for all sorts of surf competitions, including the Billabong Pro Pipeline and the Da Hui Backdoor Shootout.
Even if a surf competition isn't happening during your visit, there's a good chance that you'll see surfing greats like Kelly Slater, Billy Kemper, and Carissa Moore riding the waves at Pipeline. So be sure to add this one-of-a-kind spot to your Hawaii bucket list.
5. Pay a Visit to Hawaii Volcanoes National Park
No trip to the Big Island would be complete without a visit to Hawaii Volcanoes National Park. As the name implies, the highlights of this national park are the two active volcanoes: Kilauea and Mauna Loa.
If you're extra lucky, there might be an active eruption during your visit, and you might see lava flowing! But even if that's not the case, you'll still get to experience bits and pieces of these volcanoes' power. Warm up by the steam vents, get a whiff of sulfur from the magma below, and walk through the lava-made Thurston Lava Tube!
6. Go Waterfall Hopping on Kauai
Even though Hawaii is known for its sunny skies, the island of Kauai is surprisingly rainy. As a matter of fact, the Garden Isle is home to one of the rainiest spots in the world, Mt. Waialeale.
And while that might be a bummer to some, waterfall chasers will be on cloud nine. After all, with rain comes a whole lot of waterfalls. Some of Kauai's best cascades include Wailua Falls, Manawaiopuna Falls, Waipoo Falls, and Secret Falls (also known as Uluwehi Falls – and it's not much of a secret).
7. Tackle the Lanikai Pillbox Hike
The Lanikai Pillbox Hike might be my favorite hike in Hawaii. This short 1.7-mile round-trip trail takes you to some of the best views on the island. And while some sections can be quite steep, this hike is doable as long as you take breaks.
At the end of it all, you'll find the first of the Lanikai pillboxes. What's a pillbox, you ask? They're old military bunkers that boast some fabulous views. And while you can continue to a couple more pillboxes along this trail, you only need to go to the first one to get the full experience.
From the first pillbox, you'll see a beautiful view of a sunny sky, the bright blue Pacific Ocean, and two bright green, postcard-worthy islands known as the Mokulua Islands. Naturally, you'll inevitably start filling up your camera roll with these unbeatable views. This is one the best hikes in Oahu.
8. Kayak Out to the Mokulua Islands
Remember those islands you can see from the Lanikai Pillbox hike in Oahu? Well, you don't have to just admire them from afar. You can kayak out to them!
Rent a kayak from a nearby shop – Kailua Beach Adventures works great – and take it to Kailua Beach. From there, you'll have a few miles of paddling to tackle.
I'll be honest, depending on the day, paddling might not be easy. But at the end of it all, you'll reach Moku Nui, the leftmost of the Mokulua Islands, and you'll feel like a champion.
9. Soak Up the Sunshine on Lanikai Beach
There are a lot of beaches in Hawaii that are absolutely stunning – and I mean a lot. Odds are, whatever beach you come across will be beautiful – from the famous Waikiki Beach to the unnamed gems on the side of the road. But if I had to pick just one to make it onto this list of epic things to do in Hawaii, it's Lanikai Beach.
Located right next to Lanikai Pillbox and the Mokulua Islands, this sunny shoreline is home to golden sand and calm turquoise waters. You can't ask for much more than that. All you have to do is lay out a towel, put on some reef-safe sunscreen, and enjoy a day at this picture-perfect beach.
10. Befriend a Mule on the Kalaupapa Trail
A Kalaupapa mule ride is undoubtedly one of the coolest things you can do in Hawaii. Located on the under-the-radar island of Molokai, this adventure takes you along the highest sea cliffs in the entire world – 1,700 feet high, to be a little more exact. And you'll get to tackle this trek on the back of your new mule pal!
11. Visit the Garden of the Gods
But Molokai isn't the only Hawaiian Island that slips under the radar! There's also the tiny island of Lanai.
With just 3,000 people and no stoplights, Lanai is the epitome of small island life. But this little isle is still home to some incredible nature spots, including the Garden of the Gods.
When you visit the Garden of the Gods, you'll feel like you've taken a wrong turn from Hawaii and ended up on Mars. With red dirt, scattered boulders, thick fog, and whistling wind, the Garden of the Gods looks nothing like stereotypical Hawaii. But this otherworldly landscape is undoubtedly worth a visit.
12. Watch the Sunrise from Haleakala
Head to the famed island of Maui for a bucket list-worthy sunrise. With an absurdly early wakeup call, you can make your way up to Maui's tallest peak: Haleakala, which translates to "the House of the Rising Sun." No wonder it's a great sunrise spot!
When the sun starts to crest over the horizon, the sky will be painted in dizzying colors of pastel pink, bright orange, and warm gold. You might even get some tinges of purple and indigo in the mix too. Simply put, it's absolutely magical.
You have to visit Haleakala National Park!
13. Go for a Snorkel
So far, on this list of things to do in Hawaii, we've included activities both on land and in the sky. But we haven't dived below the surface yet, and that's where so much of Hawaii's beauty lies!
Hawaii's crystal clear waters are filled with colorful fish, calm turtles, playful dolphins, endangered monk seals, and much more. But it's a completely different world! You can easily spend hours in some of Hawaii's best snorkeling spots, like Hanauma Bay on Oahu, Kealakekua Bay on the Big Island, and Molokini off the coast of Maui.
That said, be sure to give the sea life their space, as you would with all wild animals.
14. See Snow on Mauna Kea
You might be thinking, "Snow? In Hawaii?"
Yes, believe it or not, we get snow in Hawaii, but only on the tallest mountain peaks.
The Big Island's Mauna Kea is the most common place to find snow on the islands. And it's no wonder why – when measured from the seafloor to the peak, Mauna Kea is the tallest mountain in the world, even beating Mount Everest!
But seeing snow on Mauna Kea is a little more complicated than it seems. Most rental car companies won't let you drive up to the peak. Your best bet is to take a dedicated Mauna Kea summit tour and cross your fingers for some island snow!
Final Thoughts on the Best Things to Do in Hawaii
From volcanoes to waterfalls to black sand beaches, it's no wonder that Hawaii is one of the most popular vacation destinations in the entire world.
Whether you're hoping to relax on a sunny shoreline or hike through Jurassic World-esque mountains, you can do that in the Hawaiian Islands.
We hope you have an absolutely amazing time on the islands! And thank you for reading!
This article was produced and syndicated by The Happiness Function.
Featured Image Credit: eddygaleotti/Depositphotos.com.
More Articles from The Happiness Function