How to Visit Mount Rushmore: A Local's Guide
Posted on: March 24, 2022
|
|
Mount Rushmore National Memorial is one of the most iconic memorials in the United States. It is a symbol of American freedom and democracy, a national treasure. Visiting the famous granite mountain sculpture tributing four past presidents is likely high on your bucket list – which is why you are here! I grew up in Custer, South Dakota, about 20 minutes away from Mount Rushmore and I'm sharing everything you need to know to visit Mount Rushmore and plan an unforgettable trip to the Black Hills of South Dakota. Continue reading to discover how to visit Mount Rushmore.
This post contains affiliate links, which means we'll receive a commission if you purchase through our links at no extra cost to you. This allows us to continue publishing free travel and gear guides. Please read our full disclosure for more information.
Mount Rushmore Symbolizes American History
Mount Rushmore National Memorial is located in the Black Hills near Keystone, South Dakota.
The Memorial is a tribute to George Washington, Thomas Jefferson, Theodore Roosevelt, and Abraham Lincoln, previous U.S. presidents whose instrumental and invaluable influence helped shape America.
Gutzon Borglum carved the sculpture to celebrate the first 150-years of America being a free country. The project started in 1927 and was completed in 1941. It cost just under a million dollars to create.
Visiting Mount Rushmore is such a memorable bucket list trip because it brings people together to educate and share the USA's history and diversity.
How to Visit Mt. Rushmore
The Memorial is part of the U.S. National Park Service and is a public park open year-round, seven days a week.
Map of Mt. Rushmore
Mount Rushmore is located about eight minutes from downtown Keystone, South Dakota.
How Much Does It Cost to Visit Mount Rushmore?
There is no fee to enter Mount Rushmore; however, there is a fee to park.
As of 2022, the fees for parking in the parking area are:
$10 – per car, motorcycle, RV
$5 for Seniors (62+) for car, motorcycle, RV
Free – for active-duty military for car, motorcycle, RV
Planning tip: The Annual National Park Pass does not cover the parking fee!
How Long to Visit Mount Rushmore?
So, how long does it take to visit Mount Rushmore?
Plan to spend at least half a day visiting for the first time. You'll want to tour the museum area, walk the paths, enjoy the views and take photos.
How Much Time to Visit Mount Rushmore?
We recommend planning at least four to five hours to enjoy your first trip there.
Spending half a day at the Memorial will give you plenty of time to browse all of the attractions, including the Lincoln Borglum Visitor Center, Avenue of Flags, and Sculptor's Studio.
You might also be interested in hiking the Blackberry Trail.
Trip tip: You can take your dog (leash requirement) on the Blackberry Trail.
Best Time of Year to Visit Mount Rushmore
As far as weather goes, the best time of year to visit is late spring through early fall. South Dakota can have pretty harsh and cold winters, so it is best to see the Memorial from May through October.
However, the wintertime has the least number of crowds.
You might also consider visiting during shoulder seasons when people aren't on holiday or summer breaks from work or school to beat the crowds.
When is the Best Time to Visit Mount Rushmore?
The best time of day to visit Mount Rushmore is in the morning to beat the daily crowds.
Try to get there early! The facility opens at 8:00 am U.S. mountain time.
If you would like to see the lighting ceremony, then a visit later in the day is for you. More people attend this event, especially in the summer.
Evening Lighting Ceremony Hours:
September 16 – Late May – no ceremony, lighting of Mt. Rushmore is at sunset, nightly
Late May – mid-August – 9 pm
Mid-August – end of September – 8 pm
How Many People Visit Mount Rushmore?
In 2020, over 2 million people visited Mount Rushmore!
How Big are the Heads of Mount Rushmore?
South Dakota is known for its 'great places and great faces.'
The sculpture of George Washington is roughly 60 feet tall. On the sculpture, George Washington's eye is about 11 feet wide, and his nose is roughly 21 feet tall.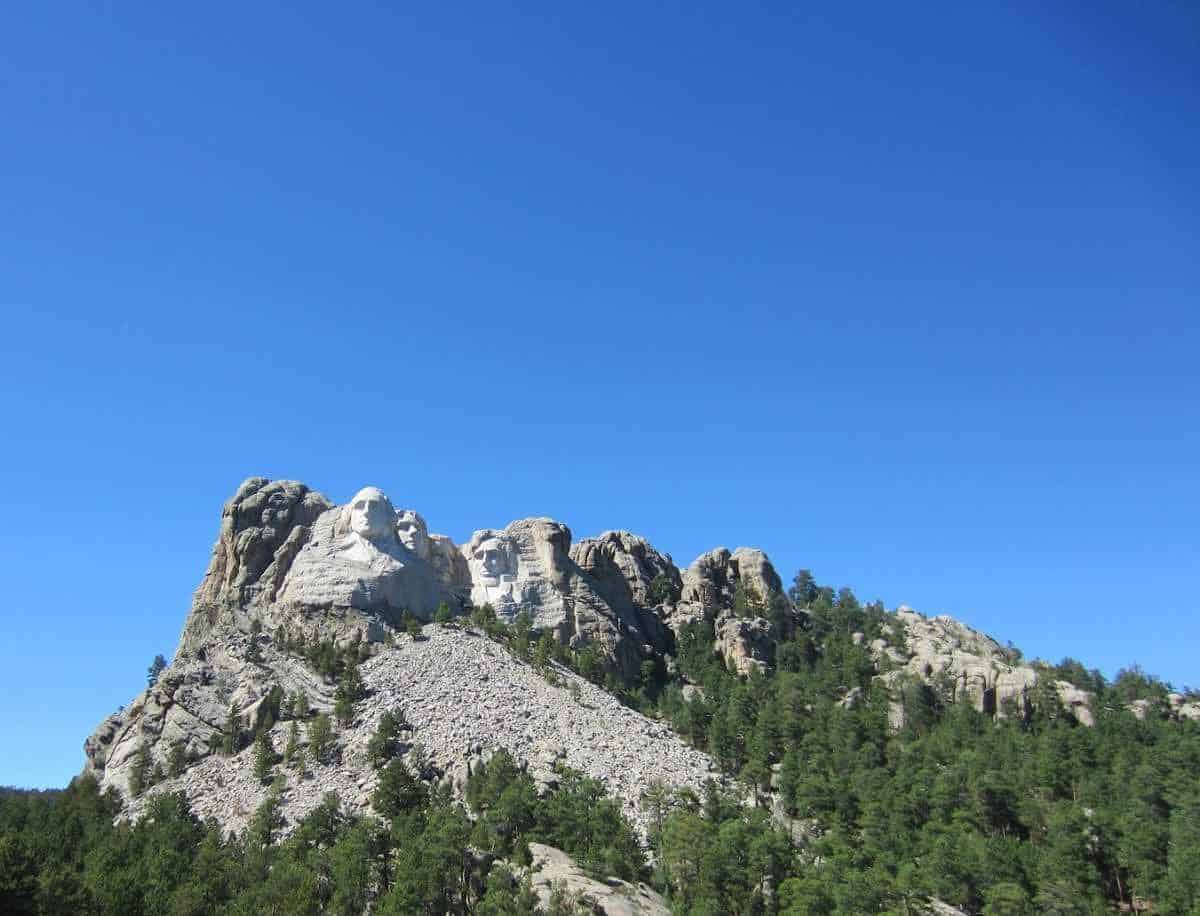 Can I Take My Dog?
Yes, dogs are allowed near the parking garage and pet exercise area (only) on a leash. However, dogs are not permitted in the remaining public areas of the Memorial. There are no kennels available at the facility. Service dogs are, of course, permitted in all areas.
Where to Stay Near Mount Rushmore
There are many places to stay near Mount Rushmore, from camping to hotels in Keystone, Hill City, and Custer.
We have camped in Custer State Park, Rafter J Bar Ranch, and Mount Rushmore KOA and enjoyed the facilities.
Camping
Custer State Park – Custer
Rafter J Bar Ranch – Hill City
Mount Rushmore KOA at Palmer Gulch Resort – Hill City
Hotels
Below are hotel recommendations that have great reviews.
What Should I Wear to Visit Mount Rushmore?
Mount Rushmore is located in the Black Hills mountain range in South Dakota. The Memorial is situated at an elevation of 5,725 feet.
Trip Tip: Watch the weather before your trip to plan what to wear best.
Plan to have layers for all four seasons! Bring lots of layers and a rain jacket. This way, you can add more clothes if you need to, or shed some layers if it is too hot.
Wear comfortable shoes to walk or hike in so you can freely explore!
Need more guidance? Check out this article on what to wear hiking (for everyone) all year long. We share how to dress with layers during all four seasons.
What to Pack to Visit the Black Hills
Below is an example of what to pack on a trip to the Black Hills during the spring, summer, or fall:
Light down jacket
Fleece layer
Rain and windproof jacket
Wool socks
Comfortable hiking boots
Casual walking shoes
Long pants
Shorts
T-shirt
Long sleeve shirt
Hat
Sunglasses
Sunscreen and chapstick
Undergarments
Sandals
Camera
Day pack – we love this Osprey pack
Bathing suit
Snacks
What Else Can I Do Near Mount Rushmore?
The Black Hills of South Dakota are packed full of wonderful things to do! The Hills are an excellent place for outdoor activities and local attractions, including hiking, camping, swimming, stargazing, sightseeing, touring bucket list National Parks, and panning for gold!
Get travel inspiration, here, and discover the 40 best things to do in the Black Hills of South Dakota during your summer vacation or road trip!
Plan Before You Go
Be sure to check out the current park conditions before planning your trip! This way, you can be informed of operating procedures, construction, weather, and any closures.
Planning an epic road trip through the Black Hills of South Dakota? We never take big trips without travelers insurance – even road trips. Whenever we book trips in advance, we always purchase traveler insurance. With Travel Insurance Master, you can select the exact coverage you need.
Final Thoughts on Visiting Mount Rushmore National Memorial
We hope you have a memorable trip and that this guide on how to visit Mount Rushmore inspires your adventure. Try to get there early, take time to see the attractions, hike around, and then enjoy the Keystone area.
Please feel free to leave us a message if you have planning questions! We'd love to help you.
Thanks for reading.
Ashlee & Pablo
---
You might also like ….
Are you planning a trip to South Dakota?
You might also enjoy our other articles on the Black Hills, a place I call home!
Save this article on Pinterest for later!
We would love to hear from you!
When are you going to visit Mount Rushmore?
Have you been to the Black Hills of South Dakota? What was your favorite thing to see or do?