South Dakota Bucket List: 37 Best Things To Do in South Dakota This Summer
Last Updated: Apr 12, 2023
|
|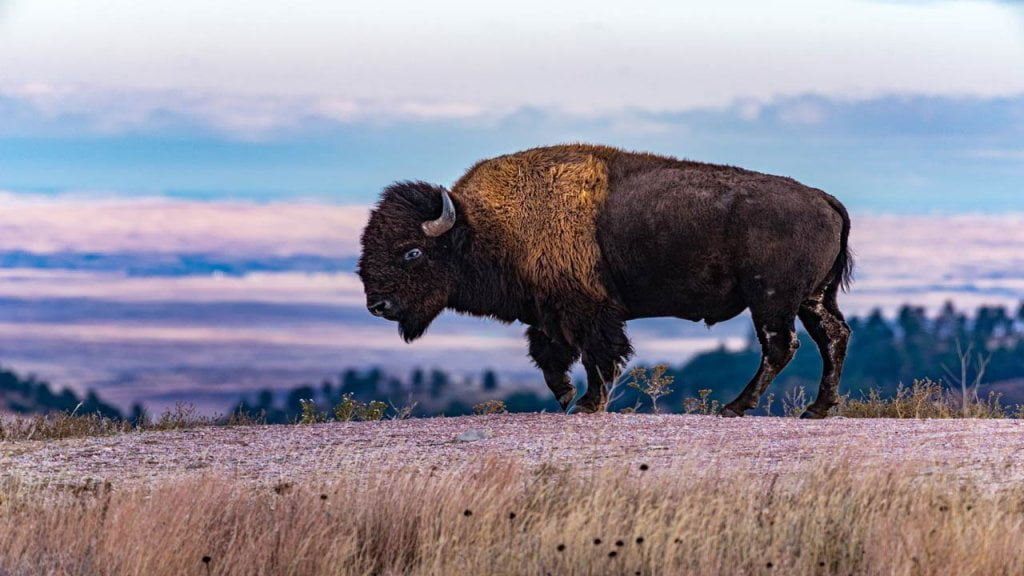 South Dakota should be at the top of your travel list if you're seeking a destination teeming with natural wonder. "The Mount Rushmore State" offers endless opportunities for adventure, from exploring awe-inspiring caves and parks to admiring breathtaking waterfall views – and it doesn't stop there! Here are the top 37 things to do in South Dakota.
The Best Things To Do in South Dakota
History buffs will uncover a treasure trove of alluring attractions when crossing the state line. South Dakota is home to sacred Native American sites and various museums where you can explore and learn about the olden days.
If budget plays a significant role in your travel plans, South Dakota has some of the most distinguished National Parks in the country, making it the perfect state for your summer road trip. So, start packing your suitcase because your next exciting adventure awaits!
1. Wind Cave National Park
In 1903, Theodore Roosevelt officially established Wind Cave as the eighth national park in the United States, making it the first cave to receive national protection. Two brothers initially discovered the area in 1881 when they noticed a whistle coming from its natural entrance.
Wind Cave National Park is one of the world's longest and most complex caves, with over 150 miles of explored passages. Given that, you may consider it worthwhile to book a guided tour of the cave to ensure you get the most out of your trip.
If staying above ground is more your speed, the park has more than 30 miles of hiking trails, offering the opportunity to see bison, black elk, and other wildlife. You can also catch a ranger-led wildlife-watching tour for a more immersive adventure.
Do you find the night sky fascinating? Well, prepare to experience it in a whole new way from Wind Cave National Park. Since this South Dakota attraction is far from major cities, it's an ideal location for stargazing.
2. Badlands National Park
Badlands National Park hosts the largest undisturbed mixed grass prairie in the US and is fully designated as wilderness – meaning you will enjoy the natural scenery and wildlife when exploring this authentic Wild West wonderland.
In addition to its prairies, Badlands National Park is known for its labyrinth of spires, canyons, buttes, and pinnacles that formed over the course of 75 million years. In fact, ancient fossils of saber-toothed tigers and other fascinating species have been uncovered.
Seeking a unique road trip experience? Take a drive through the park on Badlands Loop Road. Along the way, be sure to stop at various points of interest, such as Big Badlands Overlook, Prairie Wind Overlook, and Yellow Mounds Overlook. The Bigfoot Pass Overlook includes a picnic area, making for a great spot to break for lunch and conversation.
3. Custer State Park
Custer State Park is a true gem among South Dakota's "Great 8 Iconic Landmarks." Sprawling across 71,000 acres, this park offers unparalleled opportunities to take in the captivating beauty of the surrounding terrain. The park is perhaps most famous for its herd of nearly 1,400 bison that roam freely through the grassy plains.
The majestic Black Elk Peak stands tall over Custer State Park and features various hiking trails that cater to all skill levels. The Sylvan Lake Trail typically takes about 45 minutes to an hour to complete; it leads you around the picturesque lake and offers dramatic views of towering granite formations.
A visit to Custer State Park isn't complete without a scenic drive along Wildlife Loop Road. This mesmerizing route showcases the region's landscapes and provides opportunities for up-close wildlife encounters.
With ongoing projects supported by the South Dakota Parks and Wildlife Foundation to conserve the region's natural habitats, Custer State Park remains an exceptional destination to see South Dakota's unspoiled wilderness in all its glory.
4. Mount Rushmore National Memorial
Gracing the Black Hills of Keystone, South Dakota, Mount Rushmore is a must-see attraction. Four famous faces are carved into the granite mountainside: George Washington, Thomas Jefferson, Theodore Roosevelt, and Abraham Lincoln. This iconic landmark draws over two million visitors annually who come to marvel at its sheer size and majesty.
Don't forget to stop by the visitor center, where you'll find a museum, a bookstore, and information on Mount Rushmore's history, including the monument's construction and the artists who created it. If you visit in the evenings during the summer months, Mount Rushmore is illuminated with memorable lighting featuring patriotic music and a flag-lowering ceremony.
5. Crazy Horse Memorial
One of South Dakota's quintessential attractions is the Crazy Horse Memorial, a massive mountain sculpture still being carved in the Black Hills. This extraordinary monument honors one of the most revered Native American leaders and warriors in history. When completed, it will be the largest mountain carving in the world, standing 641 feet long and 563 feet tall.
In addition to admiring this impressive work of art from afar, you can explore the on-site Indian Museum of North America to get a deeper understanding of Native American culture and history.
The museum features numerous exhibits delving into traditional dress, artifacts, and artwork. You can also attend live performances by local musicians and dancers for an authentic cultural experience.
To make your visit to Crazy Horse Memorial even more remarkable, consider attending one of their special events or programs organized throughout the year. The destination offers guided hikes up nearby Black Elk Peak and hands-on workshops where you can learn about traditional beadwork or basket-weaving techniques from tribal elders. All told, there are plenty of exciting opportunities to fully immerse yourself in Lakota culture at Crazy Horse Memorial.
6. The Mammoth Site of Hot Springs
The Mammoth Site in Hot Springs offers a unique angle into history and paleontology. The site boasts the world's largest concentration of mammoth remains, giving you an unparalleled glimpse into life during the Ice Age.
As an active paleontological excavation site, you can witness firsthand how scientists work to uncover and study fossils. Guided tours provide insight into how these remarkable specimens are found and what they teach us about prehistoric times.
When planning your trip to The Mammoth Site of Hot Springs, be sure to stop by the Information Center first for tips on getting the most out of your visit.
7. Old Courthouse Museum
The Old Courthouse Museum in Sioux Falls is the perfect destination for anyone interested in learning about the region's natural and cultural histories. Housed in a beautifully-restored 19th-century quartzite building that originally served as a courthouse, the museum houses three floors of exhibits dedicated to regional history.
At the Old Courthouse Museum, you can explore fascinating relics spanning from colonial times to the modern-day Sioux Falls. There are Native American artifacts, pioneer-era items, and displays detailing South Dakota's role in key moments in United States history. The museum store also offers unique and affordable Dakota-made items that add an authentic touch to your trip souvenir collection.
Admission is free! So, add the Old Courthouse Museum to your list of things to do in South Dakota.
8. South Dakota Air and Space Museum
The South Dakota Air and Space Museum gives you the opportunity to tap into your love for aviation. Located just off I-90 in Rapid City, this impressive museum boasts over 30 indoor and outdoor aircraft on display. Admission to the museum is free, making it a budget-friendly outing to add to your South Dakota itinerary.
A primary attraction at the South Dakota Air and Space Museum is its outdoor air park. Here you'll find a vast collection of historic military aircraft from different wars, including World War II.
Hosting Ellsworth Air Force Base's distinguished history of aviation and military operations, the South Dakota Air and Space Museum aims to inspire visitors with stories that reflect human achievements beyond Earth's boundaries. In addition to its extensive aircraft exhibits, you'll witness interactive displays showcasing aerospace technology. You can also stop by the gift shop to get your hands on unique souvenirs related to space exploration.
9. Black Hills National Forest
The Black Hills National Forest is a breathtaking expanse of forests, caves, mountains, and grasslands covering more than 1.2 million acres in South Dakota and parts of Wyoming. The forest offers various activities, such as camping, hiking trails for all levels, and wildlife-watching opportunities.
There are also plenty of sightseeing options, such as a scenic drive along Iron Mountain Road, where you can witness the region's beautiful vistas and historical landmarks.
If you're looking for something a bit more adventurous, why not try rock climbing? The forest's two most popular rock climbing spots are the Needles and Sylvan Lake. Both areas have established climbing routes with bolted anchors and fixed protection. However, you're responsible for bringing your own gear, and it's best to be somewhat familiar with fundamental climbing techniques before taking to the mountain.
So, when you're seeking a united state of relaxation and excitement, put the Black Hills National Forest on your traveler's itinerary.
10. Jewel Cave National Monument
Jewel Cave National Monument is the third-longest cave system in the world and offers you the chance to explore stunning crystal formations and unique geological features.
You can book a guided tour to ensure a more immersive experience. The tours tend to sell out quickly, so plan ahead and book in advance! You should also be aware that these tours are considered strenuous and moderately difficult to complete. So it's crucial to ensure you can physically undergo this adventure before booking.
Jewel Cave National Monument does offer less strenuous options for those with special accommodations or who don't feel they are in the physical condition to do the longer half-mile route. The 20-minute discovery introduction tour still allows you to enjoy the cave's beauty without worrying about pushing yourself past your physical comfort.
11. Spearfish Canyon
Spearfish Canyon is a 19-mile-long canyon stretching from Spearfish to Cheyenne Crossing. Within its jurisdiction, you'll find towering limestone cliffs, cascading waterfalls, dense forests, and miles of hiking trails.
The wildlife in Spearfish Canyon is as diverse as it gets, with mountain goats and eagles alongside other bird species living in the area's rugged terrain. In winter months, skiing and snowmobiling are popular activities at the nearby ski resort. Terry Peak Ski Area is just outside of Deadwood and Lead in the Northern Black Hills.
In addition to its natural beauty, Spearfish Canyon highlights South Dakota's cultural heritage with points of interest dotted throughout.
12. Falls Park
Located in Sioux Falls, Falls Park is a must-visit destination when you're traveling to South Dakota. This 128-acre park boasts beautiful waterfalls created by the Big Sioux River as it flows through the city center.
Aside from taking in the breathtaking views of the falls, you can explore walking trails that wind throughout the park and offer scenic views of both nature and local artwork. There's also an observation tower that provides panoramic views of the park from above.
This destination truly has something for everyone, from picnicking and playing on its playgrounds to outdoor concerts and festivals held regularly throughout the year.
The falls are particularly stunning during the holidays at night, making it a perfect spot to take pictures and create memories with loved ones.
13. Deadwood
Deadwood is a historic town in South Dakota that you don't want to miss. The bustling downtown district, known as Historic Main Street or Historic Old Town, is home to many unique shops, restaurants, and casinos that will entertain you for hours on end.
Do you have a passion for history? You'll love visiting Mount Moriah Cemetery, where iconic figures like Wild Bill Hickok and Calamity Jane are buried.
Outdoor enthusiasts are also well-catered in and around Deadwood. For instance, take a scenic drive across the border into Wyoming to see Devils Tower or head out for a day on the northern terminus of the 109-mile George S. Mickelson Trail. If winter sports are more your thing, you'll enjoy skiing at the nearby ski resort.
Just north of Deadwood, visitors can hike to the Friendship Tower at Mount Theodore Roosevelt. This is a tribute to President Theodore Roosevelt by his good friend Seth Bullock.
Deadwood also hosts some rather spooky Halloween festivals during the fall months!
14. Sylvan Lake
The stunning Sylvan Lake is nestled in Custer State Park and offers you breathtaking views of the Black Hills. Theodore Reder created the lake in 1881, and to this day, it remains one of the park's most recognizable attractions.
During the summer months, you'll get to enjoy plenty of activities at Sylvan Lake, such as swimming, kayaking, and paddle boarding.
If you're feeling brave enough, head over to Sylvan Rocks Climbing School and Guide Service in downtown Custer for rock climbing tutorials while taking in the scenic views of the awe-inspiring landscape.
15. National Music Museum
The National Music Museum was seemingly made with music lovers in mind. It's located on the campus of the University of South Dakota in Vermillion, and it's one of the largest institutions in the world dedicated to musical instruments. The museum boasts over 15,000 extraordinary instruments, ranging from rare violins to pianos from the 16th century.
The building itself is a beautifully restored Carnegie building, which adds even more charm to your visit.
Admission to the National Music Museum is free. So if you're passionate about music or history (or both), don't miss out on this gem when exploring everything South Dakota has to offer.
16. Mitchell Corn Palace
If you're looking for a unique and quirky attraction in South Dakota, the Mitchell Corn Palace should definitely be on your list. Built in 1892 as a way to showcase the state's agricultural success, it's now decorated with intricate corn murals – an impressive sight to see!
The building itself is mostly brick and concrete, but there are large wooden sections that can be filled with crop art. Inside, you'll find even more corn murals and learn about the fascinating history of the place.
It might sound like an odd attraction, but the Corn Palace has been visited by some notable people over the years, including Theodore Roosevelt and even Elvis Presley! If you're interested in learning more about this one-of-a-kind place, add it to your itinerary when traveling through South Dakota.
17. Good Earth State Park
Just southeast of Sioux Falls, Good Earth State Park offers wild prairies, light forests, hilly inclines, and gradual slopes that make for excellent trails. You can enjoy the sights and sounds of this new park while taking in stunning views from various scenic overlooks.
If you want to tap into your inner photographer, Good Earth State Park holds an annual Summer Photo Contest to encourage visitors to capture the park's natural beauty on camera. So, plan a visit, snap a memorable picture, and submit it online!
18. Children's Museum of South Dakota
Located in Brookings, the Children's Museum of South Dakota boasts an array of hands-on exhibits and hours of engaging entertainment.
Inside the museum, kids can explore the water room, build structures in the building station, and create their own meals at the cafe exhibit. And don't speed past the "Under the Hood" exhibit, where you can design and build vehicles using recycled materials.
With everything from science experiments to art-making stations available, there's no shortage of imagination-sparking experiences to be had at this top-rated attraction.
19. Lewis & Clark Recreation Area
The Lewis & Clark Recreation Area offers plenty of outdoor activities to choose from, with the 1.2-mile Gavins Point Nature Trail being an incredible option for a scenic journey through the area's flora and fauna.
If you fancy yourself a camping enthusiast, the Lewis & Clark Recreation Area boasts 418 campsites and 19 rental cabins. Along with several recreational facilities, you can take advantage of the park's full-service marina or relax along its sandy beaches.
The history buffs in your travel party will appreciate how this park is connected with the Lewis and Clark expedition. You can follow in their footsteps by exploring the same rugged terrain that these explorers passed through during their historic journey!
20. Ingalls Homestead
If you or anyone you're traveling with is a fan of the Wilder family, Ingalls Homestead is a must-visit location in South Dakota. This historic homestead is located near De Smet and offers an authentic demonstration of pioneer heritage through various hands-on activities.
One of the most unique activities at Ingalls Homestead is the chance to camp out through the night on the prairie, just like Laura did in her books! Camping on the site is an intimate adventure, as there are only four covered wagons, one bunkhouse, a few RV sites, and some tent camping options available.
Whether you're passionate about history or simply want to immerse yourself in an authentic pioneer experience, Ingalls Homestead is definitely worth checking out during your travels through South Dakota.
21. Bear Butte State Park
Bear Butte State Park is located near Sturgis, South Dakota. The park was established in 1961 and features a fascinating geological laccolith feature. Many Native American tribes consider the geological feature sacred and frequent the location for religious ceremonies.
Bear Butte has been home to various activities for over 10,000 years, with artifact remains to attest to its ancient history. To this day, you can enjoy an array of activities such as hiking picturesque trails, historical exhibits at the museum/visitor center, picnicking on the lawns, or walking on park roads.
If you seek more adventure, check out the horseback riding trails in the Black Hills area nearby. You'll encounter majestic wildlife and breathtaking scenery!
22. Dignity: of Earth & Sky
Dignity: of Earth and Sky is a remarkable 50-foot sculpture in Chamberlain, South Dakota. It pays tribute to the Native American women belonging to the Lakota and Dakota Nations, showcasing their rich cultural heritage.
The statue's dress, leggings, and moccasins are patterned after traditional Native attire from the 1850s, making it a sight to behold for anyone fortunate enough to set eyes on it.
The Dignity sculpture overlooks the Missouri River at a rest area and Welcome Center in Chamberlain and is visible even while driving on I-90. People flock here yearly to marvel at its intricate details that capture the essence of South Dakota's Indigenous people.
This awe-inspiring monument symbolizes not only tradition but also represents progress toward reconciliation between different communities within the US.
23. Adams Museum
The Adams Museum in Deadwood, South Dakota, showcases the Old West's rich heritage and the people who significantly shaped it. You can explore exhibits on General George Custer, Wild Bill Hickok, and Calamity Jane, among many other famed names.
A highlight of visiting the Adams Museum is its beautifully restored Victorian mansion. You can take a self-guided tour through each room to see what life was like for wealthy families during this period. In addition to historical displays, there are interactive exhibits that show life as it was back then.
If you're interested in learning about mining history or just want to indulge your inner geologist, head over to the Mineral Gallery, where you'll find an impressive collection of gold from around South Dakota.
24. Petrified Wood Park and Museum
The Petrified Wood Park and Museum in Lemmon takes up an entire city block and is built entirely out of petrified wood, fossils, and stone. You can wander through the park to see locally gathered petrified wood formations and other geological specimens of interest.
In addition to the fascinating outdoor displays, you can explore the free museum inside, which showcases a collection of historical artifacts and antiques from the town's past. Open year-round, this hidden gem offers visitors a glimpse into our planet's ancient history while also providing insight into life in small-town America during earlier times.
25. McCrory Gardens
Located on the South Dakota State University campus in Brookings, McCrory Gardens is a bit of a hidden gem. This awesome oasis features a 25-acre botanical garden and a 45-acre arboretum showcasing diverse plant species.
You can explore the beautiful scenery at your own pace to learn more about the plants and their histories.
Depending on when you plan your visit, you can catch some truly awesome events, such as their Garden Discovery Festival or Maple Syrup Workshop.
So, if you're looking for some peace and tranquility away from city life, be sure to put McCrory Gardens on your South Dakota itinerary. From its stunning collection of flora to its serene atmosphere, this natural wonderland is truly worth discovering.
26. Storybook Island
One of the must-see attractions in South Dakota, especially if you're traveling with young children, is Storybook Island. This admission-free theme park boasts over 100 sets based on popular fairy tales and storybooks, including Cinderella's Castle and Alice's Wonderland.
Founded more than 60 years ago by Merle Gunderson and Rapid City Rotary Club, Storybook Island offers plenty of opportunities for little ones to climb, slide, crawl, jump, and play on playground equipment.
In addition to its charming sets and live entertainment performances during its open season (Memorial weekend through Labor Day), this eight-and-a-half-acre park also features picnic areas where you can relax while enjoying snacks brought from home. Food and drinks are not allowed inside the gates, but you can picnic outside of the gates.
27. Reptile Gardens
Reptile Gardens is home to a vast variety of reptiles, including crocodiles, tortoises, lizards, frogs, salamanders, and bugs, as well as poisonous and nonvenomous snakes from all over the world.
First opening its doors in 1935, the reptile garden collection has increased over the years, leading to it being relocated to a larger space in 1965. One of the most unique attractions in this location is its famous skydome! The skydome houses the largest collection of reptiles worldwide and also features an array of foliage.
Aside from the skydome, you can check out their botanical garden and Prairie Dog Town or head over to Gator and Crocs arena!
28. Porter Sculpture Park
Created by local artist Wayne Porter, this park features over 50 larger-than-life metal sculptures that are both thought-provoking and whimsical. You'll find everything from giant bugs to a towering dinosaur park at this quirky attraction.
One of the most popular sculptures at Porter Sculpture Park is the "World's Largest Bull's Head." This massive sculpture stands 60 feet tall and weighs over 25 tons! Another must-see sculpture at Porter Sculpture Park is the T-Rex.
The park is only open seasonally, so visit their website before planning a stop.
29. Butterfly House & Aquarium
One of the top attractions in Sioux Falls is the Butterfly House & Aquarium. This enchanting destination invites you to explore a tropical conservatory filled with over 800 free-flying butterflies from around the world. The vibrant colors and delicate wings of these beautiful creatures make for an unforgettable time.
But that's not all! The Butterfly House & Aquarium also boasts 12 aquariums featuring marine fish, jellies, and corals. It's a perfect way to learn about different sea life species while watching their mesmerizing movements through crystal-clear tanks. Surrounded by lush plants and serene ponds, it's an ideal spot for a magical afternoon of exploration and wonder.
30. Rushmore Tramway Adventures
A definite favorite attraction in South Dakota is bound to be Rushmore Tramway Adventures, located near the Mount Rushmore National Monument. This thrilling adventure park is sure to satisfy the adrenaline junkie in you. You can ride the alpine slide down the mountain, jump off a tower, or fly through the treetops on a zipline tour.
If you're looking for something more relaxing, take a scenic chairlift ride and enjoy stunning views of the surrounding Black Hills. One of their newest attractions is Pinnacle Zipline, which provides lots of exhilaration as you zip over a mile of forest at speeds over 40 mph!
31. Termesphere Gallery
Located in Spearfish, South Dakota, the Termesphere Gallery is a must-visit attraction for art and math enthusiasts. This unique gallery displays the works of local artist D. Termes, who paints on globes called Termespheres. Each Termesphere is a revolving three-dimensional optical illusion that creates its own closed universe.
Open year-round, you can marvel at the intricate designs of these extraordinary rotating spherical paintings. The Termesphere Gallery is widely considered one of the Black Hills' most distinct attractions, offering a fusion of art and mathematics like no other.
32. Bear Country USA
Bear Country USA is a wildlife park that offers you the magical opportunity to drive a 3-mile loop through natural enclosures and see North American mammals up close. From bison and elk to wolves and black bears, there's a diverse range of animals to spot during your journey.
While the Black Hills don't (typically) have wild bears anymore, Bear Country USA provides memories that will last a lifetime as you observe these majestic creatures.
In addition to driving, you can walk through certain areas and watch playful bear cubs or some of the other delightful animals living within the park. Whether you're traveling solo or with family, there's something that everyone will appreciate about this special place. The park is open from spring through November.
33. Evans Plunge Mineral Springs
Evans Plunge is one of the oldest tourist attractions in the Black Hills. Established back in 1890, this destination features a naturally spring-fed pool with water that remains at a constant temperature of 87 degrees Fahrenheit all year round.
Here, you'll find a range of activities, including water slides and hanging rings to swing across the water. The park also has convenient amenities such as showers, a concession stand, and rentable lockers.
If mineral springs and natural hot springs are up your alley, then Evans Plunge should definitely be on your list, as this attraction offers one of the best things to do in South Dakota. It boasts warm waters and a rich history as part of the Hot Springs National Historic District.
34. Big Thunder Gold Mine
Located in Keystone, Big Thunder Gold Mine has been in operation since 1892 and offers you the chance to explore the underground tunnels on a guided tour that lasts between 45 and 55 minutes.
The accompanying museum features fascinating exhibits about the Black Hills' mining history and even offers gold panning opportunities if you're eager to try your hand at striking it rich. Plus, with its location in the heart of the Black Hills region, there are plenty of other nearby attractions, like Mount Rushmore National Monument and Jewel Cave National Monument, to make for an unforgettable road trip.
35. Black Hills Balloons
With more than 30 years of flying experience, Black Hills Balloons is the only hot air balloon operator in the area, and they offer incredible views of the Black Hills region. You'll get to see everything from stunning lakes and mountains to local wildlife.
During your flight, you'll gain perspective on how vast and beautiful the American heartland truly is–from South Dakota to North Dakota and as far as the eye can see. And even though it can be nerve-wracking to sit in a basket thousands of feet above the ground at first, rest assured that Black Hills Balloons prioritizes safety for all its passengers.
36. WaTiki Waterpark
If you are looking for a fun and refreshing way to cool off on your South Dakota trip, head to WaTiki Indoor Waterpark in Rapid City. This water park is the largest indoor attraction of its kind in the Dakotas and is newly renovated with 30,000 square feet of slides, lazy rivers, activity pools, and an arcade – perfect for a summer road trip.
With a mission to save water and be more environmentally friendly, WaTiki asks that you B-Y-O-T (bring your own towel) when heading out for some fun at their facility. If you do happen to forget one, towels are available for purchase.
WaTiki Indoor Waterpark Resort is conveniently located just off Interstate 90 in Rapid City near some of the Black Hills' most iconic attractions, such as Mount Rushmore National Memorial (in Keystone) and Crazy Horse Memorial (in Custer).
37. The National Presidential Wax Museum
The National Presidential Wax Museum features over 100 lifelike wax figures of all 46 US presidents. Each figure has been posed to illustrate memorable milestones from American presidential history.
You can take an unforgettable journey through time and learn about defining moments in US history as you see realistic wax sculptures in dramatic settings. From George Washington to Joe Biden, each president is represented with great detail, including their clothing, facial expressions, and mannerisms.
Where Will You Visit First in South Dakota?
South Dakota is filled with fascinating attractions that will delight any traveler. From natural wonders like Wind Cave National Park, Badlands National Park, and Custer State Park to iconic Black Hills South Dakota landmarks, and roadside attractions like Wall Drug, there is no shortage of things to see and do in this beautiful state.
So, whether you're interested in exploring Native American history at Dignity: Earth & Sky or uncovering something mysterious in the cosmos mystery area of the Black Hills, South Dakota has something for every traveler of all ages. Plus, with tourism being one of its major industries attracting over 14 million visitors per year, your trip to South Dakota promises beauty and unending fun! Summer is the best time to visit South Dakota.
READ MORE FROM THE HAPPINESS FUNCTION:
Exactly How to Hike Black Elk Peak in South Dakota (From a Local)
Is hiking to the top of Black Elk Peak in South Dakota calling your name? We're sharing exactly how to hike Black Elk Peak in the beautiful Black Hills of South Dakota. Continue reading to plan an incredible day hike to one of South Dakota's most historic gems.
Exactly How to Hike Black Elk Peak in South Dakota (From a Local)
40 Things To Do in the Black Hills: The Ultimate Summer Guide
Are you planning a trip to the Black Hills of South Dakota? Get travel inspiration with the 40 best things to do during your summer vacation or road trip. Continue reading for ideas on outdoor activities as well as local attractions, including hiking, camping, swimming, stargazing, sightseeing, touring bucket list national parks, and panning for gold.
40 Things To Do in the Black Hills: The Ultimate Summer Guide
10 Best South Dakota Parks To See on Vacation
We are sharing the 10 best national and state parks to visit on your next vacation to South Dakota! There is something special about South Dakota you cannot pinpoint until you visit for the first time.
10 Best South Dakota Parks To See on Vacation
This article was produced and syndicated by The Happiness Function.
Featured Image Credit: rruntsch/Depositphotos.com.