Exactly How to Hike Black Elk Peak in South Dakota (From a Local)
Last Updated: Oct 9, 2023
|
|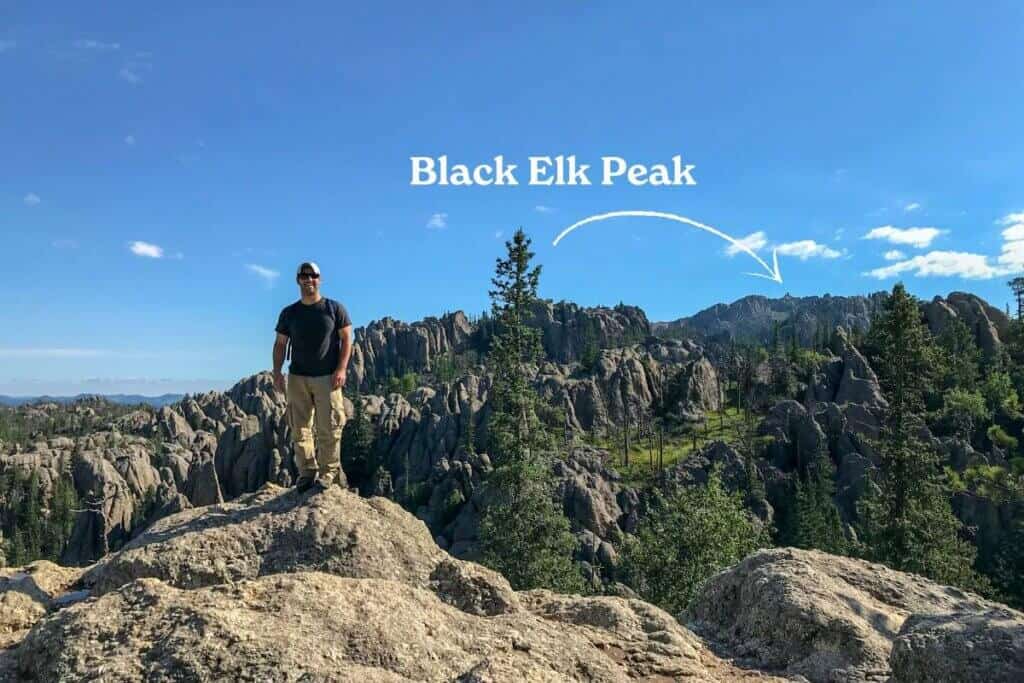 Is hiking to the top of Black Elk Peak in South Dakota calling your name? We're sharing exactly how to hike Black Elk Peak in the beautiful Black Hills of South Dakota.
I grew up in South Dakota, and I can't wait to share this epic hike with you! Plan a trek to this sacred mountain in the Black Hills while visiting the oldest mountain range in the United States. Continue reading to plan an incredible day hike to one of South Dakota's most historic gems.
How Long Does it Take to Hike Black Elk Peak?
If you're reading this post, you are definitely interested in hiking to the top of Black Elk Peak and finding out how long it takes to hike the Black Elk Peak trail in South Dakota.
One of my favorite things to do growing up in Custer, South Dakota, was hiking to the Black Elk Peak lookout tower. It was previously known as Harney Peak and renamed in 2015 after a Holy Oglala Lakota Medicine Man, Black Elk.
It is the highest point in the U.S. east of the Rockies. It is a scenic trail with spectacular views of the Black Hills. It is also a great workout!
Black Elk Peak Trail Day Hike Details
Hiking to Black Elk Peak from Sylvan Lake Trail #9 is roughly 7.4 miles round trip and will take about 3-4 hours to complete.
Being from the Black Hills of South Dakota near Custer, my favorite route to hike to Black Elk Peak is Sylvan Lake Trail #9. Sylvan Lake is located in Custer State Park, so you'll need to purchase a day pass to enter and park in the parking lot.
Trail Name: Sylvan Lake Trail #9
Difficulty: Moderate difficulty + 1,100 feet elevation gain. There are switchbacks and stairs to reach the lookout.
Distance: 7.4 miles round trip
Time: 3-4 hours round trip
Where to Park: Sylvan Lake parking area on the east side of the lake. The trail is accessed north of this parking lot.
Bathrooms: There are only restrooms by the parking area.
The trail is well-maintained and well-marked.
Black Elk Peak Hike Trail Map
Best Time of Year to Hike Black Elk Peak
The best times of year to hike to the top is late spring through early fall (May through September). The trail is open year-round; however, you may encounter snow or ice hiking in the winter and then mud during the spring.
I tried to hike in February many years ago, and the snow was actually really deep, so I turned around.
Best Time of Day to Hike to Black Elk Peak Lookout Tower
Start as early as possible to beat the crowds and the weather in the summer.
The Black Hills have mountain weather which means it tends to thunderstorm in the afternoons. You definitely don't want to be at 7,000+ feet in elevation in a lightning storm.
You're more likely to encounter clear skies and epic vistas hiking early in the day. Start as early as possible in the day for the best chance of clear skies.
How to Hike Black Elk Peak via Sylvan Lake Trail #9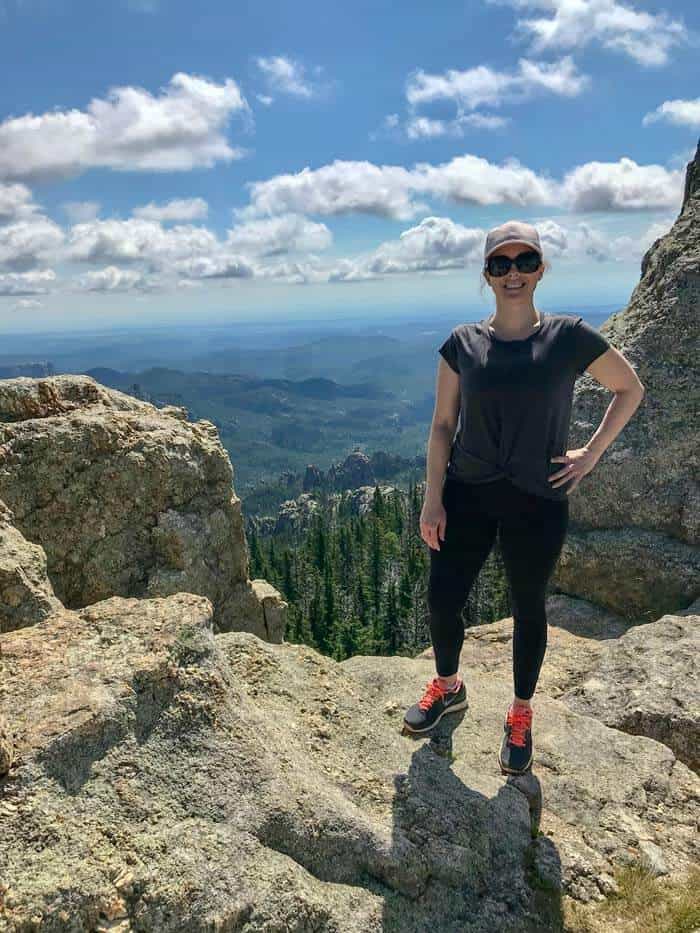 Begin your hike on the wide pebble stone trail north of the Sylvan Lake parking area located on the lake's east side (same parking lot for the Sylvan Lake beach). This is trail #9.
If you start super early to beat the crowds, you will likely have the trail to yourself. For the most part, trail #9 gets a fair amount of traffic.
You will hike the trail for a few miles before entering the Black Elk Wilderness Area. There is a not-so-formal permit system. You have to sign in at the self-service kiosk with your name and the number of hikers in your party.
Anytime you go into the backcountry, registering where required helps keep you safe, so be sure to check in. Check out the US Forest Service map for hiking in the Black Elk Wilderness Area.
As the trail winds you through the Black Hills, you'll be surrounded by giant Ponderosa Pines. There are a few stream crossings and clearings with majestic views of the Black Hills and granite rock formations.
As you gain elevation, you'll see more of the remarkable geology, including the Needles Cathedral Spires.
As you trek higher in elevation, the trees thin, and you begin to see spectacular vistas of the Black Hills for miles. Supposedly, some say on a super clear day; you can even see the curvature of the earth!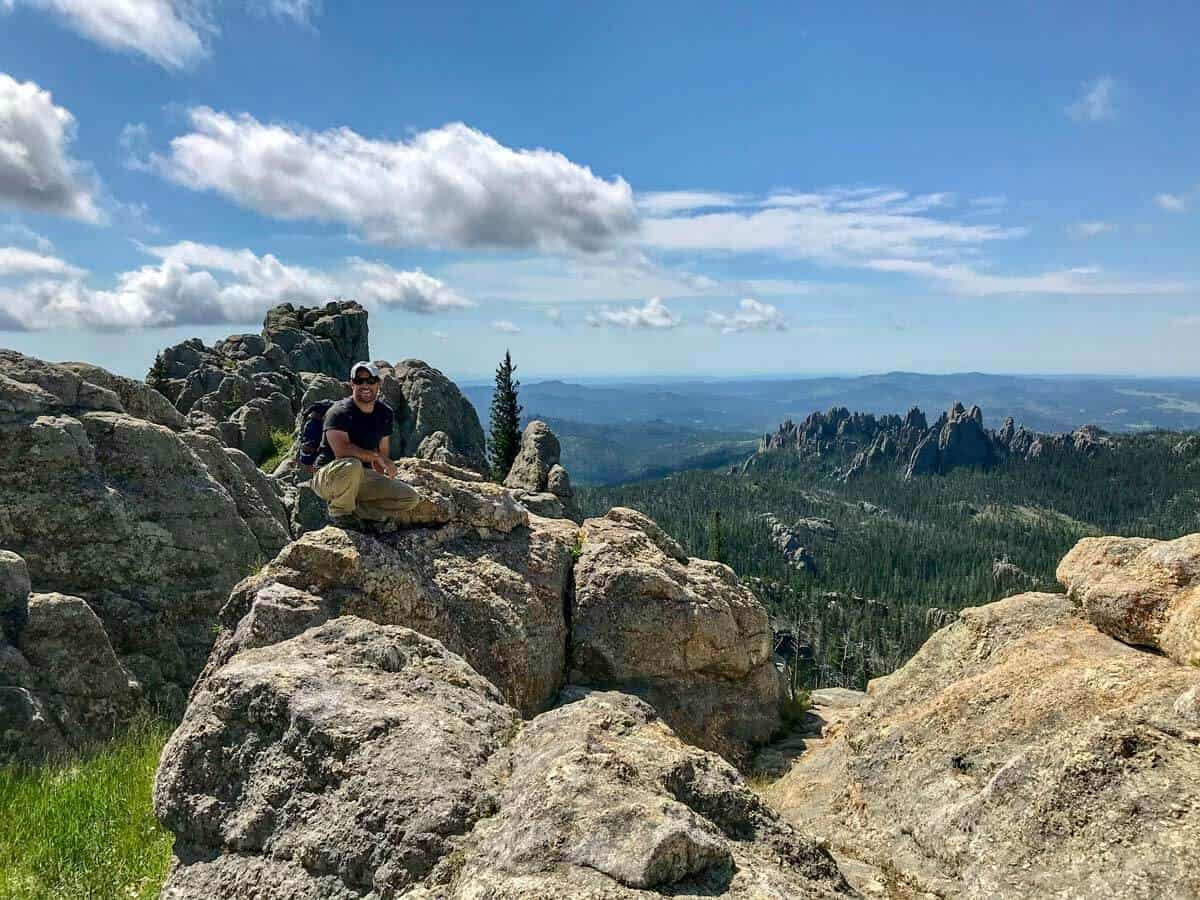 What Should You Take Hiking Black Elk Peak?
Hiking to the top of Black Elk Peak is a decent trek and workout.
Below are the items we recommend:
Day Pack
Water – at least 64 ounces
Snacks
Comfortable hiking boots
Comfortable hiking socks
Hiking pants
Trekking poles
Layers – long sleeve shirt and maybe light wind jacket
Sunglasses
Hat
Sunscreen and chapstick
Read more on exactly what to wear hiking.
Have Fun Trekking
Hiking to the top of Black Elk Peak is one of the best hikes in South Dakota. We hope you have a great time. If you're visiting South Dakota this summer, you might enjoy reading about the best things to do. And if you'd like to see Mount Rushmore, we've got that covered too!
Happy Hiking,
Ashlee & Pablo
"Is not the sky a father and the earth a mother, and are not all living things with feet or wings, or roots their children."

Black Elk, Oglala Sioux
---
Read More From The Happiness Function
Planning a trip to South Dakota? Check out these popular articles:
We Want To Hear From You!
Are you planning a road trip to South Dakota? Have you hiked to the Black Elk Peak lookout tower?