Epic Trails: 7 Best Hikes in Maui You Need to Trek
Posted on: June 30, 2023
|
|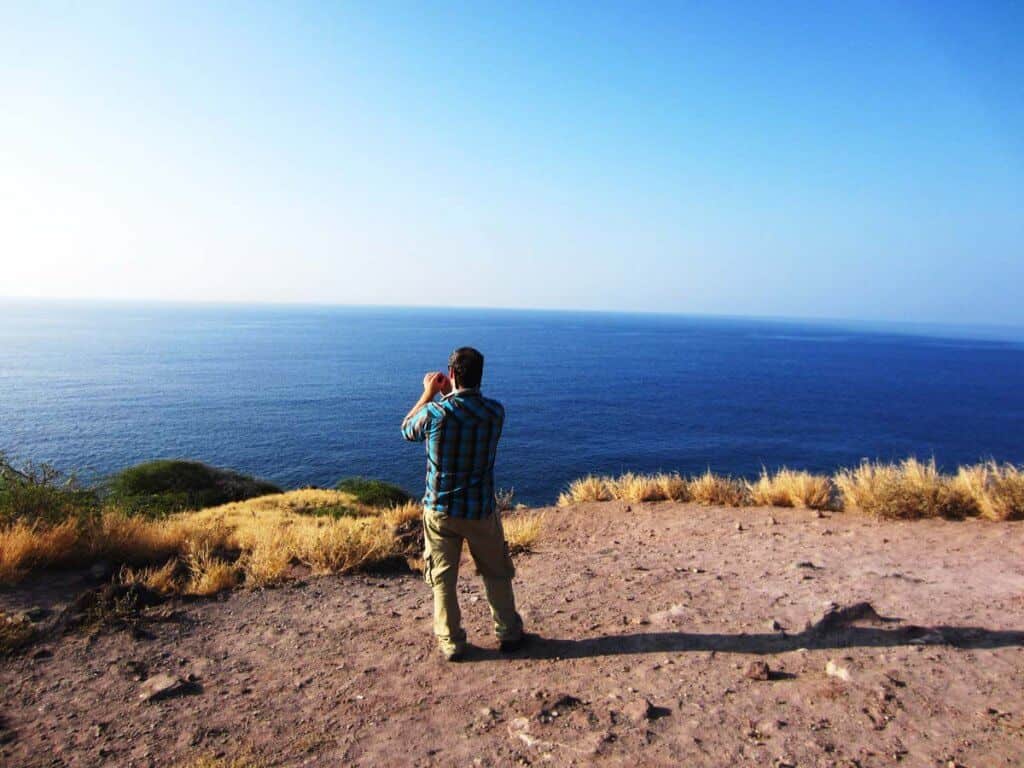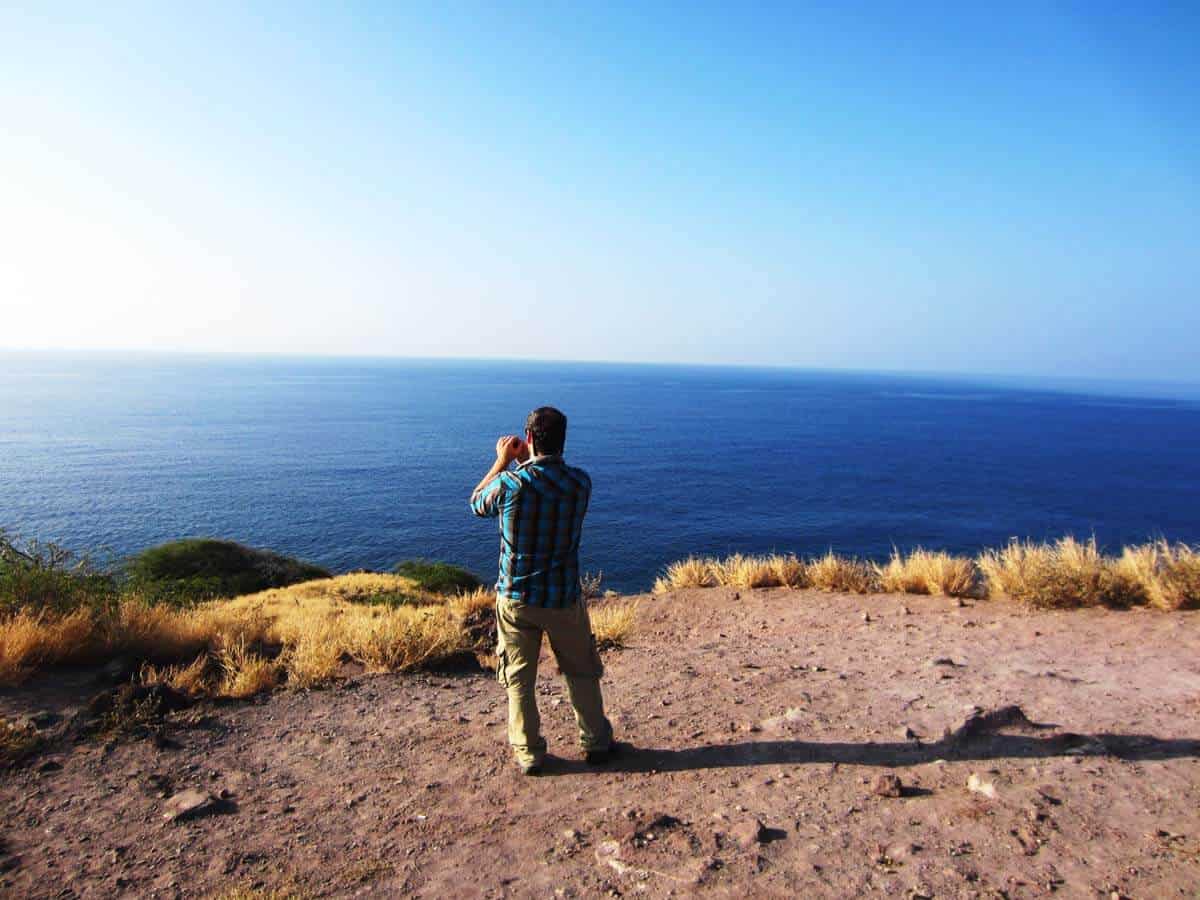 When people think of Maui, they often think of world-famous beaches. However, there are many beautiful and unique hikes on the island that offer stunning views and an unforgettable experience. Here are 7 seriously awesome hikes in Maui you'll want to check out.
This post contains affiliate links, which means we'll receive a commission if you purchase through our links at no extra cost to you. This allows us to continue publishing free travel and gear guides. Please read our full disclosure for more information.
The Best Hikes in Maui
Maui has some of the most beautiful hiking trails in the world. With many of these hikes, you will forget you are on an island in the middle of the Pacific Ocean. From the volcanic crater of Haleakala to the cloud forest of southeast Maui, add these amazing hikes to your Maui vacation.
1. Pipiwai Trail Through the Bamboo Forest
Hiking the Pipiwai Trail is a great way to experience the natural beauty of Maui. The trail has the rainforest, waterfalls, and stunning views. Plan a day trip driving the Road to Hana to the Kipahulu District of Haleakala National Park.
Hikers can park at the Kipahulu District Visitor Center and follow the well-marked trail signs. The trail will take you along 'Oheo'o Gulch, deep into the cloud forest, and past an enormous banyan tree. Finally, the trail ends at Maui's famous 400-foot waterfall, Waimoku Falls.
The hike is one of the best hikes in Maui, and it's not to be missed if you have ever wanted to hike through a bamboo forest.
Distance: 3.8-miles out-and-back
Difficulty: moderately challenging – there are steps, and the trail can be muddy and slippery
Haleakala is part of the National Park Service – so don't forget to bring your annual pass if you are a pass holder.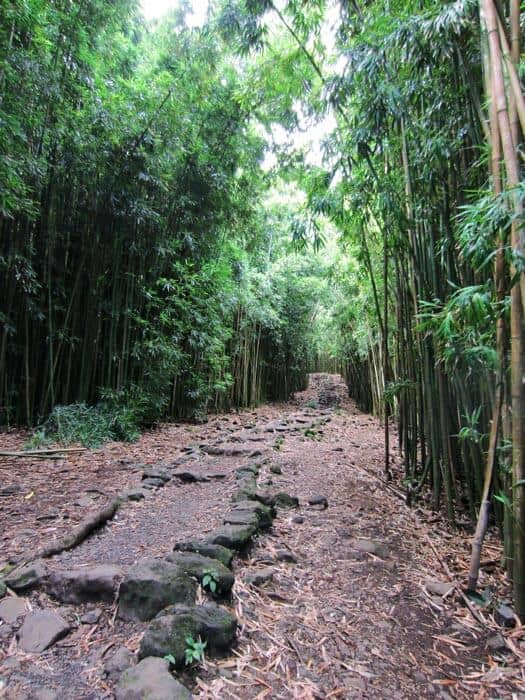 2. Seven Sacred Pools Trail ('Ohe'o Gulch)
While you plan to hike the Pipiwai Trail, make time to deter and walk along the Seven Sacred Pools. The trail is also close to the Kipahulu District Visitor Center within Haleakala National Park.
The path is an easy 0.06-mile loop that takes adventurers into 'Oheo'o Gulch, a freshwater stream leading to the ocean. There are freshwater pools surrounded by lava rock where you can swim.
Distance: 0.06-mile loop
Difficulty: Easy – watch your step when climbing around on the rocks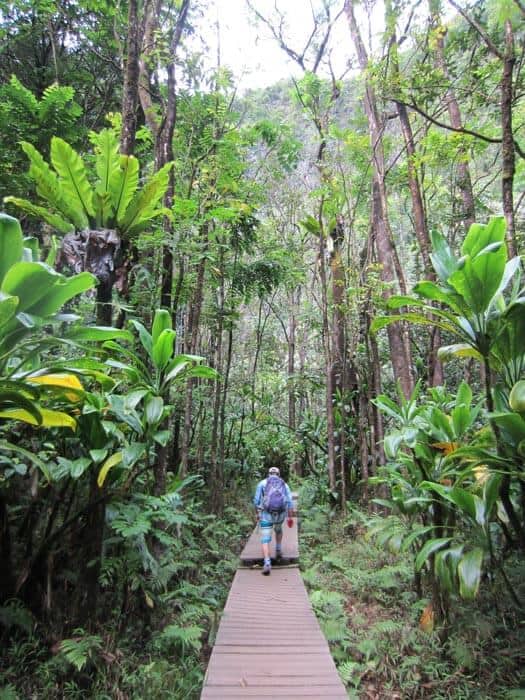 3. Sliding Sands Trail (Keonehe'ehe'e Trail)
Add the Haleakala Sliding Sands Trail to your Maui adventure for a volcanic hike with seriously epic panoramic views.
The high-altitude trail starts around 9,740 feet above sea level near the parking lot at the end of the Haleakala Highway. It winds down through a series of steep switchbacks taking hikers deep into Haleakala Crater.
Hiking the Haleakala Crater trail is not for the faint of heart – it can be challenging, but the views are well worth the effort. To hike it in one single day, start early morning. It takes 5-7 hours to complete. Hiking into the Haleakala volcano promises out of this world views.
Distance: 11.0-miles out-and-back
Difficulty: Hard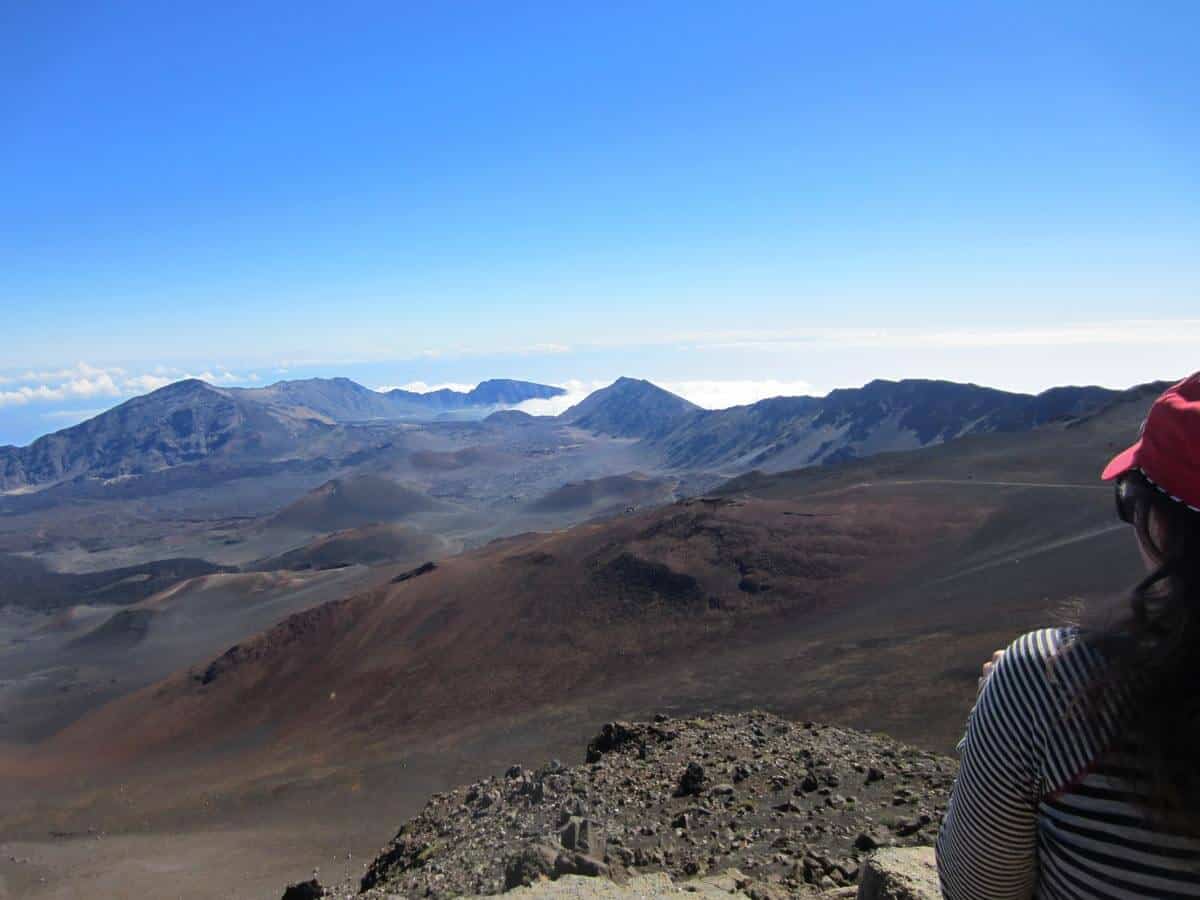 4. Halemau'u Haleakala Overlook Trail
With unforgettable hiking experiences, Haleakala National Park is the place to explore. With its diverse landscape and abundance of unique flora and fauna, the park offers views that will make hikers forget they are on a Pacific Island. The Halemau'u Haleakala Overlook Trail is another one of those trails that transports hikers to another world.
The trailhead is located off Crater Road (Haleakala Highway) and starts above the clouds (depending on the weather). There are steep switchbacks that will take you down into the crater. The hike back up is strenuous and steep. The hike is famous for overlooking the crater. If you start hiking early in the morning, it might be cloudy or foggy. Once the fog burns off as the day warms up, you'll be treated to jaw-dropping views.
The trail does connect to the Keonehe'ehe'e Trail and other backcountry Haleakala hikes.
The Halemau'u Trail takes 4-6 hours to complete.
Distance: 7.6-mile out-and-back
Difficulty: Hard
5. Sea Caves and Black Sand Beach Trail
Along the Hana Highway scenic drive, near mile marker 32, is the entrance to Wai'ānapanapa State Park. Continue to drive from the park entrance to the beach parking lot. You'll go through a jungle area and then pop right out on the coastline.
The Black Sand Beach Trail will take you to Maui's famous black sand beaches and volcanic coastline. There are lava rock sea caves you can explore as well as blowholes. Keep your eyes peeled for sea turtles on the beach!
Reservations are required to enter the beach park.
Distance: 0.6-mile
Difficulty: Moderate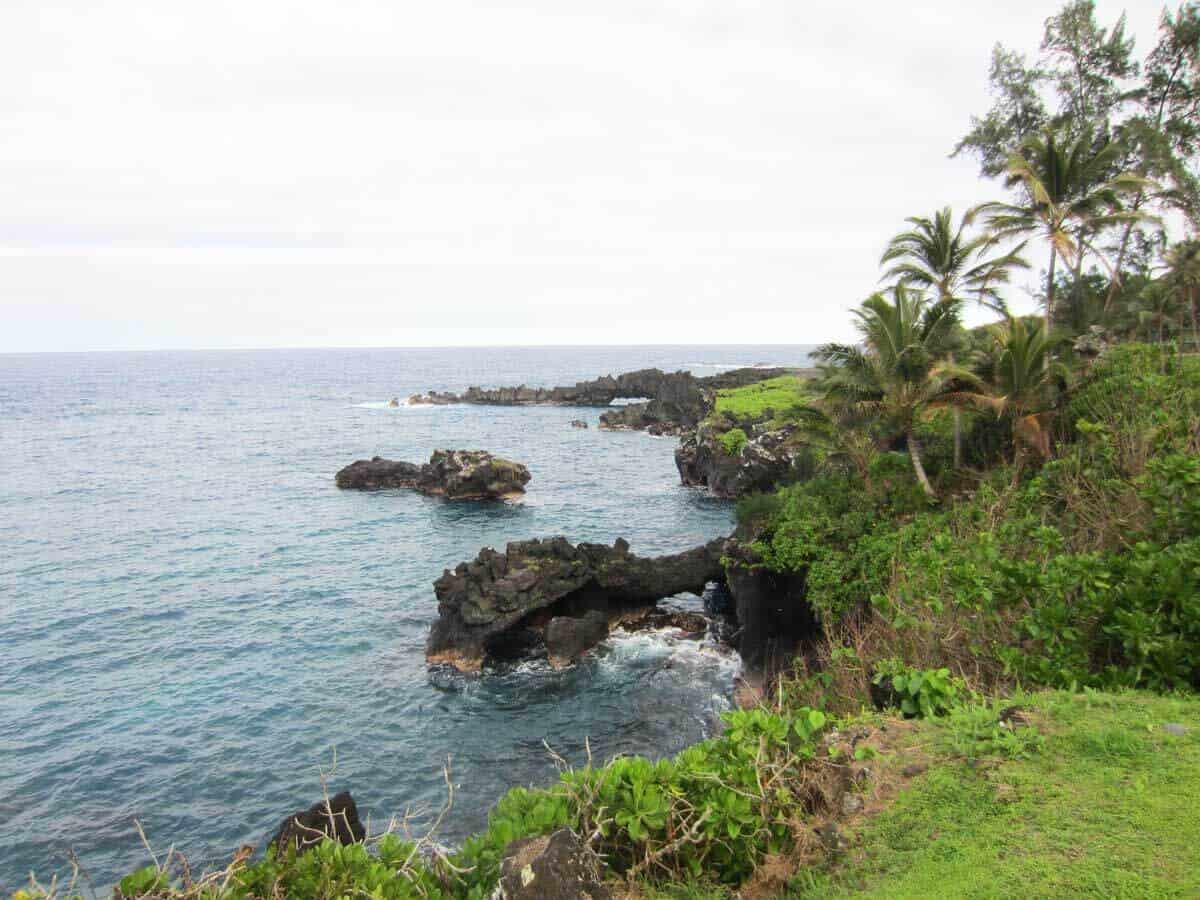 6. Napili Bay Beach Trail to the Dragon's Spine
Napili Bay Beach is one of the most popular beaches in Maui. Located near Lahaina, visitors can walk the paved beach trail along the volcanic coast to the Dragon's Spine after hanging out at the beach. Where the paved trail ends, continue walking the dirt path along the coast, and you'll see why the area is famously named the Dragon's Spine due to the formations created by lava flow.
Distance: 0.7-mile out-and-back
Difficulty: Easy
Napili Bay is also fun to snorkel if the water is calm.
Keep your eyes peeled for humpback whales off in the distance while exploring the Maui coast between November and May!
7. Nakalele Blowhole Trail
Near Wailuku, you can follow the trail to Maui's famous blowhole. Depending on the tides and waves hitting the coast, the Nakalele Blowhole thrust seawater high into the air through an opening in the volcanic coastline. It is so fun to watch.
You will want to wear decent hiking shoes to get here. The beachfront trail is rocky and steep in some places. It can also be really windy.
Bring your camera – you definitely want to do this activity!
Distance: 1.2-miles out-and-back
Difficulty: Moderate
What to Wear Hiking in Maui
With this epic list of the best hikes in Maui, we are sure you are ready to grab your hiking gear and hit the trail!
Here are some gear recommendations to pack:
Shorts or pants – pack shorts and pants that you can hike in. For example, we like Kuhl hiking pants since you can wear them as travel pants and hiking pants. For women, here is my favorite pair. Pablo likes these.
Hiking shoes or hiking sandals – We mostly wear low-rise hiking boots unless we are hiking along the coast; then, we'll wear Chaco sandals.
Light sun shirt – Patagonia makes awesome quick-drying shirts with sun protection. These shirts are fantastic because they are breathable. You can wear them as a sun layer at the beach, a travel shirt, and a hiking shirt. We like to pack light when we travel to Maui, and the Patagonia sun shirts wear well and are multi-use.
Lightweight rain and windbreaker – bring a packable layer that can act as a windbreaker or rain jacket if it starts raining. Check out The North Face and Patagonia.
Hat – We are big on protecting our face from the sun while hiking and hanging out in the ocean.
Sunglasses – bring sunglasses and don't forget croakies in case you wear sunglasses in the ocean. You don't want to lose them!
Day pack – We bring a day pack that we can use for long hikes, short hikes, and as a carry-on travel bag. We took our Osprey on the last trip to Hawaii.
Water bottle – Bring reusable water bottles to have water for your hikes, and not buy bottled water.
Maui, Hawaii Travel Recommendations
Before you head out on your Maui vacation, the travel tips below will help you make the most of your trip. In addition, we are sharing where we stayed and other recommendations.
Buy a Guidebook – Maui Revealed: The Ultimate Guidebook is the best trip planner! We used it to plan our trip before we left and while we were there. It has excellent details and shares everything you could want to do and how to do it.
Download the AllTrails App – The AllTrials app is free and will help guide you on all of the hikes listed above.
Bring Your National Park Pass – if you have the annual America the Beautiful National Park pass, bring it! You can use the pass to enter Haleakala National Park.
If you don't have one, buy yours here!
Where To Stayed – The Kulakane, is a waterfront condo near Lahaina off Lower Honoapiilani Rd. It is epic. There is a kitchen and jaw-dropping views of the ocean. We literally could see the whales jumping out of the water.
Flight + Rental Car Package – Purchase flights and a rental car as a package from Booking.com.
Get Travel Insurance – Buy cancel for any reason travel insurance on your trip. We never go to Hawaii without travel insurance. We like to use Travel Insurance Master because you can select the exact coverage you need.
Final Thoughts on Hiking Maui
Maui is one of our favorite Hawaiian Islands to hike due to its diverse and wild terrain with breathtaking views.
If you're looking for an unforgettable hiking experience, the trails in Haleakala National Park are out of this world. Hiking along the coast is also incredibly beautiful.
These hikes in Maui will leave you feeling refreshed and inspired, with stunning views and plenty of things to see.
Are you ready to start planning your Maui trip today?!
Ashlee & Pablo
---
Where Are You Headed Next?
What is Kapu? Kapu is an ancient Hawaiian code of conduct that governs all aspects of life. The word Kapu means "forbidden" or "off-limits." When hiking and exploring in Hawaii, please respect Hawaiian culture and signs that say Kapu.