Incredibly Fun Outdoor Things to do in Maui
Posted on: October 23, 2020
|
|
Maui a Magical Outdoor Mecca
Maui is one of the most magical places we have ever visited, no exaggeration. From our personal experience, the hype surrounding the Hawaiian Islands is genuine. Upon landing and picking up luggage at Kahului Airport in Maui, you are instantly greeted by an unforgettable ocean breeze, the smell of the Pacific, and warm Aloha everywhere. If you enjoy being outside and are up for an epic island adventure, there are incredibly fun outdoor things to do in Maui!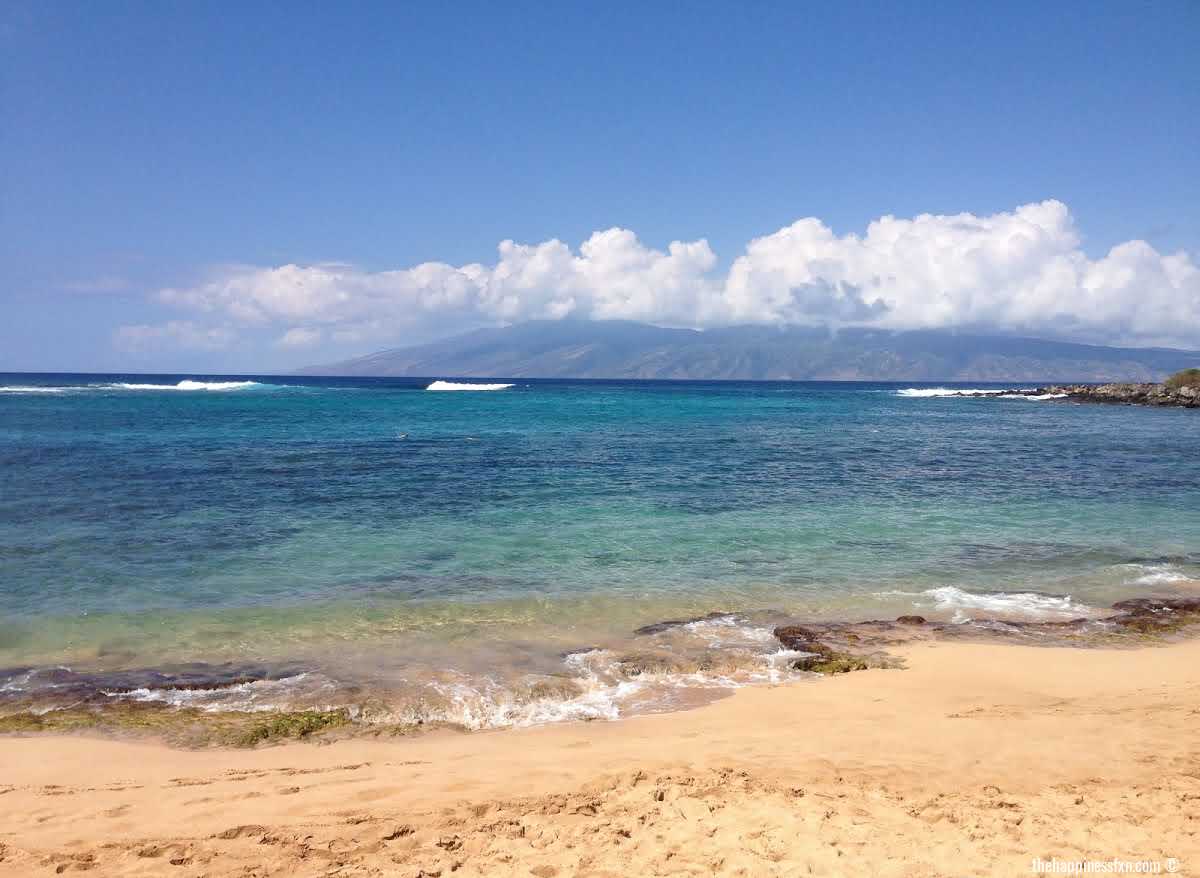 This post may contain affiliate links, which means we'll receive a commission if you purchase through our links, at no extra cost to you. Please read full disclosure for more information.
What is Kapu?
Before we get started, when visiting the island, if you see any signs that say "Kapu," it means "Keep Out." Kapu is not an area for visitors. It is essential to honor and respect local signs near trails or property. Maui is a magical place and even more magical when culture is respected.
What Can Couples do in Maui?
Maui makes for the the perfect couples destination!
Our first trip to Hawai'i was a year after Pablo and I got married. We went for our second or third honeymoon (we love to give ourselves reasons for celebration – you should too!). As newlyweds, we were so excited to visit. Everyone treated us like we were newlyweds since it is such a significant honeymoon destination.
Hospitality included lots of gorgeous flowers and the most heavenly chocolate macadamia nuts. Flowers and chocolate, everyone was speaking my language. It gets even better… keep reading!
Maui is filled with snorkeling, hiking, stand-up paddle boarding, surfing, swimming, whale watching, turtle watching, and fun in the sun opportunities galore. All of the activities are part of what makes Maui such a magical mecca for outdoor recreation.
How Many Days Should You Spend in Maui?
Pablo and I recommend planning to stay for at least seven days so you can experience all Maui has to offer. You want to be able to explore, adventure, and rest.
It is a must to have downtime to treat yourself to a nap on the beach!
How to Travel Cheap in Maui
Pablo and I enjoy visiting destinations like locals as much as possible. We typically rent a car, vacation rental by owner (VRBO), buy groceries to cook, research local guidebooks, and get recommendations from friends we meet along the way.
Then, off we go to hit the local outdoor attractions. Outdoor adventures are the BEST part about Hawai'i, and most of them are free.
What Should You Not Miss in Maui?
Purchase a Maui Guidebook Before Your Trip
Our biggest advice before your trip to Maui is to purchase a guidebook!
We purchased Maui Revealed: The Ultimate Guidebook by Andrew Doughty. The guidebook is PACKED full of everything Maui has to offer. It is easy to read and totally worth the price. We bought it like new on Amazon, so it was even cheaper than the new price.
Having this exact guidebook is an excellent resource of fun outdoor things to do in Maui!
Ask Friends for Recommendations on Things to do in Maui
We also are lucky to have excellent friends who have spent a lot of time in Maui. They made recommendations of awesome things to do ahead of time.
Our dear friend, Aline LaForge, author of Hooked by the Stars, was one of our top resources before we visited Maui. Hooked by the Stars is a historical fantasy which takes place in Hawai'i. Go check out Aline's website and book right now! Follow Hooked by the Stars on Facebook too.
Now, Pablo and I get to be your really good friends to help plan your Maui adventure.
Keep reading to discover incredibly fun outdoor things to do in Maui. But first, plan your travel.
Buy Your Plane Ticket to Maui
First off, buy your plane ticket. We usually buy plane tickets to Maui 4-6 months in advance from Expedia.com or cheaptickets.com. Before you actually buy your plane ticket, coordinate dates with your accommodations to make sure they are available.
Since you are flying, you are more than likely leaving your furry friends behind at home as we do. Here are some tips on what your pet sitter needs to know before your trip as you plan your Maui vacation.
Rent a Car in Maui
Renting a car is such a good idea when going to Maui. From our experience, it is crucial to rent months in advance (like 4-6 months in advance).
Having a car allows flexibility to drive to all the incredible beaches and hikes the island offers. It also allows you to rent and stow gear such as surfboards, paddle boards, and snorkeling equipment.
Most, if not all, of the big-name car rental companies are in Maui. Pick your preference and price. We also usually do this on expedia.com or cheaptickets.com.
Plan Where to Stay in Maui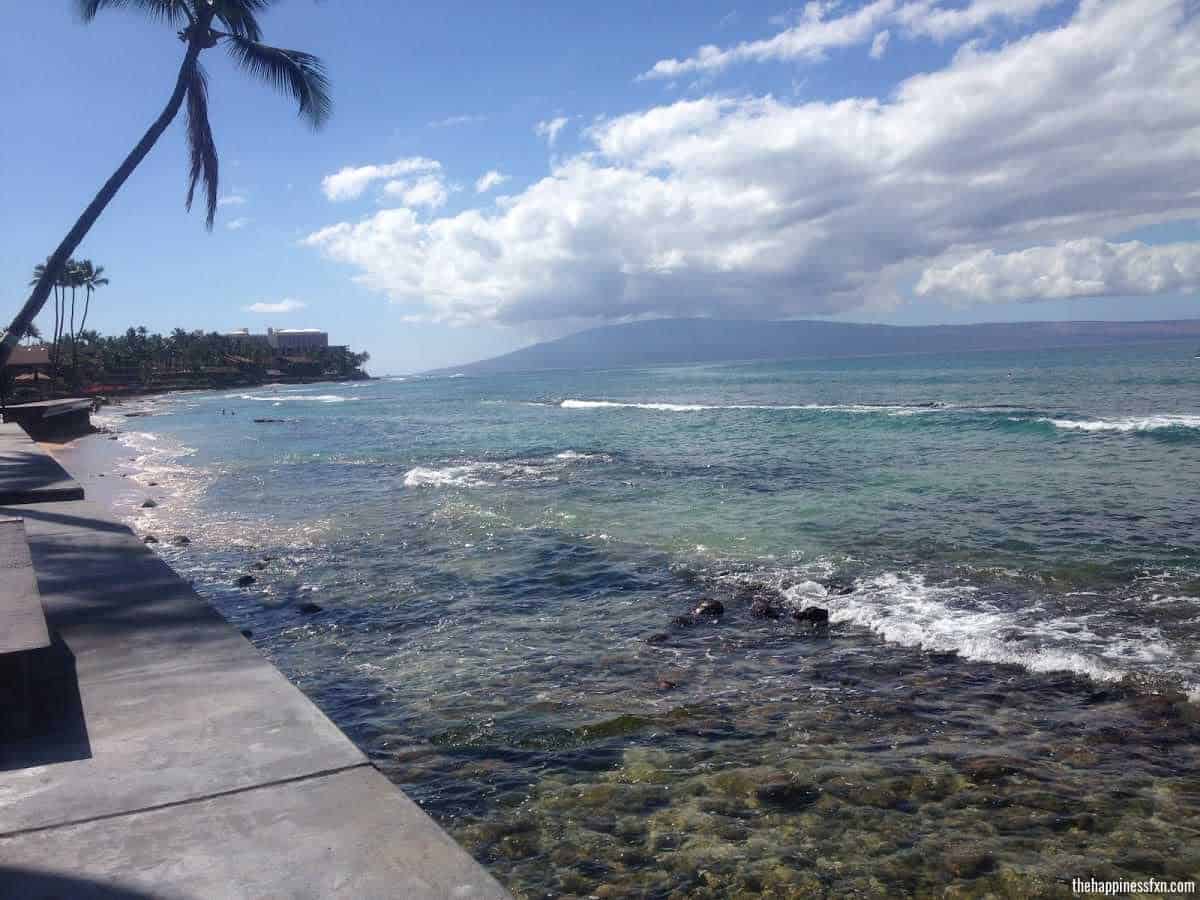 Rent a VRBO or Airbnb. Like plane tickets and rental cars, places to stay in Maui can book up months in advance, especially during peak visitation months. Plan ahead! People tend to stay towards the west, northwest side of the island near Lahaina, Kaanapali, Kapalua, and Napili. The west coast and Honoapiilani Highway are lined with vacation rentals and resorts.
You can also stay to the southwest towards Wailea. Wailea has beautiful beaches as well.
Our stay at The Kulakane in Lahaina was more than spectacular and offered world-class 5-star views of the ocean. The Kulakane greeted us with delicious chocolate-covered macadamia nuts! Our condo had sliding glass doors with a view straight to the sea. I'll never forget the sound of the Pacific Ocean greeting us for the first time. Pablo and I were both in awe of its magnificence. The managers at the time were super friendly and added to our list of incredibly fun outdoor things to do in Maui. The Kulakane was also delightfully affordable.
Best Time of Year to Visit Maui
We usually go to the Hawaiian Islands in January-February. We are mostly off-season travelers because you can get better prices on everything and beat the crowds.
Pablo and I really enjoy the weather this time of year, mostly a spring feel and not too hot. You can wear shorts and a bathing suit but don't always need air conditioning.
Most importantly, during this time of year, there is whale watching. Being from the Lower 48, specifically, the freezing cold Dakotas, seeing whales in the wild for the first-time breaching BLEW ME AWAY. We could see the whales breaching from our lānai at The Kulakane, where we stayed.
Food in Maui
We only ate out two times during our week stay. We went to Old Lahaina Lu'au, and we also went to Fish Market Maui. Fish Market Maui had the best coconut shrimp I have ever had in my life… The place was packed and super affordable.
We purchased groceries or fruit from local grocery stores and fruit stands. The rest of the time, we made food at our condo and took picnic lunches.
Trip tip: bring reusable water bottles in your suitcase. Then you don't have to buy water. We also got an insulated grocery bag which acted as a grocery sack and cooler for lunches to go.
Finally, it is time to talk about outdoor things to do. Read on…
Incredibly Fun Outdoor Things to Do in Maui
Maui is known for beautiful natural wonders, rightfully so. Maui is home to the Haleakalā Crater, light, black, red sand beaches, crystal clear blue waters, waterfalls, and lush rainforest. The places below and things to do in Maui are sure to inspire joyful experiences.
Attend a Lu'au
The Old Lahaina Lu'au was a cool experience. The lu'au is hosted outside near the beach. A grand display of food, kalua pig, mai tai, and beautiful, talented dancers made for an unforgettable experience honoring Polynesian culture. Something you must attend at least once in your life.
Haleakalā National Park Home to Haleakalā Crater
The Annual National Park Pass is accepted at Haleakalā National Park, so don't forget to bring yours, if you have one. If you don't have one and visit National Parks in the U.S.A., buy one! It is totally worth the $80.
Visiting Haleakalā National Park is a must-see adventure. The lookout at the top is most famous for early risers trying to catch the sun's rise. There are also fantastic hikes in the park. One of our personal favorites is the Halemau'u Trail.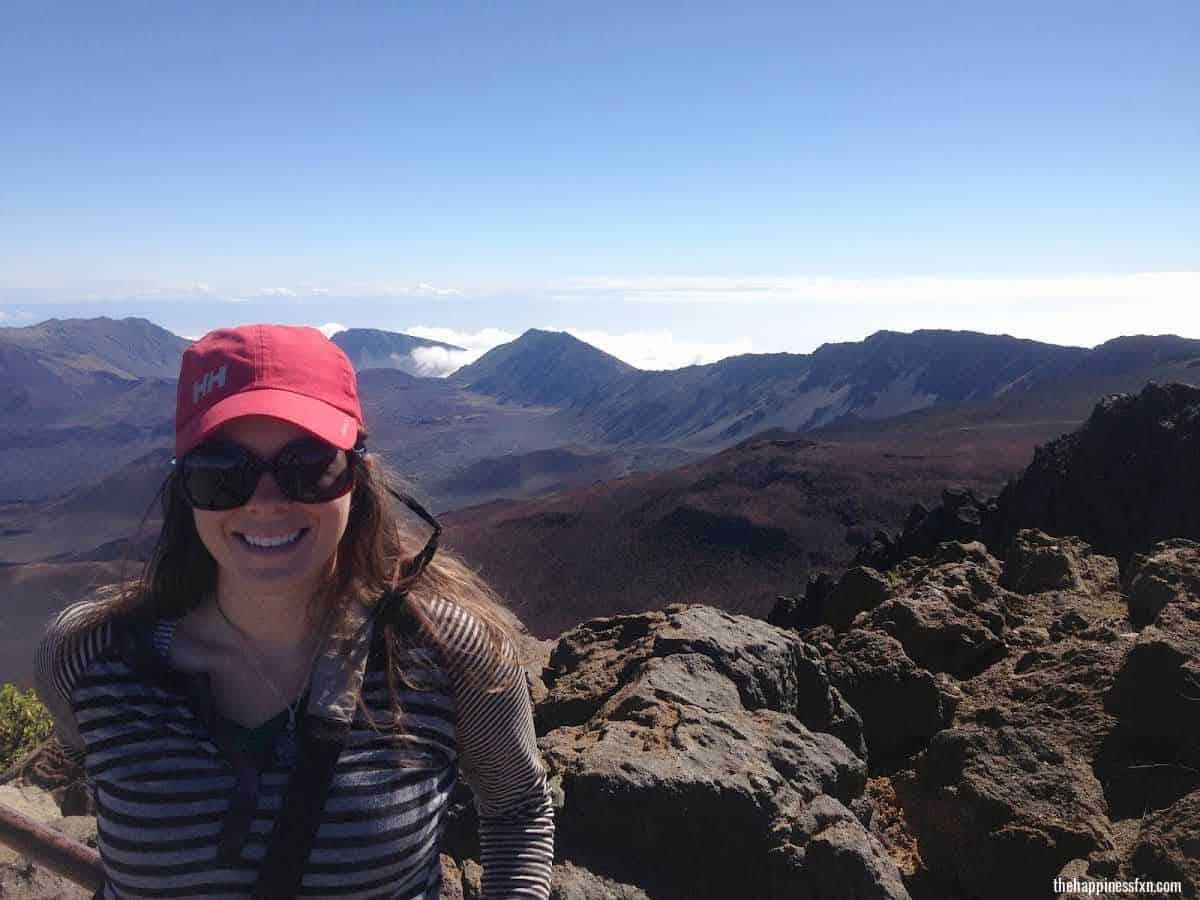 Cruise Hana Highway a Fun Outdoor Thing to Do in Maui
Drive this famous scenic highway which takes you east along the island through winding tropical rainforest and waterfalls. There are pull-offs along the way to explore waterfalls as well as local fruit stands. Oh my gosh, please treat yourself to fresh mango and pineapple.
Swing into Pa'ia, a local surf town, when starting the drive. The Hana Highway will also drive you by the beach for one of Maui's most famous surf spots — JAWS.
Wow! Visit the Beaches & Bays in Maui
There are so many beautiful beaches and bays to choose from.
You really can't go wrong selecting one out of your guidebook.
All the beaches in Maui are spectacular. Below are the beaches we visited.
Ka'anapali Beach
Napili Bay
Kapalua Beach
Slaughterhouse Beach
Makena Beach
Big Beach
Wai'anapanapa Black Sand Beach and Cave
Incredibly Fun Trails to Hike in Maui
Pablo and I are super chill when we vacation and adventure. Mostly, we go with the flow. We don't plan out every minute of every day. We have ideas of things to do and then go where the wind (and weather) takes us.
Below are the hikes we loved. We mixed the hikes in between beach days.
Pipiwai Trail waterfall and bamboo forest
7 Sacred Pools
Ohe'o Gulch
Halemau'u Trailhead in Haleakalā National Park
Makalua-puna point (a.k.a Dragon's Teeth)
Olivine Pools
Nakalele Blowhole
The photos are of the Pipiwai Trail hike through the bamboo forest to the waterfall.
Try Surfing and Stand-Up Paddle Boarding
The first time I ever surfed in the ocean was in Maui. It was a dream of mine since I could remember. I had a surf lesson from 808 Boards in Lahaina. 808 Boards also rented us stand-up paddle boards.
We surfed on the west side of the island and did our lesson around Honokowai Beach Park. Since it was my first time, the instructor took us to baby waves.
Lots of people had their shortboards out in front of our condo too. Pablo made fun of me (haha), but I actually brought neoprene booties, so my feet didn't get cut on the coral. I highly recommend it. Hey, you're a tourist at this point; who cares what is on your feet…
Go Sea Kayaking
If you're not up for surfing or stand-up paddle boarding, find a place to rent sea kayaks. Sea kayaking makes for a fantastic outdoor adventure on the ocean, especially in, early morning when the sea is calm. Find a place to rent gear the night before or plan a super early morning gear pick up (from the shop) or drop off where you are staying.
Snorkeling in Maui
Bring your own snorkeling gear. Maui is a snorkeler's dream, as long as weather conditions permit. You don't want to snorkel when there is rain, overcast, or wind. The water can get pretty cloudy.
We snorkeled quite a bit from The Kulakane. There were beautiful sea turtles everywhere. The water was crystal clear. And it was convenient!
Below are other places we thought were cool to snorkel, but there are so many more.
La Perouse Bay (but go further south towards Keawanaku Beach)
Molokini Crater (paid boat tour)
Fishbowl
Whale Watching
We did quite a bit of whale watching from The Kulakane, where we stayed. Folks recommended boat tours for whale watching too. You should check that out. You can get up close to the whales.
Trip tip – pack some binoculars! You will not regret it!
Incredibly Fun Outdoor Things to do in Maui
Hawai'i is filled with happy energy. It is such a special place in the world.
Below is a quick summary of outdoor adventures to inspire an epic trip to Maui!
Attend a Lu'au
Visit Haleakalā National Park
Cruise Hana Highway
Explore all of the beaches and bays
Go hiking
Try surfing and stand-up paddle boarding
Go sea kayaking
Snorkeling
Whale Watching
Sunscreen & the Environment in Maui
Did you know certain sunscreens have chemicals that can harm the coral reef ecosystem? Hawai'i has a ban on the sale of sunscreens containing coral-harming chemicals.
Be sure to use coral reef-friendly sunscreens. It is crucial for us all to do our part actively protecting marine ecosystems.
We are huge fans of Sun Bum sunscreen products. In fact, we first found out about Sun Bum while vacationing in Maui.
Mahalo
We hope your visit to Maui is filled with happiness, sun, surfing, whale watching, hiking, and fantastic coconut shrimp!
May your adventure be filled with incredibly fun outdoor things to do in Maui as well as world-class R&R.
Don't forget your guidebook Maui Revealed: The Ultimate Guidebook and reef-safe sunscreen!
Thanks for reading.
Ashlee & Pablo
---
Save this article on Pinterest for later!
We want to hear from you!
Are you going to Maui or have you already visited Maui?
If you have been to Maui, what was your favorite outdoor activity?
Follow us on Instagram