How to Float the Mountain Fork River in Broken Bow
Last Updated: Oct 26, 2022
|
|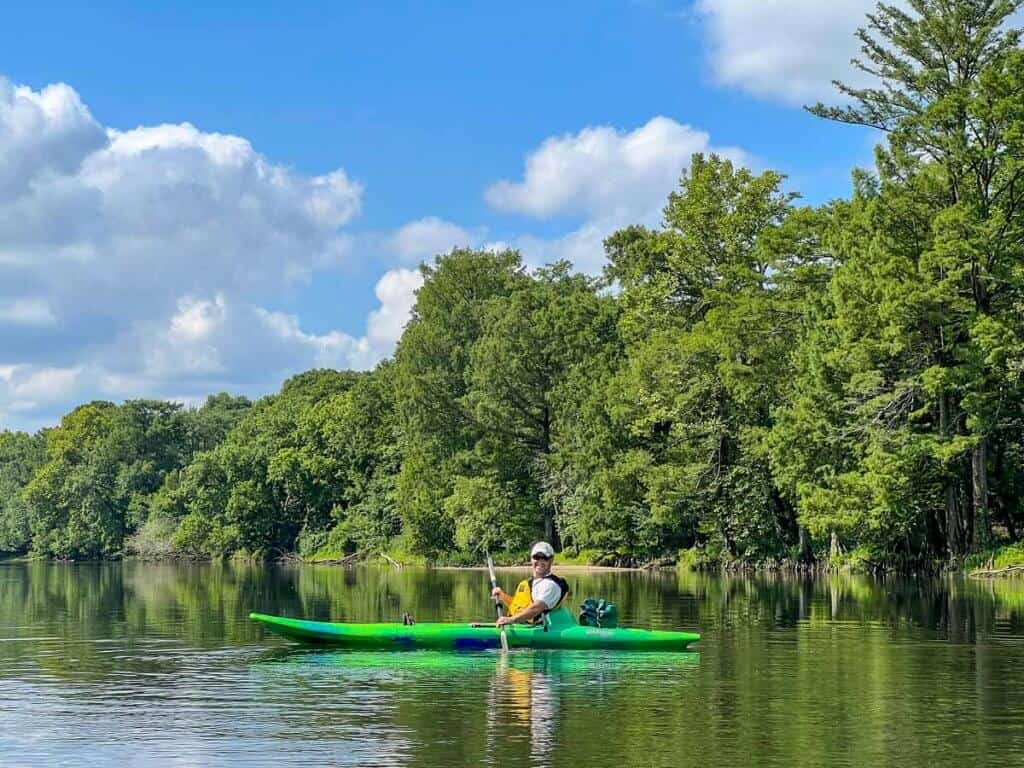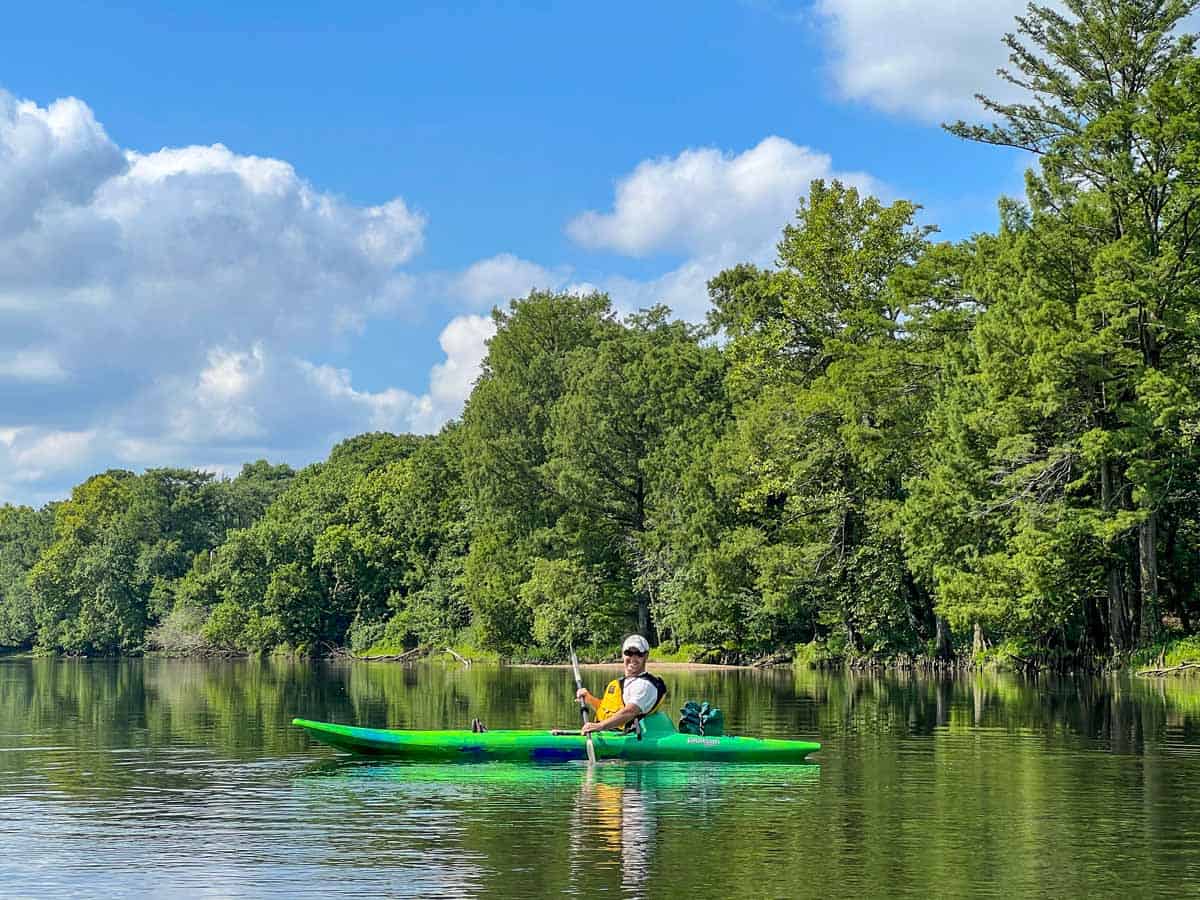 Are you ready to plan a fun outdoor adventure in Southeast Oklahoma, floating the river in Broken Bow? Then, get ready to schedule a paddling trip with some whitewater in the Ouachita Mountains. We're sharing exactly how to float the Mountain Fork River on your next weekend getaway!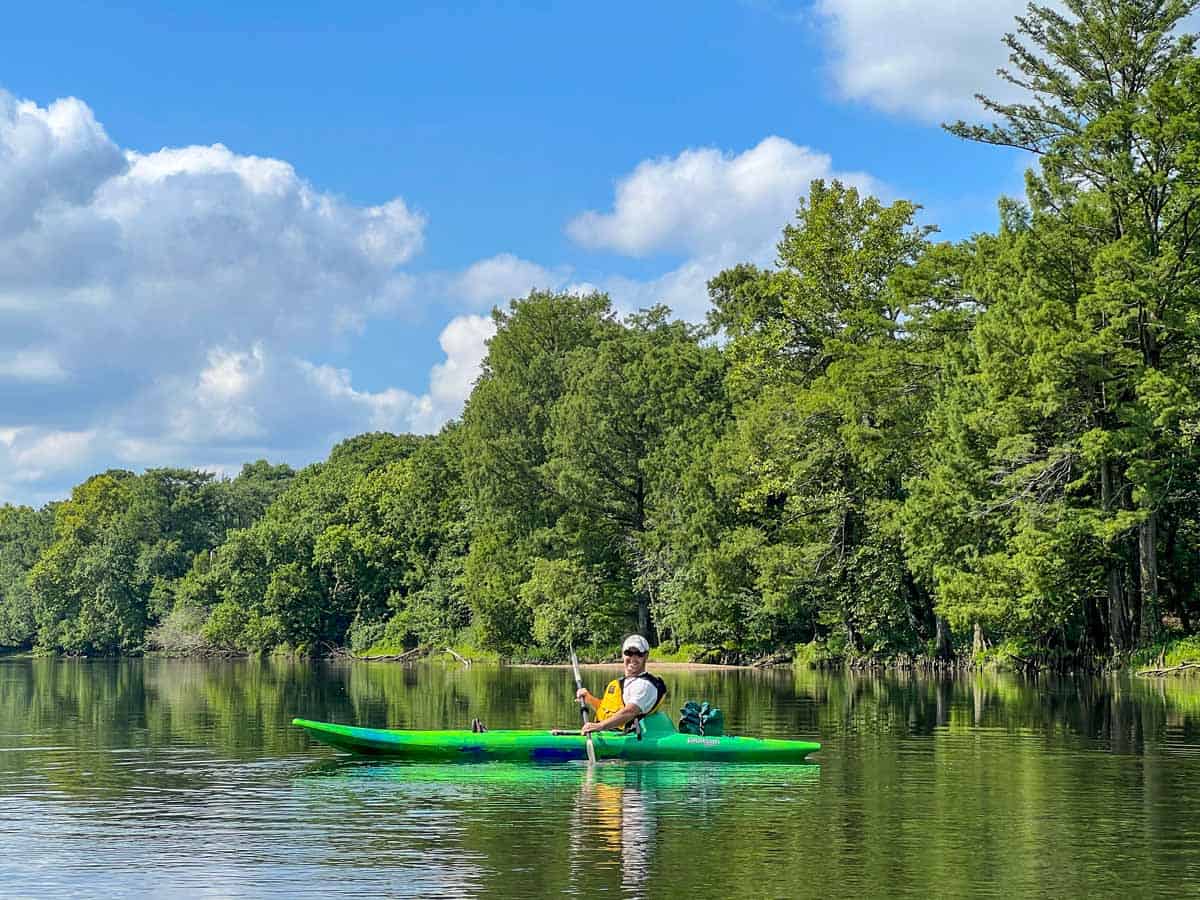 This post contains affiliate links, which means we'll receive a commission if you purchase through our links at no extra cost to you. Please read full disclosure for more information. Thanks for your support!
How to Float the River in Broken Bow, Oklahoma
Paddling down the Mountain Fork River is a great adventure to add to a trip to Beavers Bend State Park and the Broken Bow area.
There are a few different sections paddlers can enjoy:
The section through Beavers Bend State Park, and
The section from Mountain Fork Park
Beaver Bend River Floats
A section of the river winds through Beavers Bend State Park below Broken Bow Lake Dam that folks can float. This section is flat and calm and is excellent for fishing.
Many folks bring their canoes and kayaks to fish along this section of the river.
There is a place to rent gear within the state park, too.
Floating from Mountain Fork Park
Floating from Mountain Fork Park is one of the most popular ways to enjoy a float trip. This is the section most of the guiding outfitters run.
Where paddlers 'take out' will depend on where the guiding outfit recommends and which section of river you are floating.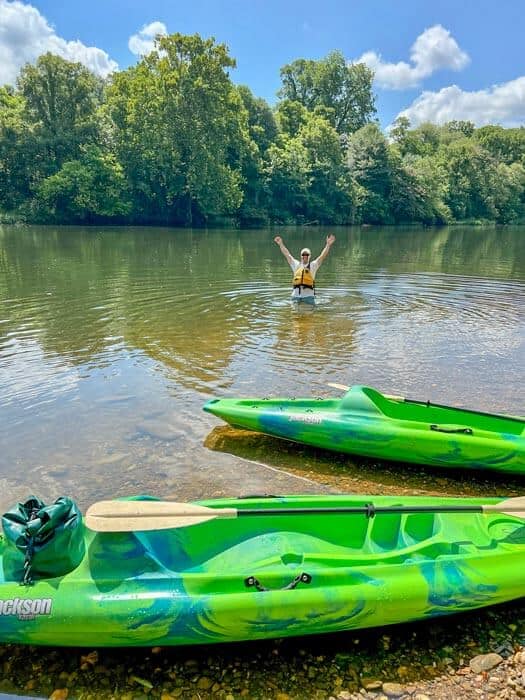 Float Details from Mountain Fork Park
Distance: about 4 miles
Time: about 2 ½ hours (depending on the water levels)
Difficulty: Whitewater Class II and I with nice sections of flat water
Once you put in your kayak, canoe, or SUP at Mountain Fork Park, you'll navigate the river through a mixture of rocky and flatwater sections. The river is flat with areas of class I and II rapids, depending on the water levels released daily by the dam upriver.
This makes for the perfect scenic day trip paddling down the river!
Where to Rent Kayaks and Gear in Broken Bow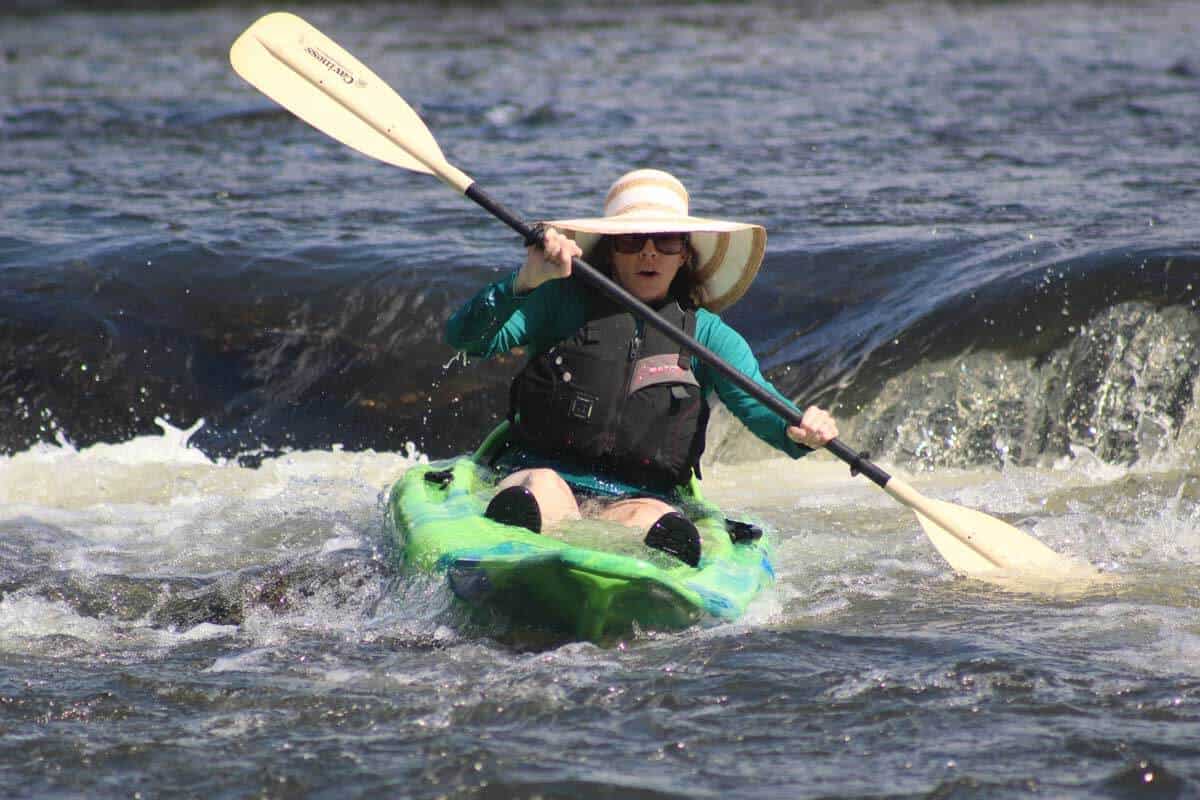 There are multiple river outfitters outside of Broken Bow to rent gear.
Call ahead for packages, but most prices include gear and a shuttle. Equipment rentals consist of a kayak or canoe, paddle, and lifejackets.
Below are river outfitters in the area:
Tippa Canoe
River Rats Kayak Rentals
Wild Goose Canoe & Kayak Rental
Ambush Adventures Kayak Rental
Lucky Dog River Floats
Tree Frog Kayak & Canoe
Skippa-Rock River Float
Cowboy's Kayak Rental
Yippie Kayo Kayaks
What Should You Bring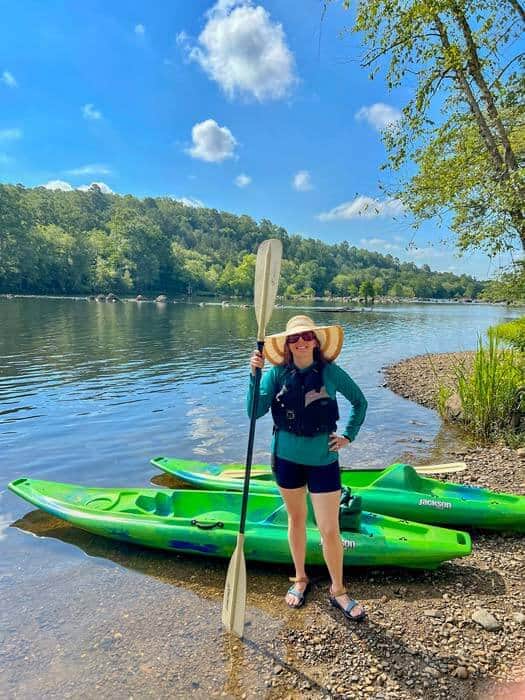 We recommend bringing a small dry bag to carry snacks, sunscreen, water, and a safe place to store your camera, phone, and wallet.
Wear sandals (we have these), wear a sun shirt (like this), and bring a hat!
Our Experience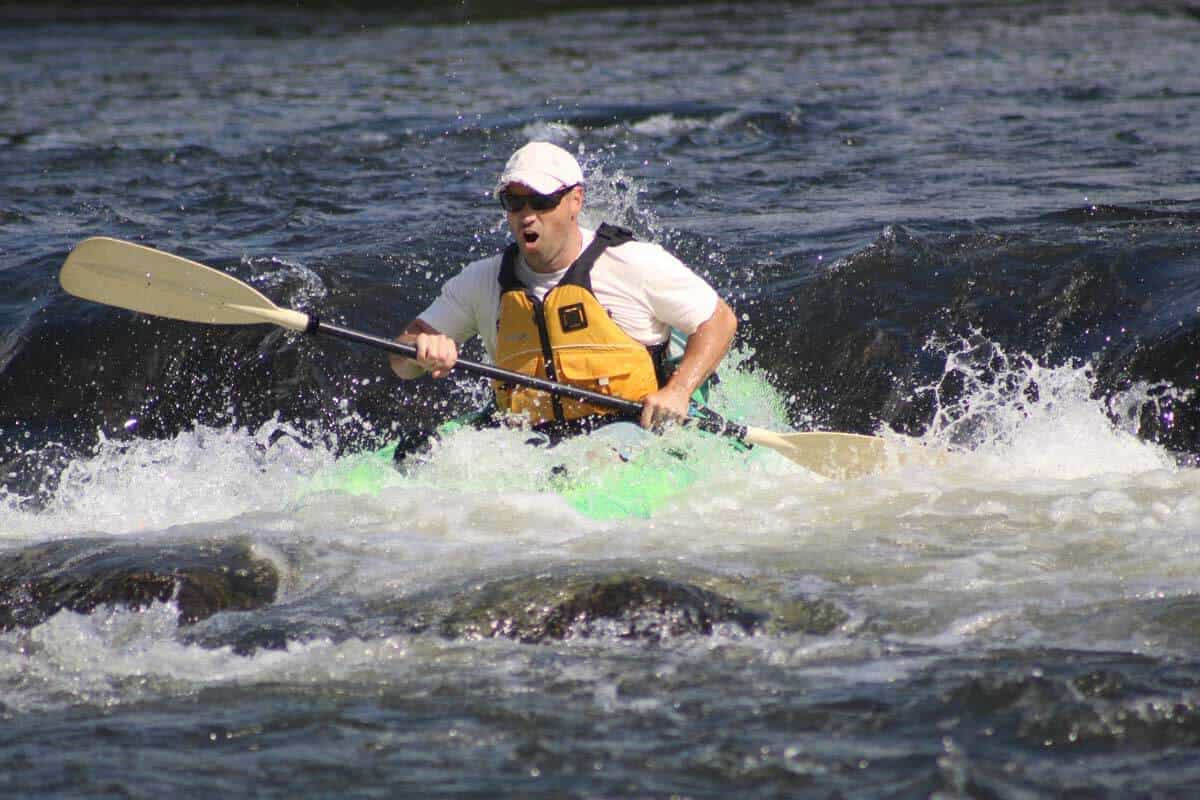 We booked our self-guided trip with Tippa Canoe and had a blast!
They shuttled us to Mountain Fork Park with our gear, and then we 'took out' at the bridge near their facility at the end of the float.
Pablo and I booked our paddling adventure at the beginning of July and made the first trip of the day at 9:00 am. It wasn't too hot, and we were the first folks on the river that day. It was awesome!
There is a slight drop that is considered a class II rapid where Broken Bow Adventures Photos sets up to take pictures of the river carnage. It is entertaining! The river isn't deep here, so you can touch the bottom if you tip.
Navigating the rocks was easy in the other areas. We had so much fun on this trip, and it complimented a fun weekend of hiking, camping, and kayaking at Beavers Bend State Park.
The river outfitter you select will guide how to best float the river depending on water levels.
Kayaking Broken Bow
There are other places to kayak in the area, including:
Broken Bow Lake: There are a few places to rent kayaks, canoes, pontoon boats, or stand-up paddleboards on the lake once you get there.
Grover River: Get more information here.
Final Thoughts
If you want to do a river trip with a bit of adrenaline, add floating the Mountain Fork River to your Oklahoma bucket list!
While you're in the area, be sure to check out Beavers Bend State Park. You might also enjoy bopping around the restaurants and gift shops in Hochatown.
McCurtain County, Oklahoma incredible, and it's no wonder it is known as the outdoor gem of the state.
Next time, we'll be planning to float the Grover River!
Thanks for reading. We hope you have a great visit.
Ashlee & Pablo
---
Find more Oklahoma outdoor adventures!
Save on Pinterest for later!
We want to hear from you!
When are you planning to kayak the Mountain Fork River?