The Best Places to Go Bird-watching in Tulsa
Last Updated: Jan 4, 2023
|
|
Tulsa sits right along the Arkansas River, where there are ample opportunities to see spectacular birds of Oklahoma. Tulsa is an amazing place for bird-watching, with so many opportunities to see different varieties of birds. One can walk or bike along the river all day and be sure that they will spot various species flying in front of them at some point during their journey.
Are you looking for an excellent and free outdoor activity? Bird-watching is the perfect idea.
If you live in Tulsa, Oklahoma, we have a treat for you!
This post contains affiliate links, which means we'll receive a commission if you purchase through our links, at no extra cost to you. Please read full disclosure for more information.
Birds of Oklahoma
You always hear about people bird-watching. Have you ever been?
People have life hobbies traveling the globe hoping to see rare sightings of majestic birds or threatened and endangered species.
Birds are such spectacular creatures, especially when you really take the time to sit and watch them.
As a biology and ecology nerd, sometimes I dwell in awe that birds are the closest relatives to dinosaurs (genetically speaking) in this lifetime!
"I think the most important quality in a birdwatcher is a willingness to stand quietly and see what comes. Our everyday lives obscure a truth about existence – that at the heart of everything there lies a stillness and a light."

Lynn Thomson, Birding with Yeats: A Mother's Memoir
Best Places to Birdwatch in Tulsa
With Tulsa, Oklahoma, sitting right along the Arkansas River, there are incredible opportunities to see cool species of birds all year-round. This city's location next to the Arkansas River offers plentiful opportunities for bird-watching, which we enjoy as much as biking or walking down by the water.
Below are our favorite bird-watching hot spots along the Arkansas River and Tulsa River Parks Trail system.
Bird-Watching Hot Spots in Tulsa
Tulsa River Parks Trails System (map here):
31st street and Riverside by the dam – watch from the trail or behind the skate park. There are benches to sit right next to the water. A pod of American White Pelicans typically winters here!
41st street park and river overlook – lots of parking, kids park, bathrooms, lots of seating, paved trail, plenty of open vantage points to birdwatch
71st street parking lot and overlook – ample parking, paved trail access, couple benches
Behind Margaritaville – paved trail, no major foliage obstructions, clear views!
Turkey Mountain – on the west side of the river there is a paved trail, go down the hill towards the Wastewater Treatment Plant.
In fact, almost anywhere along the Tulsa River Parks Trail system has epic bird-watching year-round.
"If you truly love nature, you will find beauty everywhere."

Vincent Van Gogh
Favorite Birds of Oklahoma
Bird watching along the Arkansas River is super fun! In general, you are likely to see all kinds of waterfowl, along with gulls and shorebirds.
There are THOUSANDS of birds that make Oklahoma their home or simply pass through.
Below are a few of our favorite birds to see along the river.
American White Pelican
My absolute favorite birds to watch in Tulsa are the American White Pelicans. Coming from Colorado (where we used to live), seeing these beautiful giant white birds will take your breath away; especially, as they gather by the hundreds to stay warm.
The American White Pelicans love to hang out in pods by the 31st street dam once the cold weather hits. They like to winter in Oklahoma.
Did you know a group of pelicans is called a pod?
Each bird can weigh up to 20 pounds and have a 9-foot wingspan! They truly are a sight to see.
Scissor-Tailed Flycatcher
Have you ever seen a scissor-tailed flycatcher? You would probably know if you did because you would be wondering if its tail was hurt.
Don't worry; the split tail doesn't mean the bird is hurt. That is just what the tail looks like – it splits in two like a fork. In particular, this scissor-like tail makes the birds easy to identify.
The Scissor-Tailed Flycatcher is the Oklahoma State Bird!
Bald Eagle
You are guaranteed to see Bald Eagles roosting or hunting for fish on any given day along the Arkansas River.
The eagles roost in the trees along the river and are easy to spot with their gloriously white head feathers; especially, in the fall and winter after the leaves have fallen.
The best time to see eagles is supposedly sunrise or sunset, but they are relatively active along the Arkansas River during the day. As a matter of fact, there hasn't been one time we have gone out to the Tulsa River Parks trail and not seen an eagle.
It is no wonder the eagle is the national bird. After all, they are simply incredible.
Whooping Crane
Listed as an endangered species, you might be lucky to see a Whooping Crane hanging out around the river wetlands.
In addition, these tall white and long-legged birds have red facial skin. You might even see one tagged since they are endangered.
This is where having binoculars comes in handy – so you can look for the red facial skin.
Northern Cardinal
It is always a treat when this gorgeous red bird pops in to say hello! Notably, the males are particularly bright, beautiful, and easy to spot.
Cardinals are also known to be a sign from loved ones visiting us from Heaven. For this reason, Cardinals are extra special birds to see.
New to Bird-watching?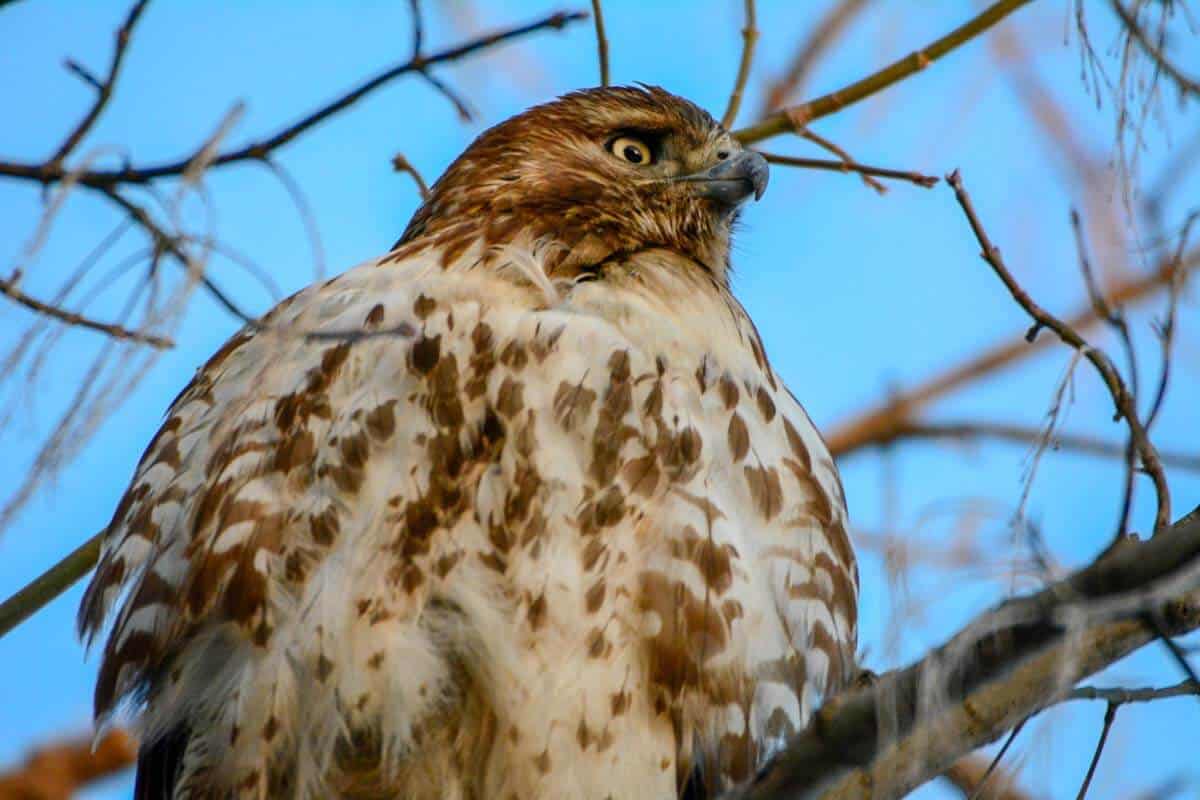 Bird-watching is an easy and fun hobby to pick up! You can bird watch at whatever level of seriousness you want.
For example, maybe you would just like to go for a simple walk and look for birds. This is still birdwatching.
Take it a step further, buy a cheap pair of binoculars so you can see bird details and coloration more clear further away.
Are you getting more serious? Splurge and buy a bird species identification key local to your area.
If (or when) you become super serious, invest in fancy binoculars. Travel the globe in search of rare and exotic species. So adventurous!
"Just remain in the center; watching. And then forget that you are there."

Lao Tzu
More Birds of Oklahoma
While you're out exploring and watching for birds, keep your eyes peeled for these other feathery species:
Dark-eyed Junco
Goldfinch
Mockingbird
Carolina Wren
Blue-Jay
Tufted Titmouse
Chickadee
Purple Martin
Oklahoma Bird-watching Resources
Are you interested in knowing more about the species of birds you are watching?
When we first moved to Oklahoma, I used the internet to get acquainted with the local waterfowl.
With this in mind, for our readers, below are free resources to check out online:
Are you specifically looking to carry a field guide? Below are resources to check out on Amazon:
In closing, we hope this post finds you just in time for fun urban outdoor adventures!
Get outside, enjoy nature, and breathe fresh air wherever you are.
"Bird-watching is now North America's second most popular outdoor activity (second only to gardening)."

Bernd Brunner
Thanks for reading.
Ashlee & Pablo
Featured image credit: Michael Emond
---
Find more Oklahoma outdoor adventures!
Are you traveling through Tulsa? Do you currently live in Tulsa?
Check out these popular articles:
Save on Pinterest for later!
We want to hear from you!
Do you have questions about bird-watching in Tulsa?
What is your favorite bird?