Orderville Canyon Hike Epic Backcountry in Zion
Posted on: December 21, 2020
|
|
Are you looking to do an off-the-beaten-path adventure in Zion? Discover one of the hidden gems of Zion National Park – the Orderville Canyon hike! Get a backcountry wilderness permit to canyoneer Orderville Canyon.
If you love the outdoors and are curious about really exploring Zion's backcountry, we have a treat for you. Continue reading for details on how to hike and canyoneer Orderville Canyon!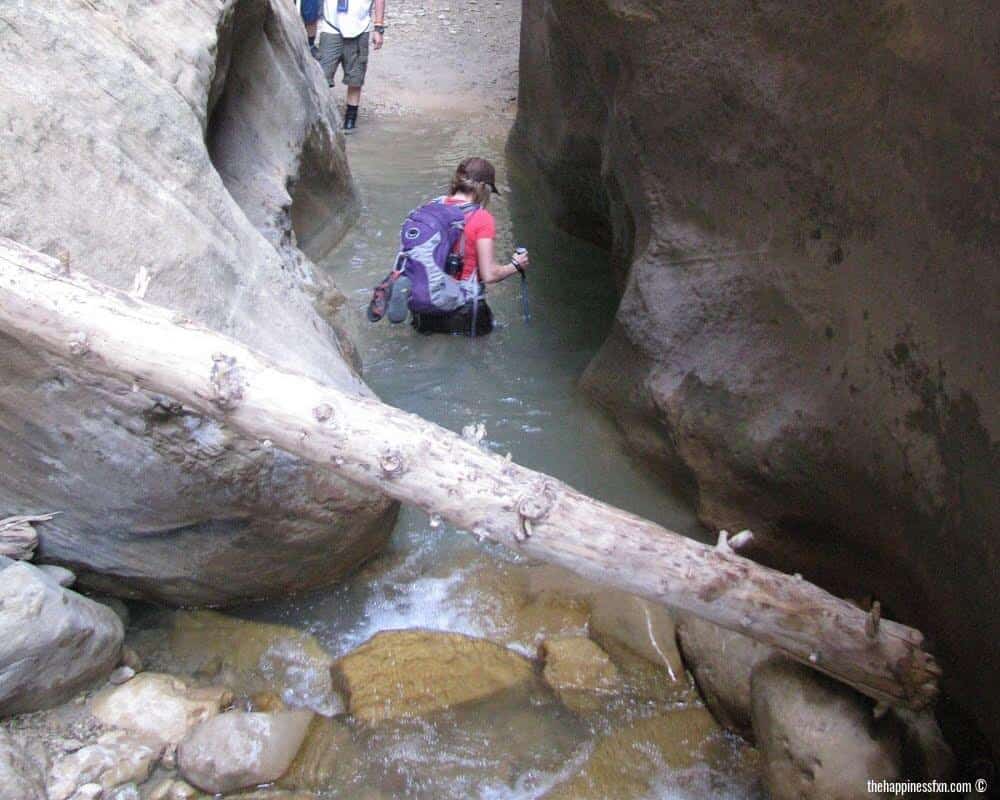 We did this backcountry hike years ago and want to share all the details with you, including how to obtain a permit, the best time of year to visit, obstacles to consider, as well as gear to bring.
---
This post may contain affiliate links, which means we'll receive a commission if you purchase through our links, at no extra cost to you. Please read full disclosure for more information.
---
Weather, Closures, & COVID – Check out Park Current Conditions before you get to Zion National Park.
---
How to Hike Orderville Canyon
We have you covered with an Orderville Canyon hiking guide!
Hiking Orderville Canyon requires planning in advance. Continue reading to get the scoop on how to apply for a canyoneering backcountry permit as well as setting up shuttling to and from the trail so you can have a great trip!
Apply for an Orderville Canyon Permit
A Canyoneering Permit is required.
Aim to obtain the canyoneering permit a few months in advance.
Read more from Zion National Park on how to get a backcountry permit.
We wouldn't recommend planning your trip to hike this specific trail until you have secured the permit (this way, you won't be disappointed).
When we used to canyoneer more (when we lived out west), it was first come, first serve to get a backcountry permit. We would stand in line the day before, starting at 3:30 am in hopes of scoring a backcountry permit. Nice, this setup has changed!
Set Up Private Shuttle to Drop at Orderville Canyon Trailhead
Once you obtain a canyoneering permit, arrange for a private shuttle service to drop you off at the top of the Orderville Canyon trailhead. The trailhead is closer to the East entrance of the park off of Route 9. This trailhead is located outside of the scope of the Zion National Park shuttle buses.
You will be hiking top-down so having a shuttle to the top makes things easy.
Google any shuttle outfit in Springdale, Utah. Tell them you are hiking Orderville Canyon. They will know where to drop you off.
Purchase Zion National Park Shuttle Tickets
Since you are hiking top-down, you already have your top shuttle covered with the private shuttle company.
Once you pop out of Orderville Canyon's bottom, you will be entering the lower section of the Narrows.
Walk the Narrows to the Narrows via Riverwalk Trailhead. Then you will find the shuttle stop for stop #9, Temple of Sinawava.
From here is where you will hop on the Zion National Park shuttle bus to make your way back to your car or where you are staying.
Starting July 2020, Zion National Park has a timed shuttle ticket system. Be sure to plan ahead. Order your ticket(s) in advance from recreation.gov.
Read more on the Zion Canyon Shuttle Tickets and how the shuttle works.
Hiking Orderville Canyon Utah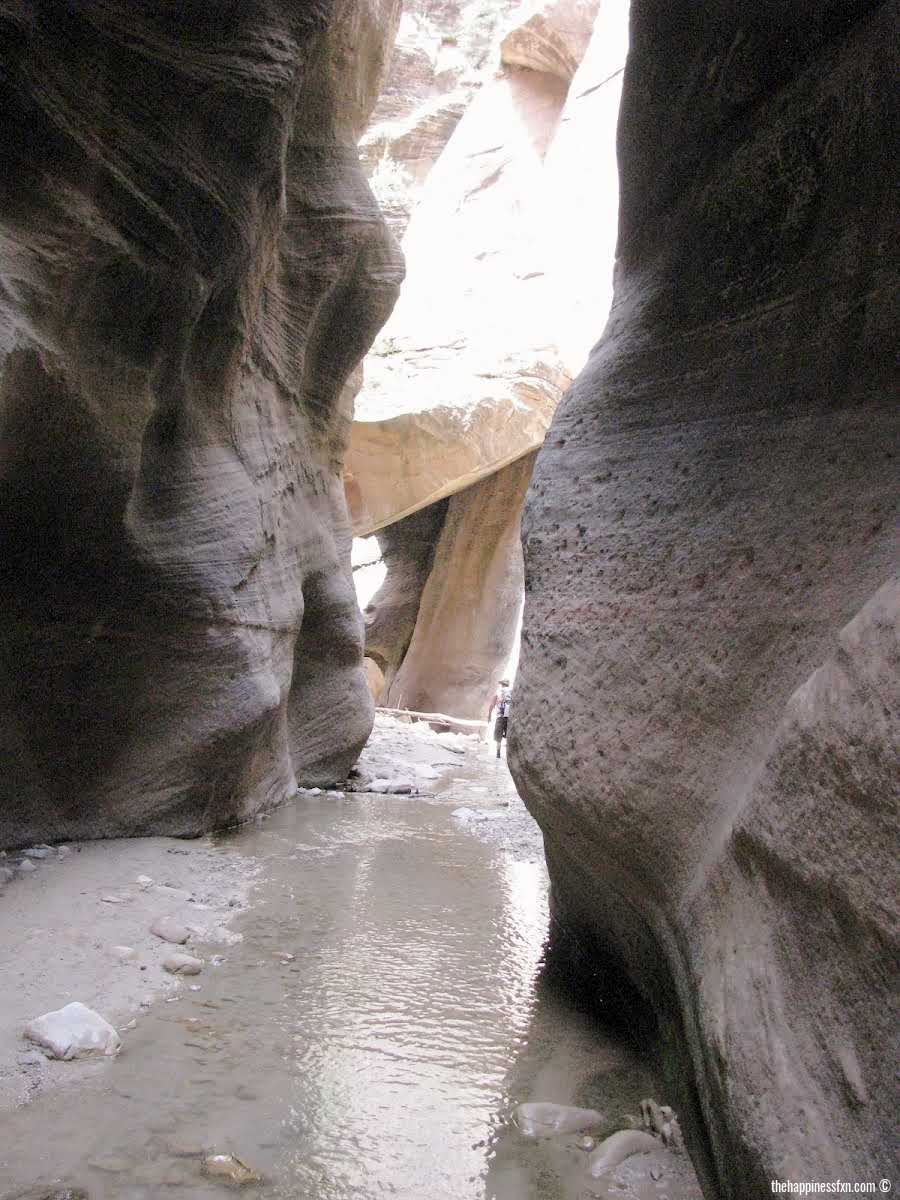 Orderville Canyon Hiking Details
Strenuous and difficult rating + requires two rappels + no jumping!
Permit required
Hike top-down
Distance 11 miles
Estimated time to hike 8-10 hours
Orderville Canyon is truly one of Zion National Park's hidden gems. A tributary of the Virgin River, Orderville Canyon flows into the famed Narrows.
This day hike is not for the faint of heart. It is a strenuous but super fun canyoneering adventure!
The route is semi-technical and not for inexperienced or casual hikers.
This hike is excellent for beginner canyoneering.
Orderville Canyon Slot Canyon Overview
Orderville Canyon is a great day hike and canyoneering adventure through slot canyons.
As stated above, there are two short rappels in addition to rock scrambling, a few short swims, incredible backcountry views, and wading through water.
To begin with, the hike starts off in a more open area at a higher elevation.
As you venture further down the trail and into the canyon, the walls become higher and narrow.
The hike is dry for roughly the first part. Then you start to get into the water. Getting into the water is really fun in the summer!
---
You will want a climbing harness, rope, hiking poles, sturdy shoes that can get wet, snacks, a wag bag, and plenty of water. Gear checklist below!
---
Eventually, you'll come to your first rappel. There are two places we recommend using climbing gear to rappel for safety – definitely don't recommend jumping.
The second rappel is further down and over a waterfall. There is about a 10′ drop on the second rappel.
As you continue through the canyon, you will enter a trickling tributary of the Virgin River. Then you start getting into the water. It will be deeper in some places and shallower in others.
Towards the latter part of the hike, you are in the water the entire time as you make your way into the Narrows.
I really like having hiking poles for this part of the trek!
Orderville Canyon Hike Gear Checklist Essentials
Rappel gear
Supportive water hiking shoes – I like using trail running shoes you can get wet from brands such as Salomon or Vasque (have had both)
Chacos – if your feet can handle it or your feet need a break. I took my Chacos and swapped them out along the way.
Layers – in case you get cold or hot – fleece, long sleeve, short sleeve
Food
Hat
First aid kit
Wetsuit
Drybags for your gear
Camera
Day pack – we love our Osprey
Water bottle – can't beat how lightweight Nalgene is – plan 1 gallon per person per day in the desert!
We have this fantastic canyoneering guide book Zion Canyoneering guide book by Tom Jones and really like it for details and technical information.
Best Time of Year to Hike Orderville Slot Canyon Utah
We recommend hiking Orderville Canyon in the summer as well as starting your journey as early as possible.
This hike will take most of the day to complete. You want to have plenty of daylight.
The last couple hours hiking will be wading in water which makes for an epic summer adventure!
This hike is closed when water levels are high during spring run-off.
Where to Stay During a Trip to Zion National Park
Depending on how outdoorsy you feel like being, there are a few options from camping to hotels on any budget.
Read more about where to stay near Zion and other day hikes in Zion.
Zion National Park Safety
Have a great time! Be sure to plan ahead and know before you go.
Below are additional resources to help you plan an awesome trip:
Thanks for reading!
Ashlee & Pablo
---
Check Out More Outdoor Adventure Posts in Utah
Are you road tripping through Utah and the Southwest?
You might also enjoy our other articles full of Utah outdoor adventures:
Save this article on Pinterest for later!
We would love to hear from you!
When are you planning to hike Orderville Canyon?
Follow us on Instagram