How to Visit Bryce Canyon National Park When You Only Have a Day
Posted on: April 21, 2022
|
|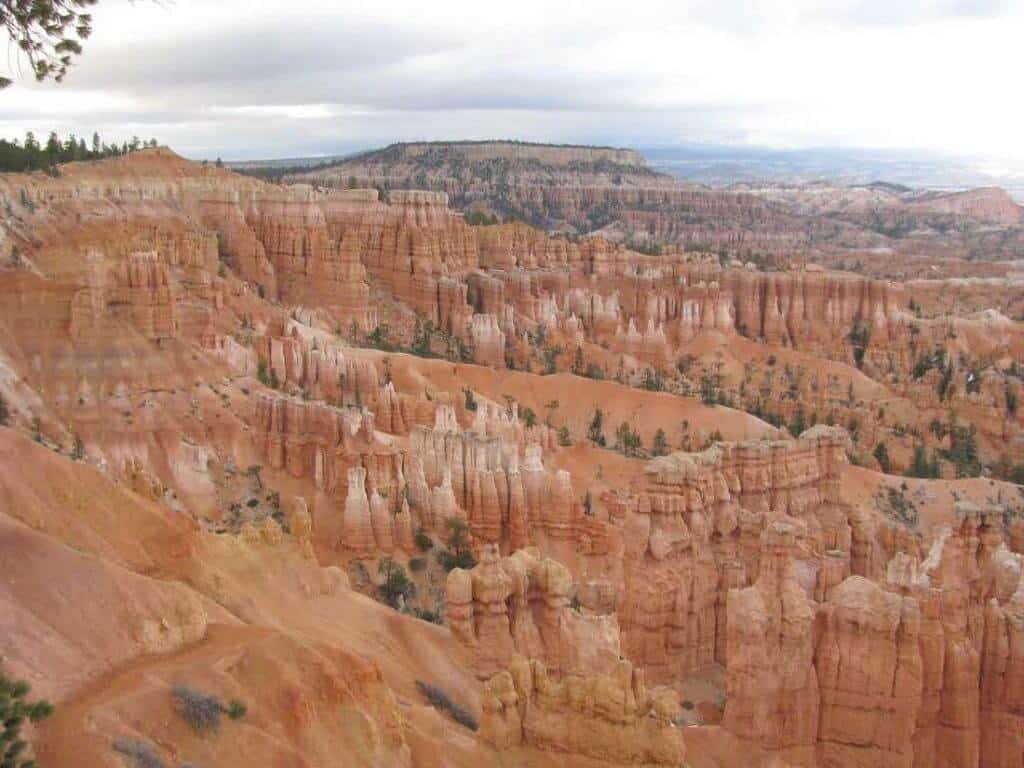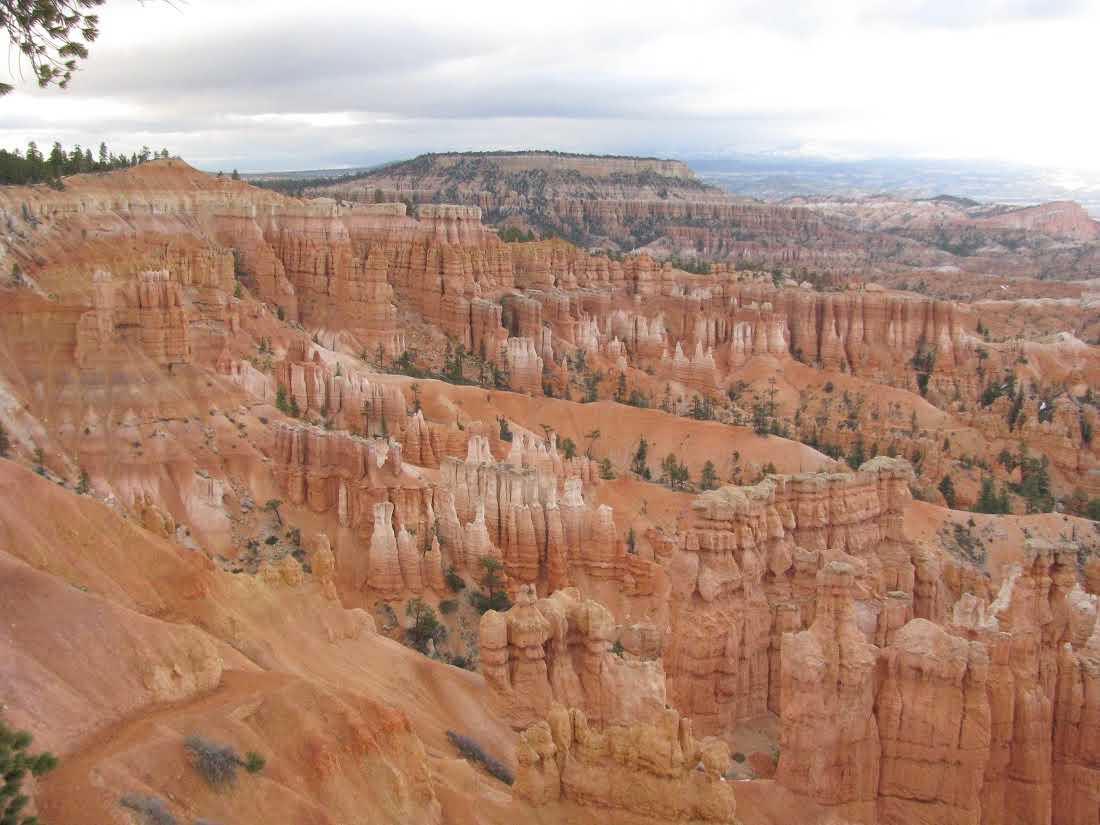 If you only have one day in Bryce Canyon, what should you do?
Bryce Canyon is a great place to visit, and it is easy to see in one day. We have visited this park a handful of times over the years, both during the late spring when there is still snow along with the early summer just when it is beginning to get hot. We have written this itinerary so you can avoid crowds, get the most out of your time, and see as many of the viewpoints and sights as possible. We'll share what not to miss in Bryce Canyon National Park when you only have a day!
This post contains affiliate links, which means we'll receive a commission if you purchase through our links at no extra cost to you. This allows us to continue publishing free travel and gear guides. Please read our full disclosure for more information. Thanks for your support!
Bryce Canyon in a Day: The Best Things to See and Do
When you have one day to visit Bryce Canyon, the best things to see and do are:
Photograph and admire the hoodoos – Feast your eyes on the magical hoodoos and take lots of photos.
Take the Bryce Canyon Scenic Drive – Go on the scenic drive and visit all of the viewpoints.
See the main viewpoints – Sunrise Point, Sunset Point, Inspiration Point, and Bryce Point.
Take a Hike.
Check out the visitor center.
How Much Time Should You Spend in Bryce Canyon?
The thing about visiting Bryce Canyon is you can literally see it and make it a short pit stop along a multi-national park road trip coming from Zion and the North Rim. Or you can spend hours exploring depending on your trip expectations. If you have time, we recommend planning the entire day visiting to fit in at least one or two hikes.
Planning to spend an entire day at Bryce will allow you to go on the scenic drive, visit the main viewpoints, take lots of photos, go on a day hike or two, and explore the visitor center.
Bryce Canyon Itinerary
Bryce Canyon National Park is a beautiful and unique place to visit. There are plenty of things to do and see in the park, so you'll never get bored. Whether you're interested in hiking, sightseeing, or just taking in the scenery, Bryce Canyon is a great place to visit.
Are you ready to plan your visit? Let's go!
Bryce Canyon Hoodoos
This national park is famous for its hoodoos! Did you know the word means to bewitch?
Once you see a hoodoo in real life for the first time, you will definitely be awed! Hoodoos are tall irregular geologic formations found in the arid West, most notably in Bryce Canyon National Park and Utah.
Get your camera ready to take lots of photos.
Would you like to know more about the camera equipment we have for adventure photography? Check out our article, here!
Bryce Canyon Scenic Drive
If you don't plan to hike, start your visit by doing the scenic drive.
The scenic drive is 38 miles, and there are 13 viewpoints to pull off at, enjoy the views, and take photos.
If you plan to hike, we recommend hiking first and going on the scenic drive later in the day. More on hikes below.
Bryce Canyon Shuttle
As of 2022, riding the shuttle is not mandatory. You can still drive your own vehicle along the scenic drive route. If you'd like to be toured around, check out the shuttle schedule. Read more about the shuttle here.
Bryce Canyon Viewpoints
The most famous viewpoints for capturing photos are Sunrise Point, Sunset Point, Inspiration Point, and Bryce Point.
If you are visiting to capture epic photos for sunrise, be sure to get to Sunrise Point! The same goes for Sunset Point. If you'd like the perfect lighting for a sunset photo, be sure to stand or sit for Sunset Point.
All of the viewpoints are incredibly breathtaking, so don't sweat it if you aren't an early riser or can't stay for sunset.
Best Hikes in Bryce Canyon National Park
There are many beautiful trails to explore. You can hike most of the year as well as snowshoe in the winter.
If you are hiking in the summer, be sure to hike first to enjoy the cooler mornings.
Popular easy Bryce Canyon hikes include:
Sunset to Sunrise Trail paved section along the Rim Trail – 1.0 mile (1 hour hike)
Rim Trail – 1.0 mile to 11.0 miles (choose how far you want to hike 1 hour to 7 hours)
Popular moderately difficult hikes include:
Queen's Garden – 1.8 miles (about 1-2 hour hike)
Navajo Loop – 1.3 miles (about 1-2 hour hike)
Queen's Garden/Navajo Loop Combination – 2.9 miles (about 2-3 hours to hike)
For the more strenuous popular hikes, such as Peekaboo Loop, find more information to plan from Bryce Canyon National Park.
Explore the Visitor Center
Before you leave, check out the visitor center. They have a museum, short film, and bookstore.
Since we enjoy being outside the most, we typically hit the visitor center on the way out. We save our energy for hiking and touring around. There are restrooms inside.
Arriving in Bryce Canyon
Bryce Canyon National Park is kind of in the middle of nowhere.
Below are estimated distances to plan a road trip from a few of the surrounding cities:
Distance from Salt Lake City – 270 miles
Distance from Las Vegas – 260 miles
Distance from Phoenix – 430 miles
Distance from Flagstaff – 285 miles
Distance from Panguitch (nearest town) – 27 miles
Distance from Moab – 248 miles
We recommend planning your road trip to arrive during daylight so you can see the beauty of the surrounding area and navigate the winding roads.
Pssst… Is Moab on your road trip route? Then you'll love checking out these awesome things to do in Moab!
Bryce Canyon National Park Entrance Fee
There is an entrance fee to enter the park.
The costs are:
$35 per vehicle (valid for 7 consecutive days);
$30 per motorcycle; or,
Annual America the Beautiful Pass accepted (which is $80 annually)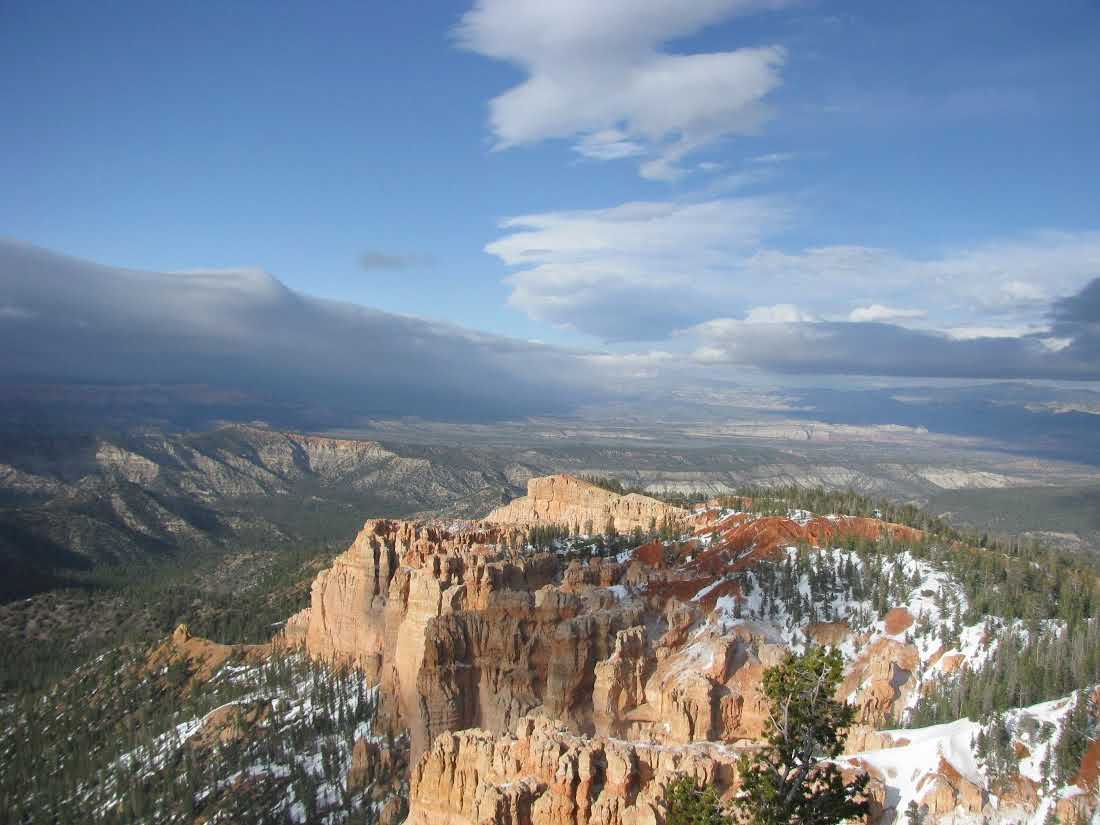 Other National Parks Near Bryce Canyon
A few other national parks are relatively close and easy to pair during a Southwest road trip.
We recommend hitting Zion National Park and the North Rim of the Grand Canyon on the same trip.
Zion National Park to Bryce Canyon – 80 miles and roughly 1.5 hours away
Bryce Canyon to North Rim – 150 miles and roughly 3 hours away
Road Trip Travel Tip: Protect your road trip with traveler insurance. Whenever we road trip more than 100 miles from home, we always purchase cancel for any reason travel insurance. We like to use Travel Insurance Master. You can select the exact coverage you need.
Best Time of Year to Visit Bryce Canyon (and Avoid the Crowds)
From our experience, the best time of year to visit is the early spring (April-May) and late fall (October).
After Labor Day, you can catch fewer crowds, and the weather is great for hiking.
When visiting in the spring, the area may still have snow, limiting hiking opportunities, but it can also help you avoid the crowds.
Late spring through early fall (Late May-September) is a pretty busy time of the year to visit, with most of the U.S. taking summer vacations. Plan to visit during the weekdays and avoid any major holidays if you go during these months.
The majority of the photos in this article were taken in the early spring (April). It was snowy, and cold, and we practically had the entire park to ourselves. It was awesome!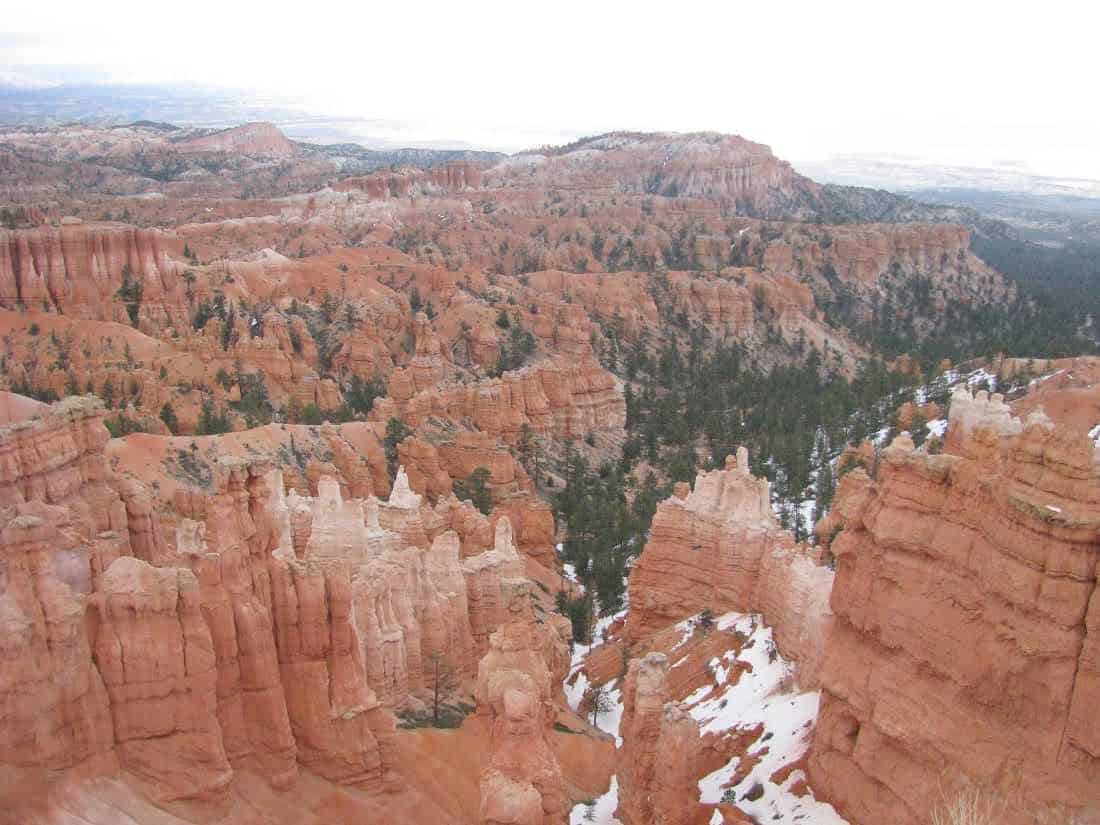 Weather in Bryce Canyon
Bryce Canyon does get snow, and the park is located at an elevation between 8,000-9,100 feet. They do plow and sand the roads after snowstorms.
The park is open year-round (unlike the North Rim of the Grand Canyon, which is closed seasonally if you didn't know – just in case you were planning to visit in the off-season).
Hikes Where Pets are Allowed
Good news! Dogs can enter the park if you are road tripping with your best friend.
Dogs are allowed on the paved section of the Rim Trail and paved viewpoints.
The National Park Service is strict about pets in the park:
Pets must be on a leash
You cannot leave your pet unattended at any time
Owners must pick up pet waste
Pets cannot be on unpaved trails
Pets cannot be on unpaved viewpoints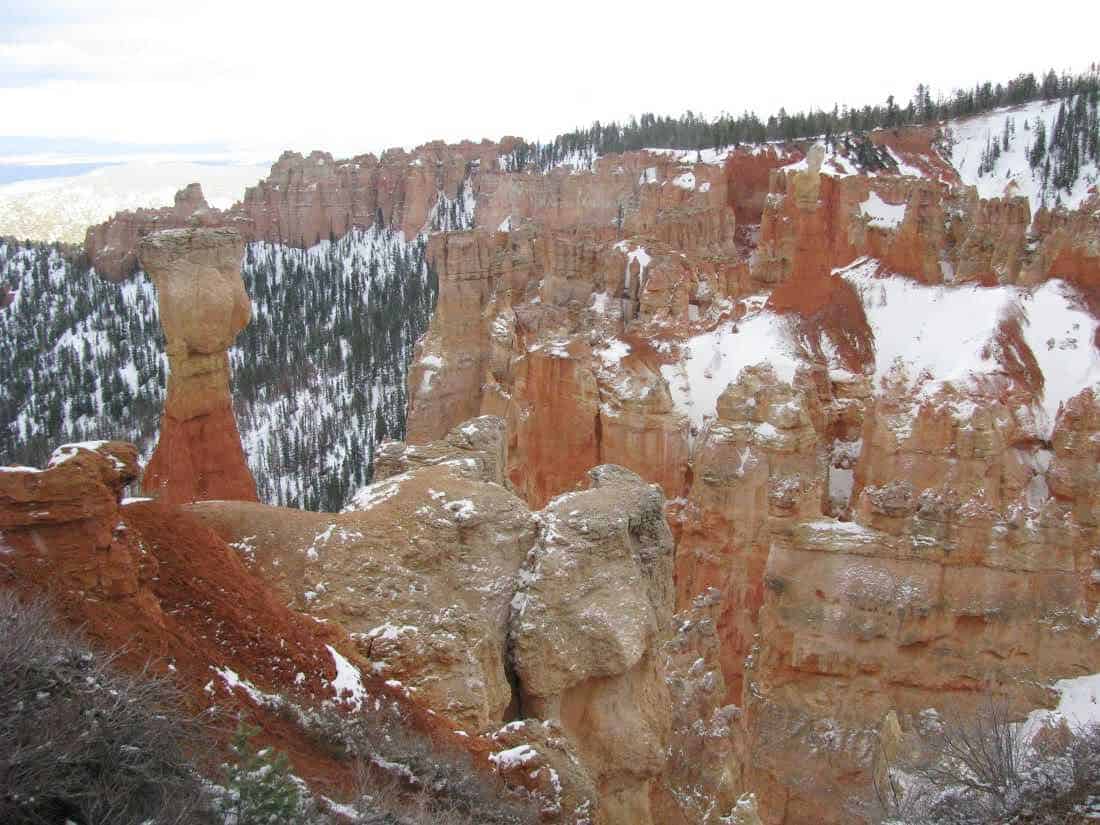 What if You Only Have a Half-Day Planned?
No worries. If you only have a half-day in Bryce Canyon, we recommend doing the scenic drive and stopping at all the viewpoints to take photos and enjoy the epic vistas and hoodoo country.
For a half-day itinerary, plan to spend a minimum of 3 to 4 hours driving the park and taking photos. The scenic drive is 38 miles, and there are 13 viewpoints. Depending on the time of year you go, it could take longer with the crowds.
Final Thoughts on Visiting Bryce Canyon
Bryce Canyon National Park is a place of unparalleled natural beauty and should be experienced firsthand. If you can't visit for an extended period of time, don't worry – you can still see the park in a day. With a little bit of planning, you can hit all the highlights and have a memorable experience.
We hope this guide has inspired you to visit Bryce Canyon and enjoy everything it has to offer.
Tips for Adventuring in the Desert
Our mission is not only inspiring happiness through travel and outdoor recreation in the U.S., but recreating responsibly and being stewards of the environment.
Check out our article on how to recreate responsibly in the desert. We talk about the importance of Leave No Trace as well as protecting precious biological soil crust.
Thanks for reading!
Ashlee & Pablo
---
Shop Hiking + Road Trip Gear
Below are recommendations for hiking and road trip gear we never leave home without.
---
You might also enjoy!
Are you road-tripping through Utah or the Southwest?
You might also enjoy these popular articles to plan your next trip:
Save this article on Pinterest for later!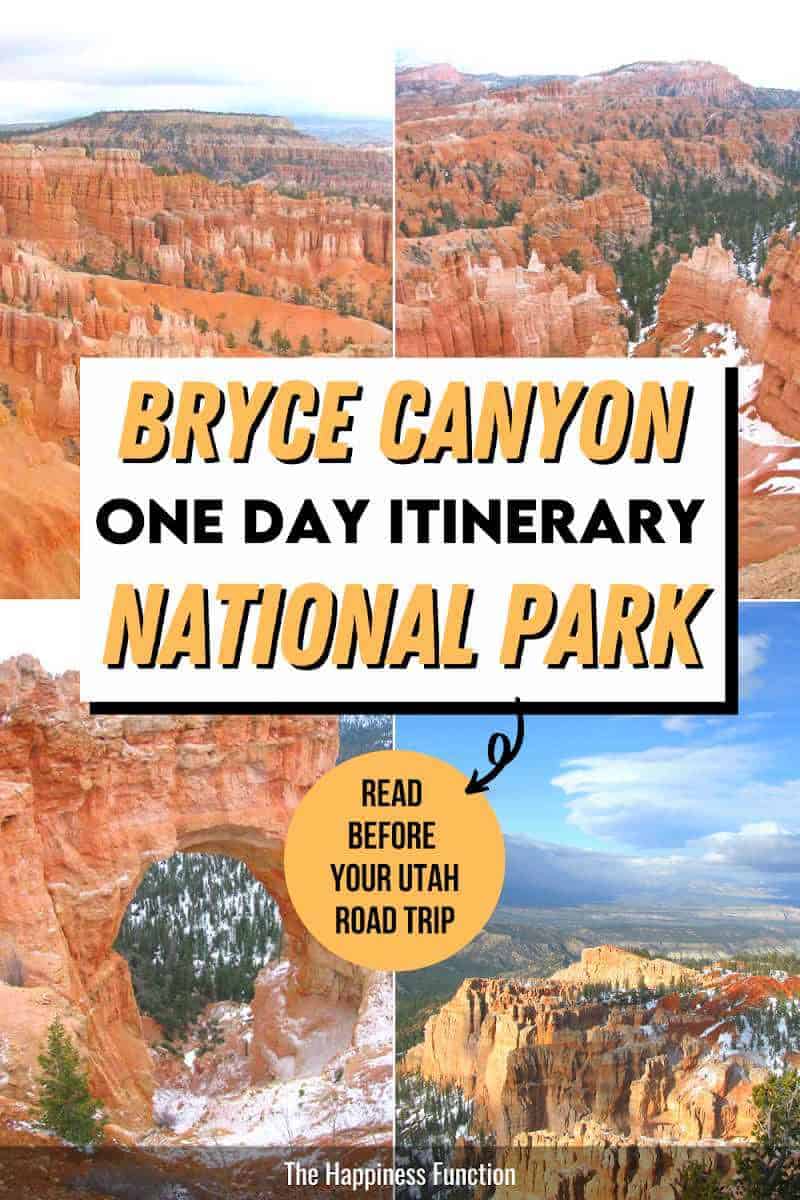 We would love to hear from you!
When are you planning on visiting Bryce Canyon National Park?