How to See Arches & Canyonlands National Parks in One Day (2023 Guide)
Last Updated: Jan 30, 2023
|
|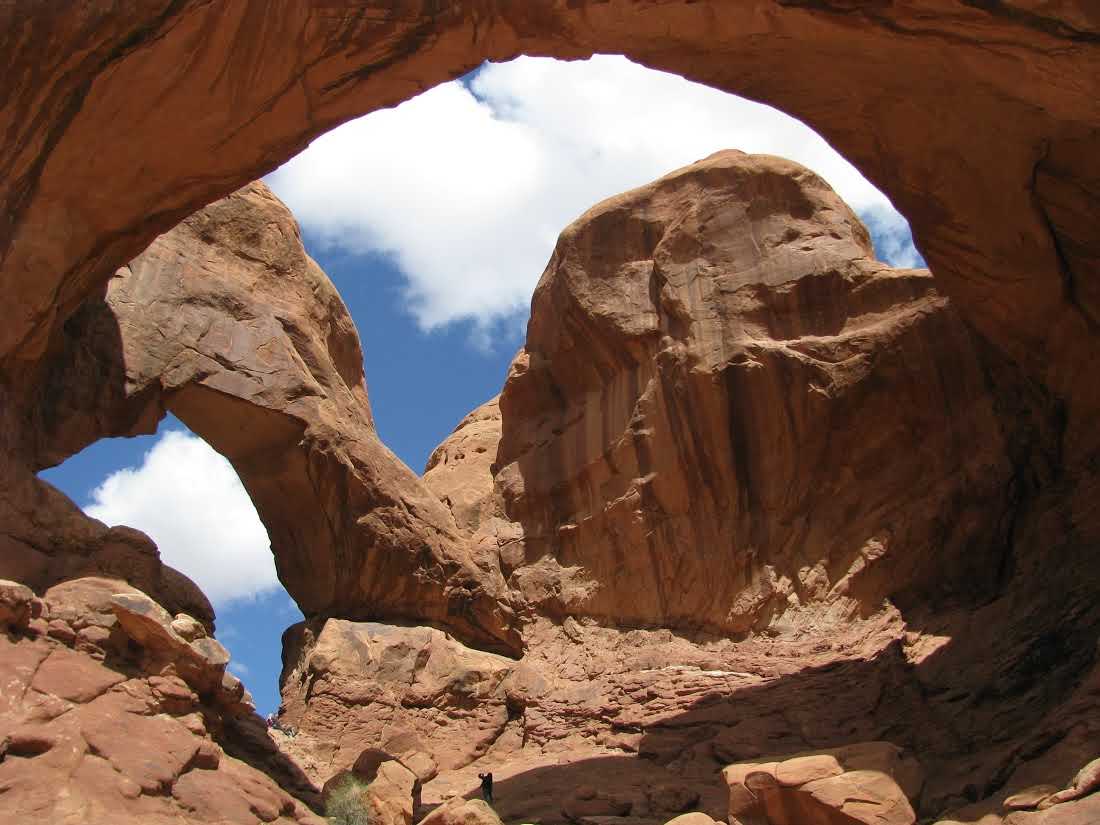 If you're looking to check out some of America's most beautiful national parks but don't have the time to spare, fear not! You can see both Arches and Canyonlands National Parks in just one day while in Moab, Utah. With a little bit of planning and a lot of driving, you'll be able to take in all the top sights these parks have to offer. So get your gear ready and put on your adventurer boots – it's time to explore two incredible national parks in the southwest!
This post contains affiliate links, which means we'll receive a commission if you purchase through our links at no extra cost to you. This allows us to continue publishing free travel and gear guides. Please read our full disclosure for more information. Thanks for your support!
Arches and Canyonlands National Parks Itinerary
Arches and Canyonlands are incredible bucket list national parks to visit in the southwest. We have visited many times over the years.
When I was in college in Grand Junction, Colorado, I was part of the Outdoor Program, where we spent years galavanting in the area, hiking, whitewater rafting, camping, and road-tripping all through Utah. I even had the opportunity to spend a summer working for the park service doing plant and soil surveys at Arches, Canyonlands, and Capitol Reef.
All this to say, you are in good hands, and I wrote the best guide on how to see Arches and Canyonlands in one day for you to have a great trip!
Whenever family and friends would visit us in Grand Junction, we would always take them to Moab for the day to see both national parks.
Keep in mind that starting in 2022, Arches National Park is implementing the timed entry pilot program. Just know you might not be able to see it all. So go with the flow and have fun!
We have written this itinerary so you can get the most out of your time, see as many of the highlights as possible, and avoid the crowds – all in a day.
What Not to Miss at Arches and Canyonlands
Below are the top things to see and do for each park when you only have one day to adventure.
Best Places to Visit in Arches National Park
Arches National Park Scenic Drive
Delicate Arch Hike
Devils Garden
Landscape Arch
Sand Dune Arch
Garden of Eden
Window and Turret Arches + Double Arch
Balanced Rock
Petrified Sand Dunes
Park Avenue Views
Arches National Park Visitor Center
Best Things to See in Canyonlands National Park
Canyonlands National Park Scenic Drive
Grand View Point Overlook
Canyonlands View Points
Canyonlands Visitor Center
You can easily visit Arches and Canyonlands National Parks in a day! Let's kick off how to see them both! You'll spend most of the day at Arches and then a few hours at Canyonlands.
Things to Do at Arches National Park
Start your day exploring Arches. Why, might you ask? Because there is more to do off of the main paved roads unless you plan on hiking in the backcountry.
If visiting from April 3 through October 3, be sure to get a timed entry ticket. Ticket entry will be from 6 am to 5 pm daily.
2022 Update: From April 3 to October 3, there is a timed-early pilot system before you can enter the park. Plan ahead to organize your time.
Try to avoid visiting during the weekends or a national holiday. And, honestly, just avoid going during summer breaks unless you want to wrangle the crowds and heat in the Moab area.
Arches National Park Scenic Drive
With how the itinerary is written, you will be doing the Arches National Park Scenic Drive naturally but adventuring within the deeper parts of the park first. Most people start seeing the closest natural attractions to the entrance. This way, you avoid the morning crowds!
Delicate Arch Hike
If you'd like to hike, we recommend driving straight to the Delicate Arch trailhead. Delicate Arch is the iconic arch you see a lot in magazines and on people's Instagram accounts. If you can get to the trailhead early during the busy season, like around sunrise, it should be easy to find a spot.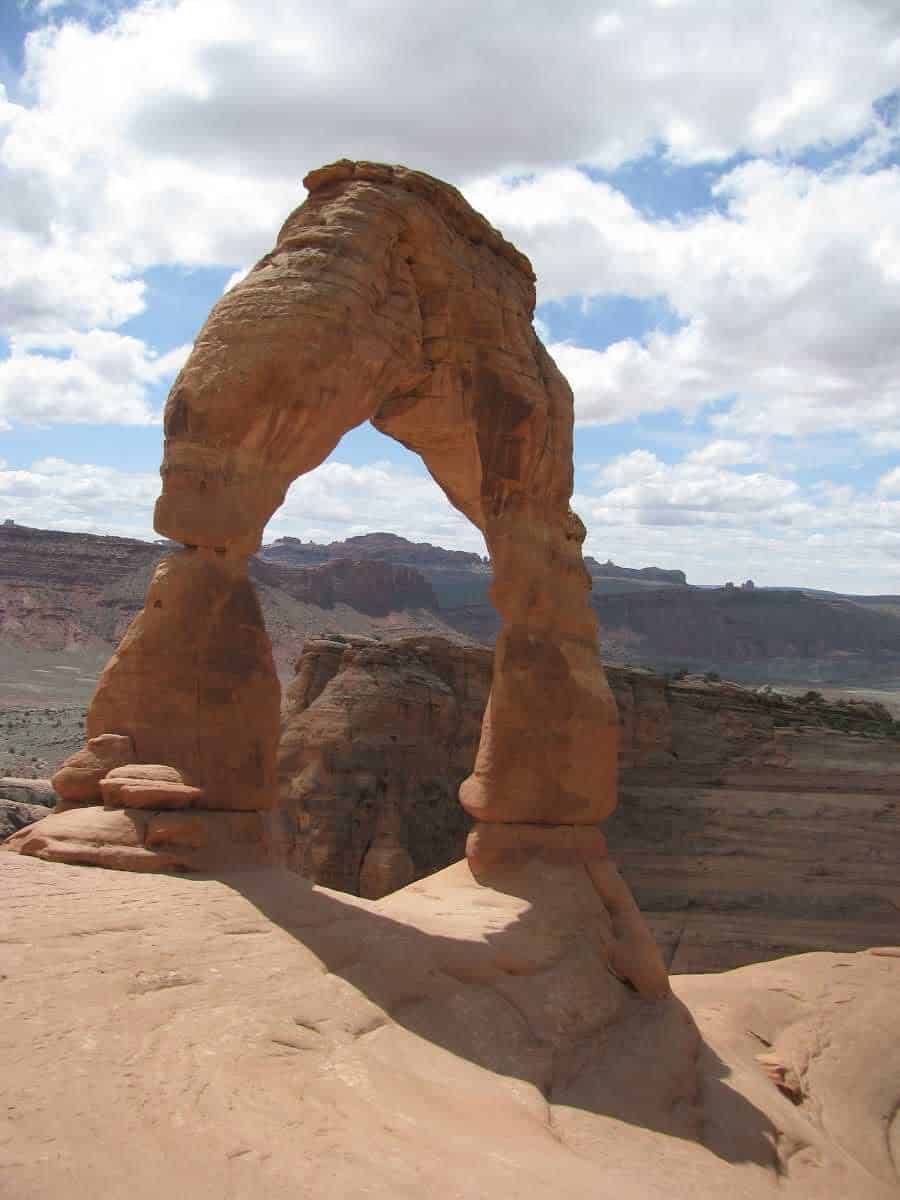 Trip tip: The park has gotten extremely busy during the high season, so if you can visit in the off-season, you might have a more pleasant visit and hike in general. Hopefully, the new timed entry system will help with the crowds.
How Long is the Hike to Delicate Arch?
Hiking to Delicate Arch will take about 2.5 to 3 hours and is 3 miles round trip.
Devils Garden
After your hike to Delicate Arch, hop back in your car to tour more of the park
Take the Arches National Park Scenic Drive toward Devils Garden. Once you arrive at the Devils Garden parking area, get out, and walk around.
If you'd like another smaller hike, we highly recommend doing the Landscape Arch hike.
Landscape Arch
Hike to Landscape Arch from the Devils Garden trailhead.
To hike to the arch and back is 1.9 miles and takes about 1 hour.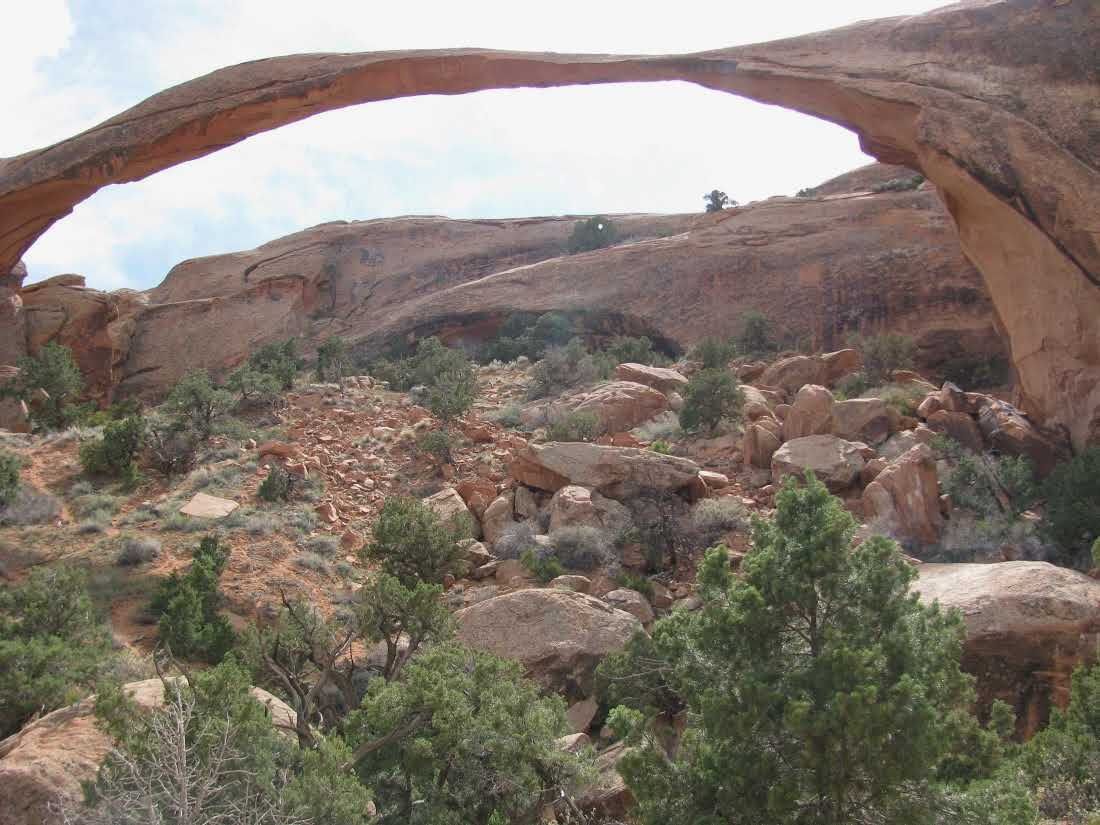 Sand Dune Arch
Next, get back in your car and drive to the Sand Dune Arch for a quick hike. It takes 20 minutes to walk there and back and is roughly a 0.3-mile hike.
Garden of Eden Arches
Then, hop back in your vehicle and head to the Garden of Eden. Bask in the red rock views and keep going down this same road to the Windows and Turrent Arches.
Windows and Turret Arches + Double Arch
Take a 1-mile hike to view the Windows. Hike to the North Window, South Window, and Turret Arch. The walk will take you about 45 minutes to 1 hour.
In the same area, don't miss the Double Arch hike.
Balanced Rock
As you can see, we are working our way back toward the visitor center. Pull off and snap some photos of the famous Balanced Rock at Arches National Park. Then, continue heading back towards the entrance.
Petrified Sand Dunes
On your way out of the park, you'll see the Petrified Sand Dunes. Feel free to drive right by, depending on your timeline or pull off and take photos.
Park Avenue
Again, depending on time, stop and view the towering walls of the Park Avenue area in Arches National Park. It won't take too long to stop, absorb the views, and grab some beautiful photos before heading to the visitor center.
Arches National Park Visitor Center
Whenever we visit national parks for the first time, we actually tend to hit the visitor centers last. It is because we have already researched what we want to do (unless we need backcountry permits). So, you can stop in the visitor center for a pit stop or skip it and head to Canyonlands National Park.
Things to Do at Canyonlands National Park
Now, you are off to spend the rest of the afternoon in the Canyonlands Island in the Sky District. Don't worry if you are tired; you can just do the scenic drive to the epic lookout points.
Canyonlands National Park is quite huge and has three districts: Island in the Sky, the Maze, and the Needles (links to maps).
This itinerary only focuses on a quick tour of Island in the Sky.
If you want more information on hiking in the Canyonlands backcountry, you might enjoy our other article on hiking to Druid Arch.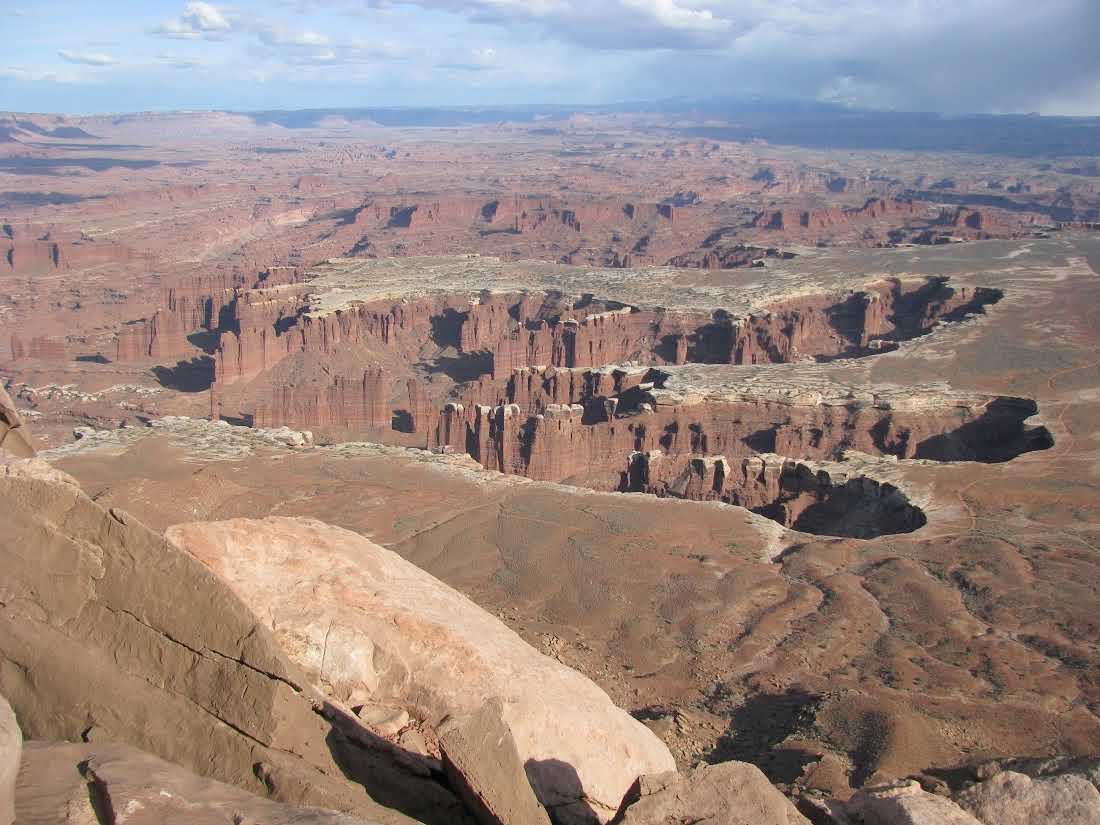 Canyonlands National Park Scenic Drive
Drive the Canyonlands Scenic Drive through the Island in the Sky District. It will take you along the high desert mesas. Drive to the end of the scenic road and be greeted by a spectacular view at the Grand View Point!
The scenic drive is 34 miles round trip and will take at least two hours. But that is all you need! That is how you can visit both Arches and Canyonlands in one day.
Grand View Point Overlook
Enjoy the Grand View Point Canyonlands Overlook and epic desert vistas. Look down into the canyon and see if you can spot the river or the famous White Rim 4×4 road and mountain biking trail.
Canyonlands Viewpoints
If you still have energy in the day, stop at all the other viewpoints along the Canyonlands Scenic Drive, such as the Buck Canyon and White Rim Overlooks.
Canyonlands Visitor Center
Are you getting your national park passport stamps? If so, be sure to stop at the Canyonlands Visitor Center on the way out.
And there you have it! You can absolutely see Arches and Canyonlands in one day.
Tips for Visiting Arches and Canyonlands
Below are tips for visiting Arches and Canyonlands on the same day:
Have accommodations close to Moab.
Buy the America the Beautiful Pass – it is $80 for the year.
Try to secure an early morning timed entry ticket into Arches.
Spend the entire day touring both parks – arrive at Arches National Park early and plan to stay later in the afternoon at Canyonlands National Park.
Bring your food and lots of water – there are limited options inside the parks.
Protect your road trip with travel insurance! Whenever we take long distance road trips, we always buy insurance. We like Travel Insurance Master because we can select the exact coverage we need.
Tips for Adventuring in the Desert
The desert is near and dear to our hearts. Please check out our article on how to recreate responsibly in the desert. We talk about the importance of Leave No Trace and protecting biological soil crust.
Other Questions You Might Have Planning Your Trip
How Far Apart are Arches and Canyonlands?
Arches National Park to Canyonlands takes about 30 minutes to drive between as long as there isn't significant traffic or construction.
What is the Best Time to Visit Arches National Park?
We have spent a lot of time in the Moab area since we lived close by for over ten years. The off-season is mid to late October to early March. Visiting Arches during this time of the year may help you avoid the crowds. Also, if you visit Arches earlier in the day, that is better.
How Long to Visit Arches National Park?
As you can see from this itinerary, you can easily spend more than half the day visiting. It is easy to spend an entire day or two if you plan to do all of the hikes. But you can also spend half a day to three-quarters of a day and have a wonderful visit.
Best Way to Visit Arches National Park
Our personal opinion is that the best way to visit is during the off-season. We prefer smaller crowds and cooler weather. Mid-May through the end of September can be pretty hot in the Moab area.
How Long to Visit Canyonlands National Park?
You could quickly spend two or three hours driving the Island in the Sky Scenic Drive or spend days in the Canyonlands backcountry.
Final Thoughts
If you're an outdoor lover, Moab is a must-see destination for your list. With Arches and Canyonlands National Parks right near town, it's easy to get a great taste of the area's natural beauty in just one day. And if you're looking for more adventure, there are plenty of other activities to enjoy in the area. So lace up those hiking boots and explore everything the Moab area offers. We hope you enjoy this itinerary for how to visit Arches and Canyonlands.
Have a wonderful trip!
Ashlee & Pablo
---
Shop Hiking and Road Trip Gear
Below are recommendations for hiking and road trip gear we love.
Oboz Mid Leather Hiking Boots (women's)
---
You might also enjoy…
Are you road-tripping through Utah? You might also enjoy our other articles to plan your next trip:
Save on Pinterest for later!
We would love to hear from you!
When are you planning on visiting Arches and Canyonlands National Parks? Drop us a comment if you have questions! We would love to help.