5 Best Things to Do at the South Rim When You Only Have One Day
Last Updated: Oct 9, 2023
|
|
Visiting the Grand Canyon is a magical experience. Grand is seriously an understatement for its magnificence. You don't have to spend a lot of time to appreciate it, though. This article details exactly how to see the South Rim in one day! We share how to get there, what to do, and where to stay. It is easy to stop and spend one day while you're adventuring through the Southwest. Let us help you plan your next road trip stop.
This post contains affiliate links, which means we'll receive a commission if you purchase through our links at no extra cost to you. This allows us to continue publishing free travel and gear guides. Please read our full disclosure for more information. Thanks for your support!
Guide to Spending One Day at the Grand Canyon's South Rim
So, you've added the Grand Canyon to your vacation bucket list? Right on!
It is easy to see the Grand Canyon in one day! When we visited the South Rim, which is located in Arizona, we paired it with a road trip from Sedona.
While visiting the South Rim, we spent the afternoon hiking a smaller section of the Bright Angel Trail along with driving the scenic route and stopping for photos along the lookouts. You can do the same thing!
Getting to the South Rim
Below are estimated times and distances to plan a road trip to the South Rim.
Distance from Flagstaff – 81 miles
Distance from Sedona – 119 miles
Distance from Las Vegas – 278 miles
Distance from Phoenix – 231 miles
Distance from Williams, Arizona (nearest town) – 63 miles
Pssst… Are you coming from Las Vegas? Check out things to do at the West Rim.
National Parks Near Grand Canyon
A few other National Parks are close to the South Rim and are easy to add to a road trip:
Grand Canyon Entrance Fee
There is an entrance fee to enter the park.
The costs are: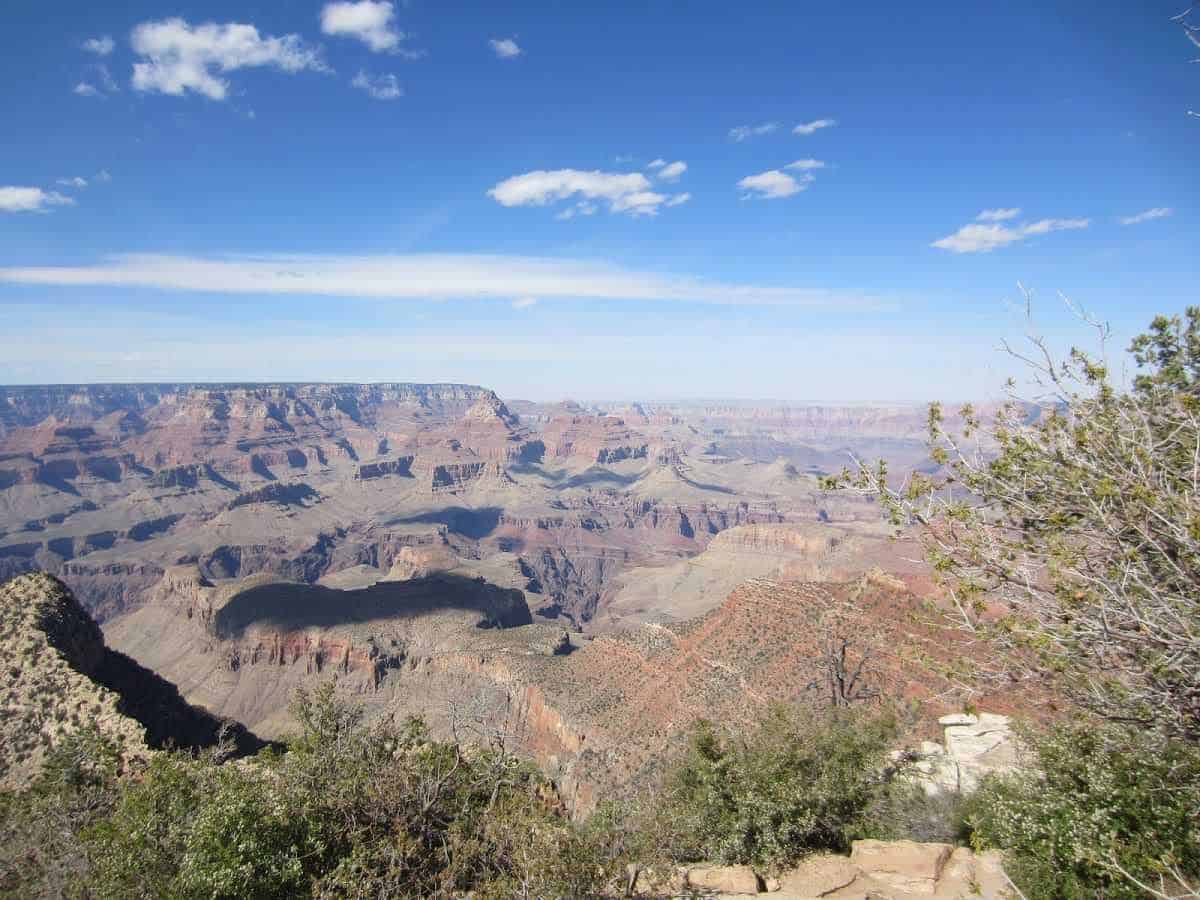 5 Best Things to Do at the South Rim
Are you ready to plan your visit? Below are the main activities to see and do in one day.
1. Grand Canyon Village
Once you get into the park, you'll likely head over to the Visitor Center and Grand Canyon Village. There are a few buildings and museums to check out, including:
Yavapai Museum of Geology, which has geology exhibits and a bookstore
Verkamp's Visitor Center
Kolb Studio, which initially was a family home built in 1905
You can skip the Grand Canyon Village and Visitor Center if you are just there to hike and already know what you'd like to see and do.
2. Bright Angel Trail South Rim
Hiking in the Grand Canyon is incredible! If you have time, we highly recommend hiking a section of the Bright Angel Trail.
How you get to the trailhead depends on the crowds and parking situation. If you are visiting during the off-season, you can find parking near the trailhead. If you visit during the busy season, park where you can, find a shuttle stop, and take the shuttle to the Bright Angel Trailhead.
The parking lots can fill up fast during the busy season. Get more information on the free shuttle here.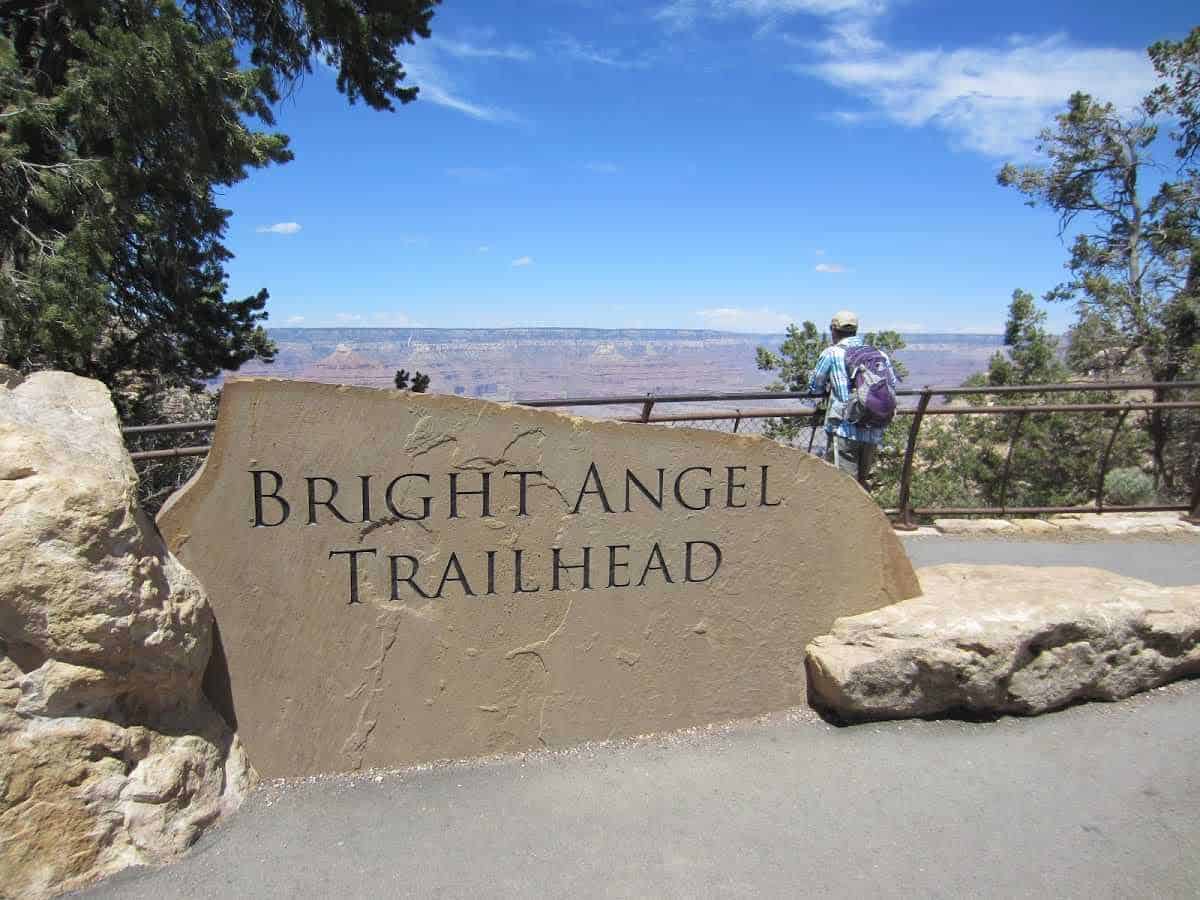 Once you get to the trailhead, you can't miss seeing where the trail starts. Bright Angel Trail is easy to spot, with a large sandstone rock indicating the location of the trail. This is one of the best hikes to do if you only have one day to explore.
3. How to Hike Bright Angel Trail at the South Rim
Without a permit, you can easily hike Bright Angel Trail to the 3-mile rest house.

Hiking from the top of the canyon down to the 3-mile rest house and back is a 6-mile trip. There are a few places to get water along the trail. Bring a reusable water bottle.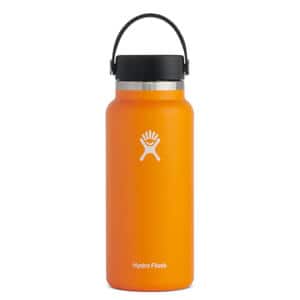 The hike from the canyon rim to the 3-mile rest house makes for the perfect stop on your Southwest road trip since you can do this hike in a few hours.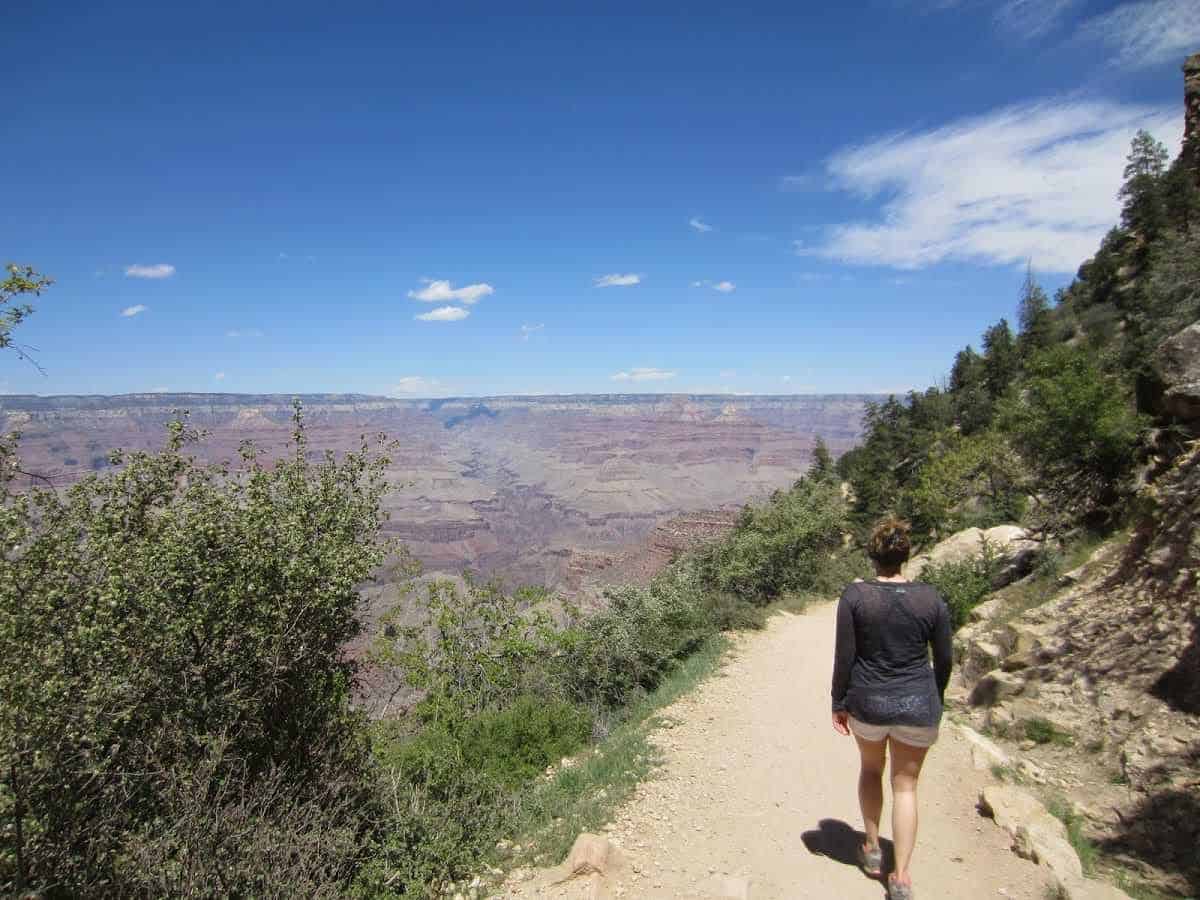 You can hike further along the trail to Phantom Ranch, but you need to plan. This trail goes all the way to the Colorado River, and a permit is required to go further or connect to the North Rim.
4. Walk the Trail of Time
If you aren't too tired from hiking a section of Bright Angel Trail, head back along the rim and walk the Trail of Time.
The Trail of Time route is 2.83 miles, takes a little over an hour, is paved, and takes visitors through the geologic history of the Grand Canyon. It is really neat!
Did you know the Grand Canyon is over 2 billion years old?
5. Sightsee Along the Desert View Drive
After spending time hiking and walking, head back to the car, drive towards the east entrance to exit, and go on with your road trip.
While driving along Desert View Drive to the east entrance, stop to view the magnificent overlooks. This is another excellent opportunity for epic vistas, photos, and having a picnic. You might enjoy stopping at the Tusayan Museum and Ruin as well as the Desert View Watchtower closer to the east entrance.
When to Visit the Grand Canyon
The best time of year to visit the Grand Canyon is spring and fall. Summers can be insanely hot, and it does get snow in the winter occasionally.
We visited in the late spring/early summer, and temperatures were cooler during the mornings, warmer during the day, and cooler again at night. Outside of the summer season and holiday breaks are also excellent times of year to visit the Grand Canyon because there are fewer crowds.
The elevation at the South Rim is around 7,000 feet. Overall, making it a place of extremes, so be sure to pack enough clothing, food, and water to enjoy your adventure.
Road Trip Travel Tip: Protect your road trip with traveler insurance. Whenever we road trip more than 100 miles from home, we always purchase cancel for any reason travel insurance. We like to use Travel Insurance Master. You can select the exact coverage you need.
Where to Stay
Camping at the Grand Canyon South Rim
There are two campgrounds plus the Trailer Village. Be sure to make reservations ahead of time at recreation.gov to secure a spot!
Mather Campground – no RV hookups
Trailer Village – has RV hookups
Desert View Campground (east entrance) – no RV hookups
Lodging at the Grand Canyon South Rim
As with camping, you'll want to make reservations way in advance (like months in advance). There are a few lodges to stay in at the South Rim.
El Tovar Hotel
Kachina Lodge
Bright Angel Lodge
Thunderbird Lodge
Maswik Lodge
If you have trouble finding reservations, check out the hotels in Williams, AZ. That is one of the nearest towns by the South Rim entrance.
Things to Know Before Visiting
We wanted to share a few things to know before planning a one-day visit to the South Rim of the Grand Canyon.
Dogs are not allowed on any of the trails below the rim
Dogs are allowed above the rim on a leash
Temperatures can get scorching hot, and it is a dry heat
There is not much shade
It is literally in the middle of nowhere, so be sure to bring plenty of water and food.
Plan before you go to see what is open
---
Shop Hiking Gear
Below are recommendations for our favorite hiking gear while you explore the Grand Canyon.
Day Pack – we love this Osprey pack!
Water bottles – Don't forget to pack one gallon per person per day in the desert depending on how far you plan to hike.
Comfortable hiking shoes or boots
Women's Oboz brand
Men's Merrell hiking shoes
Grand Canyon Map
Visit Grand Canyon National Park (link to the NPS website) to download a free South Rim pocket map and services guide to help plan your trip.
Final Thoughts
If you want to visit the Grand Canyon but don't have time for a multi-day trip, the South Rim is definitely still worth your time. With plenty of activities and viewpoints to explore, you can easily spend a day here and take in some of the most stunning views nature has to offer. Just be sure to plan ahead so you can make the most of your visit.
Thanks for reading.
Ashlee & Pablo
---
Where Are You Heading Next?
You might also enjoy our other articles.
Save this article on Pinterest!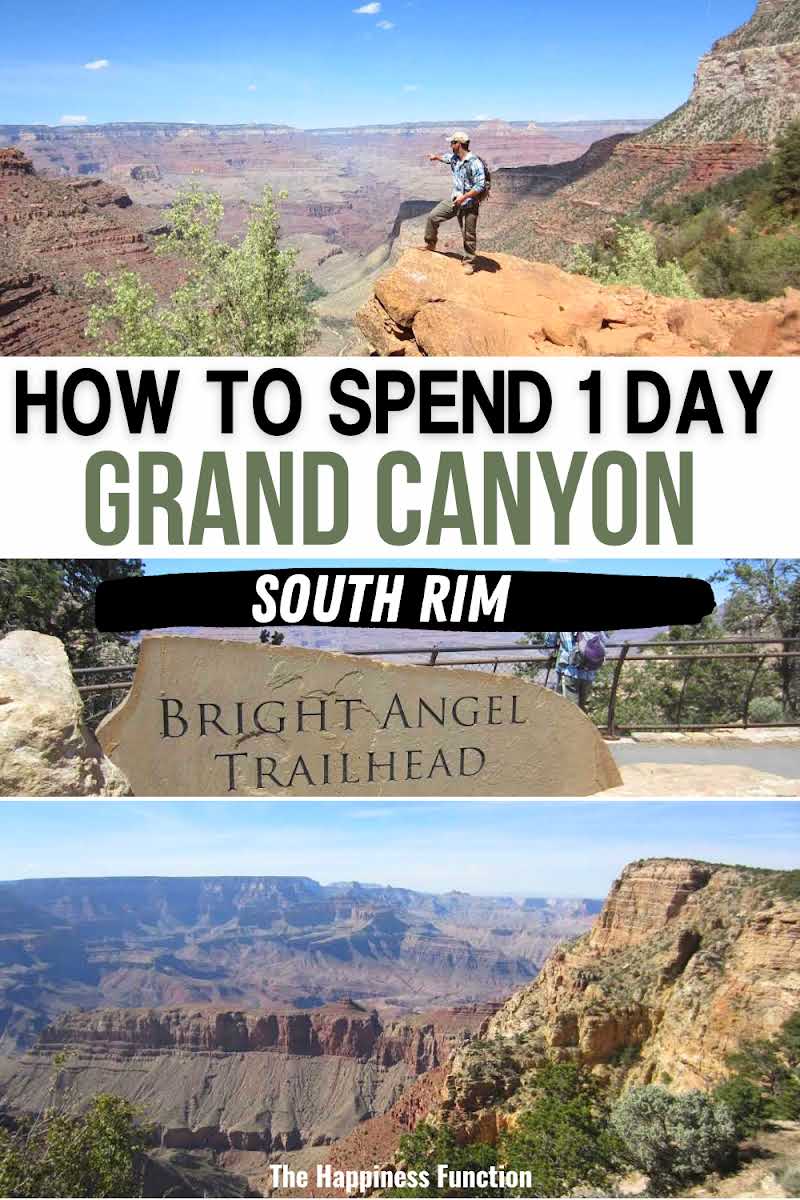 We would love to hear from you!
When are you planning to visit the South Rim? Drop us a comment if you have any questions! We want to hear about your South Rim adventure!