Druid Arch Hike: How to Get to This Iconic Arch in Canyonlands
Last Updated: Oct 9, 2023
|
|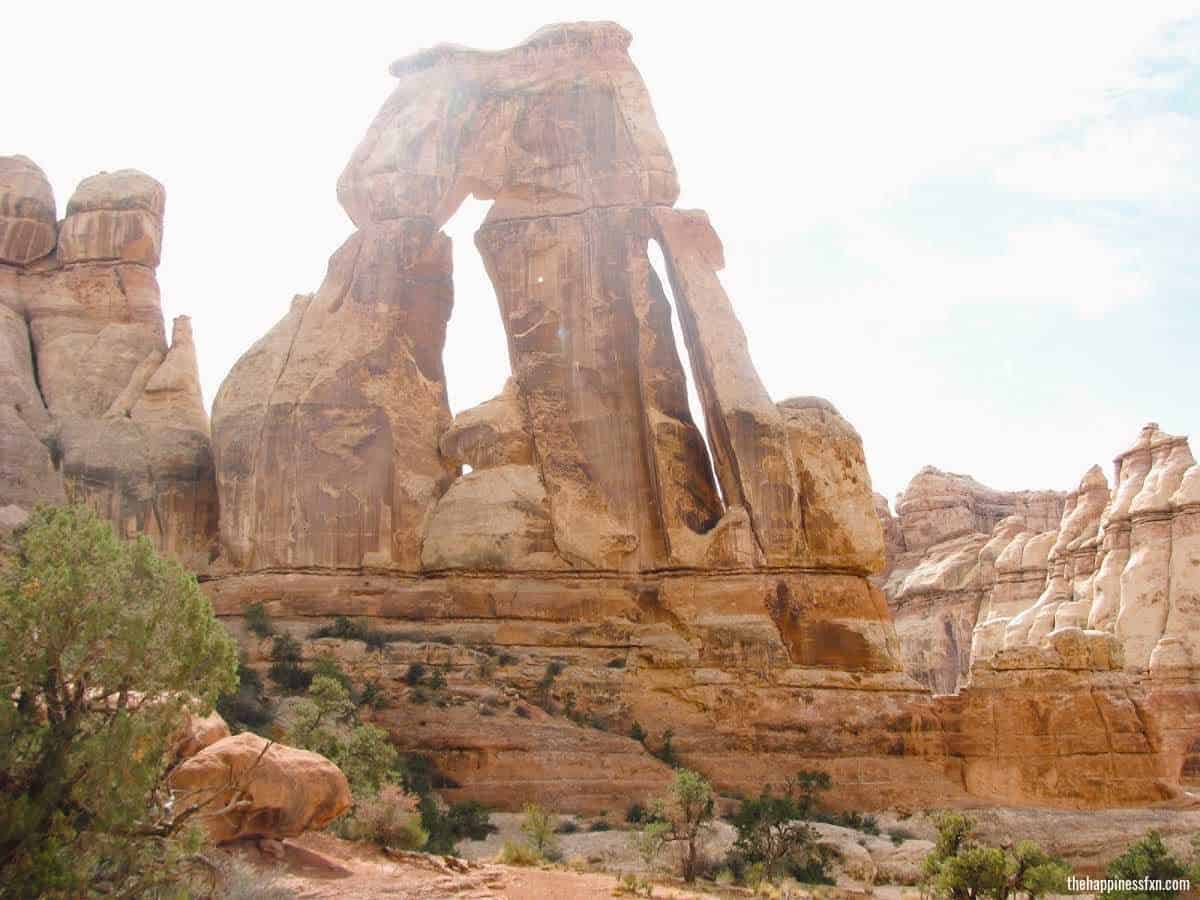 The Druid Arch hike in Canyonlands National Park is a high desert adventure off-the-beaten-path in the Utah backcountry. Located in the Needles District of Canyonlands National Park, the trail to Druid Arch will take hikers through sandstone, slick rock, sandy wash bottoms, and canyon country with some rock scrambling and a small ladder climb prior to reaching the 150 foot tall sandstone arch. Located 2 ½ hours southeast of Moab, the trek to Druid Arch is an incredible backcountry adventure.
If hiking to this iconic arch in Utah is on your adventure list, you're in the right place. We are sharing all the details for you on on how to hike to Druid Arch along with backcountry safety tips to consider.
This post contains affiliate links, which means we'll receive a commission if you purchase through our links at no extra cost to you. This allows us to continue publishing free travel and gear guides. Please read our full disclosure for more information. Thanks for your support!
Hiking to Druid Arch in Canyonlands From Chesler Park
Where is Druid Arch Located?
The Druid Arch trail is located in the Needles District of Canyonlands National Park. The trailhead is located near Monticello, Utah, in the Chesler Park area.
How to Get to the Druid Arch Trailhead
From Moab, Chesler Park is about 2 ½ hours south southeast to another entrance of Canyonlands National Park.
From Moab, head south on US-191 for about 40 miles. Then, turn right onto UT-211 W. There will be a sign for Canyonlands National Park. Follow UT-211 W for about 37 miles. Turn left onto the road with a sign for Squaw Flat Campground. From here, follow the signs to Elephant Hill.
Cell phone reception is limited in this area. Be sure to download navigational maps for offline use before leaving Moab to get to the trailhead and Druid Arch.
Planning tip: The famous Newspaper Rock Wall is located off UT-211 W. Be sure to make time to check it out on your way to or from hiking to Druid Arch.
Druid Arch Trail: Day Hike Details from Chesler Park
Trail Name: Druid Arch Trail from the Elephant Hill Trailhead in Chesler Park
Difficulty: Moderate difficulty, some rock scrambling, inclines, small ladder + long distance day hike
Distance: roughly 11 miles round trip (out and back)
Time: 5-7 hours
Parking: Parking is by the Elephant Hill off-road trail
The Druid Arch trail is touted as one of the best areas to see the Needles rock formations. The hike can be done as a day hike or backpacking adventure. All overnight trips require a permit.
Spring and fall are popular times to hike and permits can be hard to come by. You'll definitely want to plan in advance if a backpacking trip is part of your plan to hike here.
In the beginning, the trail to Druid Arch follows the Chesler Park trail. Then it branches to follow Elephant Canyon. The trail is well marked with rock cairns. Keep your eyes peeled to make sure you're on the right path. You'll be hiking through sandy bottoms and washes. The last ¼-mile, there is rock scrambling as well as a ladder to reach the famous arch. Once you get to the arch, enjoy! It is seriously jaw-dropping.
Druid Arch Map + Hiking Safety
Cell phone reception is hit and miss in this area.
It is definitely worth having a paper map, especially if you are not local or familiar with the area.
We always hike with National Geographic Topo Maps. The Needles District National Geographic Map (link to buy on Amazon) is excellent to have if you're going to be exploring the area.
This area is pretty rural. Whenever we hike out here, we bring our own everything – food, water, shelter and even extra gasoline for the truck. We bring extra gas so we can go from one place to another without worrying when we'll find the next gas station.
Always tell someone where you are going and when you plan to be back (just in case).
Be flash flood aware! Keep an eye on the weather. You will be hiking in washes along this trail. Southeast Utah is prone to flash floods. Always have an out for higher ground. Maintain an out by scanning the surrounding area and noting high water marks along the trail.
Safety tip: Be mindful and aware of your surroundings when hiking through sandy washes in the desert. If you see plant debris piles, those are flash flood water level indicators. You want to be able to be higher than those debris piles in a flash flood emergency.
Best Time of Day to Hike to Druid Arch
We recommend starting as early as possible. This hike is roughly 11 miles round trip (out and back); and it will take a good 5-7 hours to trek. In the summer, the earlier you start, the better to beat the desert heat.
There is nothing better than starting an early morning hike in the desert. Can you relate?!
Best Time of Year to Hike to Druid Arch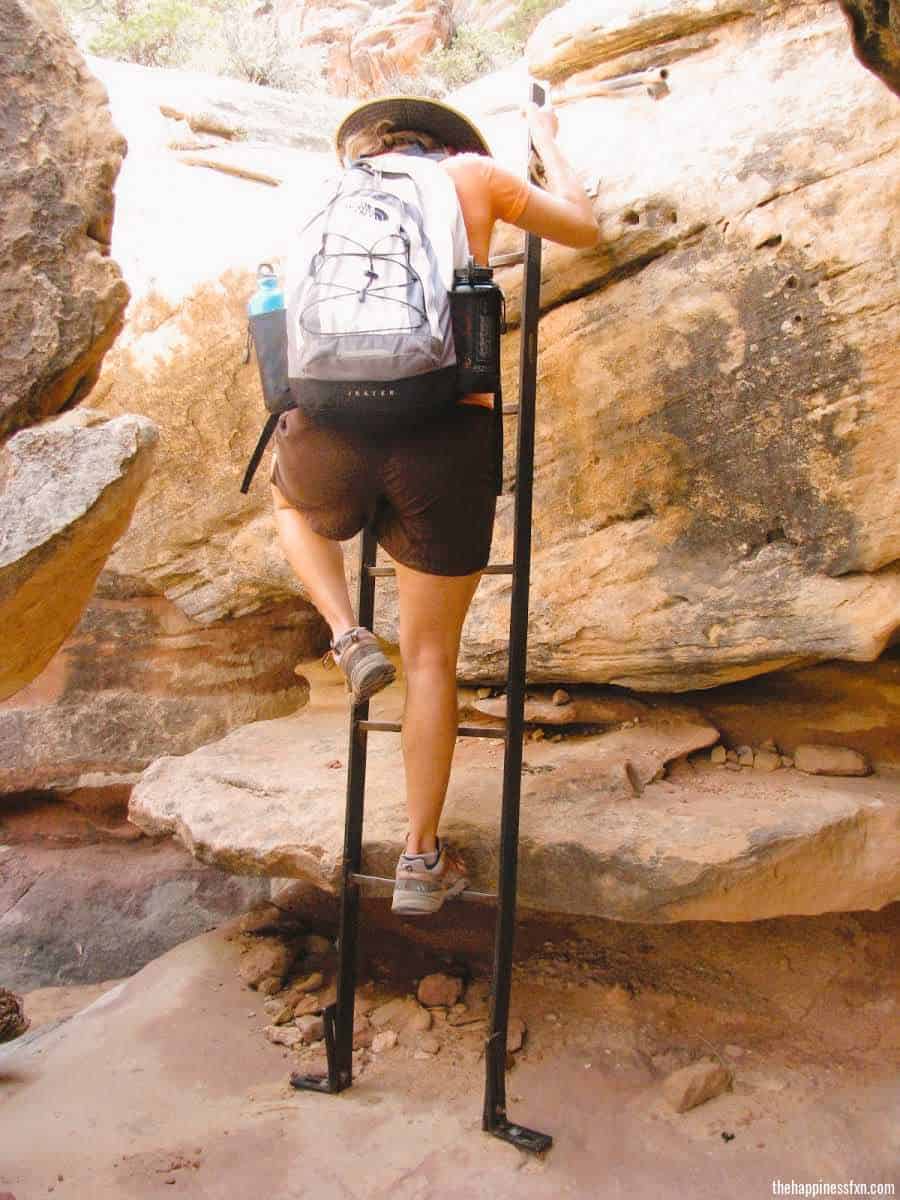 You can hike to Druid Arch year-round.
In the spring, you'll want to watch out for muddy conditions after snowmelt and rainstorms. In the late spring, you'll be treated to the cactus blooms.
During the summer, you'll want to begin hiking as early as possible to beat the heat.
Also be gnat aware. Gnats can be full force in Utah during the late spring through the summer.
The fall is a great time to hike. We hiked to Druid Arch during September, and it was absolutely lovely.
Our favorite time of year to wander in the desert is in the spring and fall. The mornings are cooler, making for fantastic hiking conditions.
In the winter, you'll enjoy the hike if there isn't much snow. If it is wet and icy, you might not be too excited about rock scrambling and the ladder at the end.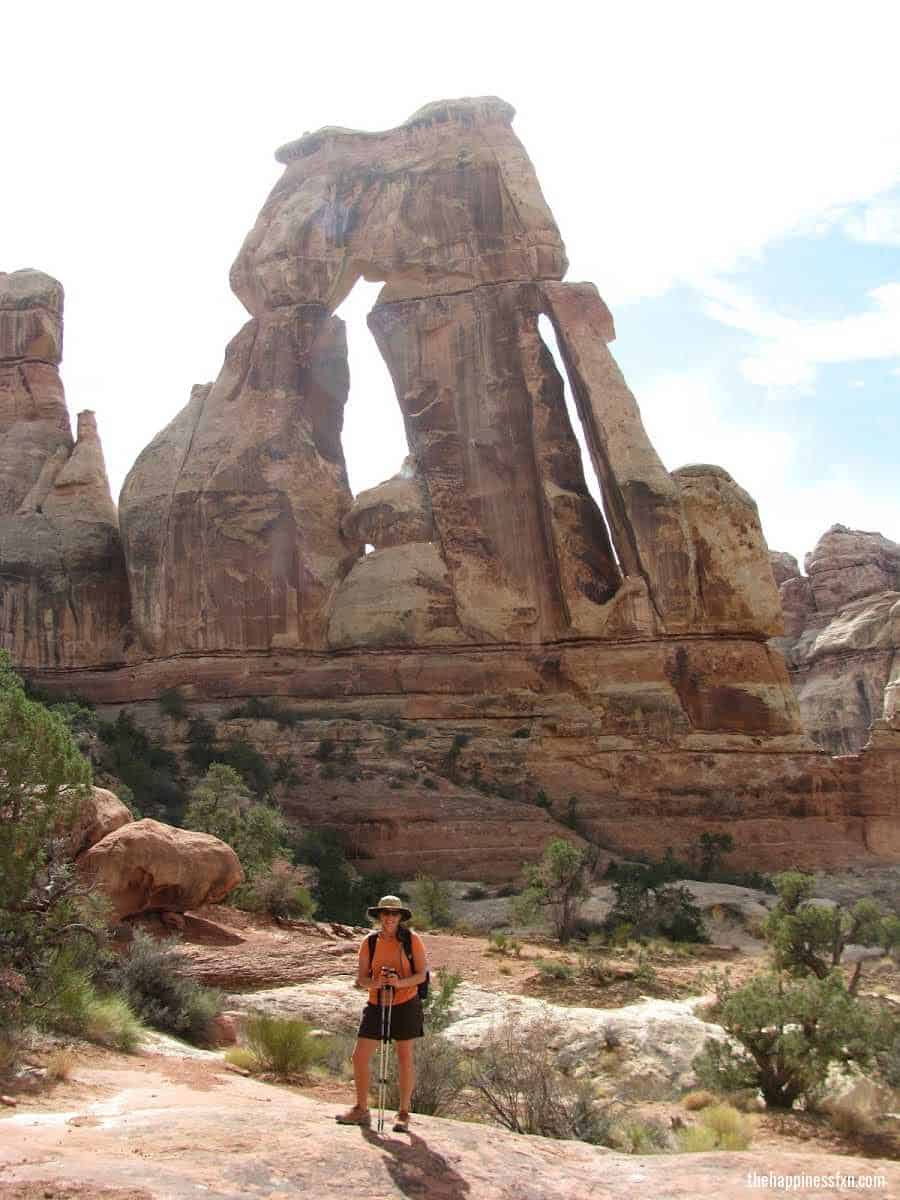 Checklist Before Hiking in the Utah Backcountry
Hikers should be prepared to enjoy the remote desert wilderness prior to beginning this adventure.
Hiking Checklist:
Lots of water – at least a gallon per person per day in the desert
Food
Headlamp – just in case, we always pack for long hikes
Clothing layers – protect your skin from the desert sun
Hat
Sunscreen
Hiking poles – I prefer for long hikes + provides extra stability
First aid kit
Good hiking shoes that won't cause blisters – Oboz is what I'm wearing these days
Backcountry Hiking Information
Check with Canyonlands National Park for trail conditions prior to heading out.
Spending time in the desert is near and dear to us. I used to live and work out in this area and love sharing all of these special places with our readers.
Please check out our page with more information and resources on practicing environmental stewardship in the backcountry and protecting precious biological soil crust.
Planning a Trip to the Moab Area?
Are you exploring the Moab area? You might enjoy our other articles highlighting Moab:
Final Thoughts on Hiking to Druid Arch
Hiking in the southeast Utah desert is truly magical and one of our most favorite things to do. The hike to Druid Arch is worth the adventure. Up close, the arch is just so massive.
Whether you're new to hiking in the desert or a seasoned pro, we hope you have a wonderful time. Please practice care when hiking in the desert backcountry. Take care of your health and be prepared.
Stay on the trail to protect biological soil crust and always Leave No Trace.
Happy Hiking,
Ashlee + Pablo
"Wilderness is not a luxury but a necessity of the human spirit, and as vital to our lives as water and good bread."

Edward Abbey, Desert Solitaire
---
You might also enjoy…
Check out our other articles on exploring Utah National Parks and the Southwest!
Save on Pinterest for later!
We'd love to hear from you!
Are you planning to hike to Druid Arch? If you already hiked, let us know what you thought!