Plan the Best Moab Summer Road Trip: 3-5 Day Itinerary
Posted on: January 3, 2023
|
|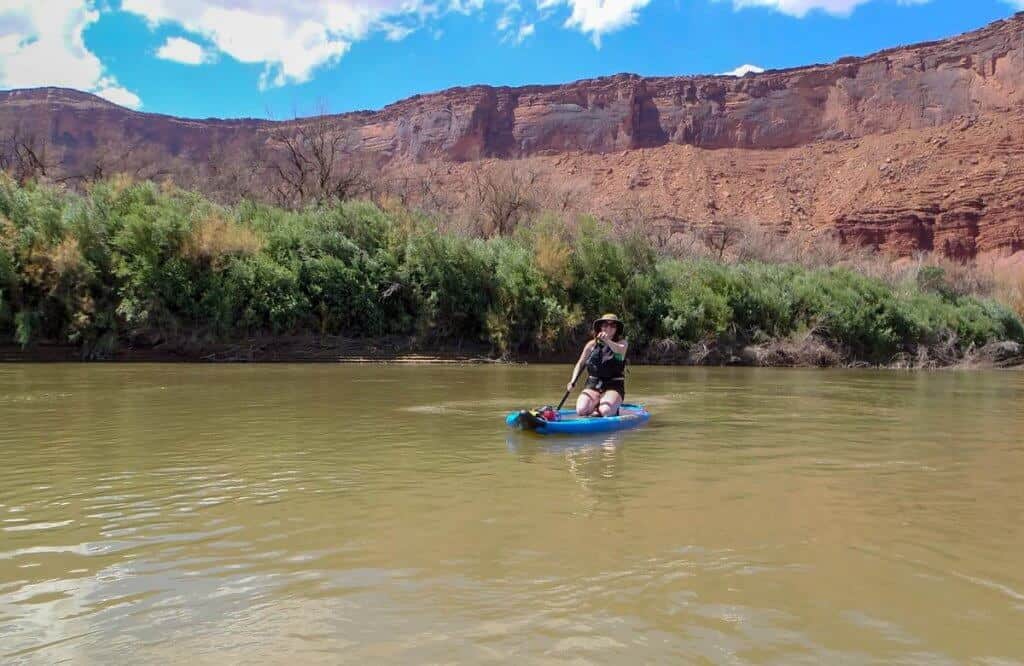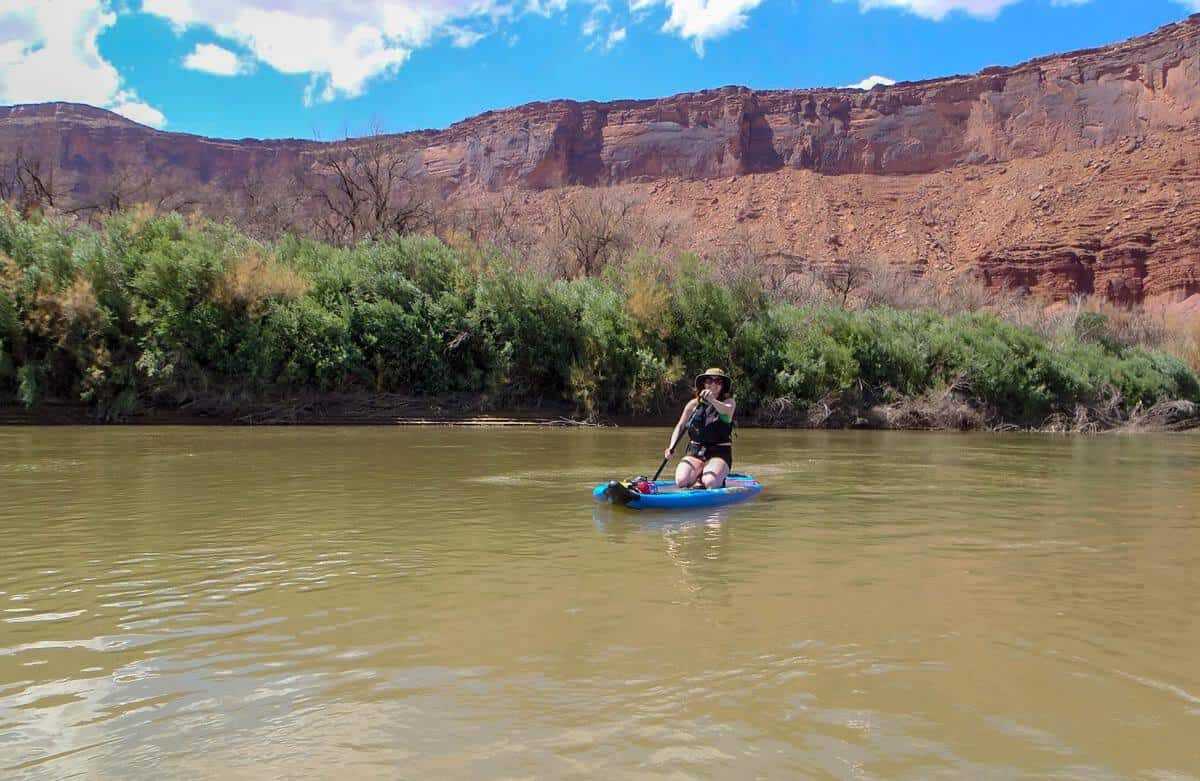 Moab is one of the best summer road trip destinations! The combination of stunning red rock landscapes and great outdoor recreation opportunities makes it a perfect place to get away for a few days. There are plenty of things to do in Moab, whether you're interested in hiking, mountain biking, rafting, or just taking in the scenery. We've put together a list of some of our favorite activities to help you plan your own Moab road trip. So, pack your outdoor gear and get ready for an epic adventure! Let us help you plan incredible day trip adventures full of desert fun in the sun.
Heads up! This post contains affiliate links, which means we'll receive a commission if you purchase through our links at no extra cost to you. Please read full disclosure for more information.
Moab 3-5 Day Itinerary
This guide is formatted with outdoor things to do in Moab throughout five-days. If you only have a few days in the area, that is totally cool. You can pick and choose.
We lived close to Moab for over ten years and we are sharing all the best things to see and do, including our favorite spots to camp!
Plan the Best Moab Summer Road Trip
Summer is a time for adventure and exploration! This stunning town in the heart of red rock country is home to some of the best hiking, mountain biking, and rafting. It can be tough to know where to start with so much to see and do. We have got your back! Continue reading to plan the perfect summer road trip!
Day 1 – Visit the National Parks
The perfect way to spend your first day visiting Moab is by visiting the national parks and seeing the town.
Explore Arches National Park
Visit Canyonlands National Park
Explore Downtown Moab
Consider buying the Annual National Park Pass. If you plan to visit more than three or four National Parks in one year, it pays for itself.
Explore Arches National Park
Spend the morning exploring Arches National Park. Arriving earlier will help with the crowds as well as cooler temperatures for hiking and sightseeing. We recommend driving the main paved road, pulling off at the designated pull-offs to see the main arches, and saving time to hike to Delicate Arch.
Get all the details for how to to spend a day in Arches National Park here!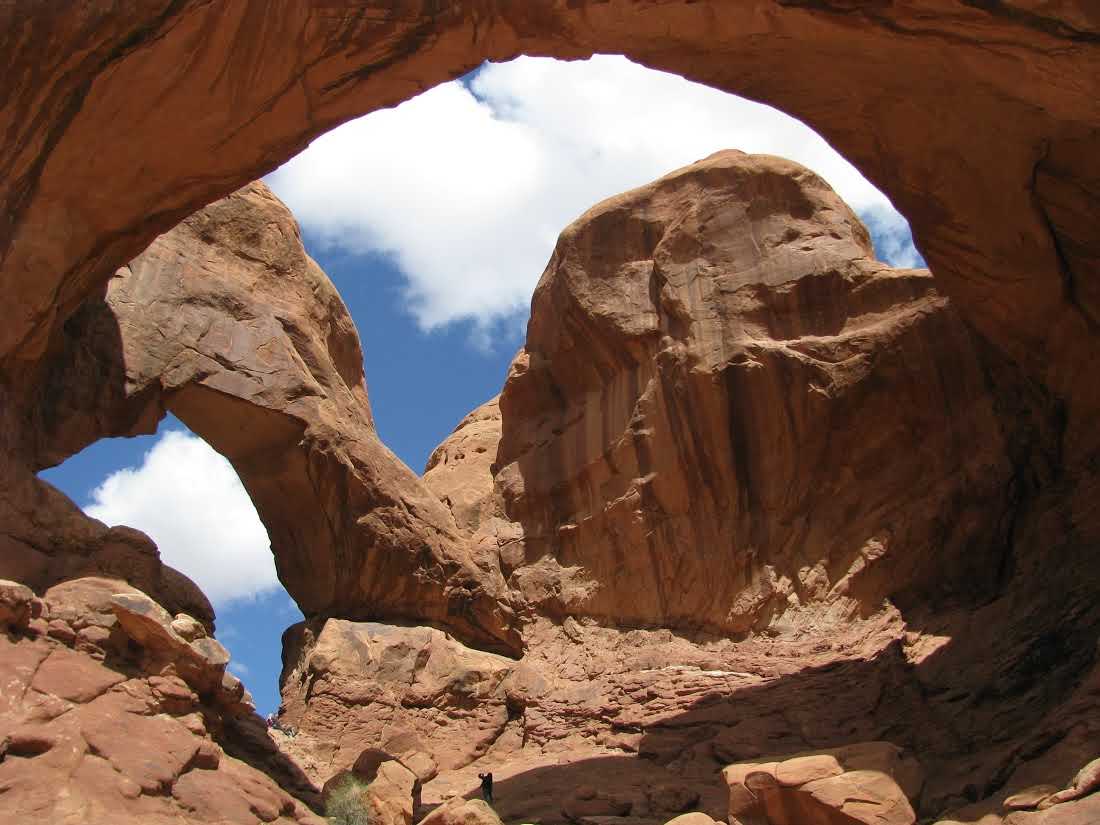 Visit Canyonlands National Park
Drive the Island in the Sky District of Canyonlands National Park! With its dramatic canyons, this is one of the most stunning areas in Utah. There are lots of viewpoints to walk out to and take photos. It takes a few hours to drive the scenic drive.
You'll love our article on How to Visit Arches and Canyonlands in One Day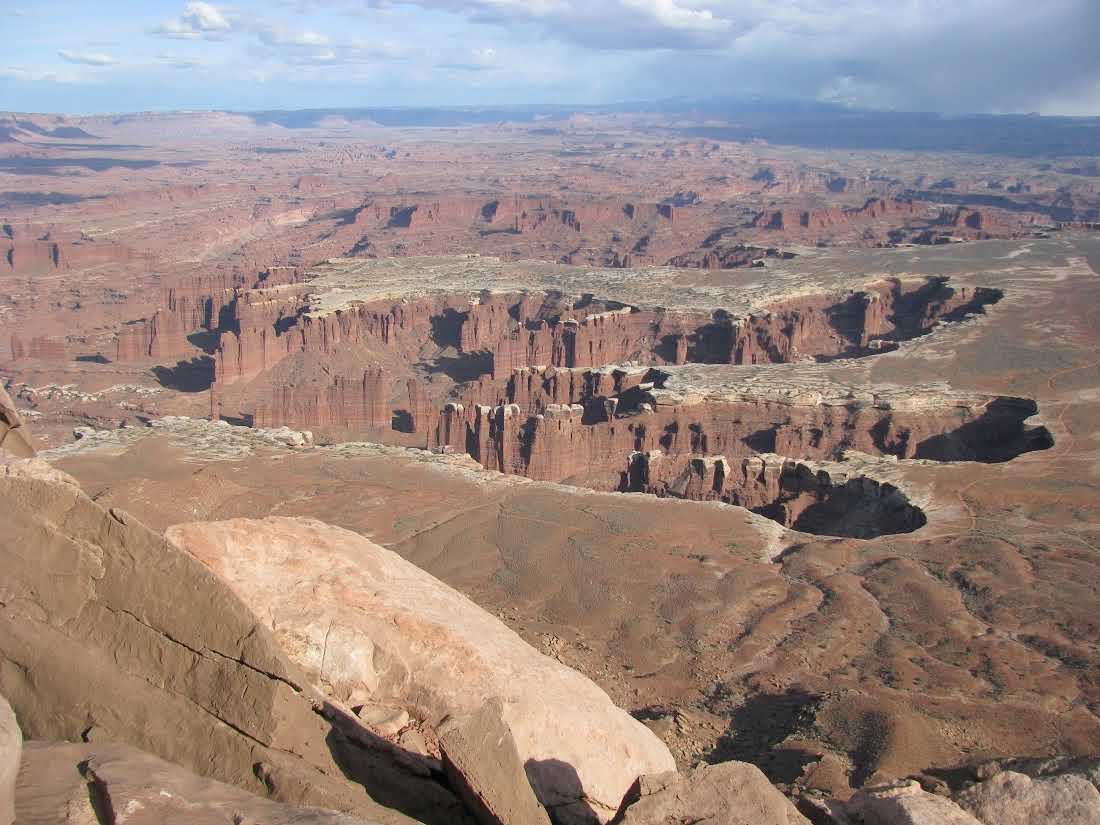 Explore Downtown Moab
Downtown Moab is cute, quaint and full of old west desert charm mixed with some hippy-dippy. Walk the streets, grab a bite to eat, and explore local stores on the main road.
Day 2 – Hike Druid Arch
Go on an epic backcountry hiking adventure! Play an all-day hike to Druid Arch in the Canyonlands Needles District. The trailhead is about 2-2.5 hours from Moab and the hike will take 5-7 hours to do.
This is an advanced backcountry hike that requires long distance hiking, some rock scrambling, and a ladder climb. It also requires packing in all your own food and water.
Find out how to hike to Druid Arch here!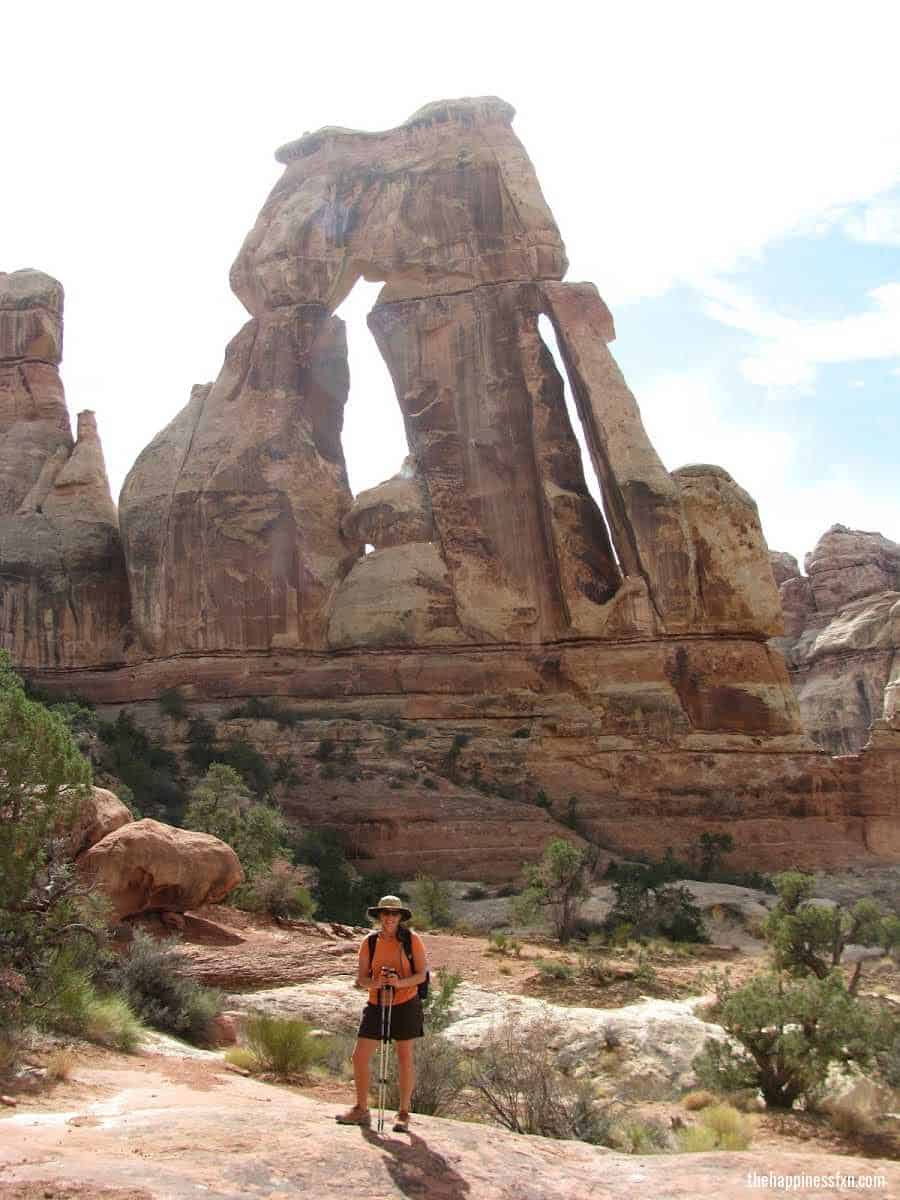 Day 3 – See Newspaper Rock
If you don't feel like hiking in the backcountry all day, no worries. Check out the famous Newspaper Rock Petroglyphs along the Indian Creek Scenic Byway.
Newspaper Rock is an exciting day trip that will take you back in time. You won't believe what you see!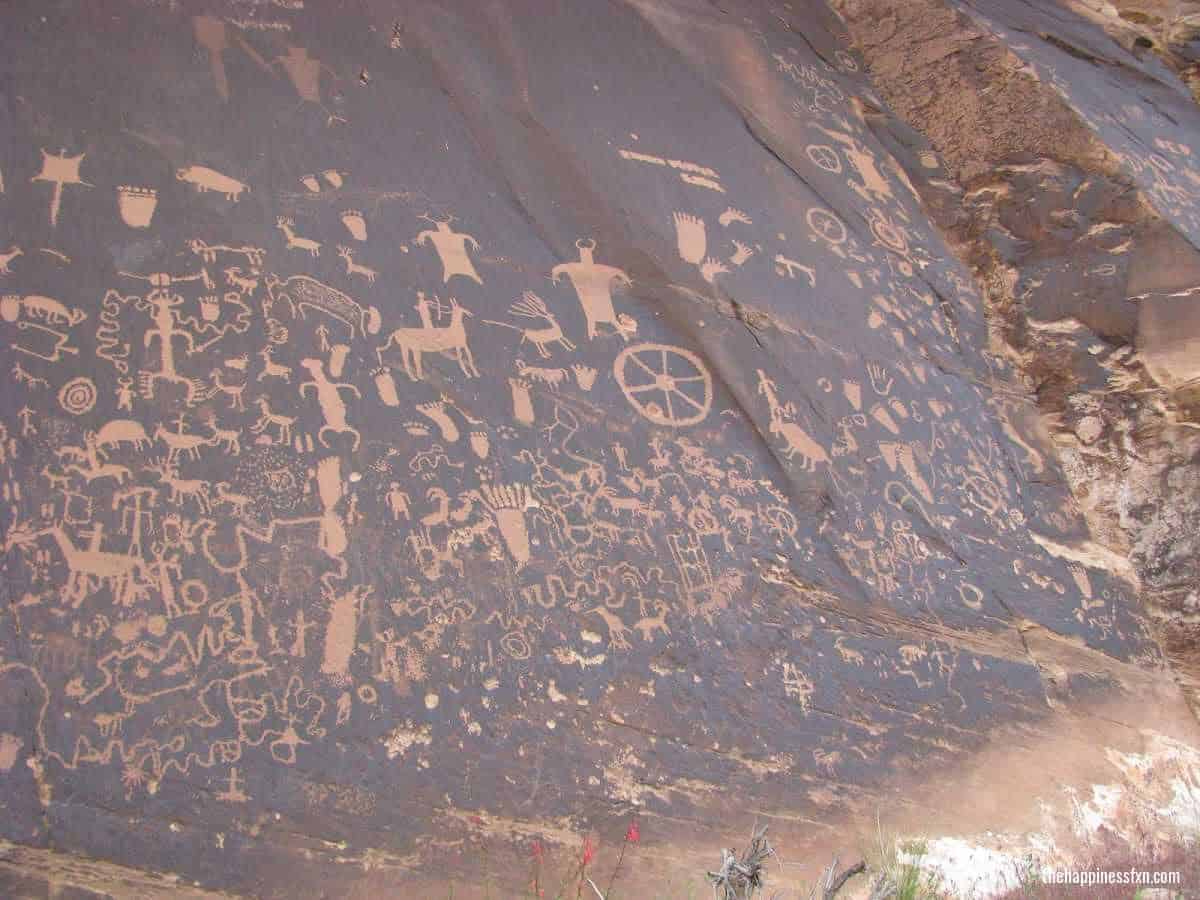 Day 4 – Float the Colorado River
A trip to Moab wouldn't be complete without floating the Colorado River!
You can bring your own gear, or find a guiding outfit to take you stand-up paddle boarding or whitewater rafting along the Colorado River.
Spending time floating or whitewater rafting the Colorado River through canyon country should definitely be high on your Moab adventure bucket list.
If you aren't bringing your own gear, we recommend calling around to pre-book your adventure ahead of time. Whitewater rafting through Cataract Canyon is incredible. We have done it two times in March (during college Spring Break).
Google any guiding outfits in Moab to get on their books.
Day 5 – Visit Dead Horse Point State Park
Did you know Dead Horse Point is one of the most photographed places in the U.S? There is a famous view of where the Colorado River bends through Canyonlands National Park. Add Dead Horse Point State Park to your bucket list!
Hike, mountain bike, or camp to stargaze Utah's Dark Sky while visiting.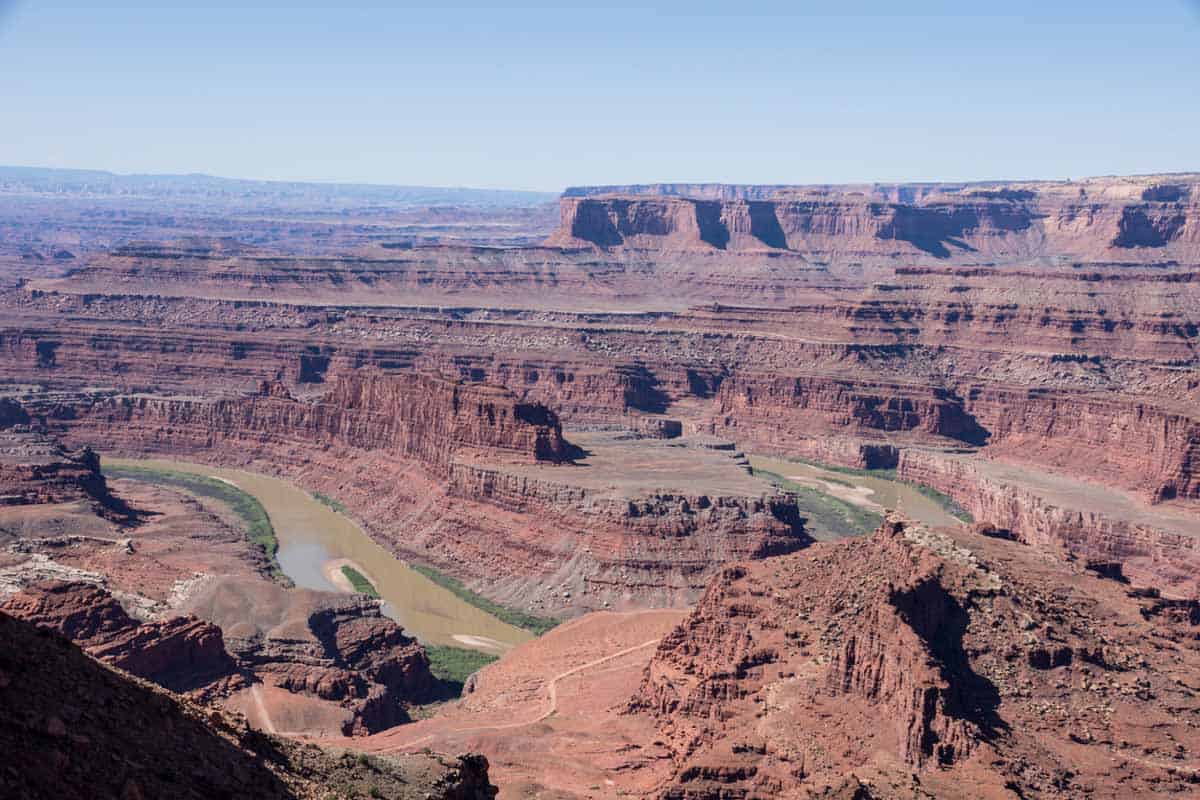 How to Get to Moab, Utah
Road trippers can drive their own vehicles to Moab or fly into one of the surrounding airports.
The closest airport is Canyonlands Regional Airport.
An hour and a half away, the next closest is in Grand Junction, Colorado.
The third closest is in Salt Lake City, which is almost four hours away.
Surprisingly, you can find pretty fair rates flying directly into Moab. When we used to live in Grand Junction, sometimes I would actually fly out of Moab because the flights were cheaper to a larger connection such as Denver.
Getting Around
To really explore Moab, you definitely want a vehicle. Last time we checked there was not really any reliable means of public transportation. We absolutely recommend renting a car or driving your own. Roads are fairly well marked because it is a major tourist destination.
Be sure to plan ahead with the flights and rental cars. Moab is a tourist hot spot and can have tens of thousands of extra people visiting depending on the time of year.
We like to use booking.com to book flight and rental car packages (if you aren't driving to Moab with your own vehicle).
Where to Stay in the Moab Area
The cool thing about Moab is that visitors can find a place to stay on any budget. If planning a visit during the high seasons, we definitely recommend booking places to stay in advance. Since Moab is a small community, accommodations tend to fill up fast during the high tourist season.
Camping Options
Below are great camping options to check out on your visit to Moab:
Where We Have Camped
We have camped at all of the places above. They are all great options!
You might enjoy reading more about camping for free on BLM land in Utah.
Camping Near Moab Map
Trendy Hotels
Below are fun mid-range hotel options with pools to check out in town:
Best Time of Year to Visit Moab
With Moab, Utah, being in the arid Southwest, it tends to have lots of sunshine. This makes it pleasant to visit year-round.
We think the best time to visit Moab is from mid-March to early June, and then mid-September until early November.
Summer
Moab does get hot (like over 100 degrees Fahrenheit) in the summer. However, since it is located in the high intermountain desert, the evenings tend to cool off. You can camp in the summer as long as you have shade during the day. Moab is a big tourist destination in the summer as well, with folks being off work and out of school.
Be mindful of rain and thunderstorms when hiking and canyoneering in the desert. Along with the arid climate comes bone dry soils, which have a difficult time absorbing mass amounts of rainfall at one time. That's why you'll see signs to be flash flood aware. The water will not soak up in the soil and will follow the path of least resistance which includes drainages and low-lying areas. Always good to know your surroundings when hiking in new places.
Fall
The weather is still reasonably warm all the way into the end of September or early October in Moab, which makes for excellent camping and hiking weather. Fall is actually one of our favorite times to visit as well as the spring. There is more rain in the fall (or at least it always seems that way).
Winter
It does get cold here in the winter, and sometimes it even snows. Winter is definitely the off-season for tourism, so there will be way fewer crowds when you're out exploring.
Spring
The beginning of spring is still the off-season. The crowds tend to pick up around spring break and then later in the spring around May. Bring clothes for all four seasons in the spring! It could snow one day and be 80 degrees the next. That is the magic of being in the high desert. Bring layers.
Environmental Stewardship Recreating Outdoors
The desert is a special place and near and dear to our hears. Check out our post on recreating responsibly in the desert.
Please don't make new trails when exploring. Stay on existing trails to protect biological soil crust.
Final Thoughts
If you're an outdoor lover, there's no doubt that Moab should be on your list of places to visit. With stunning red rock landscapes and plenty of activities to keep you busy, it's easy to see why this small town in Utah is such a popular tourist destination. We hope our tips have helped give you a taste of what Moab has to offer!
Thanks for reading.
Ashlee & Pablo
---
Shop Outdoor Gear
Below are a few items we always take on road trips that we love and want to share with you!
---
Get More Utah Outdoor Adventure Inspo
You might also enjoy…
Save on Pinterest for later!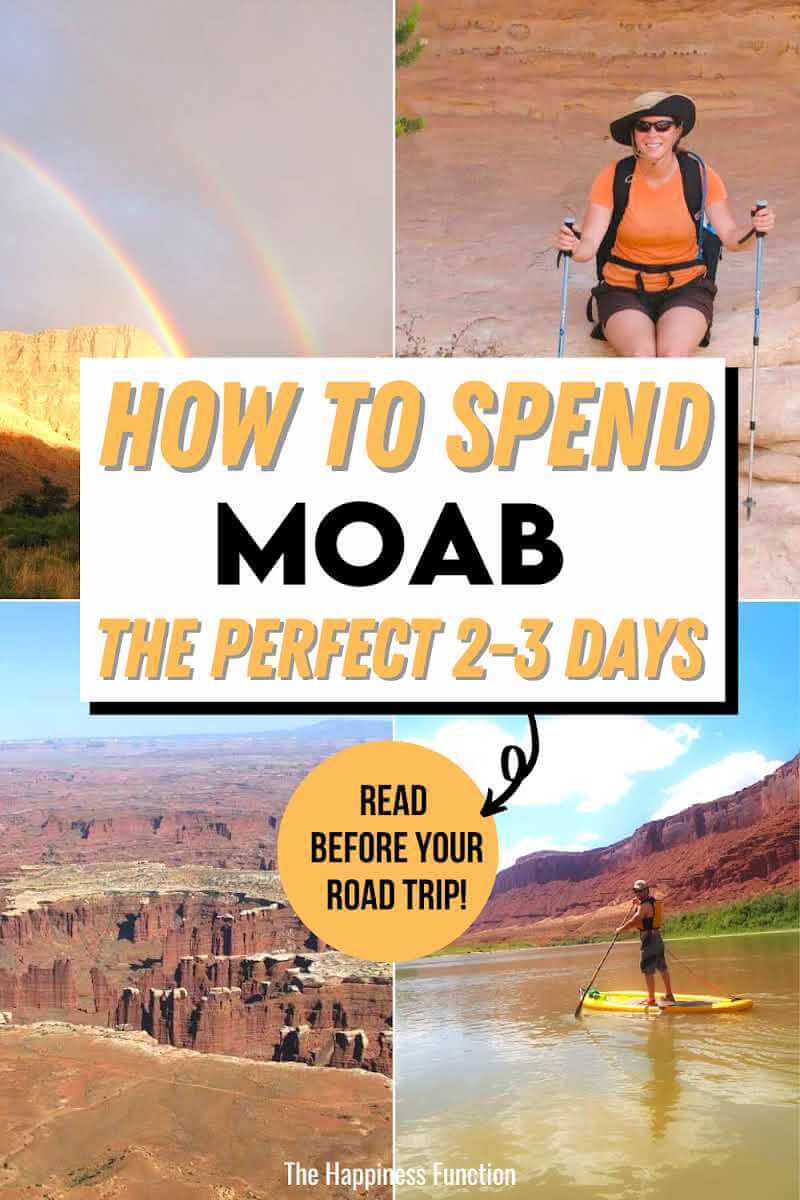 We would love to hear from you!
When are you going on your summer road trip to Moab?