Farley Canyon Campground: A Great Place to Camp & SUP at Lake Powell
Last Updated: Dec 30, 2022
|
|
Comments Off

on Farley Canyon Campground: A Great Place to Camp & SUP at Lake Powell
If you're an outdoor enthusiast, there's no doubt that you've heard of Lake Powell. This massive reservoir straddles the Arizona and Utah border and is a popular destination for fishing, boating, camping, and more. Among the many campgrounds available at Lake Powell is Farley Canyon Campground, which offers a primitive camping experience with incredible views.
Continue reading to discover how to camp and stand-up paddleboard (SUP) through this amazing place in Glen Canyon National Recreation Area (NRA).
This post contains affiliate links, which means we'll receive a commission if you purchase through our links at no extra cost to you. This allows us to continue publishing free travel and gear guides. Please read our full disclosure for more information. Thanks for your support!
Lake Water Levels at Farley Primitive Campground
Over the recent years, with lake levels dropping, it is likely that campers will not be camping close to the shores of Lake Powell here. Visitors can camp in the dispersed camping area, then walk or drive (with 4WD) to the opening of Farley Canyon to get on the lake.
You can tell from high watermarks on the sandstone walls that Lake Powell came up higher to the main campground at one point in time. However, visitors need to head into Farley Canyon to get on the water these days.
The Farley Canyon camping area is a great place to dry camp and then hike your water sports gear over for a paddling adventure.
We had to carry our stand-up paddleboards to where the water started in Farley Canyon when we visited. Depending on the road conditions, and if the road is dry enough, you might be able to drive with 4WD to launch SUPS, kayaks, or canoes.
How Much Does It Cost to Camp at Farley Canyon?
It costs $12 per day to camp at Farley Canyon
This area has a self-serve fee station
Accessing the Campground
You will want to have 4WD to boondock here.
There is a decent gravel road leading to the main camping area. In addition, there is a flat area where you can camp and bring in a small RV, motorhome, or campervan. The are lots of places to pitch a tent.
However, to get closer to the mouth of the canyon, you have to drive a rough dirt road. Depending on the road conditions when you visit, the road could be washed out closer to the mouth of the canyon. You definitely don't want to drive your rig down this road (pictured below).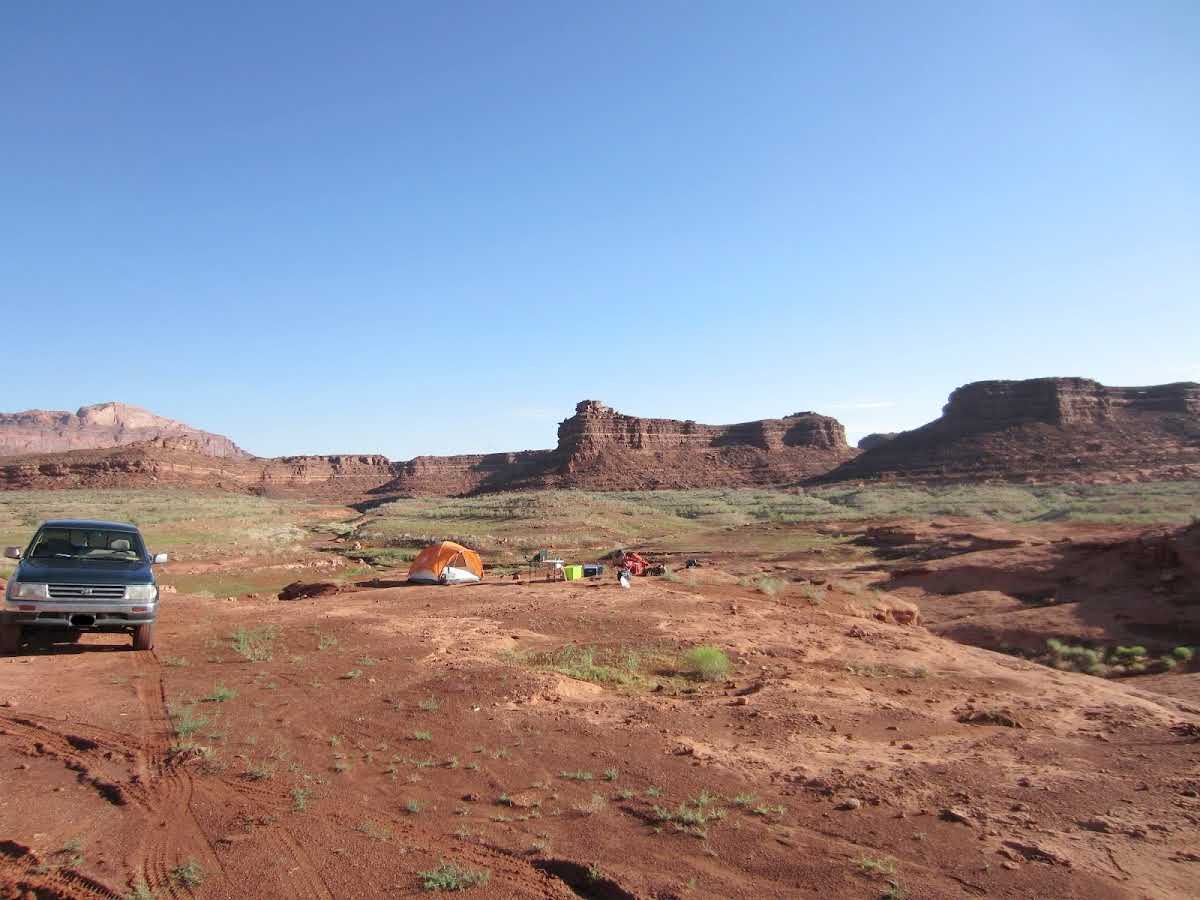 Farley Primitive Campground Details
Reservations: None, first-come-first-served
Campsites: No designated camping sites, open space dispersed camping
Water: None available
Electricity: No hookup
Bathrooms: No showers, no flushing toilets. Vault restroom available seasonally. Bring toilet paper.
Toilets: If vault toilets are not in operation, visitors must bring a toilet system. If not in an RV, we recommend bringing wag bags. A toilet is required to be within 200 yards of your campsite.
Dogs Allowed: Yes
Wood for campfires available: None, bring firewood
Time restrictions for stay: Yes, no more than 14 consecutive days allowed
Farley Canyon Campground Map
How to Get to Farley Primitive Campground
Follow Highway 95 like you're going to Hite but keep heading southeast past Hite. You'll have to watch the map well because the roads aren't well marked (or they were not the last time we were out here). Farley Canyon Road will be the only right after you go past the Hite Marina Access Road heading southeast on Highway 95.
We have this Lake Powell map and use it all the time!
Are Campfires Allowed?
Yes, campfires are allowed at Lake Powell during your camping adventures! Don't forget to bring local firewood. There is none to collect in the area.
Is There Cell Phone Reception at Farley Canyon?
Plan to unplug while you're camping. Cell phone reception is hit and miss in the area. We don't recall having any reception here.
SUPing Farley Canyon
Farley Canyon is one of the best places to SUP at Lake Powell, in our opinion.
Since it is a narrower canyon, typically blocked by a sandbar, motorboats can't enter. The tall canyon walls block the wind, and there aren't any waves. The water is crystal clear depending on the time of year (except during spring runoff).
You'll will more than likely have the canyon to yourself for a paddling adventure.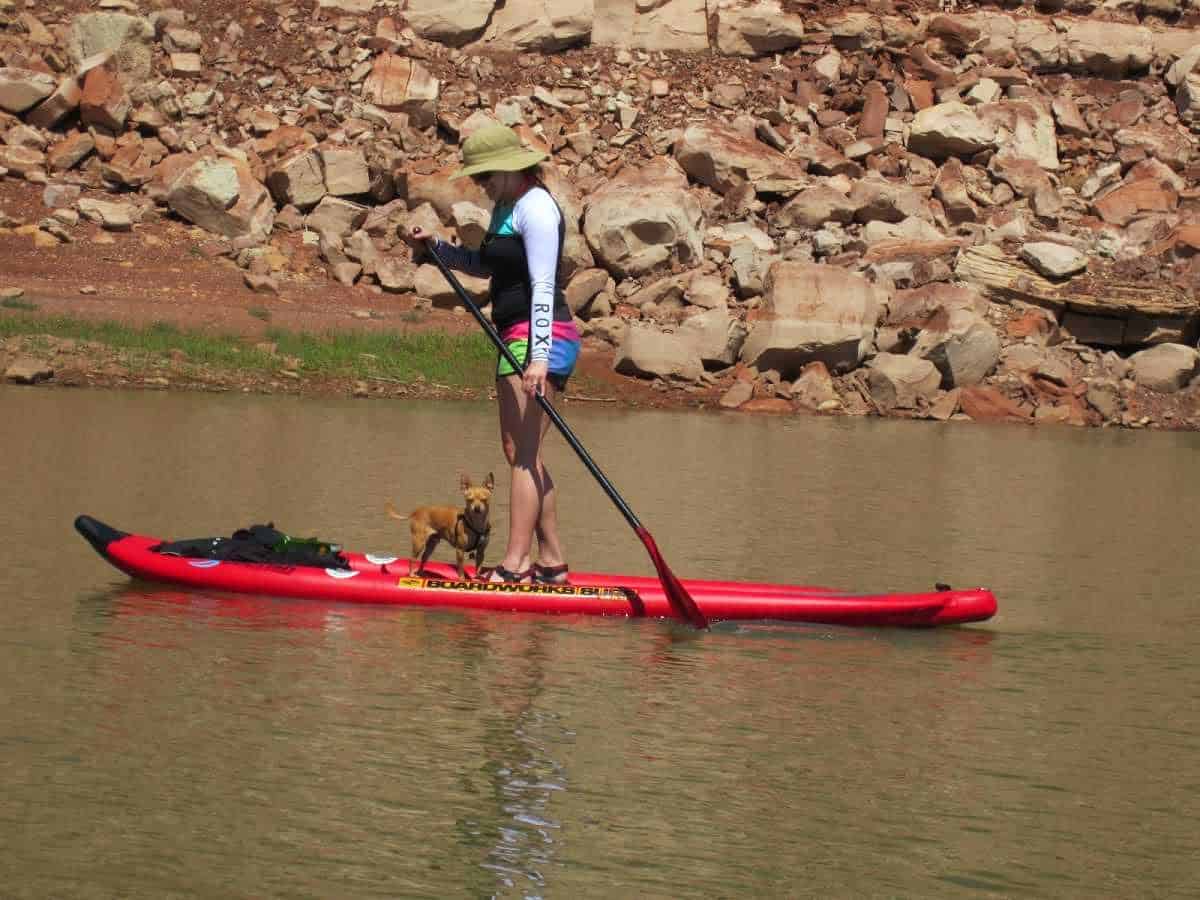 Paddling further into the canyon, you'll pop out where the Colorado River cuts through. There is a sandbar at the mouth that makes for a great place to catch some sun, picnic, and enjoy the desert views. More than likely, you'll have this area to yourself.
Be sure to be mindful of the Colorado River current if you venture to the next canyon downstream. The river current is way more fast compared to the still water in Farley Canyon.
What is the Best Time of Year to Camp at Farley Canyon?
The best time of year to camp in this area is spring, early summer, and fall.
Since the area does not offer shoreline camping, it can get scorching hot during the summer.
The roads are not maintained either, so avoid the area when it is wet (for mud and wet clay).
Also consider gnats during the summer. They can be brutal!
What Should You Pack for Camping at Lake Powell?
Plan to pack and bring all your camping essentials. Since there are no facilities, you'll want to bring all of your food, water, clothes, firewood, fire starters, and paddling gear.
SUP Gear We Use
SUPing is a great way to get some exercise and enjoy the outdoors. If you're looking for a new hobby or just want to try something different, SUPing might be perfect for you!
We hope our list of gear below helps give you an idea of what you need.
Check out our other camping articles to help you plan the best camping trips:
Final Thoughts on Farley Canyon Campground
Although Farley Canyon may not be the most well-known camping spot near Lake Powell, it offers a great experience for those who love the outdoors. The area offers stunning views of the red rocks and the lake, and there's plenty of space for hiking and biking along the dirt roads, paddling the canyon, fishing, and exploring. Just be sure to bring plenty of water, a shade source, and sunscreen, as it can get hot in the summer!
We hope you have the best trip to the Farley Canyon campground. This is one of our favorite places to camp and SUP in Utah.
Happy adventuring,
Ashlee & Pablo
---
Where are you headed next?
Are you planning a trip to Lake Powell? You might enjoy our other articles:
Save this article on Pinterest!
We'd love to hear from you!
Have you been to Farley Canyon or any other awesome camping areas at Lake Powell?