Interested in a Yoga Certification? Read this First!
Last Updated: Oct 9, 2023
|
|
Have you been thinking about whether or not to pursue getting your yoga certification? Maybe you don't know where to start. Or perhaps you're not sure if it is worth the time or money. This article will walk you through the styles of yoga, levels of training, and benefits of getting a yoga certification with attention on how and why to do it.
Keep reading for details on how to become a certified yoga instructor.
There is no better time than NOW to follow your dreams.
"Yoga does not just change the way we see things; it transforms the person who sees."

B.K.S. Iyengar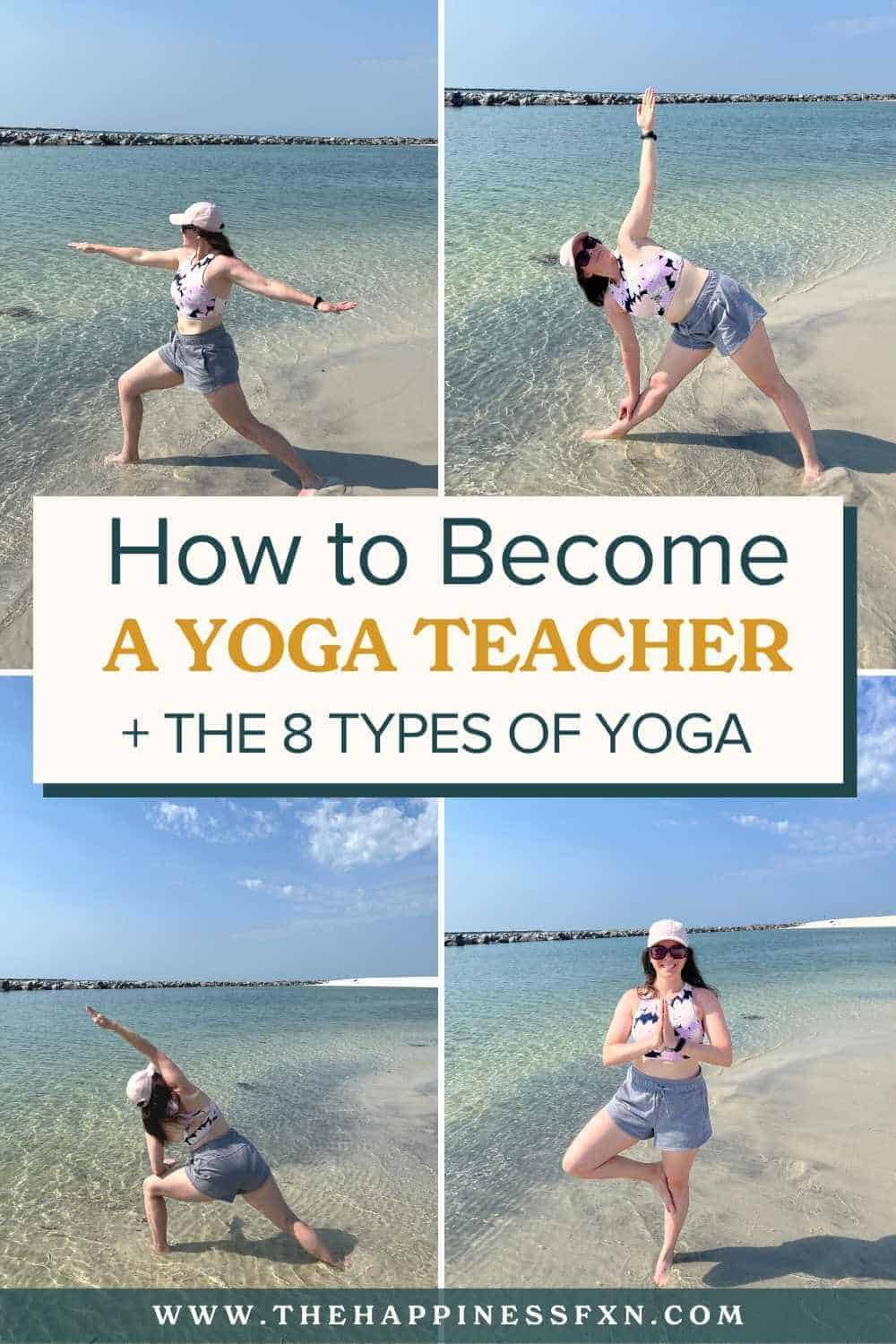 This post contains affiliate links, which means we'll receive a commission if you purchase through our links at no extra cost to you. This allows us to continue publishing free travel and gear guides. Please read our full disclosure for more information. Thanks for your support!
What Style of Yoga is Right for You?
Knowing the type of yoga style your body likes the most or what kind of teacher training you would like to pursue is important in determining your yoga certification path.
There are eight styles of yoga.
Find the yoga type you love! However, don't get super stuck on the style because they can cross over a lot in practice.
I'll explain more below…
What are the 8 Styles of Yoga?
Below is a brief overview of the eight styles of yoga along with how to select a yoga certification training.
1. Bikram Yoga
Developed by Bikram Choudhury, Bikram yoga is practiced in a hot room and follows a strict and structured 26-pose practice. The 26-pose series never changes and follows the same sequence every time.
Make sure to bring a yoga towel and water bottle because this type of yoga will make you sweat like crazy!
To be called an official Bikram yoga studio, the studio teacher must be trained in Bikram and follow the 26-pose series and sequence precisely.
2. Vinyasa Yoga
When thinking of Vinyasa yoga, think fluid movement, linking breathe to body movement, as well as moving to a fast-paced tempo.
No two classes are the same. Every instructor will teach the class a little differently. If you enjoy having a different class experience every time, then Vinyasa flow might be for you!
Vinyasa flow is typically accompanied by music and known for testing personal limits. Be ready to sweat – this is a workout!
This style is very similar to Ashtanga, which I'll talk about next.
3. Ashtanga Yoga
Popularized by Sri K. Pattabhi Jois, Ashtanga is known as a strict and rigorous practice. Think power poses but in the same order. Tone your body and build core strength.
This style is sure to make you sweat. Don't forget a yoga towel and water bottle.
Read more about Ashtanga yoga in Yoga Journal.
4. Anusara Yoga
Open your heart and tap into your inner goodness with Anusara yoga made famous by John Friend. This practice is most famous for the Universal Principles of Alignment.
5. Hatha Yoga
In Hatha yoga, your practice will gently flow into basic yoga postures. There is no specific flow. This style is best known for being gentle, and you'll leave feeling relaxed and loose. If a studio you attend doesn't call out a specific style of yoga, it is most likely practicing Hatha yoga.
6. Iyengar Yoga
My personal favorite style is Iyengar yoga created and made famous by B.K.S. Iyengar. Iyengar yoga focuses on proper alignment, using props, and holding poses for long periods.
I did my 200-hour teaching training in Iyengar yoga from the Academy of Yoga in Grand Junction, Colorado.
7. Hot Yoga
Hot Yoga is yoga in a heated studio. It will most likely be paired with a Vinyasa style flow.
Be ready to sweat, bring yoga towel, and water bottle!
8. Restorative Yoga
Mmmm… restorative yoga is another personal favorite.
Restorative yoga is slow-paced and supported. You will most likely use props and hold poses for a long time to rest and recharge the body.
This style of yoga is known for being a calm and meditative practice – almost like nap time but without sleeping.
Next, we'll talk about the different levels of training and ways of obtaining a yoga teacher certification.
What is the Best Yoga Certification?
After determining which style of yoga personally calls to you, find a 200-hour yoga teacher training to attend.
Keep in mind, being trained in a particular style doesn't mean you can only teach in that specific style. Picking a style your body enjoys is recommended, so that you will have a gratifying experience.
To put it differently, going through teacher training is going to challenge you. Your body and mind will grow. You don't want to get trained in Bikram yoga if your body doesn't do well in the heat. That would make for a difficult experience.
There are so many fantastic programs globally to do 200-hour yoga teacher training.
How to Get a 200-hour Yoga Certification
Find a Local Studio Offering Training
To start, look online and find a local studio or studio close to where you live. Ask your yoga teacher and friends for referrals.
I did my training in Grand Junction, Colorado, when we used to live there. The course was once a month for nine months on the weekends. This super flexible schedule allowed me to work full time and live my everyday life without traveling or paying travel expenses.
Find a Yoga Certification Retreat Abroad
There are studios and resorts worldwide offering 4 to 6-week intensives where you can stay at the resort and learn. These types of programs involve committing to a timeframe and doing the yoga training full time.
India, Costa Rica, Hawaii… yes, please!
Research online, ask around, look at yoga blogs, and check out big-name yoga websites.
Find an Online Yoga Teacher Training Certification
The pandemic has really been a catalyst for online education, and that hasn't stopped the yoga community. Do some research and see if online learning is right for you.
How to Get a 300-hour Yoga Teacher Training
Once you have the 200-hour yoga certification, next, you can pursue the 300-hour (you don't have to, but in case you want to).
Instructors with 500-hour certifications have a 200-hour plus a 300-hour certification.
When going through your own training, look for instructors with the 500-hour credential. They have spent a lot of time in their field.
To find a place to obtain a 300-hour yoga certification, find a local studio, study abroad, do a few weeks intensive somewhere or find a school or studio online offering online yoga training.
Benefits of Teaching Yoga Online
So many people are remote these days. There are fantastic opportunities to gain a following and help others by offering free yoga classes online once you have your certification. You can even charge for these classes if you are an already established instructor or studio.
Get your yoga certification online.
Online offers so much freedom.
Connect with friends, loved ones, and clients anywhere in the world with online yoga!
Since we have talked about the styles of yoga and types of yoga certifications, let's talk about the benefits of getting a yoga certification.
20 Reasons to Get a Yoga Certification
There are so many benefits and reasons to get a yoga certification that go beyond teaching yoga.
Yoga philosophy learned during the teacher training deepens you as a person and how you see the world.
During training, you learn a more comprehensive understanding of the body and how everything is connected. Everything is literally connected. Have back pain? Well, when was the last time you stretched your hamstrings?
Learning the 8 limbs of yoga will teach you a holistic approach to life.
The 8 limbs of yoga advance moral and ethical self-discipline for a purposeful life.
A dedicated practice strengthens the body, mind, and spirit.
Not only will you help yourself, but you'll also see and learn how to help others.
Yoga isn't just a workout; truly discover your body and how to care for it. Notice how to listen to what the body needs.
Yoga training will cultivate a powerful meditation practice.
Patience and stillness will be at your forefront.
You'll gain mental strength like no other.
Teacher training and having a committed yoga practice increase your body's overall health, such as increased flexibility, muscle strength, body composition, circulatory health, and protection from injury.
Yoga decreases stress and relieves anxiety.
Yoga will improve your heart health.
You'll likely notice better sleep patterns.
Yoga is said to reduce inflammation in the body.
Yoga will improve posture.
The metabolism will boost.
Self-esteem increases.
The immune system boosts.
Yoga is a catalyst for living your best life and it is a great hobby!
"Yoga allows you to rediscover a sense of wholeness in your life, where you do not feel like you are constantly trying to fit broken pieces together."

B.K.S. Iyengar
Make Yoga a Career or Do the Training for Yourself
Education is one of those things you will always have. It is so important to invest in ourselves; especially, our physical and mental health.
Maybe you get a yoga certification to teach full-time or part-time. Or perhaps you do it for yourself to deepen your yoga and meditation practice.
I thought I would end up teaching yoga, but instead, my career went another direction into writing. As a result, daily, I am equipped with a yoga practice and the eight limbs of yoga to live my best life and serve others around me.
Yoga is a Way of Life
In summary, yoga has the potential to transform your life.
It is true; yoga is a way of life.
Becoming a teacher not only transforms your life, but you also have the platform to serve and heal others.
"Yoga is a light, which once lit, will never dim. The better your practice, the brighter the flame."

B.K.S. Iyengar
How Long Does it Take to Be Certified in Yoga?
There are yoga certification trainings that offers different timelines for completion.
Some courses are a month, while others are spread out over a few months.
How Much Does it Cost to Get Yoga Certified?
Plan on it costing a couple thousand dollars – somewhere between $1,000-5,000.
Where I Did My Yoga Training
I was introduced to yoga in 2001 after aches, pains, and high school sports injuries. The physical therapist recommended to my Mom I try yoga.
As a result, I started growing into my body as a young woman. I also met one of my closest life friends and my first yoga teacher. She introduced me to the world of yoga at a young age. I was a freshman in high school at the time.
From there, yoga became a huge part of my life – something I made time to do physically at least once a week.
In 2012, while living in Grand Junction, I saw the Yoga Academy, and decided to pursue my yoga passion.
I did a 200-hour yoga certification training at the Academy of Yoga in Grand Junction over a period of nine months.
The course was structured to a 3-day weekend once a month over nine months.
The course also required hands-on teaching and mentoring hours. So, I attended the studio locally to get those hours under my belt.
It was an incredible life opportunity!
I have the knowledge to practice in my daily life. It has kept me strong, grounded, and kept me limber physically and mentally. As a result, yoga has been a gateway to meditation and profound spiritual practice.
Shop My Favorite Yoga Gear
Below, I'm sharing my favorite items I use in my yoga practice.
Yoga Mat
In almost 20 years of practicing yoga, I think Jade makes excellent yoga mats.
Your hands don't slide around! The mat is comfortable and grippy.
Plus, Jade prides itself on being a sustainable brand. I like how they plant a tree for every mat purchased.
Yoga Strap
You need the Manduka yoga strap! Trust me.
Yoga Towels
If going to a hot yoga class, lay a Manduka eQua yoga towel over the mat to keep from slipping.
Hot yoga tip: lay your yoga mat towel over your mat, splash the hands and feet area with a bit of water to get an extra grip.
My Favorite Yoga Books
Below is a list of my favorite yoga books, most of which were recommended during the yoga teaching training I participated in.
I am a huge fan of B.K.S. Iyengar. He was incredibly philosophical, wise, courageous and overcame serious life trials and tribulations to change the world and help others.
"Yoga is the journey of the self, through the self, to the self."

The Bhagavad Gita
Thanks for reading. Good luck on your yoga journey.
Namaste,
---
You'll love our other lifestyle articles
Save on Pinterest!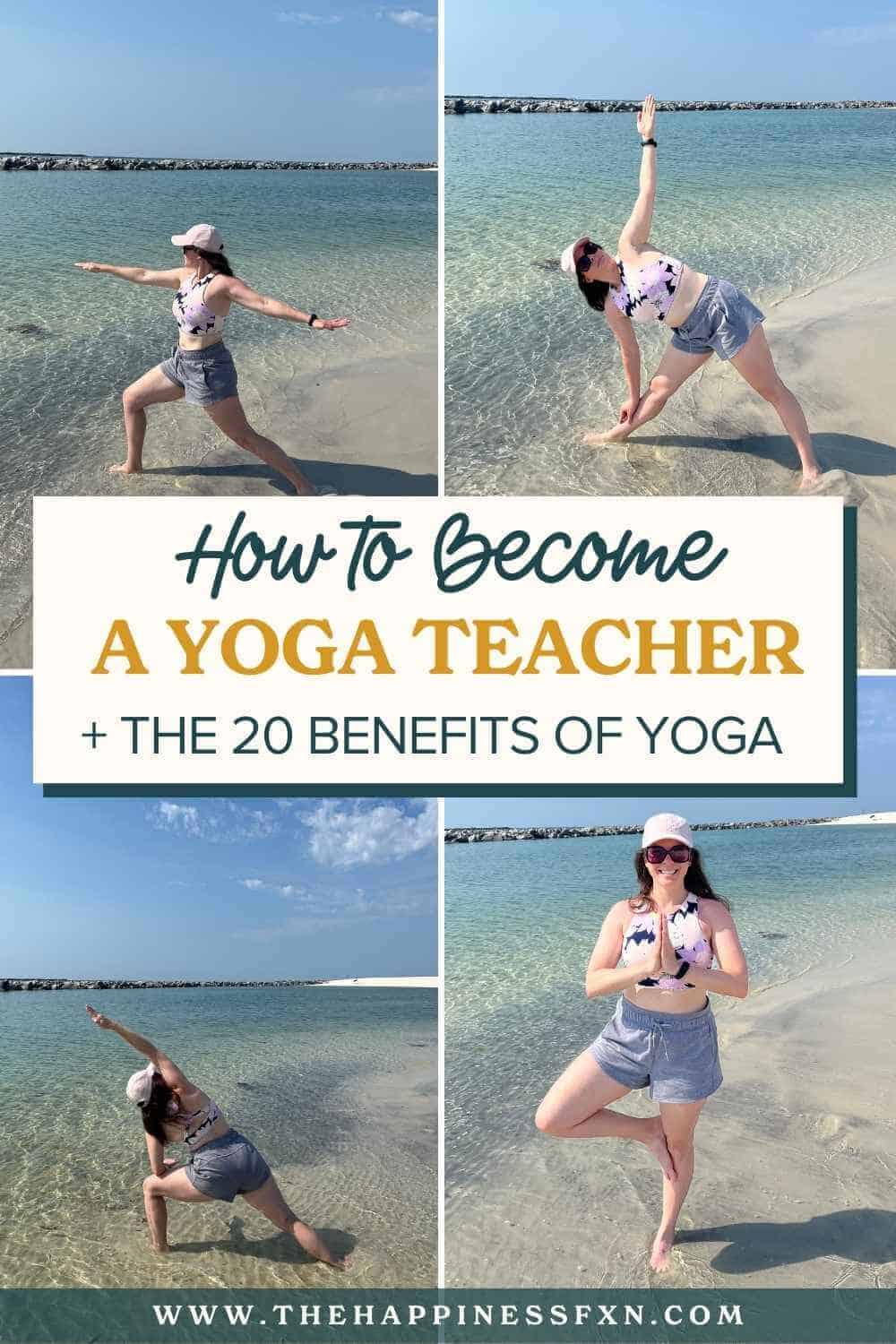 We would love to hear from you!
When are you planning to complete your 200-hour yoga certification?
Are you looking to do a yoga study abroad?
Which style of yoga is your favorite?