Plan a Romantic Trip to the Skagit Valley Tulip Festival
Posted on: January 21, 2021
|
|
Have you heard of the Tulip Festival in Washington state? The Skagit Valley in northwest Washington is home to incredibly bright and beautiful displays of tulips.
Every spring, the area hosts an annual tulip festival. There are acres and acres of farms growing tulips near Mount Vernon, Washington. These grand floral displays against the Northern Cascade Mountains will take your breath away and make you believe you have been transported to somewhere magical in Europe. This annual spring event is something you cannot miss! Add visiting the Skagit Valley Tulip Festival in Washington to your spring bucket list.
Keep reading for ideas to plan a romantic, fun outdoor weekend for two!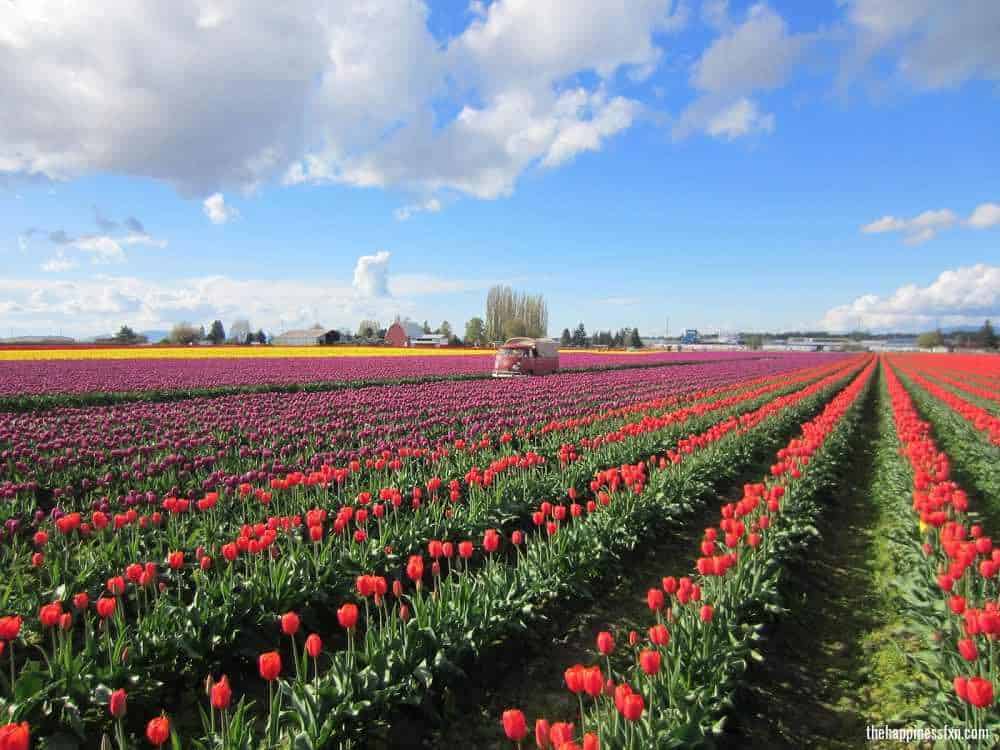 This post contains affiliate links, which means we'll receive a commission if you purchase through our links, at no extra cost to you. Please read full disclosure for more information.
How to Plan a Romantic Trip to Skagit Valley
Plan to spend at least a day in the Skagit Valley and Mount Vernon area.
Take time to tour the tulip fields, explore Mount Vernon, hike, walk around, visit Padilla Bay, and maybe even check out the local wineries! These activities, paired with visiting the tulip festival, truly make for a romantic and fun weekend getaway in the Pacific Northwest.
Tour Magnificent Tulip Festival Fields
After seeing the photos, are you just antsy to visit these gorgeous flower fields in Washington? Visiting the Skagit Valley during tulip season is a delightful outdoor getaway for all, especially couples.
The flower fields are magical and darling, making for a perfect half-day adventure. These tulip fields in Washington also create memorable photo opportunities. Bask in these colorful flower fields!
Couples will find a visit to the flower fields exciting, dreamy, and romantic. Pair a romantic weekend getaway visiting the flower fields with exploring Mount Vernon and the surrounding area.
Explore Mount Vernon Washington
After visiting all the flower fields, head into Mount Vernon and explore this quaint little town. Dine at a local restaurant. Check out the local shops. Walk the river trail. Enjoy breathtaking views of the Northern Cascades.
Travel Insurance. Before we go on trips that require flying and renting cars far away from home, we always purchase traveler insurance! Protect your trip with Travel Insurance Master. We like to use Travel Insurance Master because you can select the exact coverage you need.
Visit Padilla Bay
Be sure to drive out to the Bay. It is about 20 minutes from downtown Mount Vernon to Bay View State Park. Walk around and enjoy views of Padilla Bay and the incredible San Juan Islands.
Visit Wineries, Orchards, and Treat Yourself to Wine Tasting
Washington has a large agriculture scene. On top of tulips in the area, there are grape vineyards, wineries, and fruit orchards. Check out some of the local wineries during your getaway to Skagit Valley.
Below is a list of the best wineries and vineyards close to Mount Vernon.
Go Hiking Near Mount Vernon
Mount Vernon and the surrounding area are absolutely gorgeous. Find some places to explore and hike close by, such as Little Mountain Park and the Riverbend Loop Trail. If you are up for getting further out of town, find some hiking in the Northern Cascades.
We like to use the AllTrails app to locate hikes when we travel.
Best Time of Year to Visit
The best time of year to visit the Skagit Valley Tulip Festival is in April.
The flowers bloom depending on mother nature, so you'll have to keep a lookout on the Skagit Valley Tulip Festival website for when they anticipate the fields blooming in April.
Where is the Skagit Valley Tulip Festival?
The town of Mount Vernon, Washington, hosts the festival annually. The festival consists of tulip farms in the surrounding area.
Check out the Skagit Valley Tulip Festival annual brochure for all fields participating in field visits and walkthroughs.
What Should I Bring to the Tulip Festival in Washington?
For your visit to the tulip festival, we definitely recommend bringing shoes you don't mind getting dirty. You will be walking through farm fields. Most likely, it has recently rained (it always rains in Washington), and the fields could potentially be muddy.
Also, we recommend bringing a rain jacket or umbrella just in case. Most importantly, don't forget a camera!
Final Thoughts
We hope you have a lovely trip visiting these famous flower fields in Washington. Tour the areas, explore the quaint town of Mount Vernon, visit Padilla Bay, treat yourselves to wine tasting, local goodies, and hike or wander the local trails. Visiting this tulip festival in Washington is absolutely dreamy and makes for a fun and romantic outdoor weekend getaway!
COVID – be sure to check the Skagit Valley Tulip Festival website for updates before you plan a trip!
You'll love the tulip festival in Washington. There is so much to see and do in the surrounding area as well.
All of your friends will think you went to Holland or Europe for the weekend.
Enjoy!
Ashlee & Pablo
---
You might also enjoy…
Looking for bucket list travel inspiration in the USA? You might like our other articles:
Save this article on Pinterest!
We want to hear from you!
Have you been to the tulip festival in Washington?
Are you planning on going?