Not Sure What to Wear Snowboarding? Here's a Complete Guide From an Expert
Last Updated: Jan 6, 2023
|
|
Comments Off

on Not Sure What to Wear Snowboarding? Here's a Complete Guide From an Expert
The mountain can be challenging to figure out clothing needs, more so than a summer vacation at the beach. However, adequate clothing is essential if you expect a pleasant experience on the snow. This article details how to dress and what to wear snowboarding or skiing, along with gear recommendations. I taught snowboarding and skiing in Colorado and Patagonia for over ten years, and I'm sharing everything you need to know so you can have fun and not be cold.
Heads up! This article contains affiliate links, which means we'll receive a commission if you purchase through our links, at no extra cost to you. This allows us to publish free guides. Please read our full disclosure for more information. All of the gear we recommend we have and use.
Exactly What to Wear Snowboarding or Skiing
Layers
First Layer – Base Layer
Base layers for the legs and upper body are essential. They wick moisture your body produces as you sweat from actively moving. Base layers allow you to stay dry and comfortable.
Always choose wool, synthetic, or silk. Never wear cotton. Base layers should provide high breathability, be quick drying, and moisture wicking.
Top: You want to wear a long sleeve moisture-wicking shirt for your top. You can choose from different thickness base layers depending on your preference and how cold the temperature will be while you're snowboarding or skiing. Avoid wearing cotton as a first layer because it will get wet and will not dry as your body creates heat.
Bottom: Make sure you have a base layer under your snowboard or ski pants. Regular underwear alone does not count! Avoid wearing cotton layers, jeans, or pants not made to be used as a base layer, as you will be uncomfortable, sweaty, and wet.
Second Layer – Middle Layer
For temperatures under thirty-five degrees Fahrenheit, it is essential to have a second layer. For example, wearing a thicker fleece top is a good option as it provides more warmth and insulation.
Third Layer
If you tend to run hot, you can wear an insulated down sweater or jacket under your snowboard or ski jacket and not wear a second layer. A second and third layer can be added for people that run cold. My wife likes a third layer.
Not everyone likes or needs a second or third middle layer. It depends on your body. If you're new to snow sports, it is better to have enough layers to be warm and then take them off as needed. Keep this in mind.
Outermost Layer
Ski and Snowboard Jackets
A good waterproof, windproof, breathable jacket is vital. We recommend different jackets depending on the temperatures you will be exposed to in the snow. For colder conditions, consider wearing jackets with insulation. Insulated jackets will have a number (for example 600 down fill). This lets you know that the coat has higher insulation, resulting in a warmer, fuller (fluffy) look and feel.
Since the jacket is your outmost layer, when shopping for size, consider being able to wear multiple layers underneath. My wife and I typically buy one size up on our outermost layer.
But regardless of the type of jacket you choose, we always recommend that they have ventilation under the armpits and other areas of the jacket in case you need to cool off after snowboarding, skiing, hiking, or riding the chairlift. In addition, breathability is vital for your outer shell (jacket).
Ski and Snowboard Pants
Always wear pants that are made for snowboarding or skiing. Pants should be waterproof or water-resistant and insulated to varying degrees. Ski and snowboard pants come in various thicknesses depending on the warmth level (thicker is warmer). We recommend having pants with ventilation options so you can cool off quickly if needed.
If snowboarding in Colorado, the climate typically has excellent dry snow at the high-elevation resorts during the winter months, which means your pants will likely stay dry. However, that might not be the case in other parts of the world or if you're skiing and snowboarding during the spring.
Going into spring, even the best fabrics will be tested to their limit as they contact slush and snow that is not considered "dry." In addition, clothing materials will be more prone to absorbing humidity and water as you ski or snowboard during spring conditions. More on spring gear below.
Accessories
Socks
Ensure your socks are for skiing and snowboarding purposes and that they fit snugly. Socks meant for skiing and snowboarding go up to your knees (and a little over) to protect your shins as the tongue of the boots will be pressed against your shins. Some socks have extra padding in certain areas for this purpose.
Be sure you have the correct fit for your foot. Socks that are too large will allow your feet to pull away from the socks making snowboarding or skiing an uncomfortable experience. Blisters will develop, especially with beginners. Choose between wool or synthetic. You want to avoid wearing cotton.
Hats
Make sure you have a hat that covers your ears and forehead completely under your helmet if you use one. Get a hat with fleece material inside so it's comfortable and not too bulky.
Gloves
You should look for waterproof gloves.
Thicker gloves will usually provide more insulation. For colder days (in the teens and twenties Fahrenheit), wear a thinner pair of base layer gloves under your waterproof insulated gloves. If your hands get too warm, remove the base layer gloves, and keep the thinner pair in your pocket.
Mittens
Mittens will keep most of your fingers together instead of regular gloves with five separate fingers. Mittens can help you stay warmer in colder temperatures. However, you will have less dexterity when compared to gloves.
Face Covers
A balaclava or neck gaiter is probably one of the most essential pieces of clothing for cold days. It protects your face from the wind, sun, and snow. Face covers allow you to have no skin exposed while still being able to breathe and enjoy a chair ride when it's cold and windy. When you're at high elevation, and it is cold, you don't want to have much skin exposed.
If the weather is nice, you don't need to have one of these items on your face if you don't want. I always carry one in my pocket. They tuck easily into a pocket.
Face coverings come in a wide variety of thicknesses for warmth. Many snowboarders wear them for looks or sun protection, even in warmer weather.
Goggles
Google will help you see on those bright days and protect your eyes from UV rays. Goggles aren't just for when it is snowing. Protect your eyes from the harsh mountain sun rays.
Sun Protection
SPF Lip Balm: Your lips will dry and crack quickly, so make sure you have a lip balm with SPF.
Sunscreen: Don't forget the sunscreen. With the sun reflecting on the snow at high elevations, it is easy to get a sunburn. When you wear goggles and do not use sunscreen, you will look like a raccoon after a few days of being outside in the sun every day!
Spring Skiing and Snowboarding Clothing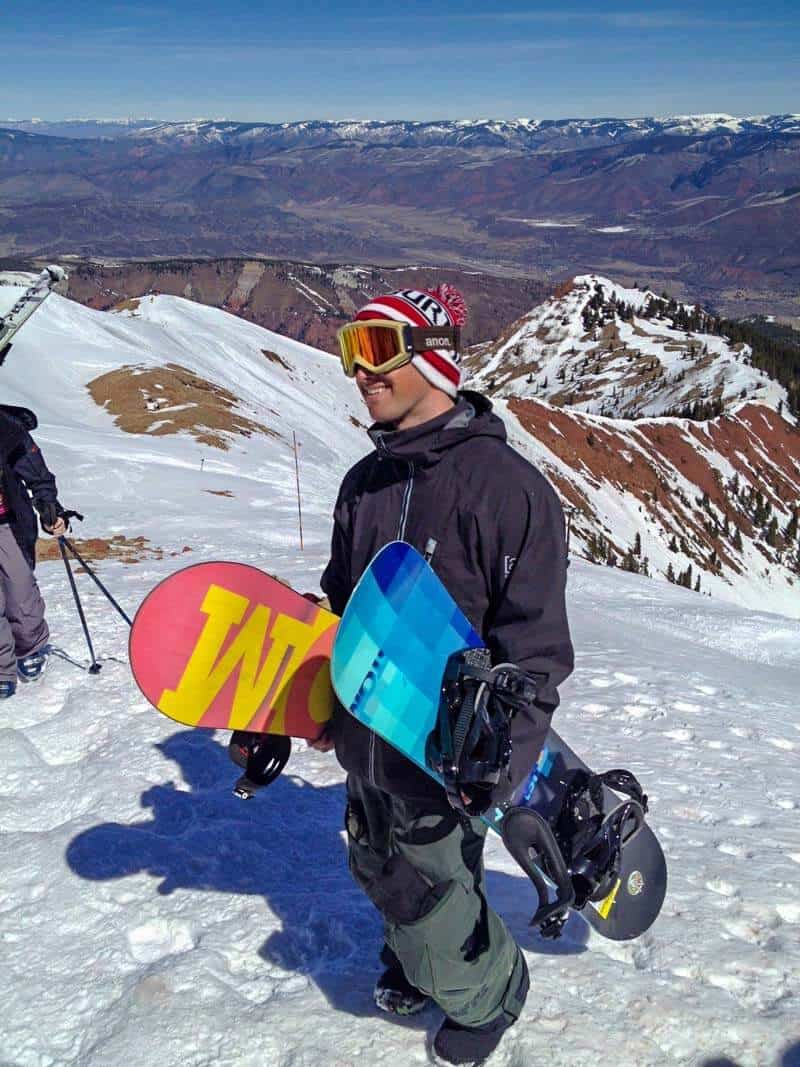 As temperatures go up in early March (above 40 degrees Fahrenheit), you can get away with being on the mountain and dressing with fewer layers.
During the spring is when wearing thinner or less layers come in handy.
Below is an example of how to dress in the spring. You'll want to wear:
A light and thin breathable base layer for your upper and lower body, and
A light middle layer (optional) for your upper body, followed by
A lightweight shell jacket.
Wear a thin base layer under your ski or snowboard pants. Pants with vents allow your sweat to escape and not be trapped in your waterproof pants.
You only need one pair of lightweight waterproof gloves on the mountain, a hat, and goggles.
Face covers can be worn for fashion purposes and protection from the sun and wind but are not needed for the cold.
Before You Go, Check the Weather
Before you decide what to pack for your ski trip, research the area you will be visiting and get familiar with the temperatures you will likely be exposed to.
Before you hit the slopes, check the forecast the day before and get an idea of the temperatures. Knowing if there is a chance of snow, rain, or wind will allow you to select suitable clothing layers for your day.
Final Thoughts
Skiing and snowboarding clothing may seem complicated, but with the right combination of base layers, mid layers, insulation, waterproof layers, and accessories, you can be sure to stay warm and safe in any conditions. Always remember to try your outfit out before skiing or snowboarding so that you can make sure it is comfortable. With this information, you are ready to dress for success while keeping safe on the slopes. Have fun out there!
Pablo & Ashlee
---
More Snowboarding Articles from The Happiness Function
Save on Pinterest for later!