Discover the Stunning Beauty of the Colorado National Monument, A Gem You Can't Miss
Last Updated: Oct 9, 2023
|
|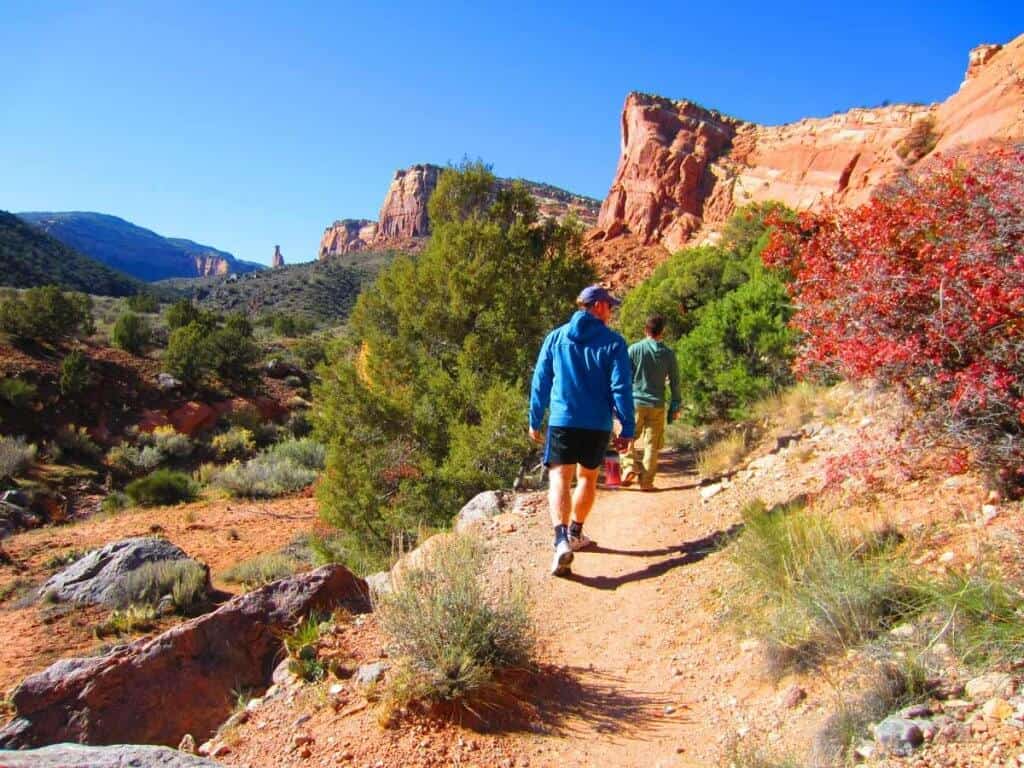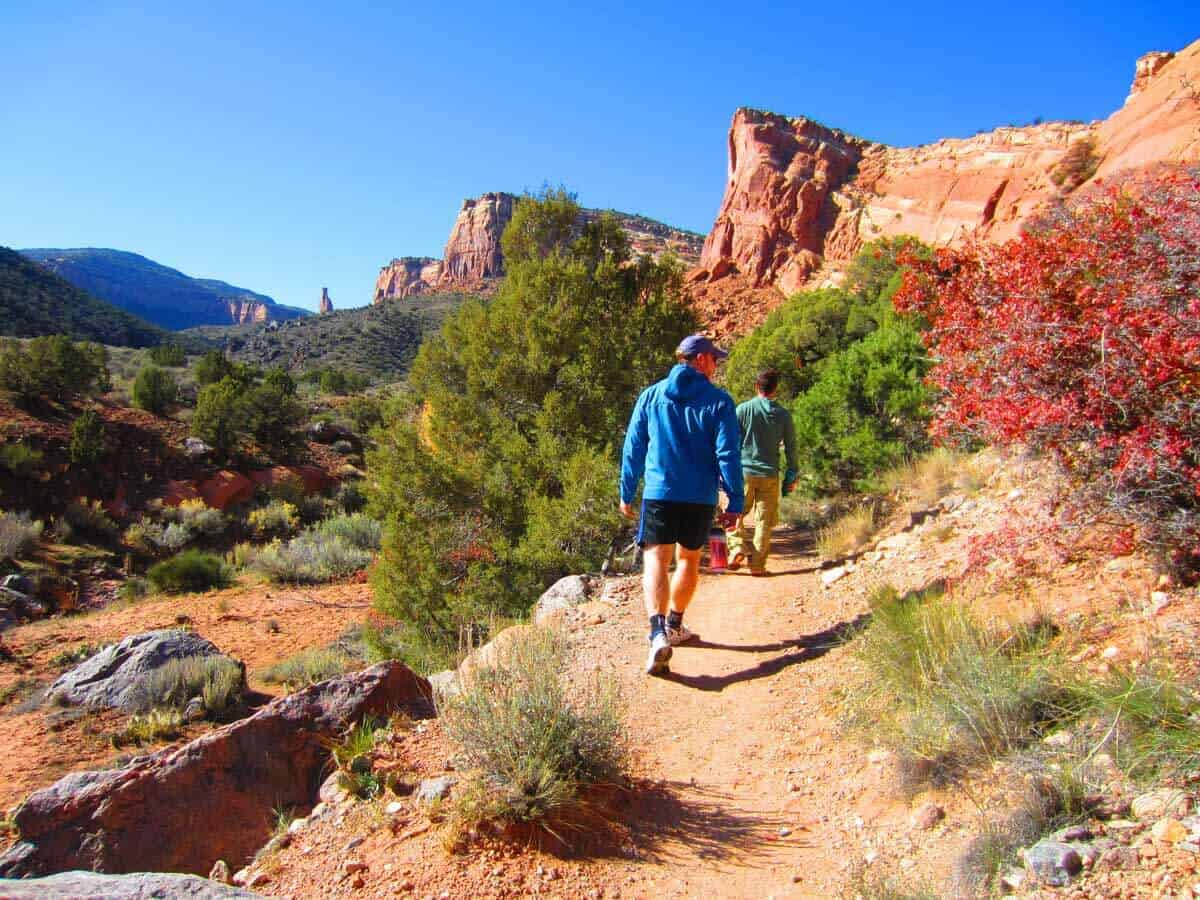 If you only have one day for the Colorado National Monument, what should you do?
The Colorado National Monument is one of the most popular tourist destinations in Western Colorado. With its dramatic red rock formations and twisting canyons, it's easy to see why. If you're visiting the monument, here are some things you should check out – and it is easy to see in one day!
Colorado National Monument History
If you love the outdoors and the environment, you have most likely heard of John Muir. John Muir was one of the founding fathers of the environmental land ethics movement. They say John Otto was the same, advocating to preserve and protect the Colorado National Monument area. Otto is talked about and referenced in trail names throughout the park and is an important figure in how the Colorado National Monument came about.
The Colorado National Monument was established in 1911 due to Otto's advocacy under President Taft's administration and the Antiquities Act.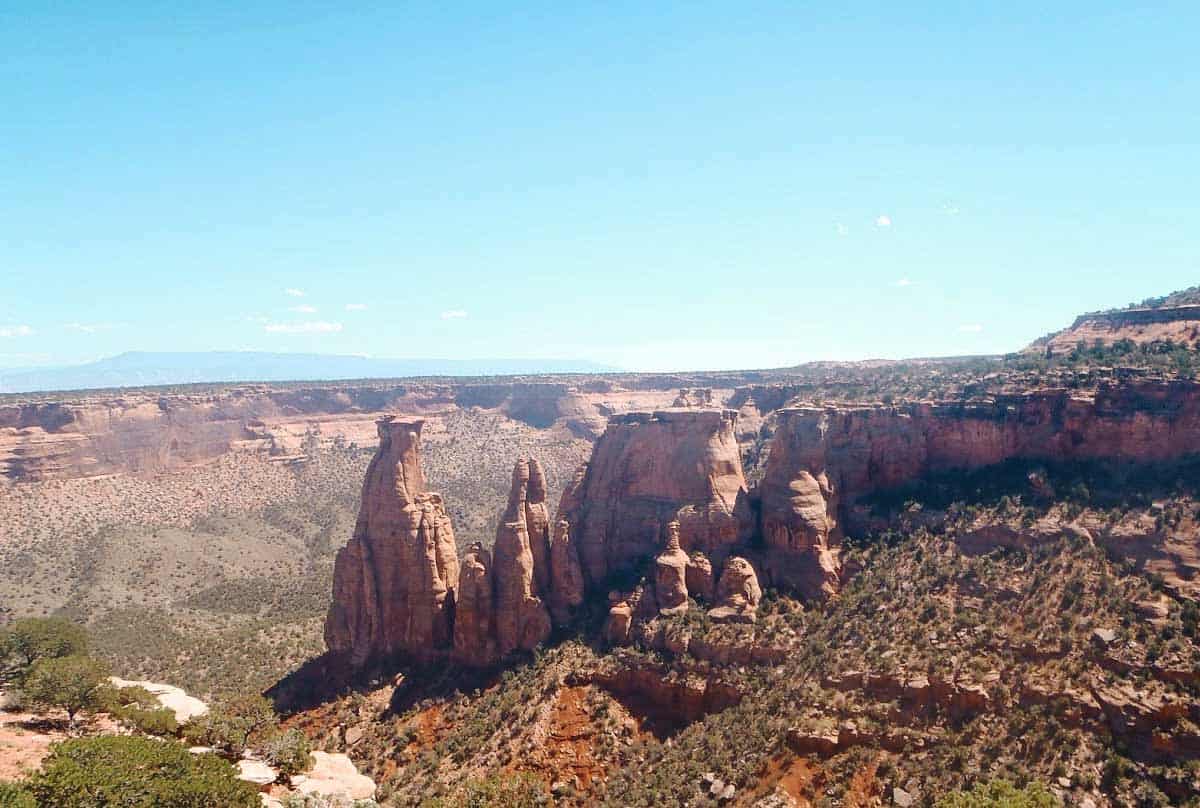 Colorado National Monument: Best Things to See
We used to live in Grand Junction, Colorado, and have spent a lot of time here in all seasons. In fact, Pablo and I even adventure eloped at the Colorado National Monument!
We have written this guide so you can avoid crowds, get the most out of your time, and see as many of the viewpoints and sights as possible. "The Monument," what locals call it, is one of the most remarkable destinations in Colorado that you probably have never heard of, and we are sharing what not to miss.
When you have one day to visit, the best things to see and do are:
Drive the historic Rim Rock Scenic Drive
Check out the main viewpoints along the historic Rim Rock Scenic Drive
Photograph the incredible desert scape, monoliths, and sandstone walls
Go on a short hike or two
Explore the Colorado National Monument Visitor Center
Go camping or stay downtown
Colorado National Monument Itinerary
It is easy to visit the Colorado National Monument in one day! Let's kick off how to spend your visit.
Historic Rim Rock Scenic Drive
You can either enter the Monument from the east or west entrance. The east entrance is the Grand Junction side, and the west entrance is the Fruita side. You honestly can do either access, but we think the grandest section of the drive is the east side. So, be prepared to be wowed!
Start your day as early as possible to avoid the crowds and beat the heat. In general, this park is not oversaturated with visitors, and there is room to explore.
Enter the Colorado National Monument from the Grand Junction east entrance. You'll begin the drive winding through a somewhat steep but paved drive through the tall red rock sandstone country.
Along the drive, you'll see the incredible and almost indescribable magnificence of the Monument, a few drives through tunnels, along with more-than-likely blue skies. Grand Junction is known for having lots of sunny days!
The Rim Rock Drive is 23 miles long, it has 19 viewpoints, and you can access 14 different hiking trails (more on hikes below).
Travel tip: Keep your eyes open for road bikes! It is a really popular place for bicycles. Like, really popular. So, if you like to road bike, bring your bike and start at sunrise.
How Much Time to Drive the Colorado National Monument?
It will take at least one hour to drive, depending on how long you take to enjoy the views, and stops with options for 19 viewing areas and a few short day-hikes.
Colorado National Monument Viewpoints
Keep your eyes peeled for some of the famous overlooks such as Cold Shivers Point, Red Canyon Overlook, Artists Point, Coke Ovens, Monument Canyon View, Grand View, and the Independence Monument View.
Independence Monument is the famous monolith you see in magazines.
Colorado National Monument Photography
If you're looking for an incredible place to take photographs, the Colorado National Monument should be at the top of your list. With its awe-inspiring rock formations and stunning views, the park offers plenty of photo opportunities.
Don't forget to bring your camera to capture the beauty of this national natural treasure.
Read more about the adventure travel camera gear we are using these days to help inspire your photography.
Colorado National Monument Hiking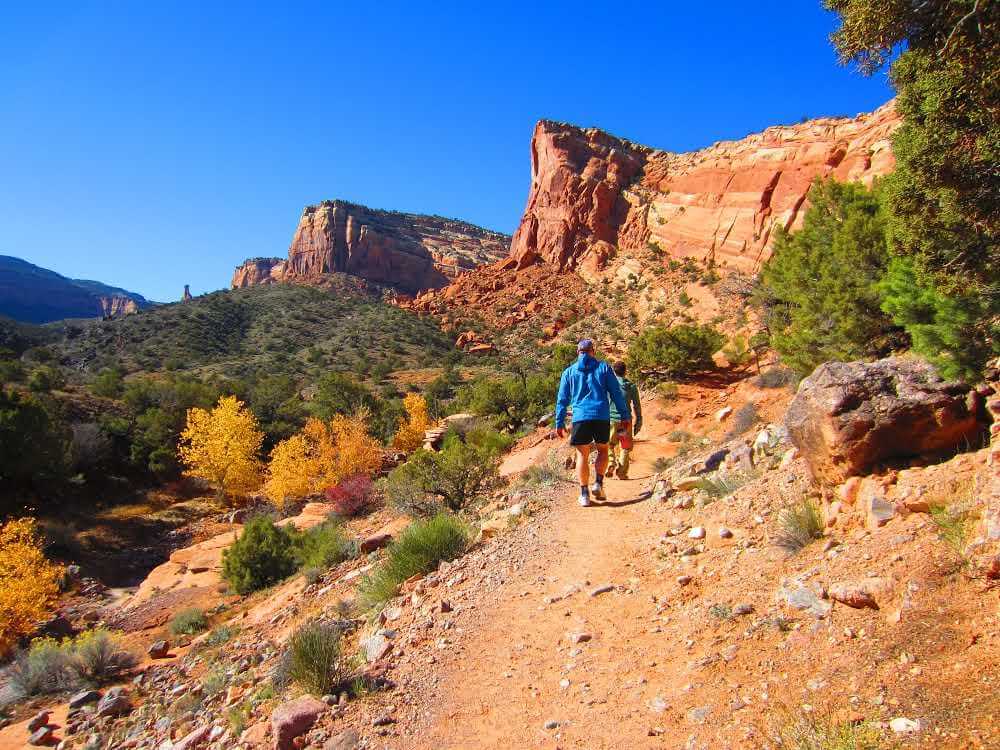 There are 14 trails within the area. Some are easy and short, and some are long and excellent for backpacking.
There are quite a few options to squeeze in hiking along the scenic drive. Or you can plan for a longer hike.
We are sharing some of our favorite hikes below.
Colorado National Monument Best Hikes
5 Trails to Hike Along the Scenic Drive
Below are excellent trails to incorporate into your day along the scenic drive.
Serpents Trail – 1.75 miles one way – 1-2 hours to hike
Devil's Kitchen Trail – 0.75 miles one way – 1-2 hours to hike
Coke Oven's Trail – 0.5-mile one way – ½ hour to hike
Otto's Trail – 0.5-mile one way – ½ hour to hike
Canyon Rim Trail – 0.5-mile one way – ½ hour to hike
3 Trails to Hike Before or After the Scenic Drive
The list of trails below cannot be accessed from the Rim Rock Scenic Drive. The access points are from the lower road, Broadway (340).
These hikes are listed under the backcountry trails, but you don't need a backcountry permit to hike them as day hikes.
Corkscrew Trail – 3.3 miles one way – 2 1/2 -3 hours to hike; the trail is well marked.
Liberty Cap Trail – 7.0 miles one way – 4 to 5 hours to hike
Monument Canyon Trail – 5.0-6.0-mile loop (depending on which branch you take) – 4 hours to hike
Keep your eyes peeled for Big Horn Sheep while hiking the three trails above.
Tips for Hiking in the Desert
From May to October, it can be hot and dry in Grand Junction.
When hiking in the desert, always be sure to:
Have a map, and know where you are
Bring at least one gallon of water per person per day
Wear a hat, and protect your skin with clothes or sunscreen
Bring all your water and snacks – you'll be in more remote places
You might even want to consider bug repellent. There can be gnats from mid-May through July!
Leave No Trace – The desert is near and dear to our hearts. Please check out our page with tips for how to recreate responsibly in the desert and protect biological soil crust.
Colorado National Monument Visitor Center
The Saddlehorn Visitor Center is located near the west entrance or Fruita side. Here you can find brochures, hiking information, and restrooms.
How Much Does It Cost to Get into the Colorado National Monument?
There is an entrance fee to enter the park.
The costs are:
$25 per vehicle (valid for 7 consecutive days);
$20 per motorcycle; or,
The Annual America the Beautiful Pass is accepted (which is $80 annually)
Arriving at the Colorado National Monument
The largest city near the Monument is Grand Junction, Colorado.
Below are estimated distances from a few of the surrounding major cities to plan an epic road trip:
Distance from Denver to Colorado National Monument – about 250 miles
Distance from Salt Lake City – about 275 miles
Distance from Vail – about 160 miles
Distance from Moab – about 100 miles
Be sure to plan your road trip to arrive during daylight so you can see the incredible beauty of the surrounding area and navigate the winding roads wherever you are coming from.
Colorado National Monument Camping
Saddlehorn Campground is within the Monument.
You can make reservations ahead of time at recreation.gov.
Saddlehorn Campground Details
No electric hookups
No showers
Restrooms: flushing toilets and water – during summer
40 ft length limit for recreational vehicles
Campfires not permitted
Pets are allowed at the campsite and on paved surfaces, but not on any trails
Other National Parks Near the Monument
Grand Junction is relatively close to Moab, Utah.
Visiting this western Colorado treasure pairs great with other Southwest road trip destinations such as:
Other Questions You Might Have
What is the Best Time of Year to Visit the Colorado National Monument?
The Monument is open year-round, and Grand Junction has relatively mild winters, so you can really visit all year.
The best times of year to hike in the desert, in our opinion, are the spring and fall months. Visiting during April-June and then October is a beautiful time of the year.
In late May and early June, you will even be able to catch the cactus blooming.
Does the Colorado National Monument Get Snow?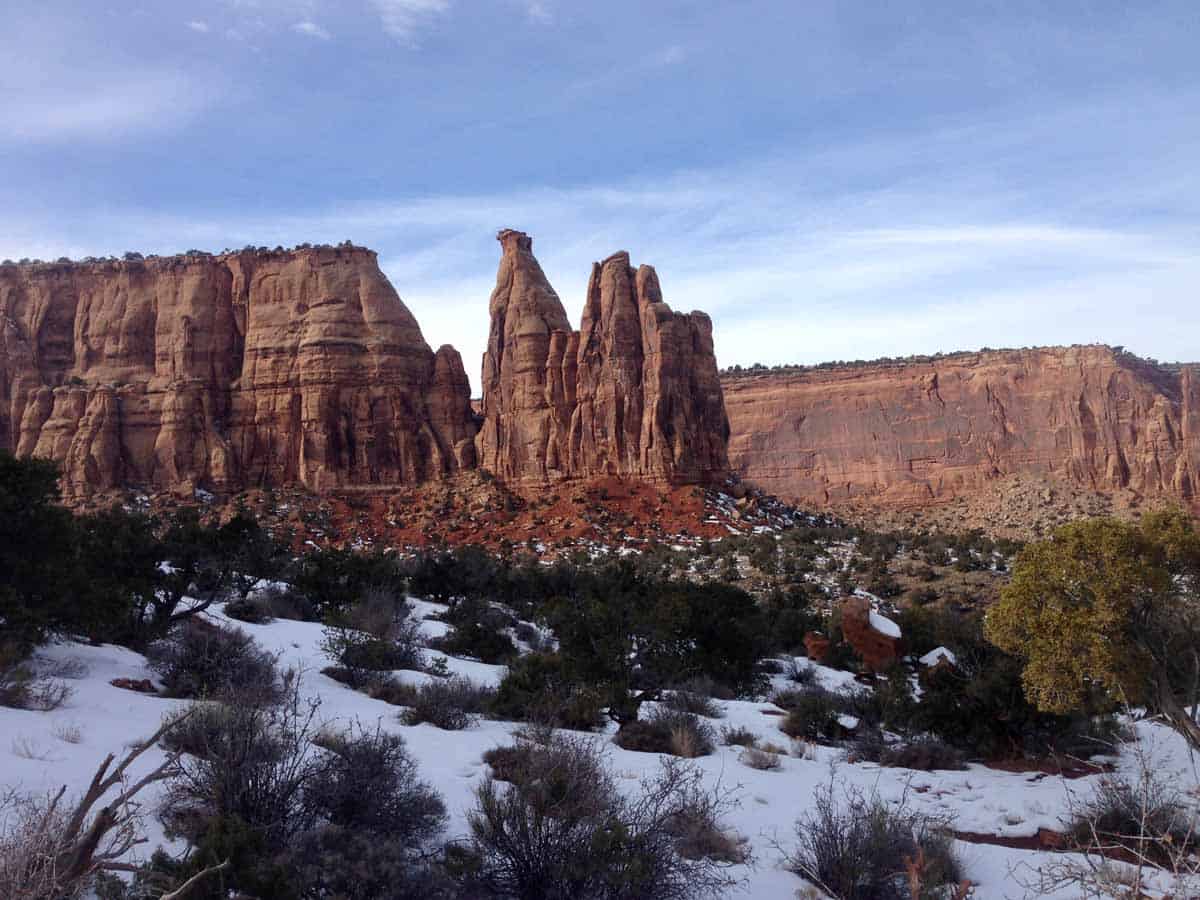 Yes, it does snow here. With an elevation ranging between 4,700 feet to 7,028 feet, the area does receive snow. Consider the higher elevation when planning your trip as well.
Plan and educate yourself on how to avoid potential altitude sickness if you're not from the area.
Are Dogs Allowed at Colorado National Monument?
Like most national parks, pets are not allowed on any of the trails, including the backcountry trails. Dogs are allowed in the campground and on the paved road areas.
But don't worry, if you are road-tripping with your best friend, there are lots of options to hike with your dog on BLM land. Western Colorado has some of the most epic high desert public lands in the United States!
I'm Not Camping. Where Should I Stay?
To have the best time in Grand Junction, you want to stay downtown. Downtown, you'll be within walking distance of boutique shopping, local restaurants, bars, and historic main streets.
We recommend the following hotels:
Fairfield Inn and Suites By Marriott
Springhill Suites by Marriott
Tru by Hilton
Final Thoughts on Visiting the Colorado Monument
If you want to see some of the most beautiful and awe-inspiring landscapes in America, a visit to the Colorado National Monument is a must. The park is located just outside of Grand Junction, and it's easy to spend an entire day exploring the different canyons, mesas, and rock formations.
Make sure to plan your trip around the sunrises or sunsets – they are absolutely amazing!
We hope you enjoy this guide on how to visit the Colorado National Monument in one day.
Have a wonderful trip.
Ashlee & Pablo
---
More Western Colorado Adventures
This article was produced and syndicated by The Happiness Function.