Grand Junction Rafting Trip: Camping, Hiking, and Yoga Along the Colorado River
Posted on: August 24, 2023
|
|
Calling all river rats and yogis! If you love rafting, hiking, yoga, and camping, a Grand Junction rafting trip is the ultimate weekend getaway. Home to the famous Colorado National Monument, McInnis Canyons National Recreation Area, and the Colorado River, Western Colorado is one of America's best-kept secrets when it comes to adventure travel, especially a backcountry river trip.
I've been dreaming of rafting the Colorado River, so when my dear friend Elizabeth Fortushniak, owner of Grand Junction Adventures, invited me on a 3-day hosted women's retreat through Ruby Horsethief Canyon, I jumped at the chance. All opinions are my own.
Grand Junction's Adventure Travel Scene
Grand Junction, Colorado, sits in a valley surrounded by the Colorado National Monument, Bookcliff Mountains, and Grand Mesa – the largest flattop mountain in the world. It's considered a high desert and part of the Colorado Plateau and is perfect for hiking, biking, mountain biking, and camping.
The Colorado River flows through the town, supporting a vibrant paddling scene offering reprieve from the harsh desert landscape. Locals and visitors alike spend spring through fall floating the river.
Folks enjoying the river scene can bring their gear or rent from a local guiding outfit like Grand Junction Adventures. Grand Junction Adventures also hosts guided rafting trips a few times a year.
Grand Junction Adventures 3-Day Guided Rafting Trip
I went on the Ruby Horsethief Women's Adventure and Wellness Yoga Trip. It was one of the best-guided trips I have been on. Between the epic views, day hikes, activities, and food, this is a perfect weekend retreat for solo travelers, friends, and family.
As part of the trip, guests can choose their adventure. You can paddle a SUP, ducky, or hitch a ride on a raft. Here's exactly what we did on a 25-mile flatwater float trip through Ruby Horsethief Canyon from Western Colorado to Utah.
Day 1: Float Through Horsethief Canyon, Set Up Camp, Yoga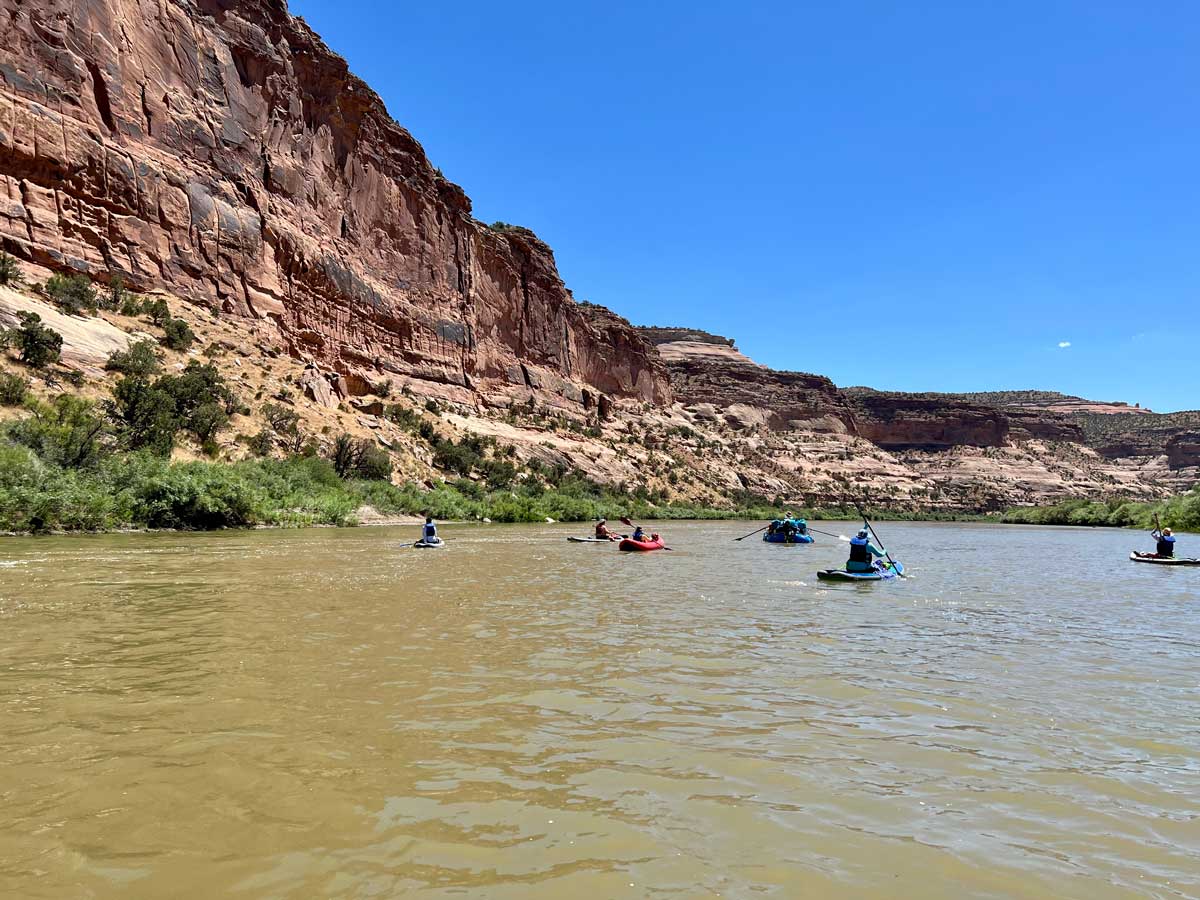 The Launch
Day one kicked off with guests meeting at the Grand Junction Adventures shop in Las Colonias Park. We packed our personal gear into dry bags (provided). Some of us picked up tents, sleeping bags, and sleeping pads. We hopped into the company van and drove to Loma, Colorado, to meet the guides and gear.
Safety Talk
Before getting on the water, the guides talked about river safety, wearing lifejackets, paddling, and properly using the bathroom in the backcountry. In case you don't know, all #2s are done on "the groover."
The groover got its nickname because it's an ammo can. Naturally, it left "grooves" on people's bottoms before the invention of the groover-specific toilet seat. Long story short, leaving no trace also applies to using the bathroom. Thousands of people float this section of river annually. Please practice Leave No Trace.
Float Through Horsethief Canyon
We floated for two hours before stopping for lunch. The crew made us healthy wraps with fresh fruit and gluten-free cookies. After lunch, we paddled for four to five more hours, enjoying the red rock canyon views and a surprise viewing of desert bighorn sheep before making it to camp.
Gear was unloaded, camp was set up, and everyone took time to soak in the cool river. Snacks and tarot cards amused us before dinner, which was a delicious taco salad. After dinner, we relaxed before a sunset Yin yoga practice. The stars were so bright that night, and we all dozed off to sleep.
Day 2: Yoga, Hike Mee Canyon, Float, Set Up Camp, Yoga Bracelets and Meditation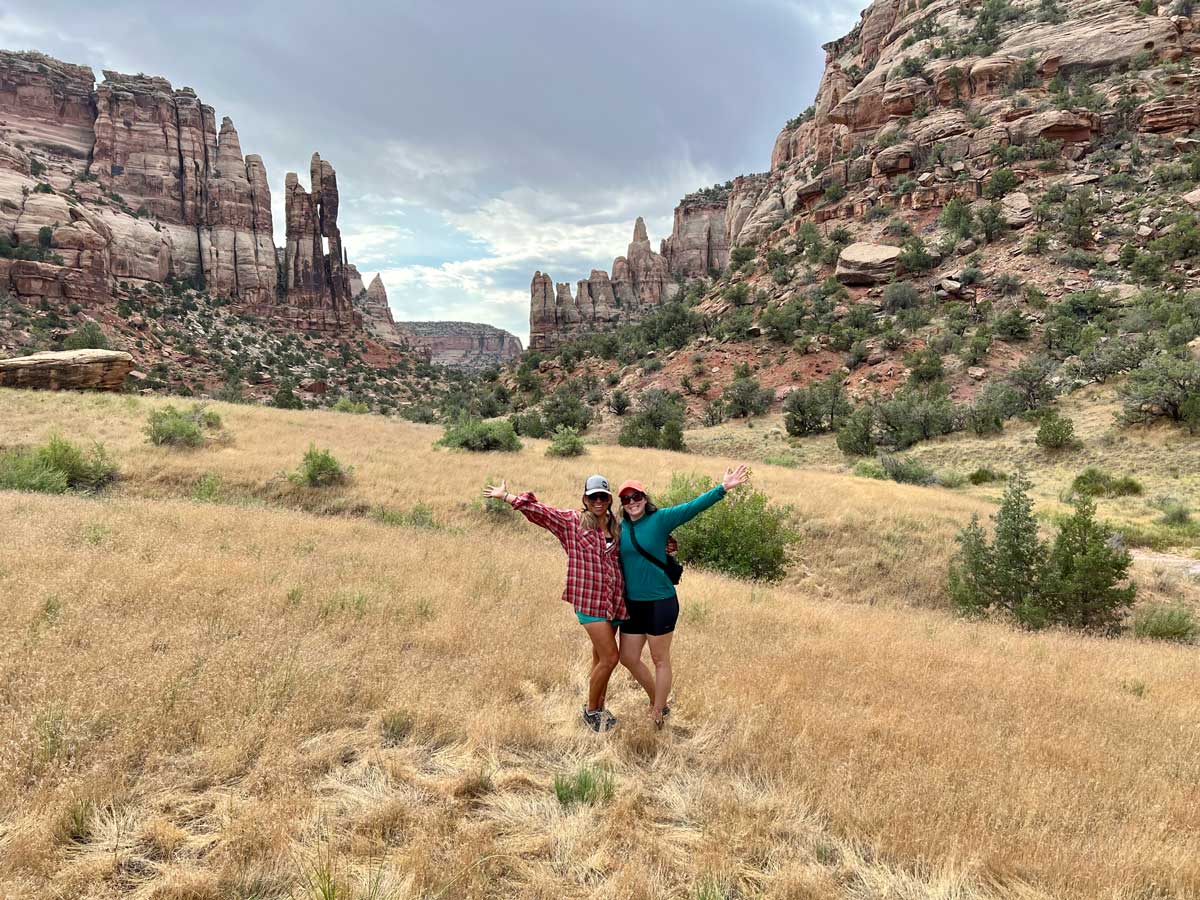 Yoga and Breakfast
The day kicked off at 5:45 a.m., with coffee graciously made by our fabulous guides. The group enjoyed a short Vinyasa flow followed by breakfast with eggs, veggies, bacon, and sausage. After, we packed up our gear and prepared to hike Mee Canyon.
Hiking and Paddling
We hiked into the sandstone cliffs of Mee Canyon for a few hours to admire the desert landscape. Afterward, everyone dipped in the river, loaded the rafts, and paddled the river for a few hours. We paddled until we got to a campsite at Black Rocks.
Black Rocks is famous for its ancient geology. It's called Vishnu schist and dates back 1.7 billion years. It's also a neat little swimming hole.
After setting up camp, chakra bracelets were made, dinner was served (excellent fried rice), and the group enjoyed cooling off in the river, followed by meditation before going to sleep.
Day 3: Yoga, Float, Hike to Petroglyphs, Take Out at Westwater
Breakfast and Yoga
We all arose to the clinking of river guides preparing a delicious breakfast of bagels, fruit, and granola in the camp kitchen. After, a morning Vinyasa flow got us ready to float and paddle. Next, we packed camp, loaded the rafts, and headed downriver to hike to petroglyphs.
McDonald Creek Hike and Float Through Ruby Canyon
For the last hike, the group paddled to the mouth of McDonald Creek, where everyone pulled off the river to trek into the canyon. We walked to see tucked-away petroglyphs made thousands of years ago by the Freemont Indians. While there, we did a little meditation to honor ourselves, the people before us, and nature.
Afterward, we hiked back to our boats and floated through Ruby Canyon, crossing the state line into Utah, before enjoying an amazing lunch of smoked salmon bagel sandwiches. Following a few more hours of paddling and a bald eagle sighting, we reached the Westwater Ranger Station to get off the river.
After the Westwater Ranger Station is a 17-mile stretch of river with class I to class IV rapids – it's only for experienced boaters.
The boats were unloaded, there was a closing tarot card reading, everyone shared what we loved about the trip, and then hopped into the van to head back to Grand Junction and say our goodbyes to newly made friends.
What Grand Junction Adventures Provides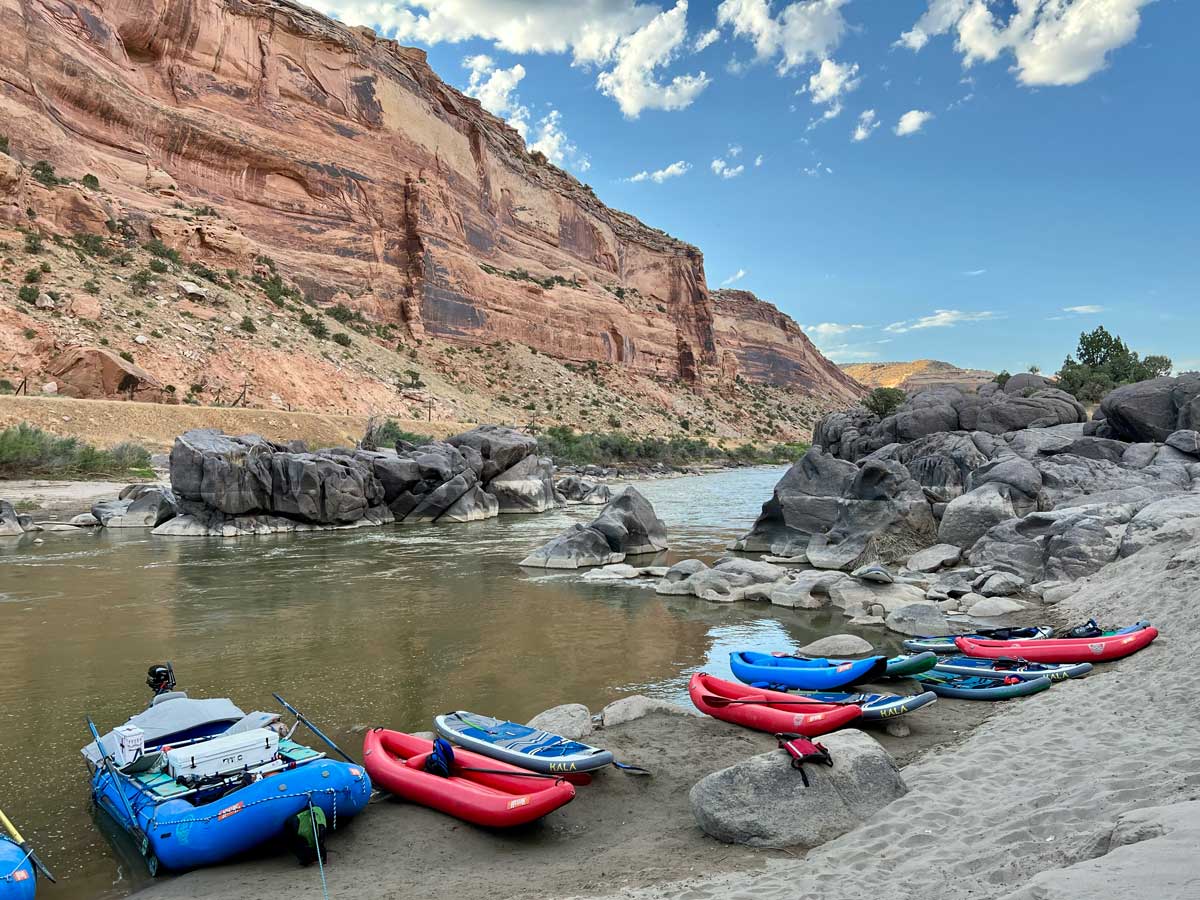 Grand Junction Adventures provides all the gear needed, such as lifejackets, boating gear, tents, sleeping bags, camp chairs, sleeping pads, and kitchen equipment. Guests are responsible for their personal belongings, such as clothes and toiletries.
They provide all the food and water – so don't worry about bringing snacks. There was plenty of delicious food!
Grand Junction Adventures also secures the permit to camp and run this stretch of the river. Permits are required for overnight stays.
After the trip, Grand Junction Adventures will shuttle you to your hotel or the airport. I highly recommend spending the night in Grand Junction before catching a flight. You'll want to shower, rest, and repack before getting on a plane.
How to Get to Grand Junction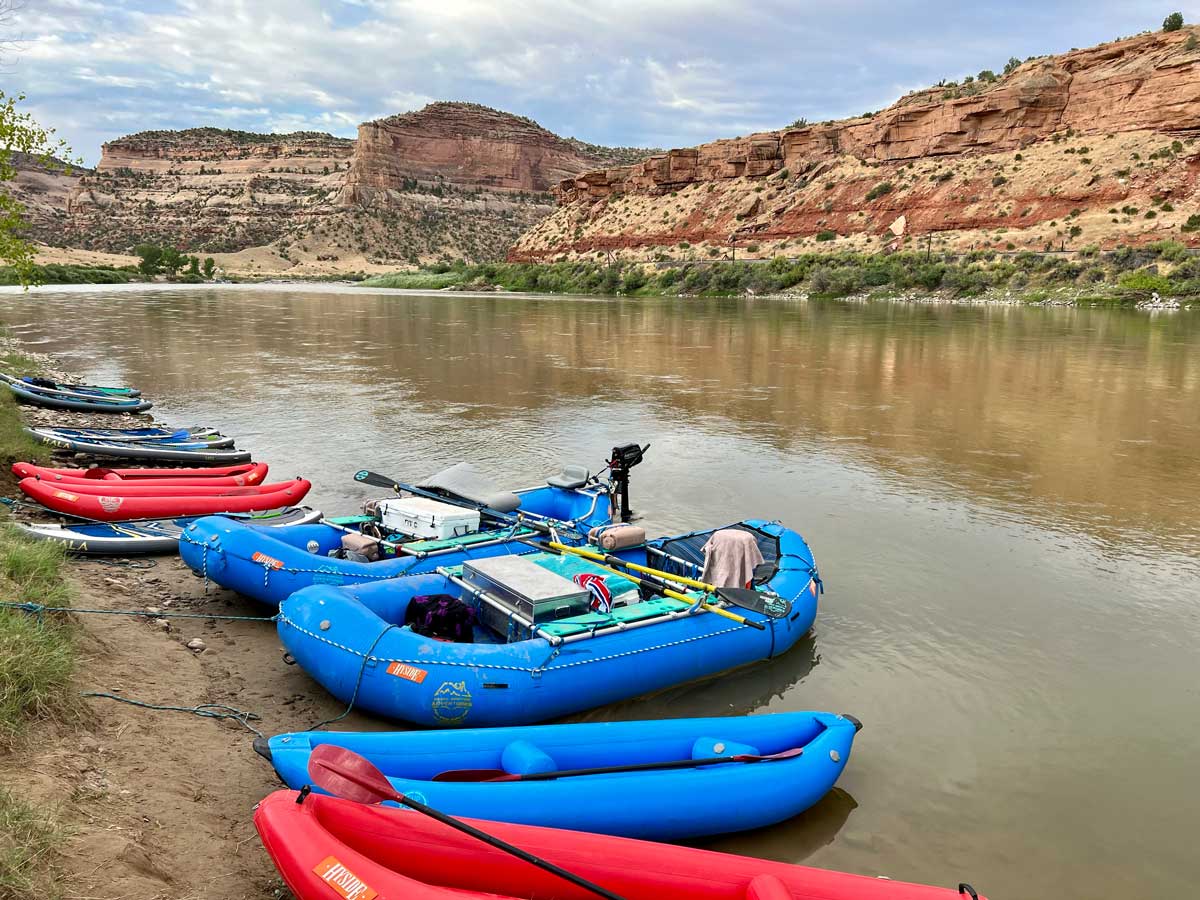 To give some perspective, Grand Junction is a four-hour drive west of Denver, Colorado. Or an hour and 45 minutes from Moab, Utah.
Visitors should fly into the Grand Junction Regional Airport (GJT) if coming from out of town. If you don't live nearby, it will save a four-hour trip through the Rocky Mountains along I-70 from Denver International Airport (DIA).
If needed, rental car bookings are available at GJT.
Where to Stay in Grand Junction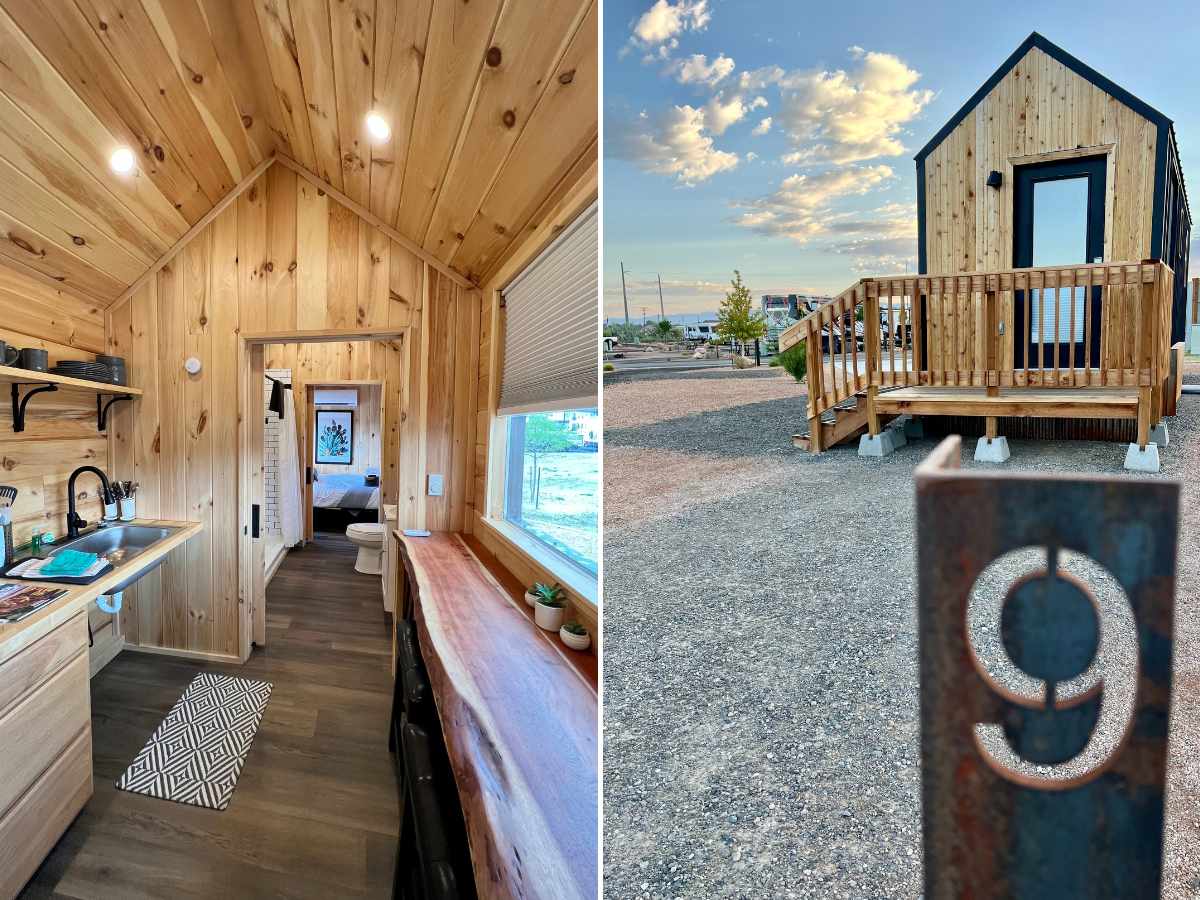 Before my guided rafting trip with Grand Junction Adventures, I stayed at Camp Eddy, next to Grand Junction Adventures' gear shop in Las Colonias Park. With views of the Colorado River, Grand Mesa, and the Colorado National Monument, Camp Eddy is the perfect place to base an adventurous weekend.
Guests can bring their RVs, book adorable tiny homes, or glamp in luxurious airstreams. I highly recommend their tiny homes.
If you're looking for dinner the night before or after your rafting trip, check out Trail Life Brewing downtown or Kannah Creek Brewing Company by CMU – so good.
Unforgettable Rafting Adventures Await in Western Colorado
I can't think of anything that grounds and recharges me more than getting into the backcountry and losing cell phone reception to hike, camp, and swim in the river.
Western Colorado is gorgeous, and since much of this stretch of river is protected by the McInnis Canyons National Recreation Area, it's rugged and remote. It is a special place in America that can only be accessed by the river or long hikes. I can't wait for another Grand Junction rafting trip.