Lake Fort Smith State Park: Plan a Camping, Hiking, and Kayaking Trip
Posted on: June 28, 2023
|
|
Nestled in the Boston Mountains of the Ozarks in Northwest Arkansas, Lake Fort Smith State Park is the perfect place to go camping, hiking, and kayaking. We're sharing fun things to do to help you plan your next road trip to this beautiful park in "The Natural State." It is a great place to get outside on the weekend and enjoy one of many incredible state parks in Arkansas.
Best Things To Do at Lake Fort Smith State Park
Located near Fort Smith, AR, Lake Fort Smith State Park is a beautiful place for a weekend road trip in the Ozarks. There is a lovely campground under the trees, miles of trails, and a crystal-clear lake to enjoy. You'll love taking in the breathtaking views of the Boston Mountains and driving the scenic byways.
Camping
Lake Fort Smith State Park has a great campground. There are 20 sites with full hookups. There are also 10 class B campsites with water and electricity. The sites are paved and RV-friendly. The campsites have fire rings and grills. Many campsites are shaded and have an area to set a tent if you're tent camping.
Two bathhouses have flushing toilets, running water, and hot showers. The bathhouses also have heat (which is excellent for year-round camping). There is a dump station.
Make reservations online for camping with Arkansas State Parks.
Hiking
There are miles of trails to explore. Some of the most popular include the Warren Hollow Trail, Boston Mountain Trail, and Ozark Highlands Trail.
We enjoyed hiking the Warren Hollow Trail to the wooded bridge and a smaller section of the Ozark Highlands Trail to the waterfall. The waterfall runs seasonally, so we didn't see it running when we camped in November.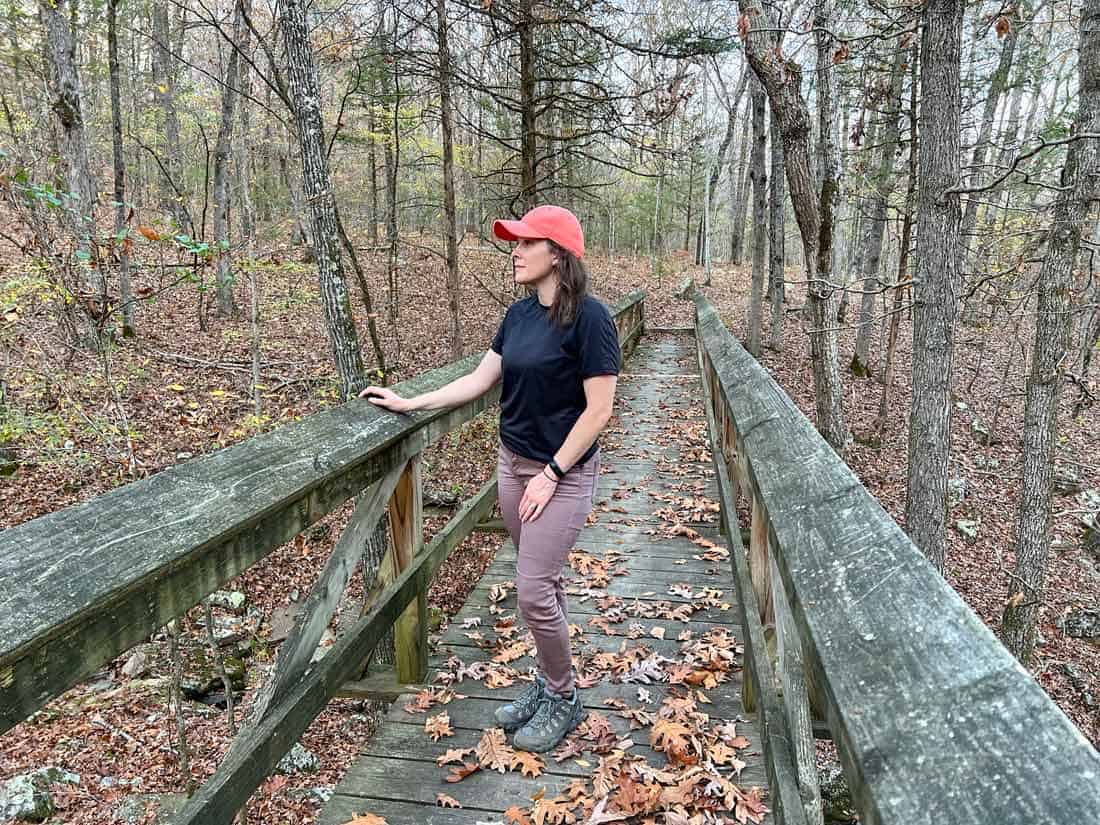 **Check out our article on what to wear hiking (for everyone)!
Kayaking
Though swimming is not allowed at Lake Fort Smith because it is a public drinking water supply, boats are allowed.
You can bring your kayak or canoe or rent kayaks at the marina seasonally.
We enjoyed paddling around the lake to the scenic bluffs and rock outcroppings. The water was crystal clear.
**If you love paddling, check out our article on the best places to kayak in Oklahoma (next door)!
More Things To Do
Along with camping, hiking, and kayaking, there are other things to do at the park, such as fishing, backpacking, picnicking and more!
Fishing
We saw quite a few small, motorized fishing boats with folks enjoying their weekend fishing trip. There were also people fishing from the shore. There is a small marina and a nice boat ramp.
Backpacking
The Ozark Highlands Trail is a popular backpacking trail that goes all the way to Buffalo National River. Lake Fort Smith State Park is the western terminus for the Ozark Highlands Trail, covering 165 miles through the Ozarks Mountains. We saw a few people starting backpacking trips while we were there. This trail goes through some of the wildest backcountry in middle America! Do some research before planning a backpacking adventure through the Ozarks – cell phone reception is minimal.
Mountain Biking
Many of the trails are open to mountain bikes. If you like mountain biking, check out the Boston Mountain Trail.
Swimming
Swimming is not allowed at the lake; however, a swimming pool is open seasonally next to the visitor center.
See More of Lake Fort Smith State Park
Check out our video on YouTube!
Where Else to Stay
The park has ten cabins available if you want to avoid camping. Two group lodges can be rented out – The Wild Turkey Lodge and Kingfisher Lodge.
Make reservations online to book your stay.
Best Time To Visit
The park is open year-round; however, March through November is the best time to visit.
During the spring, visitors will enjoy coolers temperatures and the foliage greening up – perfect weather for camping and hiking. Summers are a great time for kayaking and paddling on the lake. And fall is an excellent time for hiking, camping, paddling, and enjoying the beautiful fall foliage.
More Info
Dogs are allowed at the campground and on the trails.
We did not have cell phone reception at the campground – we were at site #4.
Final Thoughts
We camped at Lake Fort Smith State Park in early November and had a great time! We brought our kayaks, paddled the lake, and hiked a few of the trails. The fall foliage was incredible. We also enjoyed chatting with all the other campers – everyone was so friendly.
Since we live in Tulsa, Lake Fort Smith State Park is only two hours away, making it an awesome weekend road trip from Tulsa.
The views of the Boston Mountains during the fall are stunning, and we highly recommend a road trip to the area during the autumn months. We hope you have the best time exploring.
Thanks for reading!
Ashlee & Pablo
Get More Arkansas Adventures
We love getting outside in Arkansas! You might also enjoy exploring these fantastic state parks:
Please remember to Leave No Trace while exploring the outdoors!
Visit us on Instagram! We'd love to see you along the way. Check out our reel about exploring Lake Fort Smith State Park.