30+ Beautiful Fall Destinations with Places to Hike in the US
Last Updated: Oct 9, 2023
|
|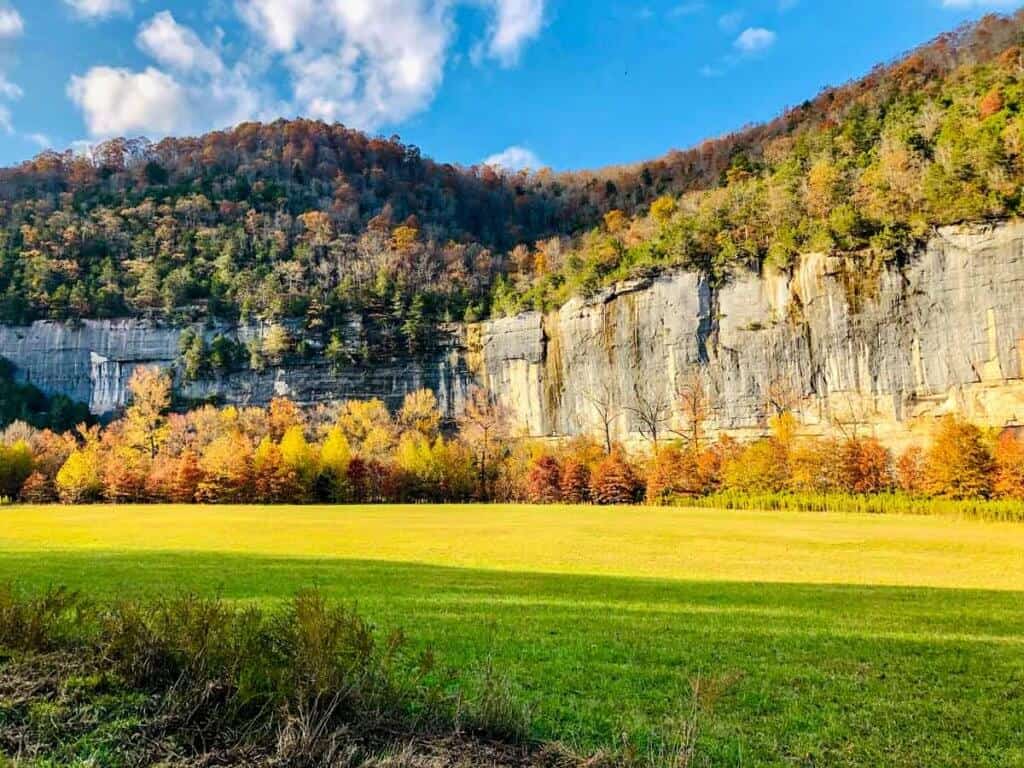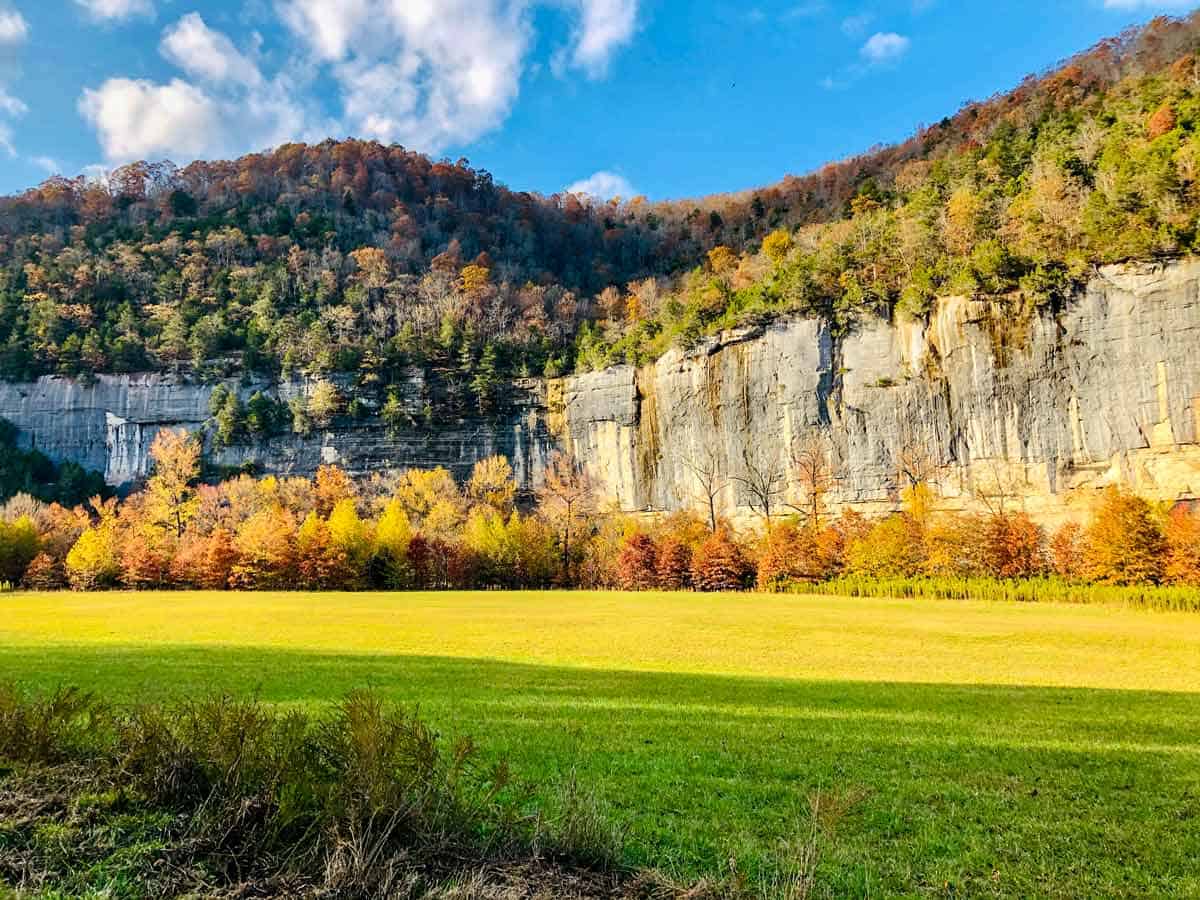 If you're looking for some inspiration for your next outdoor adventure, you'll love this list of over 30 beautiful fall destinations with places to hike throughout the US. From mountain trails in national and state parks to coastal paths and even jungles, there's something for everyone to spark some fall-time wanderlust!
Fall is a beautiful time of year, especially for those who love the outdoors. The leaves are changing color, the weather is cool and perfect for hiking, and there's a feeling of excitement in the air as the holidays approach.
So, grab your favorite boots, cozy hiking socks, and daypack, and get ready to explore some epic fall destinations!
Incredible Fall Destinations and Places to Hike
We asked dozens of locals, hikers, and expert travel writers for their insights and best places to visit in the fall, and we can't wait to share these incredible destinations with you!
Continue reading to find out where to go, when to see the best fall colors, the best trails to hike, what else to do, and if you can bring your dog (because we love dogs)!
Please practice Leave No Trace while exploring the outdoors.
1. Buffalo National River, Arkansas
Recommended by Ashlee of The Happiness Function
Tucked within North Central Arkansas lies the Buffalo National River, one of the last undammed rivers in the US. Buffalo National River is protected by the National Park Service, and there are no entrance fees to explore. The park is located within the Ozark Mountains, which put on a mesmerizing floral display during the fall.
Fall is a fantastic time of year to explore the Buffalo National River. The weather is cooler, the elk are out and about, and there are fewer bugs!
The peak season to catch fall colors is mid-October to early November, depending on the year. But you can experience awesome fall weather into December.
One of the most famous trails to hike within the park leading to million-dollar views, is the Centerpoint to Big Bluff (Goat Trail). This moderately difficult trail is about 6 miles out and back. You'll hike through the forest, which leads to one of the tallest and most iconic bluffs along the river.
Another epic hike in Buffalo National River is to Hemmed-in-Hollow. It is the tallest waterfall in mid-America cascading over 200 feet from the bluff! This is a challenging hike due to the steep elevation changes, but the views are worth it!
Since the National Park Service manages Buffalo National River, most trails are not dog-friendly. The only dog-friendly trails within the entire park are the Buffalo River Trail between Ponca and Steel Creek or Villines Homestead Trail at Ponca, trails within Tyler Bend Campground, and trails within Buffalo Point Campground.
There are many great places to camp in Buffalo National River, and fall is the best time to explore this protected national treasure.
2. Ozark Mountains, Arkansas
Recommended by Ashlee of The Happiness Function
The Ozark Mountains in Arkansas are one of the tallest mountain ranges between the Rockies and Appalachians and make for a memorable fall destination.
Peak season to view the best fall colors is mid-October to early November.
The best trails are within Devil's Den State Park and Petit Jean State Park.
Whitaker Point is one of the most iconic places to hike in the Ozarks!
Dogs are allowed on most trails within the Ozark National Forest or Arkansas State Parks, which makes the Ozarks a great place for people to get out and explore the outdoors.
If you like exploring remote and wild places, you'll love visiting the Ozarks this fall.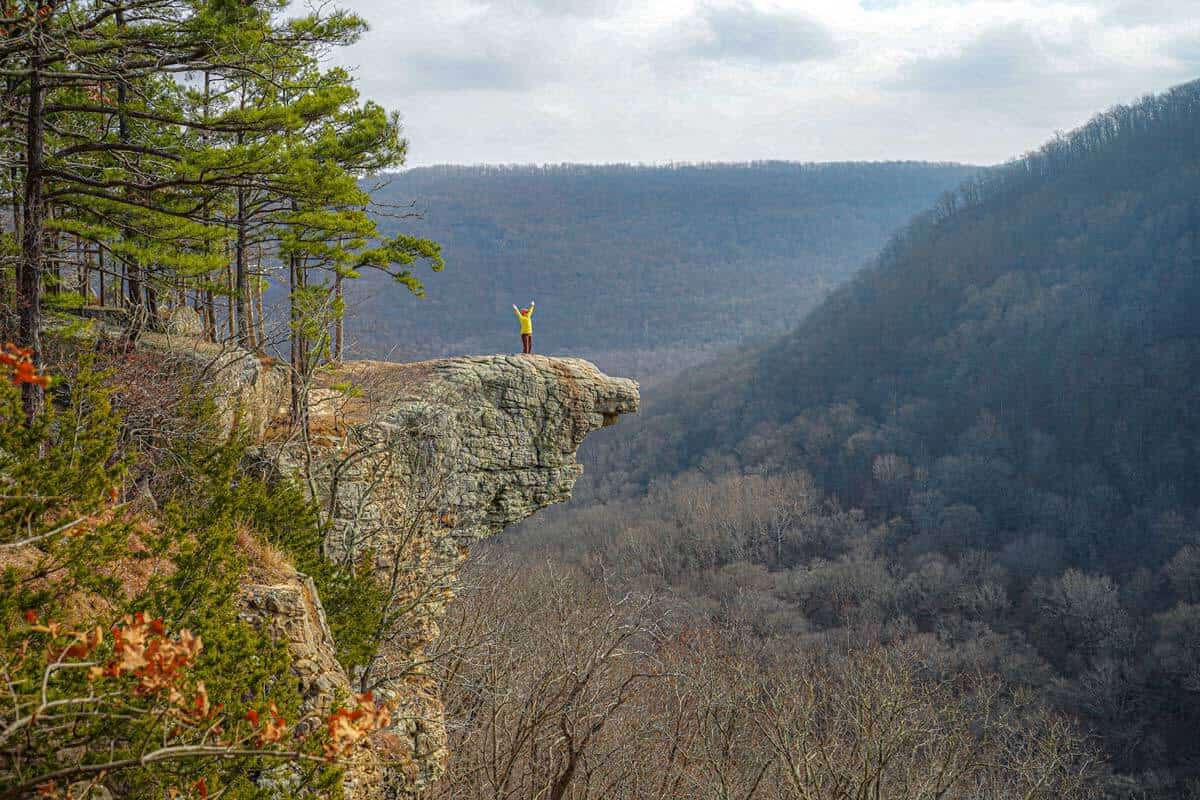 3. Blue Ridge Parkway, Boone to Asheville, North Carolina
Recommended by Victoria of Southern Trippers
Are you looking for one of the best fall destinations in the US? If so, then take a drive along the Blue Ridge Parkway, which stretches out for 469 miles from Northern Virginia to Asheville, North Carolina.
And while the entire parkway comes alive with vibrant fall foliage, the section between Boone and Asheville is exceptionally beautiful.
During your drive, stop at Moses Cone Manor at Milepost 294.1 for unparalleled views of the mountains, where fall foliage peaks around the end of October and early November.
You can also access a few local hiking trails before grabbing breakfast in Blowing Rock and continuing to the Linn Cove Viaduct at Milepost 304.4. It's easily the most recognizable landmark on the entire parkway and is a great place to stop off for a bit of hiking.
You can also continue down to Grandfather Mountain at Milepost 305.1 and try the Daniel Boone Scout Trail while you're in the area.
Whatever you do, don't miss the Rough Ridge Overlook since it will take you on a hike to one of the best Blue Ridge Parkway overlooks. This hike is great because it's a moderately strenuous, 1.2-mile round-trip hike that starts with a nice view of a waterfall. There are also cables in place to keep you on the right path, leading you to stunning views of the surrounding area.
4. Smoky Mountains National Park, Tennessee
Recommended by Pam of Our Adventure is Everywhere
To fully enjoy the stunning fall foliage of the Great Smoky Mountains National Park in Gatlinburg, Tennessee, begin your day by hiking the Rainbow Falls Trail. At 5.1 miles (out-and-back), it's a perfect morning hike.
Rainbow Falls Trail is well-maintained and easy to navigate, but getting to the falls is all uphill, so it can feel strenuous. However, the way back is super easy and will take about half the time! If you move consistently, you can complete the entire hike in about 2.5 – 3 hours.
If the light hits just right at Rainbow Falls, your reward for the uphill climb will be rainbows! Luckily, even if you don't see rainbows, the falls are lovely and the ideal location for a quick rest before heading back down.
Although dogs are allowed in the park and campgrounds, there are only two short walking paths where they can join you – neither of which is to Rainbow Falls.
The Great Smoky Mountains National Park is free to visitors, and it gets very crowded in the late spring, summer, and fall. So, if you want to enjoy this particular hike, arrive early in the day to ensure you can find a place to park and experience the trail without many people.
With dozens of trails within the Great Smoky Mountains National Park, you could easily explore for days without repeating a hike and then spend your evenings enjoying good food, shopping, and numerous tourist attractions and things to do in Gatlinburg.
5. Red River Gorge, Kentucky
Recommended by Tiffany of Pennies, Places, and Paws
An incredible fall destination to explore in Kentucky is the Red River Gorge. Not only is it beautiful but it's much less busy in the autumn months compared to summer. The leaves start to change in September but wait until the end of October for the best views before you visit.
There are trails for everyone's skill set, and there are options from hikes less than .5 miles to hikes that can last all day. However, the difficulty levels vary significantly among the trails, so you will want to do your research if you are looking for an easy hike.
Cell phone service is very spotty in this area, so download your trail and road maps beforehand. A paper map is also beneficial to have as a backup!
Red River Gorge only has one official campground in the park, but there are numerous other campgrounds and cabins in the area to choose from.
The park is dog-friendly though some of the trails may be more difficult if you have your pup with you.
This area of Kentucky is excellent for lovers of the outdoors. Daniel Boone Forest and Kentucky's Natural Bridge State Resort Park are nearby.
For a unique experience, you can even book a guided underground kayak tour from The Gorge Underground!
6. Mammoth Cave National Park, Kentucky
Recommended by Tiffany of Pennies, Places, and Paws
The Green River Bluff Trail is one of the best hiking trails in Mammoth Cave National Park. It is best to hike during autumn because the fall foliage is gorgeous along the river and other parts of the trail. In addition, it's an easy hike, so you can truly relax as you look for wildlife and appreciate the beautiful views.
For optimal leaf color, try to visit towards the beginning to middle of October.
If you have time, explore the spur trail to the River Styx Spring. The springs in this park are stunning with color and worth the extra steps!
Mammoth Cave National Park is dog-friendly, and there are campsites, cottages, a hotel, and restaurants all onsite, so you don't ever have to leave the park.
Even better, there is no fee to enter this national park unless you plan on spending the night. So, when planning your trip, remember that you can easily spend several days here hiking, kayaking, visiting historic churches or cemeteries, and of course, touring Mammoth Cave itself!
If you are looking for more activities nearby, there are several other caves you can visit as well as the American Cave Museum. If you are up for a short drive, you can visit Abraham Lincoln's boyhood home and the Abraham Lincoln Birthplace Unit National Historic Site.
7. Chugach State Park, Alaska
Recommended by Lina of BucketListPlaces.com
Chugach State Park in Alaska spans over 495,000 acres and has a variety of breathtaking hikes that give the optimal opportunity for viewing fall colors. The state park is a short drive from Anchorage, the largest city in Alaska, making it easy to fly in and access dozens of hiking trails. In addition, the city serves as the perfect base for a multi-day trip as there are many great lodging options in Anchorage.
The variety of options, from glaciers to lakes to peaks, makes Chugach State Park the ideal fall destination for hiking. In the fall, the leaves turn stunning yellows and oranges, and the longer days allow for hiking later than in many other parts of the country.
After a fun day hiking, be sure to visit the many breweries in the area located in both Anchorage and Eagle River.
For those looking to camp, Eklutna Lake Campground is located on one of the most beautiful glacial lakes in Alaska.
Chugach State Park is dog-friendly, provided owners leash their dogs on hikes.
The best time to visit to see fall colors is the mid-end of September, but it varies slightly from year to year. During this time, the weather gets chilly, so be sure to bring along layers that can easily be taken off.
There is a day-use fee in some locations to park, but there are also trails that don't cost anything, including Eklutna Mountain and Bear Peak Trail.
8. Santa Barbara, California
Recommended by Janelle of Make the Trip Matter
Santa Barbara is a coastal city in California that is lucky enough to have both the Pacific Ocean and Santa Ynez Mountains bordering it on either side. Hiking, rock climbing, and camping in the mountains are great ways to get outdoors and enjoy the beautiful scenery of the area. There are many trails to choose from, ranging from leisurely strolls to challenging hikes.
One of the most popular trails in Santa Barbara is Inspiration Point. It's a moderately challenging, out-and-back trail that ends with stunning views over the city and out across the ocean. Hikers can see the Channel Islands! The trail is 3.4 miles with 935 feet of elevation gain and takes about 1.5 to 2 hours to complete.
It's easy to get to, just a 10 to 15-minute drive from the downtown area with free parking on the street. The majority of trails in Santa Barbara are safe, well-maintained, and well-marked. Simply follow the signs for Inspiration Point, and if you want more of a challenge, you can always continue your hike down one of the other trails that branch off along the way.
Inspiration Point is best to hike in the fall when the weather is still warm but has cooled off considerably from the summer heat. Plus, most tourists and students will be gone, and you can enjoy the trail during a much quieter season.
Most trails in Santa Barbara are dog friendly, including this one, so long as they stay on a leash.
9. Palos Verdes Peninsula, California
Recommended by Janelle of Make the Trip Matter
Right outside of Los Angeles, is an area known as South Bay LA that starts at LAX and runs south along a few beach cities until you hit an impressive peninsula called Palos Verdes. With gorgeous views of the ocean and the city, plus trails that lead down to the beach for tide pooling and exploring, this is one of the best places for walking and hiking in the LA area.
Arguably known for its gorgeous Terranea Resort and golf courses, the best things to do on the Palos Verdes Peninsula is to explore nature.
Fall is the best time of year to hike in California as it's still very sunny and pleasant but not nearly as hot as the summer months.
For panoramic views, begin at Del Cerro Park. You can walk around the park, have a picnic, and enjoy the view. There are a few free parking spots along the park (though they fill up early) and along Crenshaw Blvd.
There are multiple hiking trails to choose from at the park, ranging from easy to challenging and averaging about 2-3 miles. You can simply pick one and walk down until you're tired and want to turn around. If you want a challenge, it's possible to walk all the way down the hill to the ocean and back up again – though it will likely take a good portion of the day!
Or, if you want a calm beach walk featuring some tidepools, try out the Abalone Cove Trail, which is just over a mile long. It begins in the Abalone Cove Shoreline Park, and there is a small fee to enter, depending on how long you plan to spend in the park.
Dogs are welcome at both trails on a leash.
10. Redwood National Park, California
Recommended by Anna of Anna Tee
Since summer is the most popular time to explore the redwoods, hiking in the fall gives visitors more privacy, and the experience is quiet and peaceful. The weather is still mild and perfect for exploring!
The Damnation Creek Trail is one of the most incredible hikes in Redwood National Park. It is awe-inspiring, making it a wonderful fall destination!
The trailhead is located off Highway 101, in Northern California.
It's a steep hike – so though it isn't too long, it is considered strenuous. You'll go downhill on the way there and uphill on the way back! But the trail leads through a gorgeous old-growth forest, ending on a breathtaking rocky beach.
Dogs aren't allowed on this trail, but it is free to hike!
Though it's a national park, no entrance fee is required for this one.
If you want to spend the night, the Mill Creek Campground is nearby.
There are also several other trails to try if you want to see more of the park – the Grove of Titans is an amazing forest trail, while Enderts Beach is another beach hike.
11. Heather-Maple Pass, Northern Washington
Recommended by Kassidy of The Hiking Helper
During the fall time in Washington, you'll be surrounded by red, orange, and yellow bushes along with tall golden larches that are only magical during autumn.
You'll find the Heather-Maple Pass Loop Trail in northern Washington, not far from the Canadian border.
At 7.4 miles with just over 2,000 feet of elevation gain, this trail is rated as hard and will present itself as a challenge.
Set aside about 5 hours to complete it, and perhaps a bit extra to stop and take in all the views.
Typically, this hike is done from July to October when the trail is clear of snow. However, it's best to do it during peak fall season, typically around early October, to see the best fall foliage!
Because of the popularity of the trail, it's also recommended to arrive early in the morning to ensure that you can snag a parking spot!
The trailhead isn't located too far from North Cascades National Park, so while you're in the area, make a stop at Diablo Lake and the Washington Pass Overlook.
You'll need either a Northwest Forest or America the Beautiful pass to park at the trailhead.
Dogs are allowed on this trail, but they should be leashed at all times and are not allowed on trails within the national park.
12. Aspen, Colorado
Recommended by Megan of Lets Jet, Kids
Aspen, Colorado, is an inviting mountain town full of color come September making it an incredible fall destination. Shop in the boutique stores, visit the John Denver Sanctuary, or check out the Ashcroft ghost town. And, of course, make sure to leave time for the best fall hikes in Aspen. There are trails galore, but below are two for your Colorado bucket list.
For easier, relaxed hiking, Maroon Bells offers a 1-mile trail in front of some of the most photographed mountains in the country. For a bit longer but not too difficult of a hike, keep going off the main trail to Crater Lake for a closer view of the Maroon Bells. Dogs are allowed on this trail, except for the Scenic Loop due to moose.
Hunter Creek is another excellent trail just a few minutes outside of town. During the fall, the trail leads hikers through golden aspens and pine trees. Towards the top of the route, hikers wander through a bright golden meadow with abandoned cabins.
If you are looking for camping near Aspen, there are plenty of options. Difficult Campground is, ironically, a very nice place to camp. Silver Bells and Silver Queen campgrounds welcome tents in the beauty of the Maroon Bells area.
13. Kauai, Hawaii
Recommended by Emma from All Over the Place
Visiting Kauai is a great fall destination to explore, especially if you love hiking, because fall is Kauai's relatively dry season.
The Kalalau Trail, located on the north shore of Kauai, is a grueling yet rewarding 22-mile up-and-down overnight trek in some of the most gorgeous tropical jungles in the world.
The hike itself is not for the faint of heart. With steep inclines and declines over sheer cliffs to the ocean below, your heart will be racing, but the views are breathtaking!
The entire trail is usually completed over three days.
In Kalalau Valley, you can enjoy a day relaxing in a nearly unspoiled paradise between the lush tropical forest and gorgeous sandy beach.
There is a river crossing on the trail, so the trail is weather-permitting.
While you might find some brave pups en route, it's not the best place to bring your dog as there are some tricky narrow spots on the trail to navigate.
As another head's up, in the last few years, the county of Kauai has implemented a new online permit, shuttle, and parking system that strictly limits overnight camping and transport to the trailhead.
Be sure to book in advance for your travel dates!
14. Hawaii Volcanos National Park
Recommended by Anu of DestinationCheckoff.com
Hiking in Hawaii Volcanoes National Park is a bucket list item on any trip to Big Island, Hawaii. Hawaii Volcanoes National Park is home to the active Kilauea volcano which has been erupting since 2021! The fall season, specifically November, has excellent weather and fewer crowds to explore Hawaii Volcanoes National Park.
There is an entrance fee per vehicle to visit the national park, which is valid for seven days, or you can use the annual National Park Pass. 
There are several amazing hiking trails in Hawaii Volcanoes National Park. The Kilauea Iki Crater Trail is one of the best hikes in the park! You will walk inside the volcano crater, through lush rainforest, and a massive lava tube!
The trail is a 3-mile loop with 700 feet of elevation gain and is considered a moderate challenge due to the elevation. It takes around 2 to 3 hours to hike, depending on the stops.
An insider tip is to start the trail counterclockwise from the parking lot so that you can visit the Thurston Lava Tube in the end, to cool off after the hike. The lava tube is enormous and a must-see!
There are several other places to hike inside the national park, including the Devastation Trail, Sulphur Banks, and a hike to see the Puuloa Petroglyphs, which are carvings on lava rocks from hundreds of years ago!
The Volcano House has lodging options inside Hawaii Volcanoes National Park with a restaurant.
15. Cantwell Cliffs, Hocking Hills, Ohio
Recommended by Linda of Midwest Explored
One of the best fall hiking destinations in the US is Hocking Hills State Park. It can be found near Logan, Ohio, and covers 2,373 acres of land, including 25+ miles of trails that will take you to incredible rock formations, stunning waterfalls, and remarkable caves.
In particular, one of the best places for hiking in Hocking Hills is the Cantwell Cliffs. It can be found in the northern part of the park and is more remote, making it ideal if you want a bit of solitude.
Once here, enjoy a 2-mile loop trail with around 292 feet of elevation gain, which is considered moderately difficult. The trail will take about 40 minutes to complete. Feel free to bring your dog since leashed dogs are allowed.
Plus, along the way, you'll walk around the rim and traverse steep climbs that are worth it for stunning views at the top.
Also, be on the lookout for a local waterfall and wear sturdy hiking boots since the path can get slippery. Additionally, signage can be challenging to understand; you may want to grab a map before starting. 
And for the best fall foliage possible, try and time your visit for the third week of October.
16. Watkins Glen State Park, New York
Recommended by Kelly of Travel New York Now
Easily one of the top fall destinations and places to hike in the US, Watkins Glen State Park is one of the best state parks in New York, known for the easy, 3.0-mile, out-and-back Gorge Trail.
In fact, this epic fall hike features around 120 meters of elevation gain and will take you straight through the Glen Gorge as you cross over otherworldly stone bridges and pass 19 different waterfalls.
In total, the hike will take you a little under an hour to complete. However, shoes with grip should be worn since you'll walk over stone steps that can get wet.
Dogs are not allowed on the hike.
Additionally, fall is a great time to visit since the crowds of summer are gone. However, the Gorge Trail does close around the end of October, so try to visit during the first two weeks for the best fall colors.
And for great photos, stand right in front of the stone bridge and waterfall you see as you enter the park.
Then, after your hike, enjoy a boat ride on Seneca Lake before exploring the Seneca Lake Wine Trail and visiting the famous Corning Glass Museum in nearby Corning, New York.
17. Ohiopyle State Park, Pennsylvania
Recommended by Kayla of Writing From Nowhere
Take an unforgettable hike on the Ohiopyle stretch of the Great Allegheny Passage (GAP). The GAP is more than 300 miles long and has a glorious streak through one of Pennsylvania's most beloved state parks: Ohiopyle.
The Ohiopyle stretch of the GAP is 27 miles long, with a free parking lot at the GAP Bridge. It's an easy and very well-maintained hike, and you can complete as much of it as you'd like: simply walk the trail, double back on the GAP, and return to your car.
This trail meets ADA requirements and has benches, bathrooms, and water along the way. Dogs are also welcome as long as you follow Pennsylvania's leash law.
The trail is well known, but so is the bridge where you'll start your hike! This bridge offers breathtaking views and crosses the Youghiogheny River Gorge. Be warned, though: this bridge is high! About 115 feet tall.
If you're afraid of heights, prepare yourself before you walk across, or you risk being surprised halfway across. Don't be caught off guard.
The Ohiopyle area is one of the crown jewels of western Pennsylvania. Between the outdoors lovers that flock to the river and the aesthetes who travel far and wide to see Frank Lloyd Wright's Fallingwater (only a 5-minute drive) in person, you'll see people from all walks of life at Ohiopyle.
Look around and see the full spectrum of amenities: from nice hotels to cabins and campsites to the vans full of river guides. Visit Ohiopyle for a few days or stay for an extended remote workcation. You won't run out of trails to explore or waterfalls to chase!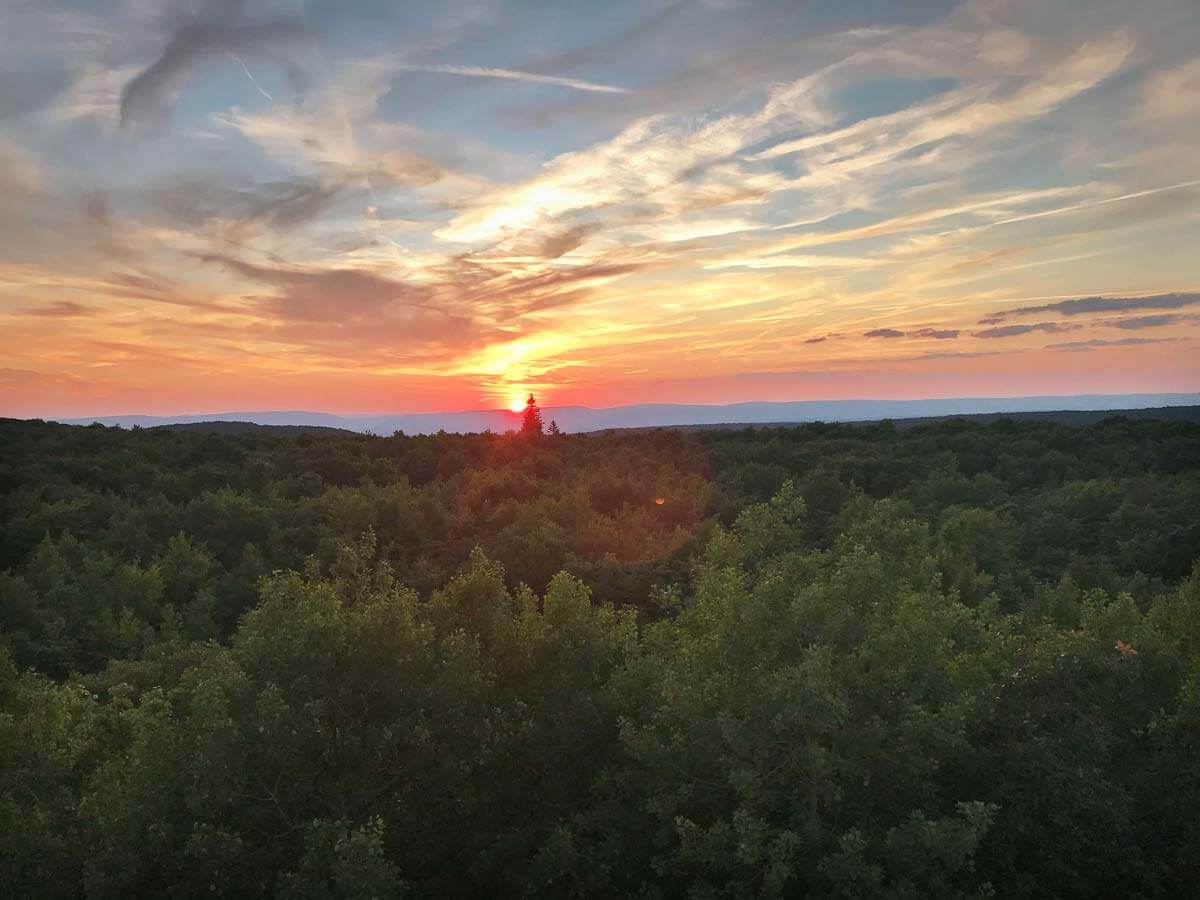 18. Treman State Park, Finger Lakes, New York
Recommended by Rebecca from Veggies Abroad
If you're looking for a challenging and beautiful Finger Lakes hike, you shouldn't skip Treman State Park, specifically the Rim and Gorge Trails.
The two trails are just over five miles and weave through the forest, next to the scenic Enfield Glen, and pass by multiple waterfalls. The kaleidoscope of fall colors and powerful waterfalls make for a stunning hike!
Both trails are challenging – expect heart-pumping climbs up hills and stone stairs. If you're looking for a leisurely stroll, this isn't for you. Make sure you don't forget to bring water with you.
When you arrive at the park, you can start on either the Gorge or Rim Trail. Both start near the campsites and then connect near Lucifer Falls, cascading over 115 feet! This waterfall is what draws most hikers and visitors! This isn't an overly touristy spot, but for the quietest hike, arrive early.
To visit the park, there is a $10 parking fee. If you'd like to camp, rustic cabin options range from $10 to $400 per week. After the hike, head to downtown Ithaca which is only a short 15-minute drive to refuel at one of the many restaurants.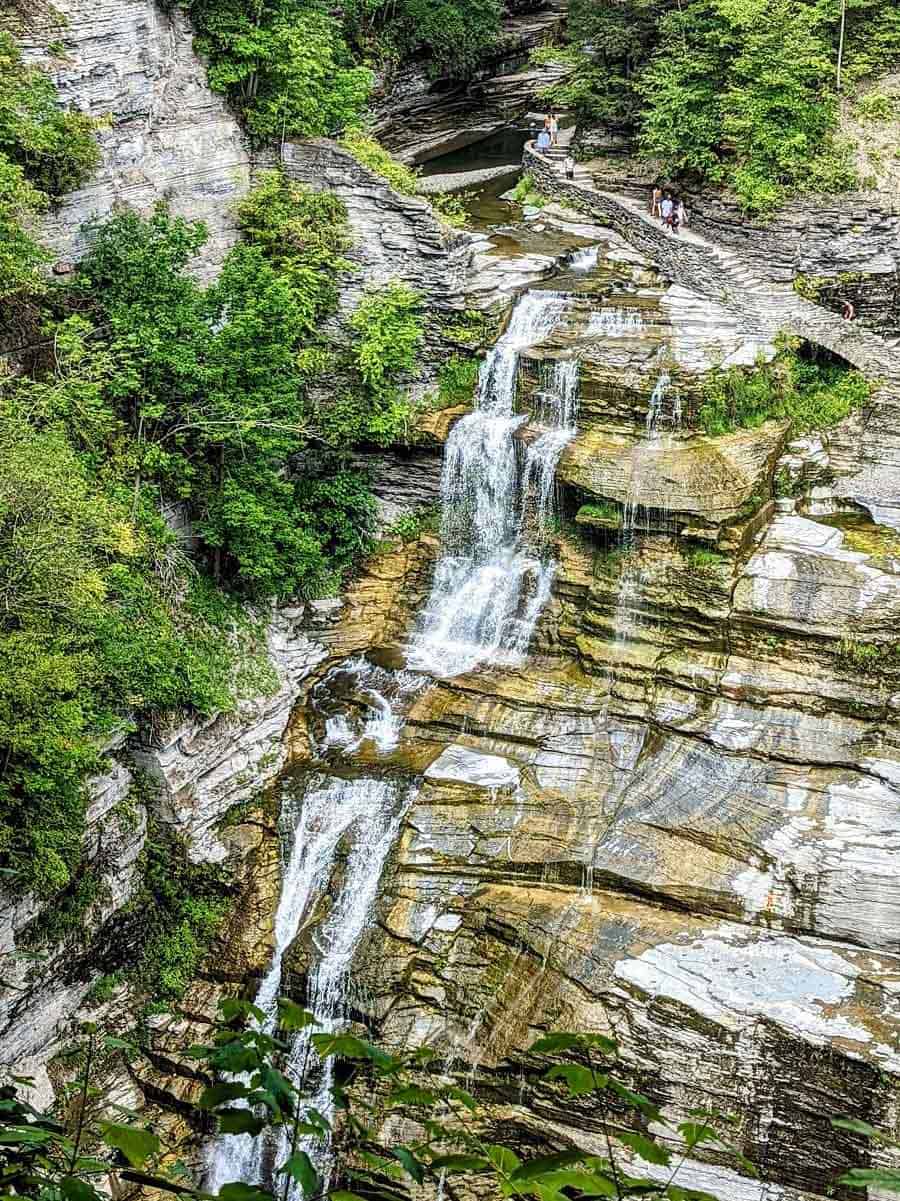 19. The Enchantments, Leavenworth, Washington
Recommended by Andrea from BeaUTAHful World
One of the best fall hiking destinations in the US is undoubtedly the Enchantments near Leavenworth, Washington.
The Enchantments can be done as a 20-mile thru-hike or hiked in various out-and-back sections. Thru-hiking the Enchantments will take a minimum of 12 hours, but likely longer as the total elevation gain is around 6,000 feet and the total elevation decline is around 7,800 feet. The distance, elevation gain, and elevation decline make the hike strenuous.
This hike is not dog-friendly.
You can pre-book a shuttle for the thru-hike or have two cars to serve as your own shuttle.
The distance of the Enchantments hike will likely make you think about the possibility of an overnight, or several nights, on the trail. This is an excellent idea. However, it does require a rather difficult to obtain permit from recreation.gov for overnights during peak season (mid-May through mid-October).
The reason to hike the Enchantments in the fall is due to the beautiful and unique foliage that is found in the area – larches! Larches are deciduous conifers that turn yellow in the fall.
In addition to thru-hiking the Enchantments, there are many other options of things to do in the area. For example, do a day hike to Colchuck Lake, Stuart Lake, or Snow Lake. Additionally, you can spend time in the Bavarian town of Leavenworth nearby.
20. Naches Peak, Washington
Recommended by Chantelle of Flannels or FlipFlops
Tipsoo Lake is located just outside Mount Rainier National Park, about 90 miles from Seattle. It's an easy day trip and a short enough hike that you can complete both the drive and the hike in one day.
Autumn is one of the most beautiful seasons, so it's a shame not to make the most of it. Autumn in Washington is spectacular! The colors, alpine lakes, and spectacular mountain views are perfect for stunning photographs!
Instead of only hiking to Tipsoo Lake, hike the Naches Peak Loop. This easy-rated 3.3-mile loop will give you more opportunities to enjoy the PNW fall beauty!
Because this trail starts outside the national park, you don't have to pay an entrance fee. You can park in the parking lot just outside the park entrance on the Chinook Pass. However, the trail does pass into the boundaries of Mount Rainier National Park, so you will have to leave your dogs behind.
Aim to hike the loop clockwise so Mount Rainier will be in view when you circumnavigate the lake.
It can get crowded here during fall. Try visiting mid-week or earlier in the day to avoid most people.
Also, note that weather near Mount Rainier can vary from neighboring areas; always check conditions and come prepared with various layers of clothing.
Don't forget to keep an eye out for "Robber Jays." These little jay birds are bold and will happily snatch any food right out of your hand – whether it's a granola bar or a piece of trail mix!
21. North Shore of Lake Superior, Minnesota
Recommended by Susan of This Big Wild World
The north shore of Lake Superior is known for its rugged shoreline, waterfalls, and stunning views of the Superior National Forest. In fall, the area bursts with color, making this one of the best fall hiking destinations in the US.
The Superior Hiking Trail (SHT) stretches over 300 miles, including the entirety of Minnesota's north shore. It is designed to be hiked in sections, with options for all hikers.
The best sections of the SHT for fall hiking are the Oberg Mountain Loop (2.3 miles, easy and family-friendly), Lookout Mountain Overlook (3.2 miles, moderate), and Bean and Bear Loop (6.6 miles, difficult).
For a unique experience, ride the Lutsen Mountain Gondola to Moose Mountain and hike back along the Superior Hiking Trail (4.2 miles, moderate).
The best chance of seeing the colors is between the end of September to mid-October. The trail is dog-friendly, but dogs must always be on a leash.
The SHT has non-reservable campsites with a rule to always make room for another. This means that campers should expect to share camp. Each site has a latrine, fire pit, and bench. These sites are not meant for extended stays.
For more extended stays, camp at one of the nearby state parks, such as Temperance River, Tettegouche, and Cascade River. But, again, be sure to book in advance or watch for last-minute cancellations. State parks have a $ 7-day use fee and $20-25 per night for camping.
This area is an outdoor lover's dream! While there, check out the public saunas along Lake Superior, paved bike paths, mountain biking trails, and more.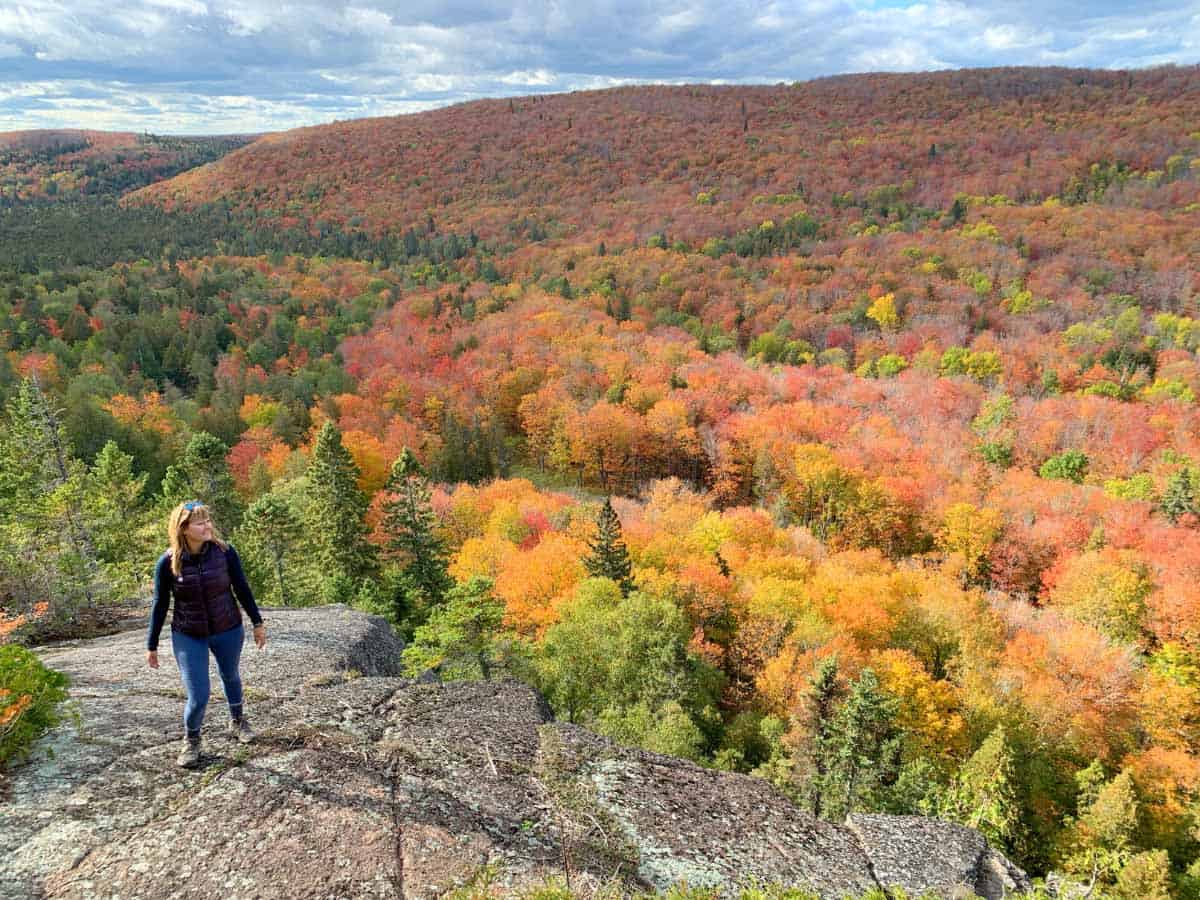 22. Helen, Georgia
Recommended by Jillian from Adventure Dragon
Another unique fall destination and place to hike in the US can be found in a small mountain town in northern Georgia. Helen is known for its Bavarian architecture and colorful houses that make the whole town look reminiscent of a fairytale.
During fall, they host the longest-running Oktoberfest in the US, and people come from all over the country just to experience the fall colors and festivities.
Helen has multiple hiking areas, but the Anna Ruby Falls Trail is the most popular. This easy, half-mile hike follows a mostly uphill path, but the trail is fully paved, so almost anyone can do it. You'll follow a babbling stream, cross over scenic bridges, and marvel at the gold-tinted trees before eventually reaching two twin waterfalls.
There are multiple observation decks to get close-up views of Anna Ruby Falls safely. At its highest point, it cascades over 150 feet!
The park opens at 9 AM and closes at 6 PM, but no cars are let in after 5 PM. You'll want to make sure you arrive early enough to avoid getting turned away. There's also a $5 fee to gain entry to the trail.
Since Helen is a riverfront town, there are plenty of other opportunities to experience fall alongside the Chattahoochee River. There are multiple walking trails downtown that will lead you beside the water, and there's even a series of riverfront hotels that you can stay at if you'd like to have 24/7 views from your window or balcony. The Castle Inn and the Helendorf River Inn are both excellent choices!
23. Rocky Mountain National Park, Colorado
Recommended by Jolayne of simplyjolayne
Plan a visit to Rocky Mountain National Park in Colorado above Estes Park in the fall. You won't be disappointed with the beauty, wildlife, fall colors, and various hikes available for all skill levels.
Heads up! A park reservation is required between May and October.
Are you traveling with your family? Then Alberta Falls, East Portal, or Lily Lake Loop would be the perfect places to hike.
Looking for a little more challenge? Consider Mills Lake, The Loch, Ouzel Lake (including Copeland Falls, Calypso Cascades, and Ouzel Falls), Deer Mountain Trail, or Ypsilon Lake.
One of the favorite hikes in Rocky Mountain National Park—Lake Haiyaha—features stunning turquoise water and serene surroundings.
Start your hike at Bear Lake, and after passing a few lakes along the way, you'll arrive at Lake Haiyaha. Scramble over giant boulders and then take in the scenery. You might just catch your breath and whisper, "Wow." It is just that stunning.
The benefit to hiking in the fall will be fewer hikers visiting this famous lake.
After a fantastic day of hiking, return to Estes Park to stroll along the main street, enjoy homemade ice cream or fudge, ride the Rainbow Slide at Fun City, or take the Ghost Tour at the Stanley Hotel.
24. Alberta Peak Continental Divide, Colorado
Recommended by Jolayne of simplyjolayne
The Alberta Peak Continental Divide National Scenic Trail is a popular hike in Colorado along a section of the Continental Divide. At Wolf Creek Pass, you'll start the hike at a whopping elevation of 10,857 feet! For non-Colorado natives, taking time to acclimate to the altitude is essential. Even as a Coloradoan, you still might struggle to catch a breath!
Be prepared as the trail begins with a quick elevation gain over the first two miles.
The weather at any time of the year is changeable; check the weather forecast before you begin. Temperatures cool as you near the top, and you'll want a warm jacket. Prepare for fall hiking with the hiking essentials, including plenty of water, snacks, and hiking poles. And don't forget your camera or phone as the views are incredible.
The final ascent to the very top of Alberta Peak is a bit precarious, but you will love it if scrambling up, and over boulders is your thing.
Wolf Creek Pass connects South Fork and Pagosa Springs in the heart of Colorado's San Juan Mountains. South Fork and Pagosa Springs offer camping and outdoor adventures in the winter, spring, summer, and fall.
If you enjoy adventures beyond hiking, check out horseback riding tours on Alberta Peak or mountain biking opportunities.
25. Canyonlands National Park, Utah
Recommended by Aaren of What Do You Sea
Canyonlands National Park is one of the best fall hiking destinations in the US since the scorching summer heat subsides and the temperatures dip to every hiker's dream temperature range of 50-70 degrees Fahrenheit. With favorable weather all day long, you can make the most of your Canyonlands itinerary and discover all the best corners of this Utah national park.
Right along an inconspicuous turnoff on Grand Viewpoint Road, the Murphy Point Trail makes for the ideal fall stroll to an expansive 270-degree view over Stillwater Canyon and the southern end of the Island in the Sky Mesa.
As quiet and serene as this hiking trail is, you would never suspect it's in the heart of one of the most popular national parks in the country. You'll pass remnants from cattle ranching before the park was established in 1964, then follow a wide slick rock trail dotted with Kayenta sandstone boulders to arrive at Murphy Point. The trail is 3.4 miles and takes about an hour and 20 minutes to complete.
Suppose you are fortunate enough to have this viewpoint all to yourself. In that case, you'll be able to sit in complete and utter silence while gazing at overviews of Candlestick Tower, the Green River, White Rim Road, Junction Butte, Turks Head, and many other defining features of this district. Moreover, if you can hike here for sunset, you'll see an impressive show of colors dancing along the edges of the canyon before the sun fades below the horizon.
Filled to the brim with unique hiking trails, remote backpacking routes, adventurous 4×4 roads, and countless ways to adventure, there's no better time to be in the remote desert of Canyonlands than in the fall.
26. Big Bend National Park, Texas
Recommended by Jackie of Bon Voyage Jackie
Big Bend National Park in Texas is a great fall hiking destination. With warm, sunny days in the 70s and cool nights in the 50s, fall brings perfect hiking and camping weather.
The park has dozens of different hiking trails for all skill levels, making it an excellent destination for hikers of all levels of experience. The Window Trail, Emory Peak, and the Santa Elena Canyon Trail are some of the most popular and scenic hikes.
Other interesting things to do include crossing the border into Mexico. Big Bend is the only national park in the US with an official international border crossing. In addition, the small, remote town of Boquillas del Carmen is a great spot to visit after hiking. So bring some cash and enjoy lunch in Mexico!
The national park also has a natural hot spring you can soak in. It's recommended to arrive early, right before sunrise, to secure a spot to soak as the parking lot fills up quickly. Once it's full, you'll have to wait in line.
Being one of the more remote national parks in the US, the closest airport to Big Bend is 3.5 hours away in Midland, Texas. Since the park is so remote and large, plan to spend at least three days exploring the park.
As part of the national park system, the cost to enter Big Bend is $30 per vehicle for a 7-day pass or you can use the annual National Park Pass. 
The national park has several campsites and a lodge if you prefer accommodations within the park. Terlingua is the closest town to the park entrance and offers many unique glamping sites available on VRBO and Airbnb.
27. Telluride, Colorado
Recommended by Daria of The Discovery Nut
Telluride is one of the best fall destinations in Colorado for adventure lovers, and the town is well known for its outdoor scene. Many people come to hike, camp, and off-road on mountain passes in the area.
Telluride has plenty of hiking trails as well as mountain biking, camping, and other outdoor opportunities. One of the best trails to hike is the Jud Wiebe Memorial Trail.
You can access Jud Wiebe Memorial Trail from Aspen Street in downtown Telluride. Jud Wiebe is a challenging but extremely rewarding 3-mile trail that provides an overview of Ajax Peak and Bear Creek. The view of the Telluride box canyon below, with all of the stunning fall colors, makes it one of the best places to hike during the fall.
Summer and fall are the best times to hike this trail. Summer offers the best temperatures for hiking in Telluride, and fall boasts spectacular golden colors of Aspen trees dotting the area.
Spend a few days in Telluride exploring the city and its outdoor scene. Telluride is an adventurer's paradise, offering many outdoor opportunities year-round.
The Jud Wiebe Memorial Trail is dog friendly.
28. North Cascades National Park, Washington
Recommended by Jessica of Uprooted Traveler
If you're looking for one of the most jaw-dropping vibrant areas to see fall colors, North Cascades National Park in Washington should be on your bucket list.
The North Cascade Mountains are towering and epic, with Gatorade-blue lakes and snow-capped mountains, but they're arguably at their most beautiful in autumn.
While most of the trees in the area are coniferous, there are quite a few deciduous trees that turn flaming colors, like the Bigleaf Maple. But it's not just the trees that have autumnal colors- the shrubs and wildflowers carpeting the mountain slopes and valleys also turn spectacular shades of red and orange. There's even a unique coniferous tree here, called a larch, that turns a shockingly vibrant shade of yellow before its needles fall off every winter. This phenomenon is so celebrated; it's called "larch madness" in Washington!
If you'd like to get in on the fun, check out the Maple Leaf Pass Loop trail. It is a 7.4-mile trail that passes shimmering alpine lakes and countless groves of larches eventually leading up to a mountain ridge with panoramic views of the surrounding peaks.
Autumn here is breathtakingly spectacular, but it's also relatively short, usually lasting between the last couple weeks of September through early October. If you schedule your trip much after that, the trails may just be totally covered with snow.
29. Mount Rainier, Washington
Recommended by Jessica of Uprooted Traveler
Mount Rainier National Park, located about two and a half hours southeast of Seattle, Washington, is jaw-droppingly beautiful come fall.
Mount Rainier is known for its fields of technicolor wildflowers, like scarlet paintbrush, which burst into autumnal colors in late September. The colorful shrubs blanketing the rolling hills, abundant wildlife, and the pops of colors from the massive deciduous trees sprinkled throughout the park's fairytale forests make Rainier a magical place to take in the fall foliage.
The park has plenty of excellent trails to enjoy the autumn colors, including the Skyline Trail.
The Skyline Loop is one of the most popular trails in the park, and for a good reason. This 6.2-mile trail meanders through meadows of vibrant wildflowers, takes you face to face with the ancient Nisqually Glacier, and ultimately leads you to the aptly-named Panorama Point. At Panorama Point, you'll be able to take in the views of the fall foliage along Rainier's slopes below your feet and beyond, on the endless mountains in the surrounding Cascade range.
Because of Rainier's high elevation, fall comes quite early, starting mid to late September. So, be sure to plan your visit accordingly. Fall in Rainier is something you don't want to miss!
30. Broken Bow, Oklahoma
Recommended by Ashlee of The Happiness Function
Though one might not think of Oklahoma as a fall destination hot spot, southeast Oklahoma is home to the Ouachita Mountains, one of the largest mountain ranges between the Rockies and Appalachians.
With Broken Bow's proximity to Dallas, Oklahoma City, and Tulsa, fall is a great time to escape city life and visit this part of the country for hiking, camping, getting out on the lake, or floating on the river. Broken Bow is known for its beautiful state park, Beavers Bend, as well as the Mountain Fork River.
Beavers Bend State Park has miles of trails to explore, meandering through the Ouachita's, which put on an incredible fall display. There are many trails to choose from, ranging from short and easy to longer and more challenging.
Along with hiking, the park boasts hundreds of campsites. Its proximity to Broken Bow Lake and the Mountain Fork allows visitors to enjoy southern Oklahoma's glorious warm fall season that extends all the way into November and December (depending on the year).
If you like water sports adventures, you'll love to float the Mountain Fork River!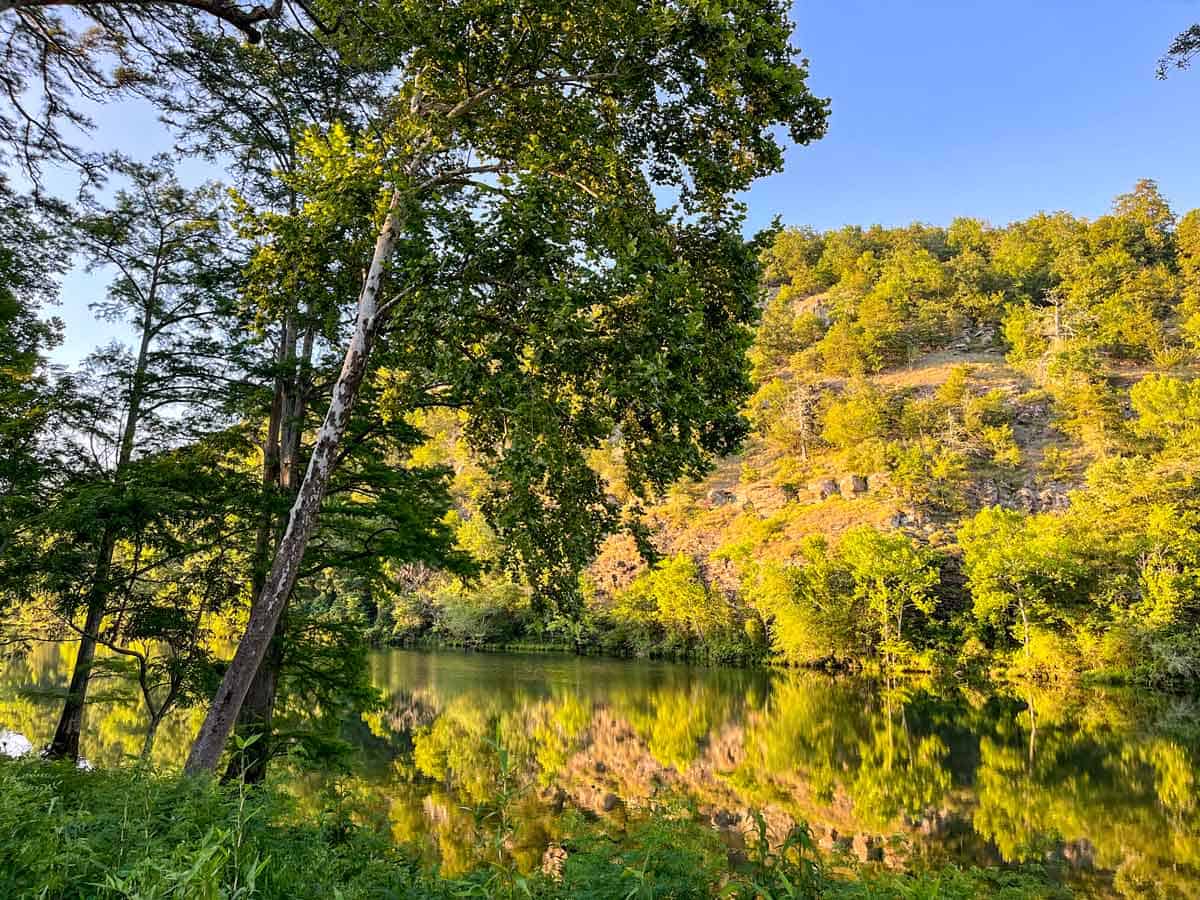 31. Point Lobos State Natural Reserve, Carmel, California
Recommended by Nikki of Inspired Routes
One of the best places to hike in the US in the fall is Point Lobos State Natural Reserve. It's one of the best things to do in Big Sur, California. Located right on the coast of California, where the Pacific Ocean meets the rugged shore, this state reserve is an absolute gem!
The trails within the reserve are on the easy side, and they're great for beginner hikers or those with young kids. Enjoy the seaside views with many opportunities to see marine life like sea otters, crabs, sea stars, and even whales in the distance.
With famous sea views, walk the South Shore Trail along the coast for incredible views of tide pools, several beaches, and the famous Bird Island. An out-and-back trail of 1-mile, it's paved most of the way, but some areas would be difficult for wheelchairs or strollers.
Dogs are not permitted in any area of the park, so keep that in mind.
Another popular hike in the area is the Cypress Grove Trail. At just 0.8 miles, you'll be able to walk through an incredible grove of Cypress Trees. Watch for the red algae that appears on trees facing the ocean.
If you're up for more adventure, try the Pine Ridge Trail, Sand Hill Trail, Whalers Knoll Trail, or North Shore Trails.
Be sure to get to Point Lobos State Natural Reserve early in the morning, especially on the weekends. With extremely limited parking, the spaces fill up quickly.
The fall in Point Lobos State Natural Reserve is perfect because it's one of the times of the year with the least amount of marine fog, meaning you'll be able to see up and down the coast without obstruction. The fog is thickest in the summer months, and it's rainier in the winter and spring, making fall the perfect time to visit.
Point Lobos State Natural Reserve has a $10 per vehicle fee. Maps are an additional $2 fee and must be paid in cash.
While in the area, you'll want to visit Cannery Row and the famous Monterey Bay Aquarium and drive the Pacific Coast Highway to the Bixby Creek Bridge in Big Sur.
Final Thoughts on the Best Places to Visit and Hike in the Fall
Fall is a prime time for outdoor adventurers to hit the trails and take in the beautiful changing leaves. To help you plan your next autumn excursion, we hope this list of unique fall destinations with hiking trails in all corners of the US helps you plan your next fall getaway.
So, get out your gear, lace up those boots, and explore some of America's most breathtaking natural landscapes.
Happy hiking!
Ashlee & Pablo
---
Find more epic hiking trails in the US
Save on Pinterest for later!
We want to hear from you!
Which of these fall destinations are you going to visit this year?
We'll be hiking the best trails in Arkansas!