20 Best Things To Do on Dauphin Island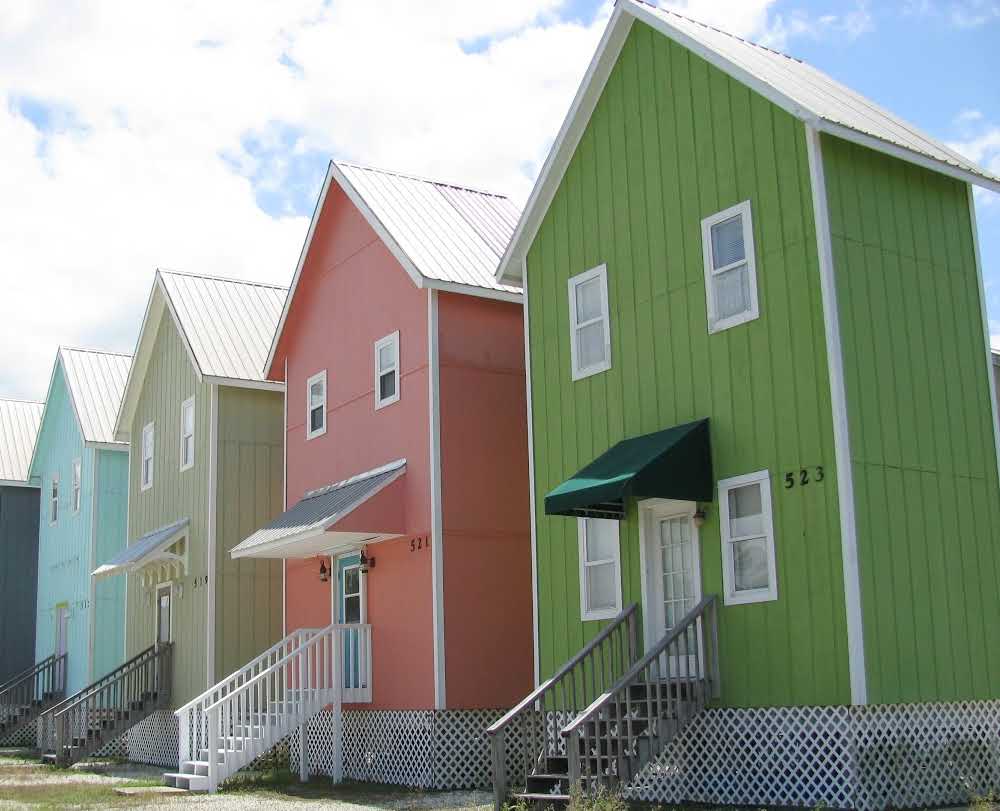 If you're looking for the best things to do on Dauphin Island, you're in the right place! Dauphin Island is an incredible gem of Alabama. The island boasts 7-miles of sugar-white sand public beaches, clear water, beautiful weather, and fewer crowds. Guess what else? The beaches are dog-friendly!
Dauphin Island is the perfect Gulf Coast retreat to relax, recharge, and explore. We share all the best things to do to help you have a great trip. It is one of our favorite places to visit along the Gulf.
This post contains affiliate links, which means we'll receive a commission if you purchase through our links at no extra cost to you. This allows us to continue publishing free travel and gear guides. Please read our full disclosure for more information. 
Top Things To Do on Dauphin Island
The island itself has so much to offer, especially if you're into the outdoors. There are trails to walk or bike all over. There are lots of opportunities for bird watching and trying to spot an alligator (that's right, an alligator)! There are also a few green space parks, nature reserves, plus an estuarium and sea lab with public aquariums.
Check Out These Central Alabama Adventures:
Where Is Dauphin Island?
Dauphin Island is one of the Mississippi-Alabama barrier islands located off the coast of Alabama, south of Mobile and the Mobile Bay, in the Gulf of Mexico.
The island is accessible via the Dauphin Island Bridge, officially named the Gordon Persons Bridge. Gordon Persons Bridge is an enormous concrete bridge spanning 3-miles of 2-lane traffic from Alabama State Route 193. The bridge takes drivers over the Gulf Intercoastal Waterway connecting the island and mainland.
The island can also be accessed via the Mobile Bay Ferry from Fort Morgan (west of Gulf Shores). More on the Dauphin Island ferry below!
Dauphin Island Map of Public Beaches & Destinations
Dauphin Island Beaches
First things first, you're probably wondering about the most essential part of any island holiday, so we'll get right to it!
The beaches on Dauphin Island are stunning. The bright white sand on a sunny day will take your breath away. If you've never been to Alabama, you're in for a treat!
Plan to hit all the beautiful public beaches while visiting.
There are 7-miles of public beaches along with a few different access points and areas to park.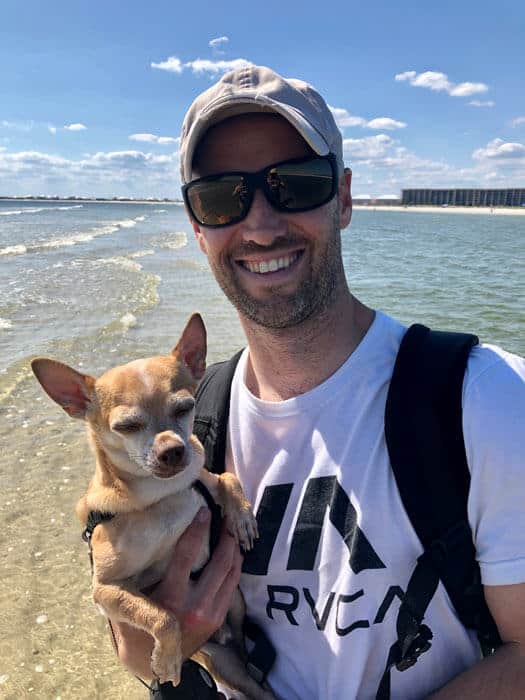 20 Best Things To Do on Dauphin Island Alabama
We stayed on Dauphin Island for a little under a week, and we are sharing all the best things to do with you to help you have the best trip.
Below are 20 things you don't want to miss.
1. Dauphin Island Beach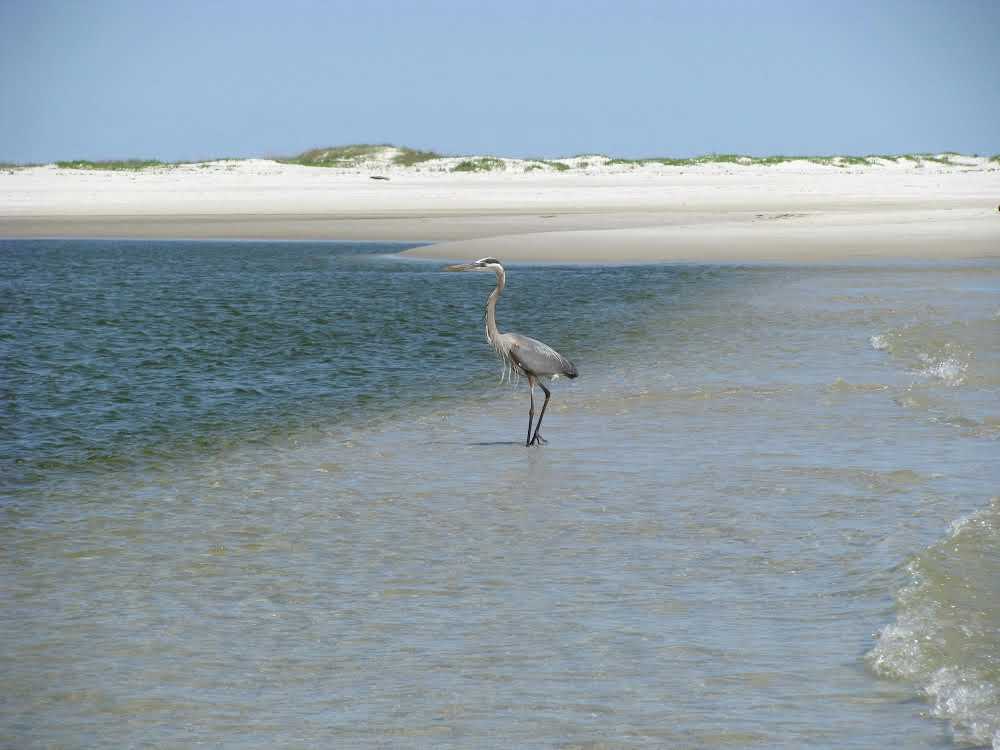 The best beach (in our opinion) is Dauphin Beach. Visitors pay to park and walk along the pier out towards miles of beautiful sugar sand beach. The water is clear and the beach is pet-friendly.
There is so much space to spread out while spending the day here. This beach area is a must for your Dauphin Island bucket list.
There is a sand barrier off the coast, and the beach is tucked into a cove, so the water is more protected, and calmer making for an excellent place to swim and soak up some sun.
2. Dauphin Island East End Beach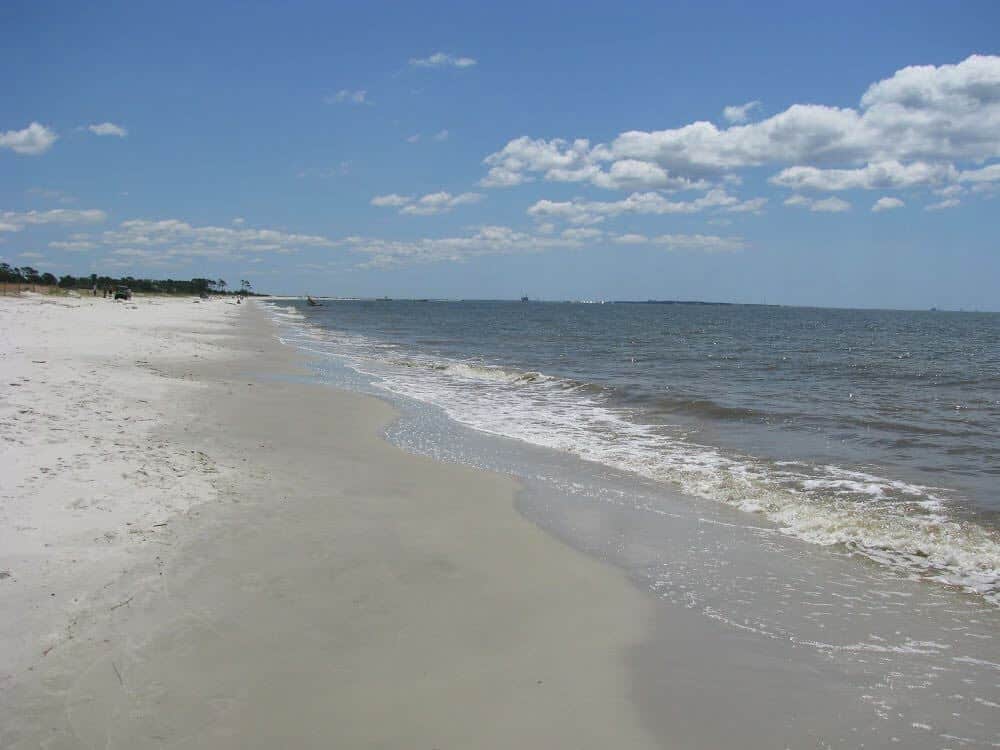 The East End Beach is located precisely where it is named – on the east end.
There is less parking for this beach, and the water is not as clear on this side of the island. However, this east side of the island is home to protected sand dunes for nesting sea turtles, shore, and sea birds. May and November are excellent times of the year to see nesting sea turtles on Dauphin Island. The spring is also a great time for bird-watching.
Visitors can even access the east-end beach from the Dauphin Island Campground and the Audubon Bird Sanctuary Trails.
The East End Beach is dog-friendly so that visitors can enjoy a day at the beach with their furry family members.
3. Dauphin Island West End Beach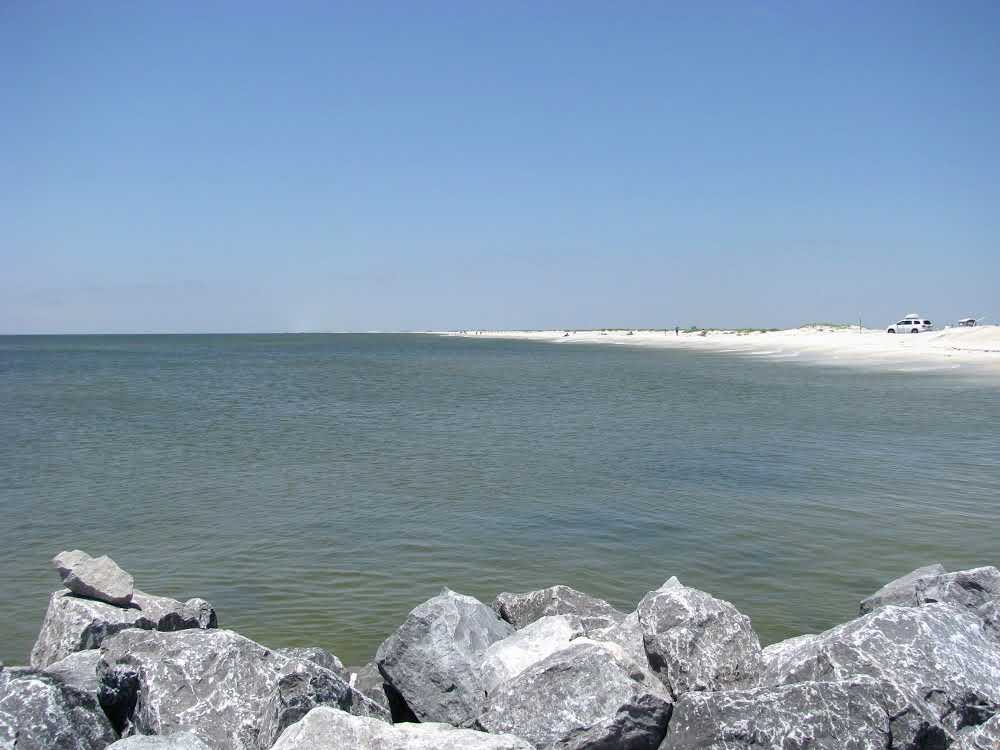 The West End Beach is located near a popular residential and vacation home area of the island.
Drive towards the west until there is a parking lot. Visitors must pay to park here.
Stretch out for miles along the white-sand beaches and the blue waters of the Gulf of Mexico. This pristine beach is quite long and there is no development after the parking area.
Dogs are not allowed at the West End Beach.
4. Browse Historic Fort Gains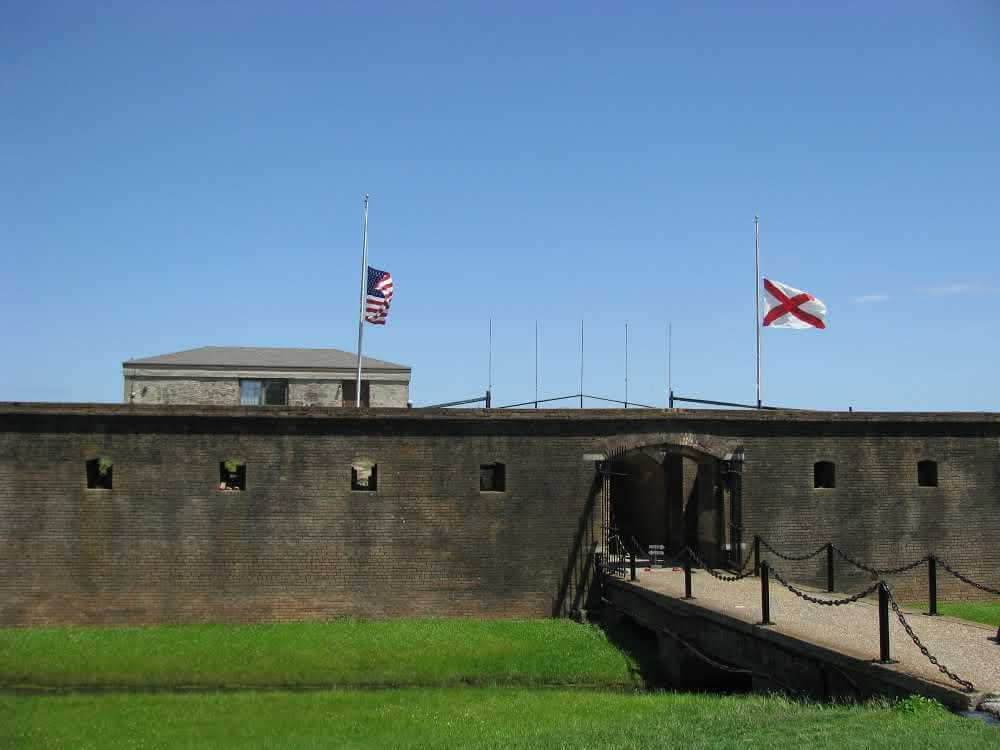 Iconic for its importance in the American Civil War, Fort Gains guarded the entrance to Mobile Bay for over 150 years. It was constructed between 1819 and 1853 to protect the island.
Visitors can walk around the outside of the fort free of charge.
Admission to enter is $5 (ages 5-12) and $9 for adults.
5. Discover the Estuarium at the Dauphin Island Sea Lab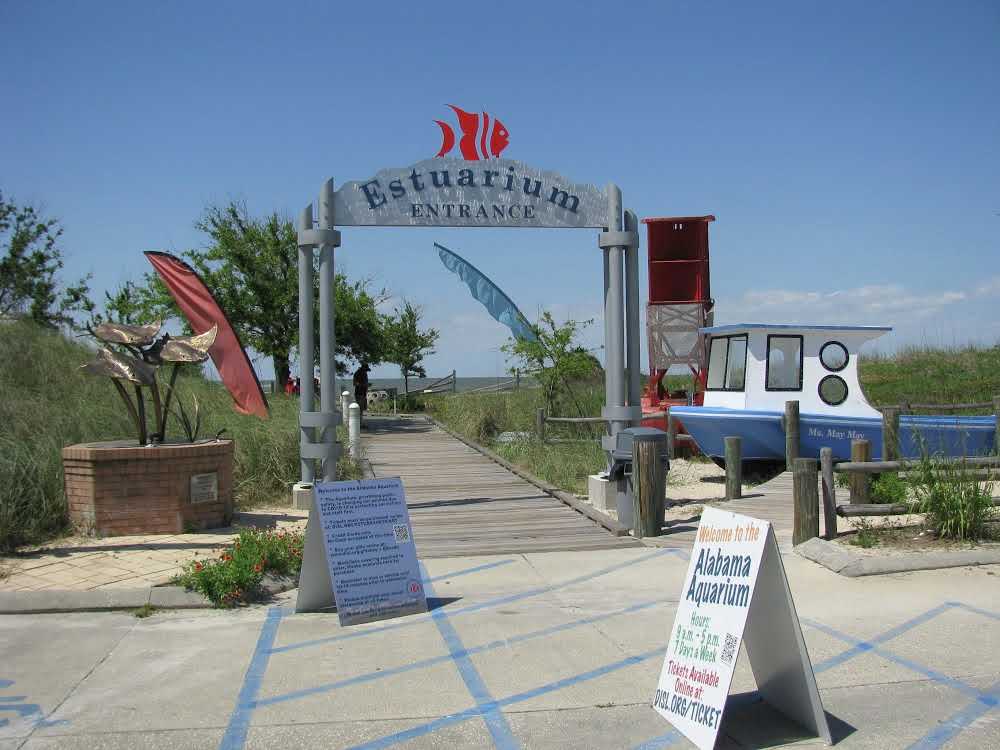 Directly across from Fort Gains, on the east side of the Island, is the Estuarium and Dauphin Island Sea Lab.
Marine scientists and researchers have ongoing research occurring here. You might even be able to see them in action! We did.
Outside of the building, there are boardwalks along the shoreline to read about the science being conducted to monitor the environment. A living marsh boardwalk meanders through the estuarium detailing ecological explanations for visitors to learn more about the importance of the different coastal habitats.
Visitors can walk around the outside of the Sea Lab free of charge.
6. Visit the Dauphin Island Sea Lab Aquarium
Inside the Sea Lab, there is a public aquarium. Inside the aquarium is an exhibit hall, sting-ray touch pool, along with 31 aquariums with over 100 species of wildlife that visitors can learn about and admire.
Admission to enter the aquarium is $6 (ages 5-18) and $12 for adults.
7. Visit the Goat Tree Reserve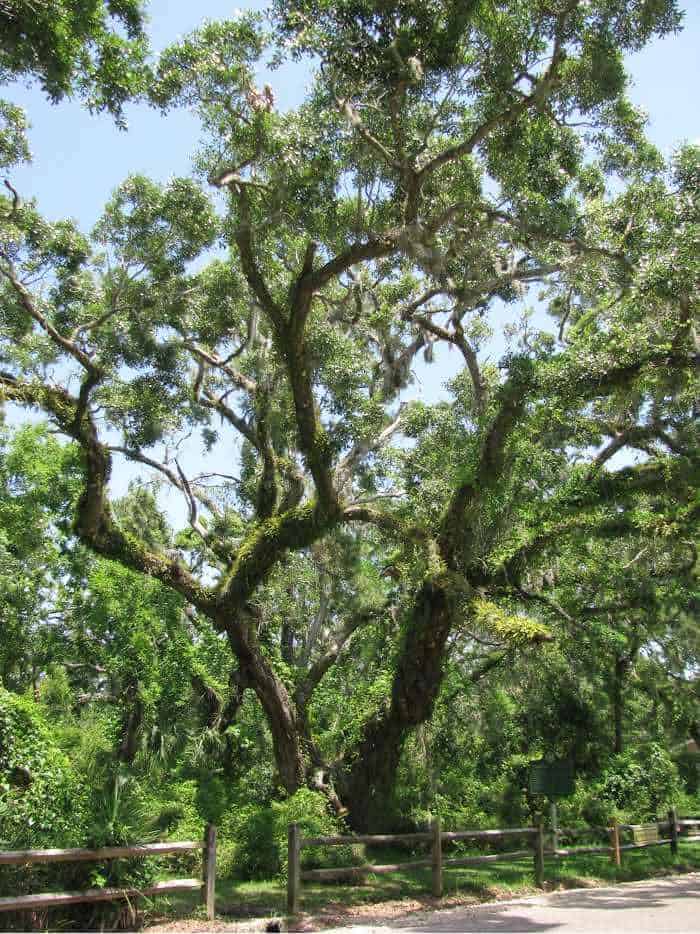 Visit the Goat Tree Reserve to see beautiful giant oak trees. Supposedly, wild goats would climb up the trees back in the day to avoid being eaten by alligators!
The reserve is also home to migratory birds. Keep your eyes open for little green lizards too.
8. Explore Indian Shell Mound Park
In 1973, Indian Shell Mound Park was added to the National Register of Historic Places. In the 90s, archeologists found shell mounds containing layers of oyster shells, fish bones, charcoal, and potsherds from as far back as the Mississippian Period (AD 1100 to 1550).
The park is not only of historical significance but is home to many birds and island wildlife. Don't miss walking the trails through the beautiful coastal forest.
9. Hike + Bird Watch in the Dauphin Island Bird Sanctuary
The island is known for being a birding hot-spot in the Southeast. Over 350 species of resident and migratory birds have been identified on the island.
On the eastern end of the island, visitors can walk the beautiful trails and boardwalks through the coastal forest, marshland, and along the beach to watch for birds. The Audubon Bird Sanctuary is roughly 164 acres.
Keep your eyes open for a potential alligator spotting as well.
10. Walk to Pelican Peninsula
South of Dauphin Beach, there is a peninsula that jets out into Pelican Passage. The sandy island is a great place to walk towards to enjoy bird watching and epic views along the Gulf of Mexico.
11. Discover the Dauphin Island Marina
Dauphin Island Marina is the main marina on the island. There are, however, multiple places to launch watercraft along the island.
The marina is home to fishing charters and a few restaurants if you're looking to go on a chartered fishing adventure.
12. Go Fishing
While you're visiting, go fishing with a local fishing charter or bring your own gear.
Lots of people were fishing right off the coast on the east end.
13. Ride the Mobile Bay Ferry
Take the Mobile Bay Ferry to Fort Morgan! The ferry can accommodate multiple sizes of vehicles and trailers. They even just take passengers if you want to do a day trip to check out Historic Fort Morgan.
We took the ferry with our truck and small camper to Fort Morgan on our way to Gulf Shores, Alabama!
The trip takes about 40 minutes and is a beautiful way to see sea life, including dolphins and birds.
Check out the Dauphin Island Ferry schedule to plan this fun adventure.
Read More Alabama Gulf Coast Adventures:
14. Take a Tour to Sand Island Lighthouse
To date, the Sand Island Lighthouse is the only lighthouse in Alabama and has been around for over 150 years.
To visit the lighthouse, a boat is required. It is free to visit the lighthouse; however, costs are required to rent a boat or take a boat tour unless you have your own boat.
15. Golf at Isle Dauphine Golf Club
If you're into golfing, check out Isle Dauphine Golf Club.
We aren't golfers, but we drove there to see the area.
There is a restaurant, pool, and parking area, which allows visitors not playing golf to access the beach. Visitors do need to pay for a wristband to use the pool and access the beach.
16. Stay at Dauphin Island Campground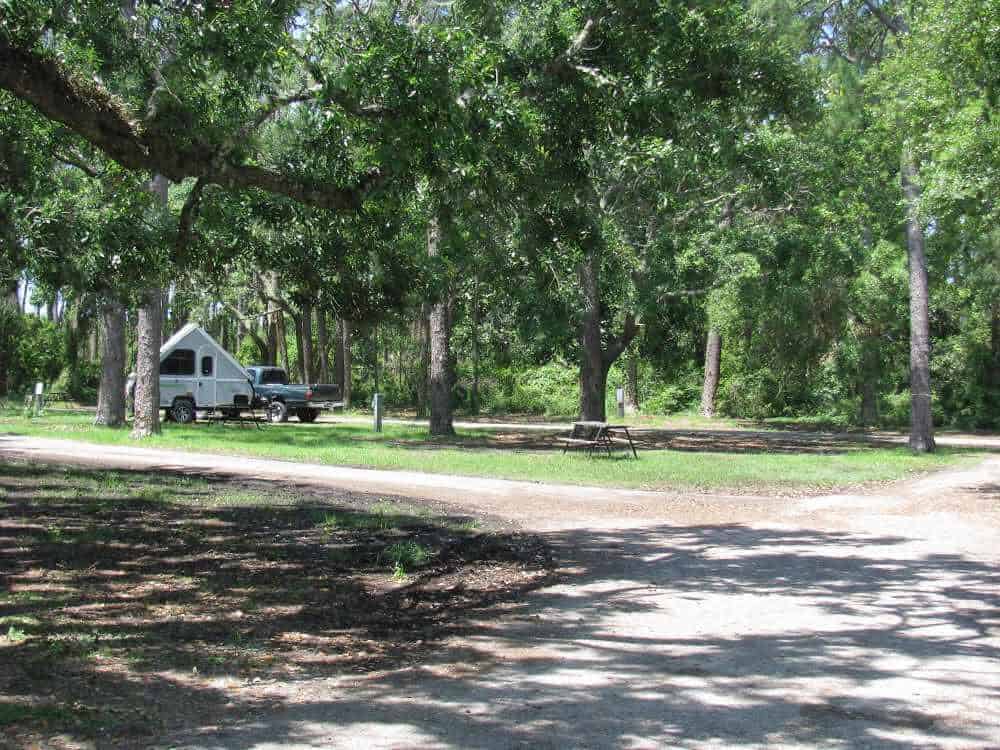 Island camping is such a fun adventure if you have an RV or small camper. Dauphin Island Campground is the perfect place to stay if you're looking to camp on the island.
From the campground, visitors can walk to the East End Beach, Fort Gains, the Estuarium at the Sea Lab, along with the many trails and boardwalks through the Audubon Bird Sanctuary.
The campground is steps from the Gulf and beaches!
Think our Aliner Camper is cool? Read more about it here!
17. Watch a Sunset
Did you know Dauphin Island is known as the sunset capital of Alabama? Rightfully so, with clear views on the west end of the island.
If you're staying at a vacation home on the west end of the island, you'll have clear views of incredible Gulf Coast sunsets.
18. Catch a Sunrise
Along with epic sunsets, you don't want to miss sunrise if you're an early riser.
If camping, it takes less than five minutes to walk to the east end to catch a beautiful Gulf Coast sunrise.
Be sure to rise and shine – the stillness of the Gulf in the morning is spectacular.
19. Eat Where the Local's Eat
We talked to a few locals on our trip, and they all said not to miss Skinner's Seafood and the Lighthouse Bakery during a visit.
Check out these restaurants during your stay mentioned for being local favorites.
20. Picnic at Cadillac Square
Cadillac Square was originally where Governor Cadillac's home was located in 1715. It was also the capital of the Louisiana Territory. Now, visitors can enjoy the wooded area for a picnic. There are places to park and tables to sit at.
Where To Stay
There are many places to rent beach houses and condos along the island with waterfront views. Check out booking.com to book a fabulous beach rental for your next trip.
Have Fun Visiting Paradise in Alabama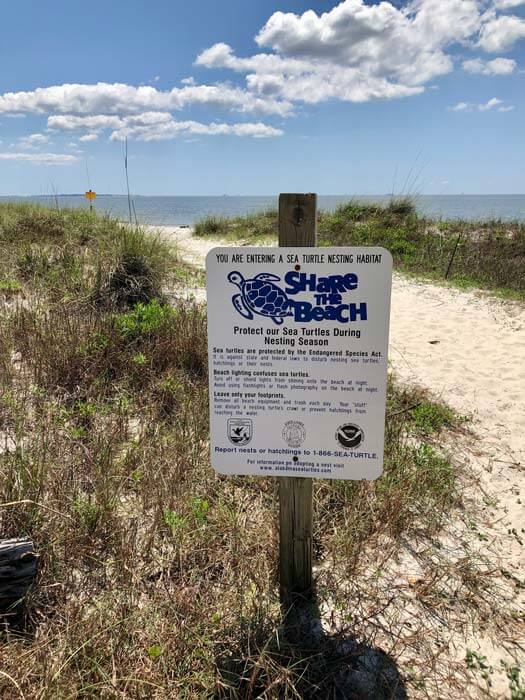 We hope you have a great trip full of fun in the sun, beautiful walks, and peaceful sunrises and sunsets.
Dauphin Island is definitely an Alabama treasure you don't want to skip out on. We simply cannot wait to go back for another Alabama Gulf Coast road trip.
Thanks for reading.
Ashlee & Pablo
---
Where Are You Headed Next?
You might also enjoy our other articles about Dauphin Island, and the Gulf Coast.
Dauphin Island, Alabama
Gulf Coast Florida
We'd Love To Hear From You!
When are you planning to visit? We'd love to help you plan your trip.