Dauphin Island Campground: Camp on the Gulf!
Posted on: June 20, 2021
|
|
If you're looking for beach camping along the Gulf of Mexico, Dauphin Island Campground is located in close proximity to views of the Gulf and its white-sand beaches. Tucked away in the coastal forest steps from sugar-white sand beaches, discover everything you need to know to camp at Dauphin Island.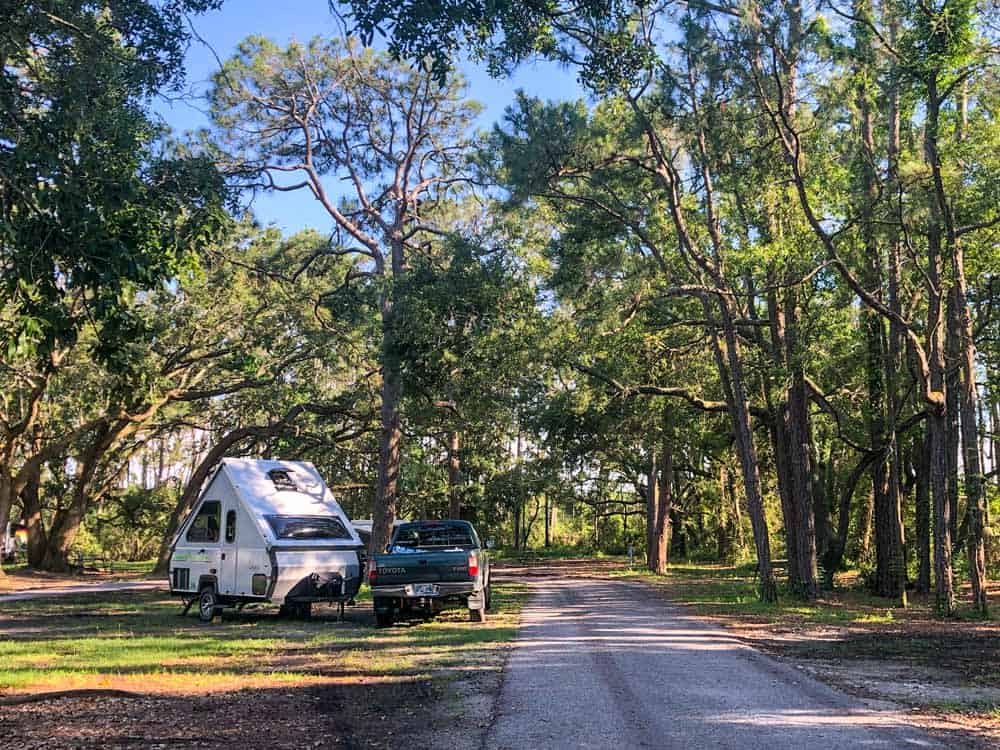 This post contains affiliate links, which means we'll receive a commission if you purchase through our links at no extra cost to you. Please read full disclosure for more information.
Dauphin Island Camping
If you have an RV or small camper, then you know camping on the coast is one of the best parts of RV life. Dauphin Island, Alabama, is known as being the sunset capital of Alabama and an island gem.
Located south of Mobile, off the central coast, the island is home to beautiful beaches and blue water. It's known for having fewer crowds than other popular Gulf Coast destinations such as Gulf Shores, Alabama, or Pensacola, Florida.
We recently planned a road trip from Oklahoma to Florida with our Aliner camper. While researching places to camp along the Gulf of Mexico, we found Dauphin Island Campground. We were so excited when we called six weeks in advance, and they had space for us!
We were even more ecstatic to discover that the campground, along with most of the beaches at Dauphin Island, are dog-friendly!
This article details everything you need to know along with our honest review of our stay at Dauphin Island Campground.
Dauphin Island Park and Beach Campground Details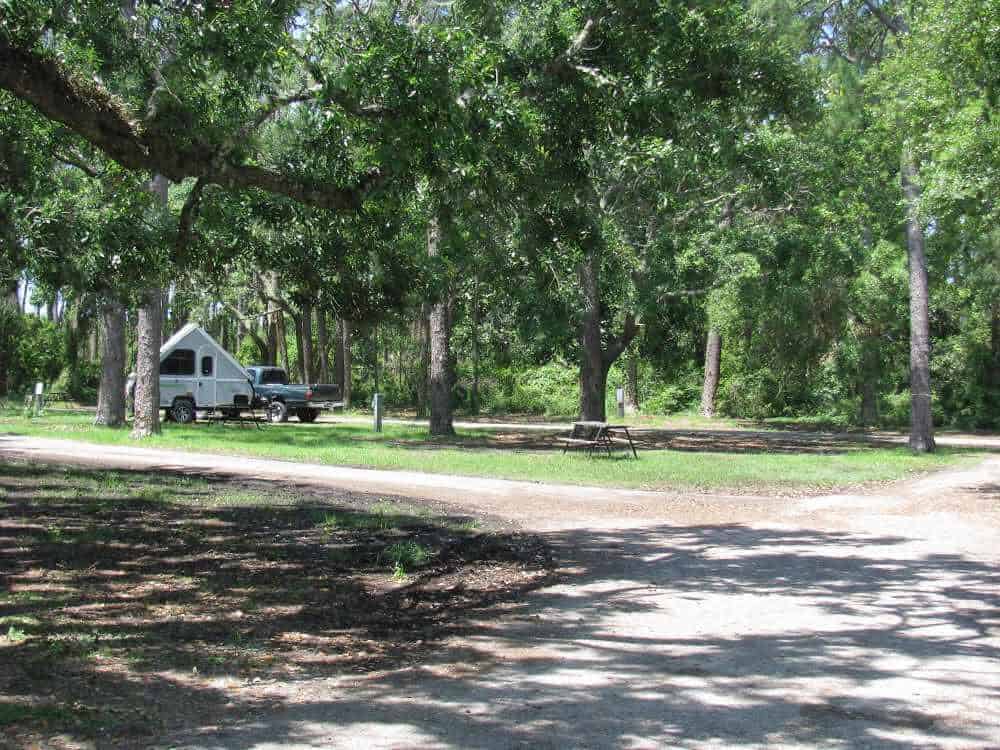 At Dauphin Island Campground, visitors are camping on an island in the Gulf of Mexico. The campground is located steps from the beach and views of the water.
Dauphin Island Park and Beach Campground is RV-friendly.
As of 2021, the campground was not accepting tent visitors.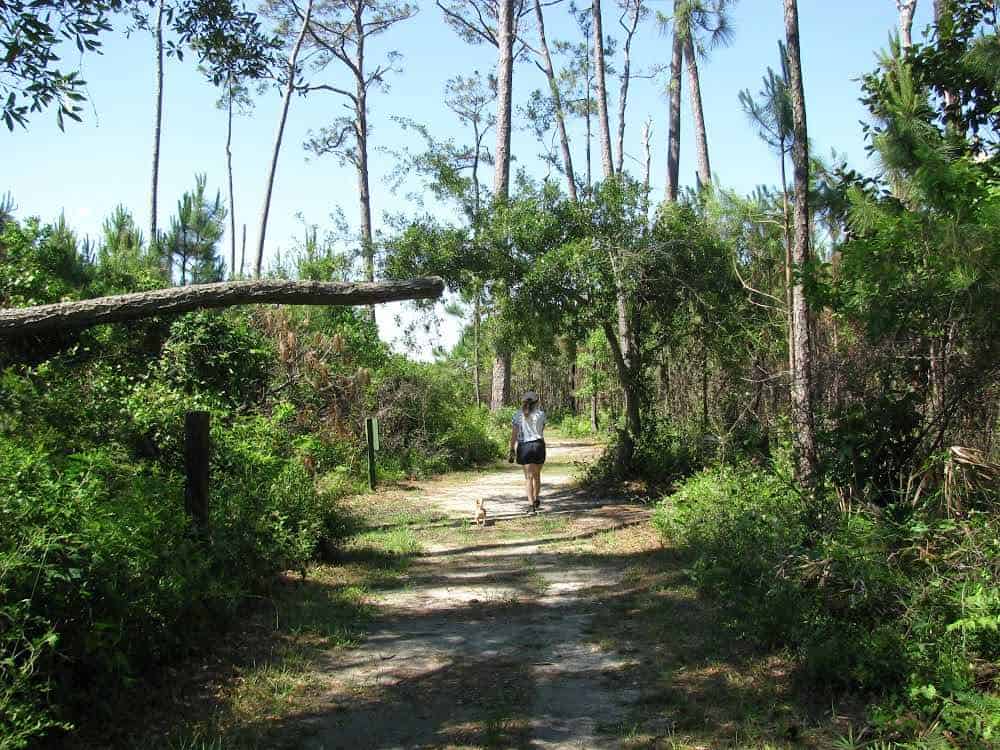 How Much Does It Cost?
We recommend calling Dauphin Island Campground to get their most recent rates at (251) 861-2742 or by visiting the website.
Dauphin Island Campground Map
How to Get to Dauphin Island Campground
Dauphin Island Park and Beach Resort is located on the east side of the island.
The island is relatively small, so once you head east and go towards the east end, you'll see the campground sign. It is impossible to miss since you'll see all the RVs along the road across from the Mobile Bay Ferry.
Is There Cell Phone Reception?
Yes, there is cell phone reception on Dauphin Island. Depending on where you are standing and your service provider, you can get pretty decent internet as well on your cell phone.
Best Time of Year for Dauphin Island Camping?
Hurricane season along the Gulf of Mexico is technically June 1 through November 30. Be mindful of the weather when booking accommodations during this time of year.
We always purchase Travel Insurance in case we need to cancel for this reason.
We visited the island in late May, and the weather was perfect! The temperatures were in the high-70s to mid-80s with lots of sunshine.
Many people like to winter along the Gulf of Mexico due to its warmer climate.
December through May are excellent times of the year to visit and beat the summer heat.
Dauphin Island Campground Review
Note: All opinions are our own, and this is not a sponsored article.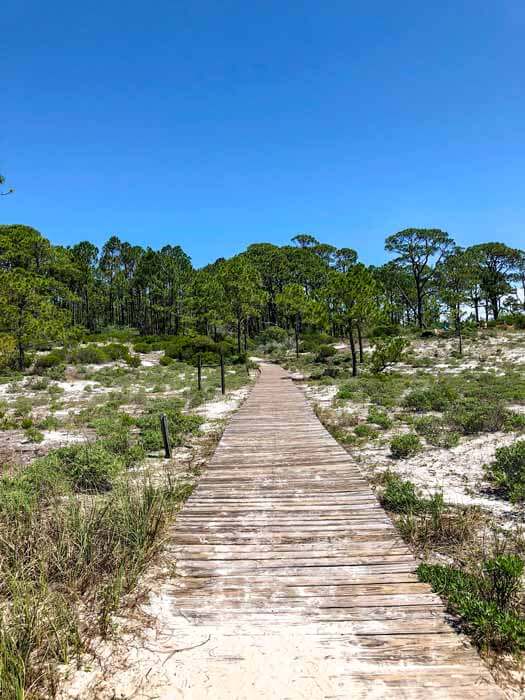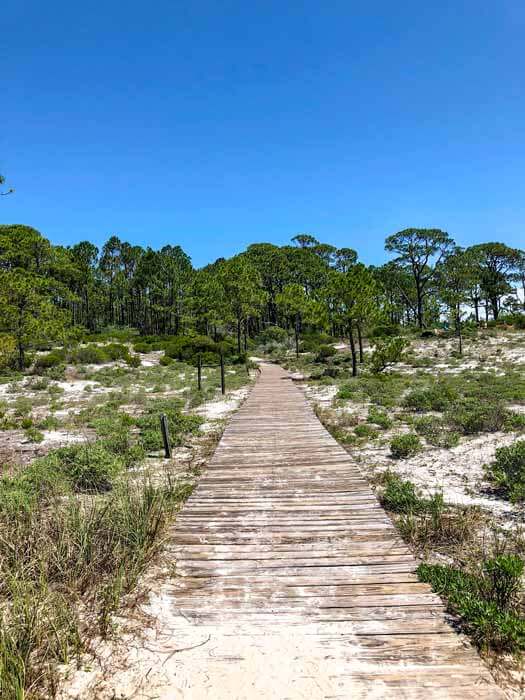 What We Loved
Dauphin Island Campground was great!
Since we have a smaller camper, the Aliner Ranger 12, the camp hostess put us where they used to host tent campers. So, we had a large area of the campground to ourselves. As a result, we did not feel crowded in.
The campsite was under a beautiful tall coastal forest and shaded nicely.
The restroom was clean. It also seemed newly constructed or renovated.
Our favorite part about our stay and camping at Dauphin Island were the trails. The campground and most beaches are also dog-friendly, which is great for road tripping with your dog.
From the campground, trails lead directly to the beach.
In addition, some trails lead through the Audubon Bird Sanctuary, and there is a paved sidewalk along the main street.
We walked everywhere! It was wonderful.
We were also right next to the Mobile Bay Ferry. So, we took the ferry with our Aliner to Fort Morgan to continue our road trip east to Gulf Shores and Pensacola!
Things to Consider
If you have a larger RV, you will likely be closer to your neighbor.
There are no cement slabs, mostly dirt or gravel, to park RVs and campers.
If the area receives a lot of rain, the campground will have standing water.
Don't forget the bug spray!
What to Pack
Pack all your camping creature comforts and beach gear!
You'll be within walking distance of the nearest beach, the East End Beach.
There are more beach access points to drive to along the island.
Bring a bike or beach cruiser! Everyone has their bikes!
Final Thoughts on Dauphin Island RV Camping
For Dauphin Island camping, Dauphin Island Park and Beach Campground makes for a lovely place to stay with your RV or camper.
There is also so much to explore in the immediate vicinity within walking distance of the campground.
We can't wait to go back!
Have a wonderful trip.
Ashlee & Pablo
---
Shop RV Must-Haves!
Below are three things we can't live without for our Aliner!
---
You might also enjoy!
Are you planning a trip along the Gulf Coast?
Then, you might enjoy reading our other articles on Alabama and camping next!
Alabama
Gulf Coast Florida
Camping
Save this article on Pinterest!
We'd love to hear from you!
Are you planning a visit to Dauphin Island? When are you going?