I'm an Owner of a 2023 Toyota Tacoma: Here's My Honest Review
Posted on: June 30, 2023
|
|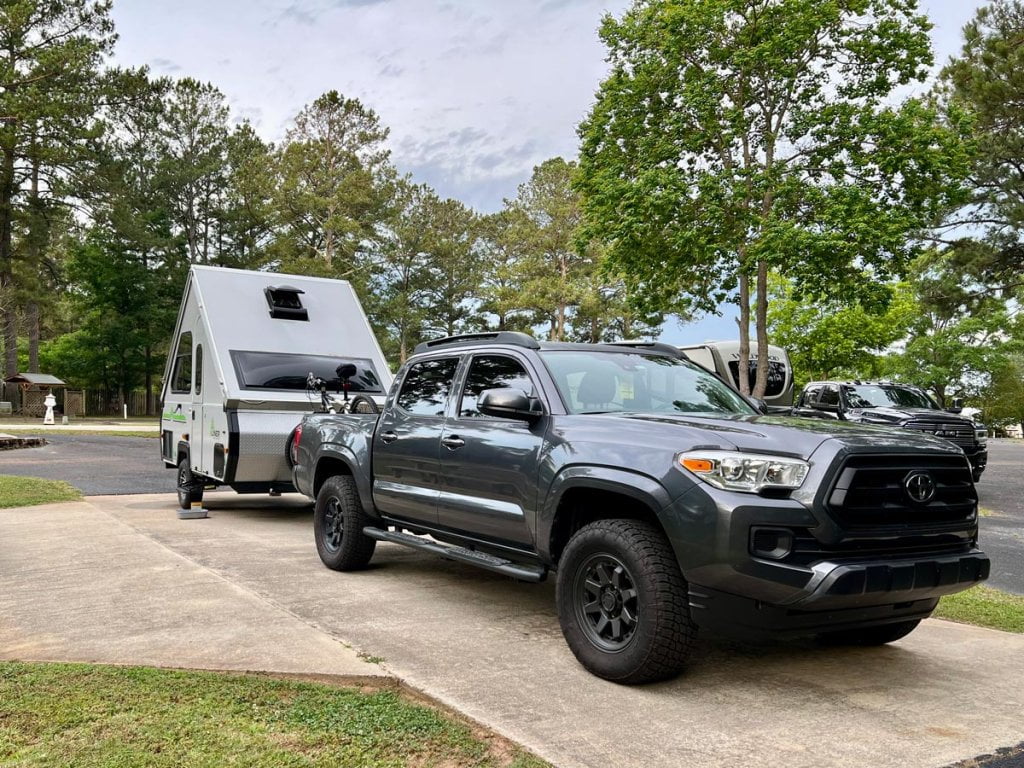 For nearly two decades, the Toyota Tacoma has been the best-selling mid-size pickup truck in the United States. While there are several reasons people choose to buy a Tacoma; for my wife and me, it comes down to simplicity, reliability, and timing.
Until recently, we have been driving my faithful 1997 Toyota T100, which currently has around 235,000 miles. But, we road trip often and decided it was time to upgrade.
Reasons I Wasn't Waiting for the 2024 Model
Toyota revealed its redesigned 2024 Tacoma in May 2023. The truck will be available for purchase later this year. Among the most significant differences is that Toyota is choosing to go with a turbocharged inline 4-cylinder engine instead of the naturally aspirated V6 cylinder and a new eight-speed automatic transmission, replacing the old six-speed. Toyota will continue to offer manual-speed transmissions on specific Tacoma models – credit to the company for doing this.
Not a Fan of Turbo Charged Engines
Car manufacturers continue to incorporate smaller turbocharged engines into their line of vehicles to achieve increased miles per gallon, as they claim to add power and torque. However, I like simplicity. I wanted to avoid owning a vehicle with a turbocharged engine.
Even though turbocharged engines can generate large amounts of power, turbo engines run at extremely high temperatures, and engine parts are under higher pressures and more strain than in naturally aspirated vehicles.
A turbo engine's added complexity and design could lead to future issues, making repairs much more expensive. There have always been mixed opinions about the ability of turbocharged engines to last as long as naturally aspirated ones before breaking down. For me, a turbo charged engine is a deal breaker.
Going With a Base Model 2023 Tacoma SR
I decided to purchase the base model Tacoma SR 4×4 Double Cab with the TSS Off-Road Package. My wife insisted on the TSS Off-Road package (still an SR model with upgraded wheels, tires, running boards, and a few minor cosmetic additions).
We decided on a base model as we are fans of simple features like manually adjusted seats, parking brake, and the least amount of added electronics and components that could potentially fail in the future and add to expensive repairs. Base model vehicles are also much cheaper to insure as they usually have the least number of features to replace. For our purposes, the Tacoma 4X4 SR offered everything we needed.
A Proven Engine
The 2023 Tacoma has a proven 3.5-liter V6 2GR-FKS engine that delivers 278 horsepower and 265 lb-ft of torque, with a towing capacity of 6,400 pounds (more than enough for towing our Aliner camper). We have plenty of power for our towing needs and feel comfortable towing on mountain passes with steep grades.
I Didn't Want To Take a Chance
When I heard the rumor that Toyota was redesigning the 2024 Tacoma with a turbo engine, I knew I did not want to take a chance with a newly designed vehicle. I personally avoid buying cars in their first year. Introducing a new engine or an engine from a different car incorporated on a new chassis, body, and transmission might not have all the kinks worked out. Unfortunately, it seems it takes manufacturers a few years to work out all the "bugs" when they make significant changes to vehicles, even Toyota.
The Toyota Tundra is an example of a truck that suffered from several issues in its first year after it was redesigned in 2022.
The 2023 Tacoma Is Reliable
In the case of the 2023 Tacoma (it's a third-generation), the engine and transmission have been around for some time. Third-generation Tacomas came out in 2016, and it took Toyota a few years to work out some of the problems.
Compared to other mid-sized trucks, much of the technology (engine, transmission, electronic components, and more) from the 2023 Tacoma is considered "ancient" but extremely simple and reliable. Toyota is notorious for taking its time when redesigning vehicles, especially its trucks.
Betting on It Lasting a Long Time
As for our 2023 Tacoma, I expect the truck to outlive me. My wife always laughs at that comment. We already have a Toyota truck over 25 years old with its original transmission. The engine still runs great. My expectations are not illogical.
A Smooth Ride
As of 2023, Tacomas are still "real" trucks, meaning they have leaf springs and drum brakes on the back wheels. Some people say they ride a little stiff. I believe the 2023 Tacoma drives smoothly and is comfortable to be in. My wife agrees.
Automatic Transmissions
I read mixed reviews about "indecisive" automatic transmission shifts with the 2023 Tacoma, especially on earlier models, but I have yet to have this experience.
We are used to a manual transmission on our 1997 Toyota T100, which, even when shifting correctly, can be a far more unpleasant experience than the automatic transmission on the Tacoma. But that is not a fair comparison, as that is a 25-year-old manual transmission versus a 2023 automatic transmission.
Performance
We recently drove across the country from Tulsa, Oklahoma, to Apalachicola, Florida. The trip totaled about 2,200 miles towing our camper. It took me a short time to get a feel for how the transmission shifted. Overall, we loved road tripping across the South with our new truck.
Technology Features
The 2023 Toyota Tacoma SR has all the technology features we need, including an seven inch touchscreen display with Apple CarPlay and Android Auto compatibility. In addition, the truck also has a host of driver-assistance features like adaptive cruise control, lane departure warning, and forward collision warning. Compared to our 1997 T-100, we think the truck is loaded with fantastic technology and features.
Added a Few Things
I bought a few additions for the truck, such as a Miller Cat shield, to protect the vehicle from catalytic converter theft (which is a national issue). I did the installation myself, which took about an hour.
I also purchased the manufacturer's roof rack, which took an hour to install.
We had a Primus IQ trailer brake controller installed for the camper by a trusted local shop.
Maybe The Last Great Tacoma Model
We manage an outdoor recreation website and have wanted to buy a new truck for several years. We have a lot of gear with us when we travel, including two kayaks, two bikes, two inflatable paddle boards, and our dog. Overall, I'm happy we purchased the 2023 Toyota Tacoma SR. It might be the last great Tacoma model.