Buying a Subaru Outback PLUS Best Accessories for Adventures
Posted on: November 16, 2022
|
|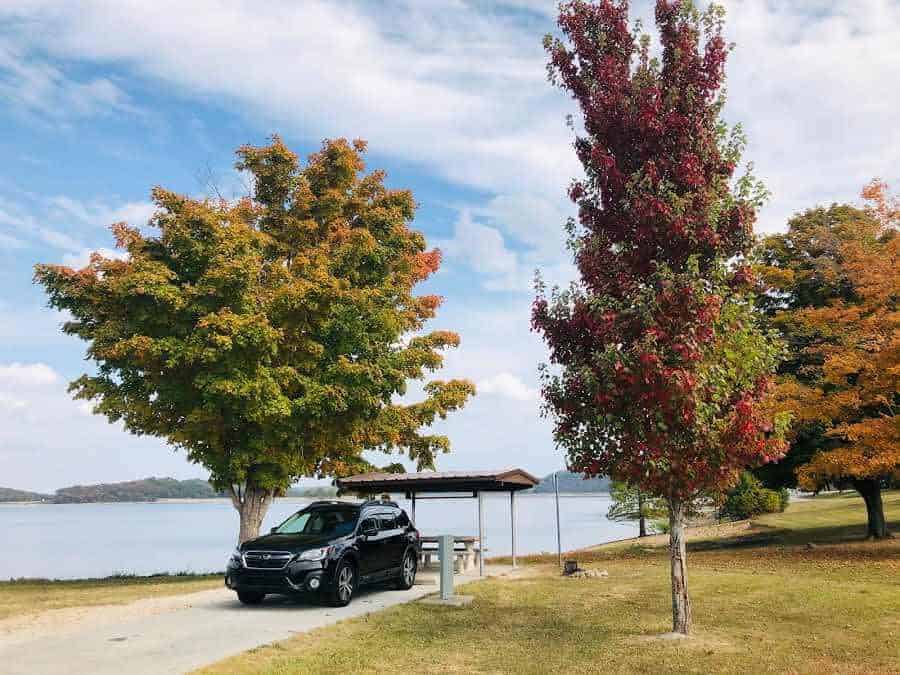 Having a reliable vehicle in the backcountry is so important. It is no wonder Subaru has an outdoorsy cult following. This vehicle cultivates and inspires adventure travel and road-tripping which we are all about at The Happiness Function.
If you have a Subaru Outback, and are curious about some of the road trip essentials we use, keep reading! If you don't have a Subaru Outback and want to hear more about our experience and ways to make buying a car more pleasant for yourself, keep reading! We also share the best Subaru Outback accessories we love for recreating outdoors.
This contains affiliate links, which means we'll receive a commission if you purchase through our links, at no extra cost to you. Please read full disclosure for more information. This post is not sponsored or affiliated with Subaru. All opinions are our own.
Are You Considering a Subaru for Road Trips?
We road trip a lot; road-tripping and exploring the U.S. are a massive part of our lives and the blog. In fact, this is one of the main reasons we purchased a Subaru Outback.
Buying a car can be stressful. There are so many options. We wanted to share our personal experience to help others with their car buying endeavors. We also wanted to share the Subaru Outback accessories we love that you might want for your outdoor adventures.
Subaru Outback Owner Review
As owners of the 2019 Outback, we are in awe of the quality of adventure it offers us. To name a few perks, our wagon has:
AWD
Beautiful and functional black interior/exterior
Top of the line safety features
Moonroof
A trunk that automatically lifts with the push of a button
It rides so smooth
My husband geeks out over all the excellent tech features. The Outback has quite a bit of tech, such as:
Proximity sensors – front, back, sides – tells you how close you are to objects and other cars
Adaptive cruise control
Lane keep assist and sway warning
Pre-collision braking
Pre-collision throttle management
EyeSight ® driver assist
Great sound system
But most importantly, the engine is powerful and fast! We have the 3.6R engine. The car goes up steep hills NO PROBLEM.
Of course, this article is all from my perspective. I'm sure if my husband was writing this article, he would have more car lingo to add.
The Outback is plenty large enough inside to store all our gear as well as creature comforts for road trips and car camping.
Keep reading to hear more about some of the Subaru Outback accessories you might want for your rig.
Best Subaru Outback Accessories for Adventures
1. Curt Hitch
We had a CURT hitch professionally installed for our Thule bike rack.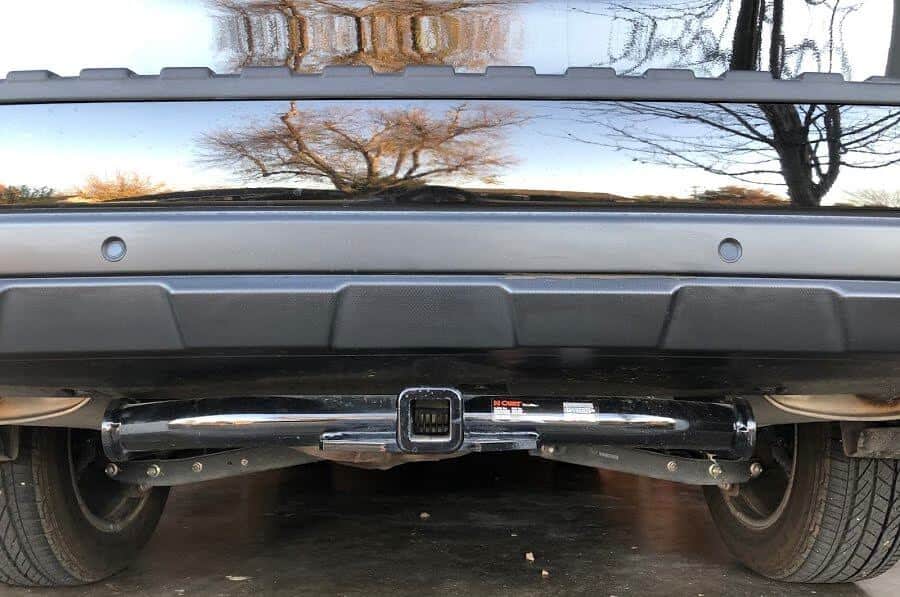 Click to purchase the CURT hitch that fits the 2019 Subaru Outback from Amazon.
2. Thule Helium Pro 2-Bike Hitch Rack
Below is the two-person bike rack we have if you are in the market for a new bike rack. This model lays back so you can still get in the truck area without having to take the rack off. That's why we purchased it.
3. Best Inflatable Mattress
The Outback is even large enough to sleep in the back if you want. The Exped Megamat Duo 10 medium wide inflatable mattress is in the photos below. The mattress fits perfect in the back.
Check out our post on the best Subaru Outback car camping mattress if you would like to sleep in the back of your wagon.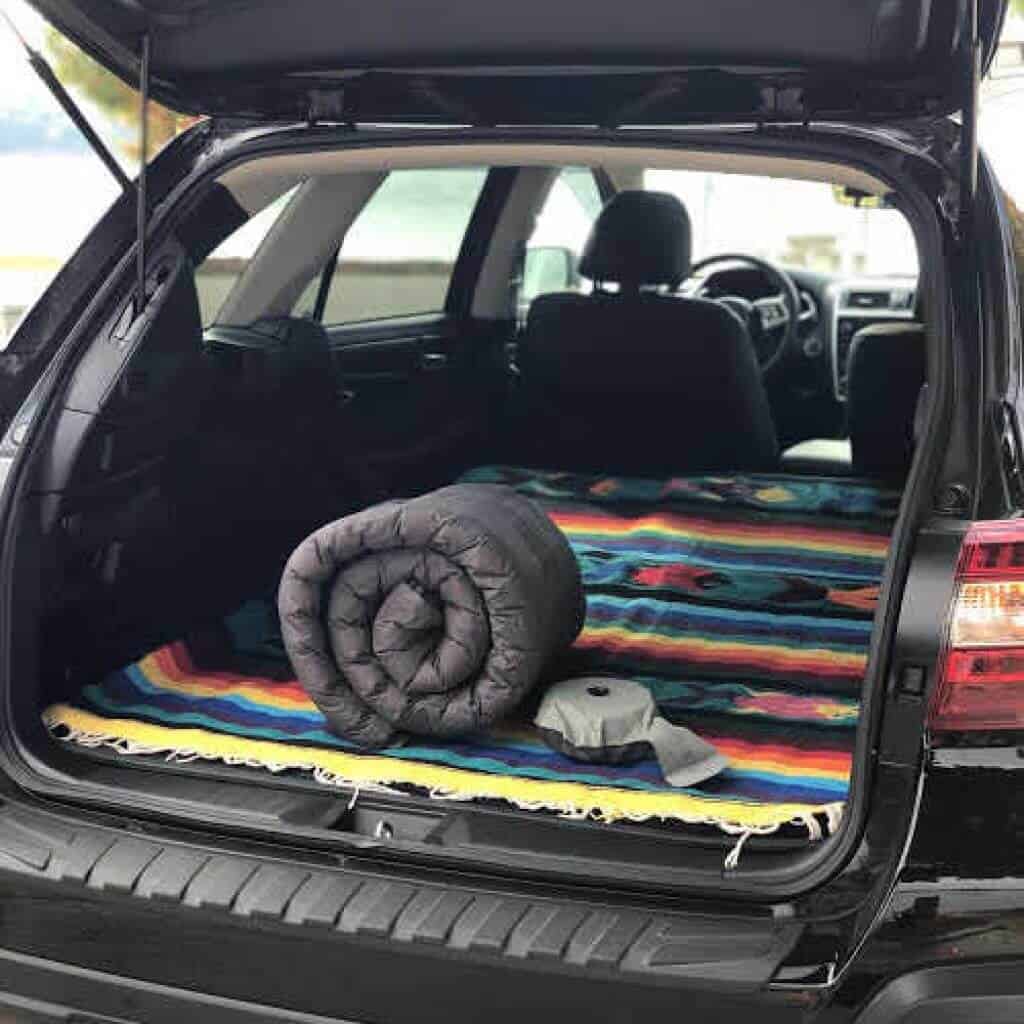 4. Cargo Net
We love the envelope cargo net to keep things from sliding around while roading tripping.
Outback Safety Review
I feel safe in the Outback. Safety is one of the reasons we love Subaru. After owning our vehicle for a year, we can tell Subaru did not sacrifice comfort for safety. Our vehicle has state-of-the-art safety features. These safety features include blind-spot and nearby vehicle notifications.
Our Outback has a rear camera for backing up and parking.
Every time I get inside our wagon, I thank it for being so safe and impressive due to a 5-star safety rating (this article is NOT sponsored by Subaru). It is crucial to have a car that makes you feel safe, especially when road-tripping.
The Outback is fantastic for buzzing around town running errands and has proven itself in all types of weather events (pouring rain, crazy wind, ice, snow).
Our Buying Experience
My husband and I moved from Colorado to Oklahoma. We knew we wanted a Subaru coming from the adverse weather conditions of Colorado.
We purchased our 2019 Subaru Outback from a knowledgeable and welcoming team at a dealership in Oklahoma City. The team made our car buying process comfortable and easy. The team treated us well; they were patient, kind, and made the experience easy.
Car buying advice: Find a salesperson that treats you with respect and is friendly. If a sales associate makes you uncomfortable leave.
At any rate, the commercials and brand behind the Subaru name were true with our new-to-us car purchase experience.
More car buying advice: Buy last year's model or a demo that has low mileage. It will be super nice and cost less money. That is what we did!
Know your budget and price point. Take your time, test drive, go to lunch, test drive again and make a decision.
Final Thoughts
Our Subaru Outback allows us to go anywhere in the U.S. to travel and recreate outdoors. The accessories we have enable us to take our bikes and sleep in the back of the wagon quickly. There is so much room for all our gear. We are so happy we got ours. Good luck buying a car and finding the perfect equipment to compliment your adventures.
Ashlee + Pablo
Planning a road trip? Check out our article on 10 FREE apps we use to plan epic road trips camping and hiking!
---
More Gear Guides
Looking for more outdoor adventure tips and gear recommendations?
Save on Pinterest for Later!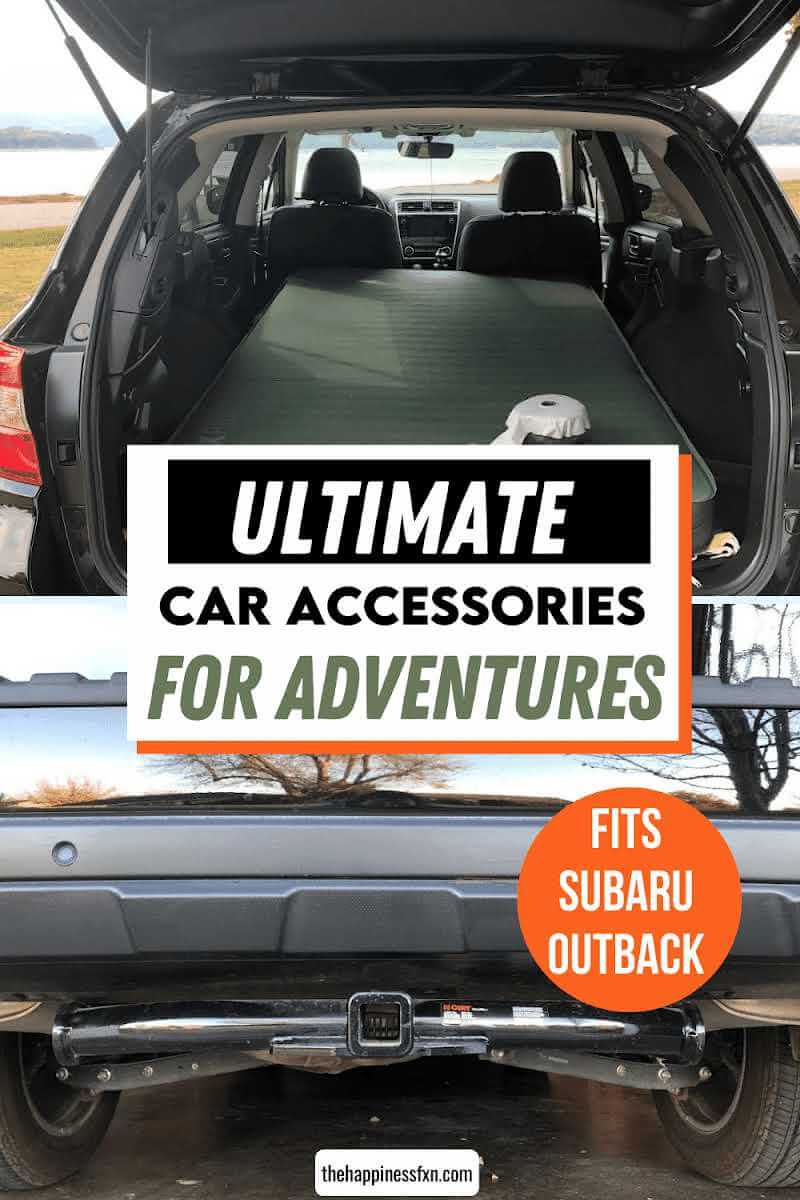 We want to hear from you!
Do you have a Subaru? What is your favorite gear for outdoor adventures or road trips?