12 Reasons People Are Flocking to the Smoky Mountains for Outdoor Adventures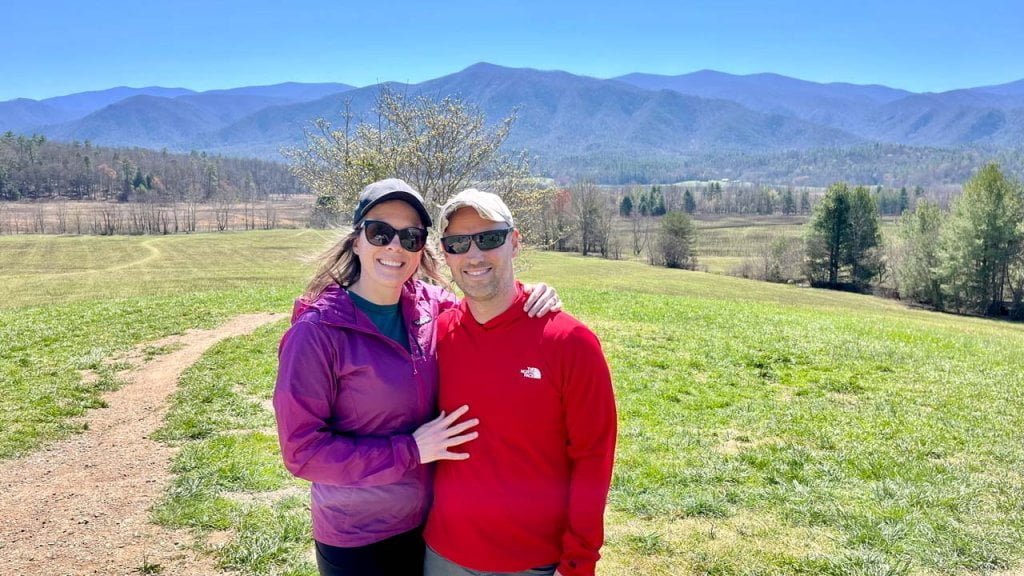 Are you itching for an adventure that's got it all — panoramic vistas, adrenaline-pumping activities, and a whole lot of history? If so, your next destination needs to be the Great Smoky Mountains!
Reasons to Visit the Smoky Mountains
Nestled right on the Tennessee-North Carolina border, this mountain range is THE spot for outdoor enthusiasts and nature lovers alike. It covers over 500,000 acres of land and is home to a diverse range of wildlife, including black bears, elk, and more than 200 species of birds. Whether you're into hiking, camping, or exploring haunted ghost towns, the Smokies have got you covered.
So pack your bags, grab some snacks, and join us as we explore 12 reasons to visit the Smoky Mountains for your next outdoor adventure!
We've been dreaming of visiting the Smokies, so when the Smoky Mountain Development and Tourism Authority invited my husband and me to visit for a hosted stay, we jumped at the chance to experience three days in Townsend, Tennessee, and the surrounding area. All opinions are our own.
1. Explore Townsend, the Peaceful Side of the Smokies
Townsend, TN, is a quaint small town on the edge of the Great Smoky Mountains National Park. Though the town is home to less than 1,000 locals, the community is trendy and outdoorsy, and the food scene is unreal. The area is hailed as the "Peaceful Side of the Smokies."
Townsend is where you want to go with your significant other to plan a romantic adventure travel getaway. Go camping, glamping, or stay in a rustic cabin, then drive Cades Cove, go tubing on the Little River, or mountain biking at Vee Hollow. For the adrenaline junkies, rent UTVs and cruise the scenic byways. There is also an impressive cave to explore, Tuckaleechee Caverns. There are so many fun things to do in Townsend, TN.
Local Houston Oldham, Director of Operations with Oldham Hospitality says, "You'll be surprised by what we offer in a small town." Townsend is Southern Appalachia at its finest.
2. Cozy Up With Nature With Luxury Camping
The Smoky Mountains are the perfect place to connect with nature, and there are a ton of options for camping. The Little Arrow Outdoor Resort offers the best of both worlds, as it allows visitors to pitch a tent, park their RV, or rent one of their spacious cabins, tiny homes, or luxury glamping tents.
If you bring your own gear and plan to sleep under the stars, each site is equipped with a fire pit, picnic table, and access to nearby water and electric hookups. For something a bit more glamp-ish, the luxury glamping tents and cabins have comfy beds, kitchens, and a private bathroom. Plus, whether you choose glamping, a cabin, or a tiny home — you'll get AC and heating.
Townsend is the perfect place to base your Tennessee Smoky Mountain adventure.
3. Lace-Up Your Hiking Boots
The Great Smoky Mountains is the most visited national park in the U.S. and definitely a hiker's paradise. One major draw are the North Carolina and Tennessee Mountains' 800+ miles of trails, which offer novice and experienced hikers ample opportunity to get exploring. From waterfalls to mountaintops, there's no shortage of beautiful scenery to discover!
We hiked Spruce Flats to the waterfall. Add Abrams Falls, Mount LaCount, Charlies Bunion, and Gregory Ridge to Gregory Bald to your weekend trekking list. The locals recommend these.
Here are a few more of the most popular hikes in the Smokies.
Appalachian Trail
The Appalachian Trail is one of the most iconic and well-known long-distance hiking trails in the world. It spans over 2,000+ miles through 14 states, from Georgia to Maine, and crosses through the Smoky Mountains. The trail was completed in 1937 and is maintained by the Appalachian Trail Conservancy along with thousands of volunteers.
The portion of the Appalachian Trail in the Smokies is considered one of the most challenging for hikers, with steep climbs and rocky terrain.
Clingmans Dome
Clingmans Dome is the highest point in the Great Smoky Mountains National Park and the third-highest peak east of the Mississippi River. It has an elevation of 6,643 feet, and offers stunning panoramic views of the surrounding mountains and valleys.
Explorers can drive up Clingmans Dome Road to the parking lot where the road ends. From here, you can reach the top of Clingmans Dome by hiking a steep half-mile trail to get to the lookout tower.
Newfound Gap
Newfound Gap is a mountain pass in the Smokies that sits at an elevation of 5,046 feet, situated on the border between North Carolina and Tennessee. The Newfound Gap road is a scenic, two-lane highway that passes through Newfound Gap and connects Gatlinburg, TN, to Cherokee, NC.
Trillium Gap Trail
Trillium Gap Trail is a popular hiking trail that leads to Grotto Falls, one of the most picturesque waterfalls in the Great Smoky Mountains National Park. This trail is about three miles long (round trip), and it starts on the Roaring Fork Motor Nature Trail.
The trail follows a moderate uphill climb through a beautiful old growth forest. You'll cross several streams and have plenty of places to stop and enjoy views of the mountains and valleys.
You can also trek to Mount LeConte from Trillium Gap.
4. Pedal Through Paradise
Biking through the picturesque Cades Cove valley is a unique way to experience the heart of the Smokies. The Cades Cove Loop Road in Great Smoky Mountains National Park is relatively flat, so it's accessible for cyclists of all levels, whether you're an avid rider or thrill-seeker. The park closes the road each Wednesday from May to September for cyclists, hikers, and pedestrian traffic.
As you pedal through the valley, you'll get to see lush forests, sparkling streams, and an abundance of wildlife! Keep your eyes peeled for the resident black bears. There are also many historical sites to see.
On our visit, we did a private tour of Cades Cove with the Great Smoky Mountains Heritage Center. Our guide, who is also a volunteer park ranger, told us about this special day of the week during the summer.
5. Saddle Up for Adventure
Townsend, TN, is home to Cades Cove Riding Stables, where you can set off on a horseback riding adventure that's off the beaten path. You'll get to saddle up in the wilderness of Tennessee, discovering everything under the forest canopy — including some woodland critters.
You can choose to ride behind a trail guide on your very own horse or sit back and relax in a guided carriage or hayride.
6. Take Your Thrills to New Heights on a Ferris Wheel
The Great Smoky Mountain Wheel at The Island in Pigeon Forge is a towering Ferris wheel that stands 200 feet tall, making it the perfect spot to take in the views of the Smoky Mountains.
It features 42 climate-controlled gondolas that hold up to eight passengers each, so you can ride with friends and family. If you're feeling particularly daring, choose the VIP gondola, as it comes with a glass bottom ideal for thrill-seekers. The VIP gondola seats four.
Once you're done sightseeing from above, you're in for a treat on the ground below, as The Island boasts plenty of shops, restaurants, and attractions.
Pigeon Forge is about 30 minutes from Townsend so you can visit for a day trip.
7. Journey to Anakeesta Mountain
Anakeesta is a popular attraction in Gatlinburg, TN, that has a ton of outdoor activities for adventurers of all ages. You begin with the Chondola Ride up the mountain to Anakeesta, where you can explore the tree canopy walk, zip line through the forest, and enjoy amazing views of the Smoky Mountains.
You can also visit the whimsical Firefly Village, where you'll find unique shops, restaurants, and even a gem-mining station.
Gatlinburg is only 45 minutes from Townsend.
8. Travel Back in Time With a Museum Visit
At the Oconaluftee Visitor Center, check out the Pioneer History exhibit which features a collection of artifacts that showcase what life was like for early settlers in the Smoky Mountains.
Adjacent to the visitor center is the Mountain Farm Museum, a collection of historic buildings, including a log farmhouse, a barn, a smokehouse, and a springhouse, that have been preserved and relocated to the site. You can explore each of these buildings and get a firsthand look at what mountain farming life was like for families who made the Tennessee Mountains their home.
9. Step Into a Ghost Town
If you're a fan of ghost stories and spine-chilling legends, head to the Smoky Mountains abandoned resort town of Elkmont. What was once a thriving community of vacation homes and hotels is now a ghost town rumored to be haunted by the spirits of its former residents — spooky!
This hidden gem has a rich history, one that led Elkmont's surviving buildings to be listed on the National Register of Historic Places. You'll get to tour several restored cabins and learn about the people who used to live in what is now one of the eeriest places in the US.
10. Experience Nature's Fireworks
One of the most magical sights in the Great Smoky Mountain National Park is the Synchronous Fireflies. Every year, typically in late May or early June, the park rangers designate a special "firefly viewing area" where you can observe the synchronized display of male fireflies flashing their dazzling lights in unison to attract females.
The Synchronous Fireflies are a rare and incredible sight to behold, and the viewing event is highly sought after by visitors to the park. If you'd like to witness this unforgettable experience, you'll need to plan your trip in advance and apply for the lottery.
The display usually lasts a couple weeks, and the only way to get to the viewing areas is with an approved parking pass, which helps minimize the environmental impact on the fireflies' delicate ecosystem.
11. Take the Scenic Route
One of the best ways to soak up the beauty of the Blue Ridge Mountains is by taking a drive along the Blue Ridge Parkway. This scenic highway runs 469 miles through the heart of the mountains, connecting Shenandoah National Park in Virginia to the Great Smoky Mountains National Park in North Carolina. The parkway is a popular destination year-round, but the best time to visit is during the fall when the leaves are changing colors.
As you drive through the mountains, you'll come across overlooks and pull-offs where you can stop, take in the stunning views, and snap some pictures!
Speaking of pictures, we took our Sony a7iii mirrorless camera, a 28-70 mm lens, and our gifted Peak Design Travel Tripod on our most recent visit to the Smoky Mountains. Peak Design asked if we wanted to try their tripod, and we sprung at the opportunity since we live for adventure travel. The Peak Design Tripod is great for road trips and compacts well to fit in a suitcase.
12. Hit the Slopes
During the colder months, the Smoky Mountains transform into a winter wonderland with some of the finest skiing and snowboarding in the region. One of the best places to enjoy skiing is Cataloochee Ski Area in North Carolina. There are 18 slopes and trails ranging from beginner to expert, and the park also offers night skiing.
Another well-regarded spot is Ober Gatlinburg. It features nine ski trails, an alpine slide, three chairlifts, and a terrain park. You also have the option to go ice skating and snow tubing here.
Explore the Smoky Mountains This Year
The Great Smoky Mountains National Park has a wide range of outdoor activities, from hiking to biking, camping, horseback riding, and more. There are also educational programs and events organized year-round, where you can learn all about the park's rich cultural and natural history through guided tours, exhibits, and interactive programs.
There are endless reasons to visit the Smoky Mountains, and it's no wonder more and more people are flocking to this natural wonderland year after year.
Whether you're itching for an adrenaline-packed adventure, looking for some peaceful relaxation, or want a chance to reconnect with nature, this breathtaking destination has it all.
So, why not plan your next outdoor excursion to the Smokies and experience all that this incredible place has to offer?
This article was produced and syndicated by The Happiness Function.
Some images courtesy of Depositphotos.com.