Brushstrokes of Brilliance: 12 Must-Visit Austin Art Galleries
Posted on: August 29, 2023
|
|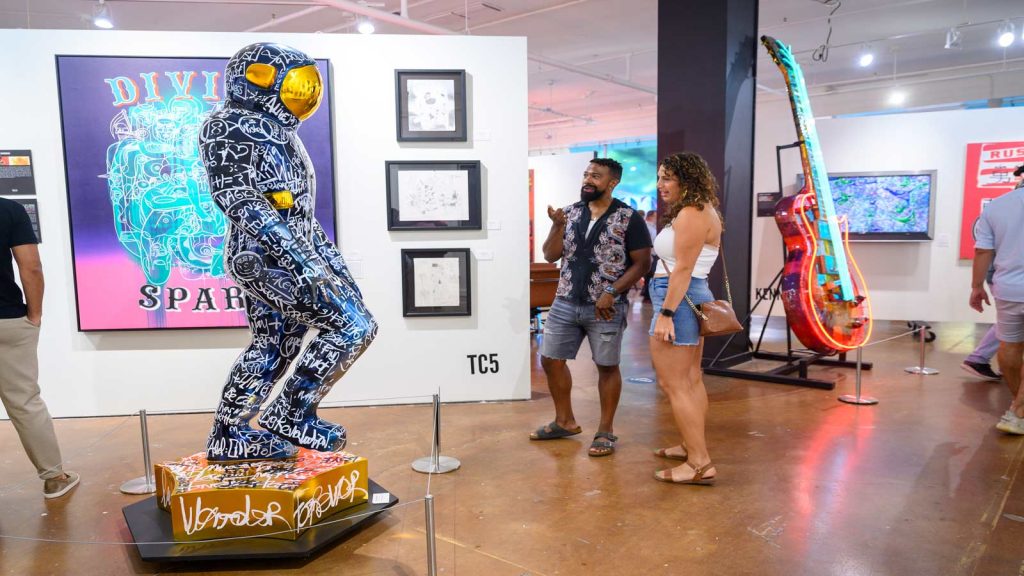 Austin, Texas has always been a town of creatives, whether for musicians or visual and performing artists. It's what draws people to this city year after year. With happenings such as South x Southwest, ACL Music Festival, and the E.A.S.T. Austin Studio Tour, locals and visitors always have something to experience, but the remarkable art scene rivals any large metropolitan area. Join me on a tour of these 12 must-visit Austin art galleries.
1. West Chelsea Contemporary
WCC is a heavy hitter in the local Austin art scene. So much more than a gallery, their 7,800 sq foot showroom often feels like a colorful museum with exhibitions of several modern and post-war movement artists such as Banksy, Blek le Rat, Warhol, and up-and-coming Ivory Coast artist, Aboudia.
If you're a Pop Art, Street Art, Graffiti, and Post-Graffiti fan, this gallery will have what you are looking for. They offer multiple exhibits yearly and often have special events such as "Artist Talks," where guests can meet the artists and SxSW-related happenings.
What I love most about WCC is their incredibly knowledgeable staff, who always have time to share obscure "behind the scenes" stories about the artwork or artist.
2. Wally Workman Gallery
One of Austin's longer-established and prolific galleries, Wally Workman has been curating fine art exhibits since 1980 inside their 120-year-old historic home location. You can take a two story tour of the emerging and collected talent they represent and have propelled onto a national stage, such as contemporary artists Sarah Ferguson, Will Klemm, and my favorite, Ellen Heck.
Be sure to make a stop at this Austin art gallery to explore a diverse collection of paintings and sculptures.
3. SoCo Modern
Curators Patrick Jones and Reyne Hirsch have forged a path in the fine art scene, focusing primarily on modern and contemporary art, including an array of 20th-century design elements.
Opening their doors in 2021 and located in the coveted South Congress or "SoCo" area of Austin, their industrial-style building encloses the work of artists such as Banksy, Ron English, and Austin-based muralist and visual artist ZuZu.
Their space is available for private event rental as well. Who doesn't want to have a party in a fantastic art gallery space?
4. Vaughn Art Agency & Gallery
I cannot say enough good things about this local contemporary gallery! A shared dream of founders Ashley Nussbaum and Rachel Drake, Vaughn provides emerging and mid-career artists a platform to expand their audience and business. Having personally worked with the owners to host my own pop-up art shows, I can attest to their vision and passion for that mission.
Rachel Drake, Co-Founder of Vaughn recently shared, "We are focused not only on emerging artists but emerging collectors as well." Representing artists such as Thomas Flynn II and Ty Nathan Clarke, their thoughtful curation of fine art will mesmerize and persuade you to invest in a beautiful piece for your home.
5. Martha's Contemporary
Presenting solo and group exhibitions, Martha's continues to support early-career artists working in various mediums. This small but impactful Austin art gallery was founded in 2018 by Ricky Morales and Meredith Williams and has quickly become a fixture in the local scene.
In addition to the incredible art shows they curate, they are deeply committed to community engagement projects, such as the John Lewis's Protect Our Vote Initiative. Martha's Contemporary is a great place to start if you want to add the work of new and upcoming artists to your collection. You can't miss the bright neon pink sign above their door.
6. Austin Art Garage
My partner and I bought our first piece of art together from this unique and fun Austin art gallery. A long-standing staple in the funky art scene of the city, this space offers an array of work from primarily local artists.
Founders Jake Bryer and Joel Ganucheau wanted to make art affordable and accessible for all levels of lovers and collectors, and its laidback, casual ambiance is by design. Whether buying your first or tenth piece, you will find a one-of-a-kind at this South Austin location.
7. Ao5
One of Austin's most prominent contemporary art galleries, Ao5 Gallery has been committed to bringing a diverse and distinctive selection of art to the community for over 20 years. Visitors can explore the works of over 100 artists, vintage and original posters from around the globe, prints, and have their artwork framed in their custom framing shop.
Initially located downtown on 5th Street, they recently moved further north to a 7,500 sq ft space and have the collection to fill it. I'm particularly fond of the work of artist Carrie Graber and her portrayals of Southern California living.
8. Preacher Gallery
Not your everyday, run-of-the-mill gallery, but rather Preacher is a full-service branding and marketing firm that just so happens to curate delightfully inspired art exhibits with the guidance of local artist Jason Archer.
Having showcased the work of artists such as Butch Anthony, Alexandra Valenti, and Jenaro Goode, visitors will be amazed at the depth the curators go to bring them an awe-inspiring show that usually features a DJ spinning some excellent Dolly Parton and Willie Nelson tunes with a taco food truck parked outside.
9. Women & Their Work
The non-profit gallery Women & Their Work has been uplifting and promoting women artists for over four decades, and that's why they are one of my favorite galleries to visit. To see the work of so many notable sculptors, painters, and photographers (and more) in one venue is cathartic and refreshing.
With their pioneering spirit and embracement of artistic innovation, they are committed to enriching the lives of Texans and all visitors who visit their space. Don't miss out on visiting this unique Austin art gallery.
10. Cloud Tree Studios & Gallery
This distinctive gallery space in a refurbished old Quonset hut is the home of Cloud Tree Studios in East Austin. Named after the large, old oak trees that once provided a canopy over the studio and dubbed Cloud Tree, this gallery showcases the woodworking art of founder Brian Johnson, silversmith Lolly Harrison, and artist Lucas Aoki.
Visitors will find rotating exhibits by various contemporary artists who use a variety of mediums. And, of course, you will always be greeted by the resident steward, Louie, the dog.
11. Riches Art Gallery
Founded by experienced watercolor artist and former Texas Southern football player Richard Samuels, this lively venue is the only Black-owned gallery in Austin. The East 6th Street space hosts weekly events like live drawing classes, comedic stand-ups, and poetry slams.
"Man, I love art to my core," Samuel told local news station KVUE. "My family's huge art collectors, especially my mother. [She's] pushed me to do art my entire life." And you can definitely tell when you enter Riches and take in the vibrant images celebrating the beauty of Blackness.
12. Ivester Contemporary
Opening its doors in 2020 and located within the Canopy Creative Complex in East Austin, Kevin Ivester founded the gallery with the mission to introduce represented artists to a captivated audience and promote meaningful experiences with the visual arts.
Rotating exhibits that inspire deeper conversations between the viewer and the artists is a primary focus of this engaging and thoughtfully curated gallery. Check out the space and see the diverse works of multiple artists and the upcoming exhibit "I Am Clay Hill" by artist Kalee Appleton, opening September 2, 2023.