Frozen or on the Rocks: Guide to the 18 Best Margaritas in Austin
Last Updated: Oct 26, 2023
|
|
Comments Off

on Frozen or on the Rocks: Guide to the 18 Best Margaritas in Austin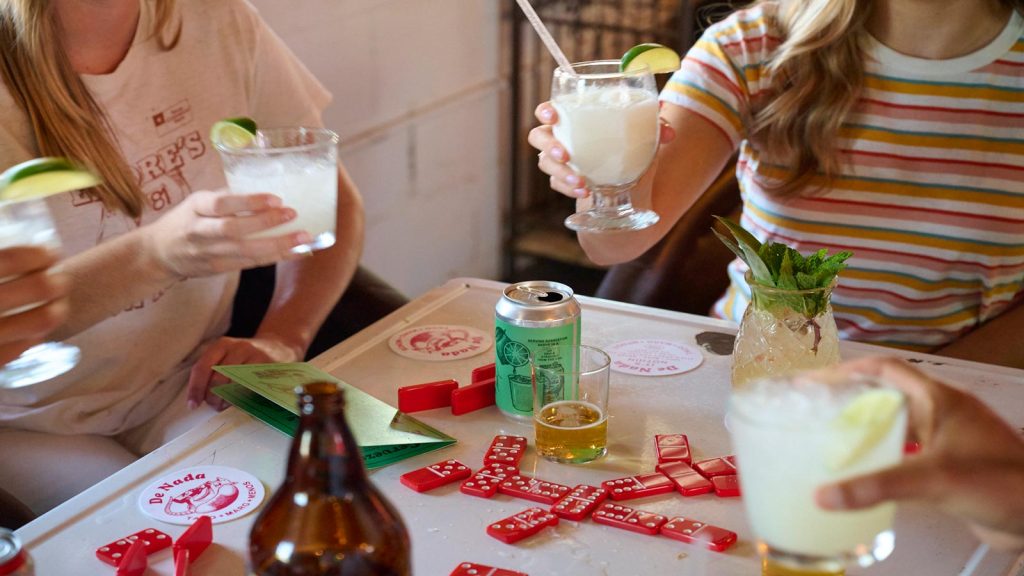 Austin, Texas, is no stranger to mouth-watering Tex-Mex, authentic Mexican cuisine, and the best margaritas offered on this side of the Rio Grande. Even the late Jimmy Buffet's "Margaritaville" was inspired while he was sitting at a bar on Anderson Lane.
After living here for two decades and tasting these frosty concoctions on many occasions, here's a curated list of the best margaritas in Austin (I think you'll love).
Whether you prefer frozen or on the rocks, salt or no salt, freshly made or a huge pitcher of tequila-infused goodness, this selection has something for you.
1. Fonda San Miguel
Address: 2330 W N Loop Blvd, Austin, TX 78756
One of Austin's most well-established restaurants in central Austin, the ever-charming Fonda San Miguel, has been creating delicious food for years. However, their frozen guava margarita is one of the most delicious cocktails I've ever had. You can taste the fruit's sweet flavor with every sip you take.
I recently took my mother-in-law, who also enjoyed her frozen mango marg and described it as "subtle, delicious, yet powerful." That's a good testament to the quality of their margaritas.
2. Maudie's Tex-Mex
Address: 1212 S Lamar Blvd, Austin, TX 78704
One local Austinite describes "The Gil" at Maudie's as her go-to margarita. This "clean, bright, and perfectly simple" beverage consists of Don Julio's Blanco Tequila, Cointreau, and freshly squeezed lime juice with a salted rim, which meets all the requirements for an excellent margarita.
3. Eldorado Cafe
Address: 3300 W Anderson Ln. #303, Austin, TX 78757
The Top Shelf Margarita at Eldorado is just that– top shelf. Guests can order their Tequila of choice mixed with freshly squeezed lime juice Cointreau and add a fruit flavor if preferred. Enjoy it served on the rocks with a salt or tajin rim.
This refreshing drink pairs wonderfully with the enchilada platter and the perfect "supa" queso appetizer — I highly recommend it!
4. Trudy's
Address: 8820 Burnet Rd, Austin, TX 78757
An Austin institute since 1977, Trudy's Mexican Cafe has been serving some great Tex-Mex for a while, but their Mexican Martini is one for the books. Many have tried to copy it over the years, but many have failed because perfection can't be replicated, at least not in this instance.
5. De Nada Cantina
Address: 4715 E Cesar Chavez St, Austin, TX 78702
No mistakes were made when DeNada Cantina owners partnered with local craft cocktail genius Chris Bostick. Everything on the drinks menu at DeNada is exceptional, but their frozen margaritas in the notably collectible pink cups are considered by many to be the best margaritas in Austin.
Customers can order the classic or one of their rotating seasonal fruit margs–mango, guava, strawberry swirl, etc. But don't pass on their margaritas on the rocks, either. My favorite is the "El Chingon," made with Tromba Blanco Silver Tequila & Mathilde XO. As part owner, I might be slightly biased, but this joint will quickly become your go-to spot on a hot summer day.
6. Workhorse Bar
Address: 100 N Loop Blvd E Suite B, Austin, TX 78751
When you walk into the unassuming Workhorse Bar on North Loop, you'd probably never expect them to serve one of the most flavorful margaritas in town, but they do. Made with Z Pepe Tequila, Paula's Texas Orange, freshly squeezed lime, and agave nectar, I was thrilled to taste such an inviting cocktail while enjoying the juicy Bastrop Burger.
7. Taco Flats
Address: 5520 Burnet Rd #101, Austin, TX 78756
With three locations throughout the city, Taco Flats makes it easy for lovers of their frozen spicy margarita to get their drink on. Made with 100% agave tequila, triple sec, and hand-squeezed lime juice and topped with a fresh jalapeño slice, this stimulating cocktail is bound to wake up your tastebuds.
8. Licha's Cantina
Address: 1306 E 6th St, Austin, TX 78702
Known for its Mexican-style street food and mezcal-crafted cocktails, Licha's Cantina's house margarita is a definite winner. Made with tequila silver, fresh lime juice, and Combier (triple sec), this margarita is the perfect beverage to sip on during their Happy Hour every Tuesday through Friday — and it's only $8!
9. El Naranjo
Address: 2717 S Lamar Blvd STE 1085, Austin, TX 78704
This 2022 James Beard award-winning restaurant creates some of the most flavorful Oaxcan-inspired dishes in Austin. Order a Duranzo margarita, which pairs perfectly with a plate of mole. This effervescent drink combines Cimarron Silver tequila, white peach puree, Naranja liqueur, and fresh-squeezed lime juice.
When I say it is scrumptious, I mean it.
10. Iron Cactus
Address: 606 Trinity St, Austin, TX 78701
Iron Cactus has got you covered if you enjoy a downtown view while sipping on a spicy margarita. Overlooking Austin's infamous 6th Street, guests can sample one of their many hand-squeezed craft margaritas.
Try the El Pepino margarita–Milagro Silver, muddled jalapeño, cucumber, and cilantro with fresh lime juice and agave nectar or another of their many signature drinks that don't disappoint.
11. ATX Cocina
Address: 110 San Antonio St #170, Austin, TX 78701
ATX Cocina does not mess around when it comes to their house-made margaritas. With their vast selection of tequilas, your margarita is made just as you like.
Their signature creation is hand-shaken with organic agave and a curated tequila choice, which goes ever so nicely with their carne asada–pecan-crusted prime skirt steak, jalapeño-tomato conserva, queso, and charred cebolla.
12. Gabriela's Downtown
Address: 900 E 7th St, Austin, TX 78702
The spacious patio at Gabriela's Downtown might be the best place to enjoy Michoacan-inspired dishes that have been passed down for generations. There's no better beverage to pair with these dishes than fresh-squeezed lime juice, tamarind, and grapefruit in a margarita.
They also serve flights of margaritas, so you can sample a little bit of everything. I know what you're thinking — yes, please, sign me up!
13. La Condesa
Address: 400 W 2nd St A, Austin, TX 78701
La Condesa has been a preferred choice for birthday celebrations for my friends and me through the years. It has excellent food, a lovely ambiance, and delectable cocktails. Try their Margarita La Clásica on the rocks or the Margarita La Condesa with fresh pineapple juice for a surprising twist to this tasty cocktail.
Part of the downtown restaurant scene, this spot never disappoints.
14. Comedor
Address: 501 Colorado St, Austin, TX 78701
Named one of Esquire's best new restaurants, Comedor delivers a punch with its dinner and drinks menu. Guests can enjoy a cutting-edge take on traditional Mexican dishes, like the Tacos de Pescado with grilled cabbage, toreado aioli, and salsa verde. Pair your food with an Oaxca margarita made with Reposado tequila, crema mezcal, Cointreau, and fresh lemon and lime juices.
15. Grizzelda's
Address: 105 Tillery St, Austin, TX 78702
Full of charm and color, Grizzelda's offers some of Central Mexico's most authentic and traditional Mexican dishes. The pink and floral pops of color throughout the space are enchanting. Enjoy a fun atmosphere and one of their "Fro-Mos," a house-frozen margarita elevated with sangria, pureed fruit, and a Grand Marnier floater.
16. El Alma
Address: 1025 Barton Springs Rd, Austin, TX 78704
Whether you want to enjoy one of the cool spring days or the nighttime skyline Austin offers, El Alma's rooftop patio on Barton Springs Road is a great spot. With multiple margarita options available, there's something for everyone to be thrilled by. I take great joy in their El Dorado, mixed with Don Julio Reposado, Grand Marnier, lime, and agave, served on the rocks.
17. Curra's Grill
Address: 614 E Oltorf St, Austin, TX 78704
No "best margaritas in Austin" list would be complete without mentioning Curra's Grill and their frozen Avocado Marg — a meal all unto itself! Kidding aside, this cocktail is divine and should be on everyone's radar. I promise it doesn't taste like guacamole.
They offer an entire assortment of other equally good margaritas, and their happy hour is one of the best in town.
18. La Piscina
Address: 600 W 2nd St 5th Floor, Austin, TX 78701
I'll be honest: I haven't tried La Piscina's margarita as of yet, but I polled many local friends and was met with a resounding "You have to try La Piscina's margaritas," so I'm adding them to the list and letting the chips fall where they may (pun intended).
Located inside the Proper Hotel, this poolside restaurant focuses on delivering Texas-inspired Mexican cuisine. I have been told their Margarita de la Casa, a choice of frozen or rocks, is the best Austin has to offer. Mixed with Lunazul Blanco, naranja, agave, orange bitters, lime, and citrus salt, I'll let the readers decide for themselves.