Taco Rivalry: 12 Best Taco Spots in Austin and San Antonio, Texas
Last Updated: Sep 29, 2023
|
|
Comments Off

on Taco Rivalry: 12 Best Taco Spots in Austin and San Antonio, Texas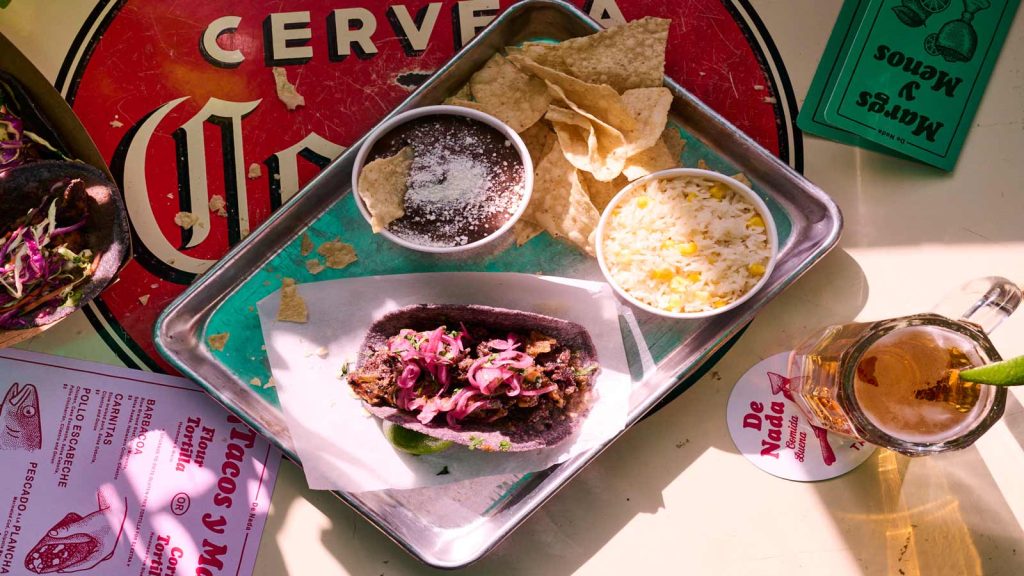 Austin and San Antonio, Texas, a mere 60 miles from each other, have always had a "friendly rivalry" regarding their respective taco scenes. One may be more authentic, the other fancier, but they're both crave-worthy at the beginning or end of each day. Natives of both places will tell you their city is the best, but ultimately, is anyone ever really wrong when it comes to tacos?
I'm a local Texan, and here are my top picks with the best tacos in Austin and San Antonio.
1. DeNada Cantina
Address: 4715 E Cesar Chavez St, Austin, TX 78702
I may be biased as part owner of this hopping taco joint, but since its inception in 2021, DeNada Cantina has been serving up some of the most flavorful Mexican-style street tacos north of the Rio Grande.
Located in deep east Austin in what can only be described as an authentic cantina with architectural elements imported directly from Mexico, guests can order a variety of tacos served on homemade blue corn tortillas with a selection of three fabulous salsas.
Take your pick of juicy carnitas, savory shrimp or fish tacos, or one of their vegetarian options–my personal favorite, the Calabacitas. But don't skip the delicious queso, empanadas, or killer margaritas they serve. You can't go home without a "pink cup!"
2. Mi Trailita y Mas
Address: 5301 Manor Rd, Austin, TX 78723
This hole-in-the-wall gem serves some of Austin's best Tacos al Pastor and Cali-style burritos. Located on Manor Rd, you might miss the spot if you don't know what you're looking for.
Since 2011, Mi Trailita y Mas has supplied the community with a wide-ranging menu of breakfast tacos, lunch plates, quesadillas, and so much more at affordable prices. This neighborhood eatery is a hotspot that definitely needs to be on your must-have taco list.
3. Veracruz All Natural
Address: At the Line Hotel: 111 E. Cesar Chavez, Austin, TX 78701

Founded by sisters Reyna and Maritza Vazquez, Veracruz All Natural is much more than a taco joint. Starting in a humble food truck, the sisters knew they wanted to open their own Mexican restaurant, incorporating the recipes they learned from their mother and grandmother, and it has paid off.
Expanding to five brick-and-mortar locations throughout the city, these sisters serve tasty Shrimp Macha, Dona Reyna, and Migas tacos with plenty of fresh and nourishing ingredients. Be sure to enjoy one of their refreshing juices and smoothies while you're there, too.
4. Nixta Taqueria
Address: 1204 Cedar Ave, Austin, TX 78702
Appealing to the hipster crowd prevalent in Austin, Nixta is crushing the taco game with its unique menu and distinctive food stylizing. This small, colorful, and counter-service Mexican restaurant prides itself on its fresh ingredients and noticeably complex specials by incorporating the Ancient Aztec nixtamalized corn tortilla process.
Their menu boasts original concepts such as the duck carnitas taco, tuna tostadas, and their crispy dog, aka "space glizzy." But nothing beats their migas breakfast taco when you want to get back to basics.
5. Suerte
Address: 1800 E 6th St, Austin, TX 78702
For the more refined palate, fine-dining Mexican restaurant Suerte's Suadero tacos of confit wagyu brisket, black magic oil, avocado crudo, and onion and cilantro will have you dreaming about them for a very long time afterward. They are melt-in-your-mouth delicious.
Other than their tacos, the rest of the menu is absolutely enticing. I highly recommend their Nada Paloma cocktail and Ceviche Verde to start your meal.
6. Papalote Taco House
Address: 2803 S Lamar Blvd, Austin, TX 78704
I'll cut to the chase when it comes to Papalote. This joint is my go-to spot for fast, fresh, and yummy tacos–specifically breakfast tacos.
Offering hot and made-to-order tacos in three different Austin locations, customers can always get their fix of perfectly prepared scrambled eggs, chorizo, potato, and cheesy tacos wrapped in an in-house-made flour or corn tortilla. However, they do offer so much more than that.
Their Guajolote en Mole taco is packed with shredded turkey covered in sweet mole sauce topped with poblano peppers, cabbage, pickled onions, queso fresco, and a slice of fresh avocado, making it indeed a "chef's kiss" moment.
7. Tacos & Chelas Mexican Kitchen
Address: 9902 Potranco Rd, San Antonio, TX 78251
Described as one of San Antonio's top spots for all things Mexican, Tacos & Chelas Mexican Kitchen does not disappoint. Tackling "street tacos" in an appealing way, their Al Pastor Skewers and Taco de Sirloin are two items you want to order. One guest described them as "flavorful and the perfect portion size."
But don't skip their Baja Fish Tacos or Tacos de Pulpo– perfectly cooked octopus wrapped in a corn tortilla with light cheese, sliced jalapeños, red onions, avocado slices, and a mayo-sriracha sauce. This spot will fulfill your Mexican food craving by offering more than just tacos.
8. El Taco Grill
Address: 19211 Huebner Rd #2, San Antonio, TX 78258
Bringing the flavorful food of Monterey, Mexico, to the streets of San Antonio, El Taco Grill offers something for everyone. Their vast menu offers a variety of different tacos, tortas, and quesadillas that for sure will satisfy those cravings.
Guests can select their choice of meat and toppings and have it made to order on a flour or corn tortilla. "El Taco is in my top 5 places to eat in San Antonio. It's just a little place with big flavor food!" shares one taco enthusiast.
9. Chela's Tacos
Address: 5231 Broadway St. Suite 117, San Antonio, TX 78209
Serving breakfast, lunch, and dinner, Chela's guarantees you won't be leaving hungry; if you do, that's on you. Their classic take on this Mexican food staple will have you coming back for more.
Load up a couple of tortillas with eggs, chorizo, and beans and have a delicious breakfast, or come in for a combo plate of crispy tacos, your choice of meat and toppings, served with rice and beans on the side. Their quick and friendly service will have you coming back for more.
10. Cascabel Mexican Patio
Address: 1000 S St Mary's St, San Antonio, TX 78205
What can only be described as warm, colorful, and welcoming, you will feel like you've been transported to the heart of Mexico when you step foot inside and onto the patio of Cascabel. Creating and serving some of the best authentic tacos San Antonio has to offer, your taste buds will thank you for popping in.
They have excellent breakfast tacos, but their other taco selection is the show stopper. I recommend their Tacos de Puercos Cascabel–they are some of the juiciest pork tacos with the most flavorful spices you will ever eat. Your mouth and tummy will thank you!
11. Erick's Tacos
Address: 12715 Nacogdoches Rd, San Antonio, TX 78217
With two locations, the original food truck and the lively and kid-friendly neighborhood restaurant in Cibolo (outside of San Antonio) Erick's has been dishing up some of San Antonio's favorite tacos for a while now. In-house-made tortillas, prime cuts of meat, and fresh vegetables, you will indeed find something that will bring you back for more.
Try the Al Pastor, Lengua, and the Guisada con Queso; you won't be disappointed.
12. Taquitos West Ave
Address: 2818 West Ave, San Antonio, TX 78201
Serving "Jalisco-style street tacos" from both of their locations, Taquitos West Ave has been hailed the BEST tacos in San Antonio by many locals. Guests can choose their preferred meats such as tripa, bistek, or the revered pastor to be wrapped in a fresh mini corn tortilla and topped with cilantro and raw onions.
Other toppings are available as well, like grilled onions, cucumbers, and radishes. Including just the right amount of vinegar and spices, their homemade salsa helps to reduce the rich flavor of the selected meats. These might seem simple, but they are heavy hitters in the taco scene.
Stop by today to get your taco fix!
Read More From The Happiness Function:
Where indicated, some images courtesy of Depositphotos.com.