11 Best Distilleries Central Texas Has To Offer, According To a Local
Last Updated: Oct 25, 2023
|
|
Comments Off

on 11 Best Distilleries Central Texas Has To Offer, According To a Local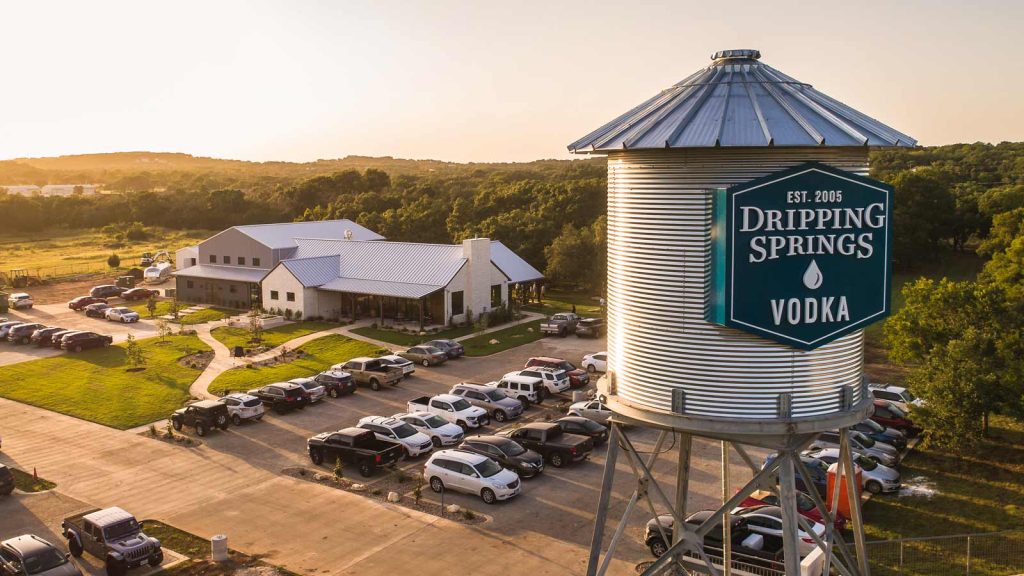 Whether you are a whiskey connoisseur, a lover of vodka, or someone who appreciates molasses-rich rum, Austin and the surrounding towns in Central Texas have a distillery waiting for you to sip and savor heady spirits.
Join me on a tour of 11 recognizable distilleries and learn their history, processes, and the wonderful products they each offer.
1. Desert Door Distillery
Address: 211 Darden Hill Rd, Driftwood, TX 78619
Located 20 minutes outside of Austin, TX, in Driftwood sits one of the most charming, West Texas-inspired distilleries to hit the hill country.
Desert Door produces the unique spirit Sotol, similar to mezcal but lighter with a slightly smokey flavor. Derived from the sotol plant that grows mainly in west Texas and Northern Mexico, the plant hearts are harvested and brought to the distillery to be steamed, converting the stored energy into sugar.
Their tasting room is great for unwinding and sharing a delicious cocktail with friends while listening to live music most Friday-Sunday evenings.
They also host multiple events throughout the year, and you can rent out their space for private parties. Having hosted a surprise 40th birthday party here, I can attest to their excellent customer service and the fantastic cocktails served in their charming tasting room.
2. Dripping Springs Vodka
Address: 5330 Bell Springs Rd, Dripping Springs, TX 78620
If you live in Austin, you know Dripping Springs is just a short 30-minute drive from downtown and lately has become home to multiple distilleries and breweries that should be checked out, including Dripping Springs Vodka.
This award-winning spirit is deliberately made in small 50-gallon batches in distinctively designed copper stills, resulting in its smooth, lush flavor. Enjoy a well-rounded experience with a full menu selection of excellent food, delicious hand-crafted cocktails, tours of their production facility, live music entertainment, and a friendly (or not-so-friendly game) of washers on their lawn.
In addition to their original product, they also offer a variety of flavored Vodkas that you can purchase at multiple locations throughout Austin, so pick up a bottle today and whip up a crisp Moscow mule.
3. Revolution Spirits
Address: 12345 Pauls Valley Rd Bldg H, Austin, TX 78737
Who doesn't like to make the occasional negroni or martini at home? If you're a gin drinker, you'll want to pick up a bottle of Revolution Spirit gin after visiting their distillery during their complimentary tour and tasting on Saturdays.
Established in 2013 in southwest Austin, Revolution specializes in creating unique spirits in a traditional and non-traditional process that doesn't detract from the quality of their product.
Their flagship product encompasses the essence of juniper, rosemary, lavender, lemongrass, pink peppercorn, and Texas grapefruit that will delight tastebuds and impress dinner guests, complimenting your craft cocktail-making skills.
4. Texas Sake Company
Address: 440 E St Elmo Rd Ste B-2, Austin, TX 78745
Started in 2011, Texas Sake Company is a genuine Texas original. Located in south Austin, this novel taproom offers flights and bottles of sake while their knowledgeable staff educates their guests about the ins and outs of the ancient process and traditions of sake-making.
This distillery produces a fragrant and bold glass of Japanese spirit. They use the highest quality Calrose rice that is polished to 70%, home-grown koji, classic saké yeast #9, and filtered Austin water.
Hosting events such as sushi-making classes to coincide with your tasting experience, visitors won't leave disappointed. Kanpai Y'all!
5. Crowded Barrel Whiskey Co
Address: 16221 Crystal Hills Dr Bldg D, Austin, TX 78737
Crowded Barrel Whisky Co takes their distilling process very seriously, albeit humorously, by incorporating feedback from their fellow whiskey lovers "in all aspects of the whiskey creation from grain to glass." Rex Williams and Daniel Whittington welcome whiskey "nerds" to their "Whisky Tribe."
Their gothic-style tasting room, Fang and Feather, incorporates 2,000 square feet of outside deck space, allowing guests to enjoy their afternoon of whiskey wizardry while sipping on their aged cocktails. If you're looking for a fantasy-inspired venue for a private event to rent, this might be the place for you.
6. Genius Gin
Address: 704 Highway 71 W Suite D-300, Bastrop, TX 78602
When people think of gin, they often relate it to "tasting like Christmas," thanks to the hints of juniper, which can result in the shunning of the spirit. So the people at Genius Gin set out to prove that "gin can be subtle, rich, fresh with citrus, spicy, floral or just simply…delicious."
Manufacturing four distinctive and aged-to-perfection distilled products, Genius guarantees that your next martini or gimlet will satisfy any gin lover's palate. Boasting a flavor wheel that is more floral and spice rather than herbal and heat, this Bastrop-based distillery has proven it creates an excellent product for any gin drinker to sip and savor, whether it be in a cocktail or served neat.
Although they don't currently host a tasting room at their distillery, you can purchase a bottle in various businesses across the Lone Star state.
7. Nine Banded Whiskey
Address: 13377 Fitzhugh Rd, Austin, TX 78736
Designated as the state animal of Texas in 1927, the nine-banded armadillo has been a fixture in TX culture for a long time; however, the founders of this Hill Country distillery decided to pay tribute to the old Armadillo World Headquarters, where creatives often congregated to make good music and enjoy even better company with their name selection.
The official American bourbon partner of the Los Angeles Rams since 2019 and Double Gold winner of the 2021 San Francisco World Spirits Competition for their Cask Strength Wheated Straight Bourbon, whiskey lovers can enjoy this malted beverage on ice or in a refreshing, balanced cocktail.
I love the simple mixed drink of Nine Banded whiskey, ginger beer, and a twist of lime. As supporters of the Austin art scene and other local events, you can enjoy a tasting when out and about (check out their events calendar) or pick up a bottle at different shops around town.
8. Violet Crown Spirits
Address: 704 Hwy 71 West, STE B300, Bastrop, TX 78602
The only Texas-based producer of Absinthe, Violet Crown was conceived by a trio of best friends in 2015 when they collectively decided they wanted to bring the charm of old-world spirits to modern-day society.
Having now produced award-winning craft spirits, co-founders Matthew Manusco and Chris McLaughlin were still in graduate school when they began experimenting with absinthe recipes dating as far back as the 1600s to create a unique blend — "Emerald Absinthe."
In 2013, the line was expanded to include other spirits that are brimming with a wide range of floral notes. The Jasmine and Elderflower liqueur and Marigold cordial can also be savored in their tasting room on Saturdays or by appointment.
You can also partake in tasting their different liqueurs at various bars and restaurants around the state.
9. Still Austin Whiskey Co
Address: 440 E St Elmo Rd Suite F, Austin, TX 78745
Creating a variety of deliciously aromatic spirits such as straight bourbon, straight rye, cask strength rye whiskey, and cask strength straight bourbon, Still Austin Whiskey Co has something for every lover of this malted beverage.
Described as "a whiskey lovers paradise in the middle of Austin," guests can enjoy hand-crafted, grain-to-glass spirit at any of their tasting room events. Guests can also take a private tour and tasting or pick up a bottle of their preferred choice to bring home to enjoy with friends and family.
They source all of the grains they use (corn, rye, barley) from Texas and use a reduction process by slowly adding water to the barrel while the whiskey is still aging, developing their distinct award-winning product.
Hosting a plethora of artistic events, from live music to "still life" art creation by various local artists, this home-grown distillery offers something for everyone.
10. Island Getaway Rum
Address: 231 Frog Pond Lane, Dripping Springs, TX 78620
This wouldn't be a comprehensive list of distilleries if I failed to include a rum distiller, and how lucky is it that there is one in Dripping Springs? Formerly known as Hye Rum, Island Getaway Rum was founded in 2016 by Stephanie Houston and James Davidson.
After several years of studying and experimenting with rum processing, master distiller Davidson partnered with Houston, and together, they used their savings to rent a farmhouse in the small town of Hye, Texas, to set up production.
When talking about what makes their brand so special, Houston shared, "The distinctive flavors and aromas are derived from the unique combination of Louisiana sourced molasses, fermented with a secret blend of yeasts, and double distilled in a copper still, capturing the rich, bold flavors Island Getaway Rum is known for today."
Although their tasting room is closed to the public as they move to full-time production of their five different varieties of Dark, White, Coconut, Orange, and Pineapple, lovers of this vibrant, Caribbean-inspired spirit can pick up a bottle at a nearby liquor store and impress their guests at their own tiki party.
11. Planet Rock Vodka Distillery
Address: 5401 Hudson Bend Rd. Austin, TX 78734
If you're looking for a fun spot to hang with friends, enjoy good libations, play cornhole, and eat tasty vittles, look no further than Planet Rock Distillery.
Located on the edge of Lake Travis, outside of Austin, Texas, this one-of-a-kind Vodka distillery has a little something for the whole gang. Their smooth, clean spirit is "out of this world" and is best enjoyed straight from the source.
In addition to serving their flavorful cocktails, Planet Rock entertains their guests regularly with live music events, so check out their online calendar.
They are currently closed temporarily for renovation improvements but will reopen shortly to the public. While their establishment is closed, you can pick up a bottle of their locally sourced spirit and make yourself a refreshing cocktail at home.