Elevate Your Utah Itinerary: Best Things To Do in the Greater Zion Area
Last Updated: Dec 1, 2023
|
|
Comments Off

on Elevate Your Utah Itinerary: Best Things To Do in the Greater Zion Area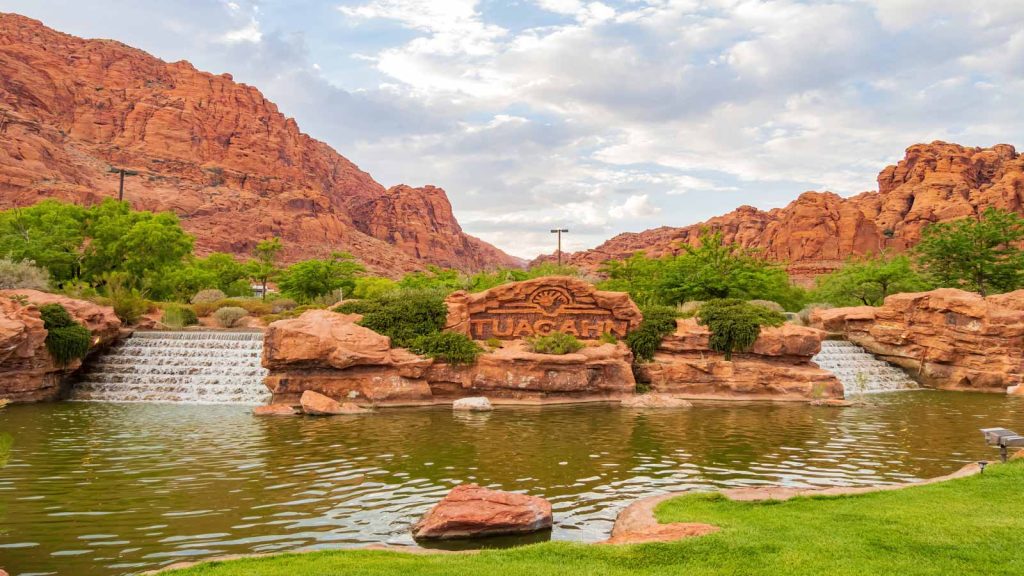 Located in the southwest corner of Utah, the Greater Zion Area offers visitors a taste of adventure, 2,400 square miles of captivating scenery, and even a glimpse of movie magic, thanks to a few new Kevin Costner films.
Hollywood isn't the only major player taking advantage of the Greater Zion Area's unique settings and opportunities. From theater and arts to fields of lavender, wineries, hiking, and rock climbing, Greater Zion is a unique destination you may not have heard of that balances luxury with natural beauty and rugged landscapes.
Explore the Great Outdoors
Utah's Greater Zion Area houses one of the most visited parks in America — Zion National Park — and that popularity is primarily thanks to its varied terrains and biodiversity.
One traveler, Karee Blunt, with Our Woven Journey, says, "We recently visited Zion National Park for the first time and especially enjoyed exploring with our kids. The views are spectacular! You get panoramic views of the classic cliffs and sandstone towers Zion is famous for."
But there is more to this area than Zion National Park. The convergence of the Great Basin's watersheds, the Mojave Desert's rolling, sandy landscapes, and the jagged ridges of the Colorado Plateau in Greater Zion make the region a veritable geographical smorgasbord of fun things to do.
Take a Hike
Backpackers and hikers can clamber over multi-colored rock formations, weave through canyons, and explore beautiful swimming spots — like Toquerville Falls.
Golf a Round
Golfers of all skill levels can swing at unique courses nestled into red-rock canyons in St. George. Rocky cliffs frame these luxurious emerald greens and fairways, delivering a visually striking golfing experience.
Have a Scent Adventure
Those looking for a more relaxing day trip might venture to the Baker Creek Lavender Farm. Aside from a breathtaking and aromatic experience, visitors can explore how the family crafts various lavender products through workshops and educational opportunities.
Refreshing Water Adventures
Swimming holes, reservoirs, and lakes provide varied experiences for water-filled adventure and relaxation. Take a dip after a hike in Red Cliffs Recreation Area, grab a standup paddleboard and propel around Quail Creek State Park, or cast a line into the majestic Sand Hollow Reservoir.
Hikers and climbers might want to plan their routes carefully to take advantage of some of the region's coves and streams. Rinse off and refresh before hitting the trail or setting up camp for the night.
Scenic Backdrops for Arts and Theater
The fun doesn't stop at outdoor adventures, though it's easy to appreciate the setting for some unique entertainment opportunities. Visitors can find the Tuacahn Center for the Arts in Padre Canyon, a natural amphitheater set in the red rocks. The formation features an 80-foot-wide stage that's been the stage for several top theater productions.
Art lovers can take in some different scenery at over a dozen museums and galleries in St. George and Springdale. Visitors who time things right might catch one of the summer art festivals or showcases that highlight eclectic artists representing some of the best talents in the world.
Special Summer Events
St. George also welcomed the return of the IRONMAN 70.3 North American Championship this summer. It was the fifth time since 2021 that the Greater Zion Area has hosted a championship-level IRONMAN event with competitors facing off in a selection of events to test their strength and mettle.
Sleep In Style
Find your pick of accommodations throughout the Greater Zion Area, including traditional hotel chains, bed and breakfasts, and lodges ranging from rustic to luxurious.
Settling into simplicity is easy with so many options. AutoCamp offers one of the area's top experiences. Located not far from the Zion National Park Springdale entrance, it lets visitors choose their favorite glamping setup, including an Airstream Suite featuring private spaces and all the modern amenities. AutoCamp also offers X Suite cabins.
Fine Food and Drink
Regardless of the accommodations or travel plans, saving room for a meal at Hurricane's Dixie Pizza Wagon is a good idea. The roadside stand boasts some of the nation's best slices, largely thanks to the mobile wood-burning oven. Stick with a traditional favorite or try one of the Wagon's unique creations, like the Italian Cowboy.
Vineyards might not spring to mind, but the area has an emerging wine scene — capitalizing on the Mediterranean-like climate. The Utah Wine Trail lets you visit five Greater Zion wineries, making it possible to grab a trail pass and work toward a gift by visiting them.
Spending a day or two in the Greater Zion Area while touring the national parks in Utah is only enough time to get a small taste of what the region offers. Summer marks the peak season with various events and glorious weather to attract crowds, so plan accordingly — especially with the most popular attractions.
This article was originally published on Media Decision and syndicated by The Happiness Function.